If you are authorized to transact business in the state of Alaska, you are required to appoint and maintain a registered agent. When filing your Articles of Organization, you must provide the Alaska Division of Corporations with the address and name of your registered agent. Hiring a professional agent service is well worth the small annual fee and peace of mind. They will ensure important business mail and service of process are documented and forwarded to you in a timely manner. They are also required to be available during normal business hours for compliance reasons, relieving you of that responsibility.
If you opt-out of hiring a professional registered agent service and decide to take on the role yourself, you run the risk of missing a service of process delivery, getting sued, not maintaining compliance, and having your business dissolved involuntarily by the commissioner. We have researched and interviewed over 30 registered agent services to provide you with the most reliable services. I have personally used a number of these services for my own businesses and highly recommend them to anyone starting a new business or looking to update their registered agent. Here are the best registered agent services in Alaska.
What Is the Best Registered Agent Service in Alaska?
Best Overall Registered Agent in Alaska ($125/year)
Notably, one of the highest-rated registered agent services in all 50 states, Northwest Registered Agent provides quality service and business solutions for new and growing corporations.
They will cover all the compliance essentials providing you with a local Alaska address, an online account, and business filing documents. You can order business formation services for professional and quick filing or designate them as your registered agent when you establish your business.
Their standard registered agent services include local document scanning, mail forwarding, annual report reminders, and an online business management account where all your files and documents will be securely stored. Your privacy is protected, and your data will never be sold. Furthermore, they go on record as your point of contact, so your personal address is not made public, which also ensures state compliance standards are maintained. Get convenient service, reliable alerts, and compliance support to keep your business in good standing, all at a competitive price.
Pros
Great Customer Service: Knowledgeable and helpful. Can be reached via phone or email.
Business Formation Package Deals: Hire them to form your business and get the first year of registered agent service, all for $225. Get a discount if you need services in 10 or more states.
Quick Scan & Instant Alerts: They deliver a digital copy of your Important documents to you right away.
Cons
Not the Cheapest: Other companies offer lower prices for similar services.
Mail Forward Fees: You will be charged additional fees if you need more than 5 normal business mail documents scanned per year.
Upsell service expenses: While not required, they offer other add-on services, so make sure to read the information they provide closely before you purchase any services.
Pricing
Registered Agent Service ($125/year): Rely on quality service, same-day updates, and compliance alerts, and have all your documents available online so you can operate with peace of mind.
---
Best Registered Agent in Alaska to Start and Grow Your Business ($199/year)
ZenBusiness will help your company meet all its legal obligations and keep your personal data safe. They provide a registered agent office address that is open during standard business hours to act as your point of contact with the Division of Corporations and keep your business compliant.
This means your address will stay off the public record, and they will receive service of process on behalf of your business, giving you privacy and flexibility. You can trust that all your business and legal mail will be handled professionally, scanned, and uploaded to your online account, and you will get same-day notices when legal matters arise. Their services also include annual report reminders.
If you are starting your business, they provide one year of registered agent services free when you use their business formation services. You can also order additional services such as tax and accounting help, funding, bookkeeping, and comprehensive reporting, all in one place. ZenBusiness is known for providing wonderful customer support; the reviews average a 4.3 out of 5 stars on the Better Business Bureau website.
Pros
Free First Year of Service: Order business formation services for $49 and get your first year of registered agent services for free.
Excellent Customer Support: Helpful customer service provides you with answers and resources.
Cons
Compliance Reporting Not Included: Pay an additional $50 for compliance reporting.
Add-on Expenses: Other services are pricey, such as annual reporting, which costs an additional $100 + state fees.

Pricing
Registered Agent Service ($199/year): A hub for all your business needs, ZenBusiness covers the essentials and keeps you compliant, organized, and up to date on service of process.
Service Package Upgrades:
$199/year for pro package
$299/year for premium package
---
Best Registered Agent for Affordability ($99/year)
Get honest support with Harbor Compliance's registered agent service and ensure all your compliance needs are met for a reasonable price. They will be the point of contact for your business to handle statutory requirements, such as being available during standard business hours to receive service of process, so you don't have to be. They take care of these essential business needs for your privacy and flexibility.
As your Alaska registered agent, they will scan and upload your official mail and legal documents to your online account, so you will never miss an important notice. Their services include compliance alerts about annual reports and filing dates to keep your business in good standing with state compliance. You can also get a full range of document filing services to manage your business and convenient licensing for regulated industries.
Pros
Affordable: Quality registered agent services at a lower cost than most other companies.
No Hidden Fees: The annual price covers all registered agent services without any hidden fees.
Cons
Customer Service: Some reports indicate that their customer service is not very strong.
No Refund Policy: If you are unhappy with your service or want to cancel your service, don't expect a refund.
Pricing
Registered Agent Service ($99/year): Harbor Compliance can provide the basics, such as a local address, operate during standard business hours, and make your documents available to you online, but their customer service can be unreliable, and they don't offer many service upgrades.
---
Best Alaska Registered Agent Service for LLCs ($99/year)
Inc Authority provides great service, from starting a business to maintaining compliance. They will form your LLC and Corporation and give you one year of registered agent services, all for free. You pay the state filing fees; they will prepare your entity formation documents and submit them to the state and be your registered agent. There is one requirement, though, you will need to form your business through Inc Authority to use them as your registered agent service.
Your registered agent is responsible for receiving service of process documents and being available during standard business hours at the location on file to maintain state compliance. They help you stay on top of your business mail with alerts and same-day document scanning. Find all your business documents stored securely in your online client portal. You can also count on annual reporting reminders to keep your business in good standing.
In addition to these essential services, Inc Authority has upgraded business packages for growing businesses or entities that need more services and support. You can order the Entry, Starter, or customize your own package for your unique needs. You can count on reliable service at a competitive rate.
Pros
First Year Free: Free Registered Agent Service for the first year when you form your business.
Save You Money: A low-cost option to start your business and maintain compliance.
Cons
Must Form an LLC: Registered agent services are only available for clients who form their businesses through them.
Business Package Upgrades: Their business packages do offer you more support but cost upwards of $300 a year.

Pricing
Registered Agent Service (Free first year, then $99/year): Get all the help you need to start and maintain your business compliance for the first year, all for free. Then renew your registered agent service for $99 a year and have all the essentials covered.
---
Best Registered Agent Service for Starting Your Alaska Business for Free ($119/year)
Incfile will help you maintain compliance and organization by being available during standard business hours and accepting service of process on behalf of your business. Having them cover this essential task gives you the freedom to operate your business with flexibility. They have been serving entrepreneurs since 2004, and they know what it takes to keep your needs covered and costs down.
Incfile has a $0 business formation service which includes registered agent services for the first year free. Sign up, and they will guide you through the filing process and give you the physical address where they will be receiving official and legal correspondence for your business.
When important mail comes in, they scan and upload a copy to your online account and send you a text or email so you stay current on your business mail. View your service of process history, annual reporting, and compliance notifications all from your dashboard. They also have a library of free learning guides available to you online.
Pros
Start your Business for Free: $0 business formation + First-year registered agent service for free.
Affordability: Low-cost annual registered agent services.
Cons
Pricey Add-on Services: Watch for fees from add-ons and upgrades when signing up – this is where Incfile earns its money.
Customer Service: There are reports that customer service is not always the greatest.
Pricing
Registered Agent Service (Free first year, then $119/year): Compared to other service provider costs, Incfile provides a lot of value at a low price. This budget-friendly service meets the basic requirements and sends you convenient alerts so you are up to date.
---
Best Risk-Free Registered Agent Option in Alaska ($149.99/year)
Get your compliance needs covered, convenient mail updates, and fast legal help if you need it with Rocket Lawyer. Appointing Rocket Lawyer as your registered agent keeps you organized, with access to all your legal documents online. They are available during normal business hours to ensure service of process can always be received to maintain compliance.
When mail is received, they will scan and send you the important stuff and filter out the junk. Their service provides a layer of protection around your business; if you were sued, you could deal with the matter privately. They also have premium member plans that include 25% off registered agent services plus access to an attorney for legal consultations.
They take pride in their success and prioritize excellent service. Rocket Lawyer services come with a satisfaction guarantee policy and a 7-day free trial for access to their services. Rocket Lawyer is a risk-free choice; If at any time you want to cancel their services, they promise a full refund.
---
Best Registered Agent in Alaska For Compliance Support ($299/year)
An industry leader in providing quality registered agent service, LegalZoom comes with all the bells and whistles. Get digital copies of all your important documents, unlimited cloud storage through your online account, compliance alerts about tax and annual report deadlines, identity theft protection, and business credit monitoring. LegalZoom also has a Business Advisory Plan option which includes attorney services for an additional monthly cost.
LegalZoom registered agent will function as your point of contact for receiving service of process and will always be available during normal business hours. This ensures your business stays compliant, keeps your address off public record, and provides flexibility, so you don't have to be present during business hours. You can count on reliable alerts when official mail is received and helpful service from your account manager.
---
Quality Registered Agent Service provider in Alaska ($129/year)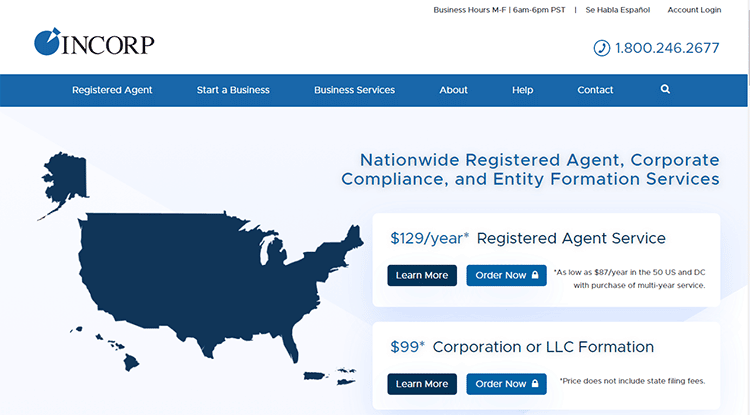 InCorp has business solutions to help you at every step, from business formation packages, registered agent services, reporting services, and legal help for copyright and trademarks.
Order an Alaska registered agent with Incorp, and they will provide you with an official address to receive your annual filing notices and other legal mail and handle your documents in a timely manner. They will always be available during regular business hours to keep your corporation compliant and ensure official mail is received and important messages are relayed to you.
Login to your InCorp entity management system to see your corporate documents, store business files and keep track of compliance calendar events. Discounts apply for multi-state service. Save yourself time and make sure all your legal mail is accounted for and documented for peace of mind and compliance.
---
Standard Registered Agent Service in Alaska ($159/year)
SunDoc has a reasonably priced registered agent service for Alaska businesses. Their main job is to receive service of process documents on behalf of the business and help you with compliance alerts. Their local office will go on file as the point of contact for your business, and they will be available during normal business hours to ensure your business can be reached for state compliance and legal mail deliveries.
You will have convenient 24/7 access to all your scanned documents and service of process history from your online account and get email alerts when new mail arrives. They can also forward legal documents to your attorney on file. If you need help with business formation or document filing, they have tools and resources to help you from start to finish.
---
Best Registered Agent in Alaska For Quick Communications ($149/year)
Swyft Filings is equipped to take care of your business tasks. Their registered agent service is an affordable and professional option for your business, with service available in all 50 states. They will be open and available to receive your official business mail, handle service of process if you are ever sued, send you new mail alerts, and keep you up to date on due dates and state requirements to make sure you stay compliant. When you sign up, you will get an online account where you can view your official documents as soon as they are uploaded.
They offer annual reporting services for an additional $99 if you need help or want to save time filing.
Get in touch with customer service by phone or online chat in real time if any questions or concerns arise.
For additional resources, you can find helpful articles, state guides, and information about taxes and finance in their online learning center.
---
Best Registered Agent in Alaska For Global Business Connections ($299/year)
CSC Global is a trusted registered agent service provider for new and growing businesses. They have an optimized system to keep your business mail sorted and organized, with same-day document scanning, email alerts, and automated compliance reminders.
Get an official Alaska office address for your business point of contact, and count on your registered agent to be available during standard business hours. They will take care of this requirement to keep your personal address off public record and keep your business in good standing with state compliance. View service of process history and have your important documents forwarded to you with proof of delivery from your online dashboard.
Their service costs more than some of the others listed above. However, if you want additional business services such as entity management, business licenses, or legal and global financial assistance, then CSC Global has what you need.
---
Local Registered Agent Service in Alaska ($49/year)
Alaska Registered Agent service provides all the essential needs for your business to be able to receive legal mail during standard operating hours and an online account for secure document storage, all for a low price. They will be ready to help and go on the record as your registered agent as soon as your order services.
When you sign up for service, they provide you with all the necessary forms pre-populated with their Alaska registered agent service information so that you can file with the Alaska Corporation Commission immediately. Their service is straightforward, hassle-free, and has no hidden fees. You can contact them via phone or email for quick customer support. Access your account online, get mail updates sent to your email, and get compliance report reminders to stay on top of state filing deadlines.
---
Basic Alaska Registered Agent Services ($95/year)
Corporate Filings Solutions will manage the essential duties of a registered agent for you, and they also offer basic business formation services; however, their prices are not competitive. If you order registered agent services through them, they will act as the communication point between the government and your Alaska business.
You will get a physical office address in Alaska where they will accept service of process and other legal documents. View your scanned documents in your online portal and get notified when official mail arrives. They will also send you corporate filing reminders and compliance alerts so you can keep your business in good standing. They can also file your reports for you and charge an additional service fee. Their service is good, but minimal compared to other registered agent service providers.
---
What Is an Alaska Registered Agent?
An Alaska registered agent is statutorily responsible for receiving and forwarding processes, notices, or demands required or permitted by law to be served to the business they are representing.
How Can an Alaska Registered Agent Help Your Business?
Your Alaska registered agent fulfills the essential role of being available during normal business hours to keep your business compliant and to ensure your business can receive critical legal mail deliveries.
Secure Address: Your registered agent will be the point of contact where your business receives legal mail, so your address stays private.
Privacy: If ever sued, your registered agent will relay the service of process to you privately, so you can quietly handle the process without any embarrassment.
Compliance: Hiring an Alaska registered agent protects you by ensuring your business will always be available to accept and sign official documents during standard US business hours, which is required to maintain compliance. They can also remind you of annual report filing deadlines.
Convenience: View all your scanned mail and official documents online in one place, and receive new mail notices so you can stay organized and up to date on state filings.
Is a Registered Agent Legally Required in Alaska?
Alaska Division of Corporations requires all businesses authorized to transact business in this state of Alaska to appoint and maintain a registered agent.
Alaska Registered Agent Q&A
How Much Does an Alaska Registered Agent Cost?
It does not cost much to hire a professional registered agent for your Alaska business, and the annual fee is well worth the convenience. From our research, we found services for as low as $49 per year up to $300 for more comprehensive coverage. Some companies provide the first year of service for free when you form your business through them.
Can I Be My Own Registered Agent In Alaska?
You can choose to be your own registered agent for your business; however, you must meet these requirements:

• Must be 18 years old
• Must be a resident of the State of Alaska
• Must have an Alaska physical and mailing address
• Must be physically present at the address on file during normal business hours
Can a Company in Alaska Change Its Registered Agent?
You can change your registered agent at any time by submitting a Statement of Change form along with the $25.00 non-refundable filing fee to the Corporations Section. This form can be found on the Forms by Entity Type web page.
How Long Does It Take to Get an Alaska Registered Agent?
Once you decide on a registered agent service, it only takes a few minutes to order services. The rest of the filing process relies on state filing timelines and can take a few days or weeks. Some companies offer pre-filled filing forms for new businesses to expedite the state siling process.