We have scoured the internet for reviews on the best registered agents in Nevada, so you don't have to. From Google and the Better Business Bureau to social media platforms and speaking with businesses individually, these are the best at what they do.
Nevada requires all businesses formed within the state to have a designated registered agent according to NRS 86.231 and NRS 78.090. A Nevada registered agent is legally eligible to receive important documents including:
Legal documents (including notice of a lawsuit)
government notices
tax documents
messages from the Secretary of State
Other business documents
A registered agent can be an individual or a business. They are required to have a civic mailing address (not a P.O. Box). They must maintain normal business hours within the Pacific or Mountain Time Zone, depending on where in Nevada you are located. A business owner can act as their own registered agent, but it isn't recommended.
Before we get into the how and what of it all, here is a list of the top registered agents in Nevada. Each brings something unique to the table.
What Is the Best Registered Agent Service in Nevada?
Best Overall Registered Agent in Nevada ($125/year)
Northwest Registered Agent is one of the top Nevada registered agent services. They accept and processes documents and legal notices on behalf of Nevada business owners. They act in the required role of the registered agent for your Nevada company so you can focus on running your business.
Through Northwest Registered Agent, your business receives a secure address. This creates a contact point for public records, legal documents, and more. Whether you run an LLC, corporation, or nonprofit, your documents will be scanned, uploaded, and made available through your customer portal. Physical copies are also forwarded by mail as needed.
Working with Northwest Registered Agent provides an affordable agent service with various benefits. Here are some of the pros and cons of choosing the Northwest team as your registered agent.
Pros
Discreet Privacy by Default® services: Data is never sold or shared.
Pre-filled forms: Corporate data auto-fills for easy filing.
Free sign-up bonuses: Free phone service for 60 days.
Free mail forwarding: Northwest Registered agent sends you mail.
Local Corporate Guides®: Nevada business experts to guide you.
Annual reporting instructions: Tips and instructions on annual reporting compliance.
Cons
Mailing fees: Additional costs if your business requires more than 5 mail forwards a year.
Service fees: If you form your business through Northwest Registered Agent there is a $100 service fees.
Pricing
Registered Agent Service ($125/year): For this low annual fee, Northwest Registered Agent offers one on one customer service, 24/7 access to all uploaded documents, privacy, compliance tips and reminders, and same-day scanning upon receipt of documents.
Along with your annual fee, you can add services, including:
Law-on-call services: $9/month
Premium mail forwarding: $20/month
Attorney trademarking service: $499
---
Best Registered Agent in Nevada For Affordability and LLCs ($99/year)
If you love a good discount, Inc Authority is a great place to start shopping for registered agents in Nevada. The company offers free LLC registration and a free registered agent service for a year. Renewal is $99 annually. They're one of the best registered agent service offerings in Nevada.
Inc Authority acts as your Nevada point of contact for all official correspondence. They specialize in tax forms and notices of lawsuits but also process other government notifications and essential documents.
As an LLC registration firm, as well as a registered agent, Inc Authority offers additional business services. Clients receive a business credit and funding analysis for financial solutions, along with tax planning, and long-term digital storage of documents.
Pros
Quick order processing: Quick 24-hour order turnaround.
Local support: All customer service is U.S. based and available 7 days a week.
Freebies: Free business registration and free registered agent service for a year.
Cons
Solo annual reports: No annual reporting options (leaves more work for you).
Exclusive to Inc Authority businesses: Only businesses formed under Inc Authority may access registered agent services.
Pricing
Registered Agent Service ($99/year): Inc Authority offers registered agent services at a renewal rate of $99 annually with the first year completely free. They also register your LLC for free. This covers the cost of document retrieval and forwarding, tax prep, digital storage, and more.
---
Best Registered Agent in Nevada to Start a New Business ($0-$299/year)
Zen Business is a top choice for newcomers looking to start and grow a business from the ground up. The company takes you through the entire process of:
Forming an LLC
Registering an EIN (Employee Identification Number)
Designing website
Organizing business banking
Creating web domain
Zen Business is a registered agent promoting fast filing and a guarantee of 100% accuracy on all forms for Nevada businesses. They specialize in tax and accounting forms, along with the receipt of official government documents and legal correspondence.
Pros
Three unique packages: Zen Business has a Starter, Pro, and Premium package depending on where your business is in the creation and growth process.
Accuracy guarantee: A guarantee of 100% accuracy and worry-free compliance.
Digital dashboard: Scanning and uploading of all documents for continued access.
Low starting cost: For $49 you can register your business with Zen Business and receive a year of free registered agent services.
Cons
Premium services are expensive: Filing is slow on the free starter package at 2 to 3 weeks. The pro package takes 4 to 6 days. For premium filing speeds of 1 to 2 days, customers pay $299 annually.
No compliance reminders: Zen Business charges an additional cost for compliance alerts on starter packages.
Pricing
Registered Agent Service ($0 to $299/year): Zen Business offers three packages. The starter package is free but offers a bare minimum of services. The pro package is $199 annually and includes faster filing times and an operating agreement. The premium package is $299 annually and includes web building and domain names along with the fastest filing speeds.
---
Best Registered Agent in Nevada For Extra Services and Support ($119/year)
Inc File is careful to confirm they are more than a virtual mailbox. The company acts on your behalf as a Nevada business address for all registered agent correspondence. All Nevada State Secretary mail, legal documents, and state forms go to Inc File before making their way to you.
Inc File offers a similar deal to Inc Authority, with a free initial year of registered agent services and $119 per year for each renewal. The Inc File digital dashboard is available 24/7, and email notices are sent for each document received.
All legal and state documents are also forwarded automatically by mail. This ensures you receive all important paperwork without the potential risk of embarrassment or privacy breach with sensitive mail.
Pros
Extra Services: Inc File will form an LLC for your business free plus state taxes. They also offer services including business taxes, certificates of good standing, and foreign qualifications.
Affordable: The first year is free and $119 afterward is a great deal for a Nevada registered agent.
Bilingual CSRs: Customers from across the country are supported by bilingual customer support agents. Inc File ensures all clients may converse in the language they are most comfortable with.
Cons
Business Hour Restrictions: While digital documents are available anytime, customer service has a 9 am to 6 pm window.
Pricing
Registered Agent Service ($119): Customers of Inc File are invited to form an LLC for free and only pay state taxes. Registered agent services are then available to clients for free for the first year and $119 annually after this.
---
Best Registered Agent in Nevada For Affordable Ongoing Services ($99/year)
Many compliance agents offer a first-year discount on annual fees and add-ons. Harbor Compliance takes the lead as an ongoing affordable option for registered agent services. The company only charges $99 annually for the reliable receiving of important documents.
Harbor Compliance provides immediate access to your registered agent address in Nevada and same-day document delivery. The software is user-friendly and includes custom add-ons such as notices of annual reports. These add-ons are free with your registered agent service.
With a specialty in compliance, the dully named company supplies a free initial compliance report when you sign up. Nevada business owners then gain access to the customer portal and all additional perks,
Pros
Immediate access: As soon as you register with Harbor Compliance, Nevada businesses can begin claiming their mailing address and access pre-filled state forms.
Annual report notices: No extra fees for annual report notices and other custom notifications.:
Specialized compliance software: Nevada businesses are in safe hands from breaking compliance laws as Harbor Compliance focuses heavily on this role.
Cons
State filing fee: Although it's a flat fee, Harbor Compliance charges to file with the state on behalf of your business.
Zero refunds: If Harbor Compliance isn't satisfying your compliance and registered agent needs, there's no money-back guarantee. The company refuses refunds to Nevada business owners.
Pricing
Registered Agent Service ($99/year): For $99 per year Harbor Compliance customers access immediate registered agent services. Multi-year contracts receive an additional 5% to 10% discount. This provides all the registered agent services Nevada businesses require, along with advanced compliance support.
---
Best Registered Agent in Nevada For Risk-Free Compliance Coverage ($149.99/year)
As the name suggests, Rocket Lawyer has a strong focus on legal compliance in Nevada. The company helps new businesses register as an LLC and acts as a registered agent service. They supply a physical street address in Nevada for state and legal documents to be mailed.
All your documents are uploaded and sorted in a digital portfolio. This keeps legal notices and state documents easy to find at a moments notice with no additional work on your part. As official correspondence arrives, Rocket Lawyer also scans and emails them directly.
All businesses in Nevada require a registered agent service. Rocket Lawyer helps keep your business penalty free by acting on your behalf. In this way, they also protect your reputation by maintaining discretion and privacy where all documents are concerned.
---
Best Registered Agent in Nevada For Support in Compliance ($0 to $279/year)
LegalZoom is a master at business compliance and other legal services, including companies in Nevada. They offer three distinct packages for their registered agent service, including a Basic, Pro, and Premium plan.
Although expensive, the premium package offers the most for growing businesses. It includes additional features such as:
Mail alerts
Unlimited cloud storage
Compliance calendar alerts for taxes and accounting
Ask an Attorney for legal services and support
Legal Zoom receives and forwards legal papers and other official forms. This helps Nevada companies avoid the embarrassment of receiving lawsuit notifications and state documents in person. The process is discreet, providing a digital access point for all correspondence.
If you already have a registered agent service, Legal Zoom will also file your forms to switch to their services.
---
Best Registered Agent in Nevada For No Hidden Fees ($100/year)
Rapid Registered Agent boasts a policy of no hidden fees, no upselling, and no price increase after the first year of service. Nevada business owners benefit from the company's premier web portal for instant notifications and document generation.
Rapid Registered Agent is a top choice for Nevada companies because they don't cap recipients. Send as many copies of your legal and state documents to as many recipients as you need with no extra charges.
Notices for lawsuits and other important documents are emailed as well as texted or faxed. Selected documents are also mailed for your records. The benefit being no customers catch sight of a letter from a law firm and speculate on its contents.
---
Best Registered Agent in Nevada For Quality Service ($87/year)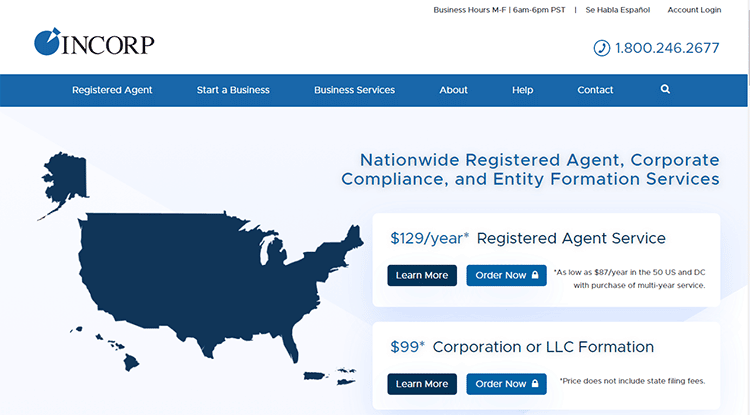 InCorp is one of the top registered agent services in Nevada for quality of service. Starting at only $87 a year, InCorp offers the mandatory mail receiving and forwarding along with additional services, including legal services.
As an InCorp customer, Nevada business owners receive 24/7 access to online documents and online support. IncCorp uses proprietary software called EntityWatch®, designed to provide real time updates on entity status and filing. As a registered agent service they go above and beyond.
EntityWatch® technology provides support on security updates as well. This allows you to further protect yourself from corporate identity theft. Advanced security keeps your private documents private, letting you deal with legal and state documents without prying eyes.
---
Best Registered Agent in Nevada For Simple Direct Service ($35/year)
Nevada Registered Agent LLC helps Nevada business owners create an LLC and manage official mail. For only $35 a year, clients receive simple and direct online storage and mail forwarding for all state forms, legal mail, and other official correspondence.
Services initiate instantly upon registration, and Nevada Registered Agent LLC keeps all your due dates online for top tier maintenance tracking. Customers can also count on reminders of Nevada annual state report filing and free use of your new business address for all mail.
Nevada Registered Agent LLC not only takes on the private documents you don't want delivered in public. They also gather any junk mail and misdirected mail and sort it for you. No more wasting time flipping through piles of coupons and flyers on your desk.
---
Best Registered Agent in Nevada For Fast Customer Service ($199/year)
Starting at $199 a year, Swyft Filings gives Nevada business owners an official business address for correspondence as a registered agent service. They also provide a wide range of additional business services including:
Ammendments and name changes
Changing of Nevada registered agent service
Foreign qualification
Annual reporting
Swyft filings are known for their quick customer service response times and reliability. Agents are available 9am to 5pm in Nevada and customer receive notifications whenever official documents arrive and are uploaded.
Manage your mail from the comfort of your office as it is uploaded and organized for your Nevada business. Swyft Filings is more than a registered agent service. They will also file all you're state filings for you through their state filing services. This add-on service is $99 plus state fees.
---
Best Registered Agent in Nevada For International Qualifying ($299/year)
CSC Global has been overseeing business compliance for more than 120 years. The company has global connections, providing substantial assistance to Nevada businesses hoping for international qualification. They're a top registered agent service.
With CSC Global, Nevada businesses receive same day delivery of electronic documents. Files are protected by CSC Global's proprietary SOC 2® security software. With this, businesses can rest assured official documents are kept private and delivered discreetly to your digital portal.
The CSC Global registered agent service customer portal is called CSCNavigator®. It offers email alerts for all entity status updates and compliance report reminders.
Along with these services, CSC Global customers have access to annual reports, corporate filing services, business license services, UCC search and filing services, and more.
---
Best Registered Agent in Nevada For Consistent Pricing ($75/year)
Resident Agent LLC is one of the most consistent registered agent services in Nevada. They charge $75 per year for services, and guarantee the cost will never go up. Resident Agent LLC also provides consistency in document management.
Through your online account Nevada business owners track official correspondence and organize documents. Mail sent to your agent is uploaded immediately. You also receive a notification from your registered agent service every time a new document is uploaded so you never miss a beat.
Resident Agent LLC sends early annual report reminders to keep your company on time to meet Nevada state deadlines. They also send compliance reminders, and supply pre-filled forms for fast and easy filing.
---
What Is a Nevada Registered Agent?
A Nevada registered agent service acts on behalf of your company to receive formal business correspondence. This includes:
Legal documents
State forms
Tax documents
Correspondence from the Secretary of State
This mail is uploaded to a digital customer portal, as well as forwarded discreetly to your preferred address.
How Can a Nevada Registered Agent Help Your Business?
Having a Nevada registered agent service ensures a variety of advantages, apart from state business requirements. Here are some of the ways a Nevada registered agent service can help.
Never Miss a Document
By employing a professional registered agent service to manage correspondence you guarantee no document goes forgotten. All mail is sorted, organized, and digitally stored for 24/7 retrieval.
Discretion and Privacy
A lawsuit coming to the front door of your business doesn't look good for clients. A registered agent service keeps prying eyes away from embarrassing documents while ensuring you receive digital and paper copies for your records.
Official Nevada Business Address
Depending on the type of business you run, you may not have a physical address for official correspondence. Nevada requires a mailing address, not a P.O. Box for state and legal documents. Working with a registered agent offers an official business address for correspondence.
Is a Registered Agent Legally Required in Nevada?
A registered agent is required for all Nevada businesses. The duties of the registered agent are outlined on the state website under Chapter 77 of Nevada Revised Statutes.
Nevada Registered Agent Q&A
Hopefully, this guide has answered most of your questions about obtaining a Nevada registered agent service. If not, here are some of the most frequently asked questions about the process.
How Much Does a Nevada Registered Agent Cost?
Depending on your service needs, a registered agent in Nevada can cost as little as $0 and as much as $299 per year. Many registered agents offer an initial free year of service, along with bonus services for newcomers.
Can I Be My Own Registered Agent in Nevada?
Technically, you can be your own registered agent in Nevada pursuant to the Nevada Secretary of State. Most businesses choose not to do this to remove the onus of one more responsibility and to minimize the potential for a breach of privacy. 
Can a Company in Nevada Change Its Registered Agent? 
Absolutely. Nevada business owners can change their Nevada registered agent services themselves, or through their new agent. Many registered agents will process forms for change of agent for free or at a low rate. To change your registered agent, complete these forms from the Nevada Secretary of State.
How Long Does It Take to Get a Nevada Registered Agent?
Obtaining Nevada registered agent services is immediate. Depending on the company you file with, your digital customer portal can be accessible within minutes.