Like most states, New York requires a registered agent to be assigned to all businesses formed in-state. New York registered agents are responsible for receiving official business documents on your company's behalf, including a notice of legal action, government forms, tax forms, and even correspondence from the New York Secretary of State.  Throughout this guide, we'll talk more about the laws revolving around registered agents in New York, and how registered agents benefit business owners, and we'll follow up with an FAQ section. Here's what you need to know about the best registered agents in New York.
To become a registered agent in New York, a business or individual must have:
A civic mailing address (P.O. Boxes do not qualify)
Standard business operating hours (Eastern Standard/Daylight Saving Time)
Businesses in New York default under the Secretary of State as registered agents. Most companies find a separate agent once they form an LLC or another entity to make sure to protect themselves and stay fully compliant.
What Is the Best Registered Agent Service in New York?
New York is a state full of opportunity. It's no surprise that there are many candidates for registered agents in the state. Here is a list of our top picks for best registered agent services in New York.
Best Overall Registered Agent in New York ($125/year)
Northwest Registered Agent is at the top of our list for a reason. This is the best overall choice in New York for accepting and processing business mail. They receive your mail at a registered New York civic address, upload the mail to your customer portal for immediate viewing, and forward any documents that require further interaction.
Northwest Registered Agent provides a private and secure address for public records, state mail, legal documents, and more. They serve multiple business entities, including LLCs, corporations, or nonprofit organizations.
Before you pick an agent, it's useful to weigh the pros and cons of each service. Here are some of the common benefits and downfalls of Northwest Registered Agent.
Pros
No cost mail forwarding: Northwest Registered Agent forwards you any mail they receive which requires further action, or may be required for record keeping.
Discreet Privacy by Default®: This proprietary service ensures your information is protected, and never shared or sold.
Sign-up Perks: Customers of Northwest Registered Agent receive 60 days of free phone service.
Annual reporting tips: Receive instructions on compiance and filing standards.
Pre-filled forms: Annual filing forms are pre-filled with your company data.
Local Corporate Guides®: Business experts with knowledge of the New York business landscape.
Cons
Service fees: $100 in service fees if you form a business through Northwest Registered Agent.
Mail forwarding extras: 5 mail forwards are free. After this, you pay an additional cost per forward.
Pricing
Registered Agent Service ($125/year): Northwest Registered Agent charges $125 annually, which ranges in the middle of New York registered agent pricing. For this cost, you can count on 247 customer service, immediate access to document uploads, and ongoing compliance support and alerts.
Extra Costs you can opt into include:
Premium mail forwarding services for $20 a month
Trademarking services by a lawyer $499
On-call legal services for $9 a month
---
Best Registered Agent in New York for New Businesses ($0-$299/year)
New business owners in New York State need look no further than Zen Business. Along with registered agent services, Zen Business also provides options to grow your business, including:
LLC formation
Web design and domain creation
Employee Identification Number (EIN) registration
Business banking setup
The team at Zen Business ensures the fast filing of official forms and a 100% guarantee for accuracy. This takes the pressure off new business owners during annual state filing. They specialize in government, legal, tax, and accounting documents.
Pros
Guaranteed accuracy: Stress-free compliance with a 100% accuracy guarantee.
Online access: Access to a digital dashboard where documents are scanned and uploaded for easy access.
Affordable: Receive the first year of registered agent status free when you register your business for $49 with Zen Business.
Choice of packages: Choose the right price and coverage for your brand with a Starter, Pro, and Premium service offering.
Cons
Lack of reminders: No compliance updates or reminders are included with your package. New York businesses must pay extra for alerts.
Expensive premium package: Premium users pay $299 annually.
Pricing
Registered Agent Service ($0 to $299/year): There are three unique packages with Zen Business, including:
Starter: Free (bare minimum of services and slowest filing speed)
Pro: $199/year (faster filing times and an operating agreement)
Premium: $299/year (includes extra features such as web building and a domain name)
The premium package offers the most features and fastest filing rates.
---
Best Registered Agent in New York For LLCs ($99/year)
Inc Authority is a great registered agent service for LLCs, or potential business owners hoping to form an LLC. They're also one of the most affordable registered agents in New York with a first-year free policy, followed by only $99 annually.
Like most registered agents, Inc Authority provides your business with a local NY state mailing address. They receive all formal business correspondence and weed out junk mail before forwarding anything important. All documents are uploaded for immediate access through your digital portal.
As an additional service, Inc Authority offers a funding analysis and business credit service, as well as long-term digital storage and a tax plan option.
Pros
Fast processing: Uploads are processed within 24 hours.
Cost-free benefits: Along with a free first year as a New York registered agent service, there are other free services to benefit from.
Local NY customer support: All of Inc Authority's customer support representatives are U.S. based. Chat with help 7 days a week.
Cons
No annual reporting: Inc Authority draws the line at annual reports, making a little more work for you as a business owner.
Only for Inc Authority businesses: You only have access to them as a New York registered agent service if you form your business through Inc Authority.
Pricing
Registered Agent Service ($99/year): The cost for Inc Authority services is optimal. A first year is free with $99 per year ongoing. You can also register your LLC for free.
---
Best Registered Agent in New York For Customer Support ($119/year)
Inc File creates a New York business address for your company but provides more than a virtual mailbox. The company receives all registered agent mail from legal and tax documents to correspondence from the Secretary of State.
All forms are received by Inc File before being scanned and uploaded. Physical copies of important documents may also be forwarded to an address of your choosing.
Like Inc Authority, Ink File has a first-year-free policy. Additional years are $119 annually. The digital dashboard gives instant access 24/7 to all uploaded documents. Business owners are also notified via email when documents appear online.
By using Ink File as a registered agent, New York businesses avoid privacy concerns. Customers are unable to see if legal documents, or other sensitive materials, are being delivered.
Pros
Bilingual support: Customer support comes in English and Spanish. Bilingual support makes it easier for business owners to get the help they need.
Add-ons: Along with standard services, Inc File supports business owners with LLC formation, business tax services, foreign qualifications, and certificates of good standing.
Affordable services: A free first year followed by $119 annually is a good price for a registered agent in New York.
Cons
Small support window: Customer service is only available in-person/over the phone from 9 am to 6 pm. Digital support is ongoing.
Pricing
Registered Agent Service ($119): Inc File starts with a free year of registered agent services when you form an LLC. Customers pay $119 annually following the initial year.
---
Best Registered Agent in New York For Long-Term Affordability ($99/year)
Harbor Compliance provides ongoing affordable registered agent services. Rather than prorating things with a free year followed by upwards of $299 annually, they set a steady service cost of $99 per year. This keeps costs consistent and dependable.
For this price, Harbor Compliance sets a New York business mailing address with same-day document delivery. Proprietary software provides a user-friendly digital platform experience and bespoke add-on services, including annual report notices.
As the name suggests, Harbor Compliance specializes in compliance and offers New York businesses a free compliance report. Customers of the service avoid compliance-related legal risks.
Pros
Yearly report alerts: Free annual reporting alerts, and other notices.
Fast access: Once registered, New York businesses have immediate access to the civic mailing address and pre-filled forms.
Bespoke compliance software: Harbor Compliance has specialized software to ensure no compliance stones are left unturned.
Cons
No refunds: With no money-back guarantee, Harbor Compliance customers can't count on a refund. Customers who don't appreciate the company's registered agent services are out the money.
Filing fee not covered: The state filing fee is extra. Harbor Compliance offers a flat fee to file for New York businesses.
Pricing
Registered Agent Service ($99/year): Harbor Compliance charges $99 annually for registered agent services. They also offer an additional 5% to 10% discount on multi-year contracts. Customers receive standard registered agent services and additional support in compliance and filing.
---
Best Registered Agent in New York For No Penalty Compliance ($149.99/year)
Rocket Lawyer is a great option for New York businesses looking for a legal edge. The company functions as a registered agent, as well as helping new businesses register their LLCs, and offering advanced assistance in legal care.
Like many other local registered agents, Rocket Lawyer has a digital platform for document uploads and sorting. Legal notices and other official correspondence are organized online for easy access. These documents are also emailed to you for additional notification.
Rocket Lawyer provides a penalty-free business atmosphere. Their New York registered agent service keeps your state and legal mail private, with discreet forwarding services.
---
Best Registered Agent in New York For Legal Support ($0 to $279/year)
Another registered agent company with a legal specialization is Legal Zoom. Along with standard registered agent services, Legal Zoom has an "Ask an Attorney" option. They have three options for support plans, including Basic, Pro, and Premium.
Some of the bonus features offered through Legal Zoom are compliance calendar alerts, tax and accounting alerts, attorney services, and unlimited cloud storage.
New York companies keep legal correspondence private to avoid awkward mail delivery encounters at your place of business. They also help you switch from one registered agent to another, and provide annual filing services.
---
Best Registered Agent in New York For High-Quality Support ($87/year)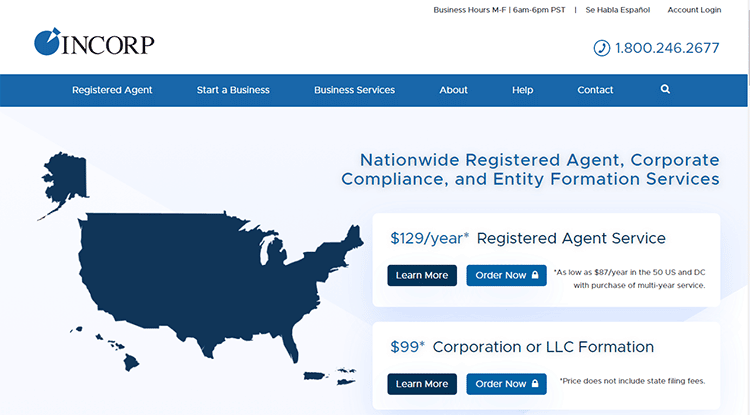 InCorp has some of the best registered agent support in New York. All businesses with InCorp have immediate 24/7 online access to documents and digital support. At only $87 annually, they also offer one of the lowest ongoing prices for registered agent services in the state.
One of the things that set InCorp apart is its proprietary software, EntityWatch®. EntityWatch® gives real-time reports on annual filing and business entity status. It also offers updates on security, with a focus on identity theft prevention and privacy control.
Like other registered agents in the state, InCorp caters to discretion upon delivery. The hope is that businesses they work with can avoid embarrassment or customer confusion when sensitive documents arrive at the door.
---
Best Registered Agent in New York For Fee Transparency ($100/year)
Rapid Registered Agent is one of the best New York registered agent services for transparency. Their promise of no upselling, no price increases throughout the first year, and no hidden fees make them a front-runner. $100 annually is a reasonable price for a service in New York.
Companies working with Rapid Registered Agent Have access to a bespoke web portal. The portal is used for document uploading, organization, viewing, and instant notifications are applied on receipt. Important documents are forwarded as physical copies.
One of the nice things about this New York registered agent service is there's no cap to recipients. Send copies of your state and legal documents wherever they need to go without limitations.
---
Best Registered Agent in New York For A Quick Reply ($199/year)
Swyft Filings is the best registered agent service for fast replies. The company supplies reliable customer service from 9 am to 5 pm Easter Time, making it easy for New York businesses to keep in touch. Notifications are also sent anytime they receive mail on your behalf.
Correspondence isn't the only service offered by Swyft Filings. The company charges a flat rate of $199 annually. Additional services include:
Registered agent
Registered agent change
Company amendments
Name change for business
Annual reporting
Foreign qualification
One of the downsides to all these extra services is that some cost extra. State filing for example is an additional $99 plus state fees.
---
Best Registered Agent in New York For General Services ($49/year)
New York Registered Agent LLC gets right to the point. The company acts as a permanent New York mailing address for registered businesses. This provides a point of contact for official mail, which is combined with an online profile for immediate uploads and digital access.
Customers are alerted to receive documents in real-time, making it easy to keep tabs on legal documents, state forms, and other official mail. Everything is available 24 hours a day, 7 days a week through your online account.
For only $49 a year, New York Registered Agent LLC provides steady standard registered agent services. No hidden fees, no add-on costs, and no hidden agenda. Just simple straightforward mail delivery in New York State. They'll even receive and dispose of junk mail, so you don't have to.
---
Best Registered Agent in New York For Form Library ($75/year)
Resident Agent LLC is one of the best registered agent services for New York businesses. The company provides access to an entire library of New York forms useful for filing businesses. They also issue biennial reminders for statements.
Services with Resident Agent LLC run $75 a year, which is in the low to mid-range for resident agents in the state. Once you register, your services begin immediately. This means you can use the company's mailing address as your permanent New York business address.
All business mail can be sent to Resident Agent LLC and will be uploaded for viewing. Physical forms of importance can also be forwarded to an address of your choosing. This is useful if your business has a P.O. Box, which isn't recognized by the Secretary of State for business use.
---
Best Registered Agent in New York For International Qualification ($299/year)
As the name suggests, CSC Global doesn't just operate at a federal level, but an international one. For companies receiving official mail globally, CSC Global is the best registered agent in the state.
CSC Global has a long record of success as a registered agent and for qualifying internationally. The company has been in business for over 120 years, with connections around the globe.
All documents are uploaded same-day and protected by a proprietary SOC 2® software. This keeps forms and files stored safely in your online CSCNavigator® portal for easy access. Receive email alerts for new files and compliance reminders.
Use CSC Global services for corporate filing, UUC search and filing, and business license services, along with standard registered agent options.
What Is a New York Registered Agent?
A New York registered agent is a company acting on behalf of your business for the receiving of official mail. This includes correspondence such as:
Mail from the Secretary of State
Legal forms
Tax documents
State forms
Most registered agents upload the mail to an online portal, as well as forward documents to your business. This keeps official mail discreet and organized.
How Can a New York Registered Agent Help Your Business?
Most states require a registered agent. Partnering with a registered agent in New York provides many benefits, including:
No Junk Mail
If all mail is forwarded to your registered agent, you never have to sort through stacks of flyers or coupons. Leave the junk mail out of your inbox and focus on the important documents.
Don't Miss Out
It's easy to overlook a document in your rush to sort through incoming mail. A registered agent sorts through these files on your behalf. You can count on your agent to determine what is important and should be uploaded immediately, and what is junk mail.
Alerts
A registered agent in New York sends alerts every time a new document is uploaded so you can access it in real-time. They also send alerts for compliance and annual filing.
Privacy
Perhaps one of the biggest perks of being a registered agent is the privacy you receive. There's no risk of customers or business investors spotting a legal document waiting in your mailbox. All mail is processed with discretion and kept from prying eyes.
Is a Registered Agent Legally Required in New York?
All New York businesses require a registered agent. You can learn more about the laws of who can be a registered agent through the New York State Senate.
New York Registered Agent Q&A
This guide should provide some insight into what a registered agent is, what they do, and who are the best registered agents in New York. Here are some more frequently asked questions on the topic to add more clarity to the subject.
How Much Does a New York Registered Agent Cost?
New York registered agent services vary in price. Many companies offer the first year free when you form an LLC with them. Others range in price from $0 for basic services to $299 for premium services.
Can I Be My Own Registered Agent in New York?
Yes. You can serve as your own registered agent in New York, but most companies choose to rely on an experienced agent service. Being your own registered agent removes the benefit of a secondary address for security and privacy, and requires more work from you.
Can a Company in New York Change Its Registered Agent?
Of course. In New York, business owners are absolutely allowed to change registered agents. You can do this yourself or through your new registered agent service. There is usually a cost to do this, but some registered agent services include it in their annual fee.
How Long Does It Take to Get a New York Registered Agent?
Many New York registered agent services begin immediately following registration. You should have access to your official business mailing address and online portal within moments.