Choosing a third party to represent you as a registered agent service offers increased privacy and a reduced risk of human error in mail management. Pennsylvania doesn't legally require business owners to have a registered agent service to form a business, but having one certainly helps.
This guide will discuss some of the best registered agents in Pennsylvania, how they can best serve your business, and cover some FAQs.
What Is the Best Registered Agent in Pennsylvania?
Pennsylvania-based business owners use registered agents to manage official mail. The registered agent deals with correspondence from:
Law firms
Local and federal government
Other businesses
Some businesses choose to act as their own registered agent. While this is a valid option (as long as you meet the qualifications above) it is often time-consuming. It also means receiving all your mail directly to your place of business, which is distracting and lacks privacy.
There are more than 12 million people living in Pennsylvania and 1.1 million small businesses. It comes as no surprise there's also a large selection of local registered agent services to choose from. Here, we'll sort through some of the top contenders.
Best Overall Registered Agent in Pennsylvania ($125/year)
Northwest Registered Agent is our top pick for the overall best registered agent service in Pennsylvania. The service really shines for general services, affordable pricing, high-security protocols, and organization
Work with a local Northwest Registered Agent right here in Pennsylvania to manage your LLC or other small business. They provide you with a digital customer portfolio to manage correspondence, as well as a forwarding service.
Northwest Registered Agent sorts, scans, and uploads your documents quickly and efficiently. Receive a notification when new mail arrives. You can also begin using all digital registered agent services immediately.
Pros
First mail forwards are free: Mail forwarding can be costly. Northwest gives new customers 5 free forwards with forwarding packages available after this.
Free phone: New customers also receive 60 free days of phone service.
Proprietary privacy: Northwest Registered Agent uses proprietary privacy protocols called Privacy by Default®. Data is never shared or sold.
Pennsylvania business guide: A Local Corporate Guides® service gives you your very own local business liaison.
Cons
Extra charges: Forming a business through Northwest Registered Agent costs an extra $100 service charge.
Forwarding fees: We mentioned this above, but after your initial 5 free mail forwards, all forwarding comes at a cost.
Pricing
Registered Agent Service ($125/year): Northwest Registered Agent rests in the middle of the price scale for Pennsylvania agents. For $125 annually you receive unlimited digital access to documents and 24/7 online customer service.
Trademarking services – $499 per trademark
On-call legal team – $9 per month
Premium mail forwarding package – $20 per month
---
Best Pennsylvania Registered Agent Service for Small Businesses on a Budget ($0-$299/year)
Zen Business makes registered agent responsibilities seem easy. Choose between three available packages for any budget. All packages include an easy-to-navigate customer portal for document uploads.
Zen Business focuses on small business owners. They're a great partner for new businesses looking to expand. Some of the additional services they offer include:
Domain name registration
Website design and maintenance
Federal Tax ID registration (EIN)
Business banking setup
The Zen business guarantee of 100% accuracy provides peace of mind to new business owners. There's always a risk of mismanaged correspondence. Working with a professional team like Zen keeps your private mail private.
Pros
Three package options: Choose between starter, pro, and premium service packages at varying price points. There's something for everyone.
Website management: Web domain name services and site-building tools
Cons
Pay for reminders: Compliance alerts don't come free.
Expensive: $299 per year makes Zen Business' premium package one of the more expensive registered agent services in Pennsylvania.
Pricing
Registered Agent Service ($0 to $299/year): Pennsylvania business owners choose from three packages:
Starter – Free (slowest filing speeds)
Pro – $199/year (fast filing speeds and an operating agreement)
Premium – $299/year (fastest filing speeds and free web design)
---
Best Pennsylvania Registered Agent For Compliance Reports & Alerts ($99/year)
If you're looking for a compliance partnership with your Pennsylvania registered agent, Harbor Compliance is for you. This is one of the best agents in the state for timely filing and notifications.
Your first year with Harbor Compliance is free with an annual charge of $99 thereafter. Overall this puts them in the mid-range price point for the state. Like most agent services, Harbor Compliance provides fast and simple scanning, uploading, and forwarding of mail.
Ongoing mail storage and new mail alerts make this a great fit for busy business owners who have trouble staying on top of correspondence. Never miss a beat.
Pros
Easy-fill forms: Forget the fuss of filling in Harbor Compliance's name and address on every form. Easy-fill forms come pre-filled with all your registered agent's info.
Free compliance alerts and reports: Receive alerts and full reports on compliance with Harbor Compliance.
Cons
No refunds: You can cancel your registered agent services with Harbor Compliance but their no-money-back policy keeps you from any refund.
Filing fees: Along with your annual registered agent service fee, expect to pay filing fees and state filing fees through Harbor Compliance.
Pricing
Registered Agent Service ($99/year): $99 a year with the first year of registered agent services free is a great money saver for new business owners. Save more by signing a multi-year contract for an additional 5% to 10% off.
---
Best Pennsylvania Registered Agent For Starting an LLC ($99/year)
Starting a new LLC? Having a registered agent service specializing in LLCs is helpful. Inc Authority is a perfect fit for most newcomers hoping to form an LLC or scale up an existing one. Like Harbor Compliance, you can count on your first year free, and $99 per year afterward.
One of the great features of Inc Authority is its no-nonsense approach to spam mail. Don't waste time sorting through flyers and junk mail. Inc Authority does this organizing for you. They forward anything you might need physical access to and upload the rest.
All digital uploads remain accessible in your digital customer portal for the duration of your contract. Start using your Inc Authority mailing address right away, and choose from several business add-ons like credit management and tax planning.
Pros
24-hour document uploading: Don't miss a thing with fast 24-hour uploads. All mail received by Inc Authority is online within a day.
U.S.-based Support: Forget outsourcing. All Inc Authority customer support is based in the United States. Agents are available to chat 7 days a week.
Cons
Must form LLC: If you want Inc Authority to be your registered agent, you have to register your LLC through them.
No compliance reports: Inc Authority drops the ball on compliance reporting and alerts.
Pricing
Registered Agent Service ($99/year): Ink Authority isan affordable Pennsylvania registered agent service. If you form your LLC through the company, formation is free and so is your first year of registered agent services.
---
Best Pennsylvania Registered Agent For Bilingual Service ($119/year)
Inc File is our top contender in terms of bilingual registered agent services in Pennsylvania. Speak to your customer service representative in English or Spanish, whichever your business feels most comfortable using.
The bilingual service is especially great for businesses receiving correspondence in either language. Inc File knows how to organize all your documents no matter the language or subject matter.
Like most registered agents, Inc File supplies a local Pennsylvania mailing address immediately, along with a digital portal. Use the online portal 24/7, with ongoing access to all your uploaded documents. Enjoy your first year free and pay only $119 per year afterward.
Pros
Bilingual customer service: This is probably the most notable feature of Inc File, so we had to mention it here. Spanish and English customer service is a major bonus.
Add-ons: Add extra business services to your plan with rax management, certificate of good standing, or foreign qualifications.
Cons
Agents are only available Mon to Fri: While your online account is always there, live customer service is only available until 6 pm Monday to Friday.
Pricing
Registered Agent Service ($119): Get your registered agent with IncFile for only $119 a year. Register your LLC with them and you also receive your first year of registered agent services completely free.
---
Best Pennsylvania Registered Agent Service for Penalty-Free Mail Management ($149.99/year)
Rocket Lawyer pays close attention to the legal side of registered agent service life in Pennsylvania. You can count on them to spot any potential legal risks and avoid penalties associated with non-compliance.
Rocket Lawyer manages correspondence in the form of:
Legal documents
Financial institution forms
Government mail
Letters from the Secretary of State
Rocket Lawyer offers ongoing document storage for the duration of your contract. They supply a unique Pennsylvania business mailing address for all official correspondence and weed out junk mail before uploading or forwarding documents.
---
Best Pennsylvania Registered Agent Service For Attorney Services ($0 to $279/year)
Legal Zoom's "Ask an Attorney" service is one of its best-selling features. The company brands itself by its legal chops, providing services above and beyond a standard registered agent service in Pennsylvania.
This is a great service for businesses of all sizes and experience. Choose from three packages based on your budget and go with basic, pro, or premium registered agent services. Some of the add-on options you can choose from include:
Intellectual property trademark
Compliance reporting
Tax notifications
Unlimited Cloud storage
"Ask an Attorney"
Keep your Pennsylvania business out of compliance trouble with Legal Zoom.
---
Best Pennsylvania Registered Agent Service For Proprietary Software ($87/year)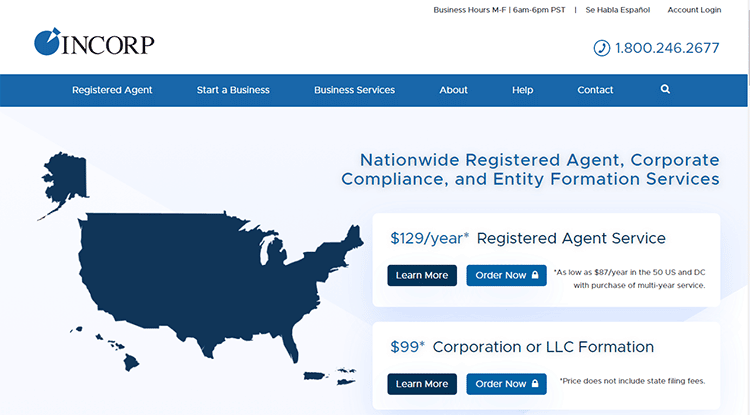 InCorp takes its Pennsylvania registered agent services seriously. It's a particularly good choice for new LLCs. One of the features we love about InCorp is their proprietary EntityWatch® software. Manage all your correspondence with real-time alerts from your customer profile
InCorp charges a moderate $129 annually and has additional features to choose from, including an IOS mobile app, specialized forwarding options, and advanced privacy control.
Security alerts keep you apprised of any changes to your account, and ensure you're the only one with access. Save money by signing a multi-year contract at only $89 a year.
---
Best Pennsylvania Registered Agent Service for Transparent Dealings ($100/year)
There are no hidden messages in the fine print with Rapid Registered Agent. They promise full transparency to registered agent service clients with a "no hidden fees" policy. The company also avoids price hikes in ongoing years. Once you lock into a contract you pay %100 a year.
Rapid Registered Agent also guarentees:
No upselling
No unexplained service fees
No hidden obligations
With your registered agent services, Rapid Registered Agent provides a digital customer portal with unlimited mail uploads. They scan and sort your documents, and forward physical mail that requires signatures and physical filing.
Every received document sends clients an automatic notification. This keeps you informed of any incoming mail, so you stay on top of important documents, meetings, and legal requirements.
---
Best Pennsylvania Registered Agent Service For Extra Services ($199/year)
Swyft Filings is a leader in the business management side of registered agent services. They charge a little more than most agents at $199 per year, but they offer a wide assortment of add-ons to make up for it.
Swyft Filings supplies all the standard offerings required of a registered agent service in Pennsylvania, including supplying an official business address, organizing and uploading mail, and continued mail storage. They also offer:
Business name change services
Company amendments
Year-end filing services
Foreign qualifications
Annual filing costs an additional $99 plus state fees. Other service prices vary.
---
Best Pennsylvania Registered Agent Service For Affordability ($49/year)
Pennsylvania Registered Agent comes at the low price of $49 per year. For new businesses trying to maintain a budget, this is a great option for generic registered agent services.
Pennsylvania Registered Agent doesn't have all the bells and whistles of some of the higher priced agents. They make up for this with straightforward support and consistency. You can count on them to deal with all official business mail and keep you apprised of everything that comes through their system.
Don't miss any official documents from other businesses, customers, the Secretary of State, your lawyer, or other senders.
---
Best Pennsylvania Registered Agent Service For Global Reach ($299/year)
Businesses looking to transcend the Pennsylvania state barriers and beyond should opt for CSC Global as a registered agent. The business has more than 120 years of experience in international business correspondence and uses its own proprietary software.
Some of the specialized services you can expect from CSC Global are:
CSCNavigator® portal
SOC 2® security software
UUC search
UUC filing
Corporate filing services
Business license application services
One major con of CSC Global is its $299 price tag. For small or new business owners, this might not be the best fit, unless you're hoping to qualify internationally.
---
Best Registered Agent Service in Pennsylvania for Form Accessibility ($75/year)
Resident Agent LLC has one of the largest form libraries of all Pennsylvania registered agents. For only $75 a year, you gain access to a variety of online templates and pre-filled forms for your business needs.
Biennial statement reminders and compliance alerts keep you on top of your annual filing. You also reap the benefits of general registered agent services with a Pennsylvania mailing address online customer portal, and 9 am to 5 pm access to customer service Monday through Friday.
Resident Agent LLC has long-term document storage and a no-sharing or selling data policy.
What Is a Pennsylvania Registered Agent?
In Pennsylvania, a registered agent is a person or business you designate as your official business mailing address. They also manage your correspondence. Most Pennsylvania registered agent services offer a unique digital portal to log on and view scanned and uploaded documents.
To become a registered agent in Pennsylvania, the person or business must be available during normal business hours between 9 am to 5 pm Monday to Friday, and have a legitimate civic mailing address.
Businesses without a civic address can also opt for a commercial registered office provider for a registered office address. Commercial registered office providers give your business access to an office mailing address. This provides the registered office address without all the other local or national registered agent service offerings.
How Can a Pennsylvania Registered Agent Help Your Business?
Pennsylvania business owners rely on their registered agents to sort, scan, and upload official mail. This includes weeding out all the unwanted junk among other things. There are many advantages to designating a resident agent, here are a few.
Notifications
Don't get caught in compliance jail. Alerts and compliance reporting from your registered agent help you keep on top of the annual filing.
Privacy Policies
Not only does your correspondence avoid prying eyes when it's sent to an external mailing address, but it also falls under registered agent privacy laws. Your registered agent can't sell or share your business information with others.
This is a great way to keep embarrassing documents like lawsuits, credit collection, or parking tickets from customer sight.
No Spam
We touched on this above, but a great feature of registered agents is their anti-spam regulations. Forget flyers, phishing, and junk mail. Only receive the documents you want to, or need to read.
Accurate Document Filing
Registered agents sort and upload your mail for a living. They're less likely to miss an important form than a casual or part-time employee is. Keep your important documents with a trusted registered agent service so you don't miss a beat.
Is a Registered Agent Legally Required in Pennsylvania?
No. According to the Pennsylvania Department of State, Pennsylvania doesn't require businesses to have a registered agent. But it certainly helps. Businesses without a local mailing address can use a Commercial Registered Office Provider in place of a registered office address.
Pennsylvania Registered Agent Q&A
We hope this guide has answered most of your questions about registered agents in Pennsylvania. Still looking for answers? Here are some of the most frequently asked questions we receive.
How Much Does a Pennsylvania Registered Agent Cost?
Registered agents can be anywhere from $45 to $299 annually with an option for reduced costs with multi-year contracts. Some agents also provide a first-year-free policy when you register your company with them. 
Can I Be My Own Registered Agent in Pennsylvania?
Of course. Any business owner in Pennsylvania can be their own registered agent as long as:
• You have a civic business address (no P.O. Box)
• You're available from 9 am to 5 pm, or normal business hours
Can a Company in Pennsylvania Change Its Registered Agent?
How Long Does It Take to Get a Pennsylvania Registered Agent?
No time at all. Most Pennsylvania registered agent services begin the moment you sign the contract. Your online account should be active within 24 hours, while physical mail forwarding may take a week or two to organize.