All businesses in South Dakota require a registered agent or a commercial registered agent office. This is a civic mailing address where official business mail can go. Someone must be available at the office during normal business hours from 9 am to 5 pm, Monday to Friday. This is to sign for packages and ensure official mail is delivered properly.
Throughout this guide, we'll discuss what a commercial registered agent service does in South Dakota, and talk about the best registered agents in South Dakota. We'll also discuss some South Dakota registered agent services FAQs.
What Is the Best Registered Agent Service in South Dakota?
A South Dakota registered agent deals with official correspondence, such as:
There are roughly 88,000 small businesses in the state of South Dakota. With an ever-growing business district, it's not surprising that many new businesses seek registered agent services regularly. Fortunately, there are a plethora of affordable and reliable registered agents in South Dakota.
Best Overall Registered Agent in South Dakota ($125/year)
Northwest Registered Agent is a reliable and affordable registered agent service in South Dakota. The company is one of the best in the business, offering a wide range of business services on top of registered agent services.
As a client of Northwest Registered Agent, South Dakota business owners pay $125 per year for:
Scanning and uploading all correspondence
Personalized digital dashboard
Long-term mail storage
Mail forwarding
Northwest Registered Agent takes the work out of mail delivery. No juggling customers while trying to sign for packages, and no prying eyes when sensitive documents arrive. Your personalized Northwest Registered Agent customer portal is easily accessed on your mobile phone, tablet, or computer. Choose which documents to read, forward, or save for later.
Pros
High privacy standards: Northwest Registered Agent has a proprietary Privacy by Default® guarantee. Customers of the service can rest easy knowing data is safely stored, never shared, and never sold to third parties. Whether it's a tax form or legal documents, they've got you covered.
Local South Dakota business guide: Whether you're new to South Dakota, or need a hand navigating the business sector, Northwest offers clients a business guide.
Free forwarding: New customers get the first 5 documents forwarded for free.
Business benefit: New customers also receive 2 months of free phone service.
Cons
LLC fee: To start a business with Northwest Registered Agent requires a $100 fee plus state filing fees.
Mail forwarding monthly fee: After the initial 5 mail forwards, companies pay for a monthly forwarding service for further forwards.
Pricing
Registered Agent Service ($125/year):
Northwest Registered Agent is in the middle price range for a local registered agent in South Dakota. The team charges customers $125 per year. There are also additional fees to consider, such as:
Monthly mail forwarding: $20 per month
Legal documents advice plan: $9 per month
Trademarking service: $499
Best Registered Agent for South Dakota LLC Startups ($0-$299/year)
Zen Business helps small businesses get a start in South Dakota. These are great registered agent services for businesses trying to form an LLC. Zen will help you form your business, and assist with several business startup services, including:
Employee ID Number (EIN) registration
Banking registration for business accounts
Website URL domain name creation
Website design and maintenance
Like Northwest Registered Agent, Zen Business provides a unique customer portal. Access all uploaded documents through your portal. Manage which letters are forwarded to your business address, saved, or discarded. Zen business has a 100% accuracy guarantee, protecting your mail and ensuring everything gets uploaded on time.
Pros
Three price plans: Go with a free registered agent service, a $199 annual service with faster uploads, or a $299 service with additional business services. Whatever your business budget allows for.
Website upkeep: Zen Business provides premium clients with a domain name, website design, and web maintenance.
Cons
Pay for alerts: If you want to maintain compliance and filing deadlines, alerts from Zen Business cost extra.
Overpriced: Zen Business has a range of plans, but the premium package is pricey.
Pricing
Registered Agent Service ($0 to $299/year): Zen business is as affordable as South Dakota business owners make it. Choose from the following three packages:
$0: Slowest speeds
$199/year: Pro package with faster speeds. Operator agreement included.
$299/year: Premium package with fast filing speeds and web design.
Best Registered Agent in South Dakota for Compliance Alerts($99/year)
Harbor Compliance is a leader in South Dakota registered agent services for compliance. Harbor Compliance alerts all business users to upcoming deadlines, potential compliance issues, and updates to mail compliance regulations.
The company also manages all standard registered agent services. Sorting, uploading, and forwarding mail is included in your package. You receive 24/7 access to a digital portfolio, where you choose which documents to save, use, keep, or delete.
Harbor Compliance offers an official local mailing address and is available to talk or sign for packages during normal business hours.
With a keen eye for observation, you can count on Harbor Compliance to dot i's and cross t's when you forget to.
Pros
Pre-filled documents: Pre-filled forms are a massive time saver. No more filling in all your registered agent information time and again. Harbor Compliance ensures it's always completed for you, so you can get on with the rest of the process quickly.
Free alerts: No paid alerts here. Harbor Compliance alerts you each time new mail is uploaded. They also send alerts for compliance and filing deadlines.
Cons
Zero refunds: There's a no money-back policy with Harbor Compliance. Even if you're not satisfied with the service, no refunds.
Charges for filing: Alerts come free, but filing costs extra. You'll also pay state filing fees in the process.
Pricing
Registered Agent Service ($99/year): Harbor Compliance charges a moderate $99 per year. This is affordable, especially if you choose a multi-year contract which saves 5% to 10% per year.
Best Registered Agent in South Dakota For Local Customer Care ($99/year)
As a South Dakota business owner, it's nice to know where your customer support comes from. With Inc Authority, it comes from right here at home. All Inc Authority customer support reps are U.S.-based staff members.
Inc Authority is another great service for new LLCs. This company will help you form an LLC, and navigate local business laws. They charge $99 per year and assist with everything from registering your EIN to registering your official business mailing address.
Inc Authority is also a good option for businesses that receive a lot of junk mail. The registered agent service weeds out all the spam mail before it gets organized, scanned, and uploaded to your account. Select the mail you want forwarded and Inc Authority will send you the paper copy as well.
Pros
24-hour uploads: All Inc Authority-received documents are uploaded quickly and include a notification so you don't miss a beat.
U.S. support team: South Dakota businesses deserve to talk to locals for business support. Inc Authority ensures its team knows about South Dakota compliance laws and mail standards.
Cons
Only for LLCs: You can't use Inc Authority's registered agent services if you don't form an LLC with the company.
Zero reports: There are no reports with Inc Authority.
Pricing
Registered Agent Service ($99/year): Register your LLC with Inc Authority and receive a year of free registered agent services. After the first year, pay only $99 annually.
Best Registered Agent in South Dakota For Bilingual Customer Care ($119/year)
Inc File offers bilingual customer support for South Dakota business owners. For companies receiving bilingual correspondence, this is a major bonus. There's nothing worse than only getting half a document uploaded because your agent didn't realize the rest of the document was relevant. Don't miss anything important with your bilingual Inc File team.
Inc File is also a great support for South Dakota business newcomers. They support you by creating a local business mailing address quickly and setting up your online profile to receive documents. All mail is sent to your portal for viewing, and a notification is emailed so you know when you've got new documents to view.
Don't worry about mail being deleted before you read it. Inc File offers long-term document storage and maintains customer privacy and security.
Pros
Bilingual customer service: A bilingual Spanish and English support team makes life easier.
Extra features: Get a certificate of good standing, obtain foreign qualifications, or get help with tax management.
Cons
No weekend bilingual team: Customer support is only available Monday to Friday until 6 pm.
Pricing
Registered Agent Service ($119): Inc File serves South Dakota businesses at the affordable rate of $119 per year. Form your LLC with the company and your first year of registered agent services is free.
Best Registered Agent in South Dakota for Services with no Penalties ($149.99/year)
The name says it all. Rocket Lawyer offers a boost of business law to your company. This registered agent service is well-informed on all South Dakota business laws. They know when to file, what to file, and how to avoid compliance issues. In this way, they can be a massive benefit to have in your corner.
South Dakota, like all states, has its unique business laws. Having a registered agent with a touch of legal documents awareness is useful. Rocket Lawyer charges $149.99 per year for standard registered agent services with a little something extra.
Avoid compliance nightmares and stay penalty-free. Rocket Lawyer will manage all correspondence and keep documents flowing quickly and efficiently into your online portfolio. They will also forward any mail you want to have in person.
Best Registered Agent in South Dakota For Law Help ($0 to $279/year)
Another legal Eagle South Dakota registered agent service is Legal Zoom. Legal Zoom works hard for your business, offering standard registered agent services, along with:
Intellectual property trademarking
Tax reports
"Ask an Attorney" service
Compliance alerts
They also support your online portfolio with unlimited Cloud storage and long-term storage options. Legal Zoom has a useful price strategy with three different plans to choose from. Select from a basic, pro, or premium plan ranging in price from free to $279 per year.
Some extra services offered by Legal Zoom require additional payments or contracts.
Best Registered Agent in South Dakota For Privacy Control ($87 to $129/year)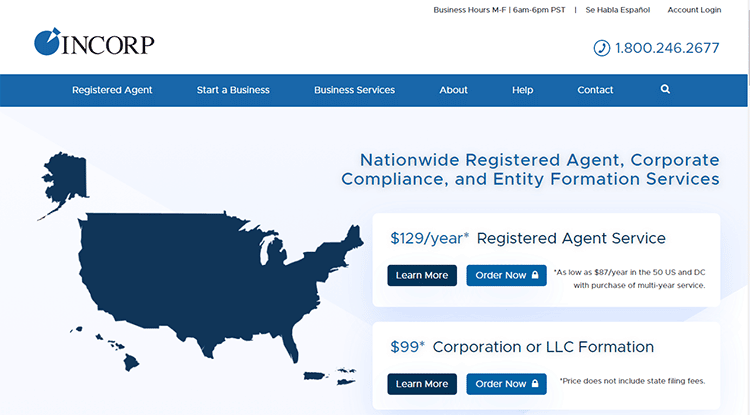 InCorp doesn't take privacy lying down. This South Dakota registered agent service uses proprietary software called EntityWatch® to maintain advanced privacy and security settings. No data is ever shared or sold, and everything is password protected.
Customers choose to have mail scanned and uploaded or forwarded to your place of business. Pay only $129 annually and receive all this, plus an IOS mobile app to manage it all. To save on your annual plan, sign a multi-year contract. Customers with long-term contracts only pay $87 per year.
Best Registered Agent in South Dakota for Customer Transparency ($100/year)
Rapid Registered Agent has their clients' best interest in mind. This is a South Dakota registered agent service with nothing to hide. They have nothing to hide because they lay it all out on the line with a transparent contract.
There's no fine print to miss, or hidden fees to worry about with Rapid Registered Agent. The cost of $100 per year is outlined upfront. You don't have to worry about this cost changing throughout the life of your contract.
Like most registered agents, Rapid Registered Agent offers a digital dashboard for customer documents. Documents are received in a timely fashion, uploaded within 24 hours, and made available for forwarding. You can count on the team at Rapid Registered Agent to be available during normal business hours.
Best Registered Agent in South Dakota For LLC Services ($199/year)
Swyft Filings services small startups and LLCs. They focus on sorting and uploading mail for new businesses, so you can focus on running the company. All mail received by Swyft Filings is accounted for and added to your online profile. A notification is sent so you know when mail arrives.
Swyft Filings is a great registered agent for newcomers because of the additional LLC services they offer. Some of the extras to expect include:
Business name changing
Foreign qualification application
Company amendments
Year-end filing support
Swyft Filing charges $99 per year. This makes them one of the more affordable South Dakota commercial registered agents on the go.
Best Registered Agent in South Dakota For Affordability ($49/year)
South Dakota Registered Agent is one of the cheapest commercial registered agents in the state. At only $49 per year, local businesses receive standard registered agent services minus the bells and whistles.
South Dakota Registered Agent provides more than cost efficiency. The service gives you everything you need to legally run a business in South Dakota in terms of correspondence regulations. A physical mailing address, a recipient in the office during normal business hours, and someone to maintain your mail needs.
With South Dakota Registered Agent, there's no concern your mail will get lost or fall into the wrong hands. You can also count on SDRA for long-term mail storage.
Best Registered Agent in South Dakota For International Dealings ($299/year)
For international businesses, CSC has you covered. This registered agent service offers South Dakota residents the opportunity to indulge in extra business features such as:
Same-day scanning
Corporate filing
An online compliance dashboard
SOC 2 auditing process
CSC Navigator technology
Corporate filing
UUC search and filing
License application services
CSC Global has more than 120 years of service in the registered agent industry. They know exactly what's needed to make your business mail successful. They charge one of the highest prices at $299 annually.
Best Registered Agent in South Dakota for a Form Library ($75/year)
If you're a business that enjoys organization, you'll enjoy Resident Agent LLC. This company offers a full-service form library. Use prefilled documents, create your own templates, and take advantage of all the help Resident Agent LLC offers.
Along with the form library, clients of Resident Agent LLC receive ongoing registered agent services for $75 annually. This puts them on the more affordable end of the registered agent spectrum.
Resident Agent LLC offers long-term document storage and quickly uploads newly scanned documents. You can expect to see most correspondence within 24 hours of receipt.
What Is a South Dakota Registered Agent?
A South Dakota registered agent is a person or business that:
Is available 9 am to 5 pm Monday to Friday
Offers an official business mailing address
Doesn't have a P.O. Box
The registered agent receives business mail from lawyers, other businesses, the South Dakota Secretary of State, and more. This mail is then usually scanned and uploaded to a digital portal. Paper copies are sometimes forwarded to the business address.
How Can a South Dakota Registered Agent Help Your Business?
A registered agent in South Dakota is a major benefit to local business owners. There are many reasons why, including saving time, receiving notices, privacy, and a reduction in junk mail. Let's look a little more closely at these factors.
Save Time
Time is the biggest benefit of a registered agent's services. So many man-hours go into sorting, opening, and organizing business mail. Sometimes the incoming box begins overflowing. A registered agent manages the mail, so you don't have to.
Notices and Alerts
Don't miss a message or a compliance notification. Most registered agents offer some form of alert incentive.
Privacy
All businesses need some privacy to be successful. Correspondence tells people a lot about your company, its strengths, and its failures. Registered agents keep all this information private by receiving documents at a secondary location on your behalf.
Forget the Junkmail
A South Dakota registered agent weeds out all the junk mail. Forget sorting through mountains of flyers and coupons. Only get the letters you need to be successful..
Is a Registered Agent Legally Required in South Dakota?
Absolutely. According to Dakota Post, all South Dakota businesses are required to have a registered agent to operate in the state.
South Dakota Registered Agent Q&A
Throughout this guide, we've discussed the role of a registered agent in South Dakota. Topics covered include how a registered agent can benefit your business and the best agents in the state. Still have a few questions?
Here are some answers to the most frequently asked questions about commercial registered agents in South Dakota.
How Much Does a South Dakota Registered Agent Cost?
Obtaining a registered agent service in South Dakota varies in cost. Generally, you'll obtain an agent for $49 to $299 annually. Some registered agents offer a discount on multi-year contracts, others offer the first year free.
Can I Be My Own Registered Agent in South Dakota?
For sure. You can be our own registered agent as long as you have a legal civic address (not a P.O. Box), and are available in the office from 9 am to 5 pm Monday to Friday. being your own registered agent takes a lot of work and time you might want to put on other things.
Can a Company in South Dakota Change Its Registered Agent?
How Long Does It Take to Get a South Dakota Registered Agent?
Setting up services with a South Dakota registered agent might take one to two weeks. Most agents supply your new mailing address and login credentials within 24 hours. Additional services may take longer to setup.