A registered agent can be an individual or a business. They serve Texas business owners by offering a civic business mailing address and availability between normal business hours (9 am to 5 pm Monday to Friday).  Registered agents handle official business mail, including legal documents, government forms, and mail from the Texas Secretary of State.  Throughout this guide, you'll learn more about the best registered agents in Texas.
What Is the Best Texas Registered Agent Service?
More than 3.1 million small businesses call Texas home. According to the Office of the Texas Governor, Texas has the best business climate in the United States. With so many new businesses developing each year, it's no surprise the need for registered agents is on the rise. Here are the top agents in the state.
Best Overall Registered Agent Service in Texas ($125/year)
Northwest Registered Agent is the best Texas registered agent service overall. By comparison in customer service, price, and additional services, they give a perfect balance of quality and quantity of service.
Like most registered agents in the state, Northwest Registered Agent offers professional mail management services. Clients receive an official mailing address and digital customer portal. Customers can access the portal 24/7 to view, print, and organize all uploaded mail.
Northwest Registered Agent charges only $125 annually, putting them in the middle for average price across the state. If you're looking for a reliable and professional registered agent service in Texas, Northwest Registered Agent has what you need.
Pros
Advanced Privacy: Northwest Registered Agent offers a Privacy by Default® guarantee. The proprietary offer ensures data is never shared, stolen, or sold.
Texas business guide: All Northwest Registered Agent customers receive a local Texas registered agent business guide.
Fee starter forwards: New Northwest Registered Agent customers can count on 5 free mail forwards. Once correspondence is scanned and uploaded to your digital portfolio, have it mailed to your forwarding address free of charge.
Free add-ons: New sign-ups with Northwest also receive 60 days of free phone service.
Cons
Business charge: Starting an LLC business with Northwest Registered Agent costs an additional $100 plus state filing fees.
Additional forwards extra: Your first 5 forwards are free, but after this customers pay. Either pay per mail forwarding or pick up an add-on package to save.
Pricing
Registered Agent Service ($125/year):
Northwest Registered Agent has a competitive annual fee. $125 per year ranks them middle among other registered agents nationwide. Additional features and 24/7 online access makes them favorable in Texas. Additional expenses to take into account consist of:
$499 for trademarking services
$9 monthly for legal advice
$20 monthly for premium mail forwarding services
Best Registered Agent Service for New Texas LLCs ($0-$299/year)
Zen Business is a great support for new Texas business owners. If you're a newly formed LLC, or you want to form an LLC, Zen Business can help. The company offers similar registered agent services to most. Mail receipt, scanning, uploading, and forwarding.
Zen Business also offers some nifty business incentives, including:
Employee ID Number (EIN) registration
Business banking
Web design
Domain name services
Zen Business also supplies you with a customized customer portal. Watch your mail upload in real-time and receive notifications as new correspondence arrives. Zel Business has a 100% accuracy guarantee. You can rest assured no mail gets missed and all data is stored safely.
Pros
Different packages: Zen offers three unique packages for business owners with varying needs and budgets. Choose from starter, pro, or premium, with prices up to $299/year.
Website tools: Zen Business offers unique web-building tools and services.
Cons
Alerts are paid: While some registered agents provide compliance reminders, Zen Business alerts come at a cost.
Overpriced: Zen Business has three packages to choose from, but the premium package is the best. It offers the most business add-on features but at a higher-than-average price.
Pricing
Registered Agent Service ($0 to $299/year): Zen Business provides Texas business owners with three price options:
Free: Slow filing speeds
Pro ($199/year): Faster speeds and includes an operating agreement.
Premium ($299/year): Fastest filing speeds and web building services.
Best Registered Agent Service in Texas for Alerts ($99/year)
Harbor Compliance is the best Texas registered agent service for compliance alerts. The company puts a strong focus on red-tape and business law in Texas to ensure your company meets all correspondence and filing regulations.
Each state employs its own compliance laws. Harbor Compliance is an expert on Texas business regulations. Customers can rest easy knowing the company is watching their back in terms of annual filing and compliance.
Along with streamlined compliance, Harbor Compliance provides standard registered agent services. Customers receive a dedicated digital portfolio where all mail is uploaded and stored. Documents can also be forwarded as necessary. Online access has 24/7 availability.
Pros
Pre-filled forms: Businesses are required to enter registered agent service data on a variety of forms. Harbor Compliance has these forms pre-filled for your convenience.
Free compliance alerts: Customers receive free alerts for compliance issues and deadlines.
Cons
No refunds: Harbor Compliance offers absolutely no refunds.
Filing fees: Harbor Compliance sends free reminders, but charges a fee for filing.
Pricing
Registered Agent Service ($99/year): Harbor Compliance comes at the affordable price of $99 per year. You can reduce the cost by signing a multi-year contract for 5% to 10% savings.
Best Registered Agent Service in Texas For Local Support($99/year)
Inc Authority is a patriotic registered agent service with local support. Texas business owners can count on a customer service team based in the U.S. to answer any and all questions. This is the best Texas registered agent service for new businesses hoping to form LLCs because Inc Authority support is familiar with local business law.
Inc Authority is another affordable registered agent service at $99 annually. They help you form your LLC, register your EIN, and everything that goes along with it. You also receive 24/7 access to your digital profile.
Weed out the junk and spam mail with Inc Authority's close attention to detail. Only read the mail you want to read, including legal documents, government documents, and letters from the Secretary of State.
Pros
Speedy uploads: All correspondence is uploaded to your personal portfolio within 24 hours.
U.S. customer service: Texas customers enjoy support from local U.S.-based customer service representatives.
Cons
Only for LLC customers: To receive registered agent services from Inc Authority, customers must form an LLC through the business.
Zero reports: No compliance or filing report options.
Pricing
Registered Agent Service ($99/year): Businesses that form an LLC with Inc Authority receive free registered agent service through the first year. The price is $99 annually thereafter.
Best Registered Agent Service in Texas For English/Spanish Support ($119/year)
If you run a bilingual business in Texas it can be tough to find a registered agent service to support both languages. Fortunately, there's Inc File. Inc File's top-rate customer service team is completely bilingual. Choose from Spanish or English-speaking representatives to help with your business.
Inc File has all the usual advantages of a registered agent service. Receive access to your new official business mailing address immediately. Start checking your online customer portal and register for alerts.
There are also additional business advantages for Texas businesses through Inc File, including tax management and more. Ask your registered agent service about the many advantages of choosing Inc File over other local services.
The bilingual customer support operates through regular business hours. Digital support is available 24/7. Inc File also offers long-term digital storage so you never lose any important documents you might need again later.
Pros
Bilingual service: Choose from English or Spanish customer service from your registered agent.
Business Add-ons: Take advantage of additional registered agent services such as a certificate of good standing, foreign qualifications, or tax management.
Cons
Restricted support: All bilingual agents are only available Monday to Friday until 6 pm.
Pricing
Registered Agent Service ($119): At only $119 per year, Inc File falls in the mid-level of registered agent service costs in Texas. Get free registered agent service your first year, if you form your LLC with the company.
Best Registered Agent Service in Texas for Zero Penalty Service ($149.99/year)
Don't get caught between a rock and a hard place with your business mail. Rocket Lawyer puts a strong focus on compliance with its zero-penalty service. The company specializes in local business law, making it simple for Texas business owners to get started or grow their brands.
Rocket Lawyer manages all types of business correspondence, including sensitive documents. By outsourcing your mail delivery to Rocket Lawyer you avoid prying eyes and potentially embarrassing situations at the office.
The price of Rocket Lawyer is slightly higher than other registered agents in Texas. For $149.99 all general registered agent services apply, along with extra compliance attention.
Best Registered Agent Service in Texas For Legal Assistance ($0 to $279/year)
Legal Zoom puts the legal services in a registered agent service. Much like Rocket Lawyer, you can count on Legal Zoom to focus on business law and compliance in Texas. Legal Zoom has a competitive pricing plan with three levels of packages.
The most basic Legal Zoom package is free, while advanced registered agent services come at $279 per year. Along with the standard registered agent services of sorting and uploading mail, you can count on the team for:
Unlimited Cloud storage
Tax reports
Compliance alerts
Intellectual property trademarking
"Ask an Attorney" service
Some special offers require additional costs or contracts.
Best Registered Agent in Texas For Proprietary Software ($87 to $129/year)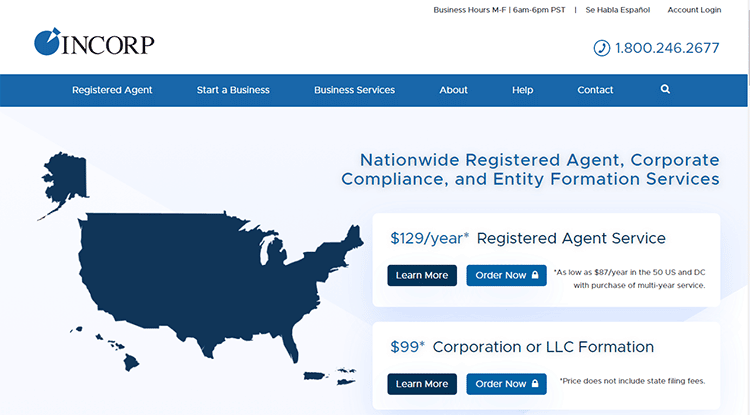 InCorp doesn't do anything like the other Texas registered agents. The company leads in proprietary software and technology advancement with its EntityWatch® software. Advanced privacy settings and a customized customer dashboard make it easier than ever to manage mail from afar.
InCorp's advanced technology doesn't end at a competitive customer platform. The company also provides an IOS mobile app for convenience, and advanced privacy control options customized by you.
At $129 per year, IncCorp is an affordable option for a Texas registered agent. Sign up for a multi-year contract and save further with a discounted annual fee of only $87.
Best Registered Agent in Texas for Transparent Service ($100/year)
Texas businesses can count on Rapid Registered Agent for full transparency. The company believes in putting the customer first, and that means no hidden fees or easy-to-miss fine print. Open and jargon-free communication is among the keys to their successful operation. There's also a stable annual fee with no risk of changing prices during the life of your contract. Texas businesses pay $100 annually for registered agent services.
All clients are promised a customer portal, official business mailing address, and 9 am to 5 pm customer service. All documents are sorted before scanning and uploading so you avoid spam and junk mail. Alerts let you know when new mail arrives.
Best Registered Agent in Texas For Business Services ($199/year)
Swyft Filings is a major runner in business management services. They offer free filing (just pay state filing fees), and Swyft handles the registration of your LLC. All official business mail is sorted, scanned, and uploaded to your customer portal. Receive notices when new mail arrives.
Along with the registered agent services provided, you can count on Swyft Filings for a variety of business add-ons, including:
Year-end filing
Company amendments
Business name changes
Foreign qualifications
Furthermore, Swyft Filings is only $99 per year. This makes them a great option for new Texas business owners hoping to save.
Best Registered Agent in Texas For Cheapest Service ($35/year)
Texas Registered Agent offers the lowest ongoing price per year for registered agent services in the state. For only $35 annually, you get general registered agent services. While the team offers none of the bells and whistles of other providers, the cost is tough to beat.
Texas Registered Agent is a local business, providing safe and confidential mail management services. Mail is delivered to TRA's address on your company's behalf so your staff and customers never see your correspondence. Avoid embarrassing moments and sensitive documents falling into the wrong hand.
Texas Registered Agent offers long-term document storage and alerts for all new mail.
Best Registered Agent in Texas For Global Businesses ($299/year)
Businesses hoping to qualify internationally should look no further than CSC Global. As a registered agent service, CSC Global offers all the general registered agent services you need. They also supply some advanced international business services.
Clients of CSC Global take advantage of:
SOC 2 auditing process
Proprietary CSC Navigator® technology
Online compliance dashboard
Corporate filing
Same-day scanning
UUC search and filing
Email alerts
Business license application services
UUC search and filing
CSC falls on the more costly side of Texas registered agents at $299 per year. The team has more than 120 years of experience.
Best Registered Agent in Texas for Form Management ($75/year)
Resident Agent LLC has one of the coolest tools available in Texas—a form library. Access to a variety of business forms with your resident agent information prefilled and ready to go makes life simple.
Resident Agent LLC is a top choice for small businesses in Texas because they streamline your paperwork process. Think automation but with an entire library of templates to choose from.
Resident Agent LLC provides a business mailing address and 9 am to 5 pm support Monday through Friday. Contact the team over the phone, or log into your customer portal for online support 24/7.
Prices are also affordable with Resident Agent LLC. Customers pay only $75 per year.
What Is a Texas Registered Agent?
A registered agent in Texas offers a civic mailing address. They must also be available Monday to Friday 9 am to 5 pm. For businesses with P.O. Box addresses, or sensitive correspondence to protect, a registered agent is highly beneficial.
Registered agent services manage a variety of mail types, such as letters from other businesses, customer complaints, government forms, legal documents, and more. A person or business entity may act as a registered agent as long as they have a civic address and are available during normal business hours.
How Can a Texas Registered Agent Help Your Business?
Texas registered agents work hard for companies across the state. They manage mail, so business owners can focus on big-picture items. Some of the major benefits of employing a registered agent service include:
Notifications
Get alerts whenever new correspondence arrives. Some registered agents also offer alerts for compliance and filing deadlines as part of their registered agent services in Texas.
Security
Registered agents must employ top-tier security measures to safeguard your personal data. No data can be shared or leaked, and correspondence must remain private. Plus, you steer clear of prying eyes trying to look at sensitive documents.
No Junk
Registered agents weed out all the mail you don't want to see. No coupons and flyers flooding your inbox. Instead, you can count on seeing only the mail related to running your business.
Is a Registered Agent Legally Required in Texas?
Yes. The Texas BOC (business Organization Code) states that all businesses, domestic or foreign, require a registered agent. If you want to do business in or with the state, a registered agent is required.
Texas Registered Agent Q&A
This guide is designed to offer some insight into obtaining the best Texas registered agent service. We hope it has illuminated some of the more significant details of the process. Here are some frequently asked questions for further information.
How Much Does a Texas Registered Agent Cost?
Texas registered agent services fluctuate in cost. The cheapest ongoing annual cost is $35 per year. Many registered agents also offer a first-year free or a discount on multi-year contracts. The highest you should expect to pay is $299 per year.
Can I Be My Own Registered Agent in Texas?
You can be your own registered agent. If you are a Texas business with a Texas mailing address (not a P.O. Box), you can be your own registered agent. You must also be available during regular business hours.
Can a Company in Texas Change Its Registered Agent?
Of course. You can change your registered agent through your new registered agent. You can also apply to change your registered agent by filling out Form 401.
How Long Does It Take to Get a Texas Registered Agent?
Obtaining access to your new address and online portfolio is usually immediate or within 24 hours. For mail forwarding, expect 1 to 2 weeks to setup.