Registered agents in Virginia give business owners an official state mailing address.  Basically, they'll help you keep track of all of the annoying paperwork you just want to ignore, so that you can focus on your business.  In this guide, we'll more closely examine the best registered agents in Virginia to help you determine which one is right for you.
What Is the Best Registered Agent Service in Virginia?
There are roughly 790,000 businesses in Virginia, 99.5% of which are small businesses. With so much continued growth in the business sector, it comes as no surprise that registered agents in Virginia are in high demand.
Registered agents in the state help with a variety of correspondence, including:
There are many options for registered agents in Virginia. If you're beginning the hunt, check out these top contenders.
Best Virginia Registered Agent Service Overall ($125/year)
Northwest Registered Agent is the best-registered agent overall. When comparing price, services, customer service, and overall quality, Northwest Registered Agent is top notch.
As a registered agent, Northwest receives all official mail, sorts it, uploads it, and organizes it. Business owners can access their online customer portal 24/7, saving, downloading, sharing, or deleting files as necessary. You can also request specific files be forwarded to your home or business address.
Northwest Registered Agent uploads correspondence within 24 hours of receipt. Their registered agent service costs $125 per year, making them affordable, and resting in the middle of other registered agent service prices in the state.
Pros
Enhanced Privacy: Northwest Registered Agent provides all Virginia customers with a Privacy by Default® guarantee. All data is protected with a promise to never be shared, lost, or sold by your registered agent. This is especially important when handling legal documents.
Business guide: Northwest Registered Agent offers a local Virginia guide to businesses that partner with them. This is an asset to new business owners who aren't from the area, looking for a leg up.
Forwards: Northwest Registered Agent offers the first 5 forwards free. Send your correspondence to a second address 5 times with no additional charge from your registered agent service.
Extras: A wide range of business add-ons comes with your standard Virginia registered agent services. All new customers get 60 days of free phone service.
Cons
Registration charge: New businesses can form their LLC through Northwest Registered Agent. The company charges an additional $100 plus state taxes to do so.
Paid after 5: After the first 5 mail forwards, Northwest Registered Agent customers pay to send forwards.
Pricing
Registered Agent Service ($125/year):
Northwest Registered Agent services start at $125 per year, with an option to add additional services for an extra cost. Some of the extra costs Virginia business owners might come across include:
Trademarking: $499
Monthly for legal advice: $9
Premium mail forwarding services: $20 monthly
Best Virginia Registered Agent Service for LLCs ($0-$299/year)
Start your LLC with Zen Business and get free registered agent services your first year. Zen Business emphasizes business. Along with mail receiving, uploading, and forwarding, the company provides essential services to new LLCs, such as:
EIN (Employee Identification Number) registration
Business bank management
Website domain name registration
Website design and maintenance
You get a 100% accuracy registered agent service guarantee with Zen Business. They double-check all correspondence as they upload it, ensuring every letter goes where it's supposed to. Don't miss a thing with Zen Business on your side.
Pros
3 Prices: Select a business package that suits your needs and budget. Zen Business has free registered agent services, and professional, and premium packages ranging from $0 to $299 per year.
Web design: Customers that go with the premium package receive free domain registration and web design.
Cons
Alerts are costly: Many registered agents include alerts as part of their service. Zen Business charges extra for them.
High price: With the premium package costing $299 per year, Zen Business has some of the highest-priced registered agent services in the state.
Pricing
Registered Agent Service ($0 to $299/year): A free, professional, and premium package makes meeting your budget simple with Zen Business. Here's a breakdown of the packages.
Free registered agent services: Slow filing speeds and no extras
Pro ($199/year): Faster filing speeds, includes a user operating agreement
Premium ($299/year): Fastest filing speeds and includes web domain registration and website design.
Best Virginia Registered Agent Service for Compliance Notices ($99/year)
Stay compliant with Harbor Compliance. This is a registered agent service that keeps your business aligned with state regulations and filing deadlines. Don't miss anything with compliance alerts to keep you informed and up to date.
Harbor Compliance offers high-quality registered agent services. They focus on more than compliance when you partner with them. All documents are uploaded promptly as received, and you're notified of their arrival. You also have the option to forward any documents you need in person.
Each state has unique business laws. Harbor Compliance is aware of all the fine print and red tape in Virginia's business laws.
Pros
Stress-free forms: Harbor Compliance offers pre-filled forms to simplify many business processes. It takes time and effort to fill in your registered agent service information on every document. Pre-filled forms take the work out of it for you.
Compliance notifications: Receive free compliance notifications to keep you aware of all changes to local business regulations.
Cons
No refunds: Harbor Compliance cares about its customers but if you're not satisfied with its service, no refunds.
Filing costs: Harbor Compliance assists customers with business filing but at a cost.
Pricing
Registered Agent Service ($99/year): Harbor Compliance has a price point in the middle of most Virginia registered agent services. They charge $99 per year but also offer a chance at a 5% to 10% discount on multi-year contracts.
Best Virginia Registered Agent Service for Local Support Reps ($99/year)
Local customer support means the people you're speaking to are familiar with Virginia state laws. Inc Authority brings this to the table with its registered agent services. All registered agent clients receive U.S.-based customer support year-round.
Inc Authority is another great option for new LLCs. They'll help form your business from the ground up, offering free registered agent services for the first year. Receive a fully active online profile within 24 hours of registration.
Begin accessing documents as soon as they start arriving at Inc Authority. The company deals with all mail types, including letters from the Virginia Secretary of the Commonwealth.
Pros
Fast uploads: All correspondence is scanned and uploaded within 24 hours of receipt.
U.S. support: All customer care representatives are based right here in the U.S. No worrying that your support agent doesn't understand local Virginia business law.
Cons
LLC customers only: To partner with Inc Authority you must register your LLC through the agency.
No reports: Inc Authority doesn't send alerts for compliance or filing. You will be notified when new mail arrives in your customer account.
Pricing
Registered Agent Service ($99/year): All customers of Inc Authority get the first year of registered agent services free. All registered agent services after this cost $99 per year.
Best Virginia Registered Agent Service For Bilingual Support ($119/year)
Another leader in the customer service spot is Inc File. Inc File gives Virginia business owners the option for bilingual registered agent services. Choose between English and Spanish agents when you speak with customer care.
For Virginia business owners operating bilingually, this is a big help. Feel supported in your native language, and ensure all correspondence of either language is uploaded and filed appropriately.
Inc File also offers several business add-ons such as tax management and foreign qualification services. All online support is available 24/7 with phone support offered from 9 am to 6 pm Monday to Friday.
Pros
English/Spanish support: Speak in your native tongue with your support agent. All Spanish and English correspondence is sorted appropriately.
Extras: Some advantages offered by Inc File include certificates of good standing, foreign qualifications, and tax management.
Cons
Weekday customer care only: Bilingual support is only available from 9 am to 5 pm Monday to Friday. The rest of the time you're on your own with digital resources.
Pricing
Registered Agent Service ($119): Inc File provides an excellent price point for new small business owners. Pay only $119 annually for Virginia registered agent services.
Best Virginia Registered Agent Service for No-Penalty Service ($149.99/year)
Every state has a unique set of business laws. Virginia is no different. Rocket Lawyer puts a special emphasis on knowing and respecting state laws. With a focus on the legal side of registered agent services, Rocket Lawyer is great for Virginia businesses that need help in that area.
Rocket Lawyer sorts all official business mail before it gets uploaded. Customers can relax knowing there won't be a mountain of junk mail waiting in their inboxes. Only real mail makes it past the Rocket Lawyer filer.
Rocket Lawyer is slightly higher priced than some of the other mid-range registered agent services. For $149.99, Rocket Lawyer provides all the required services of a registered agent with the addition of legal knowledge and compliance support.
Best Registered Agent in Virginia For Law-Related Assistance ($0 to $279/year)
Another law-focused registered agent service is Legal Zoom. In Virginia, this is the best-registered agent for legal assistance. The team offers an "Ask an Attorney" program, along with a variety of other add-on services and features, such as:
Unlimited Cloud storage
Compliance and tax alerts
Intellectual property trademarking
Rocket Lawyer also offers the standard registered agent services required. Reach them in person during regular business hours and reach out online during nights and weekends. There are also three price options. Choose from packages $0 to $279 depending on your business needs.
Best Virginia Registered Agent Service For Proprietary Software ($87 to $129/year)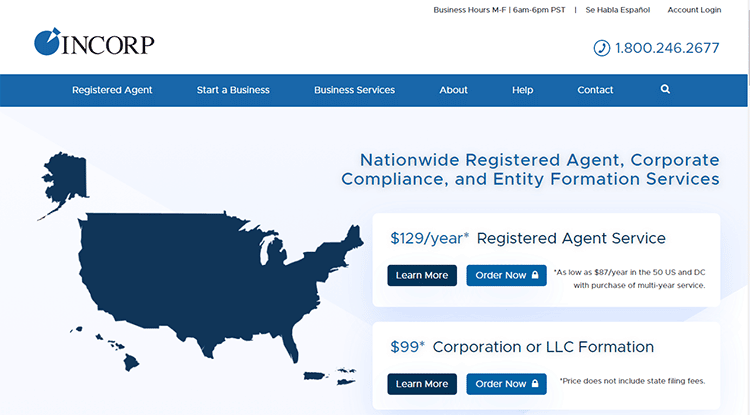 Pay $129 annually for InCorp registered agent services. Customers who sign a multi-year contract pay only $87. InCorp is a great option for businesses still learning the registered agent ropes. There's plenty of support to be had.
InCorp uses its unique proprietary brand of software called EntityWatch®. Advanced privacy settings keep sensitive documents safe. A customizable user dashboard lets you pick and choose which safety features to employ.
InCorp provides customers with an IOS mobile app for mail management on the go.
Best Registered Agent in Virginia for Transparency ($100/year)
Rapid Registered Agent has a no-strings-attached style of business. As a registered agent, you can count on Rapid Registered Agent to keep things transparent. No hidden fees, fine print, or secret strings attached. You get what you pay for, and what you get is high-quality registered agent services.
Rapid Registered Agent charges $100 annually. Access your digital profile at any time, and receive notifications as each new letter is posted to your account. Customer service is available during the designated normal business hours.
Best Virginia Registered Agent Service For Business Features ($199/year)
Swyft Filings is a registered agent, but they're also a business support service. The company will help you with your business right from the starting point. Register your LLC through Swyft Filings and all you pay is the state filing fee.
Swyft Filings business services include:
Foreign name qualifications
Business name change
Registered agent change
Company amendments
Year-end filing
Customers pay $99 per year, for a truly affordable registered agent option in Virginia.
Best Registered Agent in Virginia For Affordability ($49/year)
Choose Virginia Registered Agent if you want to skip the bells and whistles. Virginia Registered Agent costs only $49 annually, making it the cheapest registered agent service in the state, apart from the free trials.
While the team at Virginia Registered Agent keeps things minimalistic, its customer service is still top-tier. Receive your business mailing address right away. Start viewing documents online as soon as the first correspondence is cleared, delivered, and uploaded to your customer platform.
All your mail is protected by a high security and privacy process. Only those with access to your account can view the documents before, during, and after upload.
Best Registered Agent in Virginia For Global Businesses ($299/year)
CSC Global is the best registered agent service for foreign businesses looking to do business in Virginia. It's also a great registered agent if you're a local who wants to reach out to international markets.
There are many special services offered to those who invest in CSC Global, including:
CSC Navigator® software
SOC 2 auditing
Same-day scanning
Compliance dashboard (online)
UUC search and filing
Alerts and notifications
Business license application assistance
CSC Global has been in business for more than 120 years. With plenty of experience in the registered agent service, it's not a great surprise this is the most expensive service in Virginia. CSC Global costs $299 per year to register with as a registered agent.
Best Registered Agent in Virginia for Form Library ($75/year)
Resident Agent LLC is best known for its form library. Templates, pre-filled forms, and other local documents make business mail simple. No need to fill in hundreds of papers with registered agent information each day. Your data is pre-filled on all the forms accessible to you through your customer portal.
Align with the form library, you can look forward to wonderful customer service and registered agent services. Like Virginia Registered Agent, Resident Agent LLC, doesn't have any hidden fees or bells and whistles to celebrate. It offers high-quality registered agent services for $75 per year.
What Is a Virginia Registered Agent?
A Virginia registered agent acts as a correspondence recipient and manager. They provide a local mailing address (not a P.O. Box). Registered agents must be available during normal business hours. This means from Monday to Friday, beginning at 9 am and ending at 5 pm.
Many registered agents offer an online customer portal. Mail is sorted, scanned, and uploaded. Clients are notified when new mail arrives and may choose to have some correspondence forwarded to a second address.
How Can a Virginia Registered Agent Help Your Business?
Virginia registered agents help local businesses in a variety of ways. The biggest benefit is saving time. Sorting through mountains of mail is tedious at best. Having a third-party provider, experienced in mail handling, ensures you never miss a beat.
Some other benefits involved in hiring a registered agent service in Virginia, include:
Alerts
Along with notifications that new documents have been uploaded to your account, you'll receive alerts. Compliance and filing alerts keep you updated on deadlines and regulations corresponding to your business and mail.
Privacy
Privacy is a major asset in a registered agent service. You can rest easy knowing your documents aren't in the wrong hands. No prying customer eyes or competitors will see sensitive documents come through the door. Everything is managed professionally and with your security and privacy in mind.
Forget the Junk
Junk mail is a major hassle and one more time waste for a business owner. Forget all the coupons and flyers and focus on the official business mail you need to be successful. Your registered agent service will sort documents before uploading them. You can make requests for the types of documents you'd rather them leave out.
Is a Registered Agent Legally Required in Virginia?
According to "§ 13.1-1015. Registered office and registered agent" in the Code of Virginia, all domestic and foreign LLCs require a registered agent.
Virginia Registered Agent Q&A
In this guide, we explained how registered agents in Virginia work. We also discussed some of the front runners in the state in terms of the best registered agent services. Here, we'll include a list of the most frequently asked registered agent questions.
How Much Does a Virginia Registered Agent Cost?
Registered agent services in Virginia vary in price. You can partner with a service for as little as $49 per year or as much as $299 per year. Many local agents offer a discount for multi-year contracts. Many also provide the first year of registered agent services free when you sign up as a new customer.
Can I Be My Own Registered Agent in Virginia?
Yes. You can be your own registered agent. You simply must be available during regular business hours to accept official business mail. Some documents and packages need to be signed. If you're not available, you can't be your own registered agent. You must also comply with the mailing address specifications of a proper civic address. No P.O. Boxes.
Can a Company in Virginia Change Its Registered Agent?
How Long Does It Take to Get a Virginia Registered Agent?
The address and online account may be immediate. You can expect most registered agent services to activate within 24 hours. Some services, including mail forwarding, may take up to 2-weeks to initiate.