Opening a boba shop is a trendy but tricky path to navigate. On one hand, there's a major market for bubble teas (milk tea with tapioca pearls) in North America. On the other, it's becoming a saturated niche in the food and beverage industry, making it tough to stand out.
The boba tea craze popped up in North America in the 1990s and has become a booming business enterprise. As an industry, boba tea is estimated to reach $4.3-billion USD by 2027, according to Allied Market Research. That's a whopping compound annual growth rate of 7.8% from 2020 to 2027.
In short, it's not a bad time to start a bubble tea shop. But where do you begin? This is where we come in. Here, we'll talk about everything from market research and opening costs to business insurance and establishing yourself.
1. Conduct Boba Shop Market Research
The compiling of information related to your market and consumers is called market research. These details outline buyer behavior and decision-making tactics. Through market research, you can also narrow down a target audience, so you know who you're selling to before serving customers.
According to The Food Institute, Gen Z and Millennials are the target market for milk tea and boba shops. In a study recorded by CLSA, 94% of adults aged 20 to 29 visited a boba shop at least once in the last three months.
Some questions you might answer during market research to start a bubble tea business include:
What flavors are trending among customers (black tea, green tea, or fruit tea)?
Where are most customers buying their boba tea currently?
Are there gaps in the boba tea market your company could fill?
What are the unaddressed needs of boba customers not currently being met?
How do consumers feel about boba prices across the top tea brands?
Which websites and reviews are most popular among boba tea drinkers?
There are two types of market research to explore—primary and secondary.
Primary Research: First-hand knowledge about your target audience and consumers in your location.
Secondary Research: Third-hand (public) knowledge about your industry and consumer trends.
2. Analyze the Competition
In boba tea, your competition is mainly local (unless you're selling instant boba drink products online). Analyzing local competition means getting down and dirty with some undercover research. The best way to learn about your competition is to:
Visit competing shops in person
Try competing bubble tea drinks
Check out competitor websites
Analyze competitor price models
Read online reviews for competing shops
Some of the top bubble tea shops in the United States include:
One thing these businesses have in common is a diverse bubble tea drink menu, including a variety of flavors, chewable toppings, mix-ins, and additional drinks.
3. Understand Costs to Open a Bubble Tea Business
When you start a bubble tea business, there are several unforeseen expenses and startup costs. Up-front initial investment costs and ongoing costs add up to a pretty penny.
Before setting up shop, it helps to have an overview of estimated startup costs and fees. Here are some things to consider as you get started.
What Does It Cost to Open a Bubble Tea Shop?
The cost of opening a bubble tea business depends primarily on whether you're franchising (with a company like Gong Cha) or starting fresh. Within the scope of each of these ventures, there are various costs associated with developing a new business location, product inventory, insurance, legal fees, and more.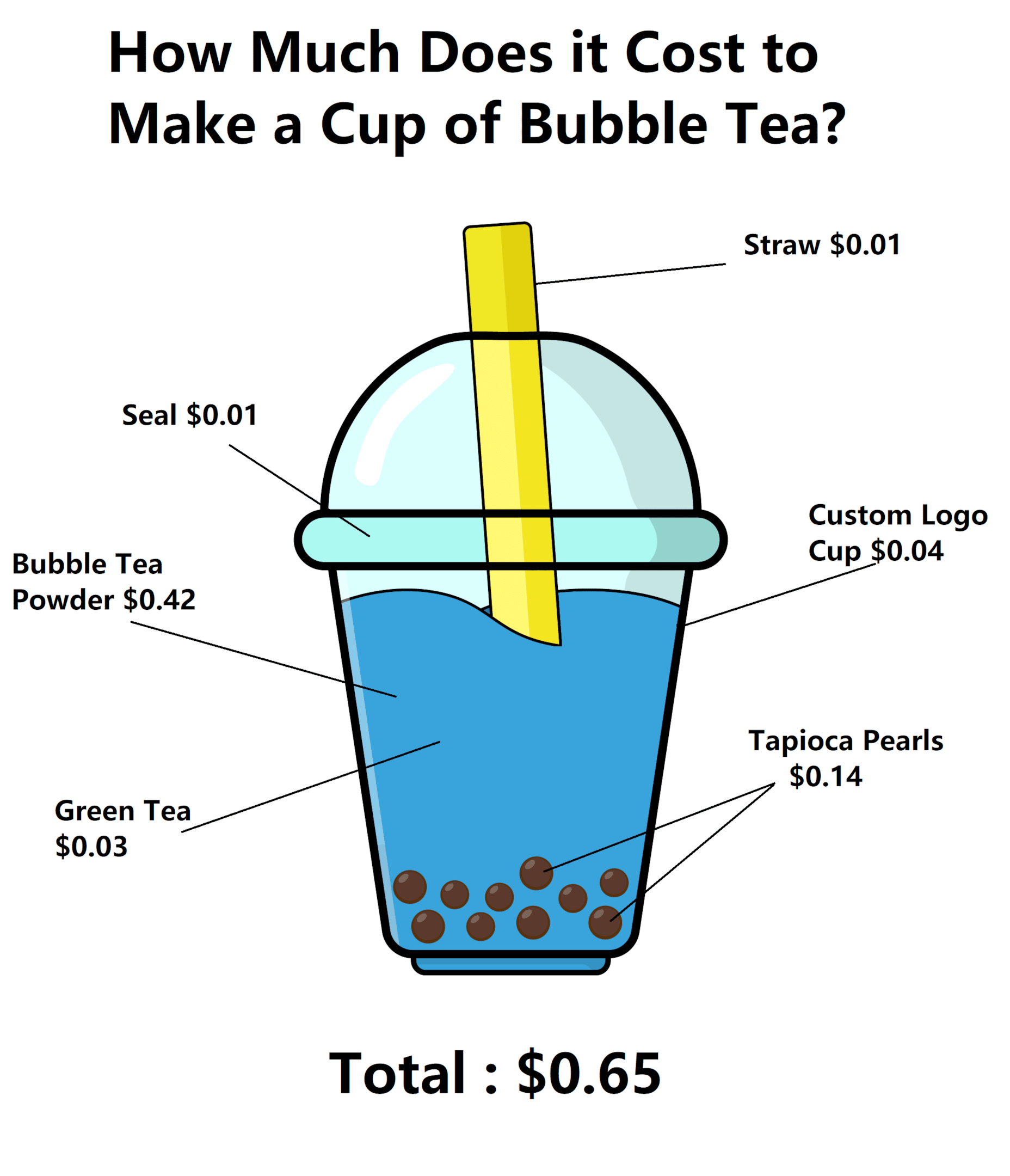 Opening a Boba Franchise
Boba franchise fees depend on the company. For example, opening a Kung Fu Tea shop has the following costs:
Initial capital: $140,000 to $422,000
Franchise fee: $37,000
Equipment: $25,000 to $35,000
Training fee: $10,000
There are also ongoing costs involved in hiring and training staff, franchise fees, and more.
Opening Your Own Shop
Opening your own bubble tea business is a whole different ball game. There are many factors to consider when evaluating cost. Overall, a bubble tea business can cost anywhere from $75,000 to $500,000, although on average, you're looking at something in the range of $125,000 and $200,000.
Some factors influencing the price of starting a bubble tea business include:
Location population
Square footage of the shop
Amount of equipment needed
On-hand inventory required to function
Number of employees
Less expensive shops are smaller locations in mall food courts, airports, or bubble tea trucks. Large multi-product shops cost more.
Business Equipment/Materials for a Bubble Tea Shop
To run a successful bubble tea shop, you need all the gizmos and gadgets that make bubble tea so great. Many of these products can be purchased from bubble tea suppliers like Bubble Teaology. To get started, you'll require the right equipment, some of which are outlined below.
Sealer Machine – $1,279 to $4,599: These machines seal bubble tea cups shut after you've mixed the product inside. They range in price based on how many cups the machine can handle at once.
Powder Dispenser – $1,199: Bubble tea flavors are often created using flavor powders. These powders are dispensed by machines.
Fructose Dispenser – $1,169: Sweetness level is something boba drinkers are very particular about. A fructose dispenser lets you customize sugar levels for each customer.
Shaker Machine – $1,082: As the name suggests, a shaker machine mixes the bubble tea before it's served to customers.
Automatic Pearl Maker – $2,999 to $3,975: A pearl maker or cooker automatically creates tapioca pearls. There are many ways to get bubble tea for your tea products. Making your own in-store is one.
Sealing Film – $245 to $499: This is the film that covers your cups. It gets pricier when branded with your logo and comes in various sizes and shapes. Rolls come in packs of 4 or 6 or more. Generally, they include 2,500 to 3,000 seals per roll.
Cups – $0.04/cup: Cups vary in cost depending on size and logo options.
Straws – $17,99 to $117: Bubble tea straws are wide and individually wrapped. You can purchase these in multiple colors and styles from the WebstaurantStore in cases of 400 to 4500.
Commercial Ice Machine – $250 to $5,000: Ice machines are crucial for bubble tea beverages. Any real bubble tea fan has its go-to ice level, and your machine lets you customize it.
These prices are based on materials found at retailers like Bubble Teaology and the WebstaurantStore. You can find other products at a variety of price points and choose those that best fit your bubble tea business.
Most bubble tea business owners also need to invest in menus, furniture, cash registers (POS systems), and computer equipment.
Cost of Renting or Leasing a Location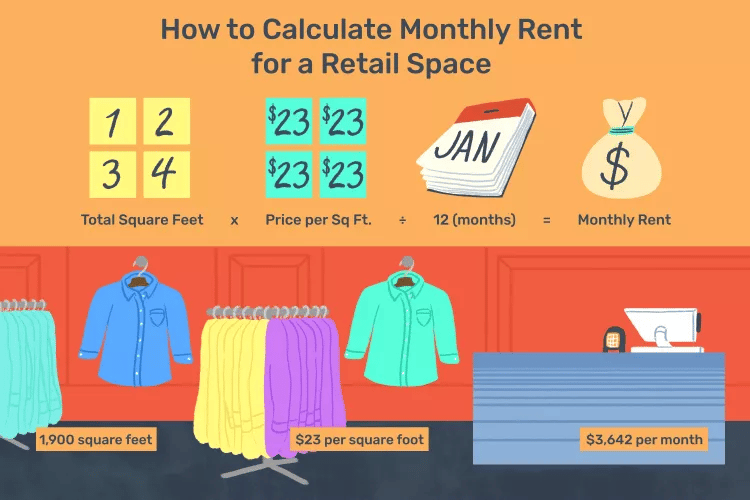 Renting or leasing a commercial space for your bubble tea business is a big investment. Cost varies based on elements such as:
Proximity to the city center
Local population
Size of commercial space
Age of property
Generally, you can determine a potential lease price based on the cost per square foot. A bubble tea business can range in size, but at minimum, you're looking for a space measuring 15 x 10 feet, or about 150 square feet.
For a space charging $25 per square foot, that's an annual lease of $3,750, or $312.50/month.
Business Formation
Creating a new business requires registering your business name and making things legal. Costs associated with this process range in price. Most bubble tea shops will pay less than $300 to register. You'll also pay somewhere between $50 and $500 for licensing, depending on your state.
Business Insurance
Bubble tea shops require insurance to protect you and your employees. There are many types of insurance to consider. Many small food and beverage shops rely on general liability insurance to cover:
Legal fees in the event of legal action
Physical harm
Medical expenses
Property damage
For $1 million in coverage, most U.S. boba shops are looking at an annual rate of $500 to $1,200 for insurance. 
Utilities

Utilities vary based on business size and the local population. The types of utilities used by a bubble tea business may include:

When starting your bubble tea business, you can expect to spend roughly 4% of your operating costs on utilities.

A study by National Grid estimates cafe and restaurant electricity to cost about $2.90 per square foot and natural gas to run about $0.85 per square foot a year.

What Are the Ongoing Costs of Boba Shop?

Running your own bubble tea shop will include not only costs regarding the rent, equipment, and staff. You'll also have ongoing expenses, such as:

Cups
Straws
Chewy toppings (tapioca pearls, grass jelly, jelly boba, and others)
Flavored syrups
Milk tea powder
Tea leaves
Cup seals
Cleaning supplies
Administration supplies

Anything used or sold at the shop needs to be replaced and refreshed regularly. These costs add up throughout the year and must be factored into your overall budget.

4. Form a Legal Business Entity

There are four types of business entities when starting a new company, including a Limited Liability Corporation (LLC), Sole Proprietorship, Partnership, and a Corporation.

For a bubble tea business, the most beneficial business entity to form is an LLC. It offers the most protection and tax benefits for small businesses. Here, we'll break down each entity type for better clarification.

Limited Liability Corporation (LLC)

We recommend an LLC because of its adaptability and simplicity for small business owners. This business entity offers the most liability protection in the event of legal trouble. It keeps your personal assets separate from the business.

If an employee or customer were to slip on spilled bubble tea in your shop, for example, this type of business entity protects your personal assets from being targeted in a lawsuit.

Sole Proprietorship

A sole proprietorship is a company held entirely by one individual. It's good for business owners worried about losing control and focused on keeping decision-making power.

This is generally a bad choice for a boba shop, however, because of all the potential mishaps waiting in the wings. If the store goes under, you're left accountable for all debt accrued by your own bubble tea business.

Partnership

A partnership gives joint profits, losses, and decision-making power to the partners in the business. It's a good choice for family members going in on a company together.

For a boba shop, the partnership entity may not be the best route to take. Again, an LLC will protect you more fully from blame and financial obligation if something goes awry.

Corporation

Corporations are a great legal business structure for large businesses with large bankrolls. They offer great protection against liability but also come with a bigger price tag and more administrative requirements.

For a small business like a boba shop, creating a corporation doesn't make sense. You'd pay more money for more protection than your shop requires.

5. Register Your Business for Taxes

Every business in the United States must be registered with an employee ID number or federal tax ID (EIN). For a small business, you can get yours through the U.S. Small Business Administration. Here, you obtain an EIN to:

Pay employees
Open a business bank account
File business taxes
Withhold taxes for non-resident employees

If your boba shop is part of a franchise, the corporate store may already have these legalities covered within your bubble tea franchise agreement.

Most states tax the sale of goods. You can check your state tax process through the U.S. Government website.

6. Setup Your Accounting for Success

The finance side of your boba shop falls between you and your accountant to manage. You are on the front end and your accountant deals with payroll, taxes, and income management. There are a few ways to manage the accounting side of things, as outlined below.

Accounting Software

Accounting software is a massive help for small businesses like boba shops. It compiles a variety of useful tools and automation features into one platform. There are several accounting software types out there, and Quickbooks is a popular one among shop owners.

Accounting software covers things such as:

Vendor management
Invoicing
Inventory tracking
Paying employees
Tracking spending

There are different plans offered through accounting software, and you pay a monthly fee based on the coverage you need.

Find an Accountant

Having an accountant on call is essential to any small business. Your boba shop may only use these services once a year for tax purposes. On the other hand, you may rely on your accountant for advice on financial decisions, tracking the shop's spending, and more.

Get a Business Bank Account

No matter how small your boba cafe is, obtaining a business bank account is an important step when setting up a shop. This separates work and personal purchases and helps you avoid confusing legal issues.

The IRS recommends keeping these accounts separate for tax purposes in their Small Business Tax Workshop.

Apply for a Business Credit Card

Having a business credit card is another way to keep business expenses separate from personal expenses. According to Forbes, a business credit card may come with better perks, including:

Bonus miles
Low or 0% APR during a specified period after opening your account
Enhanced purchase protection
Bigger spending limits
Cash back opportunities

While a business card keeps finances separate, missing payments can impact your personal credit score. So, be careful when using your card and setting payment reminders.

7. Obtain Business Licenses and Permits

Some states and local governments have special business licensing requirements and necessary permits for selling food and drinks in boba shops and other cafe-style restaurants. You can obtain the right food service license through the U.S. Small Business Administration.

The Small Business Administration also offers local help here. Enter your business zip code to find assistance in your city. SBA oversees low-cost or free training within their district offices.

If you sell any alcoholic beverages in your milk tea store, you'll also need to apply to the Alcohol and Tobacco Tax and Trade Bureau and Local Alcohol Beverage Control Board.

8. Create an Office Space

Your shop is the place you sell all your latest boba tea concoctions, but where do you perform administrative tasks? Office space is a must-have for any business owner. There are a few options to choose from in this area.

Home Office

A home office is one of the top choices for small tea shop owners. It provides a low-cost space to conduct business outside of the shop. Some benefits of the home office include:

No need to pay rent on a separate property/office
Internet and electricity are already there
Gives space outside of the shop to perform administrative tasks
No temptation from delicious boba tea beverages!

Creating a home office takes some fine-tuning. You don't want to feel like you're ALWAYS at work. Choose a room with a door where you can separate your office work from the rest of your home.

A home office is also a great tax deduction. You can deduct individual costs for your business, such as internet and electricity. Or, you can use a simplified approach, which offers a maximum deduction of $1,500 with a rate of $5 per square foot of office space to a maximum of 300 square feet.

CoWorking Office

CoWorking offices are another option for boba business owners. Rather than renting an office in a commercial building, you share a space with other local workers.

WeWork is an excellent example of coworking. Through the WeWork website, simply enter your city and the type of office space you want (hot desks, dedicated desks, office space, meeting rooms). From there, you select the type of access and membership you want and choose a payment plan that works for you.

Retail Store Office

Depending on the size of your boba shop, you may have room for a small in-store office. This would be a small room out of customer view, where you can attend to daily administrative duties.

It's best to have a separate space for an office and a break room to keep important documents safe.

Commercial Building Office

Commercial building office space is great for focusing and ensuring you have a dedicated place to work. It's not the most financially suitable workspace for a boba shop, however. You're already paying rent for your shop. Do you want to pay for an entirely separate office as well?

Corporate office space can run anywhere from $8 to $23 per square foot. Even a small office gets costly over time, especially while balancing your boba store needs.

9. Source Your Equipment

Sourcing equipment takes a little legwork and elbow grease, but it's worth the effort. We mentioned a few places to buy boba tea equipment above. There are many ways to source equipment, though.

Buy New

New equipment has an extended shelf life, comes with a manufacturer's warranty, and sometimes, extended warranties through the sales outlet.

Bubble Teaology and Boba Tea Direct are both great spots to shop for boba-specific types of machinery, such as sealers and pearl makers. You can also use slightly more generic suppliers for cups, lids, and straws, such as Global Sources and WebstaurantStore.

Buy Used

Buying used equipment is a great way to save money starting up. You can buy boba equipment through local listings on Craigslist or Kijiji. You can also check out online auction sites, like Bid-On-Equipment, or see if any local boba shops are going out of business and selling their gear.

10. Establish Your Brand

Building your brand is critical as you start your boba store. It's important to set yourself apart from the competition and also make your company accessible to consumers. Here are some ways to get started.

Get a Business Phone Number

A business phone number is an asset to your shop. It provides a distinct mode of contact and easy access outside of your personal devices and reinforces your business. You can include features and add-ons such as:

Interactive voice response (IVR)
1-800 number connection for free customer calls
Custom greetings
Dedicated voicemail

You can get a business phone number through Google Voice for as little as $10 per month. Or, you can go with a U.S.-based phone service provider like AT&T or Verizon.

Create a Logo & Brand Assets

Every business needs a logo, and you want yours to pop. Getting your boba tea logo made and onto merchandise isn't as complex as it sounds.

A great resource for logo creation, business card designs, social media templates, and more is Looka. Looka uses an AI-powered platform to help make unique business logos based on your preferences.

Create Business Cards and Signage

Boba tea shops may not hand out business cards as frequently as law firms, but they're still handy to have. Punch cards are an easy way to transform a business card into a loyalty card for your shop. Tenth boba tea is free!

Business cards and signage inform locals who you are and why they need you. They also offer a visual taste of your business and help you stand out. Vistaprint is a great place to get started designing branded assets.

Purchase a Domain Name

Modern consumers look to the internet for guidance when making decisions on services and products. Boba is no different. Purchasing a domain name sets you up with a unique identifying website. It helps you look professional and makes your shop easy to find online.

A great place to look for a website domain is Namecheap.com.

Build a Website

With your new domain name intact, it's time to create a website. Your site should be mobile-friendly, easy to navigate, and include your menu. You may even want to make it possible to order online.

Creating a website doesn't need to be complicated. You can make one yourself with a template at Wix.com, or hire a web developer for cheap from somewhere like Fiverr.

11. Join Associations and Groups

You're not alone in your boba bubble! In fact, there's plenty of support online and locally. Here are some places to begin building your bubble tea alliance.

Local Associations

A great way to get connected with other boba tea enthusiasts and shop owners is to seek tea associations and societies in your state. One place to start your search is The Tea Association of the U.S.A. Inc.

Local Meetups

Bubble tea events, trade shows, and expos are a fun and interactive way to connect with your local bubble tea industry. Meetup is a good place to check for such events locally. You can also visit the World Tea Expo for networking and educational guidance on your boba shop.

Facebook Groups

Facebook is an underrated tool in the marketing and networking of boba shops. There are so many great resources on social media for shop owners, including bubble tea recipe swapping! Some Facebook groups to investigate include:

12. Focus on Marketing

Marketing is an important and ongoing part of running any business. It's especially important for small businesses like boba tea stores. Your local community is your customers, so keeping your brand identity fresh and building customer loyalty will vastly impact your revenue stream.

Social media and digital marketing have made it easier than ever to make a footprint in your niche. Don't be afraid to get out there and interact with customers online and in person.

Ask Friends, Family, and Coworkers

Word of mouth isn't dead! Asking your friends and family to spread the word is the first step in any decent marketing campaign. Sharing ads and promotions online is a big part of this process.

Never be shy to reach out to those you know for a little help getting noticed. We all have to start somewhere.

Digital Marketing Ideas

A digital marketing strategy can be delegated to a social media manager, but it starts with you. There are many ways to get noticed online. This is an easy way to engage with customers and build excitement for upcoming products and events. Some ways to make waves online are:

Making a boba tea blog
Facebook ads
Starting a boba YouTube or TikTok
Google ads
Email coupons
Weekly or monthly newsletters

Traditional Marketing Ideas

Traditional marketing is alive and well. In fact, as you start your own bubble tea shop, you may want to invest in some traditional mailers to let your community know you've arrived. Some ways to stand out in the eyes of your customers include:

Exclusive mailer offers
Loyalty bubble tea programs
Referral rewards
Event Invitations
In-store samples
Bubble tea business published works (pamphlets, catalogs, etc.)

13. Focus on the Customer

Customer service is especially important in the bubble tea industry. Local and visiting consumers often rely on online reviews and word of mouth to find the best boba spots in town.

It also helps to develop a uniform approach to customer service, including training employees on dealing with upset customers, refunds, and other bumps in the road.

Hopefully, this guide has been useful in helping you navigate your way to start your own bubble tea business. Good luck!