The baking industry is on the rise again. It hit $15.18 billion in 2021 as a global market. With a compound annual growth rate (CAGR) of 6.1% from 2022 to 2030, now is a great time to start a home baking business or open your bakery.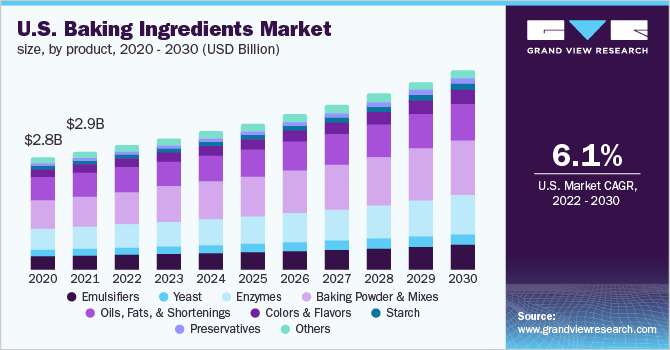 This comprehensive guide lays out step-by-step instructions on how to start a baking business. From coming up with a business plan to finding the perfect location to outfitting your kitchen, we've got all the ingredients you need to make your baking biz dreams a reality.
1. Conduct Baking Market Research
Market research offers important insight into the home bakery business. From types of baked goods growing in popularity to cottage force
od laws to sourcing your bakery equipment. To be a successful home bakery business, you need primary and secondary research.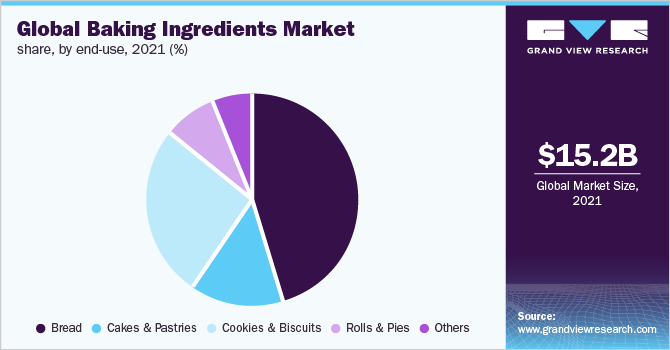 Source
Some details you'll learn through your market research as you start a home bakery include:
Income: The average retail bakery takes in $50k-150k in yearly sales. Top performers generate over $1 million.
Costs: Upfront costs vary based on size and offerings. Expect $100k-$500k to cover equipment, ingredients, licensing, buildout, and marketing.
Keys to success: Quality ingredients, strong social media and digital marketing, location, foot traffic, and visibility are ideal.
In summary, the baking industry is ripe with opportunity for aspiring entrepreneurs. Market demand is growing, and consumers are willing to pay for quality, artisanal fare. With proper planning and execution, a retail or wholesale bakery can deliver tasty returns on investment.
2. Analyze the Competition
Knowing the competitive landscape is crucial for any new baking business. Start by identifying direct competitor bakeries selling similar products in your geographic area. Drive around town and note their locations, offerings, pricing, and visibility. Search online directories like Yelp and Google Maps to compile a list.
Some ways to get to know the home bakeries in your area include:
Evaluate their online presence. Do they have a website with menus and ordering capability? Are they on social media promoting their latest creations?
Check out their customer reviews and ratings on various sites. Look for pain points or common complaints you can improve upon. See what customers rave about and do even better.
Gauge their customer traffic at different times of the day. Are they slammed all morning but dead after lunch? That's valuable intel for planning your hours and staffing.
Study their pricing carefully. Undercutting the competition may win some customers initially but isn't a sustainable strategy. You'll need to find the optimal price that covers your costs and delivers value.
Inspect their product displays. Is everything neatly organized and appealing? Or are burnt edges and sloppy icing turning customers away? Presentation matters in this visual industry.
Consider ordering some items for taste tests. Evaluate freshness, texture, flavor profiles, and overall quality. Find ways you can do it better.
Research suppliers, ingredients, and equipment competitors use. You don't have to reinvent the wheel to make a superior product.
By thoroughly analyzing the competition, you'll identify strategic advantages to win market share. Remember to keep learning from them even after opening. Successful bakeries constantly fine-tune their offerings based on what customers crave.
3. Costs to Start a Baking Business
Starting a bakery requires a significant upfront investment. Total costs typically range from $100,000 – $500,000 depending on size and offerings.
Start-up Costs
Location – Buying an existing bakery or commercial space can cost $300,000+. Leasing ranges from $2,000-$10,000 per month.
Buildout/Renovation – With a new space, expect to invest $25,000-$150,000 to customize the layout for baking operations.
Equipment – An industrial oven ($5,000-$15,000), proofing cabinet ($2,000-$5,000), mixers ($300-$1,000), sheeters, and lamination equipment ($3,000-$10,000) are essential.
Ingredients – Stock up on bulk quantities of flour, sugar, eggs, butter, spices, chocolate, fruits, and other baking ingredients. This can run $5,000-$10,000 to start.
Licenses & Permits – Plan for $1,000-$5,000 in state and local licensing fees (health department, food handler cards, sales permits, etc.).
Packaging – Custom boxes, bags, labels, and other packaging add up quickly at about $5 per piece. Budget $2,000-$5,000.
Initial Inventory – Ingredient and packaging costs for your first 1-2 months of production, estimated at $10,000-$30,000.
Marketing – Website development, branding, printed collateral, advertising, and grand opening events will run $5,000-$20,000.
Legal/Professional Fees – Hiring a lawyer for lease review, entity formation, contracts, etc. may cost $3,000-$5,000.
Insurance – General liability, property/casualty, workers comp, and other policies range from $500-$2,000 per month.
Staff – Depending on size, plan for 1-5 bakers at $15-$25 per hour plus a manager ($55,000 salary).
Other – Uniforms, POS system, cleaning supplies, office needs, and miscellaneous expenses can total $5,000-$10,000.
Ongoing costs
Rent/Mortgage – If not purchased outright, ongoing lease payments apply.
Payroll – For bakers, managers, and any other staff.
Ingredients – Flour, sugar, and other baking ingredients must be replenished constantly as inventory is used.
Utilities – Gas, electric, water/sewer, garbage collection, etc. specific to your operation.
Insurance – Premiums paid monthly or quarterly.
Marketing – Budget for ongoing advertising and promotional campaigns.
Accounting & Legal Fees – Monthly/annual services to stay legally compliant and manage finances.
Other overheads like bank fees, cleaning/janitorial services, and repairs pop up periodically. Also, budget for periodic equipment maintenance and replacements every few years. By planning diligently for both start-up and ongoing costs, new baking businesses can set themselves up for financial success.
4. Form a Legal Business Entity
When starting a bakery, one key legal decision is choosing the right business structure. Each type has pros and cons to weigh.
Sole Proprietorship
A sole proprietorship is the simplest option. You operate as an individual with unlimited personal liability. Any business debts or legal issues impact your assets. The upside is no formal registration is required. Simply obtain the necessary licenses and permits and start selling. This works for very small startups, but limited liability protection makes it risky as you grow.
General Partnership
Forming a general partnership shares ownership and liabilities with one or more partners. You still lack limited liability, so each partner's assets are at risk. Decision-making and profit-sharing are split per your agreement. Disagreements can dissolve the business if a written plan isn't in place. This structure is better for larger bakeries with trusted partners.
Limited Liability Company (LLC)
A limited liability company (LLC) provides personal asset protection like a corporation with the pass-through taxation of a partnership. Profits and losses pass to the members and avoid double taxation. Owners have limited liability for business debts and lawsuits. An operating agreement outlines member responsibilities.
Corporation
Establishing a corporation creates a legal entity separate from the owners. Shareholder personal assets are protected from any business liabilities. Corporations can raise money by selling stock. They file more paperwork and reporting requirements with the state. Profits are taxed at the corporate rate.
5. Register Your Business For Taxes
One key task when forming your bakery business is obtaining an Employer Identification Number, or EIN, from the IRS. This unique number identifies your business for tax purposes similar to how your Social Security number identifies you as an individual.
An EIN is required if you plan to hire employees, open a business bank account, or file any tax returns for your bakery. As a business owner, you must register for an EIN – it's not optional.
The good news is applying for an EIN is quick and free through the IRS website. You'll need to provide basic information about your LLC such as name, address, and ownership details. The online application takes less than 30 minutes to complete.
At the end, you'll receive your EIN immediately. Keep this number handy as you'll need it frequently for business needs. Print out the confirmation notice from the IRS for your records.
You may also need to register with your state revenue or taxation department for sales tax purposes. If selling taxable goods, you must collect and remit sales tax following local laws. Search "[your state] sales tax ID" to find the proper department website and registration process. Fees are generally $10 to $25.
6. Setup Your Accounting
Proper accounting is crucial for any baking business. Keeping accurate financial records saves headaches at tax time and ensures you capture every dollar that flows through your bakery.
Accounting Software
Start by using accounting software like QuickBooks to track your finances. QuickBooks automates tasks like invoicing, reporting, and integrating with bank accounts. It's user-friendly for non-accountants but robust enough to support your growth. The cost is around $10 to $50 per month.
Hire an Accountant
Consider hiring an accountant, especially in the beginning. A good accountant handles bookkeeping, monthly reconciliations, and sales tax filings, and guides you on deductions. Expect to invest $200 to $500 monthly for these services.
When tax season comes, your accountant can prepare and file returns to showcase your bakery's financial position. Rates are usually $500 to $2,000 annually depending on complexity. If you get audited, your accountant is invaluable in representing your case.
Open a Business Bank Account
Be sure to separate personal and business finances. Keep business income and expenses in a dedicated business checking account. Never co-mingle personal and business transactions. Open a free business checking account through your bank.
Apply for a Business Credit Card
Getting a business credit card also helps track expenses. Issuers like Capital One offer cards with limits based on your LLC's financials, not your credit score. Use it for all bakery spending.
7. Obtain Licenses and Permits
A big part of any solid bakery business plan is obtaining your business license. Necessary federal licensure is listed on the U.S. Small Business Administration website. You can also use the SBA local search tool for city and state requirements.
At the federal level, wholesale bakeries need a Food Facility Registration from the FDA to manufacture and distribute products across state lines. Expect to pay $500 to $1000 annually. Retail-only operations are exempt but must comply with all FDA food safety regulations.
Your local health department issues permits for retail food establishments to protect public health. These certify your premises and procedures meet sanitation and preparation standards. Fees range from $100 to $1000 depending on local laws.
Specific licenses are required if you plan to sell alcoholic beverages like beer, wine, or cider. States regulate this heavily, so contact your liquor authority to understand the requirements. Licensing can cost upwards of $5,000 annually.
Don't forget the required licenses and training for your staff. For example, at least one food safety manager must have a certified food protection manager credential. Look into ServSafe training and certification.
8. Get Business Insurance
Operating a bakery comes with inherent risks that can derail your business without proper insurance coverage. The right policies safeguard your company from financial ruin if disaster strikes.
For example, an electrical fire could destroy your premises and equipment. A customer could slip and fall in your shop and then sue for injuries. You may face costly product recalls.
In each case, insurance provides a safety net:
Property insurance covers damage and losses to your space, equipment, and inventory. This reimburses you to rebuild and reopen.
Liability insurance handles claims if a customer is harmed or claims your products made them sick. It pays for their damages so you avoid crippling expenses.
Commercial auto insurance protects all company vehicles. It covers collision, theft, and liability.
Work with an agent to get quotes on tailored policies that meet your bakery's needs. Expect to budget 1-5% of sales for premiums. Having adequate coverage gives peace of mind that your business can persevere through the unexpected.
The easiest way to get insured is to request quotes online from leading providers. Answer some basic questions about your bakery, including:
Your legal business name & entity type
Location
Revenue
Years in business
Number of employees
Types of insurance needed
With this info, agents can customize policies and pricing. Relax once your bakery is properly covered so you can focus on delighting customers without fear of financial ruin.
9. Create an Office Space
Having a dedicated office space can provide immense value for bakery owners, even if your baking occurs offsite. An office lets you handle administrative tasks, meet with clients, and conduct general business operations.
Home Office
A home office works well initially to keep costs low. Expect to invest $500 to $2,000 in outfitting a spare room or basement with a desk, computer, phone, filing cabinets, and supplies. The downside is distraction and lack of professionalism when meeting clients.
Coworking Office
For client meetings, consider a coworking space like WeWork. Hot desk memberships start around $300/month. You can also pay per use for conference rooms. Coworking spaces provide amenities like printing, WiFi, and kitchen access in a collaborative environment. However, your storage needs may require more space.
Retail Office
If your bakery includes a storefront, consider adding a small private office onsite. This could be a walled-off space or a backroom redesigned as an office. If already paying for retail space, this adds convenience without significant costs beyond furnishings. Yet onsite offices can make it hard to disconnect from front-of-house operations.
Commercial Office
Leasing traditional office space in a commercial building is ideal long-term. Expect to pay $15 to $30 per square foot annually. You'll gain privacy, room for storage, the ability to control the environment, and separation from retail operations. The hassle of commuting between sites is the biggest downside if your kitchen is elsewhere.
10. Source Your Equipment
Launching a bakery requires outfitting your kitchen with the right equipment and ingredients. Here are some options for stocking up affordably.
Buying New
Purchase top-of-the-line ovens, mixers, racks, and more from restaurant supply retailers like WebstaurantStore and KaTom. Expect commercial-grade equipment to cost $5,000 to $30,000 for a full setup. The benefit is getting warranties, prime condition, and modern features.
Buying Used
Search restaurant auction sites like BidOnEquipment for deals on quality secondhand gear. Many commercial mixers and ovens retain performance for years if well-maintained. Expect to pay 40% to 60% less than new. Inspect carefully before purchase.
Renting
Consider renting large baking equipment like roller ovens temporarily during busy seasons when production needs to spike. Companies like CaterTrax offer short-term equipment rentals by the week or month. This preserves capital for other startup costs. Just ensure rental availability when you need it.
Leasing
Equipment leases through vendors provide access to pricier gear by making incremental payments over 3 to 5 years. At the end of the lease, you can purchase the equipment outright. This spreads out upfront costs at the expense of higher long-term pricing.
11. Establish Your Brand Assets
Crafting a strong brand identity is crucial for bakeries to stand out in a crowded marketplace. Consistent branding makes your business memorable and helps connect with ideal customers.
Get a Business Phone Line
Start by purchasing a professional business phone number through a service like RingCentral. Toll-free and local numbers make you accessible. Get voicemail, call routing, texting, and conferencing features to manage communications smoothly.
Design a Logo
Create a logo and visual assets that encapsulate your brand. Design logos with a user-friendly platform like Looka that turns your inputs into polished designs. Consider a stylized wordmark, monogram, or icon that reflects your personality and offerings.
Print Business Cards
With logo files, generate complementary assets like packaging, menus, shirts, and signage. Online printing sites like Vistaprint make it easy to order branded collateral affordably. Don't forget professional business cards to introduce yourself and share contact info.
Get a Domain Name
Secure a domain name that matches your bakery name if available. Platforms like Namecheap allow you to search availability and buy domains for $10 to $20 annually. Choose .com or alternate extensions like .bakery if your first choice is taken.
Design a Website
Building out your actual website can be done via user-friendly DIY platforms like Wix and Squarespace. Expect to spend $5 to $50 monthly for an e-commerce site. If you need a custom buildout, web developers on Fiverr offer quality sites starting around $500.
12. Join Associations and Groups
Joining relevant organizations and networks is a smart move for new bakery owners. Surrounding yourself with fellow bakers provides camaraderie, valuable insider tips, and potential partnerships.
Local Associations
Seek out local baking associations to join like [your city] Bakers Guild or [your state] Retail Bakers Association. The $50 to $200 annual dues pay off by meeting fellow bakers in your area. Learning from their successes and mistakes gives you a leg up. Having a support network makes the journey less intimidating.
Local Meetups
Attend local meetups and trade shows to further expand your network. Sites like Meetup list events for bakers to share experiences and sample products. The American Bakers Association's annual BakingTech trade show connects suppliers, manufacturers, and bakeries, expect to invest $500 to attend. But you'll return home full of inspiration and new relationships.
Facebook Group
Online communities breed connections too. Facebook groups like Bakery Business OWNER GROUP and Bakery Business offer over 100,000 fellow bakers to befriend. Join niche groups for your specialties like Sourdough Bakers.
13. How to Market a Baking Business
Marketing is imperative for bakeries to raise awareness and attract new customers. With the right strategies, your scrumptious creations will tempt the taste buds of your community.
Tap Into Your Network
Start by leveraging your network and existing customers. Nothing is more powerful than word-of-mouth referrals from satisfied patrons. Offer incentives like free cookies for sending friends your way. Delight them so they eagerly share photos and reviews on social media.
Digital Marketing
For broader reach, focus on targeted digital marketing:
Run Google and Facebook ads promoting your bakery. Target by location, interests, and demographics. Drive web traffic or local store visits.
Start an Instagram account showing drool-worthy photos of your latest creations. Use hashtags like #yummy and #foodporn to reach foodies.
Launch a bakery TikTok channel with behind-the-scenes baking fun and decorating tutorials. Engage viewers with polls and challenges.
Create YouTube videos like a bakery tour, day in the life, Q&A's, and recipe demos.
Blog about new menu launches, seasonal ingredients, and baking techniques to attract SEO traffic.
Send promotional emails to subscribers announcing new products and deals.
Partner with local influencers to review and feature your offerings. One post can bring hundreds of new visitors.
List your bakery on directories like Yelp, Google Business Profile, and Facebook Business Page. Monitor and respond to reviews.
Traditional Marketing
For traditional marketing, focus on hyperlocal efforts:
Mail postcards with coupons to neighborhoods near your bakery.
Place flyers on community boards at libraries, rec centers, and cafes.
See if large local employers will promote your bakery to their workforce.
Sponsor Little League teams and donate baked goods to create goodwill.
With consistent digital marketing and select grassroots outreach, your bakery will earn buzz and customer loyalty. Let your five-star flavors speak for themselves!
14. Focus on the Customer
Delivering exceptional customer service is mission-critical for bakeries. How you make patrons feel with every interaction determines if they become regulars who rave about you to everyone they know. Here are some ways to show your home-based bakery customers you care.
Start by training staff to provide friendly, prompt service with a smile at the counter and on the phone. Make customers feel welcomed and valued.
Pay attention to details that enhance their experience. Have team members offer samples of new creations. Walk them through the displays and share your baking secrets. Package their items with care.
Follow up with thank you emails after large orders along with a coupon to encourage return visits. When regulars come in, greet them by name and ask about their family or pets. Those personal touches build loyalty.
Respond promptly to any complaints whether in person, online, or by phone. Turn mistakes into opportunities to impress customers when you fix issues quickly and graciously. Consider including free baked goods with apologies.
Exceeding expectations also generate word-of-mouth referrals. Someone who raves about your exquisite red velvet cake on Facebook will send far more new customers your way than any ad can.
Striving for five-star service pays back exponentially. When you create an amazing experience around your equally amazing treats, your patrons will become your best brand ambassadors.