The global crypto ATM industry hit a $71.9 million evaluation in 2021 and is on an upward trajectory. From 2021 to 2030, the projected compound annual growth rate (CAGR) is 62.5%. This is a massive growth rate, potentially leading to a $5,351 million evaluation by 2030.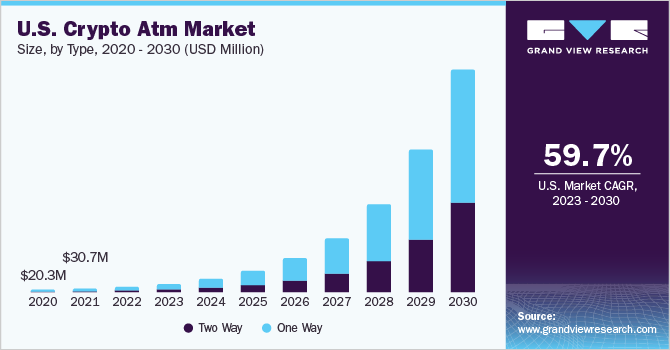 Whether you want to start small with just one or two machines or build an ATM empire spanning your entire city. This guide will help you learn how to start a Bitcoin ATM business. Topics include market research, sourcing Bitcoin ATMs, getting certified as a Bitcoin ATM operator, organizing finances, registering an EIN, and more.
1. Conduct Bitcoin ATM Market Research
Market research is essential to opening your own Bitcoin ATM business. It offers insight into your target market, local market saturation, trends in services and products, and other important aspects of operating a crypto ATM business.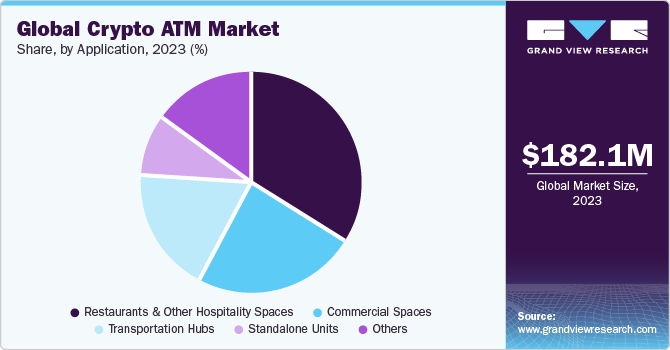 Some details you might learn through Bitcoin ATM market research include:
With cryptocurrency ownership rising, demand for easy access to buying and selling coins is surging.
How to connect with the Financial Crimes Enforcement Network for government support protecting your investment.
Transaction volume at crypto ATMs is also climbing steadily.
In 2021, monthly Bitcoin volume per ATM averaged $387,000 according to Coin ATM Radar.
Top operators like Bitcoin Depot are reporting $1 million+ in monthly volume per ATM, demonstrating the profit potential of these machines.
As more people adopt digital assets, transaction volume is likely to continue rising.
Despite rapid growth, the Bitcoin ATM machines market remains highly fragmented.
The top 10 operators control only around 25% of all crypto ATMs according to Bitcoin.com.
Bitcoin Depot founder Brandon Mintz says the industry is "wide open" and easy to break into without huge upfront investment.
The most lucrative ATM locations are often non-traditional spaces like convenience stores, restaurants, and transportation hubs.
Entrepreneurs with existing retail businesses or community connections have an advantage in sourcing prime locations.
Choosing the right ATM provider is also key.
Opting for a reputable provider ensures maximum uptime and responsive customer service – critical factors for any operator.
Compliance is another major consideration.
All crypto ATM operators must adhere to AML/KYC regulations like collecting customer ID and reporting large transactions.
Working closely with an experienced compliance provider simplifies staying compliant as regulations evolve.
In summary, the soaring crypto ATM market presents a low-barrier, high-upside business opportunity. With careful planning around location selection, customer service, and regulatory compliance, new operators can capitalize on skyrocketing demand for easy cryptocurrency access to build a thriving Bitcoin ATM empire.
2. Analyze the Competition
Thorough competitive analysis is crucial when starting any business, and Bitcoin ATMs are no exception. The first step is identifying existing operators in your target geographic area. Tools like Coin ATM Radar provide maps of all crypto ATM locations, making it easy to see which companies have machines nearby.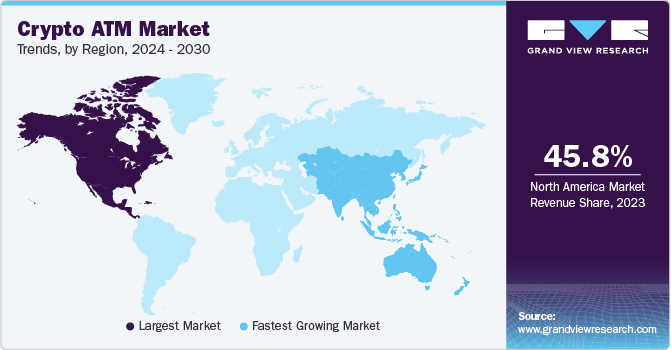 Some ways to more closely scrutinize other bitcoin ATM businesses include:
Analyze the number of ATMs each competitor has, their machine models, and the manufacturers they use.
Visit popular Bitcoin ATM websites to see how they sell Bitcoin because selling Bitcoin through cryptocurrency ATMs is tricky.
Visit locations in person to evaluate aspects like customer service, wait times, and maintenance.
Talk to customers to get feedback on their experience and what they look for in an ATM operator.
Research competitors online to gauge their digital presence. Review their website design, content, and SEO optimization.
Check their Google Business profile for customer reviews, photos, and information completeness.
Monitor their social media channels to understand promotional strategies and engagement levels.
Set Google Alerts for brand names to track news mentions and PR coverage. Run competitors through tools like SEMrush to analyze traffic sources, top landing pages, and digital marketing activities.
Evaluate fee structures across operators.
According to Coin ATM Radar, the global average fee is 8.4% for buying crypto and 5.4% for selling.
Undercutting competitor fees can be an effective customer acquisition strategy.
Review compliance and licensing information available online.
Adhering to regulations like KYC and AML is mandatory, so ensure competitors are operating legally.
Use all findings to make strategic decisions that differentiate your offering.
Locations, customer service, fees, and digital presence all offer potential areas to competitively position your ATM business.
Ongoing competitive monitoring lets you continuously refine your strategy over time as new operators enter the market.
With diligent competitive research, Bitcoin ATM entrepreneurs can make smart choices to stand out versus alternatives, win over customers, and build a thriving business even in crowded markets.
3. Costs to Start a Bitcoin ATM Business
Starting a Bitcoin ATM company involves significant upfront investment, but the potential profits make it a worthwhile endeavor for entrepreneurs interested in the cryptocurrency space. Based on averages across the industry, here is an estimate of the start-up and ongoing costs involved:
Start-Up Costs
Bitcoin ATM Machine – $6,000 to $15,000+ The biggest start-up expense is purchasing the physical ATM unit(s). Cost varies based on features, capacity, manufacturer, and supply chain factors.
Basic machines start around $6,000 from leading brands like Genesis Coin and General Bytes. High-capacity or two-way (crypto purchase and sale) units can cost $15,000.
ATM Installation – $500 to $2,000 per machine Professional installation is recommended to ensure proper operation and security. Cost depends on location specifics and any electrical/Internet upgrades required.
ATM Rental Space – $0 to $2,500+ per month If locating your ATM at an existing retail space, plan on revenue sharing or rental fees of 10-25% of the ATM's monthly transaction volume. High-foot traffic spots like gas stations may command higher rents.
Licensing & Registration Fees – $5,000 to $10,000 Obtaining required crypto business licensing and money transmitter registrations involves fees at both state and federal levels. Costs vary based on location.
Legal/Compliance Setup – $5,000 to $20,000 Hiring legal counsel to advise on compliance best practices may be necessary, especially for larger operators.
Insurance – $1,000 to $5,000 annually General liability and theft insurance help protect the business from potential issues. Quotes are based on several units and locations.
Initial Inventory – $5,000 to $20,000 Having ample cash on hand for the ATM(s) is crucial to provide liquidity to customers. The amount required depends on the expected transaction volume.
You'll also need to invest in an internet connection for your ATMs to connect to any Bitcoin wallet. This is something you'll learn through market research.
Ongoing Costs
ATM Rental Space – $0 to $2,500+ per month If renting space, this will be a recurring monthly expense per ATM location.
ATM Maintenance & Repairs – $250 to $500 per month per unit Factor preventative maintenance and potential repair costs for both the machine and supplemental cooling systems if needed.
Cash Management & Armored Courier Service – 1% to 3% of transaction volume
Cost of transporting cash and providing overall supply chain management. Percentage-based fees on total ATM withdrawals/deposits.
Customer Service – $2,000+ per month Staffing a multichannel (phone, email, chat, etc.) customer support center to handle transaction issues, disputes, and other needs.
Transaction Fees – 5% to 12% of transaction volume Fees paid to ATM processing partners on both the purchase and sale of crypto at the ATMs.
Accounting & Legal Fees – $5,000+ annually Ongoing accounting and legal expenses to ensure sustained compliance and efficient operations.
In summary, operators should budget at a minimum of $25,000 – $50,000 in start-up costs per ATM, as well as prepare for ongoing costs that typically scale based on transaction volume. With high-profit potential per ATM, the investment can pay off exponentially for Bitcoin ATM entrepreneurs.
4. Form a Legal Business Entity
When starting a Bitcoin ATM company, choosing the right legal business structure is key to limiting liability and positioning for growth. Here is an overview of the pros and cons of each entity type specifically for this industry.
Sole Proprietorship
A sole proprietorship is the simplest option – you operate the business as an individual. However, this exposes your assets to potential legal and financial liabilities related to the ATMs. Sole proprietorships also lack credibility with partners and have limited access to financing needed to scale. While easy to set up, the risks make a sole proprietorship ill-advised.
Partnership
A partnership splits ownership between two or more people, providing more resources to launch. However, similar to sole proprietors, the partners' assets are also vulnerable to business liabilities. Disagreements between partners can also cause operational challenges down the road. Overall, partnerships are better than sole proprietors but still carry notable downsides.
Limited Liability Company (LLC)
An LLC provides liability protection by separating your personal and business assets. This is ideal for Bitcoin ATMs which carry risks around security, vandalism, theft etc. LLCs have flexible management options to easily add new members as you scale. You can also elect LLC taxation rules beneficial to your situation. For most Bitcoin ATM operators, forming an LLC is the best choice.
Corporation
A corporation offers the strongest liability protection but has more complex compliance requirements like board meetings and shareholder votes. Corporations can have higher state fees and administrative costs. Unless you plan on seeking formal investors or going public eventually, an LLC provides sufficient protection without the red tape of a corporation.
5. Register Your Business For Taxes
One of the first legal steps for any business is obtaining an Employer Identification Number (EIN) from the IRS, which serves as the entity's tax ID number. This is required for Bitcoin ATM companies to open business bank accounts, apply for licenses, and file taxes.
The process of getting an EIN is quick and free through the IRS website. Simply navigate to and click the "Apply Online Now" button. Select your LLC or other legal structure, then provide basic information like name, address, and ownership details. After submitting, you will receive your EIN immediately.
Save this number, as you'll need it frequently when conducting business operations. Having an EIN separates your company's tax obligations from your returns. It also establishes business credit needed for financing.
You'll also need to register with your state Department of Revenue for sales tax collection. As a Bitcoin ATM operator, you must collect sales tax on the percentage fees charged to customers when they purchase crypto. The registration process varies by state – some allow online applications while others require submitting physical forms.
Check your state's Department of Revenue website for details on requirements, forms needed, and any registration fees. Allow 2-4 weeks to receive your sales tax permit. Display this permit visibly on all Bitcoin ATM units per state regulations.
Completing these registrations legitimizes your business and sets up proper tax accounting. Don't wait to get your EIN and sales tax sorted – doing it early ensures seamless operations as you launch your Bitcoin ATM company.
6. Setup Your Accounting
As a heavily cash-based enterprise, meticulous accounting is critical for Bitcoin ATM operators. Taking measures like using accounting software, hiring an accountant, and separating business and personal finances will save major headaches down the road.
Accounting Software
Begin by getting organized with small business accounting software like QuickBooks. Solutions like QuickBooks seamlessly sync with your business bank and credit card accounts to automatically track income and expenses. This eliminates manual data entry and ensures your books are always up to date. QuickBooks also generates the financial reports needed for filing quarterly and annual taxes.
Hire an Accountant
Consider retaining an accountant to handle bookkeeping, provide financial advice, and prepare your tax returns. Expect to invest $200 – $500 per month for basic bookkeeping services. Come tax time, preparation fees range from $500 for simple returns to $2,000+ for more complex situations. Accountants can also represent you if audited and advise on operating legally and efficiently.
Open a Business Bank Account
Be sure to completely separate your personal and business finances. Open a dedicated business checking account and credit card that will be used exclusively for Bitcoin ATM transactions. Never co-mingle personal and business funds. Doing so raises red flags with the IRS and makes accounting exponentially harder.
Apply for a Business Credit Card
Applying for a business credit card provides additional separation. Business cards don't factor into your credit score and often have higher limits since they are secured by your company's assets. Provide your business name, EIN, and income details when applying for corporate cards.
7. Obtain Licenses and Permits
Operating Bitcoin ATMs involves meeting federal and state regulatory requirements. Find federal business requirements through the U.S. Small Business Administration. The SBA also offers a local search tool for state requirements.
The Bank Secrecy Act protects you from a lot, but licenses and certificates are still required. Here are some things to look into as you start a Bitcoin kiosk or enter the Bitcoin exchange.
At the federal level, Bitcoin ATM companies must register as a money services business (MSB) with FinCEN and comply with anti-money laundering (AML) laws. The MSB application requires submitting personal information, business details, and a description of services that will be offered.
Once approved as an MSB, you will receive a registration number to display on each ATM. Expect to invest $7,500 – $10,000 on legal assistance for proper MSB registration. Renewals are required every two years.
A money transmitter license is required in most states where you install a Bitcoin ATM. These regulate the transmission and flow of funds through your machines. Application requirements vary by state – common items are business plans, financial statements, a bond, and extensive owner background checks.
Money transmitter licenses cost several thousand dollars depending on the state. Be sure to register in every state your ATMs will operate in. Some counties and cities also require local business licenses.
Your ATMs will need visible signage that you comply with applicable state licensing. Customers will feel more confident knowing you have undergone regulation. Failing to properly license could result in massive fines or forced closure.
Another key permit is for collecting sales tax on customer transaction fees. As operators charge percentage fees for exchanging crypto, this activity is subject to state and sometimes city/county sales tax. Obtaining a sales tax permit legitimizes the collection of these owed taxes.
Some areas may require individual site permits if installing machines in locations like airports, train stations, or government-owned property. Be sure to comply with any location-specific permitting requirements.
8. Get Business Insurance
Operating a Bitcoin cash ATM business comes with inherent risks that make insurance coverage essential. Policies protect your company in the event of:
Liability claims if a customer is injured at a machine
Vandalism that damages units
Theft of cash reserves or crypto wallets
Fraudulent transactions that must be reimbursed
Without proper insurance, any of these examples could severely impact your finances or force you to close. Policies cover legal costs and payouts so your business can recover.
Key coverage types to secure include:
General liability – Protects against claims of bodily injury or property damage
Property – Reimburses cost to replace stolen or damaged ATMs
Crime – Covers employee theft and fraud
Cyber – Provides coverage for data breaches or hacking
Shop business policies on sites like CoverWallet.com by entering your entity type, number of units, locations, and coverage needs. Get quotes from multiple providers to find the best terms and pricing. Expect to budget $1,000 – $5,000+ annually based on total ATMs and revenue.
Once purchased, ensure you understand policy terms and exclusions. Schedule an annual review with your agent to update limits and add locations as your business scales. Protect your Bitcoin ATM investment with comprehensive insurance.
9. Create an Office Space
Although Bitcoin machine ATMs are installed at external venues, having a dedicated office provides room for critical business functions. An office space lends your business legitimacy and serves as a central hub for operations like:
Storing backup cash reserves and crypto wallets
Running customer service and technical support
Compliance/bookkeeping work
Machine repairs and maintenance
Inventory management and shipping
When evaluating office space, consider these options:
Home Office
Working from home minimizes costs and provides maximum convenience when starting. Use an extra room or finished basement to handle day-to-day administration for a lean operation. However, meeting customers or partners at a residential address impacts credibility.
Coworking Space
Joining a coworking community like WeWork offers a professional office environment at an affordable monthly rate. Coworking spaces provide flexible month-to-month commitments and options to scale from private offices to entire floors as needed.
Retail Office
If securing a prime retail location for your Bitcoin ATM(s), consider utilizing extra space for your office needs. Opening to the public also builds visibility and trust. However, retail space lacks privacy and security for sensitive functions.
Commercial Office
Leasing dedicated office space in a commercial building provides the most privacy and room to grow. While costing more upfront, commercial offices deliver complete control over layout, facilities, and building access ideal for long-term HQ planning.
10. Source Your Equipment
The core equipment needed to launch a Bitcoin ATM operation is the physical ATM units. New entrepreneurs have four main options to acquire these machines:
Buying New
Purchasing brand-new ATM hardware from leading manufacturers like Genesis Coin, General Bytes, and BitAccess provides the latest technology and full warranty coverage. New machines range from ~$6,000 for a basic one-way unit up to $15,000 for a two-way, high-capacity kiosk. Order directly from the suppliers or through a certified reseller.
Buying Used
Buying a used Bitcoin ATM can significantly reduce upfront costs. Search classified ads on Craigslist and Facebook Marketplace for nearby sellers offering quality pre-owned units. Thoroughly test functionality and ensure the manufacturer will still support hardware repairs/upgrades. Expect to pay 40-60% less than new.
Renting Some
ATM providers offer rental programs that eliminate the large capital expenditure to buy hardware. These programs charge monthly fees starting around $200 per unit but often include servicing. Renting can be ideal for first-time operators to test the business model before making major purchasing commitments.
Leasing
Multi-year lease agreements through ATM financers allow spreading out the cost of new hardware over time. Leasing also preserves capital for other start-up needs like inventory, marketing, etc. Be cautious of lengthy contracts that limit operational flexibility. Expect monthly payments comparable to rental programs.
11. Establish Your Brand Assets
Developing a strong brand is key to standing out in the Bitcoin ATM industry. From your logo to your website, purposeful branding builds recognition and trust with customers.
Getting a Business Phone Number
Acquire a dedicated business phone number to project professionalism when contacting partners and fielding customer inquiries. Services like RingCentral provide toll-free and local numbers with call routing, voicemail, and other features to support sales and service.
Creating a Logo and Brand Assets
A polished logo establishes your brand identity and memorability. Consider bold, minimalist logo styles that convey tech and finance. Use the logo across your website, signage, ads, and all brand assets for cohesion. Companies like Looka offer affordable DIY logo design services.
Creating Business Cards and Signage
Business cards featuring your logo, phone number, and website hand prospects a reminder to use your ATMs. Display prominent signage with compliance information and brand branding at each location. Order professional cards, signs, and decals from printers like Vistaprint.
Purchasing a Domain Name
Secure a domain name that matches your brand name and logo for branding continuity. Short, catchy .com domains are best. Use keywords like "Bitcoin" and your location to improve SEO. Companies like Namecheap make registering domains fast and affordable.
Building a Website
Every brand needs a website to showcase services, locations, fees, and contact options. Those with website skills can use DIY builders like Wix to craft an SEO-optimized site. Otherwise, hire a freelancer on Fiverr to handle technical aspects while you provide branding input and copy.
12. Join Associations and Groups
Joining relevant local organizations provides invaluable connections when starting a Bitcoin ATM operation. These groups offer mentors, partners, and insights that can shave years off your learning curve.
Local Associations
Look for crypto/blockchain associations in your state or region to connect with fellow entrepreneurs. For example, the Midwest Blockchain Consortium and Blockchain Association of New Jersey offer conferences, workshops, and networking. Membership fees are reasonable for the expertise gained.
Local Meetups
Attend local Bitcoin and blockchain meetups to meet potential customers and tap into insider knowledge. Sites like Meetup make finding relevant events easy. Bring business cards and be ready to explain your value proposition. The face-to-face interactions are invaluable.
Facebook Groups
Join Bitcoin ATM-related groups on Facebook to gain support and feedback. The ATM Business Group and ATM / BTM – Bitcoin Kiosks, Bitcoin automated Teller Machines, Crypto & ATM have thousands of engaged members. Pose questions and learn from real-world operator challenges.
13. How to Market a Bitcoin ATM Business
Marketing is crucial for getting the word out and driving customer traffic to your Bitcoin ATMs. Leverage both digital and traditional techniques to maximize awareness and grow your client base.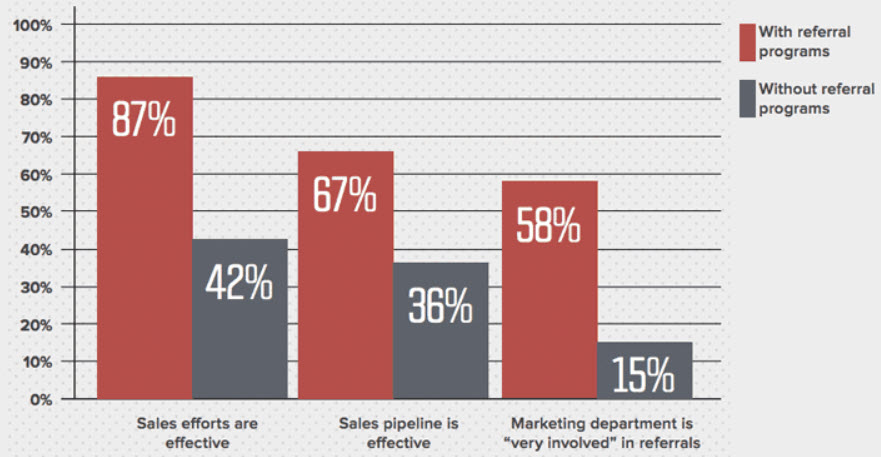 Personal Networking
Start with your network. Satisfied users who endorse your fast service and fair rates will refer others better than any advertisement. Offer existing customers a discount on fees for bringing in new users. Word of mouth is your most valuable marketing asset.
Digital Marketing
Run Google Ads with keywords like "buy Bitcoin near me" to attract local searchers.
Create Facebook and Instagram ads highlighting your ATM locations. Geo-target nearby zip codes.
Start a YouTube channel demonstrating how easy your machines are to use. Embed location info.
Write blog posts on crypto news/trends and embed them on your website to boost SEO.
Email customers when you add new locations or expand services offered.
Traditional Marketing
Print brochures with QR codes linked to your website to distribute to local businesses.
Purchase outdoor billboards or transit posters near high-traffic areas like highways.
Seek earned media coverage by pitching Bitcoin stories to local publications.
Sponsor community events like hackathons by providing a demo ATM on-site.
Run radio spots on stations popular with your target demographics.
A blended marketing strategy expands your reach while reinforcing brand familiarity across channels. Continue fine-tuning your tactics based on performance data. Uptime, service quality, and competitive rates remain your best marketing assets. Satisfied users drive ongoing word-of-mouth referrals to sustain growth.
14. Focus on the Customer
The rapidly evolving world of cryptocurrency is characterized by its decentralized nature and innovative potential, yet, for Bitcoin ATM operators, a traditional business principle remains paramount: customer focus. Improving customer-centricity in this domain can differentiate one's service in a saturated market. Here's how:
User Experience (UX): A user-friendly interface on your Bitcoin ATMs is crucial. Customers, whether tech-savvy or novices, should find transactions seamless. Regularly updating software, incorporating intuitive design elements, and reducing transaction times can vastly enhance UX.
Education and Support: Cryptocurrency, to many, is still uncharted territory. Offering pamphlets, tutorials, or even QR codes that link to instructional videos can demystify the process for newcomers. Additionally, having a responsive customer support system – be it through chat, phone, or email – fosters trust and assures users that help is available when needed.
Location Transparency: A regularly updated map or mobile application highlighting your ATM locations, operational status, and potential transaction fees will attract and retain users. The easier it is for customers to find and use your ATMs, the more likely they are to return.
Feedback Mechanisms: Actively solicit feedback through surveys or suggestion boxes. Responding to concerns and implementing positive changes based on customer input showcases a dedication to their needs.
Security and Trust: Assure customers of the safety of their transactions. Implementing and promoting top-tier security protocols, coupled with transparent policies, can alleviate apprehensions related to digital currency exchanges.
By centering your Bitcoin ATM business around the needs and desires of the customer, you not only bolster your reputation but ensure longevity in a competitive landscape.