The global books market size was valued at USD 138.35 billion in 2021 and is expected to grow at a compound annual growth rate (CAGR) of 1.9% from 2022 to 2030.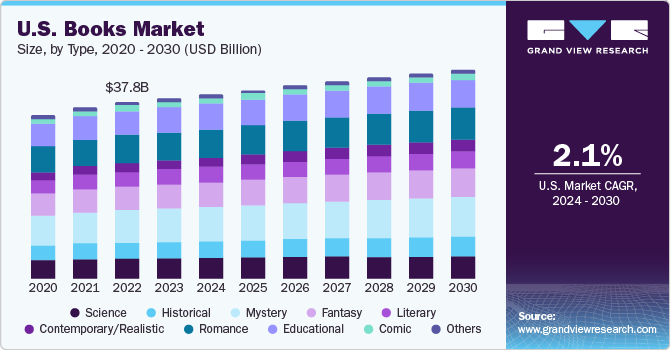 There are more ways than ever for aspiring authors and publishers to get started. This guide helps you learn how to start a book business of your own. You'll learn about developing a business plan with market research, competitive analysis, registering an EIN, obtaining book business insurance, and more. Here's everything to know about opening your own bookstore online or in person.
1. Conduct Book Market Research
Market research is essential when starting your own book business or opening a bookstore. It provides valuable insight into your target market, local market saturation, trending book services and products, and more.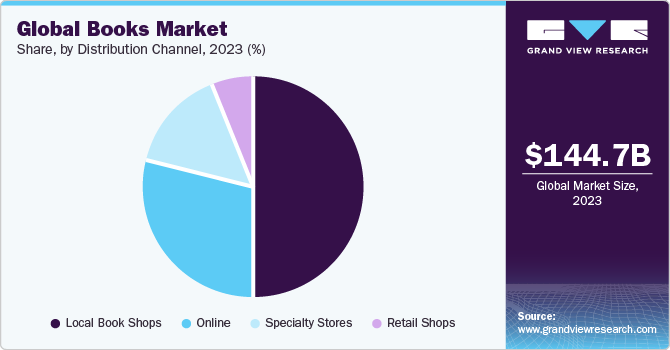 Some details you'll learn through market research as you start a bookstore include:
The largest and fastest-growing segment is digital books or ebooks.
While ebooks are popular for fiction reading, print remains strongly favored for educational and professional books.
Key drivers are increasing literacy rates in developing countries, higher disposable incomes, and improved distribution channels for print and digital books.
The Asia-Pacific region is expected to show particularly high growth.
Expanding ebook subscriptions and "all you can read" digital services. Publishers can partner with platforms like Kindle Unlimited, Scribd, and Apple Books to expand their reach.
Audio is a fast-growing segment as listening expands in cars, homes, and on smart devices.
Using data analytics and AI to better predict customer demand across print and digital formats, authors, genres, and geographies. This allows smarter inventory management.
Book merchandising through branded toys, apparel, entertainment, and other extensions.
As books become multi-media brands, licensing generates lucrative new revenue streams with minimal added investment.
Global expansion into emerging markets with growing middle classes and increasing digital connectivity, especially India, China, Latin America, and Africa.
Independent bookstores and publishing services to tap into the growing "indie" author and book segment is huge.
Overall, the book publishing business retains a strong and steady position globally. For new entrants, the greatest prospects may lie in serving expanding niches like independent authors, audiobooks, and non-English language markets.
2. Analyze the Competition
Understanding the competitive landscape is critical for any new book business. Competitive research offers insight into market saturation, where you might want to start, potential bookstore business service trends, popular independent bookstore products, and more.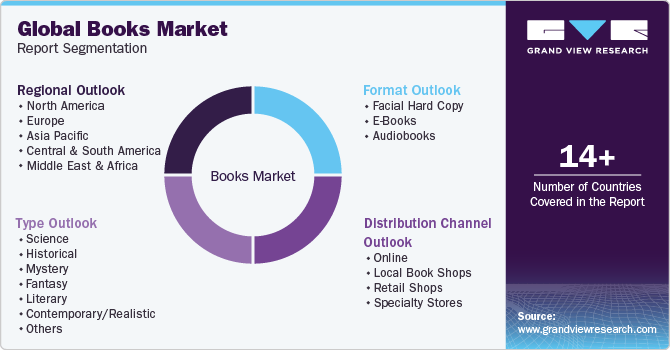 For brick-and-mortar, look at other local bookstores in your area to assess factors like pricing, selection, ambiance, and events. Other ways to scrutinize the competition include:
Visit incognito and scrutinize strengths and weaknesses.
For e-commerce or online sales, use Alexa.com to analyze traffic for competitor sites.
See which sites rank highest in your niche for visibility. Sign up for email lists to evaluate promotions and catalog offerings.
Place test orders to compare fulfillment times, packaging, and overall buying experience.
Examine the social media presence of leading competitors on platforms like Facebook, Instagram, and Twitter.
Look at followers, engagement levels, post frequencies, and types of content that resonate best. These provide benchmarks to inform your social strategy.
Purchase competitive analysis reports from companies that crunch financials and web metrics on private competitors too.
Search the US Patent and Trademark Office online to see if rivals have patented products, titles, or concepts that could legally restrict you.
In today's data-rich environment, combining footwork with digital tools enables deep dives on competitors to inform your differentiation. Custom curating titles, creating signature in-store aesthetics, and leveraging social listening to connect with customers can help you stand apart.
3. Costs to Start a Book Business
When starting a book business, there are a variety of one-time start-up costs to consider before opening day.
Start-up Costs
Business Registration Fees – Depending on your state, expect to budget $50-$150 for registering your business name and structure, obtaining a tax ID, and any required licenses or permits. Many states offer expedited filing for an additional fee.
Inventory Software – User-friendly retail inventory software like Square or Clover will cost $60-$150 per month for a subscription. This tracks pricing, sales, and stock levels across print books, ebooks, and audiobooks.
Starting Inventory – Stocking upfront inventory of books, e-readers, and branded merchandise can easily top $3,000-$5,000 or more. Focus on hot new releases, award winners, and local interest titles as well as classics and bestsellers.
Shelving & Displays – Outfitting the retail space with quality shelving, tables, stands and display fixtures will likely require an investment of $2,000-$5,000 depending on size and aesthetics.
POS Equipment – A point-of-sale system with an iPad, receipt printer, cash drawer, barcode scanner, and credit card reader will cost around $800-$1,200.
Technology – A new computer, security equipment, speakers, e-commerce platform, and other tech will cost at least $1,500 to start.
Website Design – Hiring web developers to create an attractive, user-friendly website tied to your inventory and e-commerce platform will run $3,000-$5,000+ for a custom branded site.
Professional Services – Lawyers can charge $200-$500 to help review business documents, while accountants may charge $500-$1,500 to advise on business structure, payroll, tax compliance, and bookkeeping practices at launch.
Marketing – Print brochures, mailers, signage, branded giveaways and initial online, social media, and print advertising should budget $1,500-$3,000 to build awareness when starting.
Ongoing Costs
Workforce – Staff will likely be your biggest ongoing cost. With competitive wages and benefits, plan on $60,000-$90,000 or more in annual salary and payroll expenses per full-time bookseller hired.
Rent – Retail space rents range widely but expect to budget $24,000-$60,000 per year for a small shop in most markets. Triple net leases mean taxes, insurance, and maintenance costs are on top of base rent.
Ongoing Inventory – While off-setting with sales, replenishing hot titles and categories will be an ongoing cost averaging $30,000-$60,000+ per year for a small operation. A larger inventory means higher sales potential.
Utilities – Gas, electric, water, trash removal, and internet access for the retail space will cost small shops $600-$1,200 monthly.
Insurance – General liability, fire, theft, worker's compensation, and other essential business insurance will be $2,000-$6,000 annually depending on location and coverage levels.
Security – A security system including cameras, alarms, and monitoring can run $500-$1,500 per month for the retail space.
Advertising – Ongoing online ads, social media, local sponsorships, and occasional print/radio campaigns will run $3,000-$8,000+ per year.
Bookkeeping – If outsourcing to an accountant, expect to budget roughly $2,000-$5,000 annually for financial record-keeping, payroll, tax filing, and inventory management assistance.
Legal – Lawyers may charge $100-$200 monthly for contract reviews and basic business needs after launch.
Miscellaneous – Things like credit card processing fees, bank charges, cleaning services, memberships, repairs, travel, and other costs can all add up. Budget a few thousand annually for incidentals.
With significant upfront inventory, branding, marketing, equipment, and launch costs, starting a bookstore requires an investment of roughly $25,000-$75,000 or more. Ongoing expenses like rent, staffing, and buying new titles mean sustaining $100,000-$250,000 in annual operating costs.
4. Form a Legal Business Entity
When starting a book business, choosing the right legal structure is key for liability protection and taxes. The main options are:
Sole Proprietorship
Simple and inexpensive to set up. No formal business registration is required beyond licenses. The owner has complete control and keeps all profits. However, unlimited personal liability – the owner is personally responsible for all debts and legal actions against the business.
Partnership
Two or more owners share control based on a partnership agreement. Still relatively easy and inexpensive to establish. Profits pass directly to partners who pay personal income tax. But unlimited personal liability for each partner – their assets at risk for debts and lawsuits. Any disputes can destroy the business. Adding new partners later can get complicated.
Limited Liability Company (LLC)
The best structure for most book businesses. Offers liability protection similar to a corporation but with the simplicity of a partnership. Owners only risk their investments, and personal assets are protected. No limit on the number of owners.
Taxes pass through to members. Overall compliance costs less than a corporation. Owners have lots of flexibility in structuring company management and profit distributions. Adding members or selling ownership stakes is easier than with partnerships. Highly recommended for any growing book venture.
Corporation
More complex and expensive to set up and maintain. Require more extensive record-keeping and reporting. Subject to corporate income taxes on profits. But owners (shareholders) are not personally liable for debts – only their investment at risk. Can more easily raise investment capital by issuing stock. Perpetual existence.
5. Register Your Business For Taxes
One key task when starting a book business is obtaining an Employer Identification Number, or EIN, from the IRS. This unique identifier number is like a social security number for your business.
An EIN is required to open business bank accounts, apply for licenses and permits, file taxes, hire employees, and more. Sole proprietors can use their social security number, but the best practice is getting an EIN to keep personal and business finances separate. [1]
Applying online for an EIN is easy and free direct through the IRS website:
The entire process should only take about 10-15 minutes. The IRS will immediately provide your EIN, which you must include on all tax filings and other government documents for your book business going forward.
Be sure to also register for state and local taxes. Most booksellers need to collect sales tax on purchases. Requirements vary by location – some states have no sales tax while others range up to over 7%. [2]
You will need to register with your state revenue or taxation department to obtain a seller's permit, resale certificate, or sales tax ID number. This allows collecting and remitting the proper sales taxes to the state from book buyers.
Failing to collect and remit owed sales taxes can lead to significant interest and penalties down the road. Be sure to factor state and local sales taxes into your retail book pricing accordingly. Also, keep precise records of taxable sales and taxes collected.
Most states have online registration for sales tax IDs. Fees are typically less than $100 in total for registration. Be ready to provide your EIN, business name, and address as well as your products/services and intended market.
6. Setup Your Accounting
Proper accounting is crucial for any book business to accurately track finances and stay compliant with taxes. While recording sales and expenses yourself is possible initially, investing in accounting software like Quickbooks will save huge time and hassle as the business grows.
Accounting Software
QuickBooks seamlessly syncs with bank accounts and credit cards, allowing for efficient categorization of all transactions. It automates tasks like invoicing, billing, inventory management, reporting, and more. QuickBooks plans start at $25/month and can be a lifesaver for busy bookstore owners and self-publishers.
Hire an Accountant
Working with an accountant or bookkeeper is also advisable from the start. A qualified professional can set up Quickbooks to match your business structure and needs, providing training and support. They handle tasks like monthly reconciliations, sales tax filings, and payroll processing while you focus on daily operations.
Open a Business Bank Account
Be sure to open a dedicated business bank account and get a business credit card as well. Never co-mingle personal and business funds. Using a separate business account streamlines record-keeping for taxes and accounting. Cards like Chase Ink offer robust point rewards and up to $25,000 in credit lines for purchases like inventory orders and online ads.
Apply for a Business Credit Card
Applying for a business card requires your EIN, company financials, and personal credit score. Use the card strictly for the book business to cleanly track expenses. Avoid cash withdrawals. Pay in full each month to avoid finance charges.
7. Obtain Licenses and Permits
Before welcoming your first customers, any new book business needs to ensure proper licensing and permits are in place. Federal details can be found through the U.S. Small Business Administration. The SBA also offers a local search tool for city and state requirements.
At the federal level, you may need an ISBN that identifies and catalogs each new book title you publish. Bowker is the official U.S. ISBN agency and charges $125 for a single number or $295 for a block of 10. ISBNs are required for wide distribution and are essential for listing titles with major book retailers.
Seeking copyright registration through the U.S. Copyright Office provides added legal protection against unauthorized use of your original work. Registering a copyrighted book costs $55 and is accomplished online.
Your state and municipality require licensing too. For example, a seller's permit or sales tax license allows you to collect sales tax on retail purchases. States often charge under $100 for registration. Check revenue agency rules in the states you sell into.
Retailers also need a state business license which runs $50-$100 annually. Additionally, cities and counties may require local business licenses for brick-and-mortar stores, ranging from $25 to $150+ per year depending on location.
If selling used books in addition to new ones, some areas require a second-hand goods license. Fees are generally around $100-$200 for a 1-2 year license. This helps law enforcement track potential stolen goods.
Your city may also mandate particular sign permits and approvals if you plan to have signage on your exterior storefront. Expect modest fees of $50-$150 for standard illuminated or projecting signs.
Don't forget building permits for any interior renovations to the retail space. Permits allow code inspectors to check for safety issues like structural, electrical, plumbing, or fire concerns. Permit fees add hundreds more to startup costs.
8. Get Business Insurance
Business insurance is crucial protection given the inventory, employees, customers, and liability risks of a bookstore or publisher. Being underinsured can lead to financial ruin if disaster strikes.
Without adequate coverage, scenarios that could shutter operations include:
A burst pipe or failing roof destroys your entire book inventory, costing tens of thousands to replace. Business insurance covers these losses.
A customer slips and falls in your store, breaking an arm and suing your business. Liability insurance defends and pays claims to protect the company.
A key employee gets injured offsite and can't work for months. Workers' comp pays their salary and medical bills during recovery.
To explore plans and get insured:
Inventory your assets and calculate their value. Also, factor in sales and payroll numbers. This determines appropriate coverage levels.
Research brokers like Instant Business Insurance that offer online quotes. [1] Or find a local agent familiar with retail businesses.
Choose a package policy that bundles property, liability, and other core protections. Expect premiums of $1,000-$5,000 annually depending on coverages, limits, and deductibles. [2]
Add specialized options like workers' comp, cyber liability, flood insurance, or umbrella policies per your broker's advice.
Pay premiums monthly or annually. Update coverages and limits as the business evolves.
Don't wait until after disaster strikes to realize inadequate insurance. The long-term success of any book venture depends on intelligently managing risk.
9. Create an Office Space
Having a dedicated office space can provide a productive environment for key tasks like writing, editing, proofing, publishing, inventory management, and fulfillment in your book business. The right workspace depends on budget, location needs, and growth plans.
Home Office
A home office in a spare bedroom or basement is the most affordable option starting. With a desk, computer, phone, and supplies you can handle administrative work at no added rent costs. The downsides are a lack of collaboration and fewer tax write-offs. Expect to invest under $2,000 in furnishing a basic home workspace.
Coworking Office
Coworking spaces like WeWork provide open desk areas, private offices, conference rooms, printing, events, and networking in a shared office. [1] Great for getting out of the house while keeping costs low at roughly $300 per desk monthly. No long-term lease is required.
Retail Office
If operating a retail bookstore, securing office space within the store itself may work well. This allows managing inventory, fulfillment, and e-commerce under one roof. Just factor in the buildout and rent of extra space beyond the sales floor, likely $2,000 per month.
Commercial Office
Leasing stand-alone commercial office space provides the most professional environment but carries the highest costs. Expect to budget $1,000 – $3,000 per month for a private office suite of 500 to 1,500 square feet. Provides room for staff to grow the business over time.
10. Source Your Equipment
Launching a book business requires outfitting your space with core retail displays, technology, office furniture, and initial inventory. Smart entrepreneurs explore all avenues to secure these startup necessities affordably.
Buying New
Brand-new shelving, counters, POS systems, lighting, signage, computer equipment, and decor creates a polished look but carries higher price tags. Look to vendors like IKEA, Wayfair, and Amazon Business for deep catalogs across categories. Expect new furnishings and tech to require an upfront investment of $10,000.
Buying Used
Gently used fixtures, furnishings, and electronics offer major savings off new prices. Check classified ads on Craigslist, Facebook Marketplace, and NextDoor for sellers liquidating office surplus and store closeouts. Retail fixture liquidators like Store Supply Warehouse offer Used options too. Plan to pay 30-60% less buying secondhand.
Renting
Rent-to-own companies like Flexi allow retailers to rent-to-own essential equipment over 12-24 months. This preserves capital for upfront inventory purchases while making low monthly payments for items like POS systems, printers, and computers. No credit check or down payment is required.
Leasing
Leasing options are available on registers, technology, furniture, signage, and even store buildouts through companies like National Business Capital. Payments stretch over 2-5 years. Leasing provides shiny new interiors while easing cash flow during the crucial startup phase.
11. Establish Your Brand Assets
Creating a distinct brand identity is crucial for any new book business to stand out and attract loyal customers in a crowded market. This starts with securing foundational brand elements that present a polished, professional image.
Getting a Business Phone Number
A dedicated business phone number lends legitimacy versus using a personal cell. Services like RingCentral offer toll-free and local numbers with call routing, voicemail, SMS, and more. Plans start around $30/month. Choose a number with your business name or keywords.
Creating a Logo and Brand Assets
A custom logo perfectly encapsulates your brand. Consider an illustrative logo with images related to books or reading for a playful vibe. Or go for an abstract mark featuring vibrant colors and fonts that evoke your vision. Logo design services like Looka make professional artwork affordable.
Compile matching business cards, letterhead, signage, packaging, social media banners, and other branded assets. Consistent use of colors, fonts, and styles breeds instant recognition.
Printing Business Cards and Signage
Business cards enable exchanging contact info and memorable first impressions. Signage draws in foot traffic. Vistaprint offers fast printing with frequent deals like 250 cards for $10 or large vinyl banners for $50.
Scenarios where having cards handy include author events, book fairs, networking, and even flights when seated next to avid readers!
Purchasing a Domain Name
Your domain name anchors your web presence. Good practices include keeping it short, using your brand name, and registering the .com version for authority. Check availability with Namecheap which offers domains from $9/year.
Building a Website
Every book business needs a website to sell online. With user-friendly DIY platforms like Wix, you can create an attractive e-commerce site yourself. Or hire a skilled pro from Fiverr if custom coding expertise is desired.
Laying the brand foundation with a phone number, logo, cards, domain, and website ushers in an exciting new chapter!
12. Join Associations and Groups
Joining relevant local organizations and online communities provides invaluable connections and insights for new book businesses. Surrounding yourself with fellow book lovers builds your knowledge and customer base.
Local Associations
Look for a local chapter of the American Booksellers Association which unites indie bookstores to exchange ideas while advocating for the industry. Attend used bookseller meetups via the Antiquarian Booksellers Association to tap into experienced dealers.
Local librarian groups like the New York Library Association also offer workshops and networking for aspiring publishers. Get involved and gain mentorship from seasoned pros.
Local Meetups
Attending book and author meetups expands your network. Services like Meetup make it easy to find local groups for everything from cookbook enthusiasts to poetry-reading parties.
Interact in person with avid readers excited to discover new books and authors. Listen for insights into their interests and reading habits.
Facebook Groups
Join larger Facebook communities like Sell More Books with Less Marketing which has over 150,000 members sharing sales techniques and growth strategies.
Niche groups like Book Cover Design Marketplace also exist to discuss creating cover art that pops. Follow hashtags like #bookmarketing for trending topics.
13. How to Market a Book Business
Implementing ongoing marketing is essential for any new book business to build awareness and attract new readers. While digital channels provide cost-efficient outreach, proven traditional tactics remain relevant when tailored to local customers.
Above all, leveraging your network and securing referrals from satisfied buyers provides the most valuable marketing of all. Offering incentives like gift cards or store credit for existing customers who refer new patrons generate word-of-mouth buzz.
Digital Marketing
Run Google Ads with targeted keywords like "books [city]" to drive local traffic. Start with a budget as low as $10/day.
Create Facebook & Instagram ads showcasing new releases. Geo-target a 10-mile radius around your store location.
Start an email newsletter with reviews, event updates, and coupon codes to retain customers. Offer a free book for signups.
Post engaging content 2-3 times per week on social media highlighting staff picks, author Q&As, and reading lists.
Launch a TikTok channel with fun behind-the-scenes content and book recommendations. Use viral hashtags.
Guest posts on local media sites like book blogs and magazine culture sections to raise awareness.
Claim free business listings on Google, Facebook, and Yelp to manage reputation and SEO.
Traditional Marketing
Mail well-designed postcards and catalogs to nearby households announcing grand opening deals.
Place eye-catching window posters and sidewalk signs outside the storefront. Update displays seasonally.
Hand out free bookmarks, tote bags, and other swag during community events to boost local presence.
Sponsor a Little Free Library or school book drive to give back while getting logo exposure.
Strike partnerships with nearby businesses like coffee shops to carry your branded merchandise.
Run print ads in city magazines and weekly newspapers focused on compelling store ambiance and personal service.
The most effective marketing incorporates both digital and traditional channels while emphasizing the in-store experience. Consistent outreach paired with customer service excellence will organically grow a loyal following over time.
14. Focus on the Customer
Providing exceptional customer service is crucial. How you treat every reader shapes your reputation and drives repeat sales. Some ways to improve customer focus in a brick-and-mortar bookstore or online business include:
Make customers feel welcomed and valued from the moment they walk through your doors. Greet them cheerfully, maintain eye contact, and avoid seeming rushed or impatient.
Take time to ask questions about their reading tastes so you can provide thoughtful recommendations.
When checking out, genuinely thank them for their purchase and invite them to sign up for your mailing list.
Follow up with an email re-capping recommendations in case they want to purchase additional titles.
Handle questions and complaints promptly and gracefully. Empower staff to issue refunds or discounts to dissatisfied shoppers on the spot to turn frustrations into appreciation.
Little touches go a long way. Handwrite thank you notes to your best customers. Offer to gift wrap purchases for upcoming birthdays or holidays.
Make sure to provide an easy channel for customers to submit book requests or order inquiries. Respond to messages same-day whenever possible.
Personalized service and genuine human connections keep many people coming back to the place you sell your books. It also entices them to refer family and friends to your book sales. They choose to support your small business because it feels welcoming and familiar. A reputation for top-notch experiences is the best marketing around.