Car detailing businesses thrive in populous areas, and as of 2023 there are 58,664 car wash and auto detailing businesses in the US alone. Ibisworld has documented the US Car Wash & Auto Detailing industry to be worth $14.5bn measured in revenue as of 2023.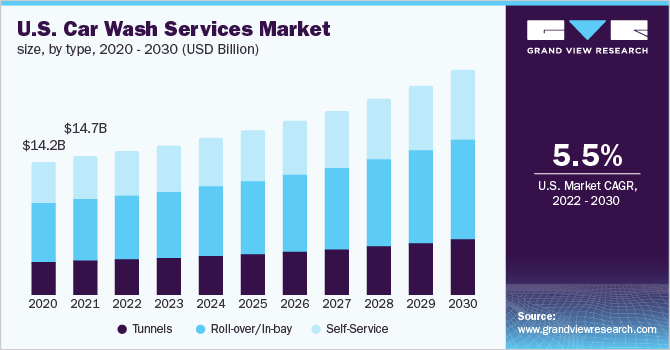 Starting a car detailing business requires very little investment capital, and you can get creative in developing a business model. You could start with a mobile detailing business trailer, or rent a low-cost lot in a heavily trafficked area of town, pop up a tent and a sign and hire employees. You could also land contract work through rental car companies to build a steady workflow and develop a successful car detailing business plan.
In this article, you will learn what it takes to start an auto detailing business, from forming a business entity, getting business insurance, budgeting for start-up costs, marketing ideas, and how to develop a thorough business plan.
1. Conduct Car Detailing Business Market Research
Start planning for your new business by doing market research. Search for car detailing business statistics for the US market and analyze auto detailing service models that appeal to you. You also need to look at the population in your area and how many car wash and auto detailing businesses there are already. As you assess the market opportunity and collect data, you can begin to formulate a profitable business structure.
2. Analyze the Competition
Who are your competitors? Search for mobile detailing businesses and car detailing locations in your region and look at their pricing and services, read their reviews, and spec out their location. Collect data on your competitors to get a clear picture of the strengths and weaknesses of their business operations.
See if you can find information about how many customers they average a day and how many employees they have on staff. What kind of market are you serving, and what are the demographics of your target customers? Will you be a budget-friendly service focused on volume, or are you aiming to target a smaller crowd and offer premium detailing services for the high-end market?
3. Understand Costs to Open a Car Detailing Business
To start a car detailing business, you will need to pay to form a legal business entity, get an auto detailing certification or car detailing license, a local business operating license, small business insurance, commercial rent cost, register for taxes, and get supplies. Most of your start-up costs will be one-time fees. Below we will cover the ongoing expenses and costs involved in the auto detailing industry.
What Does it Cost to Open a Car Detailing Business?
You are looking at a total of $5,000 to $20,000 to open a car detailing business. You can get started with the bare minimum by turning your vehicle into a mobile detailing station and functioning as the operator of your business, or you can build a commercial business model and rent a physical location, and hire employees to take on larger volumes of customers.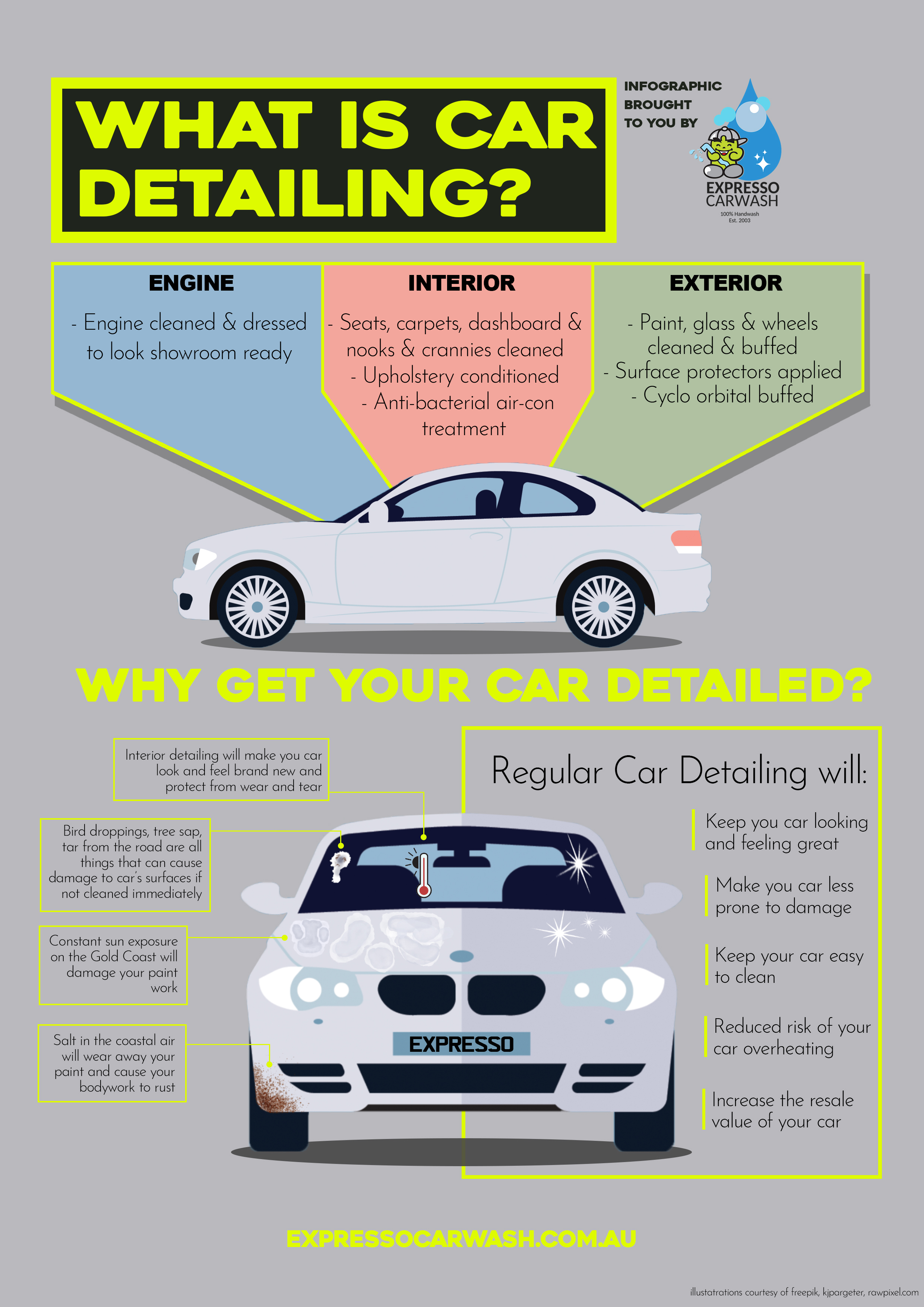 Business Equipment/Materials
You will need some professional car detailing tools and cleaning supplies to start a car detailing business. Set aside at least $500 to get started with quality supplies.
Your car detail supply list might include:
Car wash soaps
Bug remover
Buckets
Pressure Washer
Cleaning mitts
Microfiber cloths
Tire brushes
Leather conditioners
Polish
Sealant
Wax
Fine-tip air compressor
High-powered vacuum and attachments
Carpet shampoos
Steam cleaner
Instead of shopping for all these items separately, you can order professional car detailing kits online from $300 – $10,000. Amazon has simple car detailing kits, or you can find premium kits on Detailking.com.
Cost of Renting or Leasing a Location
If you go the route of leasing a commercial location to operate a car detailing business, you will need to compare prices in your area and either find a lot designed for a car business.
A lot with a small shop building on it, or an empty lot where you can park a mobile trailer could work. You will need to check your county regulations to make sure your business plan is compliant. Rent could cost as little as $900 for a bare lot and go up to $4,000 a month, depending on the location and type of lot you are leasing.
Business Formation
To start a business from a legal standpoint, you need to register your business with the state and select an entity structure that suits your business model. Registering for an LLC can cost between $80-$200.
Business Insurance
You will need to get an insurance policy that covers both your personal and business assets and protects you from accidents, lawsuits, and unexpected natural disasters.
Car detailing businesses provide services to customers, so they may need certain insurance policies that cover financial losses in case of malpractice or damage to the customer's property.
Here is a four-step guide from the US small business administration to help you select the right insurance for your business.

Your insurance cost will vary depending on the service volume, the location of your business, and the number of employees you have. Here are some insurance options to look into:
General liability – This is the most comprehensive type of insurance that can be an umbrella for your business to protect you from financial loss in case of injury, medical expenses, property damage, natural disaster, settlements, or defending lawsuits. (Range $65 – $150 monthly)
Professional liability insurance – Businesses that provide services to customers can protect themselves against financial loss as a result of malpractice, errors, and negligence with this kind of insurance. (Range $90 – $200 monthly)
Business owner's policy – As a business owner, you can get a comprehensive insurance plan that combines all the typical options into one bundle and save money. This policy may include coverage on property, equipment, supplies, bodily injury, other people's property, etc. (Range $100 – $200 monthly)
Auto insurance – If you run a mobile car detailing – The company vehicle used to transport wood will need to be insured. (Range $90 – $300 monthly)
Workers' compensation – If you have employees, this is critical to protect the business in case an employee is injured on the job. (Range $80-$450 per employee monthly)
Utilities
Your utility costs for car detailing depend on your services and volume. A mobile car detailing business model will be less expensive because you won't be paying monthly water and electricity bills on the go.
If you rent out a garage and set up car wash equipment, you will have monthly bills to pay for water and electricity at a minimum. Depending on your state, your water bill could add up.
What Are the Ongoing Costs of Car Detailing Business?
Here we will look at the ongoing costs and what it takes to keep your auto detailing business running. You will likely pay for commercial rent, or travel expenses, and vehicle maintenance if your business is mobile; insurance, utilities, accounting services, and cleaning agents and supplies.
4. Form a Legal Business Entity
When you form your business, you will need to decide on the business entity that will best protect you and your business assets. An LLC structure is one of the safest options for small businesses and gives you room to grow from 1 owner to multiple employees. The business structure you choose affects your personal assets, taxes, and liabilities, so it is important to do your research.
Limited Liability Corporation (LLC)
An LLC is highly recommended for a car detailing business because it separates personal and business assets to protect you from business-related lawsuits and certain debts. It also provides flexibility for expansion into a partnership and for hiring employees.
Sole Proprietorship
A sole proprietorship is not a good choice for car detailing businesses because it holds the owner liable for certain debts and incidents. This will put your personal assets at risk, and if someone sued you, it could force you into bankruptcy, and you may be responsible for the debt.
Partnership
A partnership gives the business the ability to split the ownership and responsibilities 50/50, or it can give one partner more power over the other. There are cons to this structure, as it can complicate the decision-making process, and you don't get to separate your personal assets. If you were sued, you and your partner would be held liable, and your assets could be at risk.
Corporation
Corporations are structured for large companies and shareholders. A corporation protects all of its member's personal finances. The business stands as its own entity, so no one would be held liable in case of a lawsuit. Corporations can raise money and receive investments without risking anyone's personal assets.
5. Register Your Business For Taxes
When you file your business formation documents and decide on an entity structure, you will need to register your business for taxes. Click here to apply for an employer identification number (EIN), also known as a federal business tax ID, from the Internal Revenue Service (IRS) website.
6. Setup Your Accounting For Success
Accounting is important for any business to keep track of its profits and losses, budget, and file an accurate tax return. You will need to either take on this responsibility to handle the budgeting and finances of the business or hire an accountant. Accounting needs to start as soon as your business is formed and you make the first purchase related to the business. This includes formation fees, down payments, supplies, or anything that is related to operating your business.
Accounting Software
Accounting software like QuickBooks is a time saver and will optimize the accounting and reporting process. Quickbooks is a premium accounting software that will organize your financial records, monitor your business bank accounts, keep track of receipts, invoices, and payroll, and automate reports. This makes it easy to file your taxes and plan your budget.
Find an Accountant
Bookkeeping and managing the finances of a business is a big task, and you may want to hire an accountant or tax professional when your business grows. An accountant can help you manage your budget, keep track of your monthly reporting, and ensure your taxes are done correctly, and you don't leave money on the table. Accountant services may cost between $200-$800, depending on the service you request.
Open a Business Bank Account
Your business needs to have its own bank account to keep your financial records organized, avoid confusion and tax nightmares and give you the ability to get a business loan. The IRS recommends business owners open a business bank account to keep all business-related expenses coming in and out of one central account. Keeping your business expenses recorded in one designated business account will make the accounting process easier.
Apply For a Business Credit Card
Getting a business credit card helps with cash flow, keeps your business expenses organized, keeps accounting clean, and gives you benefits such as cashback rewards, lower APR, and travel perks. However, keep in mind that your business credit accounts will be under your name, so it will impact your credit score.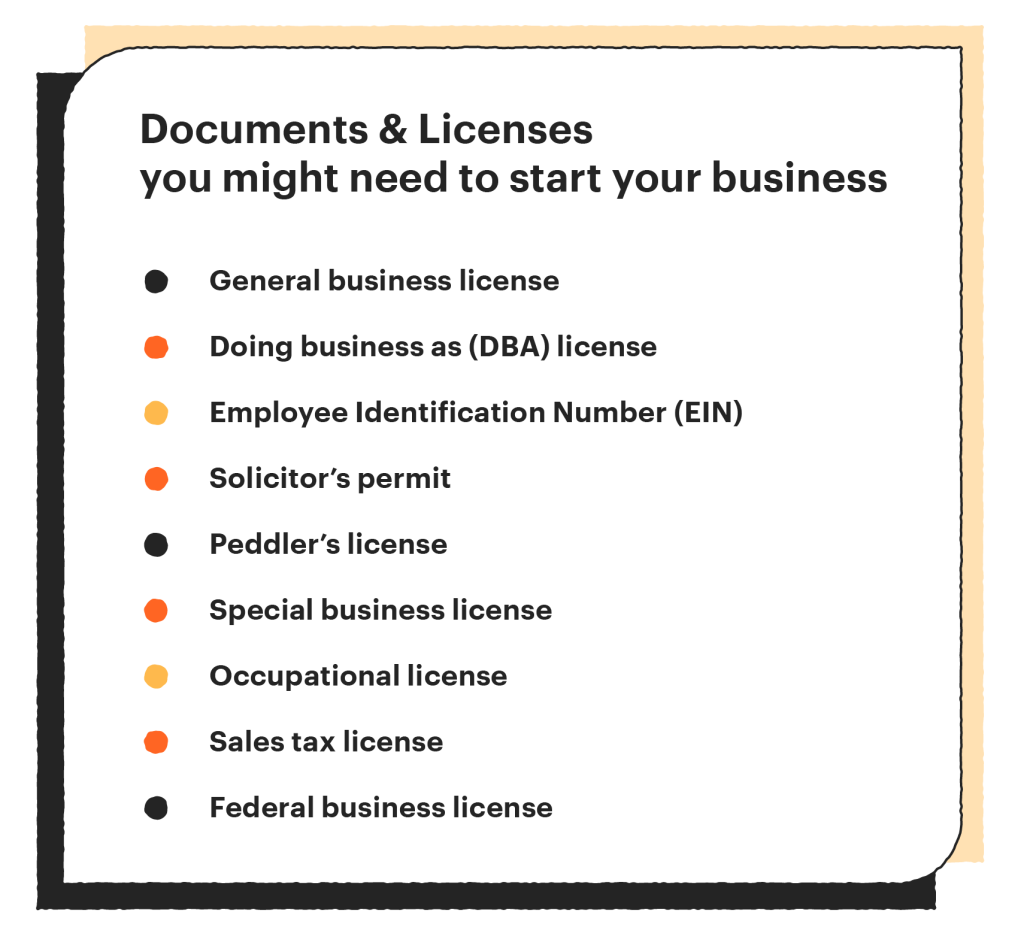 7. Obtain Licenses and Permits
To operate your car detailing business lawfully, you are required to have a general business license. Check your state and local laws to see if your business requires any other certifications. Learn about licensing requirements in your state by visiting SBA's reference to state licenses and permits or click here for local assistance.
8. Get Business Insurance
You are required to carry business insurance to protect others and yourself in case something goes wrong. You will want a business Insurance plan that will cover the costs in the case of a lawsuit, injury, or property damage. General Liability Insurance offers basic coverage for damages and accidents that may be caused by your service.
There are several variations when it comes to business insurance, so you can tailor your policy to your specific needs. For example, you could pay about $500 – $1,500 a year for $2 million in coverage.
9. Create an Office Space
Every business has administrative tasks, and that is where an office comes in handy. You will need a designated office space for bookkeeping, paying bills, storing receipts and records, and even running the online side of your business, like performing website maintenance and managing your marketing plan.
Home Office
A home office is convenient and can keep your costs down, especially if you have a mobile detailing setup or run your business out of a garage where you don't have an indoor space to create an office. You can utilize a spare bedroom or make a designated workstation in your home. Your home business will also qualify as a tax deduction, and the IRS states that you can claim $5 per square foot for 300 square feet or up to $1,500 a year.
CoWorking Office
A Coworking office may be the route to go if you don't have a space in your home to set up an office or you would like to keep work from encroaching on your home environment. You can rent a coworking office space to save money and provide a flexible option without any long-term contract. WeWork offers business options for private, semi-private, and shared office spaces.
Commercial Building Office
Most new business ventures don't have the budget to rent a commercial office. However, if your car detailing business expands to multiple locations and you manage a group of employees, you may want to rent a commercial office space entirely for your business administration team to work from. If a commercial office space is within your budget, you will need to find a place and commit to a lease contract.
10. Source Your Equipment
You have options when shopping for equipment for your car detailing business. You can browse online specialty car and auto care shops and look for equipment wholesalers and liquidation sales or used equipment from car wash and detailing businesses that are closing. Investing in the right tools will help you maximize productivity and profitability.
Buy New
The easiest place to locate specialty car detailing equipment is online. There are many stores that sell the proper equipment for the job, and you can even buy a whole starter kit with everything you need in one purchase. Check out these starter kits from DetailKing. You can also find premium cleaners for interior and exterior detailing here at Ralphbrothersdetail.com. There are a lot more shops selling car cleaning equipment, including Amazon, so shop around and compare prices before purchasing.
Buy Used
There is always the possibility you can pick up second-hand car detailing equipment from liquidation sales, auctions, or from another shop going out of business. Search the web for used equipment and look on Craigslist, Facebook marketplace, or auction sites.
11. Establish Your Brand
Establishing your brand can be fun and help you form your why or what differentiates your business from other services. Identifying your target market and building your brand identity will also help you get clear on your business goals. You will need to choose a name for your brand or business, create a logo, decide on brand colors, and how you want to present your business to the people.
Get a Business Phone Number
Setting up a business phone line is a necessary step in creating your business. You need to get your contact information sorted out from the start to avoid confusion or having your work calls interfere with your personal. Your business phone number should have a voicemail set up letting customers know your business hours and location or how to set up an appointment. You need to manage your customer's expectations and stay engaged with customer service inquiries. Keeping all your business to one phone line and not connecting it to your private phone is the best practice.
Create a Logo & Brand Assets
Your brand assets, such as your logo, should represent your business or service. If you don't have a design picked out, you can get a beautiful logo created on Looka, an AI logo generator. Simply select a few styles you like, type in keywords related to your business, and choose a few symbols, and Looka will design you a professional logo in minutes. Your logo should be used on all your business signs, marketing materials, business cards, social media pages, and your website. This creates congruency and trust and helps people identify your business to build familiarity.
Create Business Cards and Signage
Passing out car detailing business cards to your clients and in local shops will help you build up your customer base. You can get custom business cards, and signs made online at Vistaprint. Creating large signs to pop up for your business will also help you attract business.
Whether you are a mobile car detailing business or have a garage, business signs are an important part of your marketing.
Purchase a Domain Name
In this day, having an online presence will help you get found, which means more business. To purchase a domain to put up a website or contact page, visit Namecheap.com to search for available domains and get set up for as little as $12.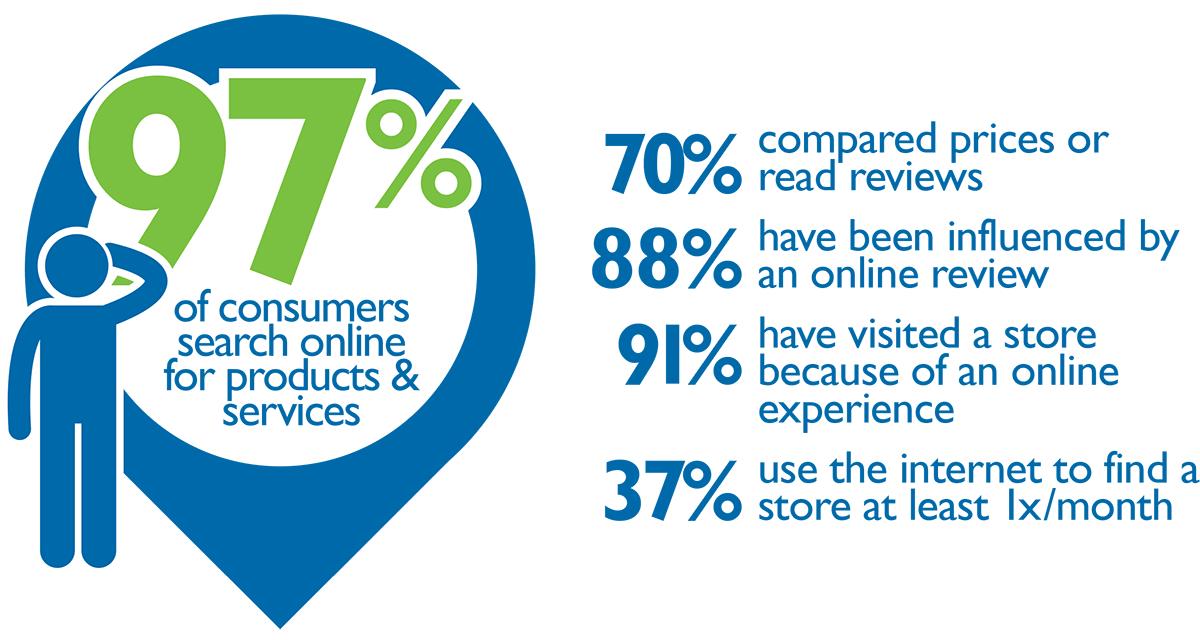 Build a Website
Once you have your domain, you can build a proper website. Most people search online for services they need, so having a website and an online presence will help people find you, your contact info, business hours, and services and learn about your business. You will want your website to be mobile-friendly and easy to navigate. There are great website builder platforms like Wix that make it easy for beginners to build a website with hundreds of templates to choose from. To get help building a website for a low price, search for freelance designers from talent marketplaces like Fiverr.
​​12. Join Associations and Groups
Making connections and networking will help you grow your business. This takes putting yourself out there. Try joining local associations, online communities or groups, and car detailing or car business associations. Here you can share your business, get tips and industry insights, and find support.
Local Associations
Search for local auto business associations or small business associations. Networking in these groups can help you gain insights about the local market, trends, business tips, and pick-up customers.
Local Meetups
As a professional car detailer, you may find opportunities at local markets, fairs, and community meetups to advertise your business. See what kind of events are happening in your community, and bring some business cards. Meetup is a great app where you can find local groups and events in your community.
Facebook Groups
Facebook is a massive online community and is full of niche groups and pages you can join and follow. Participating online is a great way to get your business out there, share your journey, advertise, and connect with other people in the industry.
13. Focus on Marketing
The best way to market your car detailing business will be to test out various approaches and methods. There is no perfect way or right way, but the biggest part will be getting your word out there. It will be beneficial to build your online presence, pass your business cards out to local businesses, and get signs put up around town for your business services. Marketing is about making noise and getting attention to gain customers. Here are some ideas to start with.
Ask Friends, Family, and Coworkers
Your immediate friends and family will be low-hanging fruit and the easiest customers to pick up. You need to share your business and ask for help from friends and family to spread the word. They can help by following you on social media, sharing your business with their friends, and putting your business cards up in their workplace to bring you new customers.
Digital Marketing Ideas
Digital marketing is important in this day, where just about everyone has a smartphone in their pocket. Market your business through social media, and test out online advertising with geo-targeted ads. Post content online about your business, start a website, build out social media accounts, a blog, a Youtube channel, or anything to share your brand and potentially monetize your content. Sharing short, catchy videos on social channels is a great way to capture people's attention. You can even create a side hustle by becoming an affiliate and selling car care products through your online platforms.
Traditional Marketing Ideas
As a car detailer, some traditional marketing strategies may work well for you. Try giving out coupons in the local paper, putting flyers up on bulletin boards, passing business cards out in local businesses, or sending out mailbox flyers to advertise.
14. Focus on the Customer
Your customers put you in business, so you need to take care of them to keep them coming back. Service is the heart of your job, so the way you handle your current and past customers will make or break your success.
Here are some simple tips for great customer service:
Manage expectations
Create clear business hours
Make yourself easy to be reached – Make sure your phone number and email are clearly posted online.
Create a presence on social media
Show appreciation
Ask for reviews or feedback
Listen to your customer's feedback
Make it easy for customers to leave you reviews online
Stay engaged
Be approachable, personable, and attentive to the customer
Win your customer's loyalty and trust and inspire people to share your services.