The catering industry in the United States is a $15 billion market that has grown at an average annual rate of 5% over the past five years. With the rise of corporate events, weddings, and parties, professional caterers are in high demand.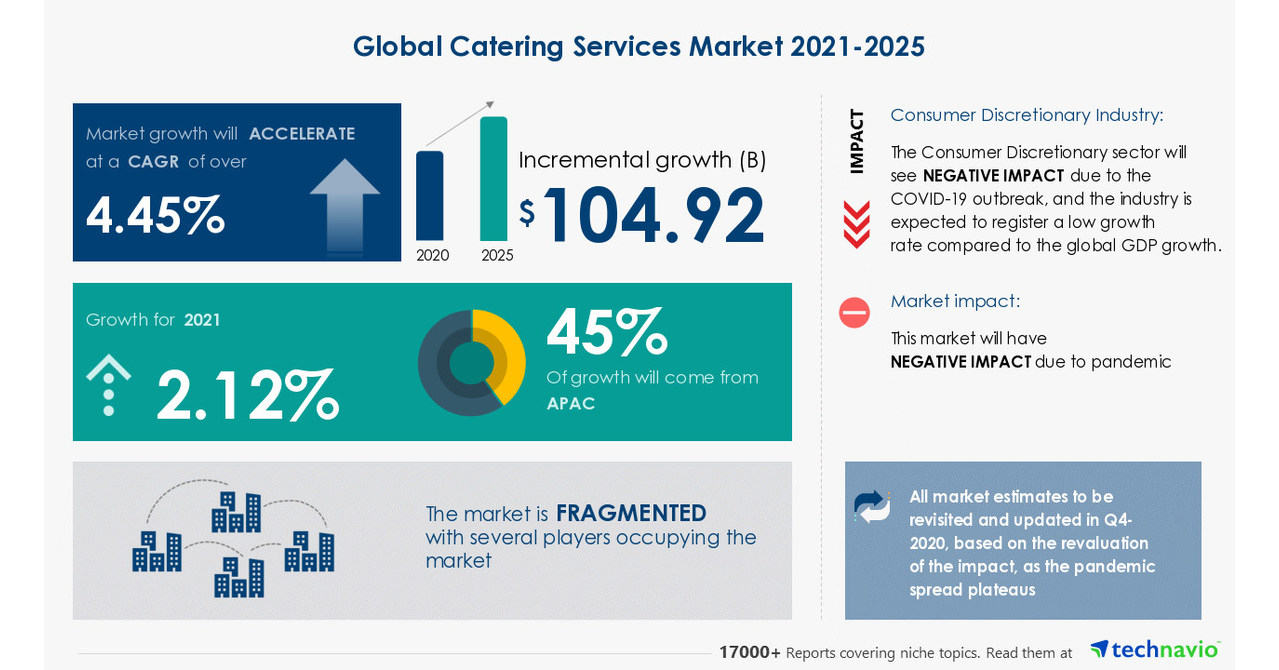 According to IBIS World, the catering market is expected to continue its steady growth over the next five years as corporate profit and household incomes rise. This creates an excellent opportunity for aspiring catering businesses.
Through this guide, we'll discuss how to start a catering business. Some topics we'll cover include the current market saturation for catering businesses, registering an EIN, applying for a business license, and other important elements in your business plan.
1. Conduct Catering Market Research
Market research is a critical component of starting a catering business. There are two types of market research for a catering business to use, primary and secondary. Primary market research is research you conduct yourself. Secondary research is collected by a third party.
Market research helps you build a realistic catering company business plan. Here are some things to note as you begin collecting data
Trends in the Catering Company Industry
Key drivers boosting industry revenue include an increase in corporate events, conventions, weddings, and other social events that require professional catering services. A Successful catering business must be prepared to handle a myriad of event types.
The Knot reports that the average cost of a wedding in 2019 was $33,900, with catering accounting for nearly $7,000 of the budget. Many catering businesses specialize in weddings. Focusing on multiple events when you open your own business offers.
Potential Startup Costs
While the industry has numerous large corporate caterers, it also has low barriers to entry for local independent operators. Startup costs are relatively low, especially for home-based businesses that prepare food out of their kitchens.
Small-scale catering operations can build up their capabilities and clientele over time. Budgeting startup costs is an important aspect of a catering business plan.
Popular Types of Products
The food served by catering businesses can be a driving factor in client interest. Caterers focused on certain products, like custom cake bakeries, taco trucks, and BBQ catering make a name for themselves quickly.
2. Analyze the Competition
Doing a thorough competitive analysis is crucial when entering the catering market. To assess competitors, new caterers should first identify direct competitors. Check listings and reviews on Google Maps and Yelp to compile a list of top nearby catering businesses.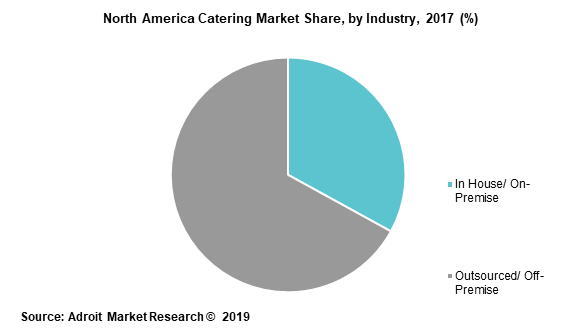 IBISWorld reports that the top 50 largest catering businesses control about 20% of the market. Most competitors will be small and local.
Visit Competitor Websites
Visit their websites and sample menus to analyze pricing, positioning, and offerings. Call a few and pretend to be a customer to evaluate their customer service first-hand.
Look at Specialties
Pay attention to competitors' specialties and niches since differentiation is key. Note any menu gaps or underserved segments. Examine their brand identities and marketing materials to assess strengths and weaknesses. For example, a slick website and polished graphics convey professionalism.
Examine Online Presence
Check competitors' digital and social media presence. Are they easy to find online? How many followers and reviews do they have? Strong word-of-mouth and reviews suggest happy customers. A robust online presence equates to visibility and credibility.
Identify Food Business Problem Areas
Identify areas where competitors fall short and gaps you can fill. Use your findings to refine your brand positioning and offerings. The competition research provides invaluable intelligence for new caterers forming their business plans.
3. Costs to Start a Catering Business
Starting a catering business requires careful financial planning and cost analysis. The initial investments include culinary equipment, legal fees, marketing, and more. Ongoing costs range from food ingredients to insurance and taxes.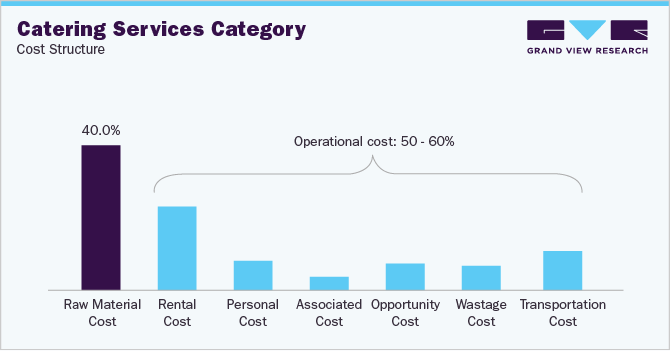 Here is an in-depth look at typical catering start-up and operating costs:
Start-up Costs
A successful business needs to start with the right equipment and business applications. Startup costs include anything needed to get your commercial or home-based catering business off the ground. Here are some examples of commercial and home-based catering business start-up costs.
Legal Formation: Forming a catering LLC costs $50-$500 depending on your state. Proper business licensing is crucial.
Commercial Kitchen: Outfitting a licensed kitchen costs $10,000-$75,000 depending on size. Renting shared kitchen space runs $15 to $40/hour.
Cooking Equipment: Quality pots, pans, appliances, and utensils cost around $5,000 to $10,000. Specific needs vary by cuisine.
Health Permits & Inspections: Food handling permits, licenses, and health inspections add up to around $500 to $2,000.
Dining ware: Plates, glassware, and utensils for events cost $2,000 to $5,000 depending on quantity.
Transport Equipment: Insulated food carriers, beverage dispensers, delivery vans, etc. can cost $5,000 to $15,000.
Initial Food Inventory: Ingredients for menu testing and first events will run $2,000 to $5,000.
Insurance: General liability insurance costs $500 to $2,000 annually. Product liability is extra.
Marketing: Branding, website, and promotional materials cost around $3,000 to $5,000.
Additional Staff: Kitchen or serving staff may cost $15/hour plus benefits.
Other: Uniforms, POS system, prep tools, small office space, etc.
Business advisor: Some food businesses bring on an advisor in the first few months.
Expect to pay a total of $35,000 to $125,000 or more, depending on the size of your business.
Ongoing Costs
Ongoing costs are any expenses your business incurs throughout its life. This includes things such as:
Kitchen Rental: Around $2,000/month depending on market and space.
Mortgage/Rent: If renting a catering facility, $1,500 to $4,000 per month.
Utilities: Gas, electricity, water, garbage for kitchens, and office space average $500 to $1,500.
Food Costs: Food and beverage inventory averages 28% to 35% of monthly revenue.
Payroll: For 2 to 5 employees, $4,000 to $12,000 per month including taxes.
Insurance: $100 to $300 per month.
Supplies: Disposables, cleaning items, replacement wares, etc. around $500 monthly.
Marketing: Up to $1,000 per month for advertising and promotions.
Credit Card Processing Fees: Approximately 3% of monthly sales.
Accounting: $1,200 to $5,000 for bookkeeping, payroll, taxes, and audits.
Legal: Attorneys cost $200 to $500 per hour. Plan $2,000 to $5,000.
Business license & Permits: Vary by location but budget $500 to $2,000.
Equipment Maintenance: 5% to 10% of equipment costs.
Brand Refresh: Website updates, new menus, and promo materials. Allow $2,000 to $5,000.
Insurance: General liability and other annual policies. Budget $5,000 to $20,000.
Performing research and cost analysis early on is time well spent. With careful financial planning, caterers can turn their passion into a thriving business.
4. Form a Legal Business Entity
When starting a catering company, one of the first legal steps is choosing a business structure. The four main options each have advantages and disadvantages to weigh.
Sole Proprietorship
A sole proprietorship is the simplest structure. You operate as an individual with unlimited liability. It's designed for a single individual, or a married couple to run a business.
Pros: Easy and inexpensive to form. No formal registration is required. You report profits on your taxes. Maximum control as sole decision maker.
Cons: You are personally liable for all debts and legal actions against the business. No protection if sued. Harder to raise investment capital. Limited options for tax deduction.
Partnership
A partnership shares ownership between two or more people. A formal partnership agreement outlines rights and responsibilities. Partners share profits as well as unlimited personal liability.
Pros: Easy to establish with the partnership agreement. Shared capital and management.
Cons: Equally liable for partner's actions or debts. Needs aligned vision or disputes can dissolve the partnership.
Corporation
A corporation is a legal entity separate from its owners. Shareholders have limited liability based on ownership percentage. More complex to set up and administer.
Pros: Liability protection for owners. Separate business taxes. Can sell ownership shares. Easier to get business credit and raise capital.
Cons: Most expensive to form with legal fees. Extensive recordkeeping and reporting requirements. Double taxation on profits.
Limited Liability Company (LLC)
For most caterers, forming a limited liability company (LLC) offers the best of all worlds. LLCs limit owners' liability and allow flexible management options.
Pros: Liability protection is similar to a corporation. Choose member-managed or manager-managed. Lower setup costs than a corporation.
Cons: More administration than sole proprietorship. Self-employment taxes still apply.
With the right catering business structure, caterers can protect personal assets and reap tax benefits as their company grows. Forming an LLC provides the ideal balance of liability protection, tax flexibility, and ease of management.
5. Register Your Business For Taxes
One of the crucial legal steps for any new catering business is obtaining an Employer Identification Number (EIN) from the IRS. An EIN acts like a social security number to identify your business for tax and banking purposes.
Applying for an EIN is free and fast through the IRS website. Simply follow these steps:
Access the IRS EIN Assistant
Select View Additional Resources to see information for your business type.
Click Apply Online Now and review the requirements.
Prepare your business information like legal name, address, and structure.
Complete the online EIN form with your details. Double-check for accuracy.
Get your EIN immediately upon submitting the form.
Print your EIN Confirmation letter from the IRS and keep it secure. Use your new EIN on all tax documents, bank accounts, licenses, and legal filings for your catering business.
Remember to also register with your state revenue department to get sales tax permits. Fees vary by state. Proper licensing enables you to legally collect and remit sales taxes. Failing to collect sales tax leads to fines.
6. Setup Your Accounting
As a catering business, meticulous bookkeeping and accounting are crucial. With substantial costs for ingredients, equipment, payroll, and more, caterers need structured systems to track finances.
Here are some ways to master the books:
Accounting Software
Using accounting software like QuickBooks provides automation to simplify taxes and ensure you maximize write-offs.
QuickBooks seamlessly syncs with bank and credit card accounts to import all transactions. It categorizes spending and reconciles accounts in real time. Features like invoicing, billing, and payroll streamline operations.
Hire an Accountant
While the software does the heavy lifting, partnering with an accountant provides expertise. A qualified accountant assists with initial business setup like choosing a tax structure and year-end tax preparation.
Expect to invest $1,000-$5,000 for annual services like bookkeeping help, sales tax filings, payroll processing, and expert advice.
Open a Business Bank Account
Keep business funds in a dedicated checking account used exclusively for the catering company. Never co-mingle money to avoid "piercing the corporate veil" that removes liability protection.
Apply for a Business Credit Card
Use business credit cards with higher limits compared to consumer cards. Apply using your company's legal information and EIN. Keep detailed records to make reconciling business expenses easy.
7. Obtain Licenses and Permits
Starting a catering company involves more than just great recipes and event planning. You must ensure your business complies with all legal requirements by obtaining proper licenses and permits. Check federal license requirements through the U.S. Small Business Administration.
The specific licenses needed vary based on your state and local municipality. However, there are several common permits:
Food Service License – States require this to commercially handle and serve food. It entails facility inspections, food safety protocols, and health standards. Fees range from $100 to $500+ depending on location.
Local Health Department Permit – Your county health department will do additional inspections for compliance with food storage, prep, and handling regulations. This also allows health officials to perform random checks. Permits cost around $100 to $300 annually.
ServSafe Certification – Most jurisdictions require at least one catering staff member with a ServSafe Food Protection Manager certification. The training and exam cost $150-$200.
Fire Department Permit – If you operate a commercial kitchen, you'll need approval from the fire marshal for proper sprinkler systems, ventilation, fire extinguishers, and building safety compliance. Fees vary.
Liquor License – To serve alcohol, caterers must obtain a liquor license from their state's alcohol control board. Prices range from $500 to $5,000+ depending on type.
Sales Tax License – As mentioned earlier, this allows you to legally collect and remit local sales taxes. The minimal registration fee enables tax compliance.
Beyond these standard licenses, some states or cities require additional permits. Use the SBA search tool to find state and city permit requirements.
8. Get Business Insurance
Operating a catering company comes with substantial risks that make business insurance essential. Without adequate coverage, a single incident could destroy everything you've built.
The right insurance protects your company from:
Property damage, theft, or natural disaster destroys your equipment and inventory.
Getting sued for illness from tainted food, liquor liability, or accidents during an event.
Staff injuries in your kitchen lead to expensive workers comp claims.
Some examples of catastrophic scenarios without insurance:
An electrical fire burns down your kitchen and ruins $50,000 of equipment.
A guest has an allergic reaction and sues for $100,000 over an unlisted ingredient.
Your delivery van crashed causing $250,000 in damages and injuries.
Rather than gamble your company's future, invest in comprehensive policies. Here's how to get started:
Assess your specific risks and business practices to determine required coverage. Common policies include general liability, commercial property, food product liability, liquor liability, commercial auto, workers' compensation, etc.
Research reputable local insurance brokers that specialize in catering and event companies. They offer expertise.
Provide detailed information on your business to get quotes. Coverage costs depend on your size, location, and history.
Compare quotes to find the optimal balance of premiums and coverage. Ask brokers to explain all policies and exclusions.
Secure insurance at least 30 days before opening doors or running events.
The upfront premium payments bring long-term peace of mind and stability. Don't cut corners – get insured.
9. Create an Office Space
Having a professional office space lends credibility and efficiency to catering companies. It provides a central hub for administrative tasks like booking clients, planning menus, and managing payroll. Some off-site catering office ideas include:
Home Office
A home office maximizes convenience and low overhead. With basic supplies and furnishings, you can create a workspace for under $2,000. No commute also enables longer working hours. The cons are a lack of professionalism and distractions.
Coworking Office
Coworking spaces like WeWork provide shared offices for $300 to $500 per month. These hip, amenity-filled spaces allow flexibility to scale up or down. Networking with other entrepreneurs is a plus. But noise and lack of privacy pose potential drawbacks.
Retail Office
If securing a retail space for pickup orders, dedicate part of it as an office. While pricier at $1,500 to $4,000 monthly, on-site visibility may attract walk-in customers. Ensure sufficient space for office needs.
Commercial Office
Leasing a full commercial office space provides the most professional setting but the highest costs. Expect to invest $5,000-$15,000+ monthly for space buildout, utilities, etc. Benefits include room for staff to grow and freedom to customize.
10. Source Your Equipment
A commercial kitchen requires an ample arsenal of equipment like ovens, refrigerators, small wares, and more. For new caterers with tight budgets, finding affordable equipment is crucial. Here are four options to secure the necessary gear:
Buy New
Purchasing shiny new equipment from dealers provides reliability. Major costs for pro ovens, cooktop ranges, mixers, etc. easily add up to $30,000. Lower prices are available through big box stores like Restaurant Depot but quality suffers. Consider financing new equipment over 5-7 years to ease the financial hit.
Buy Used
Used professional equipment offers major savings, often selling for 50-75% off retail prices. Check restaurant auction sites like WebstaurantStore and BidOnEquipment. Also, browse Craigslist and Facebook Marketplace for sellers liquidating commercial kitchens. Inspect used items carefully before purchasing.
Renting
Many equipment rental companies offer flexible short or long-term rentals. This allows scaling equipment needs for each event. Rates range from $50 per day for small items to $500/day for large cookers. No storage is needed between events. But more logistics are involved.
Leasing
Leasing commercial ovens, dishwashers, etc. through dealers spread payments over 3 to 5 years. Expect to pay 10% to 20% of the total equipment cost as a down payment. While more expensive long term than buying outright, this eases upfront expenditure as you build your business.
11. Establish Your Brand Assets
Developing a strong brand identity is crucial for catering companies to stand out and attract clients in a competitive market. Your logo, website, marketing materials, and more allow customers to recognize your brand and understand your services.
Getting a Business Phone Number
A business phone number lends legitimacy versus just using a personal cell. Services like RingCentral provide call routing, voicemail, extensions, and more for around $30/month. This professional touch builds trust when booking new clients.
Creating a Logo and Brand Assets
An eye-catching logo encapsulates your catering brand and style. Options include your name in stylized text, an abstract design, or an illustrated icon. Looka makes DIY logos easy with thousands of templates. Keep colors, fonts, and imagery consistent across your brand assets and marketing materials.
Business Cards and Signage
Quality business cards from Vistaprint provide credibility when networking, meeting vendors, or responding to leads. Custom signage elevates your brand if you have a storefront. You'll need cards and signs for sales meetings, bridal shows, community events, and more.
Purchasing a Domain Name
Secure a domain name that matches your catering brand for branding and marketing purposes. Keep it short and easy to remember. Paying $10-$15 per year on Namecheap ensures you control the name long-term.
Building a Website
Every caterer needs a website to showcase menus, events, contact info, and bookings. Options include using DIY website builders like Wix or hiring a freelancer on Fiverr starting around $500. Your site establishes your brand online.
12. Join Associations and Groups
Joining relevant local groups and associations provides invaluable connections and insights for new catering entrepreneurs. Surrounding yourself with fellow industry professionals leads to trading secrets and discovering opportunities.
Local Associations
Local Associations Organizations like the American Culinary Federation and National Association of Catering Executives offer both national and local chapters. Joining these established groups lends credibility while enabling mentorships with seasoned caterers, discounted insurance, access to job boards, and more.
Local Meetups
Local Meetups Attending local meetups and trade shows helps you network with fellow caterers and vendors in your area. Sites like Meetup list relevant events like food industry mixers and wedding vendor fairs. Bring plenty of business cards and chat up potential partners.
Facebook Groups
Facebook Groups Industry-focused Facebook groups connect you with caterers globally to exchange ideas. For instance, the Food Business Marketing Place and The Catering Corner group members share recipes, marketing tips, and honest feedback.
13. How to Market a Catering Business
Marketing is essential for caterers to continually attract potential clients and grow their customer base. While referrals from happy customers provide the most valuable leads, you must also directly promote your business through various channels.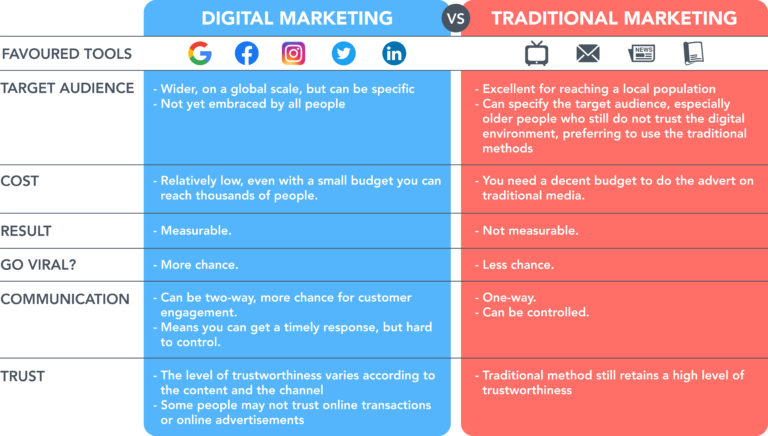 Friends, Family, and Existing Network
Leverage Your Network Tap into your existing personal and professional circles for referrals to get started. Offer incentives for current customers to recommend your catering services to others. Word-of-mouth is your most powerful marketing asset.
Digital Marketing
Digital marketing is a game changer in the catering market. Catering businesses need to set themselves apart build a brand and attract potential clients. Online marketing should be a big part of your catering business plan. Here are some ways to employ digital marketing:
Search Engine Optimization – Optimize your website and online content to improve search rankings and be easily discovered by potential customers. Target relevant keywords like "corporate catering".
Google Ads – Pay for text or display ads on Google searches related to your services. Only pay when users click your ad. Expect to invest $100-$500 per month as you test and refine.
Social Media Ads – Geo-targeted Facebook and Instagram ads raise awareness. Share beautiful food photos and special offers. Budget $50-$300 monthly to reach local followers.
Email Marketing – Send promotions and newsletters to subscribers. Maintain an email list to nurture leads. Use a service like MailChimp for automation.
Blog Content – Publish catering tips and recipes on your website regularly. This attracts search traffic. Guest posts on local media outlets for added exposure.
Traditional Marketing
Traditional marketing is another important step for a catering business owner. Traditional marketing creates tangible ads for local businesses, event planners, and consumers to notice and remember. Some ways to add traditional marketing to your catering business plan include:
Direct Mail – Send promotional flyers and discount codes to local businesses. Expect a 1% to 2% response rate so mail in volume. Costs at least $1 per mailer.
Chamber of Commerce – Sponsor or speak at local events to share your expertise while networking with business owners.
Bridal Shows – Meeting engaged couples face-to-face lets you make a great impression. Have brochures, samples, and capture contact info.
Radio Ads – Local radio ads raise mass awareness but require a significant budget. Expect to pay at least $500 per spot.
A multifaceted approach maximizes reach as you get the word out about your new catering business. Pair digital marketing with select traditional tactics for the right mix.
14. Focus on the Customer
Providing an exceptional customer service experience is crucial for catering companies. Each client interaction represents an opportunity to go above and beyond.
Here are some ways to focus more closely on your catering business clients:
Event check-ins: Check in frequently to ensure guests are satisfied, handle any issues quickly, and be flexible if last-minute changes occur to make clients feel well cared for.
Follow up: Following up post-event to get feedback on what clients enjoyed or ways you can improve next time shows you are invested in their experience long-term, not just a one-time transaction.
Deliver personalization: Dedicated service earns trust in your abilities. Satisfied clients then eagerly recommend you to their friends, family, and business associates because you exceeded their expectations.
Small touches: Sending handwritten thank you notes demonstrates the care you provide. The customer service experience is your best marketing asset.
Focus on building genuine relationships with each client, and your catering business is set up for referrals and word-of-mouth growth.