Credit repair businesses collect data from reporting bureaus and audit client reports. They help dispute false reports and improve negative factors impacting credit reports.
There are more than 43,791 credit repair businesses in the United States. Most of these companies reside in California. Compared to other types of financial-based businesses in the country, the market has plenty of room to grow.
Globally, the credit repair market is estimated to rise at a compound annual growth rate (CAGR) of 13.76% from 2022 to 2027. This will see a potential change from $3,746.96 million USD to $7,152.18 million over five years.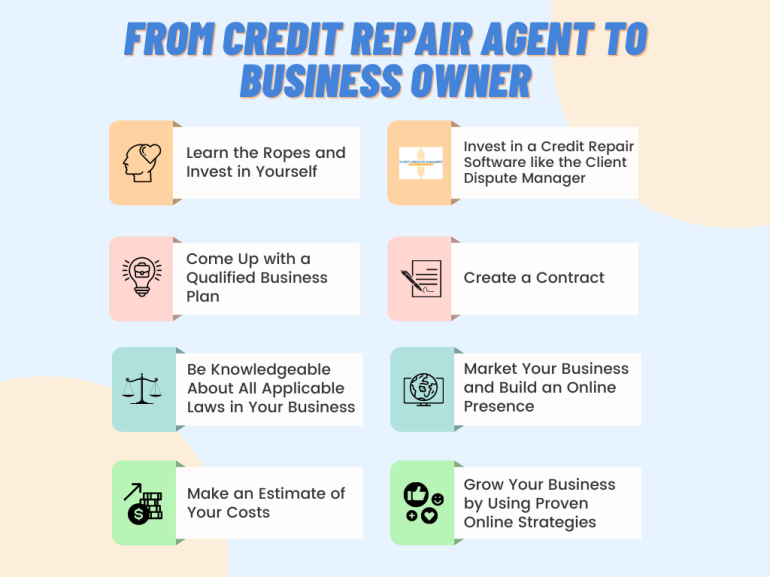 For small businesses considering a small credit repair business, now is a good time to get started. Through this guide, we'll cover many steps involved in learning how to start a credit repair business. From registering your EIN to marketing and beyond, here are the facts.
1. Conduct Credit Repair Business Market Research
Before starting a company in the credit repair industry it's important to conduct market research. Market research tells you about:
Types of businesses in the credit repair industry
Credit repair services they offer, what they charge
Overall chances of success in your location
Popular credit monitoring tools and credit repair software
There are two types of market research to conduct, primary and secondary. Primary research is first-person research you collect yourself. Some examples include contacting credit reporting bureaus, polling local consumers online, and visiting other credit repair agencies in the area.
Secondary research is collected by third parties and made available for business use. Examples of secondary research include:
Archived databases of debt collection and reporting
Online government statistics
Information scoured from databases
Having accurate market research data helps you build a realistic credit repair business plan for a successful credit repair business.
Choosing the Right Services for Your Credit Repair Business
Your credit repair service can do more than help repair credit.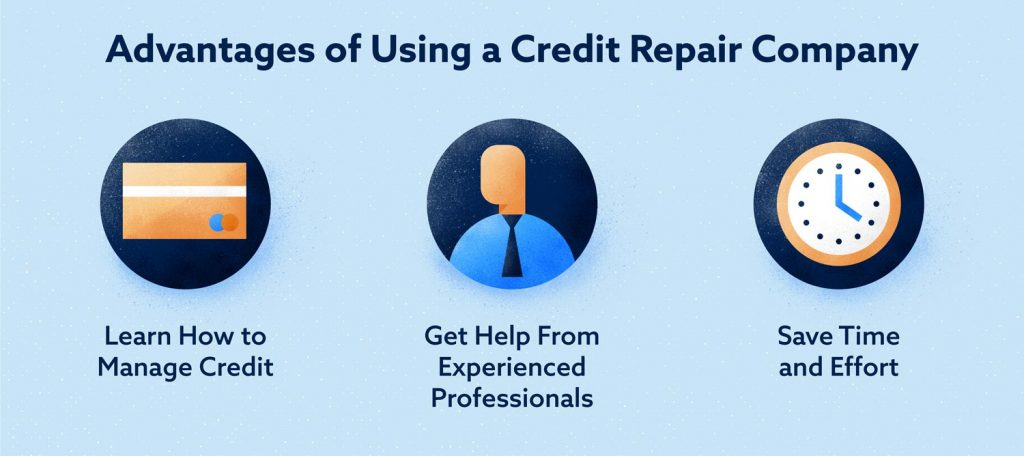 Many businesses in the credit repair industry branch out to serve clients through:
Credit report analysis
Ongoing score tracking
Regular reports
Recommendations for new financial services to improve the score
Challenging credit bureaus
Statute of Limitations research
Debt validation
Goodwill letters
Cease and desist letters
Coaching sessions
Your initial market research will guide you in selecting the best services for your target customer base. Choosing competitive services not offered by other credit repair companies in your area is helpful.
2. Analyze the Competition
Competitive analysis tackles the issue of market saturation and local competition. It's useful to know the other entities offering services like yours in your area. Many credit repair businesses operate online at state and federal levels. You may also choose to serve only local customers.
Some of the stats to collect as you dive into competitive analysis include:
Number of credit repair businesses in your city/state
Credit report and support services offered by competitors
Competitor pricing
Customer ratings and reviews of competitors
As with early market research, there are several ways to gather this information, such as:
Visiting competing businesses in person
Following competitor websites and social media
Reading online reviews
As you begin your search for competitors in the credit repair business industry, here are a few to consider.
Sky Blue Credit offers credit repair at $79 USD per month. They provide several services including credit report analysis, statute of limitations research, custom disputes, score assistance, credit report rebuilding, and on-call coaching. They also provide clients with free credit repair tips.
CreditRepair (source)
CreditRepair believes in credit education first. The firm has been in operation for more than nine years. One of the resources they bring customers is a catalog of more than 1,000 credit education articles. Clients learn to manage debt and rebuild credit. They also have access to credit analysis, reports, and monitoring.
The Credit Pros use an AI-automated platform to perform regular credit report checks and send reports to clients. Some additional services include goodwill letters to creditors, ID theft restoration, cease and desist letters, and unlimited dispute letters with a monthly plan.
Staying on top of competitors lets you build a realistic credit repair business plan.
3. Understand the Costs of Starting a Credit Repair Business
Starting any company takes some startup capital. A credit repair business has the advantage of no inventory or sales signage to juggle. Many credit repair businesses operate from a home office or commercial space with minimal overhead.
Here, we'll sort through some of the early costs you'll encounter as you get started.
What Does It Cost to Start a Credit Repair Business?
Startup costs include a wide variety of things. Some of which have nothing to do with credit repair specifically. Common early costs include:
Web development
Licenses and permits
Credit repair business insurance
Employee hiring and training
Marketing
Office furniture and equipment
Specialized credit repair software
Legal expenses
Most credit repair businesses spend around $20,000 to get a company off the ground and running. This includes all of the above, along with a few extras. Let's break things down further.
Equipment and Materials
Credit repair companies don't need a lot in the way of equipment and materials. Your main costs will revolve around your office and include:
Computers, phones, printers, and other electronics: $2,000 to $6,000
Specialized credit repair software: $500 to $2,000 (depending on subscription type)
Office furniture: $3,000 to $6,000
Administrative supplies: $300 to $1,000
Business cards and signage: $100 to $500
Credit repair businesses rely heavily on their digital tools, such as credit repair software and website. Customers receive customized credit reports and updates based on the tools they choose.
Cost of Leasing a Location
Along with your supplies and Credit repair, businesses require a physical location to operate. This can be a commercial office, home office, or a shared office space.
Some credit repair companies buy property, but most rent. Commercial spaces are leased in square feet.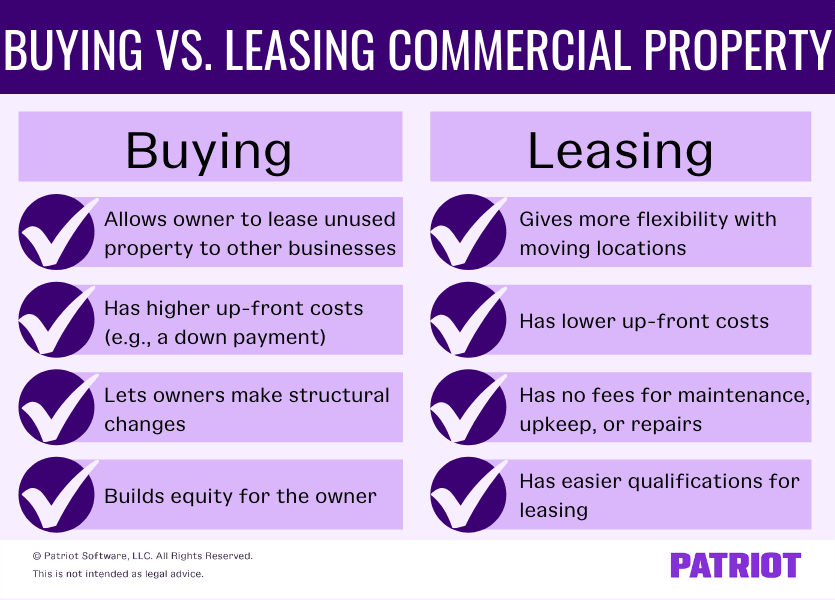 As you search for a location you might see an ad for $20 per square foot. For a 1,000-foot space, this means paying $20,000 plus taxes and service charges per year.
Credit Repair Business Formation
All credit repair businesses must register a credit repair business name with the Small Business Administration. For name and permits, expect to pay from $300 to $800.
Credit Repair Business Insurance
Business insurance varies from state to state. To safely operate any U.S. business, you should invest in two types of insurance minimum. These are general liability insurance and commercial property insurance.
Liability insurance protects you from financial hardship in the event that your credit repair services harm a person or their property. Commercial property insurance protects your belongings in the event of a fire, flood, burglary, or other risks outlined in your policy.
Utilities
Commercial properties come with utility costs. The most common of these are:
Heat
Electricity
Internet
Phone
Water
Small businesses should expect to pay roughly 4% of their budgets on utilities per year. Utility prices vary from place to place. Electricity and water, for example, often cost less in rural areas than they do in a big city.
What Are the Ongoing Costs of a Credit Repair Business?
There are many ongoing costs to go along with the initial feels while learning how to start a credit repair business. An ongoing cost is anything that continues throughout the lifespan of your business. Some common costs you may encounter ongoing include:
Insurance, staff wages
Rent and utilities
Insurance and legal costs
Marketing and website management
Credit repair software upkeep
Office equipment maintenance
Office supplies like paper, pens, printer ink, and the like are also ongoing costs. If you sell any merchandise or offer free merchandise to customers, these stocks need consistent replenishment.
4. Form a Legal Business Entity
To form a credit repair business in the U.S., you must register it as a legal entity. There are four main types of credit repair business entities to choose from:
Limited Liability Corporation (LLC)
An LLC is the most common option for a small business startup in the credit repair industry. An LLC is a great choice for new businesses because the entity protects your personal assets.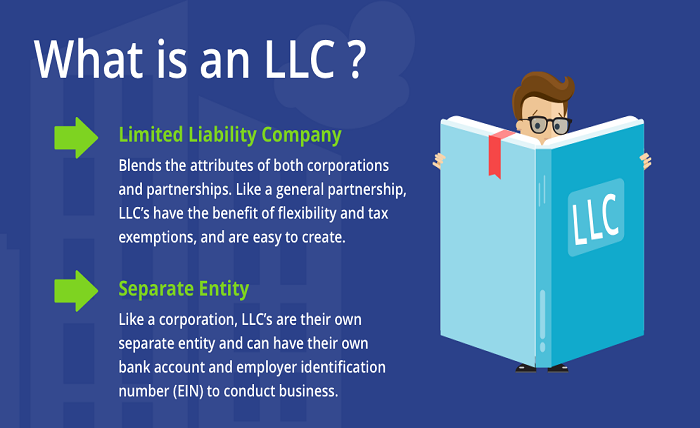 If your credit repair business doesn't make it through the first year, your LLC formation separates personal and professional wealth. There's no concern that creditors will come looking for your personal assets as payment.
Sole Proprietorship
Sole proprietorships are owned and operated by a single person (or a married couple). This is a simple and straightforward entity model, but it doesn't include the same buffer for personal wealth protection.
If your sole proprietorship comes under fire during a lawsuit, your personal wealth could become a target for payment.
Partnerships
Partnerships are similar to sole proprietorships, except they are designed for multiple business partners. This is often a popular choice among family members who own a company together.
While a partnership gives decision-making rights to all members of the team, it doesn't protect any personal wealth.
Corporation
Corporations are popular entity formations for large companies. They require extensive paperwork and are expensive to form. One of the major advantages is that like an LLC, a corporation separates personal and professional assets.
Of these entity models, most small businesses opt for an LLC. LLCs are the simplest and least expensive to own, with the most protection for your personal assets.
5. Register Your Credit Repair Business for Taxes
It's hard to see the future as a new business owner. One thing is certain though, all businesses must file annual business taxes. To legally file taxes as a U.S. business you must first register for an employee identification number (EIN). This is also called a Federal Tax ID.
With an EIN, your credit repair business is able to:
Pay employees
Apply for a business credit card
Open a company bank account
File business taxes
The U.S. Small Business Administration has all the required forms and protocols listed online for easy registration. When learning how to start a credit repair business, the SBA is an invaluable resource.
6. Setup Accounting for Success
Businesses deal with money, and money requires accounting. Accountants help with many day-to-day financial processes, including:
Paying employee wages
Invoicing customers
Managing spending reports
Filing taxes
Managing credit repair business bank accounts
There are several different ways to bring accounting into your credit repair business. Here are some of the most common accounting options.
Accounting Software
Accounting software takes a lot of daily accounting tasks off your shoulders as a credit repair business owner. Many of the processes managed by the software are automated. This leaves little room for missed deadlines or human error.
One of the most well-regarded accounting software platforms is QuickBooks. Quickbooks provides several packages at varying price points and skill levels. They offer credit repair services such as:
Financial reporting
Receipt storage
Compliance and filing
Alerts
Invoicing
QuickBooks also provides access to tools and educational support for new credit repair business owners learning the ropes. The software doesn't completely replace a business accountant, but it minimizes the need for in-house support.
Find an Accountant
Even with the best software, a business accountant brings skills and experience to the table. Certified accountants are trained in all the fine print of business accounting. When tax season rolls around, it pays to have a professional in your corner.
Professional accountants can charge up to $400 an hour. This seems steep but is worth the cost when you consider its overall value. Many businesses only use a professional accountant a few times a year.
Get a Business Bank Account
The IRS recommends all U.S. businesses open a credit repair business bank account. There are many advantages to opening a business account, including:
Organization
Accountability
Better budgeting
Fewer mistakes
Lower risk of fraud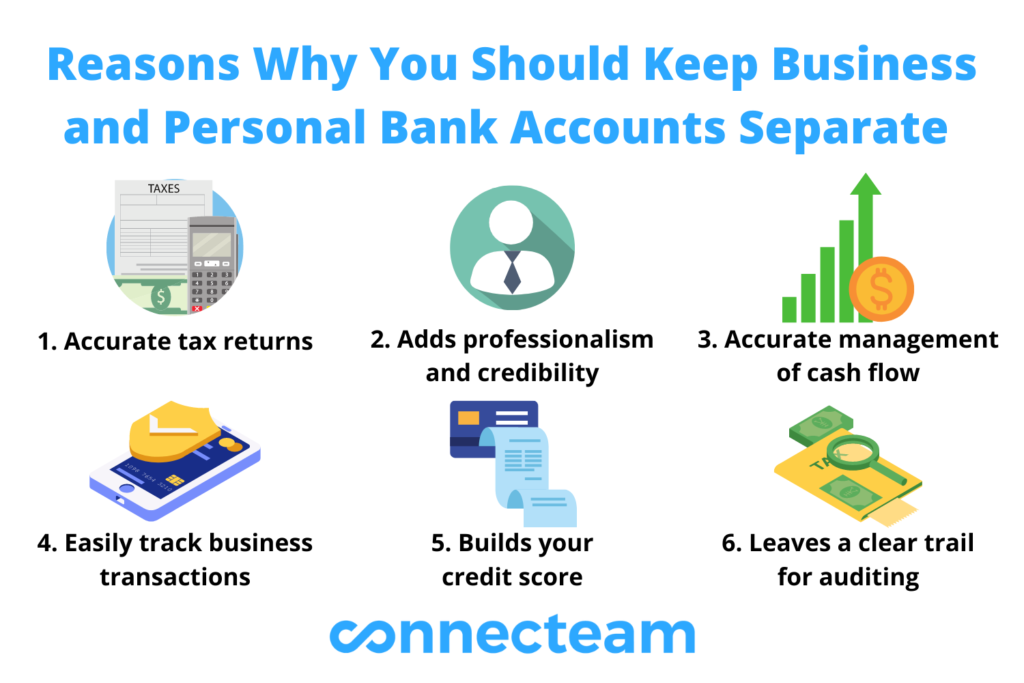 A business bank account makes your credit repair business appear more reputable as a recognized company. A business account is more professional for dealing with customers and employees.
Apply for a Business Credit Card
A business credit card, like a business bank account, keeps you organized. Juggling personal and professional expenses on your personal credit card leads to confusion.
For a credit repair business, access to your own business card and credit profile gives a greater level of authority in your field.
There are also several perks that go along with a business card, such as:
Lower interest rates
Higher rewards (cash back, travel miles, etc).
Extended warranties on business purchases
Business credit cards connect to your personal credit score. Be mindful when using business cards, and pay them back as quickly as possible.
7. Obtain Credit Repair Business Licenses and Permits
Certain industries in the United States require special licensure and permits to operate. Credit repair business owners don't need any special licensure at the federal level. The Federal Trade Commission's Credit Repair Organizations Act requires certain guidelines to be followed.
According to the Credit Repair Organizations Act:
Credit repair contracts must be in writing
A credit repair specialist must never request advance payment
Customers reserve cancellation rights
The Credit Repair Organizations Act must be observed by all U.S. credit repair specialist companies.
Check with the U.S. Small Business Administration before getting started to be sure.
You can also use the SBA's website to search for local permits and licenses.
8. Get Credit Repair Business Insurance
Business insurance protects your business, employees, and personal wealth in legal or medical disputes regarding your company. The two most common types of insurance required by a credit repair business are general liability insurance and commercial property insurance.
General Liability Insurance
General liability insurance protects against liability claims due to damage to customers or their property. If your product or service injured someone or damages property, you could be sued for damage.
Most credit repair business owners pay between $400 and $1,600 a year for $1 million in coverage. The variation in cost relies upon the size of your business, past claims, and potential risks involved in your industry.
Commercial Property Insurance
Commercial property insurance protects your physical business location and equipment. If the building you work out of catches fire, commercial property insurance helps reclaim the cost of damaged equipment.
Most credit repair business owners pay somewhere between $1,000 and $3,000 for $1 million in coverage.
9. Create an Office Space
Along with your main place of business, you may require office space for administrative tasks. Small credit repair business owners may not need an additional office. If you do, there are a few options to choose from, including the following.
Home Office
A home office is an affordable option for a secondary office space for a credit repair specialist. There are no lengthy contracts or extra lease costs to worry about. Home offices come with a beneficial tax credit.
According to the IRS, home office users may claim up to $1,500 annually.
You can make individual deductions for a home office, or choose to deduct $5 per square foot.
CoWorking Office
A coworking office is another money-conscious choice. These spaces aren't leased long-term but are shared between multiple users. Think of it a little like a vacation timeshare. When you aren't in the office, another business owner might be.
WeWork is one of the top coworking office providers in the country. They officer multiple packages at varying price points for companies with different budgets. Choose from private, semi-private, or shared office spaces.
Commercial Office
The final option for a credit repair business is a commercial office. This is a common choice for credit repair companies hoping to work out of a single space. Rather than having a small business space and a home office on the side, a commercial office includes all the space you need.
Commercial offices are costly and come with long-term contracts. You can expect to pay by the square foot for your office.
10. Source Your Equipment
Credit repair businesses don't require a plethora of equipment. This allows you to focus on sourcing the best equipment and software for your business. There are two ways to do this, buying new and buying used. Both have pros and cons.
Buy New
Buying new office equipment comes with many advantages. A longer lifespan, warranty, and less need for maintenance are among the top reasons to buy new. Of course, buying new is more expensive than buying used.
A lot of furniture and office supplies are easily curated from companies like Staples and Uline. Invest in software from reliable companies like DisputeBee or Credit Repair Cloud if you don't design your own.
Buy Used
Buying used presents an opportunity to save money. Many small businesses choose this route early and invest in new products later when the company is more lucrative.
Two places to shop for used credit repair business equipment and supplies are Craigslist and Facebook Marketplace.
11. Establish Your Brand
Starting a credit repair business requires some brand building. Your brand sets you apart from other credit repair businesses in your area. There are many ways to develop your brand.
Get a Credit Repair Business Phone Number
A business phone line, like a business bank account, keeps personal and professional life separate. Your contacts are more organized, and your credit repair business appears more professional.
As a company managing credit reports and other personal information, customers will appreciate a dedicated point of contact.
There are many ways to open a credit repair business phone line. Choose from major retailers like T-Mobile or AT&T, or try a more modern approach with a Google Voice number for $10 a month.
Create a Logo
A logo is a visual representation of your company. It should reflect the overall tone and message your company wishes to convey in a single image. Color, font, shape, and design all play a role in the impact of your logo.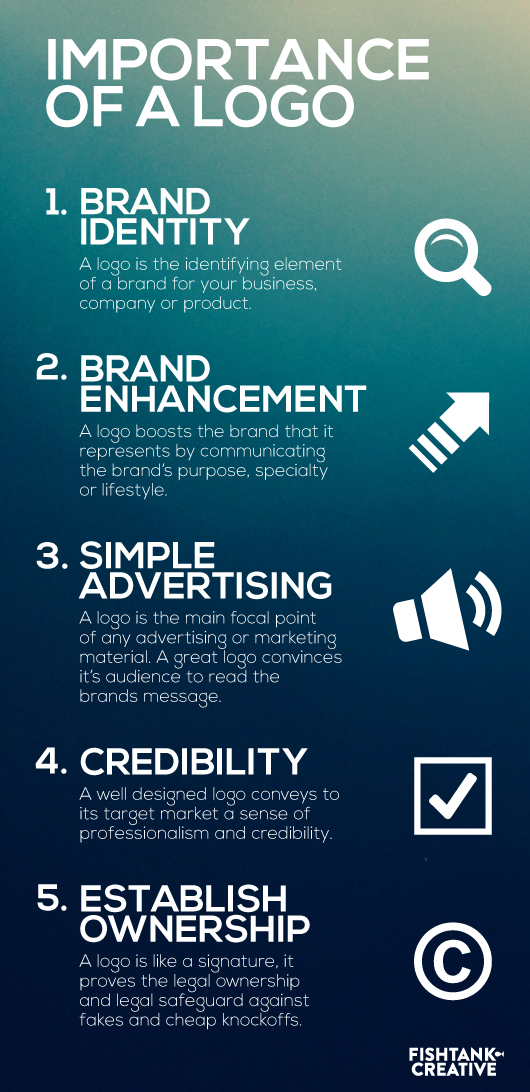 Logos can be used for many credit repair company purposes, from marketing on signs and business cards to uniforms and custom merchandise.
Looka is our top recommendation for logo design. Looka uses powerful AI technology to create customized logos based on your personal preferences. Choose from styles, colors, font types, and other design elements and Looka will make your logo based on your choices.
Create Business Cards and Signage
Business cards are a perfect place to put your new logo. This old school traditional marketing method gets your credit repair company name, contact information, and brand message to new and returning customers.
Business cards should include some basic information like:
Credit repair company name
Address
Phone number
Website URL
Social media tags
You can also include a QR code to a custom landing page for newcomers.
Vistaprint is one of the top business card retailers. Like Looka, they use customizable data including color, style, and font preference to build your perfect business cards.
Purchase a Domain Name
Credit repair companies rely heavily on a professional website to make sales, educate customers, and share information. Your domain name should be relevant to your business name and industry. The most professional domains are simply a business name plus .com.
There are many places to purchase a URL, including Namecheap.com for as little as $6 a year.
Build a Website
With your domain name at the ready, it's time to build your website. This part of the branding process is important because it delivers information directly to your customers. Most credit repair companies offer customer portals to view credit reports and other information.
A lot of work goes into web design. It's important to focus on accessibility and navigation, as well as substance. If you're not up to making your own website through a platform like Wix, you can hire a freelancer at Fiverr.
12. Join Associations and Groups
Local and international credit repair associations are a solid support for new credit repair company owners in the field. Draw on inspiration from other credit repair company owners, ask questions, and get help. Some of the prominent groups in credit repair are the American Financial Services Association, the Credit Repair Association of America, and the American Association of Consumer Credit Professionals.
Let's take a closer look at how different associations support credit repair companies.
Local Associations
Local associations are most familiar with your state's economy and customer base. These associations are more likely to connect with you on a personal level. There are many ways to get in touch with local groups, including community centers or financial institutions.
Local Meetups
Meeting up in person is another great way to gain local support. If there aren't many events in your area, try platforms like Meetup. Meetup creates gatherings of all shapes and sizes across the United States.
Enter your city, state, and meeting type to find an event for your credit repair business. If you can't find one you like, make your own.
Facebook Groups
If you can't find an in-person group, digital groups offer similar support and knowledge. Social media offers free credit repair company support in many ways. Facebook Groups is one such way to harness that help.
Some of the top Facebook Groups for credit repair business leaders are:
Share ideas, talk about trends in the market and ask advice from others in the industry.
13. Focus on Marketing
Marketing is an integral part of learning how to start a credit repair business. Marketing tells consumers who are you and why your company is the best credit repair business for them.
There are many ways to market a credit repair business. Here are some of the basic ways to get started in your advertising endeavors.
Ask Friends, Family, and Coworkers
Friends and family members already want to see you succeed. They're a great untapped resource for an initial marketing campaign. There are plenty of ways to contribute to your new business, including:
Handing out business cards
Passing out flyers
Posting to and sharing your social media pages
Leaving online reviews
Sharing by word of mouth
88% of consumers are more influenced by word-of-mouth marketing than other forms of advertising. Your family and friends' opinions can go a long way.
Digital Marketing Ideas
The world is online and your credit repair business is part of that world. Digital marketing is crucial to connecting with a wide range of potential customers. Digital marketing has expanded over the years to include:
Email campaigns
QR codes on physical mailers
Longform blogs
Vlogs (video blogs)
Social media content
Exclusive online offers
Your initial market research will help you curate your digital marketing campaign to your target consumer.
Traditional Marketing Ideas
Traditional marketing is any tangible advertising resource. Print, television, and radio are among the top contenders for traditional marketing campaigns. For a credit repair business, your traditional marketing gives you an air of authority and professionalism.
Some traditional marketing ideas include:
Business cards
Postcard mailers
Billboards
Flyers
Bus signs
Branded merchandise
Local events (grand opening, etc.)
Traditional marketing doesn't need to break the bank. Be resourceful and think outside of the box to advertise your credit repair business in ways your customers won't soon forget.
14. Focus on the Customer
Credit repair companies manage sensitive personal data. Your customers need to know they can trust you. Building rapport with consumers goes a long way in this industry. Focusing on your customer as individuals is a good way to show them you care.
Customer focus comes in many forms. Again, this is one area where your early market research should help keep you informed of ways to better your customers' overall experience. Some of the common ways to engage with customers include:
Opinion polls for new credit repair services
Giving free branded merchandise with credit repair services
Individualized service offerings
Customer loyalty programs
Referral rewards
Events for locals (debt education seminars, credit building classes, etc.)
Simply reaching out to customers and engaging with them via email, social media, or over the phone goes a long way. Keep in touch and show customers you're listening to what they have to say, and evolving as a credit repair business to meet their needs.
Final Thoughts on How to Start a Credit Repair Business
This guide focuses on how to start a credit repair business. In this guide we discuss market research, competitive analysis, licensing and permits, business insurance, and more. We hope this guide helps shed some light on the process to get you started.