The dumpster rental and junk removal business is booming with a compound annual growth rate (CAGR) of 6.8% projected from 2023 to 2033. With a current evaluation of $517.4 million, it's not a bad time to get started at the ground level.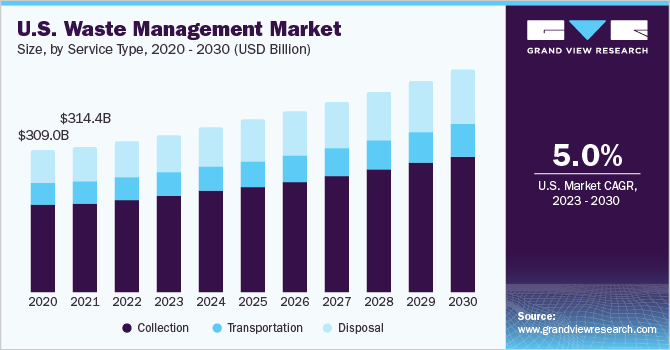 This creates an excellent opportunity for entrepreneurs looking to capitalize on this growth and start their own dumpster rental company. However, launching a successful dumpster rental business requires more than just purchasing a few dumpsters.
This guide will offer insight into how to start a dumpster rental business. Topics include market research to form a business plan, competitive analysis, registering an EIN, obtaining business insurance, and more. Here's everything you need to know to start a dumpster rental company.
1. Conduct Dumpster Rental Market Research
Market research is essential to starting a new dumpster rental business. It offers insight into trends in products and services, lets you get to know your target market and more.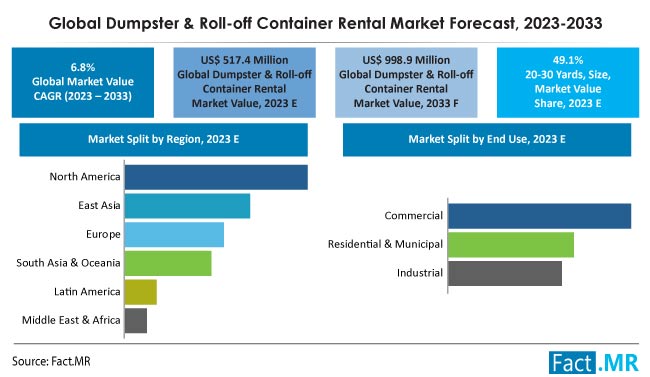 The industry is fragmented, with the top four companies accounting for about 20% of the market share. This fragmentation combined with consistent demand creates ample opportunities for new dumpster rental businesses to enter and compete at a local or regional level.
The southeast and southwest regions of the U.S. present the largest markets, driven by population growth and construction activity. Texas, Florida, North Carolina, and Georgia are particularly lucrative states to establish a presence.
Target customers include construction companies, contractors, remodelers, landlords, homeowners, and businesses. Commercial customers make up the majority of revenue at 65%, while residential customers comprise the remaining 35% [IBISWorld].
Growth drivers include rising construction and demolition activity, growth in waste generation rates, and DIY trends. More people are renovating and improving their homes, fueling dumpster rentals.
Barriers to entry remain low. Startup costs range from $10,000 to $100,000 depending on fleet size. Operating a dumpster rental business requires trucks, dumpsters, storage space, and basic equipment like pallet jacks.
Competitive factors include price, customer service, convenience, and diversity of dumpster sizes offered. Larger national chains compete on price due to economies of scale. Smaller local and regional operators can differentiate with superior customer service.
Overall, the dumpster rental industry will continue to grow steadily over the next five years. For entrepreneurs who execute well on marketing, operations, and customer service – the opportunity exists to build a substantial local or regional presence in this fragmented market.
2. Analyze the Competition
Understanding the competitive landscape is crucial when launching a new dumpster rental business. This involves assessing both local brick-and-mortar rivals as well as evaluating your online presence versus competitors.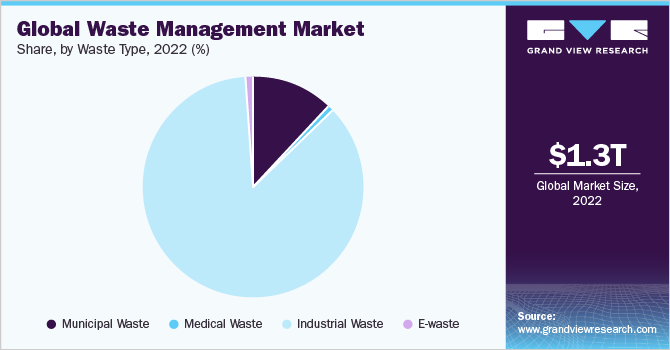 To analyze local competitors, identify dumpster rental companies operating in your geographic target market.
Assess their fleet size, number of employees, customer base, and pricing.
Drive by their office and storage yards. Sign up for service to evaluate customer experience.
Evaluating online competition is equally important given rising digital adoption.
Conduct searches using relevant keywords like "dumpster rental San Diego" and see where rivals rank in organic results.
Review their websites for quality of content, ease of use, and value proposition.
Use Alexa.com to assess competitor website traffic stats.
Monitor online reviews on Google, Facebook, and elsewhere. Run competitors through marketing grader tools to audit their digital presence.
These assessments reveal areas where startups can differentiate and establish competitive advantage with superior customer service, digital marketing, niche specialization, or more convenient locations. The key is continuing to monitor competitors on an ongoing basis to recognize threats, and opportunities and inform strategic decisions.
3. Costs to Start a Dumpster Rental Business
Starting a dumpster rental business requires a significant upfront investment to purchase trucks and dumpsters along with ongoing costs for fuel, maintenance, staffing, and insurance. Carefully estimating these expenses is critical for determining the viability of the business.
Start-Up Costs
Dump Trucks – $50,000 to $100,000 per truck for new or used standard models like Ford F-550. Plan for an initial fleet of at least 5 trucks for flexibility – Total $250,000 to $500,000
Dump Trailers – $5,000 to $10,000 per trailer to haul additional dumpsters. Have 2-3 in startup fleet – Total $10,000 to $30,000
Dumpsters – $1,000 to $5,000 per dumpster depending on size. Stock a variety of 3-to 40-yard dumpsters. Initial fleet of 25-50 units – Total $25,000 to $250,000
Storage Yard – $600 to $1000 per month to lease fenced industrial space for trucks, dumpsters, and small office
Equipment – $3,000 to $5,000 for forklift, pallet jack, cleaning tools, office furniture, and supplies
Licensing – $2,000 for business licenses, commercial trucking permits, and dumpster operation permits
Insurance – $10,000 annually for commercial business & liability policies
Staffing – $35,000+ for office administrator and drivers
Working Capital – $20,000+ for operating costs until revenue kicks in
Ongoing Costs
Yard Lease – $600 to $1,000 per month
Equipment Maintenance – $5,000+ monthly for truck/dumpster repairs & maintenance
Fuel – $8,000+ monthly depending on fleet usage
Insurance – $10,000+ annually for renewals
Staffing – $35,000+ monthly for driver payroll and taxes
Dumping Fees – $5,000+ monthly at landfills/waste sites
Marketing – $2,000+ monthly for advertising and promotions
Transaction Fees – 2-4% of revenue from credit card payments
Starting a profitable dumpster rental business requires significant capital to purchase the necessary equipment, establish processes, market effectively, and cover ongoing operational costs. Carefully projecting these start-up and ongoing expenses is crucial for forecasting cash flow needs.
4. Form a Legal Business Entity
When starting a dumpster rental business, the legal structure you choose impacts taxes, liability, and ease of expansion. The main options—sole proprietorship, partnership, LLC, and corporation—each have advantages and disadvantages to weigh.
Sole Proprietorship
A sole proprietorship is the simplest structure. You operate as an individual reporting business income on your tax return. However, you have unlimited personal liability for debts and lawsuits against the business. For a dumpster rental company with a trucking fleet and heavy equipment, exposure is high so this structure carries significant risk.
Partnership
A partnership shares profits and losses among partners. General partnerships still carry full liability for each partner. Limited partnerships have one general partner with liability and limited partners with reduced risk. Partnership dynamics can get complicated for dumpster businesses looking to grow and take on investors.
Limited Liability Company (LLC)
A limited liability company (LLC) provides personal liability protection like a corporation with the pass-through taxation of a partnership. Profits pass through to members who pay taxes at individual rates. For dumpster rental companies concerned about risk exposure, LLC status provides liability shielding while allowing owners to retain control and get beneficial tax treatment.
Corporations
C-corporations limit liability for shareholders but face double taxation on profits. Earnings are taxed at the corporate level and again as dividends. S-corp status avoids double taxation but adds complexity with pass-through rules. For small dumpster rental startups focused on growth, the C-corp structure can impede expansion.
5. Register Your Business For Taxes
One key legal step when starting a dumpster rental business is obtaining an Employer Identification Number (EIN) from the IRS. This unique identifier is required to open business bank accounts, apply for licenses, and hire employees.
The EIN application process is straightforward and can be completed online via the IRS website:
Apply for an Employer Identification Number
To obtain an EIN, you will need to provide basic information about your company including name, address, and ownership structure. The online application takes just a few minutes to complete.
At the end, you will be issued an EIN immediately which you can print directly from the website. There is no fee charged by the IRS for obtaining an EIN.
In addition to an EIN, dumpster rental businesses will also need to register with their state revenue department for sales tax collection. The Streamlined Sales Tax Program makes registering for sales tax simpler with a central online registration system.
The sales tax registration steps vary slightly by state but generally involve submitting your EIN, business activities, and owner info, and agreeing to collect and remit sales tax on taxable transactions. Nominal registration fees may apply.
6. Setup Your Accounting
Proper accounting is critical for dumpster rental businesses to maximize deductions, manage cash flow, and avoid IRS issues. Investing in quality bookkeeping and an accountant from the start lays a solid financial foundation.
Apply for a Business Bank Account and Credit Card
Begin by establishing a separate business bank account and credit card. Never co-mingle personal and business finances. Apply for a company credit card using your EIN, with credit limits based on business revenue and assets, not your score.
Accounting Software
Next, implement small business accounting software like QuickBooks to automate tracking income and expenses. Connect bank/credit accounts to sync transactions and reconcile with no data entry. Maintain detailed records for maximum write-offs like truck repairs, gas, dump fees, equipment, marketing, and other operating costs.
Hire an Accountant
Consider hiring a bookkeeper for about $30/hour to handle tasks like monthly close, financial statements, payroll, and bank reconciliations to maximize your deductions.
Come tax time, partner with an accountant to optimize your return. Cost ranges from $500 for personal returns with Schedule C for sole proprietors to $2,000 for business returns for LLCs/corporations. They'll identify tax savings specific to dumpster rental like Section 179 depreciation on trucks and equipment.
7. Obtain Licenses and Permits
Launching a compliant dumpster rental business requires obtaining licenses and permits at both the state and local levels before operations. Find federal license information through the U.S. Small Business Administration. The SBA also offers a local search tool for state and city requirements.
At the state level, commercial motor vehicle licenses are required for drivers operating dump trucks over 26,000 pounds gross vehicle weight rating. The CDL involves both knowledge testing and behind-the-wheel exams. Most states follow federal CDL guidelines with minor variations.
Dumpster rental businesses transporting waste across state lines need USDOT numbers for the Interstate Operating Authority. You'll also need W-9 forms for incorporated entities.
On the local level, businesses must comply with city or county licensing requirements. For example, LA County requires a Solid Waste Hauler Permit for all garbage truck operations along with passing CHP inspections.
Dumpster rental yards require special use zoning permits in many municipalities to allow for industrial activity. Noise restrictions may also apply for late-night dumpster collection/emptying.
Environmental rules come into play for proper dumpster waste disposal. Most states require special licensing and reporting for solid waste management companies under EPA regulations like RCRA.
Additionally, temporary street use permits are often needed for placing dumpsters in public rights of way during construction or remodeling. Storage and operating requirements like fencing height limits may also apply.
The consequences of starting a dumpster rental business without proper licensing can be severe. Truck impound, revoked permits, or civil penalties over $50k are possible in some areas. Beyond legal compliance, acquiring all required licensing legitimizes your business in the eyes of customers.
8. Get Business Insurance
Carrying proper business insurance is crucial for dumpster rental companies to mitigate risk. The right policies protect your company assets and guard against lawsuits that could bankrupt the business.
Without insurance, a few scenarios could lead to financial ruin:
A dumpster truck is involved in an accident that injures another driver. Medical bills and potential lawsuits could exceed $1 million.
An employee has an injury on the job that requires hospitalization and rehab. Workers' comp claims could reach six figures.
A damaged dumpster leaks hazardous waste and causes property damage. Business is liable for cleanup costs.
To avoid these pitfalls, dumpster rental businesses need insurance:
General liability – covers bodily injury, property damage, and personal injury claims.
Commercial auto – protects company vehicles against collision, theft, and damage claims.
Workers' compensation – covers medical care and lost wages for job-related employee injuries.
The process involves requesting quotes from multiple insurance providers to compare coverage and pricing. Be prepared to provide info on your fleet, employees, revenue, client contracts, and operating locations. Leverage an insurance broker to find the optimal policies tailored to your dumpster rental business.
9. Create an Office Space
Having a professional office space lends credibility and efficiency to dumpster rental businesses as they scale. While a home office can work initially, upgrading to a commercial space offers advantages as you add staff and clients.
Home Office
A basic home office is the most affordable option starting around $100/month for a dedicated desk and supplies. It allows meeting with clients by appointment and minimal administrative needs. However, home offices limit growth and professional optics with customers.
Coworking Office
Coworking spaces like WeWork provide turnkey offices for $300-500 monthly per desk. You get amenities like meeting rooms, high-speed internet, and kitchens without long leases. Coworking suits companies with under 5 employees that value flexibility. However noisy environments can impact productivity.
Retail Office
Renting retail space with storefront visibility runs $1,500-2,500 monthly. This is better for dumpster businesses offering customer drop-off. You control the layout and get signage for branding that a virtual or home office lacks. Retail spaces often include utilities but require longer leases.
Commercial Office
Traditional commercial office spaces start around $3,000/month for a few hundred square feet. While more costly, dedicated business offices project professionalism for meeting corporate clients. You control the layout and decor for your brand identity. Expansion is easier within an office building footprint.
10. Source Your Equipment
Launching a dumpster rental business requires acquiring essential equipment like trucks and dumpsters. Entrepreneurs have options to buy new, buy used, rent, or lease to get started:
Buy New
Purchasing new trucks and dumpsters from manufacturers ensures modern, warrantied equipment but carries higher upfront costs. New standard dump trucks like the Ford F-550 run $50k-$75k. Front-loading dumpsters from suppliers like Amrep cost $5k-$7k new in common sizes.
Buy Used
Buying used can significantly reduce initial outlay. Search sites like Commercial Truck Trader and AuctionTime for used dump trucks under $25k. Check for rust and maintenance records. Used steel dumpsters on Craigslist and Facebook Marketplace run $1,000-$3,000 depending on wear. Have a mechanic inspect used purchases.
Rent
Renting dump trucks from companies like Penske allows starting operations without huge equipment purchases. But daily/weekly rates from $150-300 add up fast. Rental dumpsters through The Home Depot offer pickup/drop-off flexibility but a limited selection of types and sizes.
Lease
Leasing trucks through programs like Isuzu Finance offers predictable monthly payments and newer truck models. But leases run 2-5 years locking you into fixed terms. Leasing dumpsters from national chains like Republic Services allows scaling units without huge upfront costs.
11. Establish Your Brand Assets
Creating a strong brand identity is crucial for dumpster rental businesses to attract clients and stand out from competitors. Key steps include securing a business phone system, designing a logo, obtaining branded assets, and building an online presence.
Get a Business Phone Number
A business phone system like RingCentral lends legitimacy with a dedicated local number, call routing, voicemail transcription, and the ability to scale phones as your startup grows.
Design a Logo
Design a sleek logo that reflects your brand identity. Consider an abstract mark or letter mark that evokes reliability, strength, and environmental friendliness. Sites like Looka make professional logo design simple.
Print Business Cards
With logo files, create complementary brand assets like truck decals, uniforms, websites, and signage. Order inexpensive business cards from Vistaprint to network and reinforce your dumpster rental brand at bids and events.
Get a Domain Name
Secure a domain name that's short and conveys your service area, like TampaDumpsterRental.com. Use Namecheap for secure registration and email.
Design a Website
Build a custom WordPress website through Wix focused on local SEO keywords and easy online booking. Or hire a developer on Fiverr for a more robust bespoke site.
Consistent branding across your digital and physical touchpoints boosts recognition and trust in your dumpster rental startup as you scale regionally.
12. Join Associations and Groups
Joining local business associations, networking groups, and industry events accelerates learning and growth for new dumpster rental entrepreneurs through shared knowledge and connections.
Local Associations
Check for a regional Solid Waste Association of North America chapter to connect with established local providers. Joining grants access to vendors, peer mentoring, and regulatory insights. For example, the California Refuse Removal Council offers seminars and community engagement.
Local Meetups
Attending small business meetups and chamber events grows your network. Use Meetup to find gatherings like Green Business Network happy hours or your city's Small Local Business Association meetings.
Facebook Groups
Social media is a great place to network and find like-minded members of the dumpster rental business industry. Some groups to consider include:
These groups provide advice on operations, connecting with clients, and navigating your regional market from seasoned veterans.
13. How to Market a Dumpster Rental Business
Implementing an effective marketing strategy is essential for dumpster rental startups to generate leads and grow their customer base. While digital ads and campaigns have their place, leveraging personal connections and customer referrals is the most valuable approach when launching.
Personal Networking
To start, tap into your existing network by emailing friends, family, and peers about your new business. Offer them a 10% discount on the first rental. Ask satisfied customers to write online reviews and refer others for a free dumpster cleaning. Word-of-mouth is your best asset early on.
Digital Marketing
For digital marketing, focus on:
Search ads through Google Ads targeting keywords like "affordable dumpster rental" in your area. Target contractors, remodelers, and property managers.
Facebook ads geotarget local homeowners doing renovations or repairs. Retarget website visitors.
Create YouTube videos showcasing your service. Embed the video on the website and shared it on social media.
Claim Google My Business listing to show in local search results.
Guest blog for local construction and contractor blogs to build links.
Traditional Marketing
For traditional marketing, options include:
Direct mail postcards to contractors and local businesses promoting your dumpster rental services.
Partner with hardware stores to distribute flyers to customers making purchases indicative of a remodel.
Place ads in local newspapers and magazines like trade publications.
Explore billboards on high-traffic routes near construction zones or commercial areas.
Sponsor events or teams to get name recognition.
The most effective approach combines digital lead generation with personal outreach and word-of-mouth referrals. As your reputation grows, inbound inquiries will increase steadily over time.
14. Focus on the Customer
Providing excellent customer service is crucial for dumpster rental businesses to earn repeat business and referrals in a competitive market. Each client interaction represents an opportunity to create a raving fan.
Start by ensuring seamless booking and fast responses to inquiries. Communicate timelines, charges, and policies upfront.
Go the extra mile in delivery by carefully placing the dumpster where the client requests, even if it requires extra work on your end.
Follow up after delivery to ensure satisfaction. Ask if the size and type selected are meeting their needs. Offer to swap for a different dumpster size if the project scope changes.
Make rental extensions and pickups easy by being flexible on dates and proactively reaching out as the end date nears.
Thank customers after rental completion and ask if they were fully satisfied with the service. Request reviews and testimonials. Offer discounts for referrals to incentivize word-of-mouth marketing.
By providing caring, meticulous service throughout the rental process, customers will trust your business and become brand advocates. One delighted customer could refer dozens of new clients over the lifetime of their relationship.