The meal kit market is booming, with a global value of $15.9 billion in 2022. With an estimated compound annual growth rate (CAGR) of 18.2%, the market should hit $51.2 billion by 2030. For foodie entrepreneurs, now's a great time to enter the market.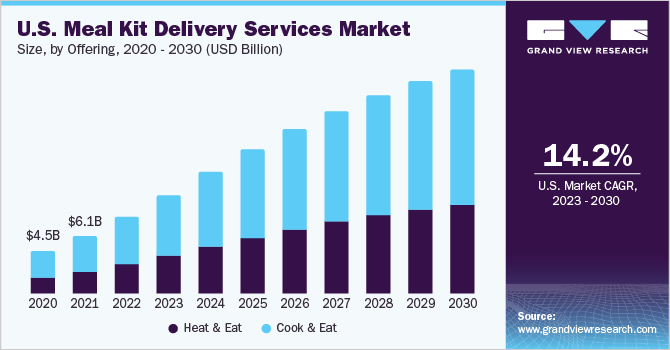 As consumers become increasingly health-conscious and time-strapped, meal prep services that deliver nutritious, pre-portioned meals customized to people's dietary needs and preferences have gained immense popularity. This rapidly growing industry presents a lucrative business opportunity for aspiring entrepreneurs.
This guide will explain how to start a meal prep business. We'll walk you through key steps like crafting a business plan, obtaining licenses and permits, sourcing ingredients, developing recipes and packaging, building a website, and marketing your brand.
1. Conduct Meal Prep Market Research
Market research is essential to learning how to start a meal prep business. It offers valuable insight into popular healthy meals, ways to set up a meal prep website, best fresh food delivery methods, and more. There are two types of market research primary research you conduct yourself, and secondary research when you compile third-party data.
Let's take a look at some of the details you might find during your meal prep delivery services market research.
Target market: Key demographics providing growth opportunities include millennials and higher-income urban professionals.
Niche market: Corporate meal prep delivery represents an untapped market ripe for expansion. Providing employers with healthy catering options can be quite lucrative.
Popular ingredients: Services that provide nutrient-dense options like lean proteins, whole grains, produce and dairy from local, organic sources appeal most to health-conscious consumers.
Diverse plan options: Having menus, recipes, and options tailored to various dietary needs and restrictions (vegetarian, vegan, paleo, keto, etc.) also allows for larger addressable markets.
Ample opportunities exist for entrepreneurs looking to capitalize on busy professionals seeking healthier, convenient meal solutions. With strategic planning around location, target segments, product mix, and marketing tactics, new startups can successfully grab market share in this continuously expanding industry.
2. Analyze the Competition
Thoroughly analyzing the competition is crucial when starting a meal prep business. This helps you identify strategic advantages and areas of differentiation. There are a few major national players like Blue Apron and HelloFresh, but smaller local and regional companies can compete by offering greater customization.
Here are a few ways to get to know your meal prep delivery service competition:
Research online reviews of local competitors on platforms like Yelp and Google to see feedback on their offerings, customer service, and areas for improvement.
Study their website and social media presence for things like branding, marketing messaging, product photography, and engagement levels.
Use tools like SimilarWeb and SEMrush to find data on website traffic, top landing pages, digital ads spend, organic keywords they rank for, social following, and more.
Keyword research using Google's keyword planner shows which terms consumers are searching for when looking for meal prep and healthy food delivery options.
Social listening with tools like Hootsuite uncovers conversations, mentions, complaints, and advocacy surrounding key competitors.
By thoroughly analyzing both local and digital competitors, you gain invaluable intelligence to build a differentiated brand and go-to-market strategy.
3. Costs to Start a Meal Prep Business
When starting a meal prep company, there are a variety of one-time start-up costs to consider before opening for business.
Start-up Costs
Incorporation fees to establish your legal business entity ($50-$500 depending on structure).
Commercial kitchen rent deposit, typically equivalent to 1-2 months rent ($2,000-$5,000).
Kitchen equipment like refrigerators, freezers, ovens, food processors, and cooking utensils ($5,000-$20,000 depending on new vs. used).
Packaging supplies like microwavable containers, lids, labels, and bags ($1,000-$3,000 upfront).
Initial ingredient inventory including proteins, grains, produce, sauces, and seasonings ($1,000-$5,000 depending on menu size and bulk ordering discounts).
Small wares like prep bowls, knives, cutting boards, pots and pans, measuring tools, thermometers, scales, etc ($500-$2,000).
Office supplies and marketing materials to start, like computer, printer, branding, menus, and business cards ($500-$2,000).
Website design and development ($500-$5,000).
Legal fees for permits, food safety certifications, and licenses ($500-$2,000).
Initial hiring and training of 1-3 prep cooks/chefs and delivery drivers if needed ($2,000-$5,000).
Insurance policies include commercial property, general liability, workers comp, food spoilage, and delivery auto insurance ($2,000-$5,000).
In total, most entrepreneurs spend $15,000 to $50,000 in start-up costs before launching their meal prep business.
Ongoing Costs
Commercial kitchen rent ($2,000-$5,000).
Ingredient purchases based on order volume ($3,000 per month initially).
Packaging replenishment ($500 monthly).
Equipment maintenance and replacements ($500 monthly).
Salaries for staff like prep cooks, delivery drivers, marketers, and accountants ($4,000 per month per employee).
SaaS subscriptions like accounting, CRM, inventory, or order management software ($100-$500 monthly).
Digital advertising and marketing services (minimum $500 monthly up to $5,000+).
Insurance premiums ($500-$2,000+ monthly).
Utilities like electricity, water, waste disposal ($500-$2,000 monthly).
Liability insurance renewal ($1,000-$5,000).
Professional services like legal or accounting ($1,000-$5,000).
Equipment repairs or replacements ($2,000).
Marketing campaigns like direct mail or print ads ($1,000 per campaign).
Therefore, entrepreneurs must secure proper financing to cover both initial start-up and ongoing operating costs, which can easily total over $10,000 per month. Precise estimates are based on specific business models, locations, and scales.
4. Form a Legal Business Entity
When starting a meal prep company, one key legal decision is choosing your business structure. The four main options each have advantages and disadvantages to weigh.
Sole Proprietorship
A sole proprietorship is the simplest structure with no formal registration needed beyond permits. However, the owner is personally liable for all business debts and legal actions. This substantial risk makes a sole proprietorship ill-advised for the food industry given potential foodborne illness and customer injury liabilities.
Partnership
Partnerships like a general partnership or LP allow multiple owners to share resources and liability. But similar to sole proprietors, general partners remain fully personally liable. Limited partners have liability protection but limited control. Disagreements between partners can also doom companies. The informality of partnerships makes them a poor choice for larger meal prep companies.
Corporation
A corporation provides limited liability protection for shareholders but requires extensive record-keeping and corporate formalities. The complex setup and "double taxation" on profits make a C corporation unappealing for small meal prep businesses.
Limited Liability Company (LLC)
For most meal prep startups, forming a limited liability company (LLC) offers the best of all worlds. LLC owners benefit from personal liability protection while retaining tax simplicity and flexibility for structuring the ownership, control, and profit-sharing of the business.
LLCs allow for customized management and profit-sharing arrangements between multiple co-owners through contractual operating agreements. This facilitates taking on business partners and delineating responsibilities.
5. Register Your Business For Taxes
One key legal task when starting a meal prep business is obtaining an Employer Identification Number (EIN) from the IRS, even if you don't plan to hire employees yet.
An EIN acts like a social security number for your business for tax and banking purposes. It is required to open business bank accounts, apply for business licenses, and file taxes for your LLC or corporation.
Applying for an EIN is free and easy to do online at IRS. The online application only takes about 10 minutes to complete.
First, review the eligibility requirements and gather information like your LLC or incorporation documents. Then begin the online application, providing basic information about your business entity, owners/members, and reason for the EIN.
Submitting online provides your EIN immediately upon approval. Just be sure to print or save the confirmation page for your records.
In addition to your federal EIN, contact your state revenue or taxation department to register for state and local business sales tax collection. This allows you to legally charge and remit sales tax on meal prep orders and purchase ingredients/supplies tax-free with wholesale exemptions.
Online registration for state sales tax is also quick and usually free. Have your EIN and LLC/corporation documents ready. The state will determine if you need to pay registration fees based on estimated annual revenue.
Once approved, you will receive a state sales tax ID number or certificate. Display this prominently on your website and invoices per state regulations. File and remit sales tax payments monthly or quarterly.
Proper legal formation of your business entity combined with an EIN and sales tax registration establish compliance and credibility for your meal prep startup. Consult an accountant to ensure you fulfill all ongoing IRS and state tax obligations as well.
6. Setup Your Accounting
Proper accounting is crucial for meal prep startups to track finances, maximize deductions, and avoid IRS issues. There are many accounting options for an online meal prep business, including:
Accounting Software
With frequent transactions for ingredient purchases, sales, and expenses, using accounting software like QuickBooks streamlines bookkeeping. Linking QuickBooks to your business bank/credit card accounts and invoice/sales platforms allows for seamless, automated tracking of payments in and out.
Hire an Accountant
While accounting software provides excellent self-serve capabilities, partnering with an accountant optimizes financial oversight for your meal prep company. A qualified accountant provides services like:
Monthly reconciliation of accounts and financial statements
Accurate tracking of operating costs and cost of goods sold
Catching and reclassifying any erroneous transactions
Tax planning for end-of-year deductions and profit optimization
Filing quarterly sales tax returns
Compiling year-end paperwork for your annual tax filing
Representing you in any IRS audit
Expect to invest around $200 to $500 per month for an accountant on retainer managing your bookkeeping and taxes. Come tax season, they will also prepare and file your business returns for roughly $500-$2,000 depending on complexity.
Open a Business Bank Account
Maintaining completely separate finances for your business and personal accounts is also key. Do not combine funds or pay business expenses from personal cards. Open a dedicated business checking account upon obtaining your EIN, and apply for business credit cards as well.
Apply for a Business Credit Card
Business cards based on your company's credit profile typically offer higher limits than personal cards. This provides easier access to credit for larger purchases like inventory orders. Make all purchases related to the meal prep company strictly on the business accounts.
7. Obtain Licenses and Permits
Before serving your first meal prep order, it is crucial to have all required business licenses and permits in place at the federal, state, and local levels. Find federal requirements through the U.S. Small Business Administration. The SBA also offers a local search tool to find state requirements.
At the federal level, you will need a Food Facility Registration from the U.S. Food and Drug Administration (FDA). This involves submitting details on your facility and food storage/preparation processes so you can be inspected for compliance with federal food safety regulations. Registration is typically $500 annually.
The Occupational Safety and Health Administration (OSHA) also requires a Certificate of Operation to confirm your commercial kitchen meets standards for equipment safety, food handling procedures, employee training, hazardous chemical storage, and other occupational health protocols.
Work closely with an experienced food industry contractor or architect to ensure your kitchen setup adheres to all FDA food codes and OSHA facility regulations.
At the state and local level, key licenses and permits include:
Business license ($50-$200 annually)
Food handler and manager training certificates ($15-$50 per person)
Food service sanitation permit ($200+ annually)
Local fire department kitchen inspection/approval ($100+ one-time)
Water runoff management authorization
Food composting/waste permits
Some states like California and Texas also require food safety manager certificates demonstrating your expertise in safe food prep, handling, and storage practices.
If selling packaged foods or cooking oils, you may need state health department approval of your labels and packaging. Depending on location, additional niche permits related to catering, food trucks, farmers market booths or custom requirements for meal delivery may apply.
Confirm tax compliance at state and city levels by registering for required sales tax collection and submission based on your business activities and locations.
8. Get Business Insurance
Business insurance is crucial protection for meal prep companies given the high risks inherent to food service operations. Lack of proper coverage can lead to financial ruin if sued, so securing policies before opening is critical.
For example, a batch of contaminated ingredients could sicken customers. Without product liability insurance, you must pay their damages yourself. Or a kitchen fire attributed to faulty equipment destroys your premises. Without adequate property coverage, repairs come out of pocket. Even a slip-and-fall accident in your storefront leaves you responsible for medical bills without the right liability plan.
The good news is obtaining business insurance is straightforward if planned proactively. Policies to strongly consider include:
General liability to cover injury lawsuits, property damage, and food contamination incidents.
Commercial property to protect your premises, equipment, and inventory from damage/theft.
Product liability for when meal prep foods cause illness or injury.
Workers compensation for managing employee injuries.
Commercial auto for your delivery vehicles.
First, assess your risks and required policy minimums based on the business model, size, and locations. Then request quotes from multiple providers like The Hartford, Travelers, State Farm, and local agencies. Compare coverage and pricing. For cost efficiency, consider bundling general liability with property and other policies.
To apply, you will need your business legal name and contact information, EIN, business license, estimated revenue and valuation details, and claims history. Also provide your desired policy types, limits, and deductibles.
9. Create an Office Space
While meal prep operations are centered around the commercial kitchen, having a proper office space facilitates administrative work, meetings, and food storage/shipping.
Home Office
A home office allows startup founders to save on costs by leveraging existing space. However, distractions from family members and disconnect from kitchen staff can hamper productivity. Still, it's a fine temporary option. Expect costs for desk, computer, phone, filing cabinets, and supplies ($2,000).
Coworking Office
For collaboration and professionalism, a coworking space like WeWork provides office amenities and community without a long-term lease. With month-to-month commitments, the flexibility supports evolving space needs as your company grows. Expect to pay $300 to $800 monthly per desk.
Retail Office
Retail office space connected to your storefront kitchen allows customers to ask questions or customize orders in person. This builds relationships through face-to-face interaction. If renting, negotiate with the landlord to include office square footage with your kitchen lease.
Commercial Office
Leasing dedicated commercial office space nearby gives room for staff workstations, storage, shipping, and meetings while avoiding kitchen distractions. Expect monthly costs of $1,000 to $5,000 depending on location and square footage needs.
10. Source Your Equipment
A commercial kitchen requires an extensive array of equipment and small wares for meal prep businesses to operate efficiently. From ovens and refrigerators to knives and mixing bowls, you have multiple acquisition options:
Buy New
Purchasing brand-new equipment from retailers ensures full warranties and longevity for maximum upfront investment. Restaurant supply stores like WebstaurantStore provide commercial-grade ranges, ventilation, prep tables, and refrigeration for $5,000, with steep discounts on bulk orders.
Buy Used
Buying quality used equipment through auctions, classifieds or resale sites cuts costs substantially. Check commercial kitchen liquidators, Facebook Marketplace, Craigslist, and eBay for deals on gently used tools like high-powered blenders, food processors, and induction burners for $200.
Beware of certain health code restrictions on purchasing used refrigeration, cookware, or plating. Inspect items carefully before purchase.
Rent
Renting select small wares provides flexibility for trying new tools before committing long-term. Consider renting additional cold storage space, ovens, or prep equipment to meet seasonal volume spikes or test products instead of overbuying supplies. Event and rental companies like Taylor Rental charge $100 per day.
Lease
Leasing major equipment through programs like Alliance Capital and National Leasing spreads payments over time while conserving upfront capital. This facilitates obtaining those expensive $10,000 convection ovens, walk-in freezers, or dishwashers. Compare lease terms like length, payment amounts, and buyout clauses.
11. Establish Your Brand Assets
Developing a strong brand identity and assets helps meal prep startups craft a distinctive, recognizable image that resonates with target customers. This facilitates building engagement and loyalty for the company.
Get a Business Phone Number
Acquiring a professional business phone line via providers like RingCentral lends legitimacy and provides a centralized contact number for all locations and personnel. Expect to invest $30 to $80 monthly for a local or toll-free number with call routing and voicemail features.
Design a Logo
Creating a visually striking logo with services like Looka ensures brand consistency across platforms. Consider an illustrative, typographic, or abstract design aligned with your company vision. Expect to pay $70 to $500 for creation of logo files optimized for web/print use.
Print Business Cards
Business cards from Vistaprint provide convenience for networking, sales, and marketing. Expect 500 cards for $20-$50 depending on design, print quality, and extras like foil stamping.
Interior and exterior signage, menus, and promotional flyers further expand brand exposure, with Vistaprint offering poster banners from $20 each.
Register a Domain Name
Register a domain name that matches your brand's name or positioning using providers like Namecheap. Expect to pay $12 to $20 annually. Some best practices include keeping it short, selecting a .com extension and avoiding hyphens or hard-to-spell words.
Design a Website
Building a custom website via user-friendly DIY platforms like Wix establishes an online hub for customers. Expect to invest $10 to $30 monthly for hosting and access to templates, graphics, and SEO tools. Alternatively, hiring web developers on marketplaces like Fiverr costs $500 to $5,000 for custom coding and design.
12. Join Associations and Groups
Joining relevant local organizations and online communities provides invaluable connections and insights for meal prep entrepreneurs. Surrounding yourself with fellow business owners leads to mutual support, idea exchanges, and access to proven strategies.
Local Associations
Seek out local associations like the American Culinary Federation with state and regional chapters to network with fellow chefs, caterers, and restaurateurs. Joining as a business partner provides discounts on training, events, and visibility.
Local Meetups
Attend local in-person and virtual meetup groups related to meal prep, food business, and entrepreneurship using sites like Meetup. Connect with like-minded founders and employees of complementary businesses.
Facebook Groups
Industry-specific Facebook groups like the Meal Delivery Business and MEAL PREP Ideas – Inspirations – Support enable crowd-sourcing tips on recipe development, packaging, pricing, and managing workflows.
Local community Facebook groups can also provide customer outreach, recipe requests, guerilla marketing opportunities, and obstacles to building your thriving meal prep enterprise.
13. How to Market a Meal Prep Business
Implementing an effective marketing strategy is crucial for meal prep companies to drive brand awareness, acquire new customers, and boost revenue. While leveraging personal connections provides an initial customer base, establishing diverse digital and traditional channels will facilitate scalable growth.
Offer Referral Rewards
Start by incentivizing your happiest customers to promote your business through referrals. Offer a free week of meals for every new customer they refer. This turns satisfied patrons into brand advocates.
Digital Marketing
For digital marketing, effective tactics include:
Search engine optimization to improve website visibility for relevant searches like "healthy meal delivery Los Angeles"
Google Ads campaigns with landing pages tailored to services like vegetarian, keto, or paleo meal plans
Retargeting ads on Facebook and Instagram to re-engage website visitors
Email nurture sequences that guide subscribers through becoming a customer
Social media content highlighting new menu items, specials, and nutrition tips
Customer rewards programs within email and mobile apps
Influencer collaborations with health and wellness bloggers, personal trainers, and chefs
Reviews and testimonials from delighted customers on platforms like Facebook and Yelp
Traditional Marketing
For traditional approaches, options like:
loyalty punch cards for repeat business
local newspaper, radio, and TV ads during food programming
direct mail postcards showcasing seasonal recipes and delivery options
flyers and menus at gyms, offices, and apartment complexes
sponsoring local events and 5K races related to health and fitness
booths at farmers' markets and community fairs during peak meal prep seasons
can effectively raise awareness, although typically at higher costs per lead/customer.
A smart meal prep marketing strategy combines digital visibility and conversions with select traditional channels suitable for the target audience. Focus on retaining and incentivizing existing patrons while implementing data-driven tactics to attract and convert new leads into loyal customers.
14. Focus on the Customer
Providing exceptional customer service is crucial for meal prep companies to foster loyalty, gain referrals, and boost growth. Some ways to show your meal prep delivery business customers you care include:
Thoughtfully solving issues like missing items or inaccurate orders breeds appreciation.
Follow up with calls to address problems, offer credits, and learn how you can improve.
Surprising clients on special occasions with personalized extras like birthday meal vouchers or anniversary desserts shows you care.
Seeking customer feedback regularly through surveys and reviews enables continually improving offerings and processes based on actual input.
Train all team members on embodying your service commitment in every interaction. Empower them to resolve complaints quickly.
Exceptional customer service cements meal prep patrons as brand devotees who return again and again while recommending you at every opportunity. This loyalty and advocacy organically grows your most valuable asset: a thriving community of customers.