The party rental business industry is constantly expanding. In 2022 the market reached $12.38 billion with a projection of 14.8a % compound annual growth rate (CAGR) from 2022 to 2030. This could bring the market to $37.54 billion by 2030.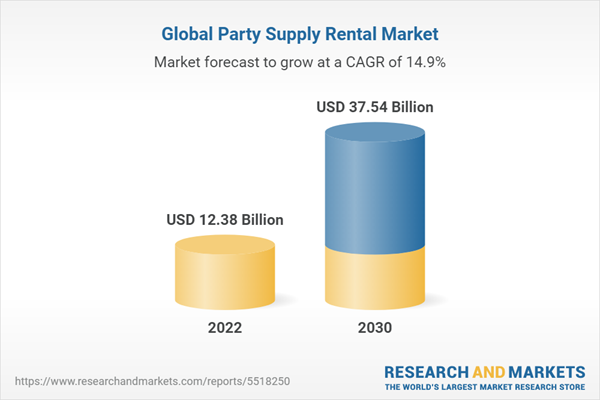 In this guide, we'll discuss how to start a party rental business. Topics include investing in party rental business insurance, registering an EIN, opening a business bank account, conducting market research, and more. Here's everything you need to know to start your own party rental business.
1. Conduct Party Rental Market Research
Market research is important for party rental businesses. Market research provides insight into your target market, local market saturation, trends in services among party rental companies, and other important details of starting a successful party rental business.
Several factors are driving this growth:
As the economy continues to improve, consumers are spending more on events like weddings, reunions, birthday parties, and corporate events.
There are currently 2.1 million weddings annually, which is expected to rise.
The experiential event trend means people want unique party rentals.
Consumers, especially millennials, are choosing to spend disposable income on experiences and events rather than material goods.
Corporations are investing more in branded events.
Companies are using experiential events like product launches, press events, client hospitality suites, and holiday parties as marketing tools.
The types of party rental equipment with the highest profit margins include linens, dishes, lighting, tents, furniture, games, and photo booths.
The party rental industry is highly fragmented, with over 90% of businesses having revenue under $10 million.
There are relatively low barriers to entry in the party rental business. Startup costs range from $20,000 to $100,000 depending on inventory and location.
In summary, the party rental industry exhibits strong growth potential thanks to several converging trends. Opportunities exist for startups to launch with a niche specialty as well as for established companies to expand through M&A activity.
2. Analyze the Competition
Thoroughly analyzing the competition is crucial when starting any business, and party rentals are no exception. Competitive analysis helps you develop pricing strategies, service plans, and other important aspects of an event rental business.
Here are some tips on assessing competitors both in your local area and online:
Research rental companies in your geographic radius.
Drive around and note their location, signage, facility appearance, and inventory.
Go undercover as a customer.
Call or visit local companies to get quotes, observe customer service, and examine rental contracts.
Review online listings and websites.
Analyze their search visibility, website quality, photos, offerings, pricing, and online reputation.
Search social media platforms. Look for rental companies on Instagram and Pinterest to see their following, engagement, visual brand identity, and content marketing.
Check Facebook and read reviews. Negative reviews can provide insights into common complaints to avoid.
Enter competitor names to get data on their digital footprint and marketing traction.
By thoroughly analyzing both local and online competitors, you can identify common pain points to solve and areas where competitors are falling short. With this competitive intelligence, you can position your new company to stand out.
3. Costs to Start a Party Rental Business
Starting a party rental company requires an initial investment to acquire your inventory, secure equipment transportation, lease a facility, and cover initial operating expenses.
Start-up Costs
Typical start-up costs for a party rental business range from $30,000 to $100,000. Some of these costs include:
Inventory The bulk of your startup budget will go towards your rental inventory which can cost anywhere from $10,000 to $70,000 depending on the mix of items.
Basic party and event furniture like tables/chairs ($5,000), linens ($5,000), tents ($10,000), and lighting ($5,000) make up the core.
Specialty rentals like dishes ($5,000), games ($2,000), bars ($4,000), and photo booths ($10,000) add variety. Start small and add more specialty inventory once established.
A box truck or trailer will be needed to transport rentals to events. Options include buying a used truck ($15,000), financing a new one ($30,000+) or leasing a vehicle ($300+ monthly).
Factor in branding/wrapping costs if purchasing.
Ongoing Costs
The size of your warehouse will dictate costs, but plan for $2,000 per month for 1,000-3,000 sq. ft. Registering your business legal structure (LLC or S-Corp), permits, accounting software, insurance, etc. can cost $2,000-$5,000 upfront.
In addition to the fixed costs above, here are some of the ongoing monthly expenses to factor into your budget:
Rent/mortgage for warehouse space: $2,000+
Utilities like electricity, internet, etc: $500+
Vehicle leasing or finance payments: $300+
Liability and property insurance: $150+
Bookkeeping services: $200+
Advertising: $500+
Credit card processing fees: $100+
Website hosting, CRM, subscription software: $150+
It's also important to budget annually for maintenance and repairs for rental inventory, replacing damaged items, and investing in new inventory. Most rental equipment lasts 3-5 years with proper upkeep. You should see profits increase as the business scales and costs stabilize.
4. Form a Legal Business Entity
When starting a party rental business, one of the first legal steps is choosing the right structure for your company. The four main options each have pros and cons to weigh for a business owner's situation and goals.
Sole Proprietorship
The simplest structure is where you and the business are one entity. However, for party rentals, the owner is personally liable for any business debts, lawsuits, or claims. This is very risky especially since customers, venues, and vendors are involved. Not ideal for growth.
Partnership
This allows multiple owners to share management, skills, and investment. For party rentals with co-founders, it can ease startup. However, each partner is fully liable for the actions of the other putting personal assets at risk. Profit sharing should be outlined via partnership agreement but disputes can arise.
Limited Liability Corporation (LLC)
This is one of the most popular structures for small businesses today. It protects personal assets from business liabilities and debt. Taxes are passed through to owners avoiding corporate taxes. For party rentals, an LLC limits risk while allowing the flexibility of a partnership.
Startup and operating costs are low. Multiple members can be added over time. Overall an excellent choice for limiting liability with a new rental company.
Corporation
Forms a separate legal entity from owners offering the highest level of protection. However, corporate taxes apply lowering profitability. Extensive record-keeping and reporting is required. For a small party rental company, the extra costs and paperwork of a corporation far outweigh the liability protection benefit of an LLC.
5. Register Your Business For Taxes
One of the crucial legal steps for any party or wedding rental business is obtaining an Employer Identification Number (EIN) from the IRS. This unique number identifies your business for tax purposes and is required to open business bank accounts, apply for licenses, and hire employees.
As a party rental company, you must get an EIN even if you plan to operate as a sole proprietorship or freelancer. The process is fast and free through the IRS website.
Here is a step-by-step guide to applying online:
Gather information – Have details like your name, address, Social Security Number, business name, and structure ready.
Visit the EIN Assistant – Go to the link above and click "Apply Online Now" to be walked through the application.
Answer questions – Answer basic questions about your business. The assistant will determine eligibility and the type of EIN needed.
Provide contact info – Add your personal information such as name, SSN, address, and phone number.
Get instant EIN confirmation – After submitting, you will instantly receive your EIN via email and online.
The entire process takes less than 15 minutes in most cases. The EIN is issued immediately so you can move forward with the next steps like opening business bank accounts right away.
Once you have your EIN, check your state and local requirements for sales tax permits. Most jurisdictions require registering for tax collection if selling products or rentals even if based from home. Fees are typically minimal.
6. Setup Your Accounting
As a party rental company, meticulous bookkeeping and accounting right from the start is crucial. With frequent transactions, inventory management, and depreciation, staying on top of the financials will save major headaches at tax time.
Here's how to set up a bulletproof system:
Accounting Software
Implement small business accounting software like QuickBooks. This will be your central hub for tracking income, expenses, profits, and taxes. Connect it to your business bank and credit card accounts to automatically import and categorize transactions. Run reports and get real-time visibility into the financial health of your rental company with QuickBooks.
Hire an Accountant
Hire an accountant, at least for year-end filing. A qualified accountant can set up your software and systems initially, then provide ongoing services like quarterly reconciliations, sales tax filings, and compiling your annual tax returns.
Expect to invest around $1,200 – $5,000 based on involvement. At a minimum, engage an accountant annually for tax preparation to handle deductions and depreciation properly. This provides helpful documentation if ever audited.
Open a Business Bank Account
Separate personal and business finances completely. Open a dedicated business checking account that you only use for rental company transactions. Never co-mingle personal and business money. Get a business credit card solely for company expenses. This simplifies accounting, prevents misuse of funds, and protects your assets.
Apply for a Business Credit Card
Apply for a business credit card to build a credit history. As a new venture, you can get approved for starter cards with modest $500 – $2,000 limits based on your score. Use it for all company spending and pay it off fully each month. Within 6 months you can request an increase. Avoid high-interest personal cards.
7. Obtain Licenses and Permits
Before renting out any equipment or hosting events, it's crucial to make sure your party rental business has the proper licenses and permits. Find federal license information through the U.S. Small Business Administration. The SBA also includes details on state and city regulations through its local search tool.
Business License: Nearly all jurisdictions require obtaining a general business license to legally operate. Fees are generally $50 to $100 annually. The application process helps confirm your business is following zoning ordinances and will collect/remit required taxes.
Sales Tax Permit: If selling or renting taxable goods, you must collect and pay sales tax in most states. You'll need a sales tax permit which requires registering with your state department of revenue. In some cases, you may also need to collect local sales taxes.
Food Service Permit: If serving food at hosted events, states require a food service license or catering permit. This verifies you are following health codes for transporting, handling, and serving food safely.
Fire Safety Permit: Using lighting, sound equipment, generators, or other electronics at events typically requires a fire safety permit. Some counties also require them when storing flammable items like fuel or propane at your facility.
Liquor License: To provide alcohol via a cash bar or as part of catering, obtain the proper liquor license or permit from your state's alcohol board. Rules vary widely, so review regulations carefully if offering alcohol.
8. Get Business Insurance
Operating a party rental business comes with substantial risks that make business insurance an absolute necessity. Being underinsured – or not insured at all – leaves you financially vulnerable. The right coverage protects your company's assets and livelihood.
General liability insurance covers costly accidents like a guest injury, damaged rental equipment, or third-party property damage. Without it, you'd pay all claims out of pocket – even one could bankrupt a small business.
Umbrella insurance provides additional liability coverage beyond policy limits for extreme accidents or lawsuits. This added protection is affordable and prevents catastrophic losses.
Three examples of devastating scenarios without proper insurance:
A tent collapses in high winds injuring a dozen wedding guests. Lawsuits and medical bills exceed $500,000.
A faulty fog machine catches fire at a school dance, damaging the gym floor. The repair cost is $150,000.
Delivered dishes are dropped ruining a corporate event. The client sues for the lost contract value of $350,000.
To get insured, first assess your risks and coverage needs based on inventory, employees, locations served, etc. Compare quotes from multiple commercial insurance providers. Lock down a policy before your first rental transaction.
Follow these steps to getting insured:
Determine necessary coverage types and minimum policy limits based on potential risks.
Get quotes from at least 3 insurance providers such as Progressive, Geico, The Hartford, etc.
Select a policy with ideal coverage, limits, and premium cost.
Complete the application and provide business details as required.
Put your active policy in place before conducting business.
Don't wait – unforeseen accidents can quickly destroy an uninsured venture. Safeguard your party rental business with comprehensive policies.
9. Create an Office Space
Having a professional office space can give your party rental company credibility and provide a productive base of operations. The right option depends on your budget, location needs, and how you intend to use it.
Home Office
A home office is the most affordable option starting under $100 for a basic desk and supplies. It works if you primarily meet clients onsite and only need minimal administrative space. However, it can appear unestablished and be distracting if you have kids or roommates.
Coworking Office
Coworking spaces like WeWork provide an upscale office environment with business amenities and community. Expect to pay $300-$800 monthly for a dedicated desk or office depending on location. While more expensive, the flexibility, networking, and lack of overhead are appealing for startups.
Retail Office
If renting a retail storefront, consider adding a back office of 500+ sq ft for $1,000-$1,500 monthly. This gives you space for client meetings, phone calls, and computer work protected from warehouse noise. Highly useful if customers visit your facility.
Commercial Office
For larger teams and established companies, leasing space in a Class A office building starts at around $3,000 monthly. While costlier, you get spacious, modern suites to meet, work, and potentially house inventory. Prestige can reinforce your brand.
10. Source Your Equipment
A key startup step for any new party rental entrepreneur is acquiring an inventory of quality equipment. The good news is there are many options to secure essential items at reasonable prices without huge upfront investment.
Buying New
Purchasing brand-new tables, chairs, linens, dishes, tents, etc. provides modern durable gear but is the priciest option. Check event supply retailers like PartyTime Rentals, Taylor Rental, and Prestige Events, or buy in bulk from overseas manufacturers.
Buying Used
Gently used equipment bought at a fraction of retail offers savings off new inventory prices. Search Craigslist, Facebook Marketplace, and auction sites for local sellers and estates liquidating surplus gear. Inspect condition closely before purchasing.
Renting
Some specialty electronics like sound systems, photo booths, and games can be rented on a per-event basis when needed. This limits storage requirements in your warehouse. Check competing rental companies or national chains.
Leasing
Consider an equipment lease for core large ticket items you use frequently like tents and staging. This spreads payments over time rather than one lump sum. Be sure to negotiate fair monthly rates and ownership terms after the lease ends.
11. Establish Your Brand Assets
Developing a strong brand identity is crucial for any new company seeking to stand out. For party and event rental businesses, a polished and recognizable image conveys professionalism and builds trust with clients.
Get a Business Phone Number
Get a unique business phone number from a provider like RingCentral to present a credible presence. Use it consistently on all platforms.
Design a Logo
Create a logo that represents your brand personality and style. Services like Looka offer affordable custom design options from minimalist to elaborate. Explore versions before finalizing one that feels authentic.
Print Business Cards
With a logo set, build out supporting brand assets and templates with the same styling. Business cards from Vistaprint make introducing yourself simple. Signage on your vehicle, warehouse, or at offsite events reinforces public awareness.
Always have business cards on hand when meeting potential clients, vendors, or partners. Be prepared to present yourself professionally and share contact details efficiently.
Buy a Domain Name
Buy a domain name that aligns with your brand name and use it for your website and email addresses. Short, simple domains from sites like Namecheap increase memorability.
Design a Website
Building a high-quality website establishes your business and attracts new customers. Use DIY platforms like Wix for basic sites or hire a skilled web developer on Fiverr for a custom solution.
Consistent and strategic use of your brand assets builds familiarity and trust in the marketplace. Invest time upfront in cultivating a polished brand image for your party rental company. This forms the foundation for all marketing and customer acquisition efforts moving forward.
12. Join Associations and Groups
Joining relevant local organizations and online communities can provide invaluable connections and insights as a new party rental entrepreneur. Surround yourself with others who understand the industry's unique challenges and opportunities.
Local Associations
Seek out local associations like the American Rental Association chapter in your state. Attend trade shows to connect with other owners and vendors. These groups offer training, advocacy, and peer discussion forums.
Local Meetups
Actively participate in local business meetups and networking events to meet fellow entrepreneurs. Use sites like Meetup to find regular gatherings focused on small business owners, startups, and the events industry.
Facebook Groups
Look on Facebook for regional party rental groups to join. The Florida Party Rental Network and Midwest Event Professionals have thousands of engaged members. Pose questions and learn from seasoned owners nationwide.
Introduce yourself and establish your brand within Facebook Groups like:
Making connections locally and online helps fuel continuous learning. Obtain advice on the equipment, skills, and knowledge needed to prosper. Surrounding yourself with supportive experts provides confidence and community as you build your rental business.
13. How to Market a Party Rental Business
Implementing an ongoing marketing strategy is essential for gaining new customers and expanding a party rental company. With so many options, focus on a mix of digital promotion and word-of-mouth referrals to efficiently build your brand and bookings.
Local Networking
Leveraging your connections and asking satisfied clients for referrals are the most powerful ways to organically grow, especially when starting. Offer loyal customers a 10% discount on their next rental for anyone they refer who books an event.
Digital Marketing
Create Google and Facebook ads targeting local couples planning weddings and event planners. Include a coupon code for 10% off their first rental.
Build an Instagram feed showcasing beautiful event setups using your rentals. Hashtag your city name and industry terms to increase local visibility.
Launch a TikTok channel demonstrating quick decor and tablescaping tips using your products. Entertain and educate potential customers.
Start an email newsletter providing party planning advice alongside promotions for your rentals. Offer subscribers 5% off coupon codes.
Traditional Marketing
Design eye-catching print flyers and mail them to families in affluent zip codes announcing your new rental company.
See if local wedding shops will put up a poster or allow you to place flyers promoting your event rental offerings.
Sponsor a local festival, 5K, or food drive to get your name out to the community.
Run radio spots on local stations 1-2 months before peak wedding season reminding couples to book their essential rentals.
Rather than trying every marketing option, focus on 2-3 core strategies that align with your brand and audience. Measure results and double down on the most effective channels driving conversions.
14. Focus on the Customer
Providing exceptional customer service must be a top priority for your party rental company. How you interact with clients directly impacts your referrals, reviews and repeat business. Some ways to improve customer focus in your party rental business include:
Start by ensuring seamless communication via phone, email, and chat. Respond promptly to inquiries with thoughtful assistance.
When customers visit your rental facility, greet them warmly and offer to guide them through options. Answer all questions knowledgeably and make recommendations based on their needs.
Aid clients in finding the right tables, chairs, linens, and decor to create their dream event within budget. Go the extra mile to make them feel taken care of.
Follow up post-event to collect feedback and help troubleshoot any issues. Show that you truly care about their satisfaction. Offer a discount on their next rental as a token of appreciation.
Providing this level of service earns you loyal supporters who enthusiastically recommend you to their networks. One thrilled mother of the bride can easily refer a dozen future weddings your way.
Stellar customer service also drives up reviews on Google, Facebook, WeddingWire, and event rental sites. These social proof testimonials attract new local customers.
Aim to wow each client with your attention to detail, responsiveness, and passion for exceeding expectations. In the party rental industry, your dedication to customer service creates major word-of-mouth buzz.