According to Grand View Research, the security industry is on the rise. With a compound annual growth rate of 8.0% from 2023 to 2030, the market will reach 225.21 billion globally by 2030. This makes 2023 a great time to get in on the ground floor.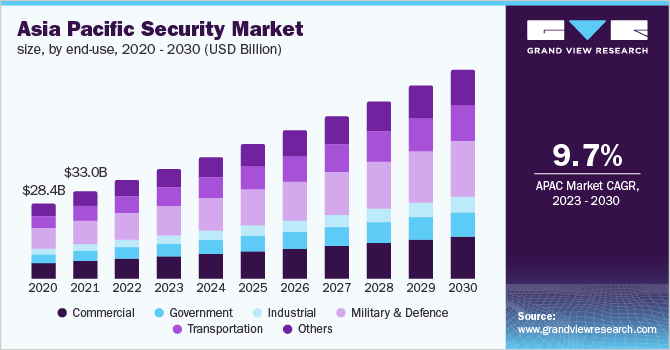 Security is always a necessary industry. From residential and commercial to industrial and cyber security, it's a constantly evolving field.
This guide is designed to offer insight into the ins and outs of starting your own security company. Building a business from the ground up takes research, equipment sourcing, and the legal creation of a business entity. We'll cover all this and more, let's get started.
1. Conduct Security Company Market Research
Running a successful security company means knowing what's going on in the current security sector. Market research helps you create a realistic business plan. There are two kinds of market research to conduct—primary and secondary.
Primary: Primary market research is research you perform yourself. This includes scoping out potential office buildings and equipment, talking to other security companies, and polling local home and business owners about their current security setup.
Secondary: Secondary market research is research performed by someone else and accessible to you. This might include things like government statistics on the local security sector or information from top security equipment providers.
Some of the information you're looking for during this research period includes:
Local crime rates on break and entry and theft
Target customer demographics
New security equipment offerings
Popular security services in the area
This information helps you choose security services, products, and even the type of customers you want to serve. It's integral to the creation of a security company.
Choosing the Right Services for Your Security Company
The services you offer help set you apart from local competitors in the security industry. You want to provide products and security services other companies aren't offering. Or, you want to provide them in a new way that makes you stand out.
Some of the most common security service offerings include:
Security audit and consulting
Security guards
Video surveillance
Smart locks
Smart doorbells
Alarms
Loss prevention
Event security
Mobile security guards (in patrol cars)
Private security services
The services you offer depend on the customers you serve. Residential customers will look for different products and security services than corporate customers. Similarly, you may choose to offer mobile services for special events, loss prevention at stores, and community or business patrols.
Your market research will help you decide which is the best avenue, or if you should pursue them all.
2. Analyze the Competition
With your initial market research complete, it's time to analyze your competitors. This is a big step in learning how to start a security guard business or other security company. It's another factor to building a realistic business plan.
Competition tells you a lot about how your business might look, the way you should price services, and even the services you should offer. For a security company, competition is generally local.
One of the first things to look at in terms of other security guard companies is market saturation. How many security companies are in your city or state? This helps you decide where to set up shop, and whether you should cater to residential or business customers, or both.
The more saturated your market is, the more competitive the industry becomes in your area. Marketing strategies become more important when saturation is high to build your brand and create a following.
Some ways to analyze competitor security guard companies involve:
Visiting security companies in person
Checking social media accounts for customer engagement
Reading online reviews
Talking with customers of other security brands
Using these methods helps you set goals and standards for your own brand and develop outreach efforts of your own.
There are many security brands that have staked a claim on the U.S. market. Here are some of the most successful security companies in the country.
Vivint is a leader in home security systems, although they offer business services as well. Some of their top services include custom security system installation, 24/7 monitoring, senior alert systems, and vehicle alarms.
Another big player in the security sector is ADT. ADT offers personal and home security, business security, senior security, commercial security, and solar products. They use SMART Monitoring technology to enhance security reactions by eight times.
SimpliSafe focuses not only on burglary and vandalism but emergency alerts as well. Systems are monitored 24/7 with alarms for fire, CO2, and water leaks. The monitoring team notifies 911 for homeowners in the event of an emergency.
3. Understand the Costs of Starting a Security Company
The age-old adage, "You must spend money to earn money" is well-earned in the security industry. With start-up costs and ongoing fees, you need a considerable nest egg to get started. Here we'll go over some of the common costs security businesses encounter.
What Does It Cost to Start a Security Company?
Starting a security guard business or other security company comes with many unforeseen costs. When you think of security, you may think of guards, cameras, and alarms, but this comes with additional fees. Most states require security businesses to be certified and trained. All these things need to go into your business plan.
You could spend somewhere between $75,000 and $250,000 depending on the business model, employees, office, and other details. Some of the major costs involved are:
Employee wages
Security uniforms
Licensure and certification
Insurance
Equipment
Web domain and site design
Marketing
Administrative and office supplies
Legal fees
Accounting fees
You may also choose to invest in a franchise, rather than starting your own business. SHIELD is a frontrunner in security franchising.
To run a franchise, franchisees must have experience in business management, a $250,000 minimum net worth, and a minimum of $75,000 in liquid assets. Franchise fees of $40,000 and an investment of $75,000 to $125,000 are also required.
Business Equipment/Materials
The equipment used in the security industry is extremely specific. From smart locks and surveillance to senior alerts and physical site monitoring, there is a range of materials required. Some of the most common security supplies needed are:
Employee uniforms: $100 per uniform
Motion-activated floodlight camera: $200 to $250
Doorbell camera: $180 to $200
Outdoor day/night camera: $180
Peephole camera: $100
Driveway alarm: $100 to $250
Window and door break alarm: $15 to $30
Adjustable door bar: $40 to $50
Office equipment: $800 to $1,500
Software: $50 to $300
Office furniture: $1,000 to $3,000
Patrol vehicle: $15,000 to $30,000
There are many places to source wholesale security equipment. Wholesale Home and The Home Security Superstore are good spots to start. Try Uline for office supplies and furnishings.
Cost of Leasing a Location
Leasing a commercial space is often calculated by square footage. These costs will vary depending on your state and city. You may see ads stating, "$20 per square foot". If the office in question is 1,000 square feet, you'll pay $20,000 a year before taxes and fees.
Business Formation
Equipment and office space aren't the only things on your list as a new business owner. Security companies need to register their businesses with the Small Business Administration. Expect to pay between $300 and $800 to register your name and apply for permits.
Business Insurance
Another administrative requirement of a new security business is insurance. Business insurance protects you from liability claims if your services or products cause harm to a person or their property.
When learning how to start a security company, this is an important step. It protects your personal assets from inclusion in legal matters related to said claims.
Utilities
You can't operate a security company without electricity. Utilities, including power, water, heat, internet, and telephone are must-haves for any U.S. company. Utility costs differ from state to state. Most businesses will spend 4% of their annual budget on utilities.
What Are the Ongoing Costs of a Security Company?
We covered startup costs, but there are also ongoing expenditures for a security business. These include any financial obligations which remain ongoing throughout the life of your business. Some of the most common ongoing costs are:
Utilities
Employee wages
Marketing
Training
Rent
Web maintenance
Business cards and office supplies
Inventory
Equipment maintenance
Insurance
Fuel for security guards' vehicles
You may also pay ongoing costs for janitorial staff if it's not included in the contract for your commercial space.
4. Form a Legal Business Entity
All U.S. businesses are required to form a legal entity. There are four main entities to choose from including a Limited Liability Corporation, Partnership, Sole Proprietorship, or Corporation. Most security companies will choose to form an LLC. Here's a breakdown of the different entities:
Limited Liability Corporation (LLC)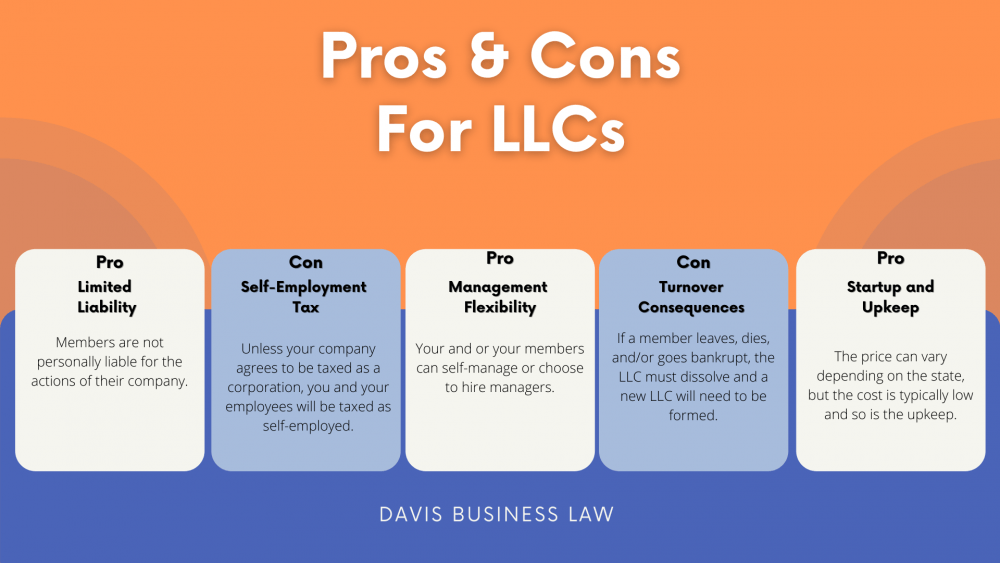 LLCs are a beneficial choice for a small business owner. They give maximum power over decision-making within your business without personal liability. LLCs separate your personal and professional wealth, ensuring personal assets aren't targeted for business losses.
Sole Proprietorship
A sole proprietorship is an entity designed for a business with a single owner (or a married couple owning a business together). While it still gives decision-making power to the owner, it doesn't protect your personal assets. If your business suffers financially, your personal wealth could be at stake.
Partnership
Partnerships operate much like sole proprietorships but for more than one business owner. You see a lot of partnership entities for family-run businesses. It spreads out decision-making power among owners. Like a sole proprietorship, however, it leaves your personal wealth open to risk.
If your company declares bankruptcy, your personal assets may be used as collateral.
Corporation
Forming a corporation is a fine idea for large companies. Small businesses don't reap as many benefits. While a corporate entity is strong, it's also complex. They protect your assets the way an LLC formation does, but require lengthy paperwork and are expensive to register.
5. Register Your Business for Taxes
Registering a name and business entity aren't the only administrative requirements to starting a security company. You'll also need to register an Employee Identification Number or EIN. This is sometimes referred to as a Tax ID because you need an EIN to file business taxes.
EIN applications are processed through the U.S. Small Business Administration. With your EIN in hand, you can file taxes, pay employees, and even open a business bank account.
6. Setup Accounting for Success
Accounting is an important step in the creation and growth of a company. Your security business needs to manage more than client safety. You also need to manage your finances, both incoming and outgoing.
Accounting processes can be brought in-house, but this is costly and time-consuming. Fortunately, there are a few options to streamline the process and save time and money.
Accounting Software
Selecting high-quality accounting software allows you to delegate much of the base accounting processes to AI. Receive filing reminders, finance reports, invoice receipts, and more through your software dashboard.
A leader in the accounting software industry is QuickBooks. They provide multiple accounting packages depending on your company's needs and budget. Some of the features accessible through the software include job costing, bill management, payroll, and cash management.
Find an Accountant
QuickBooks does a lot for small businesses, but there are some things only an accountant can do. Tax season is just one example of the ways a live accounting service is a benefit to your security firm.
It's best to hire an accountant from an outside company to work during tax season and balance other bookkeeping with software. Hiring an in-house accountant is costly.
Working with an accountant guarantees all finances are managed and filed according to state and federal laws. Accountants are aware of compliance guidelines and help ensure there are no legal issues in your filing.
Avoid an audit and work with a certified accountant to avoid mistakes. You'll likely pay somewhere around $400 an hour for an accountant.
Get a Business Bank Account
A business bank account is just good business. Mixing personal and professional funds is a recipe for disaster. The IRS advises U.S. business owners to open a business account to keep finances clear and reduce confusion.
Some of the main benefits of a business account include:
Accountability
Financial organization
Convenience
Accurate reporting
Opening a business bank account helps keep mistakes from happening, and this makes your life easier.
Apply for a Business Credit Card
Like a business bank account, a business credit card is a good way to separate personal and professional finances. Business cards also come with benefits, personal cards don't. Low APR, larger cash-back and other rewards, and business-specific advantages.
As you use your business credit card, keep track of expenditures and payments. It may be registered through your business, but it is still reflected in your personal credit score.
7. Obtain Business Licenses and Permits
Opening a security company in the United States may require special permits which vary by state. For example, in California, you're required to have a Private Patrol Operator License if you plan on offering security guards in patrol vehicles and personnel as part of your services.
The SBA's website is a useful tool for finding local permits. Search by state, city, and zip code to find your own local regulations on licensure like the private patrol operator license requirement.
The U.S. Small Business Administration also advises on federal licenses and permits required by business owners. There are no permits required at the federal level for a security company, so be sure to check your state laws for guidance.
8. Get Business Insurance
No business should operate without insurance. There are different insurance products available for security companies.
Commercial Property: Commercial real estate coverage runs somewhere between $1,000 and $3,000 for $1 million in protection. This protects you from liability if someone is hurt or property is damaged on the premises of your commercial property.
Commercial Vehicle: Vehicle insurance costs around $2,000 to $3,000 annually for $1 million in coverage. It covers the cost of repairs and medical bills if your commercial vehicle is at fault in a collision causing injury or damage.
General Liability: General liability insurance is a must-have for a security company. It costs between $300 to $1,500 a month for $1 million in protection. It protects you if products or services cause injury or damage to customers or their property.
Business insurance protects you, your company, and your employees from financial implications during certain legal and safety issues. It's a critical step in business formation.
9. Create an Office Space
A security company requires office space to operate out of. Your office acts as a home base for operations where staff connects with customers, and you can process administrative duties. Some security companies may also want a storefront to make sales in.
There are many options for office setups to add to your business plan. Here are a few of the most common places to set up your security office.
Home Office
Home offices became extremely popular during the COVID-19 pandemic, and are still used by many business owners today. Home offices are beneficial because there are no extra rent fees, no contracts to sign, and the IRS offers deductions for tax purposes.
Home offices come with many incentives, including:
IRS tax deductions include a maximum of $1,500 annually. You can calculate your deduction at $5 per square foot of office space, or by adding up individual expenses, such as:
Renovations
Mortgage
Travel
Utilities
Check with the IRS website for home office qualifications before getting started.
CoWorking Office
Another office option for a security company is coworking. Coworking offices are a little like timeshare vacation spots. They let you share costs and locations with others seeking offices. You use the office during your designated time slot and pay a fraction of the cost.
One of the best places to look for a coworking space is WeWork. WeWork provides several office options, including private, semi-private, and shared spaces. They have offices available across the U.S.
In-Store Office
You may want to set up an office there if you have a storefront for your security business to sell products and services. Many retail properties have additional rooms to use as break rooms, storage, or office spaces.
Commercial Building Office
The last option for a security company is a commercial building office. This is a good option if you don't have a retail property and want to work exclusively from your office. Commercial offices are extremely professional, but the price reflects this.
Commercial spaces charge by the square foot, as we noted above. Prices vary by location, size, and amenities.
10. Source Your Equipment
With all the administrative duties out of the way, you'll need to source some security equipment. There are two main ways to obtain the products needed to get started, new or used.
Buy New
New security equipment is often the best route to take. It's guaranteed to have a longer life span, and require less maintenance. On the other hand, it's more expensive. To buy new security equipment look for retailers like The Systems Depot or The Security Source Inc.
You may also want to source office furniture and supplies new from suppliers like National Office Furniture or even Ikea.
Buy Used
Buying used is attractive for a new small business. It allows you to spend less on equipment as you get started. Keep in mind, you may need to update and maintain this equipment more frequently. Some customers may also be nervous about accepting older security supplies.
Office furniture, patrol vehicles, and other generic supplies, however, can be sourced used and work just fine.
Some places to seek used supplies for your security company are Craigslist, Facebook Marketplace, and used car dealerships in your area.
11. Establish Your Brand
In security, your brand means a lot. Customers associate protection and security with your brand. To build a reliable brand, you need some smart marketing and a big focus on developing your company image.
Some of the ways to stand apart in a saturated security market include:
Get a Business Phone Number
A business phone number looks professional and keeps you organized. It prevents you from mixing personal and professional calls and keeping track of customers, business investors, partners, and other individuals on the professional end of things.
Obtaining a business line is easy. You can add one through a major phone company like AT&T or T-Mobile. We recommend checking out Google Voice. Google Voice provides a variety of business line options for as low as $10 a month. It also lets you access business calls from your phone, tablet, laptop, or any other device connected to Google.
Create a Logo & Brand Assets
Your logo is the image customers associate with your brand. It can include words, images, colors, and textures. Keeping logos simple but relevant is the best way to create a memorable image for customers. One of the best places to develop your logo is Looka.
Looka uses top-of-the-line AI technology to design your logo based on your personal preferences. Scroll through colors, images, shapes, and other premade logos and Looka will show you which best match your choices.
Create Business Cards and Signage
Once you have a logo you can print signs and business cards. Vistaprint is great for this. Like Looka, Vistaprint helps create business cards based on your own tastes and preferences. Sort through other business cards, colors, layouts, and logos to find the perfect fit.
Vistaprint will then print and mail you your business cards, stationery, signs, labels, and even merchandise like clothing and bags.
Purchase a Domain Name
The world has gone online and so must your security company. Creating a domain name is a big part of going digital. Your domain should be relevant to your brand, maybe your company name. A .com is a good choice for an authoritative and professional-looking site.
There are lots of places to obtain a domain name. Namecheap.com is an affordable option for startups. Choose a name for as low as $6 a year.
Build a Website
With your domain name in hand, it's time to build a website. Accessibility and ease of use are the two main points of focus here. You want customers to easily find you, access your site, and navigate without issue.
There are many web designers out there eager to share their skills. For a small business looking to save money try freelancer sites like Fiverr, or build your own site with templates from brands like Wix.
12. Join Associations and Groups
Being new to the security industry, joining groups and associations can be a major advantage. This offers access to advice and experiences from others in your field.
There are plenty of ways to network. Some of the major associations for security companies in America are the Security Industry Association and the National Association of Security Companies.
Local Associations
While national associations are useful, local associations offer more in-person instruction. Look for local groups, or start your own in the hopes of finding security professionals willing to gather and share tips and experiences.
Local Meetups
Meetups like security conventions, or security equipment trade shows are a great way to connect. One tool you can use to find these events is Meetup. Meetup lets you search for nearby events by city, zip code, and meeting type. If you can't find one, you can make your own event and list it on Meetup.
Facebook Groups
Don't disregard the power of social media. If you can't find associations in person, Facebook Groups are a good alternative. Search for groups catering to security business professionals in the U.S., or globally.
Some of the top Facebook Groups for security professionals include:
As with Meetups, you can make a security company group if you don't find what you're looking for.
13. Focus on Marketing
A new security company is virtually unknown. To build your brand and develop a following of loyal customers, you need a solid business plan and some good marketing behind your company. This helps obtain much needed security contracts.
Marketing comes in all shapes and forms. As a new company, you may not have a lot of money or resources to put into early marketing efforts. Fortunately, there are many ways to get your brand out there and begin the marketing experience.
Ask Friends, Family, and Coworkers
It's not a complex marketing solution, but it works. Word-of-mouth marketing is a long-used method of advertising. Your friends, neighbors, and loved ones already want to see you succeed. They're the best place to begin your word-of-mouth efforts.
Some ways your family and friends can get involved include:
Liking and sharing your business on social media
Leaving online reviews
Recommending you to coworkers and friends of friends
Handing out your business cards or brochures
The more people you get involved in this venture, the greater the results. You might be surprised at how successful this strategy is for early marketing.
Digital Marketing Ideas
You made a website with a custom domain name, you may as well use the internet to help you market your brand. Digital marketing includes things like:
Social media contests
Blog content
QR codes on business cards or mailers
Email newsletters
Exclusive online discounts
Another way to market yourself online is simply by engaging with consumers. Comment to other users online, interacting with individuals and businesses you might serve in the future.
Traditional Marketing Ideas
Despite the effectiveness of digital marketing, there's still a place for traditional marketing methods. Traditional marketing involves tangible advertising efforts, such as:
Word-of-mouth marketing
Business cards
Bus signs
Bench signs
Billboards
Mailers
Catalogs
For security companies, another traditional marketing method may include a grand opening party. Invite potential clients to see your products and what you offer in person.
Traditional marketing is effective because it leaves a lasting impression. Tangible sources you can see, hear, and touch in person are harder to dismiss than emails and social media ads you can delete or scroll past.
14. Focus on the Customer
Without customers, a security company won't go far. You depend on clients to grow your business and earn new customers along the way. A security business needs to be trusted and prove itself against competitors. By focusing on your customer you can gain loyalty.
Some ways to engage with customers and earn their trust include:
Loyalty programs
Polls for preferred services and products
Deals and exclusive offers for new and returning clients
Local in-person events to meet and greet staff and develop rapport
As a local company, you have an advantage over large national brands. You're right there in the community, living alongside the neighbors you protect. Show them how important it is that you know the area, the houses and businesses in the area, and why that enhances your ability to protect.
Wrapping Things Up
Throughout these 14 steps, we've emphasized the need to develop your company through administrative and legal tasks, grow your brand through marketing efforts, and engage with your customers.
We hope this has been useful to you in your journey as you learn how to start a security company.