Businesses without an Oklahoma registered agent service may use the Secretary of State as a registered agent until locating a replacement. Some Oklahoma business owners choose to be their own registered agent, but this can be quite time-consuming, and limits the privacy of document delivery.
Throughout this guide, you will learn more about the top registered agents in Oklahoma, what they do for local business owners, as well as an FAQ follow-up.
What Is the Best Registered Agent Service in Oklahoma?
The Oklahoma Senate requires all businesses in-state to acquire a registered agent service. The registered agent provides a permanent business address for official mail, including correspondence from the Secretary of State, along with:
Government documents
Legal forms
Tax documents
To become a registered agent, the individual or business must have the following:
Normal business hours of 9 am to 5 pm Central Standard/Daylight Saving Time)
A mailing address in Oklahoma (No P.O. Box addresses)
Oklahoma is home to a booming business sector. Fortunately, there is an assortment of registered agent services in the state to support the expanding business landscape. Here are some of our top recommendations for Oklahoma registered agents.
Best Overall Registered Agent in Oklahoma ($125/year)
One popular Oklahoma registered agent service is Northwest Registered Agent. The company is the best overall choice for the area in price, services, security, and consistency.
Northwest Registered Agent offers a full range of registered agent services, including receiving and forwarding correspondence, immediate uploads, and notifications of mail, along with compliance alerts. They also help clients start new businesses and offer free legal forms.
This is a great choice for small startup LLCs, large corporations, and even nonprofit organizations. While Northwest Registered Agent is highly regarded in Oklahoma, there are pros and cons to their registered agent services, including:
Pros
New Customer Benefits: Newly registered Northwest Registered Agent customers receive additional benefits, including 60 days of free phone services.
5 Free Forwards: Get the first five mail forwards free.
Privacy by Default®: Northwest Registered Agent's unique Privacy by Default® feature guarantees your company data is safeguarded, and never shared or sold.
Local Corporate Guides®: Access to a professional corporate guide in Oklahoma.
Compliance tips: Filing and compliance tutorials.
Cons
$100 in service charges: If you choose to form your business through Northwest Registered Agent there's a $100 service charge.
Extra forwarding costs: After your initial 5 free forwards, companies pay an additional fee to forward mail.
Pricing
Registered Agent Service ($125/year): For $125 per year customers have access to all basic Northwest Registered Agent services in Oklahoma. This includes ongoing 24/7 customer service and document uploads.
Some extra costs you might encounter are:
Legal trademarking services – $499
On-call legal team – $9/month
$20/month for premium mail forwarding
---
Best Oklahoma Registered Agent Service for Startups ($0-$299/year)
If you're a new business owner, Zen Business might be the registered agent for you. This is a great Oklahoma registered agent service for startups, or small businesses looking to expand and grow. Some of the services you can expect with Zen Business include:
Web design
Business banking
Domain name
EIN registration (Federal Tax ID)
Zen Business offers a 100% accuracy guarantee and fast filing on all official correspondence. From accounting and tax forms to legal claims, Zen Business alerts you to important documents, so business owners never miss a beat.
Pros
Affordable: Zen Business is an affordable Oklahoma registered agent service. They offer one year free when you register your business for $49.
Online access: A proprietary customer dashboard provides ongoing access to all your important documents.
Multiple packages: Three different packages (Starter, Pro, and Premium) provide customer coverage depending on your needs.
Cons
Paid compliance alerts: Unlike other Oklahoma registered agent services, Zen Business compliance alerts aren't included. Business owners pay an additional fee for reminders.
Expensive: The premium package is $299/year.
Pricing
Registered Agent Service ($0 to $299/year): Prices for Zen Business Oklahoma registered agent services are as follows:
Starter – Free (lowest filing speeds)
Pro – $199/year (quick filing speeds and operating agreement)
Premium – $299/year (fastest filing speed and add-on features including website design)
---
Best Oklahoma Registered Agent Service For Compliance Reports ($99/year)
As the name might suggest, Harbor Compliance specializes in compliance and compliance reporting. All Oklahoma business owners taking advantage of registered agent services have access to free annual compliance reporting.
Another benefit of the brand is the steady pricing. Unlike registered agent services charging up to $299, Harbor Compliance has a steady fee of $99 per year. This cost is set through the duration of your contract.
Like other local registered agents, the team at Harbor Compliance has a unique digital user platform. All correspondence is uploaded for immediate viewing and alerts are issued so you know you have mail. Avoid compliance-related issues, and maintain privacy in all official business mail with Harbor Compliance.
Pros
Pre-filled forms: Fast access to your online portal and pre-filled forms for convenience.
Free reporting: The free annual compliance alerts are one of the top benefits of Harbor Compliance.
Cons
Filing fee charge: Customers hoping to perform state filing with Harbor Compliance are charged an additional fee to file in Oklahoma.
No refunds: Harbor Compliance is affordable, but has no money-back guarantee. If you don't like the services you receive, there's no way to retrieve your investment.
Pricing
Registered Agent Service ($99/year): The harbor Compliance rate is $99 per year for a single-year contract. Oklahoma business owners who sign up for multiple years may receive a 5% to 10% discount.
---
Best Registered Agent in Oklahoma For Limited Liability Corporations ($99/year)
Inc Authority is the top choice for new LLCs. They'll help you form an LLC or grow your business with customizable registered agent services. The first year is free with a $99/year price point following your initial year.
Inc Authority focuses on reducing junk mail by sorting through business correspondence and uploading/forwarding only what you want to see. Get instant access to documents through your online account, and receive paper copies of important forms forwarded to an address of your choice.
Inc Authority specializes in finance. They offer several separate business services, such as a business credit service, funding analysis, and tax planning.
Pros
24-hour uploads: All digital copies of business mail are available within 24 hours of receipt.
Local Support: U.S.-based support agents are available 7 days a week.
Cons
Lack of reporting: While they shine in other areas, Inc Authority lacks in annual reports. This creates more work for you as a business owner.
Restrictive services: To partner with Inc Authority as your Oklahoma registered agent, you must form your business with them.
Pricing
Registered Agent Service ($99/year): Ink Authority prices are mid-range in terms of cost. The first year of service is free, and $99 annually following your intro year. There's no charge for business formation.
---
Best Registered Agent in Oklahoma For Top Tier Customer Service ($119/year)
Inc File is a leader in customer service, with bilingual support for English and Spanish-speaking customers. At $119 annually, they range in the middle of registered agents for price and provide all the required services of an agent.
Oklahoma business owners use a local Inc File address for business correspondence. This increases the security and privacy of mail, keeping prying eyes from noticing legal documents or other potentially embarrassing forms.
Inc File also offers a "first-year free" policy, with 24/7 access to a bespoke customer platform. Digital documents remain available, and physical forms can be forwarded to the direct business address.
Pros
Bilingual service: Customers of Inc File can count on English or Spanish customer service representatives. This makes it easier for business owners and their employees while managing official correspondence.
Extra Business Services: The team at Inc File goes above and beyond. On top of registered agent services, they also provide certificates of good standing, business tax services, and help with foreign qualifications.
Cons
Standard support times only: While Inc File maintains the required hours of support for registered agent status, the window closes after 6 pm Monday to Friday.
Pricing
Registered Agent Service ($119): Customers who register their LLCs receive a free first year of registered agent services. Annual fees are $119 after the first year.
---
Best Registered Agent in Oklahoma for Staying Penalty-Free ($149.99/year)
Rocket Lawyer pays close attention to detail, specifically, those details that impact compliance. Rocket Lawyer specializes in legal compliance. They monitor client businesses for potential penalty risks and ensure you meet deadlines with compliance alerts.
Rocket Lawyer serves Oklahoma business owners as registered agent, receiving and forwarding official mail. They upload documents upon receipt for immediate digital access. The company also helps business owners register LLCs.
Registered agent services through Rocket Lawyer promote discreet mail management. Nobody can see legal documents as they arrive, and any forms you want to deal with in person are forwarded. All received correspondence is met with an alert to let you know there's new mail to view online.
---
Best Registered Agent in Oklahoma For Additional Legal Aid ($0 to $279/year)
Like Rocket Lawyer, Legal Zoom is a registered agent with a focus on legal aid and compliance. They provide various services focused on legal support, including their, "Ask an Attorney" feature. Legal Zoom also offers all the standard registered agent services Oklahoma businesses have come to expect, including:
Receipt of official mail
Mail forwarding
Scanning and uploading documents to online account
Customer service is available during standard Oklahoma business hours
Legal Zoom has three differently priced packages as a registered agent, including Basic, Pro, and Premium. Each comes with its own bespoke features, such as tax alerts, unlimited cloud storage, attorney access, compliance alerts, and more.
For Oklahoma businesses hoping to maintain compliance and avoid awkward mail issues, Legal Zoom is a great fit. They also help plan and orchestrate annual state filing.
---
Best Registered Agent in Oklahoma For Proprietary Software ($87/year)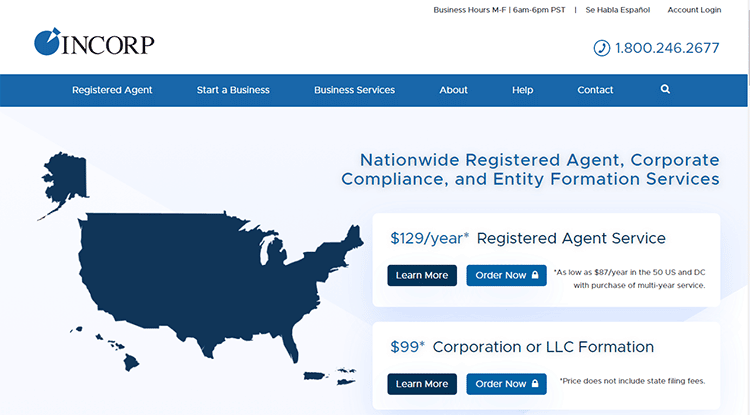 InCorp is one of the top registered agents in Oklahoma for advanced business software. Their digital support is top-tier, with proprietary EntityWatch® software for correspondence delivery and real-time notifications on compliance.
InCorp provides 24/7 digital access to documents and customer support. They charge $89 per year with standard and advanced service offerings, including:
Security updates
Privacy control
Mail forwarding
All this comes with the standard registered agent services required for all businesses in Oklahoma. No prying eyes on legal documents or state correspondence to worry about. InCorp sorts and uploads all mail so you're organized and updated at every turn.
---
Best Registered Agent in Oklahoma Transparent Cost Strategy ($100/year)
Rapid Registered Agent is open and honest when it comes to cost. The company prides itself on fee transparency, promising:
No hidden fees
No upselling
No price change
The team at Rapid Registered Agent charges $100 per year for standard registered agent services. This provides an online account for document scanning, uploading, and sorting. The portal also sends instant notifications by email so Oklahoma business owners always know when new mail arrives.
Any required physical documents are forwarded, and there's no restriction on the number of recipients. This opens the door to sending business mail to your home or a P.O. Box while maintaining state laws on business correspondence.
---
Best Oklahoma Registered Agent Service For Reliability ($199/year)
Swyft Filings is known for their fast replies and reliable customer service. Availability is normal business hours from 9 am to 5 pm in Oklahoma, but they go above and beyond in terms of:
Correspondence receipt
Updates and alerts
Compliance notifications
Swyft Filings charges a $199 annual flat rate as Oklahoma registered agents, with additional fees for optional services, such as:
Name changes
Foreign qualifications
Company amendments
Change of registered agent service
Annual reporting
Fees vary by service. Annual filing requires the business owner to pay state fees plus an additional $99.
---
Best Oklahoma Registered Agent Service For General Registered Agent Service ($49/year)
The name says it all. Oklahoma Registered Agent offers some of the best standard registered agent services in the state. They get to the point with official mail receiving, forwarding, and uploading for only $49 a year.
Oklahoma Registered Agent makes things easy with pre-populated information on state filing forms and other required documents, like:
Oklahoma Secretary of State mail
Oklahoma Department of Revenue documents
Department of Licensing forms
No fumbling with Oklahoma registered agent data on official correspondence. They take care of that part for you, relieving you of additional duties. As they say on their website, "We have no hidden fees, no forwarding fees and we don't do anything weird."
---
Best Oklahoma Registered Agent For Global Focus ($299/year)
CSC Global has a strong international advantage as a resident agent. They operate globally, helping businesses around the world. For businesses receiving international mail, or wanting international qualifications CSC Global can help.
CSC Global also provides additional business services, such as:
UUC search and filing
Business license
Corporate filing
The CSC Global brand has been active in the resident agent field for more than 120 years. They combine their proprietary SOC 2® software and CSCNavigator® portal for a heightened user experience. This provides easy access to all correspondence, compliance reminders, and file alerts as documents are filed online.
Best Oklahoma Registered Agent Service For Form Access ($75/year)
Resident Agent LLC provides clients with invaluable business tools within their form library. Forms include pre-filled templates and more for quick and easy annual business filing. To keep you from forgetting, they also send biennial statement reminders.
The cost of working with Resident Agent LLC as an official resident agent is $75 per year. Your digital portal is accessible immediately after subscribing. This lets you see all scanned and uploaded documents, whether they're being physically forwarded or only filed digitally.
If your business operates out of a P.O. Box address, Resident Agent LLC has you covered. They set you up with your official mailing address right away, making all your LLC registration simple and within compliance regulations.
What Is an Oklahoma Registered Agent?
An Oklahoma registered agent is an individual or business providing services of mail receipt and forwarding. In Oklahoma, a registered agent is required for all formal business correspondence, including:
Legal documents
Letters from the Secretary of State
Tax forms
State documents
Professional registered agent services often offer online customer portals. Documents are scanned and uploaded for viewing and notifications are sent via email to alert customers to new mail.
How Can an Oklahoma Registered Agent Help Your Business?
Oklahoma business owners are required by state law to partner with a registered agent service. Apart from the legality of it all, there are many benefits to a registered agent, such as:
Notifications
When new documents appear in your customer portal, registered agent services send an alert. These alerts might arrive by email or text message depending on your preference. There are also notifications for annual filing and compliance-related needs.
Discreet Mail Delivery
Privacy is one of the greatest benefits of any registered agent service. The mail is delivered to a third-party address, not your office where clients, investors, or partners might see things like:
Lawsuits
Debt collection notices
Government fines
It also discreetly files away all your other documents and forms.
Selective Delivery
Much like the junk mail filter on an email account, your register agent weeds out spam mail and flyers. Only business mail is kept, sorted, uploaded, and forwarded for your review.
No Missed Mail
Mail comes in stacks daily for growing Oklahoma businesses. Business owners might drop the ball, and lose things in the mix of work.
The focus as a business owner should be the business, not the mail. For a professional registered agent, your mail is their business. You can rest assured all mail is received, filed, and uploaded as soon as possible.
Is a Registered Agent Legally Required in Oklahoma?
According to the Oklahoma Secretary of State website, all Oklahoma businesses require a registered agent. The agent can be an individual or an entity as long as they operate within normal business hours and have a civic address, not a P.O. Box.
Oklahoma Registered Agent Q&A
Throughout this guide we shed light on registered agents in Oklahoma, why they're needed, what they do, and which are best. Here, we'll answer a few of the most frequently asked questions on the topic of Oklahoma registered agents.
How Much Does an Oklahoma Registered Agent Cost?
Professional registered agent services in Oklahoma vary in price. Many offer the initial year free and range in cost from $49 to $299 annually. Add-on services for international qualifications, annual filing, change of agent, and more may cost extra.
Can I Be My Own Registered Agent in Oklahoma?
Certainly, you can act as your own registered agent, so long as:
Your business address isn't a P.O. Box
You're able to correspond between the normal business hours (9 am and 5 pm Monday to Friday)
The downside to this is that you spend more time managing mail and less time running your business. Many Oklahoma companies choose to hire a professional registered agent service to avoid the added responsibility and maintain privacy.
Can a Company in Oklahoma Change Its Registered Agent?
Yes, absolutely. Any company in Oklahoma can change its registered agent service. To do so, you must file a "Change or Designation of Registered Agent" form with the Secretary of State. There is a $25 filing fee. Many professional registered agent businesses also offer agent changes as a service.
How Long Does It Take to Get an Oklahoma Registered Agent? 
Activating an Oklahoma registered agent service is usually immediate. The address and digital support become available right away. Any forms to be filed for a change of agent or physical address may take a few weeks to process.
Being your own registered agent service might take longer to initiate. You must file your paperwork with the Secretary of State and wait for approval. If you're changing from a service to being your own registered agent, there is also a form to file and processing time to consider.