All Oregon-based businesses require a registered agent for official correspondence. The registered agent must be; available during standard business hours in Oregon, located at a registered office address (no P.O. boxes).
According to the Oregon Secretary of State, an Oregon business owner can act as their own registered agent. Many choose not to due to the time-consuming nature of the job.  In this guide, we'll take a closer look at the services offered by registered agents, the best registered agents in Oregon, and some frequently asked questions.
What Is the Best Registered Agent Service in Oregon?
Registered agents receive and forward official documents, including:
Tax forms
Legal paperwork
Government documents
Correspondence from the Secretary of State
A third-party registered agent service provides a layer of discretion between business mail and prying eyes. It ensures customers never see potentially embarrassing documents sitting in their mailboxes.
Oregon has a population of more than 4 million residents with over 120 thousand businesses. That's a lot of companies in need of a registered agent or registered agent service. Fortunately, Oregon business owners have access to some of the top agents in the state, including:
Best Overall Registered Agent in Oregon ($125/year)
Northwest Registered Agent is a top registered agent service in Oregon. Recognized as a top contender in everything from price and customer service to security and availability, they provide a range of services.
Northwest Registered Agent is a wise choice for LLCs and small businesses. The company provides a registered mailing address for official correspondence. This ensures all mail is kept private, and nothing gets missed.
All mail is sorted, scanned, uploaded, and even forwarded to a secondary address of your choosing. Northwest Registered Agent manages legal forms, letters from the Secretary of State, government documents, and more.
Pros
5 mail forwards: Newcomers can forward documents to a secondary address 5 times for free. Further forwarding service comes at a cost.
Proprietary privacy: Most registered agents promise privacy but Northwest enhances the offer with their proprietary Privacy by Default® service. They promise all documents are handled with discretion, and company data is never sold, shared, or left unattended.
60 days free phone: New customers of Northwest Registered Agent receive a variety of exclusive benefits, including 60 days of free phone service.
Professional Oregon guides: Local Corporate Guides® provides access to a professional business liaison in Oregon.
Cons
Service charges: Northwest Registered Agent offers business formation services. If you choose to take advantage of them, there's a $100 service charge.
Forwarding fees: The first 5 mail forwards are free. After these freebies, there's a cost for mail forwarding. All documents are still uploaded as digital copies.
Pricing
Oregon Registered Agent Service ($125/year): Northwest Registered Agent service fees are reasonable. Customers pay $125 per year for 24/7 customer service and unlimited document uploads.
Extra client fees include:
Trademarking services – $499
Legal team (on call) – $9/month
Premium mail forwarding – $20/month
---
Best Registered Agent in Oregon for New Small Business Owners ($0-$299/year)
Zen Business really puts the zen in owning an Oregon-based business. Its Oregon registered agent services are straightforward and easy to manage. They also supply a myriad of additional business services for startups, such as:
Business banking management
Domain name registration
Web design
EIN registration (Employee Identification Number/Federal Tax ID)
Zen business gives clients a guarantee that all document management and uploads are handled with 100% accuracy. This reduces the risk of compliance failure and keeps you in the know.
Pros
Unlimited online access: Stay connected to all your essential documents with unlimited access to your personalized digital profile.
Only $49 a year: Zen Business offers one of the most affordable annual fees for a registered agent in Oregon. Receive all standard Oregon registered agent services for only $49 per year.
Different price options: Choose between starter, pro, and premium registered agent service packages. There's something for every budget.
Cons
Costly compliance reminders: Customers who want compliance alerts must pay extra to be notified.
Costly: With the premium package running $299/year, Zen Business is more expensive than most other Oregon registered agent services.
Pricing
Oregon Registered Agent Service ($0 to $299/year): Registered agent prices for Zen Business come in three unique packages:
Starter – Free (slow filing)
Pro – $199 annually (faster filing + operating agreement)
Premium – $299 annually (fastest filing + website design services)
---
Best Registered Agent in Oregon For Compliance Alerts ($99/year)
Oregon business owners can rest easy with Harbor Compliance in their corner. The registered agent service specializes in compliance alerts and reporting.
Harbor Compliance offers the first free registered agent services for the first year. Clients pay $99 annually following the initial year.
Throughout your contract with Harbor Compliance, clients are treated to standard registered agent services such as mail:
Forwarding
Scanning
Uploading
Storage
Alerts are sent immediately upon a new correspondence update, making it easy to stay on top of important documents.
Pros
Pre-filled forms: Compliance Harbor prefills forms with their registered agent information. This makes it easy to access and complete documents for enhanced compliance.
Free alerts and compliance reporting: Harbor Compliance takes compliance regulations seriously. All clients receive updates, alerts, and compliance reports.
Cons
Zero refunds: Harbor Compliance has a no-money-back policy. If you're unhappy with the registered agent services, your funds are forfeited.
Filing costs: There's no free filing with Compliance Harbor. All Oregon business owners pay to file on top of the state filing fees. Pricing
Pricing
Oregon Registered Agent Service ($99/year): Harbor Compliance prices are right in the middle as far as an Oregon registered agent service goes. For $99 annually, business owners receive standard registered agent services with additional compliance features.
Oregon customers also benefit from discounts on multi-year contracts. Save 5% to 10% when you sign longer contracts.
---
Best Registered Agent in Oregon For LLCs ($99/year)
For business owners forming an LLC in Oregon, Inc Authority is best. The company offers free registered agent services for the first year and charges a mid-level price of $99 per year afterward.
Inc Authority specializes in scalable services for LLCs. Whether you're starting from the ground up, or looking to expand, Inc Authority has a service package to fit your needs.
Forget junk mail, and only view official business mail. Inc Authority shorts and organizes incoming correspondence, alerting you to new documents and immediately uploading your files for viewing. Forward important documents to your physical address discreetly.
Inc Authority also offers add-on services, including business credit management, tax planning, and finance analysis.
Pros
1-Day uploads: All received correspondence is uploaded to your client portal within 24 hours.
Local Support: All Inc Authority support members are based in the U.S. Agents are available 7 days a week.
Cons
Need to form your business with Inc Authority: Inc Authority only offers registered agent services to businesses who form LLCs through their brand.
No reporting: A major drawback to Inc Authority is the lack of reporting. This means managing your own compliance monitoring.
Pricing
Oregon Registered Agent Service ($99/year): Ink Authority prices rest comfortably in the middle of most Oregon registered agents. After your first year of free registered agent services, pay $99 annually. Forming your LLC through Ink Authority is free.
---
Best Registered Agent in Oregon For Priority Service ($119/year)
Inc File paves the way to enhanced customer service in the registered agent service industry. The company offers both English and Spanish representatives for bilingual support opportunities.
Oregon clients can begin listing Inc File as their business address right away. With mail being sent to your agent, there are fewer privacy concerns when sensitive mail arrives.
Inc File charges $119 a year, putting them a little over the middle of the market in terms of price. They make up for the extra cost with a 24/7 digital customer service platform, and standard document forwarding. Enjoy your first year with a free registered agent service.
Pros
Bilingual customer service: Enjoy service in Spanish or English. Access customer digital assistance 24/7.
Add-on services: Along with standard registered agent services, invest in business tax management, foreign qualifications services, and certificates of good standing.
Cons
Human support Monday to Friday: Inc File is top-notch for customer service, but in-person assistance is only available Monday to Friday until 6 pm.
Pricing
Oregon Registered Agent Service ($119): Register your LLC with Inc File for a free year of registered agent services. Pay $119 for the following years.
---
Best Registered Agent in Oregon for No-Penalty Guarantee ($149.99/year)
For attention to detail in compliance and law, Rocket Lawyer takes the cake as an Oregon registered agent service. The company specializes in avoiding penalties by sidestepping legal risks with ongoing compliance monitoring.
Rocket Lawyer provides general standard agent services, including:
Receiving mail
Forwarding mail
Storage mail
Providing business mailing address
Offering bespoke digital client portal
Oregon business owners benefit from privacy through correspondence. No direct business deliveries keep prying eyes from spotting legal documents or government mail. Keep your important forms private and avoid junk mail with Rocket Lawyer's advanced organization and filing system.
---
Best Oregon Registered Agents For Legal Services ($0 to $279/year)
Choose from Basic, Pro, and Premium packages from $0 to $279 annually. Not only are Legal Zoom's registered agent services available at three different price points, they also include several legal add-on features. Some of the support you can count on from the team include:
"Ask an Attorney"
intellectual property trademarking
Unlimited cloud storage
Compliance alerts
Tax alerts
Protect your business with the Oregon registered agent service required by the secretary of state. Rest easy knowing you've got additional legal help on your side.
---
Best Registered Agent Service in Oregon For Entity Formation ($87/year)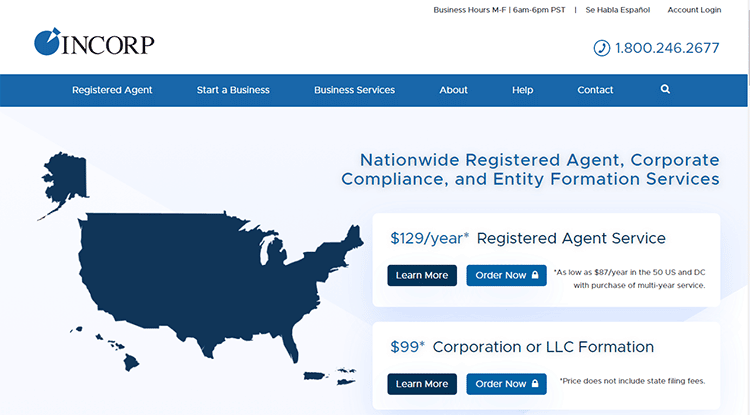 If you're forming a business entity, InCorp is a good registered agent to have on your side in Oregon. The team at InCorp offers proprietary EntityWatch® software to manage all incoming correspondence. Receive real-time alerts as mail comes in and never miss a beat.
All customer support and digital documents are available 24/7. Registered agent services are $129 a year, which puts InCorp just above the mid-price range in Oregon. Clients also enjoy add-on services, such as:
Advanced privacy control
Security alerts
Forwarding options
IOS application
Reduce your price for registered agent services when you sign a multi-year contract. Long-term clients only pay $89 per year.
Best Registered Agent Service in Oregon for Honesty as a Policy ($100/year)
Rapid Registered Agent promises transparency to clients. The company has no hidden fees or unexplained price hikes as services go on. They promise no upselling, and long-term stability in cost for long-term clients.
Rapid Registered Agent charges $100 annually, which covers the cost of standard services, including:
A customer portal
Digital mail uploads
Physical mail forwarding
Scanning and sorting of documents
Instant Oregon business address
Receive an alert for every document received to stay on top of important mail. Using Rapid Registered Agent services lets you work out of a home office or a location with a P.O. box without breaking any compliance regulations.
---
Best Registered Agent Service in Oregon For Spam Filtering ($199/year)
Swyft Filings doesn't mess around with junk mail. They sort and organize all business correspondence before it's uploaded to your client dashboard. You can count on the company to receive all incoming documents between 9 am to 5 pm on Pacific Time.
Swyft Filings sends receipts and alerts for all filed documents. This keeps you knowledgeable when your registered agent services accept legal documents and other time-sensitive correspondence.
Along with standard registered agent services, Swyft Filings offers add-on options including:
Foreign qualifications
Business name change
Registered agent change
Company amendments
Annual filing
Some services have additional costs. For example, annual filing is an extra $99 plus state fees.
---
Best Oregon Based Registered Agent Service For Affordability ($49/year)
Oregon Registered Agent offers a low price of $35 annually for regular registered agent services. Businesses that registered with the company receive an Oregon-based business address immediately and can begin using their online customer portfolio.
All mail received by Oregon Registered Agent is organized, uploaded, and forwarded as required. Spam and junk mail are filtered for streamlined correspondence management.
Some of the documents Oregon Registered Agent deals with include letters from the Secretary of State, government forms, and legal documents, including lawsuit notices.
---
Best Oregon Registered Agent Service For International Reach ($299/year)
For large businesses, CSC Global is the best option for an Oregon registered agent service. Oregon businesses hoping to qualify internationally can work with CSC Global for international mail sorting and forwarding.
CSC Global has been a leader in registered agent services in Oregon for more than 120 years. The company uses a proprietary CSCNavigator® portal for client use, along with SOC 2® software for advanced security.
Some reasons to choose CSC Global include services such as:
Corporate filing
Business license application
UUC search
UUC filing
One downside of CSC Global is the cost. At $299 annually, you pay more than you would for the average Oregon registered agent service.
---
Best Oregon Registered Agent Service for Available Forms ($75/year)
Resident Agent LLC is renowned for its form library. Access a variety of official business forms, pre-filled with your registered agent address for convenience and streamlined correspondence. Customers of Resident Agent LLC pay $75 per year and have unlimited online access to documents.
This is a great option for Oregon businesses looking for very general resident agent services. The company provides all the standard service offerings of its peers with no added costs or bells and whistles (apart from the form library).
Alerts let you know when new mail is uploaded for viewing. Important documents are discreetly forwarded to your business as needed. Biennial statement reminders keep you on target for filing to avoid compliance concerns.
What Is an Oregon Registered Agent?
A registered agent manages business correspondence to Oregon business owners. Agents must have a registered office address in Oregon and be available within standard Oregon business hours from 9 am to 5 pm Pacific Time.
Most registered agents receive, organize, and upload mail to a digital customer portal. You can access documents as needed. Important notices are also forwarded to your business. A third-party registered agent provides you with the Oregon civic address required by the Oregon Secretary of State. You can operate out of a home office or use a P.O. Box for forwarded notices without breaking any rules.
How Can an Oregon Registered Agent Help Your Business?
Oregon business owners reap several benefits from registered agent services. While some companies act as their own registered agent, a third-party provides a cushion of privacy and delegates correspondence management.
Some advantages Oregon businesses gain from a local registered agent include:
Alerts
Most registered agents send notifications when new mail is processed and uploaded to the digital dashboard. This helps business owners stay on top of documents as they roll in. You may also receive filing and compliance alerts.
Discretion and Privacy
Businesses receive a lot of sensitive documents. From government issued forms to legal documents, your mail doesn't need to be spotted by customers in the shop or staff members in the mail room.
A registered agent provides an official business mailing address in Oregon for all documents to be delivered. Whether you've been mailed a parking ticket for a company car, or a debt collection notice has arrived, it's nobody's business but your own.
No Junk Mail
Businesses receive their fair share of spam mail, online and in-person. A registered agent's office weeds out unnecessary coupons and flyers so you can spend time running your business.
Less Human Error
A registered agent's job is correspondence management. Your job is running your business. A registered agent is less likely to miss an envelope or lose an important document in the mix of day-to-day operations.
Is a Registered Agent Legally Required in Oregon?
Yes. According to ORS Vol. 2 Chpt. 60.111 all Oregon-based businesses require a registered agent to manage official correspondence.
Oregon Registered Agent Q&A
This guide has covered a variety of registered agent facts for Oregon business owners. If you still have questions, take a look at some of the most common questions regarding registered agents.
How Much Does an Oregon Registered Agent Cost?
Registered agent services vary based on brand and special services. Many offer free registered agent services for the first year and go on to charge $35 to $299 annually. 
Can I Be My Own Oregon Registered Agent?
You can be your own registered agent. You must be available to receive mail and correspond with the Oregon Secretary of State between 9 am and 5 pm Pacific time. Your mailing address must also be a physical civic address. No P.O. Boxes. Many Oregon business owners choose to hire an agent to avoid confusion and save time. 
Can a Company in Oregon Change Its Registered Agent? 
You can. Oregon businesses need to form an Information Change Form or update their business information while filing their annual report. Some registered agent services offer agent change services at a cost.
How Long Does It Take to Get an Oregon Registered Agent? 
Most registered agent services activate immediately. You can use your registered agent's address and access your online profile right away. It may take a few weeks to get setup in their system for mail forwarding.