Unlike most U.S. states, Utah doesn't have a Secretary of State. Instead, the Lieutenant Governor's office controls that aspect of business and business law.  This is not how most states handle the administrative parts of a business in the state, but regardless, you'll still be required to respond to any and all documentation.  Through this guide, we'll delve deeper into the topic of registered agents in Utah. Here, you'll learn about the best registered agents in Utah for your business and FAQs about registered agents.
What Is the Best Registered Agent Service in Utah?
A registered agent in Utah is an individual or business that manages official business mail. In the state of Utah, a registered agent is required to correspond to receive official mail for service of process, including:
Legal documents
Government documents
Letters from other businesses
Correspondence from the Utah Lieutenant Governor
There are over 313,590 small businesses in the state of Utah. With a thriving business climate, new companies enter the Utah business industry every year. It's no surprise so many business entities are seeking new registered agents.
Best Overall Registered Agent Services in Utah ($125/year)
Northwest Registered Agent is at the top of the list of Utah registered agents overall. They lead the way in price, value, additional services, and quality. Clients who partner with Northwest Registered Agent receive an official business mailing address and online customer portal.
All mail sent to Northwest Registered Agent is scanned and uploaded into the customer portal. Businesses can view all mail and choose individual documents for physical forwarding.
Northwest Registered Agent is one of the most affordable and reliable services in Utah.
Pros
Privacy: Northwest Registered Agent leads the way in privacy with its Privacy by Default® guarantee. No data is ever shared or sold, and security protocols are in place to ensure no data theft occurs.
Local Guide: Northwest Registered Agents provide a local Utah business guide to all clients. This is a particularly useful feature for new businesses learning the ropes in the Utah business district.
5 Free mail forwards: Northwest Registered Agent provides 5 free forwards. After this, any mail being forwarded comes at an additional charge. They also offer a monthly package for premium forwarding.
Add-ons: All new clients are offered 60 days of free phone service.
Cons
Startup costs: Northwest Registered Agent helps register your LLC. The catch? Starting an LLC costs $100 plus state filing fees.
Forwarding Extras: All mail forwards after the initial free 5 forwards come at a cost. As mentioned above, you can opt into a premium monthly package for this service.
Pricing
Registered Agent Service ($125/year):
The Northwest Registered Agent fee is competitive. $125 annually for all general Utah registered agent services, with the option of add-ons. 24/7 access to online services and a local business guide make this price well worth while. Some additional fees you can opt into include:
Trademark services: $499
Legal advice: $9 monthly
Premium mail forwarding: $20 monthly
Best Registered Agent Services for New LLCs in Utah ($0-$299/year)
Utah LLCs get an immense amount of support from Zen Business registered agent services. The company serves Utah business owners with general registered agent services, along with:
Registering an Employee ID Number (EIN) registration
Opening business banking
Designing a website
Obtaining a website domain name
Zen Business puts the zen into commercial life. The company provides a one-stop shop for correspondence management, complete with scanning, uploading, and organizing of incoming mail. They have a 100% accuracy guarantee, so nothing gets missed in the chaos.
Pros
Unique options: Zen Business supplies three package options to meet varying business budgets. Choose for a starter, pro, or premium package.
Web tools: Zen Business helps with domain name registration and website design and upkeep..
Cons
Paid alerts: All mail alerts and compliance reminders come at an extra charge.
Overpriced: Zen Business is one of the highest-priced registered agents in Utah if you opt for the premium package.
Pricing
Registered Agent Service ($0 to $299/year): Utah business owners can select one of three price plans. The basic plan has the slowest filing speeds, while the most expensive plan has the fastest and most additional features.
Basic: Free
Pro: $199/year
Premium: $299/year
Best Registered Agent Services in Utah for Compliance Alerts ($99/year)
Harbor Compliance lives by its name. The company puts a strong focus on business compliance in Utah. Clients of the company can rest assured they won't get tangled in red tape or caught on fine print when it comes to Utah business regulations.
Along with its compliance specialization, Harbor Compliance offers all the standard registered agent services required. You can contact the company between normal business hours of 9 am to 5 pm. They also supply all clients with an official Utah business mailing address immediately.
All clients are provided an online customer portfolio for uploads and document storage. Access is available 24/7, making it easy to find and sort mail without hassle.
Pros
Pre-filled forms and templates: Harbor Compliance offers pre-filled documents. This makes filing forms simple. No more filling in your registered agent info on page after page of data. It's all ready for you to sign and mail.
Free alerts: Free compliance alerts keep you apprised of approaching deadlines and potential compliance issues.
Cons
Zero refunds: Harbor Compliance has a strict no-refund policy. If you're unhappy with its services, you can cancel and change agents but will receive no money back.
Filing fees: Reminders are free, but filing comes at an additional cost, but state filing fees.
Pricing
Registered Agent Service ($99/year): Harbor Compliance offers a mid-range price point for registered agents in Utah. You can also save 5% to 10% by signing a multi-year contract.
Best Registered Agent Services in Utah For U.S.-Based Support ($99/year)
Inc Authority employs U.S.-based staff, making business conversations simple. It can be tough to communicate local business laws with an outsourced third party. Knowing your registered agent offers local support streamlines communication.
Along with local support, Inc Authority is a leader in LLC assistance. The company only serves as a registered agent to businesses that form LLC entities through them.
For $99, Inc Authority will act as a Utah registered agent, register your EIN, help you form your LLC, and offer 24/7 online profile access.
Pros
Fast uploads: All your mail is scanned and uploaded within 24 hours for quick and easy access to business documents.
U.S. support: Utah businesses receive local U.S.-based customer service.
Cons
LLC customers only: Inc Authority only partners with businesses who form LLCs through their brand. Registered agent services aren't sold separately.
No reporting: Inc Authority offers no filing or compliance reports.
Pricing
Registered Agent Service ($99/year): When you form an LLC through Inc Authority, you receive the first year free for registered agent services. After this services are $99 per year.
Best Registered Agent in Utah For Bilingual Support ($119/year)
Inc File offers English and Spanish customer service. This is a major benefit to bilingual business owners hoping for support in their native tongue. Inc File provides fast and convenient phone support from 9 am to 6 pm Monday to Friday.
As soon as you register with Inc File, your business receives an official business mailing address. All correspondence is then scanned and uploaded to an online portfolio with 24/7 access. Junk mail is filtered out so you don't need to worry about flyers and spam.
Inc File provides clients with long-term digital storage. No worrying about losing documents, or when they'll expire. Access the information you need when you need it with Inct File.
Pros
Bilingual support team: Inc File offers bilingual customer service in both English and Spanish.
Add-ons: Foreign qualifications, documents of good standing, and tax management are all extra add-on services offered through Inc File.
Cons
Limited phone services: Bilingual customer service is only available Monday to Friday until 6 pm. After-hours clients only have access to the online portfolio and digital resources.
Pricing
Registered Agent Service ($119): When you start an LLC with Inc File, you receive free registered agent services for a year. After this, you pay $119 per year.
Best Registered Agent Services in Utah for Penalty-Free Services ($149.99/year)
Rocket Lawyer puts its specialty in its name. This registered agent company is a pro when it comes to compliance. This is where you want to be if you're concerned about following local business regulations for filing and correspondence.
Utah business owners can start and grow their brands with Rocket Lawyer. The team handles a wide assortment of correspondence, including legal documents, government forms, regular business mail, and official state mail.
Rocket Lawyer takes the worry out of prying eyes when it comes to sensitive documents. No business wants clients or customers to see embarrassing mail in the letter box or on a desk. Rocket Lawyer ensures Utah businesses have full discretion and privacy in all correspondence.
Rocket Lawyer prices are slightly above mid-range for Utah, but still affordable at $149.99 annually.
Best Registered Agent in Utah for Legal Help ($0 to $279/year)
The law is on your side with Legal Zoom. This is a registered agent service for Utah businesses with an emphasis on legal representation. The company offers an "Ask an Attorney" service to keep you in the know about local business law.
The team at Legal Zoom also focuses on local business at any level. They offer three differently priced packages for any budget and business need. The most basic plan is free, the most expensive is $279 per year, and service offerings increase with each level.
Some additional services include:
Unlimited Cloud storage
Compliance reminders
Tax reporting
Intellectual property trademarking
Some features come at an additional cost, depending on your plan.
Best Registered Agent Services in Utah For Bespoke Software ($87 to $129/year)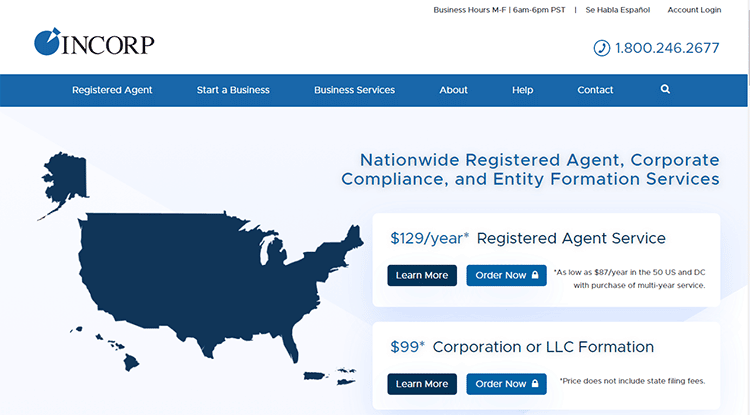 With its proprietary EntityWatch® software, InCorp services Utah businesses in a completely unique way. Registered agent services come with advanced security and privacy measures and a custom customer dashboard.
All mail is received, uploaded, and organized in the dashboard for review. Customers receive an alert every time new documents are filed online. Clients of InCorp can also rely on long-term document storage, so mail doesn't disappear before they get a chance to read it.
For $129 a year, InCorp offers affordable registered agent services for Utah business owners. If you sign a multi-year contract the annual fee is discounted to $87 a year.
Best Utah Registered Agent Services for Full Transparency ($100/year)
Utah business owners receive full transparency from Rapid Registered Agent. This registered agent service prides itself on customer service and a no-strings-attached policy. With no hidden fees or fine print to worry about, Utah business owners can rest easy knowing their business mail is in good hands.
One of the ways Rapid Registered Agent remains transparent with clients is by maintaining a steady fee. No price changes through the life of your contract promises Utah business owners registered agent services at $100 annually.
Jargon-free communication gives you a clear view of what you're signing on for before you sign a contract. Contact between Monday to Friday 9 am to 5 pm and ongoing online access to documents.
Best Utah Registered Agent For Extra Business Options($199/year)
File with Swyft Filings and pay no extra money. All that's required is state fees to file. Swyft Filings is a front-runner for new LLCs in Utah. Business mail gets sorted, scanned, and added to your digital customer profile. View mail as needed with long-term digital storage.
Along with standard registered agent services, Swyft Filings also promises additional business add-ons like:
Company ammendments
Business name change
Foreign qualification
End of year filing
Swyft Filings charges $99 per year for standard services. Some add-ons cost extra. Choose which features you want and build a customized plan for your Utah business.
Best Utah Registered Agent For Cheap Services ($49/year)
Utah Registered Agent has the lowest price in the state. For $49 Utah businesses recieve all general registered agent businesses. This isn't a brand with bells and whistles. Instead, services are straight forward and include everything required by the state for business correspondence.
All business mail is delivered to Utah Registered Agent. Nothing for prying eyes or curious customer's to find in the office. Avoid embarrassing situations and keep sensitive documents private with long-term document storage through Utah Registered Agent.
Best Utah Registered Agent For International Companies ($299/year)
International businesses have it made with CSC Global for a registered agent. This is the company to choose if you're hoping to qualify internationally, or you're an international business looking to move into the Utah market.
CSC Global offers a wide variety of business services outside of standard registered agent services, including:
CSC Navigator® technology
SOC 2 auditing
Compliance dashboard
UUC search
UUC filing
Email alerts
Business license applications
Utah business correspondence is uploaded the same day it arrives at CSC Global. The price point is higher than most registered agents at $299 annually, but they bring over 120 years of experience.
Best Utah Registered Agent for a Diverse Form Library ($75/year)
At Registered Agent LLC Utah business owners receive a large assortment of forms. The form library is the highlight of this brand. Pre-filled forms make end-of-year taxes and business filings a breeze. Don't bother filling in your registered agent, everything is ready to go.
Small businesses can take advantage of a knowledgeable partner with Resident Agent LLC. Streamline paperwork and view documents digitally 24/7. Long-term document storage, and 24/7 access to your correspondence makes it easy to manage mail.
Resident Agent LLC charges $75 per year, making them one of the most affordable services in Utah.
What Is a Utah Registered Agent?
A Utah registered agent is a person or business entity acting as a recipient for official business mail. They provide a registered office address or Utah civic mailing address (not a P.O. Box) to businesses. All mail is then uploaded to a digital customer platform and some documents are forwarded to the owner.
All registered agents in Utah must be available during normal business hours. This means being in the office from 9 am to 5 pm Monday to Friday. A registered agent service is beneficial in that they relieve small business owners from juggling correspondence alone during regular business hours.
How Can a Utah Registered Agent Help Your Business?
Utah registered agents take the onus off of local business owners when it comes to mail management. Businesses receive a lot of incoming correspondence from a wide variety of senders. Having it all sorted in one place provides a variety of advantages, including:
Alerts and Notifications
Utah registered agents notify business clients on a multitude of levels. Receive compliance alerts, filing reminders, and everyday alerts when new documents are uploaded.
Higher Security and Privacy
Registered agents use secure and discreet methods of mail management. Your personal documents are never seen by employees or customers of your business. They're received by your commercial registered agent, scanned and uploaded to your personal profile, and forwarded as requested.
Reduced Spam and Junk Mail
Forget the junk and spam mail. Your mailbox might not have a spam filter, but your registered agent's address acts as one. Sorting mail and uploading only official business documents. No need to sort through flyers, coupons, and spam.
Is a Registered Agent Legally Required in Utah?
Yes. Utah businesses, and external companies hoping to do business in Utah, are required to have a registered agent.
Utah Registered Agent Q&A
Throughout this guide, we've discussed what constitutes a registered agent, the best registered agents in Utah, and how registered agents help. Still have questions? Here are some frequently asked questions about Utah registered agents.
How Much Does a Utah Registered Agent Cost?
Utah registered agents range in price. Many services provide the first year free, with ongoing fees between $49 and $299 per year. Some registered agent services offer a discount for multi-year contracts.
Can I Be My Own Registered Agent in Utah?
Absolutely. As long as your own business address or mailing address is a civic address and you are available between 9 am and 5 pm, you can act as your own registered agent. Businesses with P.O. Boxes don't qualify.
It's useful to note that even if you qualify to be your own agent, you may benefit from external assistance. Registered agents save businesses time and enhance privacy.
Can a Company Change Its Registered Agent in Utah?
Yes. In fact, Utah makes this easy. Change any business registration information, including the registered agent's details through an online form.
How Long Does It Take to Get a Utah Registered Agent? 
You can obtain a registered agent quickly. Usually online services begin immediately. Forwarding services may take a week or two to setup and officially start.