The life coaching market is on the rise. Earning over $1.4 billion in 2022, the market is projected to continue rising at a compound annual growth rate (CAGR) of 4.85% from 2023 to 2030. Now is a great time to start a life coaching career.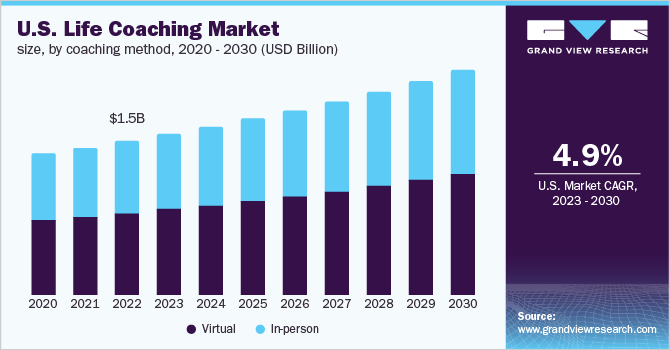 Through this guide, we'll explain how to start a business as a life coach. Some topics covered include market research for a successful coaching business, competitive analysis, registering an EIN, opening a business bank account, and more. For everything you need to know about life coaching services, follow along.
1. Conduct Life Coach Market Research
Market research is essential to start a successful life coaching business. Market research offers insight into important details for your life coaching business plan. From trending services in the coaching industry to your target market, and local market saturation.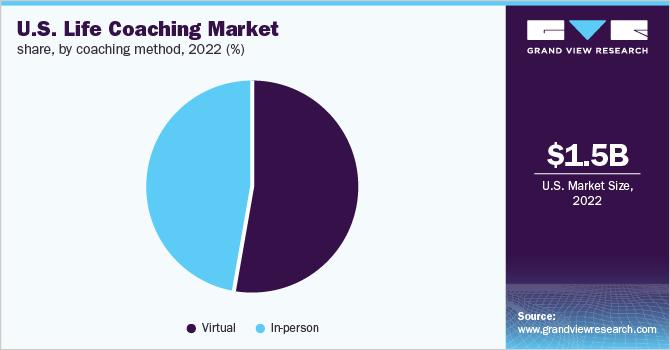 Here are some details you'll learn through market research for your own life coaching business.
Several key factors are driving growth in the life coaching sector:
Increased interest in personal development and work-life balance. With longer work hours and more daily stresses, many people are seeking help achieving goals, managing change, and finding greater fulfillment. Life coaches provide needed support through this process.
Rise of remote work and digital nomads. Remote work has enabled location flexibility, allowing more people to pursue coach training and launch online coaching businesses. Digital nomads also represent a target market for coaches.
Corporate interest in supporting employee well-being. More companies are offering life coaching as an employee benefit to improve productivity, morale, and retention. This corporate demand creates business opportunities for coaches.
Mainstreaming of mental health awareness. Reduced stigma around personal development has increased openness to working with a life coach for motivation, accountability, and achieving growth.
The low barriers to entry in life coaching also create an opening for new players if they properly invest in training, certification, niche expertise, business fundamentals, and branding to stand out.
Aspiring coaches should carefully assess the competitive landscape and identify how they can differentiate their coaching services. Finding a profitable niche is key.
Specializations in areas like career coaching, leadership development, and spiritual life coaching allow new coaches to establish a unique role.
By blending genuine care for others with business acumen, aspiring coaches can build sustainable and fulfilling careers in this growing field. The market outlook remains optimistic for those able to position themselves as subject matter experts in the coaching niche.
2. Analyze the Competition
Thoroughly analyzing the competitive landscape is crucial when launching a life coaching practice.
Here are some tips on assessing competitors:
For brick-and-mortar competitor analysis, identify other local coaching practices. Visit their offices, observe their branding and marketing, and try a sample session to evaluate their coaching style, ideal client, and pricing.
Research coaches advertising in local directories, publications, and referral networks. Analyze what services they offer, credentials they highlight, and client testimonials they feature.
Online, search key terms a potential client may use to find a life coach with your target specialty. Review the top search listings and ads.
Study competitor website content, positioning, SEO optimization, lead magnets, and social media presence.
Set up Google Alerts for key competitors to monitor their activities. Sign up for their email lists to analyze their promotions, offers, and messaging.
Evaluate competitors' digital footprint including reviews on Google, Facebook, Yelp, and other third-party review sites. This provides insight into their reputation and customer service.
Use tools like SEMrush and SpyFu to analyze competitors' paid search and SEO strategies. This reveals the keywords and landing pages driving traffic for them.
Evaluate competitors' social media followings and engagement on platforms like Instagram, Facebook, LinkedIn, Twitter, and TikTok. Strong followings signal an opportunity to grow an audience.
By thoroughly analyzing competitors across both brick-and-mortar and digital channels, new life coaches can identify tactical opportunities to differentiate their positioning, services, marketing, and online presence when launching their business. They can zero in on gaps in the market and craft compelling and unique positioning.
3. Costs to Start a Life Coach Business
To make a life coaching business profitable, there are a variety of one-time start-up costs and ongoing expenses to consider. Properly estimating these costs is crucial for securing the necessary operating capital and budgeting properly.
Start-up Costs
Administrative Fees – Budget approximately $800-$1,500 for startup legal, accounting, and licensing expenses when establishing your coaching business.
Website Development – Plan $3,000-$5,000 for an attractive, lead-generating website. Factor in site design, content writing, integration with email/CRM platforms, and search engine optimization.
Branding – Logo design, business cards, and branding work can cost $500-$2,000 depending on the extent of services. Quality branding conveys professionalism.
Office Equipment – Basic office equipment like a computer, printer, phone, furniture, and supplies will likely run $2,000-$5,000. Also, factor in any specialty equipment needed for your niche.
Coaching Training – Invest in accredited coach training programs, which cost $3,000-$10,000 on average for multi-month courses leading to certification. This provides vital skills.
Marketing – $2,000-$5,000 should be budgeted for initial marketing efforts including search ads, social media advertising, and developing lead magnets like free workshops or assessments.
Professional Services – Hiring a bookkeeper for $300/month and an accountant for tax prep at $700/year covers key financial functions.
Business Insurance – General liability insurance starts around $500/year for a basic policy to protect your coaching business.
Total Startup Costs – Plan for $15,000-$35,000 in first-year startup expenditures when launching a life coaching venture.
Ongoing Costs
Rent – Leasing office space for meeting clients costs $200-$500/month on average. Virtual coaches can operate from home to minimize costs.
Utilities – Budget $150-$300/month for electric, internet, phone service, and other recurring utilities based on your office needs.
Coaching Tools – Invest in continuing education and tools like assessment instruments, workbooks, and progress-tracking software, budgeting $200-$500/month for these coaching resources.
Technology – Factor $100-$300/month for CRM, email services, cloud storage, and productivity software subscriptions.
Marketing – Depending on your client acquisition strategy, $500-$2,000/month should go toward SEO, paid advertising, networking events, referral programs, and other marketing initiatives. This is an ongoing investment.
Salaries – When hiring staff, coaches, or assistants cost $4,000-$8,000/month. Virtual assistants can be found for $1,000-$2,000.
Professional Fees – Expect to invest $300-$500/month for your bookkeeper and $100-$300/month for software subscriptions like QuickBooks.
Credit Card Processing – Transaction fees range from 2-4% of revenue. Budget accordingly.
Taxes – Plan for quarterly estimated income taxes, filing annual business returns, and paying an accountant $1,000-$3,000 to handle your tax prep and filings.
Miscellaneous – Leave room for unexpected overhead costs that emerge like continuing education, travel, client gifts, or supplies. Budget 5-10% of revenue.
Carefully planning for both the upfront investment and ongoing expenses involved in running a coaching business will set your venture up for sustainable success. Adjust estimates based on your specific business model, clientele, and growth plans.
4. Form a Legal Business Entity
When starting a life coaching business, choosing the right legal structure is an important decision. The four main options each have pros and cons to weigh.
Sole Proprietorship
A sole proprietorship is the simplest structure. You operate as an individual with unlimited liability. There is no separate business entity created.
Pros: Easy and inexpensive to establish. No formal registration is required. The owner retains full control and all profits. Minimal paperwork.
Cons: No liability protection – your assets can be seized. Harder to raise investment capital. Limited tax benefits. Seen as less credible by clients.
Partnership
A partnership involves two or more owners operating a joint business. Different forms like LP, LLP, and LLLP involve various levels of liability protection.
Pros: Easy to establish. Shared capital and management among partners.
Cons: Unclear division of profits/losses. Potential for partner disputes. Joint and several liability in most forms – partners are liable for each other's actions.
Limited Liability Company (LLC)
LLCs blend aspects of partnerships and corporations. Owners obtain liability protection while enjoying pass-through taxation like a partnership.
Pros: Liability protection for owners. Seen as more credible than sole proprietorships. Flexible management options. Easy to add owners. Minimal IRS paperwork.
Cons: More complex to establish than a sole proprietorship. Requires drafting an operating agreement. Self-employment taxes still apply.
Corporation
A corporation is a separate legal entity from its owners. Shareholders enjoy limited liability. Corporations require significant formalities to be followed.
Pros: Strong liability protection for shareholders. Ability to sell ownership shares. Perpetual existence.
Cons: Most expensive to establish and maintain. Extensive record-keeping keeping required. Subject to corporate taxes and double taxation in some cases.
5. Register Your Business For Taxes
Once you have established a formal business structure like an LLC, the next essential step is obtaining an Employer Identification Number (EIN) from the IRS.
An EIN serves as a unique tax ID number for your business entity to be used when opening business bank accounts, applying for licenses, filing taxes, and managing employees.
As a life coach, an EIN is crucial for separating your personal and business finances. It only takes a few minutes to get your EIN. Simply:
Go to the IRS EIN Assistant.
Answer a few short questions about the type of entity you formed, ownership structure, and reason for applying.
Provide basic information including your name, address, SSN, and business structure details.
Confirm all information is accurate before submitting.
Your EIN will be provided immediately upon completion of the online form.
The EIN application is quick, free of charge, and easy to complete. With your EIN in hand, also take steps to register for applicable state taxes based on the locations where you operate. Completing sales tax registration ensures you can properly collect and remit taxes on coaching services sold in each state.
Taking the time upfront to formally establish your business entity and obtain proper identification numbers will provide long-term benefits when it comes to legally separating your personal and professional finances. With the right business structure and tax IDs in place, you can confidently launch your life coaching practice.
6. Setup Your Accounting
Proper accounting is crucial for life coaches to ensure taxes are paid accurately and finances are managed correctly. Here are some best practices to implement:
Accounting Software
Use accounting software like QuickBooks to automate tracking income and expenses. Connect bank/credit card accounts so transactions import. The software handles invoicing, manages payables/receivables, and creates financial statements to simplify taxes.
Hire an Accountant
Hire an accountant to handle bookkeeping, payroll, reconciliation, and sales tax filings, and to provide ongoing advisory services. Expect to invest $300-$500 monthly for a bookkeeper and $1,000-$3,000 for year-end tax prep. An accountant provides expertise life coaches often lack.
Open a Business Bank Account
Separate personal and business finances completely. Obtain an Employer ID Number (EIN) from the IRS to open a dedicated business bank account. Never commingle personal and business transactions.
Apply for a Business Credit Card
Apply for a business credit card using your EIN, projected revenue, and business registration documents. Business cards don't use your credit. Limits are based on business revenue. Carry a balance below 30% of the limit.
7. Obtain Licenses and Permits
When starting a life coaching business, it is crucial to ensure you obtain all required licenses and permits. Find details on federal license requirements through the U.S Small Business Administration. The SBA also has a local search tool for state licenses.
Business License – Most cities and counties require all businesses operating locally to obtain a municipal business license, especially if meeting clients in an office. Fees are typically under $100 annually. Business licenses verify you comply with zoning and industry regulations.
Building Permits – Leasing office space often requires permits for occupancy, any renovations needed, signage, disabled access compliance, and fire code adherence. Landlords normally handle occupancy permits. But any buildout or modifications require permits.
Seller's Permit – If selling products or digital downloads, you need a state seller's permit to collect sales tax. Permits are obtained by registering with your state revenue or taxation department. Some states have reciprocal agreements waiving the need for sellers' permits if you have one in your home state.
Food Permits – Coaches offering nutritional advice or meal planning services may require a state health department food permit, even if not directly selling food. Providing nutrition guidance without a permit can result in fines.
Professional Licensure – Several states including California, Kentucky, Washington, and others now require life coaches to obtain a state license to practice. Unlicensed practice can mean both civil and criminal penalties. Research if mandatory licensure or exemptions apply.
Malpractice Insurance – Coaches are not required to carry professional liability insurance. However, it is advisable to protect against any negligence lawsuits clients could potentially file. Plans start at around $300 annually.
Home Office Permits – Some cities require home occupancy permits to meet clients in a home office. Permits stipulate allowed client volume and parking space to maintain residential zoning. Fees are generally under $100 annually.
Qualifications – Ensure certifications are up to date and you meet any rules regarding the use of protected titles like "certified coach". Displaying lapsed credentials on websites or marketing materials carries risk.
Taxes – At minimum, you need a federal EIN and state/local licenses to collect and remit sales tax where applicable. Failure to pay taxes leads to fines and penalties.
Though licensing rules vary, researching requirements in all states, counties, and cities where you practice helps avoid violations. Partner with an attorney or permitting specialist to identify and efficiently obtain necessary approvals before actively accepting clients. Proper documentation provides peace of mind your new coaching business meets important legal and compliance standards.
8. Get Business Insurance
Obtaining proper business insurance is crucial to protect your life coaching practice. Being underinsured exposes your company to substantial financial risks. Here are a few scenarios where a lack of adequate coverage could prove catastrophic:
A client slips and falls in your office, sustaining serious injuries. Without liability insurance, you bear full responsibility for your costly medical bills and potential lawsuits.
A pipe bursts in your office, causing thousands in damage. Without property insurance, the cost of repairs falls completely on your business.
Your laptop containing sensitive client data is stolen. Without data breach coverage, you must pay exorbitant costs to notify clients, provide credit monitoring, and settle any lawsuits stemming from the breach.
To avoid dire situations like these, invest in tailored insurance for your coaching business. Key plans to consider include:
General liability insurance – Covers bodily injury, property damage, and personal injury claims.
Professional liability insurance – Protects against errors, omissions, and negligence in providing services.
Cyber liability insurance – Safeguards against data breaches, hacking incidents, and digital threats.
Business property insurance – Covers damage to office space, equipment, and other physical assets.
Take time to work with an experienced insurance agent. Provide details on your business operations, risk exposures, assets, and clients. This allows the agent to tailor recommendations so your unique risks as a life coach are covered. Investing in proper insurance provides assurance your business is protected from potentially ruinous risks.
9. Create an Office Space
Having a professional office space can provide credibility and convenience when meeting life-coaching clients. Though many coaches work virtually, here are scenarios where a physical office would prove beneficial:
Conducting initial consultations and onboarding new local clients in person
Hosting high-touch clients who prefer regular in-person sessions
Facilitating small group workshops or cohort coaching programs
Providing privacy for clients who want confidentiality
When selecting potential office spaces, pros and cons vary by option:
Home Office
Converting a room into a home office costs little to nothing upfront. Monthly expenses are limited to utilities and furnishings. Home offices offer scheduling flexibility and no commute. Downsides include distractions and clients knowing your residence. Expect to invest $100-$300 monthly for a dedicated home workspace.
Coworking Space
Shared spaces like WeWork provide amenities like WiFi, printing, conference rooms, and kitchens without the overhead costs of a traditional lease. Coworking offers networking opportunities but less privacy. Average membership fees are $200-$500 monthly.
Retail Office
For coaches who sell products, a retail space combines a storefront with private coaching offices. Product displays and impulse purchases from walk-in traffic can boost revenue. However retail offices have higher buildout, staffing, and regulatory costs. Expect to invest $2,000-$5,000 monthly for leasing and staffing a retail space.
Commercial Office
Leasing dedicated office space provides maximum privacy and control but requires more capital. Expenses like rent, utilities, furnishings, and support staff quickly add up. Commercial offices best suit coaches with an established book of business, typically costing $2,000-$10,000 monthly.
10. Source Your Equipment
Life coaches require minimal equipment and materials to launch their businesses. Primary purchases include technology, office furnishings, educational resources, and marketing collateral.
Here are the top options to acquire what you need:
Buying New
Invest in a new computer, the latest software, ergonomic office furniture, branded marketing materials, and premium coaching tools to present a highly professional image. Shop mainstream retailers like Office Depot and Staples which offer broad selections of new equipment and quick shipping. Expect to invest $2,000-$5,000 when buying premium new equipment.
Buying Used
Save substantially by purchasing gently used electronics, office furniture, and supplies from individuals or used office supply stores. Facebook Marketplace, Craigslist, eBay, and OfferUp connect you with local sellers. Inspect items carefully before purchasing and sanitize equipment. Buying used can cut costs up to 50% compared to new purchases.
Renting
Consider renting specialized equipment like printers and copy machines through business rental companies. Renting enables access to pro features without huge upfront costs. Payment plans often include maintenance, repairs, and upgrades. Renting also provides flexibility to pivot equipment needs as your business evolves.
Leasing
Finance new equipment over 12-48 months through leasing companies. This spreads costs over time rather than one lump payment. Payments are fixed with a $1 buyout option at the end of the term. Leasing works best for essential equipment like high-end laptops and ergonomic chairs used daily.
11. Establish Your Brand Assets
Developing a strong brand is crucial for life coaches to attract clients in a crowded market. A polished brand conveys professionalism and builds recognition.
Get a Business Phone Number
Begin by securing a business phone line through a provider like RingCentral to enable call tracking, a toll-free number, voicemail, and easy scalability.
Design a Logo
Next, create a memorable logo and visual identity that communicates your niche, values, and ideal client. Services like Looka provide affordable logo design access and brand asset templates to maintain consistent branding across platforms. Consider an abstract mark or monogram logo that is flexible across uses.
Print Business Cards
With a logo in hand, order professional business cards from Vistaprint to network, share after sessions, and cement your brand. Quality cards signal credibility to prospective clients.
Business signage like window graphics, vehicle wraps, and office nameplates from Vistaprint boost discoverability for coaches with a physical location. Signage amplifies your branding and authority.
Buy a Domain Name
Secure a domain name that matches your brand name through a registrar like Namecheap. Short .com domains are best. Use keywords related to your niche like "life coaching" as a prefix or suffix to improve SEO.
Design a Website
Then, build a sleek website to showcase your services and book calls. User-friendly website builders like Wix make DIY sites possible. Or hire web developers on Fiverr for custom sites. Optimize with SEO to drive traffic.
12. Join Associations and Groups
Joining relevant local organizations and online communities provides invaluable connections when starting a life coaching practice.
Local Associations
Seek out Local Associations like the International Coach Federation, International Association of Coaches, and Professional Association of Life Coaches chapters near you. Associations offer networking, continuing education, referrals, and visibility. Annual dues provide access to extensive support resources.
Local Meetups
Attend Local Meetups and events to meet fellow coaches, share best practices, and get client referrals. Use sites like Meetup to find coaching meetups and local small business networking events. Conferences like the International Coaching Federation Conference enable large-scale networking and skills development.
Facebook Groups
Join Facebook Groups like Extraordinary Coaches & Business Owners, Life Coaching & Business Management, and Business & Life Coaching Mentorship to tap into the collective wisdom of peers worldwide. Groups provide support, advice, job postings, and more.
When meeting other coaches:
Ask about their approach to attracting clients and what has worked best to build their practice.
Inquire about their pricing structure and policies for insight into industry norms.
See if they're open to cross-promotions or co-facilitating workshops to expand reach.
Share your niche and ideal client so they can refer prospects not suited for them.
Explore co-working or office-sharing opportunities to reduce costs.
Surrounding yourself with seasoned coaches accelerates your learning curve exponentially. Local organizations provide in-person networking, while online forums like Facebook groups enable connections globally. Fully leverage these relationships to speed your trajectory to coaching success.
13. How to Market a Life Coach Business
Implementing an ongoing marketing strategy is essential for life coaches to continually attract new clients and grow their practice.
Personal Networking
Leveraging one's existing network through referrals and word-of-mouth is the most valuable starting point before branching into paid initiatives. Offer satisfied clients a discount on future sessions to incentivize referrals. Testimonials and reviews also motivate referrals, allowing a reputation for quality coaching to spread organically.
Digital Marketing
Run Google Ads campaigns with relevant keywords like "life coach [city]" and "career coaching" to attract searchers. Display ads also expand reach.
Promote content and free resources on Facebook to engage prospective clients. Facebook's targeting options help hone your ideal audience.
Start an email list to nurture leads with value-driven content that builds trust and authority. Offer a free assessment or mini-course in exchange for emails.
Guest posts on industry blogs and podcasts about your specialty to gain backlinks, exposure, and positioning.
Create educational YouTube videos with coaching tips to increase visibility and demonstrate your expertise.
Write blog posts targeting keywords clients search when seeking a life coach. Optimize posts for SEO and promote on social media.
Run LinkedIn ads focused on decision-makers, executives, and career-minded target segments open to coaching.
Traditional Marketing
Network at local events to make direct connections with potential clients and centers of influence.
Partner with local businesses like gyms, yoga studios, and learning centers to hold workshops or cross-promote.
Distribute flyers and brochures at community centers, networking events, conferences, and other locations that attract your target audience.
Team up with other practitioners like therapists and consultants to co-host seminars or offer packaged services.
Sponsor relevant causes or organizations to gain goodwill and raise awareness.
Cold call or mail prospective businesses offering team development coaching.
The ideal strategy combines referral marketing with cost-effective digital tactics and then supplements it with targeted traditional outreach. Testing various options and tracking ROI enables coaches to optimize their plans and achieve exponential growth.
14. Focus on the Customer
Providing an exceptional client experience through stellar customer service should be a top priority when starting a life coaching practice.
Satisfied clients drive growth in several important ways:
Referrals – Clients who feel genuinely supported by their coach will eagerly refer family, friends, and colleagues seeking similar help. Referrals are a highly effective way to organically grow your client base without extensive marketing costs.
Retention – Coaches who form meaningful connections with clients and meet/exceed expectations at every touchpoint will retain happy clients for many coaching cycles rather than one-time engagements. Repeat business boosts revenue.
Reviews – Coaches who "wow" their clients will have clients voluntarily leave glowing five-star reviews on sites like Google, Facebook, and Yelp. Positive reviews attract new clients who want a similarly great experience.
Testimonials – When you consistently exceed expectations, clients will gladly provide powerful testimonials you can use in your marketing materials. Their stories and praise build trust with prospective clients.
Advocacy – Clients who feel invested in your success will become brand advocates, following your social media accounts, sharing your content, and telling people how you've impacted their lives. This level of advocacy is priceless.
By providing white-glove customer service and developing genuine connections with each client, life coaches reap rewards that turbocharge their business growth and fulfillment in this profession. The key is truly caring about each client's needs and happiness on a personal level.