The global construction industry hit an evaluation of $5,267 in 2022. With a projected compound annual growth rate (CAGR) of 4.8% from 2023 to 2032, it could reach $8,308 billion by 2032. Now's a better time than ever to get into the construction market.
Launching a construction firm requires in-depth planning and preparation. You'll need to write a business plan, secure financing, purchase equipment, hire staff, and obtain necessary licenses. It's also essential to line up projects and contracts before opening your doors.
This guide will walk you through how to start a construction company. Topics include market research, marketing, opening a business bank account, registering an EIN, and more. Here's everything you need to know to start your own construction company.
1. Conduct Construction Market Research
Market research tells you about your target audience, local competition, market saturation, trends in construction services, and more. There are two types of market research, primary and secondary. Primary is research you conduct yourself, secondary is third-party research collected by someone else.
Some of the information you might learn while creating a solid business plan for your successful business includes:
Housing construction, in particular, is driving much of this growth.
The U.S. is facing a shortage of nearly 4 million housing units as of early 2022, causing home prices to rise at their fastest pace in 45 years.
The aging millennial demographic is also fueling demand, as they enter peak home-buying age.
On the commercial side, demand is growing for new industrial facilities, warehouses, data centers, healthcare facilities, schools, retail buildings, and more.
With booming e-commerce requiring more logistics infrastructure, commercial construction offers major opportunities.
Infrastructure is another high-potential segment, as governments at all levels look to update deteriorating roads, bridges, airports, water systems, and energy facilities.
The Infrastructure Investment and Jobs Act passed in 2021 will funnel $550 billion into these projects over five years.
With so much growth across residential, commercial, and infrastructure construction, the industry faces a skilled labor shortage.
Over 300,000 new construction workers per year will be needed to keep up with demand according to an analysis by Construction Coverage.
Thorough market research puts you in a place of knowledge where your business is concerned. A successful construction business requires a strong business plan.
2. Competitive Analysis
Thoroughly analyzing your competition is crucial when launching any new business, including in the construction industry. Start by identifying competitors in your local market. Check platforms like Yelp, Google Maps, and Houzz for other construction firms servicing your area and offering similar services.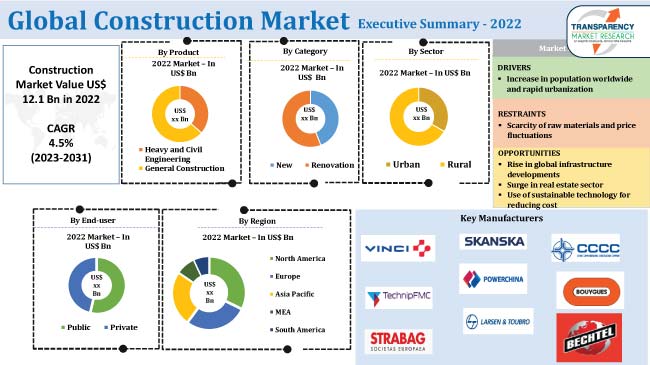 Some of the ways to learn about your competitors as a business owner in the construction industry include:
Visit competitor websites and social media pages to gather key information.
Pay attention to their portfolio of completed projects, areas of specialization, client testimonials, and staff bios.
Research their online reputation and reviews. Complaints about quality, delays, or poor communication are useful competitive insights.
Drive around your area and take note of construction signs and active job sites.
For larger firms, search public databases for info on their annual revenue, number of employees, licenses, legal disputes, safety violations, and other financial health metrics.
Online visibility is equally important. Google search results and paid ads will make or break your ability to compete for leads.
Ongoing competitive research as you launch will help you enter the market strategically. Offering niche services, competitive pricing, branded marketing, or superior customer service gives your construction startup the best opportunity to take business from established players.
3. Costs to Start a Construction Business
Starting a construction company requires significant upfront capital and ongoing expenditures. Here is a look at the key costs to factor in:
Start-up Costs
Getting a construction business off the ground will likely require $50,000 to $500,000 or more in start-up costs depending on your scope of services.
Licensing and Permits – $2,000 to $7,000 for acquiring a general contractor's license, trade licenses, DBA registration, sales permits, and other regulatory approvals.
Workers Compensation Insurance – $5,000 to $20,000 annually for general liability, workers' comp, builder's risk, and other essential policies.
Office Space – $2,000 per month minimum for leasing office and yard space to store equipment/materials and perform administrative tasks.
Vehicles – $50,000+ for reliable work trucks, trailers, loaders, and other necessary vehicles.
Equipment – $20,000 to $100,000+ for purchasing essential tools like excavators, cement mixers, scaffolding, power tools, generators, and more. Renting is also an option.
Website and Marketing – $3,000 to build a professional website and begin digital ads and content marketing efforts.
Hiring Staff – $50,000+ in upfront costs for taking on project managers, foremen, administrative help, and other essential personnel.
Working Capital – $20,000 to $200,000 minimum to cover expenses like payroll, materials, and rent when starting until steady cash flow is achieved through projects.
Ongoing Costs
Once up and running, be prepared for these recurring monthly/annual costs:
Insurance – $1,000 to $4,000 on policies, depending on payroll size and other risk factors.
Rent and Utilities – $2,000 to $5,000+ per month for office and equipment storage space. Higher with a yard.
Vehicle Expenses – $5,000+ annually for gas, maintenance, and registration fees.
Equipment – $10,000 to $20,000+ in annual maintenance, repairs, and replacement costs.
Office Administration – $2,000 per month for office supplies, software, accounting, and other expenses.
Salaries – $4,000 to $15,000+ per direct construction employee. $50,000+ for project managers and executives. Payroll taxes and benefits add 25%-50% on top.
Licenses/Permits – $500 to $2,000 annually to renew and remain compliant.
Marketing – $500 to $2,000 per month for digital ads, website upkeep, and other initiatives.
Careful financial planning and cash flow management will be essential to cover these substantial start-up and ongoing costs. But the long-term rewards of running a profitable construction firm make the investment worthwhile.
4. Form a Legal Business Entity
When launching a construction business, one of the first key decisions is choosing the right legal entity structure. This impacts your liability exposure, taxation, and ability to raise capital. The main options include:
Sole Proprietorship
A sole proprietorship is owned and operated by one individual. It's the simplest structure with minimal legal paperwork. However, the owner assumes unlimited personal liability for the business. Any lawsuits or debts levied against the company can result in creditors coming after your assets. For a hazardous industry like construction contracting, this risk is too great.
Partnership
A partnership involves two or more co-owners sharing control of the company. Common arrangements like general partnerships and limited partnerships expose all partners to unlimited liability. Limited liability partnerships (LLPs) afford some personal asset protection but have limitations. Partnership disputes can also jeopardize the business. Overall, a partnership introduces risks that make this structure less than ideal for a new construction firm.
Limited Liability Company (LLC)
Forming an LLC shields owners' assets from any business-related claims or debts. It limits legal liability and provides flexibility in managing and structuring the company. Construction businesses generate a high exposure to lawsuits – making an LLC a smart choice.
Startups can begin as a single-member LLC and then seamlessly bring on additional members/investors as needed. The operating agreement outlines each member's rights and responsibilities. Though there are compliance requirements, an LLC offers the best of both worlds – liability protection with pass-through taxation.
Corporation
A corporation separates the business as an entity from its owners and requires meticulous recordkeeping. While it limits liability for shareholders, forming and running a corporation has high legal and accounting costs. The corporate structure is better suited for large established construction firms, not lean startups. Owners must also file taxes for both the corporation and personally.
5. Register Your Business For Taxes
One of the crucial legal steps in starting a construction company is obtaining an Employer Identification Number (EIN) from the IRS. This unique 9-digit number identifies your business for tax and reporting purposes.
An EIN is required to open a business bank account, apply for licenses/permits, hire employees, and file tax returns for your construction company. Unlike your personal Social Security Number, it keeps your business and personal financial matters separate for legal and tax liability purposes.
Applying for an EIN is free and can be done online via the IRS website in just minutes.
To obtain your EIN, simply follow these steps:
Navigate to the EIN Assistant and select Apply Online Now
Choose View Additional Types, then select View Additional Types for Entities
Select Limited Liability Company, then click Continue
Enter your LLC information as requested
Submit your application and you will immediately receive your EIN
Print and save the confirmation notice for your records. You can also apply by fax, mail, or over the phone if preferred.
In addition to your federal EIN, contact your state revenue or taxation department to obtain any required ID numbers for reporting sales tax, payroll taxes, and other state-level fees and taxes related to your construction operations.
Getting an EIN takes just a few minutes but is a crucial step in legally setting up your construction business. Having an EIN legitimizes your company and allows you to open business accounts, bid on contracts, hire employees, and operate fully above board.
6. Setup Your Accounting
For construction companies, meticulous accounting and financial recordkeeping is vital. With large, complex projects involving multiple vendors and long timelines, having air-tight finances protects you legally and optimizes profits.
Accounting Software
Investing in accounting software like QuickBooks streamlines the process using automation. QuickBooks seamlessly syncs with bank accounts to log income and expenses and generates financial reports and invoicing. This eliminates manual entry and provides real-time visibility into your financial health.
Hire an Accountant
While the software does the heavy lifting, partnering with an accountant is still recommended. A qualified accountant provides oversight to ensure accuracy, properly categorizes everything for tax purposes, and helps minimize your tax obligations. Expect to invest around $200-$500 per month for standard bookkeeping and reconciliation services.
Open a Business Bank Account
Never intermingle personal and business finances. Keeping them separate simplifies accounting and protects your assets should the company be sued. Open a dedicated business checking account and obtain a business credit card.
Apply for a Business Credit Card
With a business credit card, you can earn rewards on purchases while building business credit. Issuers determine credit limits based on your company's financials rather than your score. Apply with your EIN, company documents, and projected annual revenue.
7. Obtain Licenses and Permits
Before taking on any projects, new construction companies must acquire the proper licenses and permits. To find information on federal licenses check with the U.S. Small Business Administration. The SBA also has a local search tool for license requirements through your local government.
At a minimum, you will need a general contractor's license which involves submitting an application, meeting experience requirements, and passing a written exam. This comprehensive license allows you to coordinate and supervise construction projects.
Most construction companies need to separate specialty trade licenses for services like electrical wiring, plumbing, HVAC installation, and masonry work. These are issued by state licensing boards and also require passing an exam to verify competency. Failing to hold the right specialty licenses for the type of work your company performs is illegal.
On the operations side, you will need both state and local business licenses to legally provide services in your geographic area. Administrative staff like project managers and estimators will also need to obtain professional certifications and licenses to manage construction sites and building processes.
At the project level, you must secure permits for each specific job. Common permits include building, electrical, plumbing, mechanical, demolition, excavation, and right-of-way permits from local building departments and zoning offices. Permits ensure your work meets all codes and regulations.
Some states and counties mandate contractor registration bonds to cover financial damages should problems arise. You may also need special licenses for handling hazardous materials, lead abatement, or mold remediation. Passenger elevator installation requires licensed mechanics.
8. Get Business Insurance
Given the high-risk nature of construction work, having adequate insurance is vital before taking on any projects. Being underinsured opens your company up to massive liability if an accident occurs. At a minimum, you need general liability, workers' compensation, and builders' risk policies.
Without general liability insurance, a single on-site injury, property damage claim, or lawsuit can bankrupt your business. One construction accident lawsuit awarding a damaged party $1 million would sink most small contractors. Or, a plumbing leak you caused floods a client's home resulting in $250,000 in repairs.
Don't let a lack of preparation lead to financial ruin. Follow these steps to get properly insured:
Research policy options and pricing from multiple providers and Travelers. Compare coverage tiers and premiums.
Work with a commercial insurance broker or agent to obtain quotes tailored to your business' size, services, payroll, and other factors.
Select package policies providing at least $1 million per occurrence and accident for general liability, bodily injury, property damage, completed operations, and workers' compensation.
Consider added coverage like builder's risk (protects projects under construction), professional liability, cyber insurance, and umbrella insurance for extra liability limits.
Review all policy terms, limitations, exclusions, and deductibles before signing. An insurance advisor can explain these details.
Pay your premiums on time to prevent lapses in coverage. Review policies annually and adjust as your business grows.
Don't cut corners on insurance – being underinsured can lead to financial catastrophe for construction companies. Protect your business and personal assets upfront.
9. Create an Office Space
Securing office space is an important consideration when launching a construction company. An office provides a professional hub for meetings with clients, housing administrative staff, storing documents, and getting paperwork done. Without a proper office setup, these tasks become extremely difficult.
Home Office
A home office is the most affordable option at little to no cost. However, conducting business from your residence has drawbacks. Clients may perceive a lack of legitimacy and professionalism. Zoning laws could also preclude business activity on residential property.
Coworking Office
Coworking spaces like WeWork offer cost-effective shared offices on flexible terms. For $300-$500 per month, you get furnished space and amenities without a long-term lease. However construction business needs like equipment storage and parking availability may not be met.
Retail Office
Leasing a small private office starts at around $1,000/month. A retail space with a storefront allows meeting clients on-site and costs about $2,000 monthly. These provide workspace tailored to your needs but require longer leases and greater cost.
Commercial Office
Renting space in a commercial office building offers enterprise-level facilities and room for support staff. Expect higher prices from $3,000-$5,000 monthly but with more flexibility to scale up over time.
Ideally, look for Class B commercial space near your service area. Seek month-to-month terms initially in case your needs change. Prioritize meeting rooms, equipment/materials storage, and parking availability when evaluating options.
10. Source Your Equipment
Outfitting your construction business with the necessary equipment and tools will be a major upfront investment. Here are the best options for acquiring the materials and machinery needed for your projects:
Buying New
Big-ticket items like excavators, bulldozers, cement mixers, and other specialty equipment can cost $50,000+ brand new. While expensive, buying new gives you the latest models with full warranties from dealers and manufacturers. Look to major brands like Caterpillar, John Deere, and Bobcat.
Buying Used
Purchasing quality used equipment can save substantially over new. Brick-and-mortar dealers, along with sites like Machinery Trader, offer an extensive selection of pre-owned construction equipment at 30-50% discounts off retail pricing. Inspect anything carefully before purchase.
Renting
Many nationwide companies like United Rentals offer construction equipment for rent. This allows flexibility to obtain machinery only when needed. Rental rates vary widely depending on the tool and rental term. Short project rentals can be cost-effective.
Leasing
Leasing equipment through dealers and third-party financiers is a fixed-cost alternative to buying. Lease terms typically run 12-48 months. You pay a monthly fee but avoid large upfront costs. Leasing newer equipment also has reliability and maintenance advantages.
11. Establish Your Brand Assets
Developing a strong brand identity is crucial for making a construction company stand out in a competitive market. Implementing these essential steps will make your business appear polished and professional, and build recognition.
Getting a Business Phone Number
A dedicated business phone line lends legitimacy versus using a personal cell. Services like RingCentral provide toll-free numbers, call routing, voicemail, and other features for $25-$50 per month. This gives customers and vendors a professional resource to contact your company.
Creating a Logo and Brand Assets
A logo is the cornerstone of your brand image. It should be simple, recognizable, and evoke your business. Related brand assets like fonts, colors, and graphic elements should tie in. For DIY design, use logo makers like Looka that provide high-quality templates. Or hire a graphic designer on Fiverr to create a custom logo for around $200.
Creating Business Cards and Signage
Business cards promote awareness of your brand when meeting potential clients and partners. Include your logo, contact info, license numbers, and other key details. At sites like Vistaprint, you can get 500 basic cards for under $50. Investing in a yard/site sign and vehicle branding also builds visibility.
Purchasing a Domain Name
Your domain name is your online identity. Choose something short, simple, and easy to remember. Make sure it's available and buy it for $12-$15 per year from registrars like Namecheap. For a construction business, combining your location and services like MalibuHomeBuilders.com is effective.
Building a Website
Every business needs a website to establish its web presence. With DIY sites like Wix, you can create one yourself for free. Or hire web developers on Fiverr to design a custom site with your branding for $500 and up. Make sure it's mobile-friendly and portrays professionalism.
12. Join Associations and Groups
Joining relevant organizations and networking opportunities allows construction business owners to make vital connections in their field. Here are some valuable ways to engage with the local construction community:
Local Associations
Industry associations like the National Association of Home Builders and Associated General Contractors of America have hundreds of local chapters. Joining provides access to training, resources, and the ability to connect with fellow contractors in your area. Search for active chapters in your city or county.
Local Meetups
Attending in-person trade shows, networking meetups, and industry events puts you face-to-face with potential partners and clients. Websites like Meetup make it easy to find upcoming gatherings for construction professionals in your city.
Facebook Groups
With over 1 billion users, Facebook is home to niche communities for every industry. Search for construction-related groups like Construction Pros and Construction Contractors to tap into the collective knowledge of tens of thousands of building professionals worldwide.
13. How to Market a Construction Business
Implementing an effective marketing strategy is crucial for construction companies to consistently obtain new projects and expand their client base.
Word of Mouth Marketing
While referrals from satisfied customers are hugely impactful, you can't rely solely on word-of-mouth. For example, offering a 10% discount on future projects could entice happy homeowners to recommend your services to friends.
Digital Marketing
When it comes to digital marketing, focus on channels that contractors heavily utilize:
Google Ads – Target local searchers by bidding on relevant keywords like "kitchen remodel contractors"
Facebook Ads – Create highly targeted ads to reach homeowners in your area
YouTube Channel – Post educational tutorials and project walkthroughs to showcase expertise
Blogging – Publish articles like "How Much Does a Bathroom Remodel Cost?" to attract web traffic
Google My Business – Optimize your free listing to rank for local searches
Instagram – Give prospective customers a behind-the-scenes look at your projects
Traditional Marketing
For traditional approaches, options like direct mail can be beneficial:
Postcards – Send promotional offers to homeowners in the zip codes you service
Door Hangers – Canvas neighborhoods and hang marketing pieces on front doors
Flyers – Distribute materials at local hardware stores, realtor offices, etc.
Radio Ads – Short radio spots can boost local brand awareness
Billboards – Display your brand and message on heavily trafficked roads
Networking Events – Attend local chamber and real estate events to connect in person
The most effective mix includes digital for scalability and traditional for outreach. Focus on channels that give you sufficient exposure among homeowners actively seeking contractors. With smart marketing, your construction services will be top of mind.
14. Focus on the Customer
Providing exceptional customer service is pivotal for construction companies to retain clients, earn referrals, and build a strong reputation. Some ways to improve customer focus in your own construction business include:
Start by ensuring every employee displays professionalism, courtesy, and respect when dealing with property owners.
Returning calls/emails promptly, answering questions thoroughly, and resolving any concerns quickly are expected.
Listen attentively to understand exactly what the client wants.
Keeping homeowners constantly updated on project timelines and milestones provides assurance. Avoid surprises and mismatched expectations.
Ask for feedback during the process to identify improvements.
Strive to complete quality work on time and budget.
Delivering the finished product as promised indicates reliability. Limit change orders and cost overruns.
Build in extra time for inspections and troubleshooting.
Satisfying customers leads to customer loyalty. A homeowner pleased with their custom deck or kitchen renovation is likely to recommend you to neighborhood friends. Positive word-of-mouth is the best marketing. It also provides an opportunity to request online reviews and testimonials to showcase your exemplary service.