The global nail salon industry is booming. It is projected to reach $32.84 billion by 2032. With more people seeking manicures, pedicures, and nail enhancements like gel manicures or acrylics, the opportunity for new salon owners is significant. However, starting your nail salon requires careful planning and preparation.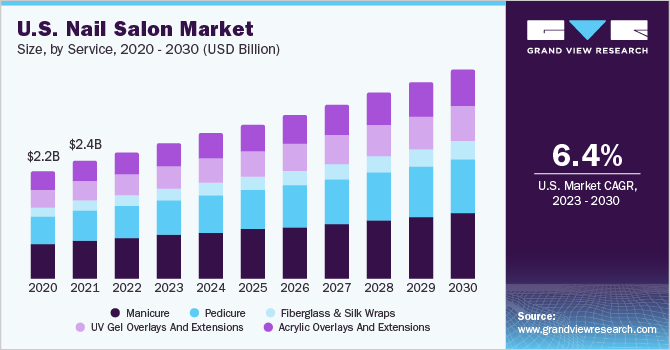 From obtaining licenses and insurance to securing a retail space and purchasing equipment, there are many steps involved. This guide will explain how to start a nail business. From writing a thorough business plan to hiring staff and attracting clients. With the right information and advice, aspiring nail technicians can turn their passion into a thriving small business.
1. Conduct Nails Market Research
Market research is important as a nail artist entering the nail industry with your own business. To create a solid nail salon business plan, you need to get to know your target market, local competitors, trends in acrylic nails, and more.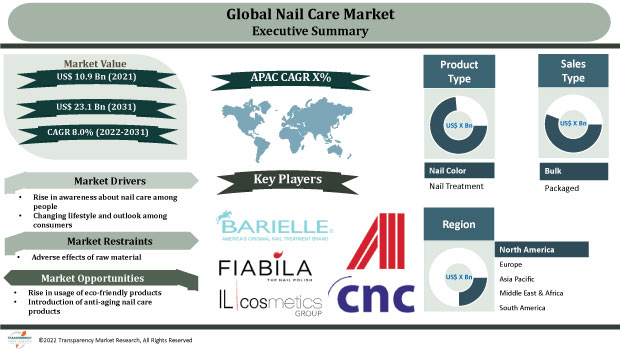 Several factors are driving growth in the nail industry:
Increased discretionary income has allowed more women to get regular manicures and pedicures. The average number of annual visits per customer has risen from 4 in 1999 to 5.5 in 2022.
Nail art and enhancements like gel manicures, dip powders, and acrylics have become hugely popular. Over 50% of nail salon revenue now comes from nail art services rather than basic manicures/pedicures.
Social media has fueled interest in unique nail designs. Customers want Instagram-worthy nails. This has expanded the customer base beyond just women to also include teens, college students, and even men.
The stigma around manicures as an indulgence has declined. Getting nails done is now seen as self-care and a way to express personal style.
While demand is surging, the supply side faces challenges. A shortage of qualified nail technicians has led to appointment backlogs at some existing salons.
It's also difficult for new salons to find staff. This labor shortage represents a major opportunity for aspiring salon owners.
Opening a nail salon now can capitalize on the booming demand and limited competition.
Target customers include working professionals with disposable income, fashion-focused Gen Zers and millennials, brides/bridal parties, and special occasion customers.
Salon owners should consider locations near corporate offices, shopping/entertainment districts, colleges, and residential areas. High foot traffic and accessibility are key.
Given the market gaps, favorable trends, and financial viability, opening a nail salon now can be a lucrative business opportunity. With proper planning and execution, the potential rewards outweigh the risks and required investment.
2. Analyze the Competition
Carefully analyzing the competition is crucial when starting a nail salon. This involves assessing both local brick-and-mortar competitors and evaluating your online presence versus competitors.
Some ways to learn more about your own salon competition include:
Identify all nearby nail salons within a 3-5 mile radius.
Visit each location to evaluate factors like pricing, service offerings, cleanliness, staff friendliness, and expertise, amenities like beverages and WiFi, and ambiance.
Take notes on strengths and weaknesses.
Seek customer reviews on Google, Yelp, and Facebook to gauge satisfaction. This helps uncover opportunities to meet unmet customer needs.
Research the salons' social media and websites.
Look at engagement levels, quality of photos/videos, types of promotions run, and brand messaging.
Search your planned business name across platforms like Facebook, Instagram, and LinkedIn to see if handles are available. Claim them ASAP to stake out turf.
Google yourself and the business name to uncover existing search rankings.
Use Google Analytics to research key search terms and traffic for competitor sites. This illuminates what it will take to achieve high visibility.
The competition analysis exposes target demographics, prime location opportunities, price points, where competitors fall short on customer service, and areas for differentiation. It also shows how strong a digital presence you'll need. Performing this research upfront provides insights to help launch and run a salon that stands apart.
3. Costs to Start a Nails Business
Starting your own nail business requires an initial and ongoing investment. As a professional nail technician, you'll spend money on equipment and nail treatments, a retail establishment, employees, and more as you enter the beauty industry.
Start-up Costs
When launching a nail salon, the start-up costs typically range from $50,000 to $100,000. The breakdown includes:
Salon lease or purchase – For leasing, budget $2,000 to $5,000 per month depending on location and size. Buying an existing salon or commercial condo can cost $100,000 to $300,000. Factor in a down payment of 10-25%.
Salon build-out and design – With a raw space, budget $10,000 to $30,000 for lighting, flooring, walls, furnishing, and decorating. Cosmetic improvements to an existing space may cost $2,000 to $10,000.
Furnishings – This includes sturdy pedicure chairs ($2,000 to $4,000 each), manicure tables and chairs ($300 to $1,000 per station), reception desk ($300 to $2,000), waiting area seating ($500 to $1,500), and other furniture ($3,000 to $10,000 total). Plan on 10+ stations.
Nail station equipment – Budget $1,000 to $5,000 per station for tools like nail dryers, drills, UV/LED lamps, and sanitation systems. Also include $500+ for a pedicure tub/chair per station.
Ventilation system – A good air purification system costs $3,500 to $6,500 to install. Proper ventilation is essential.
POS system – Salon POS software starts at around $70/month. Hardware like iPads or touch screens is $400-$1,000 per station.
Starting inventory – Stock up on $2,000 to $5,000 of nail polishes, gels, acrylics, fortifiers, removers, disposables, adhesives, files, buffers, brushes, towels, and other recurring supplies.
Business license and permits – Plan on $500 to $1,000 for your local business license, sales tax permits, and health department permits.
Insurance – Salon insurance like general liability starts around $500/year but can be higher depending on location and coverage limits. Workers comp is also required.
Professional services – Legal fees ($300 to $1,000), accounting fees ($500 to $2,000), and consulting fees ($1,500 to $5,000) may be incurred when starting.
Employees – Staff will be one of the biggest ongoing expenses. With commission structures, payroll costs typically range from $4,000 to $12,000 per month for a 5-10-person team.
Ongoing Costs
With non-payroll monthly expenses like rent, utilities, supplies, maintenance, marketing, insurance, and services, plan on budgeting an additional $5,000 to $15,000 per month.
Annual expenses can include:
Insurance premiums
License renewals ($50 to $500)
POS system ($700 to $1,500)
Accounting ($1,000 to $5,000)
Ongoing training/education ($500 to $2,000)
Marketing campaigns like direct mail ($1,000 to $3,000)
Shop maintenance and janitorial services ($500 to $5,000)
Starting inventory and initial pro services represent one-time start-up costs. However, all other items will recur on a monthly or annual basis when calculating ongoing expenses. Thoroughly estimate these operational costs before launching your nail salon.
4. Form a Legal Business Entity
When establishing a new nail salon, one of the first key decisions is choosing the right legal structure. The four main options each have pros and cons to weigh.
Sole Proprietorship
A sole proprietorship is the simplest as it's just you operating the business informally. The salon is not separate from you legally or tax-wise. This offers complete control and simplified taxes with no corporate filings. However, there is unlimited personal liability – your home or other assets could be seized if sued. Plus, a sole proprietorship can't take on investors or co-owners.
Partnership
A partnership like an LP or LLP allows multiple owners to share control and split liability exposure. This brings diverse strengths when starting a nail salon and makes it easier to raise funds. However, partners' assets are still at risk from debts or lawsuits. Disagreements between partners can also paralyze decision-making or even dissolve a partnership.
Corporation
A corporation creates a separate legal entity, protecting owners' assets. Shareholders, directors, and officers get flexibility in controlling and managing the nail salon. And multiple owners, shareholders, and management tiers are possible. But incorporating comes with lots of legal formalities, filings, regulations, and corporate taxes. The increased compliance burden may outweigh the benefits for a small nail salon.
Limited Liability Company (LLC)
That leads to limited liability companies (LLCs) as the most logical choice. LLCs shield owners' assets without the high compliance burden of a corporation. An LLC has the liability protections of a corporation but with the simplicity and lower taxes of a sole proprietorship or partnership.
LLC owners can number from 1 to 100 and even non-US citizens can have ownership stakes. This flexibility allows a nail salon LLC to take on investors and co-owners as it grows. Overall, an LLC combines the best features while minimizing negatives.
5. Register Your Business For Taxes
One key task when forming your nail salon LLC is obtaining an Employer Identification Number, or EIN, from the IRS. An EIN is essentially the business equivalent of a social security number – it identifies and classifies your business for tax and reporting purposes.
While sole proprietors can use their social security number, having an EIN keeps your personal and business tax matters separate. An EIN is also required if your nail salon will have employees since you must report payroll taxes.
Applying for an EIN is simple and free through the IRS website. Here is the step-by-step process:
First, navigate to the IRS EIN Assistant and review the requirements to ensure you have the needed information handy. This includes details on your LLC and principal business activity.
Next, begin the online application. You will answer questions to establish your entity type and business activities. The IRS uses NAICS codes to classify businesses – the code for nail salons is 812113.
After entering your LLC information, owners' details, and business classification, you will get an EIN immediately upon submitting the form. The online process takes only about 10-15 minutes.
The EIN will also be mailed to you within 2 weeks for your records. Some banks require a physical letter when opening your business bank account.
Make sure to record your EIN, as you will need it for all tax filings, securing licenses, opening business accounts, hiring staff, and other transactions.
You should also register for state taxes by obtaining sales tax permits, filing for income tax withholding, and submitting employer registration forms. Most states only charge nominal fees of less than $100 to get sales tax licenses and employer IDs. Properly registering your nail salon LLC right away prevents issues later on.
Obtaining an EIN and registering with state agencies establishes your salon's legitimacy and allows things to operate smoothly. Don't let the administrative details intimidate you – the process is straightforward for setting up your nail business correctly.
6. Setup Your Accounting
Proper accounting is crucial for any small business, including a nail salon. Setting up an organized system from the beginning prevents issues and penalties when tax time comes.
Accounting Software
Using accounting software like QuickBooks can automate and simplify much of the tracking and reporting. Linking QuickBooks to your business bank account and credit cards allows seamless import of transactions and reconciliation.
Hire an Accountant
While software helps, partnering with an accountant is highly recommended when starting a nail salon. They can advise on the optimal business structure from a tax perspective. Then an accountant can establish your ledger and necessary accounts for tracking all cash inflows and outflows.
Open a Business Bank Account
Make your accountant's job easier by properly separating finances from the beginning. Keep all nail salon income and expenses completely separate from your finances. Open a dedicated business checking account and get a business credit card.
Apply for a Business Credit Card
Business credit cards are a necessity for transparent tracking of expenses. Purchases made on the card are imported into accounting software and simplify year-end accounting. Business cards don't use your credit – issuers determine limits based on business revenue and assets. Apply through your bank or online services.
7. Obtain Licenses and Permits
One aspect that is easy to overlook when starting a nail salon is getting all required federal, state, and local licenses and permits in place first. Check federal license requirements through the U.S. Small Business Administration. The SBA also offers local search tools for nail services to find state license requirements.
At the federal level, a nail salon has no special licensing requirements, so focus your efforts at the state and local levels. States require a general business license – these are often called "taxpayer's licenses" but cover much more than just taxes.
One of the most important licenses is from your state board of cosmetology. Most states require nail salons to have a salon license and all nail technicians also hold individual licenses.
There are education hour requirements (100-600 hours typically) and exams to pass. Renewing these professional cosmetology and nail tech licenses yearly is mandatory. This ensures standards are met that protect public health and safety.
States also require specialty health licenses for services like pedicures or using certain tools. Disinfecting tubs, basins, and foot spas properly is crucial for sanitation. States regulate this closely with special permits and licenses you must visibly display in the salon for inspectors. Renewing on schedule is essential.
Zoning laws must also be checked to confirm a nail salon is an approved use for the property. Signage and exterior changes may need special permits based on city codes and historic preservation laws if relevant. Any interior construction/remodeling needs separate building permits approved through the building department.
8. Get Business Insurance
Business insurance is crucial protection for nail salons against unexpected costs that could severely damage or destroy the company. The right policies safeguard against scenarios like:
A customer slipped and fell in the salon, resulting in a lawsuit and legal fees.
A fire breaks out and causes massive repair bills or total loss of space and equipment.
Theft of valuable supplies, tools, cash on-premises, or customer property that must be reimbursed.
Without insurance, these examples could lead to bankruptcy. Policies cover legal liabilities as well as losses from crime, property damage, and accidents. Common options recommended for nail salons include:
General liability insurance covering injury claims from customers, umbrella coverage for expanded protection.
Commercial property insurance for damage/loss of the space, equipment, and inventory.
Workers' compensation insurance which is required by law for employees. This covers medical bills and lost wages for work-related injuries.
Obtaining business insurance follows this process:
Determine your coverage needs and appropriate limits. Insurers like The Hartford have industry risk profiles that provide suggested packages.
Apply for policies that best fit your nail salon's risks and budget. You may schedule assessments of the premises.
Once approved, pay premiums monthly, quarterly, or annually. Update as needed when expanding services, hiring staff, or remodeling.
Don't wait for a claim to realize you should've had business insurance – the financial consequences are too great. Safeguard your hard work and investment in your nail salon upfront through proper business insurance.
9. Create an Office Space
Having a dedicated office space can be quite useful for certain aspects of operating a nail salon. An office allows you to handle administrative tasks, hold private meetings, store sensitive documents securely, and have an address for legal and tax purposes. Here are some potential options to consider:
Home Office
A home office is the most convenient and affordable option. Part of your residence can be used for tasks like bookkeeping, payroll, responding to emails, and making orders. However, conducting meetings with staff in your home may feel overly personal. Also, keeping business materials secure can be challenging.
Coworking Office
For location flexibility at affordable rates, a coworking space like WeWork could meet your needs. Most major metro areas have multiple coworking sites. Dedicated desk memberships start around $300/month. You can access office resources only during times admin work is needed versus paying for unused space. However, these semi-public spaces don't offer much privacy or security.
Retail Office
If you purchase or lease a retail storefront for your nail salon, consider getting space with a back office/breakroom. This gives you more privacy for tasks like payroll, without needing to rent a second location. If your salon space lacks a private office, this won't work. Also, inventory security could be a concern with customers on the premises.
Commercial Office
A standalone commercial office space is the most professional but costliest option. You could lease Class A office space near your salon at monthly rates of $1,000. While ideal for holding client meetings and safely storing records, the high overhead may not justify the benefits.
10. Source Your Equipment
A nail salon requires specialized equipment and materials to provide services. From pedicure chairs to polishes and gels, owners have several options for furnishing their business.
Buy New
Buying brand-new equipment from manufacturers ensures optimal condition and warranties. Companies like Spa and Equipment and Salon Wholesale sell high-end pedicure stations, upholstered massage chairs, manicure tables, and commercial-grade supplies that will last through heavy daily use. However, these often cost thousands per item.
Buy Used
Purchasing secondhand equipment is extremely common. Facebook Marketplace, Craigslist,eBay, and OfferUp are hotspots to find discounted tools, chairs, carts, stools, and more from salons going out of business or upgrading models. Inspect thoroughly since wear-and-tear varies, but units often run under $500.
Renting
Renting equipment through companies eliminates large upfront investments. Chairs, nail tables, sterilizers, and reception furniture can be rented monthly, with the option to buy later on. However, accumulating monthly fees can ultimately exceed buying outright.
Leasing
Leasing via equipment financing works similarly to renting but also builds equity – payments go towards eventually owning the gear. Approval is based on business income and credit. Though more complex upfront, leasing allows spreading out costs interest-free over multiple years.
11. Establish Your Brand Assets
Creating a strong brand identity is crucial for helping a new nail salon stand out and build recognition. By investing in core brand assets upfront, you establish credibility and professionalism.
Get a Business Phone Number
Start with claiming a unique business phone number through a service like RingCentral. Choose an easy-to-remember vanity number with your local area code instead of a random string of digits. This gives customers an easy way to contact you and builds trust.
Design a Logo
Work on a logo and visual brand elements that quickly convey your salon's vibe. Consider your target audience and service offerings when designing. For instance, a trendy logo with fun colors attracts young fashionistas, while an elegant script font has an upscale appeal.
Service-specific elements like nail polish, hands, or feet can also feature prominently. Logo makers like Looka provide thousands of customizable, professionally designed templates to match your vision.
Brand Apparel and Business Cards
Create complementary brand assets like letterhead, menus, price sheets, social media headers, and brochures. Keep colors, fonts, and styling consistent across assets to boost recognition.
Order business cards from Vistaprint to network and hand out to new customers. They should prominently display your logo, phone number, website, and address.
Buy a Domain Name
Speaking of websites, secure a domain name that matches your brand through sites like Namecheap. Aim for .com when available, keep it short, and use keywords like "nails". Make sure to get social media handles on platforms like Instagram and Facebook using your business name.
Design a Website
Building out a full website provides a hub for customers to book appointments, view services, read reviews, and learn about your team's expertise. Use an easy drag-and-drop builder like Wix to DIY your site if your budget is tight. Or hire a freelancer on Fiverr for a fully custom site design.
12. Join Associations and Groups
Joining relevant local organizations and online communities can provide invaluable connections and insights for nail salon owners. Surrounding yourself with others in the industry leads to networking opportunities, idea sharing, and continued education.
Local Associations
Seek out associations like the Professional Beauty Association which provides support through all stages of starting a salon. Members gain access to advice, events, discounted insurance, operational guides, and more.
Local Meetups
Attend local professional meetups and trade shows to connect in person with other beauty professionals, vendors, and brands. Sites like Meetup make it easy to find relevant events in your metro area focused on business education and networking.
Facebook Groups
Facebook groups bring together specialized communities where members can ask questions, share industry news, and get feedback on challenges. For nail salon owners, groups like Salon Business Owners Only and acrylic nails, regular nails, beginners & advanced provide camaraderie and support. More targeted groups like GEL NAIL TECH BUSINESS GROWTH & SUPPORT GROUP help stay on top of trends and techniques.
13. How to Market a Nails Business
Implementing an effective marketing strategy is essential for driving growth as a new nail salon owner. With so many options, focus first on leveraging your network and referral marketing before exploring paid advertising channels.
Word of Mouth Marketing
Satisfied customers who organically rave about their experience are invaluable. Entice happy clients to write online reviews on platforms like Yelp. Offer a promotional discount in exchange for posting before/after photos of nail art on social media and tagging your salon. Word-of-mouth referrals and testimonials hold more weight than any advertisement.
Digital Marketing
For digital marketing, consider:
Search ads through Google Ads targeting local keywords like "nail salon near me". Start with a $10-20 daily budget to attract nearby searchers.
Facebook/Instagram ads highlighting your services and special offers. Target by location and demographics. Instagram photo ads tend to engender engagement.
Email marketing to retain clients. Collect emails at checkout to build a subscriber list for promotions. Many salons offer referral bonuses and birthday discounts via email.
Social media content showcasing nail trends, salon culture, and profiling technicians helps attract followers organically. Post daily.
Writing blog posts about nail care, designs, and DIY tips expands your website reach and expertise. Aim for 2-3 blogs per month.
Traditional Marketing
For traditional marketing, options include:
Coupon mailers to local households announcing opening specials and grand opening events.
Posting flyers on community bulletin boards at gyms, cafes, colleges, etc.
Grassroots efforts like sponsoring local Little League teams or marching bands, with signage displaying your support.
Billboard/radio ads can boost visibility but may not justify the high costs. Stick to negotiating short promotional runs.
Start by optimizing your website and Google My Business listing for SEO. Then layer in targeted paid ads across social and search platforms. Promotions via direct mail or flyering could supplement digital efforts. Know your ROI and focus marketing dollars on the highest converting channels.
14. Focus on the Customer
Providing an exceptional customer service experience is pivotal for any nail salon's growth and longevity. Given the intimate nature of manicures and pedicures, clients expect pampering along with skillful results.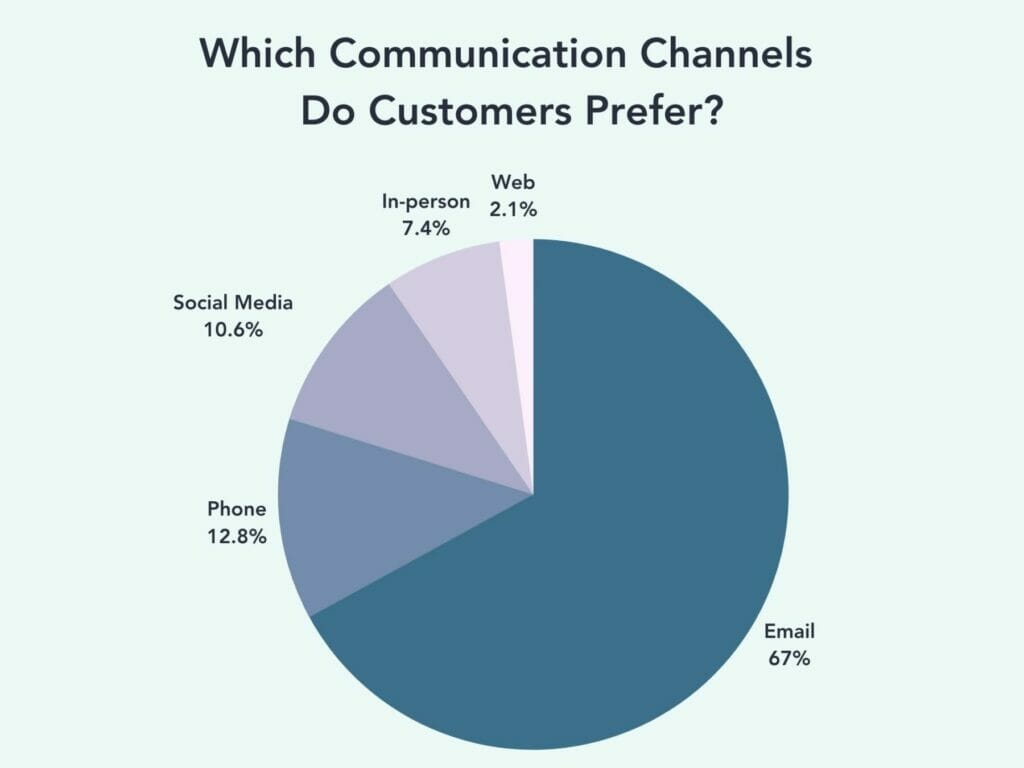 Some ways to improve customer focus in your own nail salon business include:
Make clients feel welcomed and cared for from the moment they walk in.
Greet everyone with a smile and use their name when possible.
Offer refreshments and keep the space spotlessly clean.
During services, check that clients are comfortable and address any concerns immediately.
Pay attention to small details that make a difference.
Play calming music, provide warm neck pillows during pedicures, and give hand massages during manicures.
Recommend products that specifically meet their nail needs and compliment final results enthusiastically.
Following up after appointments also strengthen relationships.
Send thank you emails or handwritten notes.
Include a coupon to incentivize rebooking.
Ask for feedback on their experience and how you can improve.
Address any criticisms quickly by apologizing and finding solutions.
With social media's influence, reviews and word-of-mouth now make or break salons. By providing five-star customer service that exceeds expectations, your clients become raving fans who refer friends and family. A glowing reputation as a premier local nail destination is built one manicure at a time.