The aroma of freshly roasted coffee beans is irresistible to most people. The coffee industry raked in over $9.1 billion in 2023. The compound annual growth rate (CAGR) is estimated at 3.54% between 2023 to 2028.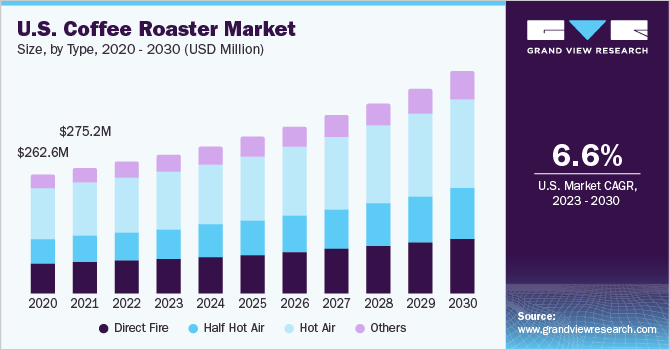 Whether you want to sell wholesale to cafes and restaurants or go straight to consumers, roasting your coffee can be extremely rewarding. With specialty coffee driving most of the growth, there's never been a better time to start a coffee roasting business.
In this guide, we'll talk about how to start a coffee roasting business. Topics include sourcing green coffee beans and roasting equipment, market research, competitive analysis, registering an EIN, and more. Here's everything you need to know about starting your own coffee roasting business.
1. Conduct Coffee Roasting Market Research
Market research is essential to being successful in the roasted coffee industry. It provides insight on market saturation, popular products, industry trends, competitors, and more.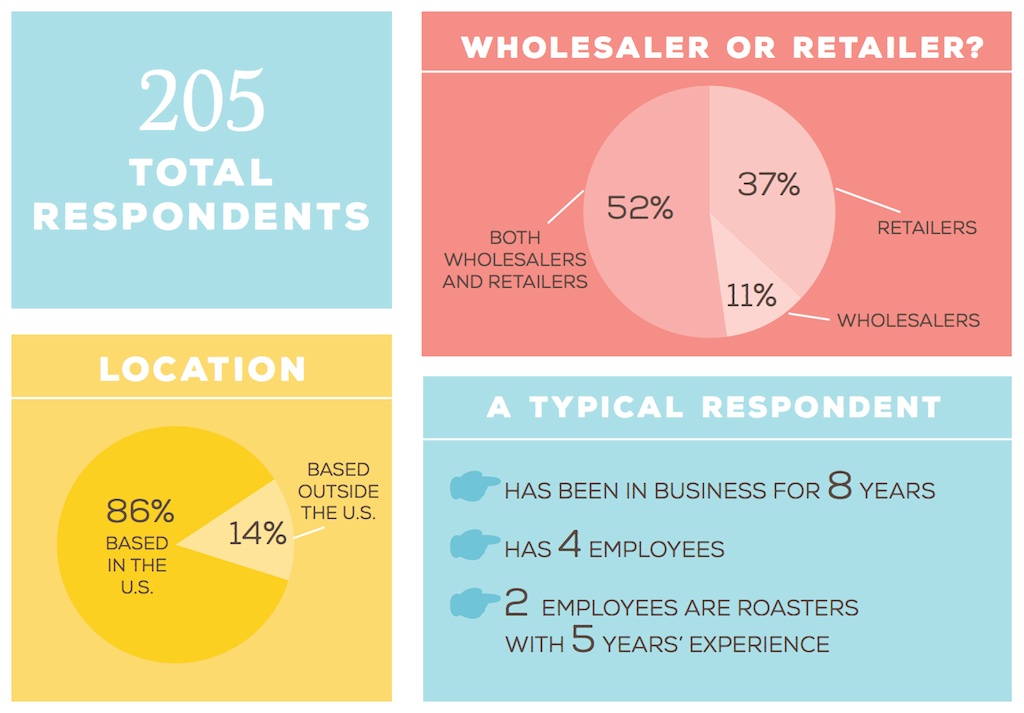 Here are some of the things to look for as you start your coffee roasting market research.
Key industry drivers: The third-wave coffee movement has conditioned consumers to appreciate high-quality coffee made from freshly roasted, single-origin beans.
Market trends: Consumers are paying more for sustainably and ethically sourced coffee.
Ease of entry: The low barriers to entry make launching a coffee roasting business relatively easy.
Target market: Locally-minded millennials and Gen Z consumers.
Incentive ideas: Offer a subscription service directly to consumers. Major players like Blue Bottle began as subscription-based micro roasters before scaling nationally.
Investment amount: The initial investment for a coffee roasting business easily crosses $100,000.
Succeeding in this competitive landscape requires the right positioning, calculated growth strategy, and substantial capital. With proper planning and execution, a passion for coffee can still be parlayed into a thriving artisanal roastery business.
2. Analyze the Competition
Understanding the competitive landscape is crucial when launching any new business. For aspiring coffee roasters, this means evaluating both local coffee shops and larger online retailers.
Here are some ways to get to know your competition:
Check review sites like Yelp and Google to make a list of top-rated local options.
Visit their cafes and stores to get a feel for their branding, products, and prices.
Take notes on their roast profiles, packaging, and product mix.
Chat with baristas to learn about their customer base and ordering processes.
Check their websites and social media presence.
Use tools like SEMrush to analyze their digital marketing strategy.
Analyze pricing across these local and online players.
This market research arms you with key competitive intelligence as you refine your positioning and offerings. It will help you identify an unmet niche in terms of roast profile, product mix, subscriptions, or sustainability.
3. Costs to Start a Coffee Roasting Business
Starting a coffee roastery requires a significant upfront investment, as well as ongoing expenses. Here, we'll break down the cost of everything from green coffee beans to commercial coffee roasters.
Start-up Costs
From commercial-grade equipment to real estate, the start-up costs can easily exceed $100,000. Here's a closer look at what they entail.
Commercial Roaster – $15,000 to $60,000 for a commercial-grade batch roaster
Additional Production Equipment – $5,000 to $15,000 for grinders, designers, bagging machines, and cooling trays.
Packaging – $2,000 to $5,000 for bags, boxes and labels
Facility Costs – $15,000 to $50,000 for an industrial warehouse or retail space
Licenses & Permits – $2,000 to $5,000
Initial Inventory – $5,000 to $15,000 for green coffee beans and packaging materials
Other costs like an accountant, lawyer, insurance, utilities, payroll software, POS system, website, furnishings, delivery vehicle, and more can easily add another $15,000 to your start-up budget.
Ongoing Costs:
Once up and running, coffee roasters face a range of ongoing monthly and annual expenses. These include:
Coffee Beans – $2,000 to $5,000 per month The biggest recurring cost is raw coffee beans. Expect to spend $2,000 to $5,000 per month on specialty-grade green beans as you scale production.
Packaging – $500 to $1,500 per month Bags, stickers, boxes, and other packaging materials are another monthly production cost.
Rent & Utilities – $2,000 to $7,000/month For an industrial roastery and/or café space, rent runs $3 to $8 per square foot annually. This equates to $2,000 to $7,000 monthly. Utilities like electricity and gas can add hundreds more.
Equipment Maintenance – $2,000 to $5,000 annually Proper maintenance of roasters and other equipment usually costs a few thousand per year. Occasional repairs may be needed as well.
Staffing – $4,000 to $12,000/month Employee payroll, taxes, and benefits for a staff of 5 to 10 can reach $4,000 to $12,000 monthly.
Insurance – $100 to $300/month General liability and other business insurance usually fall in this range monthly.
Software, Marketing & Professional Services – $1,000 to $3,000 per month Ongoing services like accounting, bank fees, advertising, web hosting, and software subscriptions average $1,000 to $3,000 monthly.
Delivery Costs – $500 to $2,000 per month If selling wholesale or direct to consumers, fuel, and driver costs for deliveries need to be factored in.
Loan Repayment – $1,000 to $5,000/month For any business loans or lines of credit to finance operations, loan payments come out of monthly cash flow.
Taxes – 25% of revenue State sales taxes, income taxes, and payroll taxes eat into revenue significantly. Plan for at least 25% of gross revenue.
Using quality beans and equipment while mastering your roast profiles is critical. Careful financial planning gives your business the best chance of brewing up success.
4. Form a Legal Business Entity
When starting a coffee roasting business, one of the first legal decisions is choosing your business structure. The four main options—sole proprietorship, partnership, LLC, and corporation—each have pros and cons to weigh.
Sole Proprietorship
A sole proprietorship is the simplest structure. You operate as an individual with complete control. However, you have unlimited personal liability meaning your assets can be seized to settle business debts and lawsuits. This substantial risk makes a sole proprietorship inadvisable for a commercial roastery.
Partnership
Forming a general partnership spreads liability and managerial duties between partners. However, each partner is still jointly liable for all business obligations. Partnerships can run into conflict without clear decision-making authority. The relatively high risks and complications make a general partnership a poor choice.
Limited Liability Company (LLC)
Establishing a limited liability company (LLC) combines pass-through taxation with personal liability protection. Profits and losses pass through to members' taxes. However, members' assets are shielded from business liabilities and debts. An LLC also accommodates any number of members with flexibility in management structure.
Corporation
Forming a corporation protects personal assets and allows selling stocks to raise funds. However, requirements like shareholder meetings and directors make operations more complex. Plus, income is taxed at both the corporate and shareholder level. Overall, the LLC remains the better choice for small coffee-roasting businesses.
5. Register Your Business For Taxes
One of the first legal steps when forming your coffee roasting business is obtaining an Employer Identification Number (EIN) from the IRS. This unique identifier is like a social security number for your business.
An EIN is required to open business bank accounts, apply for licenses, hire employees, and file taxes. Sole proprietors can use their SSNs, but an EIN adds credibility and keeps your info private.
The EIN application process is quick and free through the IRS website. Select the option to "Apply Online Now" and follow the steps to enter your business information.
You'll need details like your business name, address, and ownership structure. The online application takes less than 15 minutes in total. At the end, your EIN is provided immediately. Just be sure to print or record it for your records.
In addition to your federal EIN, you need state-level tax compliance. Coffee roasting is a retail business, so you must collect and remit sales tax in your state.
Visit your Secretary of State's website to register your business and apply for state tax permits. The requirements vary by state but expect to pay $50 to $100 in fees. You'll receive a state sales tax ID number allowing you to collect and submit sales taxes.
6. Setup Your Accounting
Proper accounting is crucial for any business, especially a specialty coffee roastery. Meticulous record-keeping and financial controls will save you headaches down the road. Here are some tips to get your books in order from the start:
Accounting Software
Invest in small business accounting software like QuickBooks. This automates tasks like invoicing, reporting, and reconciliation. Connect your business bank accounts and credit cards so transactions automatically sync. This gives you real-time visibility into sales, expenses, profits, and taxes.
Hire an Accountant
Consider hiring an accountant for bookkeeping and advisory services. Expect to pay $50 to $125 per hour. They can handle cash flow analysis, payroll, tax filings, and more. This frees you to focus on roasting. Come tax season, they'll prepare filings and help optimize your tax liability.
Open a Business Bank Account
Keep business and personal finances completely separate. Open a dedicated business checking account and credit card. Never co-mingle funds. This makes record-keeping and accounting cleaner for you and the IRS.
Apply for a Business Credit Card
Apply for a business credit card using your EIN. Issuers like Capital One Spark Cards approve based on business revenue rather than personal credit. This establishes business credit to support operations.
Use a POS System
Use a POS system to log retail sales if selling directly to consumers. This creates a clear audit trail and eliminates cash-handling errors. Popular options like Square integrate seamlessly with accounting software.
Set a Budget
Set a budget and billing cadence to keep finances predictable. Estimate average monthly expenses. Invoice wholesale accounts every 2 weeks and collect credit card payments weekly. This steady cash flow funds ongoing operations.
7. Obtain Licenses and Permits
Before opening for business, coffee roasting companies must ensure they have secured all required licenses and permits. Check with the U.S. Small Business Administration. They offer an overview of all federal license requirements. The SBA also has a local search tool for state permit research.
Some potential requirements include:
Food Safety Certification: Any business producing or selling food products must obtain a food safety certification demonstrating proper training in safe handling practices.
Health Department Permit: Contact your local health department to apply for the necessary permits to operate a commercial roastery.
Fire Department Permit: Your local fire marshal must approve the safety of your facility before opening. Their inspection verifies compliance with fire codes including proper extinguishers, sprinklers, exits, and electrical.
Air Quality Permit: Coffee roasting emits particulates, volatile organic compounds, and other air pollutants. depending on your jurisdiction, an air quality permit from the EPA or state environmental agency may be required.
Weights & Measures Registration: To sell coffee by weight rather than volume, your scales must be registered for commercial use.
Seller's Permit: If selling directly to consumers, a seller's permit from the state allows the collection of sales tax. You must file regular returns reporting taxable sales and remit taxes collected.
Business License: Most cities or counties require a general business license to operate within their jurisdiction. This involves providing business details and paying a nominal license fee annually.
8. Get Business Insurance
Operating a commercial coffee roastery carries substantial risks that make business insurance essential. The right policies help safeguard your company's financial well-being against unforeseen losses.
Without adequate coverage, a single incident could destroy everything. For example, a fire could damage your facility and equipment. Or a customer could suffer injuries and sue your business. Even a spoiled batch of beans could deal a huge financial blow.
General liability insurance covers costs if customers are injured on your premises and seek damages. Product liability protects against losses from shipping defective products. Equipment breakdown insurance replaces damaged roasting equipment. Property insurance reimburses damage to your leased or owned spaces.
To sign up for a policy, you'll need business documentation like your EIN, licenses, and potentially financial statements. Finally, make sure to provide prompt notice to your insurer of any potential claims during the policy period.
Setting up the right insurance provides peace of mind and can save your business from utter financial ruin. Protect your coffee roasting operation from unforeseen disasters by reviewing coverages annually and adjusting limits as the business grows.
9. Create an Office Space
While the roastery itself requires an industrial space, maintaining a separate office can be beneficial for coffee-roasting businesses. An office provides a professional meeting spot and workspace away from the noise and bustle of production.
Home Office
A home office is the most affordable option starting. Use a spare bedroom or basement area as your workspace. Meeting clients at your residence can seem unprofessional though. And keeping food smells away from paperwork can be challenging. Expect costs of $100 to $400 for basic furnishings.
Coworking Office
Coworking spaces like WeWork provide more credibility when meeting clients. They also give you access to business amenities like conference rooms, printers, Wi-Fi, coffee, and community networking. Downsides include a lack of privacy and cost. Expect to pay $300 to $500 monthly for a dedicated desk.
Retail office
If operating a retail café, your office can be located adjacent to your coffee bar. This on-site office gives you easy access to handle daily business operations. Just be sure to set boundaries so staff and customers don't intrude during focused work time. A basic setup with a desk, computer, and supplies runs around $1,000.
Commercial Office
A standalone commercial office space offers the most professional atmosphere for meetings. You also get complete privacy and quiet without production noise. Commercial spaces are leased for $15 to $25 per square foot annually. A 150-square-foot office would cost around $2,500 per month.
10. Source Your Equipment
From commercial roasters to grinders and designers, coffee roasting requires specialized equipment. Here are some options for acquiring the necessary gear as a startup:
Buying New
Purchasing brand-new equipment from a manufacturer ensures optimal performance and longevity. Major suppliers like Diedrich, Probat, and US Roaster Corp offer commercial roasters ranging from $20,000 to $60,000. Expect to pay a premium for the latest innovations and customization.
Buying Used
Buying quality used equipment can significantly reduce upfront costs. Check sites like Craigslist, Facebook Marketplace, and eBay for locally used roasters, grinders, and designers. Joining the Coffee Roasters Forum on Facebook can help connect you with sellers. Expect savings of 50% or more versus new. Just budget for potential maintenance and repairs.
Renting
Renting equipment is another affordable option for new roasters with lower output. Monthly rates run $500 to $1,500 for a quality used 5 to 15-kilo roaster. Renting eliminates upfront CapEx. But it can become expensive long term compared to buying. Use initially while testing your model before committing to purchasing equipment.
Leasing
Leasing roasters and auxiliary equipment allows for spreading costs over time. Instead of a lump purchase, simply make monthly payments over a set term. Leasing often includes maintenance services too. When the term ends, you can buy the equipment, renew the lease, or return it. This preserves capital in the early days.
11. Establish Your Brand Assets
Developing a strong brand identity is crucial for standing out in the crowded coffee industry. Investing in core branding elements helps new roasting companies build recognition and trust with customers.
Get a Business Phone Number
Start by purchasing a dedicated business phone line through a provider like RingCentral. This gives your company a professional presence when engaging with suppliers, partners, and clients. Expect to pay $20 to $60 per month for a cloud-based digital phone line with call routing features.
Design a Logo
Next, create a logo that encapsulates your brand personality. Services like Looka make it easy to design an iconic logo yourself for $20 to $60. Opt for a typographic or abstract mark style that reflects your specialty coffee positioning.
Print Business Cards
Business cards and signage printed through Vistaprint provide helpful brand exposure. Customers appreciate having your sleek card with contact info and company description. Interior and exterior signage at your retail space also builds awareness.
Get a Domain Name
Secure your domain name using best practices like target keywords and a .com extension. Check name availability at registrars like Namecheap which run under $20 annually. Your custom domain projects professionalism across digital properties.
Build a Website
Building a website establishes your brand online. Use DIY builders like Wix for a low-cost option starting at $6 per month. Or hire a freelancer on Fiverr for a custom site design optimized for conversions. This digital hub engages visitors and generates leads.
12. Join Associations and Groups
Joining relevant local groups and associations provides invaluable connections and insights for new coffee-roasting businesses. Here are some ways to tap into these valuable networks:
Local Associations
Seek out local coffee or small business associations to join. For example, the Specialty Coffee Association has chapters across the country. Attend meetings to connect with other local roasters, cafes, and vendors. Most groups offer affordable dues under $100 annually in exchange for access to events, seminars, and industry updates.
Local Meetups
Attend local meetups and trade shows as well using sites like Meetup. Look for events focused on coffee, food, and beverage, or small business. Chat with other attendees to get feedback on your branding, products, and plans. Exchanging ideas over free coffee samples raises your local profile.
Facebook Groups
Join targeted Facebook Groups to tap into the broader specialty coffee community online. Coffee Business Owner Group and Coffee Shop Business Owners – Tips and Guidance groups have thousands of engaged members. Post questions to get feedback or weigh in on current discussions.
13. How to Market a Coffee Roasting Business
Marketing is indispensable for getting the word out and attracting customers to your roasting business. A strategic mix of digital and traditional techniques can expand your reach both locally and beyond.
Tap Into Your Network
Start by tapping into your network and sourcing customer referrals. Offer incentives like discount codes to happy buyers for spreading the word. Satisfied customer validation carries tremendous weight in influencing new business.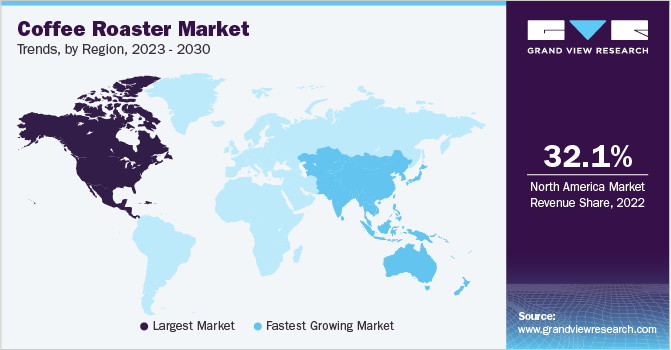 Digital Marketing
For digital marketing, consider:
Search ads through Google Ads targeting local "coffee roaster" searches
Facebook and Instagram ads geo-targeted to your area
Optimizing your website for organic search visibility
Claiming and updating key directory listings like Yelp, Foursquare, etc.
Email collections via popups/offers to build a subscriber list for promotions
Engaging social media content highlighting your brand personality
Influencer collaborations with local food bloggers, photographers, etc.
YouTube tutorial videos on roasting methods or coffee brewing tips
Traditional Marketing
On the traditional side, options include:
Printed takeaway menus and postcards for cafes
Tasting events, classes, and partnerships with local businesses
Branded merchandise giveaways like t-shirts, mugs, bags
Sponsoring local events, fundraisers, and farmers markets
Radio ads for holiday promotions and new product launches
Direct mail postcards when you release new roast profiles
A blend of digital and traditional marketing provides omnichannel visibility. Dedicate 80% of effort to scalable digital tactics, and use traditional channels surgically to supplement.
14. Focus on the Customer
Providing exceptional customer service is crucial for specialty coffee roasters to nurture loyalty and referrals. In an industry built on relationships, treating people well can fuel your growth.
Some ways to go above and beyond, include:
Train staff to engage warmly with every customer.
Empower staff to immediately address issues like remaking a drink if it isn't perfect.
Solicit feedback regularly by surveying customers and monitoring online reviews.
Provide an incredible end-to-end experience to earn loyalty and referrals.
Focus on nurturing relationships, not just transactions.
From knowledgeable baristas to responsively addressing feedback, customers will spread the word about your welcoming roastery.