There are currently 36,324 food trucks operating across the United States, according to IBIS World. The industry continues to grow, seeing an estimated 6.4% compound annual growth rate (CAGR) from 2022 to 2030.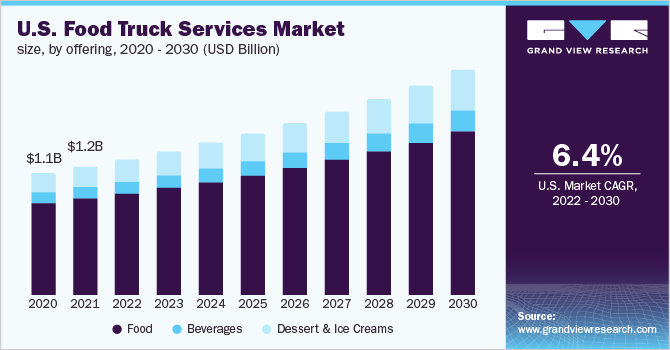 Starting a food truck can be an affordable entry point into the food industry, without the high start-up costs of opening a restaurant. There are still important factors to research and essential steps to take when starting a food truck business.
This article will guide how to start a food truck business. Topics include developing a trendy food truck concept through market research, sourcing materials for a new food truck business, competitive research in the local community, and more.
1. Conduct Food Truck Market Research
Market research is important for your food truck business plan. Primary research is research you compile on your own, and secondary research is information provided by a third party. Both are important for food truck businesses.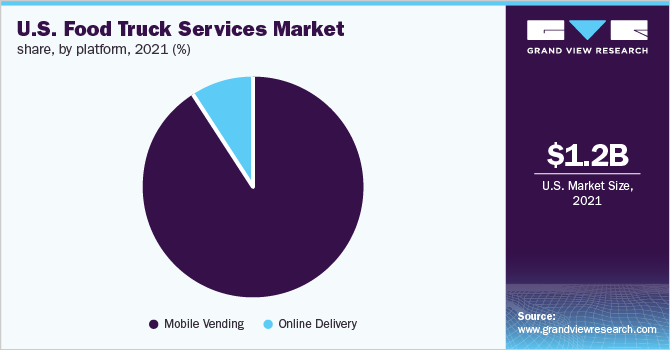 Some factors you'll learn about as you develop your food truck idea include:
Changing consumer preferences – people want quick, convenient meals with more unique and ethnic options. Food trucks can pivot menus faster than restaurants.
Lower start-up costs than restaurants – The average food truck costs $50,000 to start compared to $275,000 for a small restaurant (Food Truck Empire). This allows more entrepreneurs to enter the industry.
Social media marketing – Platforms like Instagram and Twitter allow trucks to share locations and menus and quickly build loyal followings.
TV shows like The Great Food Truck Race popularized food trucks.
Major cities easing restrictions on food trucks and creating designated parking zones.
Despite the growth, there are signs of maturation:
7.5% of food trucks fail in the first year, with 55% failing by the fifth year (Food Truck Empire).
Larger metro markets like LA, NYC, and Houston are saturated. New trucks should target smaller cities.
Trucks rely on heavy foot traffic, so events and office parks are the best locations.
The best opportunities in the food truck industry include:
Specialized cuisines – Korean, Egyptian, or fusion concepts stand out from generic burgers and tacos.
Event catering – weddings, concerts, and festivals represent reliable revenue.
Office parks – contracts with corporate campuses lock in repeat business.
Malls and sports stadiums – operators pay to be vendors on-site.
University campuses – students represent a hungry, bargain-conscious customer base.
Food truck parks – clusters of trucks in designated lots can become go-to destinations.
Despite increasing competition, the food truck industry still offers enticing opportunities for aspiring entrepreneurs. The key is specializing in terms of cuisine, events, or locations. With strategic planning and execution, launching a successful, unique food truck is achievable.
2. Analyze the Competition
Thoroughly analyzing your competition is crucial when starting a food truck. First, identify direct competitors. Next, follow these steps to compile information for your food truck.
Search food truck directories and maps for your area like Roaming Hunger.
Visit food truck lots in person. Analyze competitors' menus, pricing, brand identities, and customer service.
Look at brick and mortar restaurant competition too. Food trucks can overlap with fast casual, takeout, and delivery restaurants.
Check review sites like Yelp and TripAdvisor to see the highest-rated options.
Study their menu options and price points to determine how to differentiate yourself.
Analyze indirect competitors, those selling different cuisines but vying for the same customers.
A taco truck will still compete with sandwich, pizza, and BBQ trucks.
Evaluate your competitors' digital presence and social media followings.
Search their names on Facebook, Instagram, and Twitter.
More followers can indicate a larger customer reach. But also analyze engagement through likes, comments, and shares.
A smaller but more engaged audience can be equally valuable.
Consider national competitors if looking to scale regionally or nationally.
Check permits and locations for top food truck franchises like Cousins Maine Lobster.
Analyzing competitors will reveal oversaturated markets, menu gaps, pricing opportunities, and brand identities to emulate or avoid. Conducting competitor research will ensure you launch your food truck business informed and prepared.
3. Costs to Start a Food Truck Business
Starting a food truck requires significant upfront capital investment. Total costs typically range from $50,000-$100,000 to get up and running.
Start-up Costs
Vehicle Purchase – Used food trucks can cost $20,000-$40,000 depending on size and condition. New custom trucks average $60,000-$100,000. Refurbishing an existing truck costs around $25,000.
Kitchen Equipment – Ranges, grills, fryers, refrigerators, and freezers for proper cooking and storage will run $15,000-$25,000. Small wares like utensils, pots, and pans add a few thousand more.
Wrapping/Branding – Vinyl wrap branding the truck costs around $4,000. Signage/logos add a few hundred more.
Permits & Licensing – Health department permits average $500-$1,000 annually. Many cities require peddler's licenses ($100-$500/year). Permits for private property spots add up too.
Commissary/Commercial Kitchen – Renting a licensed commercial kitchen for prep and storage costs $1,000-$2,000 monthly. Or invest $30,000+ to own your kitchen.
Accounting & Legal – Lawyers charge $1,500-$3,000 to help with proper business formation and permitting. Accountants cost $200-$500 to set up books and process payroll and taxes.
Insurance – Commercial auto and liability insurance will run $3,000-$5,000 annually. Some cities require separate food truck insurance too.
Staff – Many trucks begin as owner-operated. But hiring 1-2 cooks at $12-$15/hour adds substantially to labor costs.
Inventory/Stock – Opening inventory of food, beverages, paper products, and cleaning items will run a few thousand dollars.
Miscellaneous – Print menus, uniform shirts, point of sale system, office supplies, and more unexpected costs easily add up to several thousand dollars.
Ongoing Costs
Fuel – With extensive driving and generator runtime, fuel can cost $400-$800 monthly.
Truck Maintenance – Expect $1,500-$3,000 in annual maintenance like oil changes, tire rotation, and generator tune-ups.
Kitchen Maintenance – Appliance repairs and replacement cost around $1,000 annually. Small wares must be replaced over time too.
Permits & Licenses – Health permits and other annual licensing fees.
Accounting – Monthly or annual accounting services for bookkeeping and taxes.
Payroll – If hiring staff, payroll expenses include wages, withholdings, workers comp, and other benefits. This often becomes the largest monthly cost.
Loan Payments – Finish the truck purchase and other startup costs through a loan. Payments reduce over time.
Rent – Possible monthly rent for a commercial kitchen or fixed location spots.
Ingredients – Food and beverage inventory must be continually restocked, costing a few hundred to thousands monthly depending on sales volume.
Insurance – Paying annual commercial truck and liability premiums.
Marketing – Any print advertising, promotional giveaways, website costs, and more. This is optional but important.
Starting a successful food truck requires managing these substantial upfront and ongoing costs through careful budgeting and controls. But many owners find the ability to run their own business outweighs the financial challenges.
4. Form a Legal Business Entity
When starting a food truck business, choosing the right legal entity is key. This impacts taxes, liability, and ease of growth. For food trucks, the main options are:
Sole Proprietorship
A sole proprietorship is owned and operated by one person. It's the simplest structure requiring minimal paperwork. However, the owner assumes unlimited personal liability for the business. Any lawsuits or debts against the truck directly impact them. Sole proprietorships also lack options for share ownership. This can limit financing and expansion opportunities. This high liability makes them ill-advised for food trucks.
Partnership
A partnership involves two or more co-owners sharing management and liability. Typical partnerships like general or limited partnerships offer liability protection for silent partners. However, general partners still assume full liability like sole proprietors. Partnerships can also be complex for decision-making and profit-sharing between multiple partners.
Limited Liability Company (LLC)
An LLC provides liability protection for all owners while allowing partnership-like pass-through taxation. LLCs shield personal assets if the business is sued. The flexible structure works for any number of members. Ownership shares as units provide options for financing and growth. LLCs do come with more paperwork and regulations than sole proprietors.
Corporation
A corporation designates the business as a separate legal entity from its owners. It offers complete liability protection like an LLC. However, corporations come with more complex regulations and double taxation on profits. Owners must hold shareholder meetings and keep strict records. The rigidity makes corporations overkill for a small food truck operation.
5. Register Your Business For Taxes
To legally operate your food truck business, you must obtain an Employer Identification Number (EIN) from the IRS. This unique number identifies your business for tax purposes similar to a Social Security Number for an individual.
An EIN is required to open a business bank account, apply for business licenses, and hire employees. It allows you to report taxes for your business separately from your taxes. This important number only takes a few quick steps to obtain:
Go to the IRS EIN Assistant. This simple online form only takes about 10-15 minutes to complete.
Select your LLC or other legal business structure.
Enter your personal information like name, address, and SSN.
When asked for Responsible Party, input your name and SSN again.
Select Start a New Business for the reason for applying.
Choose your LLC as the legal structure.
Select No for hiring employees or keeping an IRA.
Agree to the legal disclaimer.
Provide your business phone number and email address.
Choose a preferred EIN contact method to receive your new EIN immediately.
There is no cost to obtain your EIN. Once you have your EIN, contact your state revenue or taxation department to set up tax accounts for sales, meals, and other transaction taxes in your jurisdiction. Many states allow online registration.
6. Setup Your Accounting
Proper accounting is crucial for food truck success. With hundreds of transactions weekly, staying organized is vital. Using services and software can automate the process.
Accounting Software
First, utilize small business accounting software like QuickBooks to effortlessly track income and expenses. Connect your bank and credit card accounts so transactions automatically download into the correct categories. Run reports on sales, profits, taxes owed, and more with a few clicks. This eliminates manual entry and provides real-time financial insights.
Hire an Accountant
Consider hiring an accountant to handle taxes, payroll, inventory, and other financial functions. A bookkeeper can reconcile accounts, provide monthly profit/loss statements, and advise on budgeting for about $500 monthly. Come tax season, an accountant will prepare and file returns for around $1,000.
Open a Business Bank Account
Keep your personal and business finances 100% separate. Open a dedicated business checking account and credit card. Never commingle money to avoid tax headaches. Business income and expenses should flow through business accounts only.
Apply for a Business Credit Card
Get a business credit card for purchases like inventory and supplies. Business cards don't use your credit. Limits are based on business revenue and assets. Carrying a small monthly balance helps build your business credit for future financing as well.
7. Obtain Licenses and Permits
Operating a legal, compliant food truck requires obtaining licenses and permits at both the state and local levels. Find federal license requirements through the U.S. Small Business Administration. The SBA also supplies state guides on food truck permits through its local search tool.
At the minimum, food trucks need a state health department license and county/city permits. You may also need a permit from the local motor vehicle department. Specific documents required include:
Mobile Food Vendor License – This health department certification ensures your truck meets sanitation and food safety standards. Requirements for handwashing stations, daily temperature logs, and more must be met. Licensing fees are typically $300-$500 annually.
Fire Safety Inspection/Permit – The fire marshal will check your truck's propane tanks, electrical wiring, ventilation, extinguishers, and fire suppression system to issue this permit. Annual inspections cost around $150.
Business License – Most cities require all businesses operating within their jurisdiction to register for a municipal business license. Expect fees of $50-$200+ depending on local codes.
Beyond those standard approvals, food trucks face additional local permitting rules:
Commissary/Kitchen Use Permit – If using a licensed commercial kitchen for food prep and storage, you'll need a health department permit authorizing this. There is often a monthly or annual fee.
Location-Specific Permits – Cities with dedicated food truck zones require purchasing annual permits to use those designated parking spots. Prices range from a few hundred to a thousand+ dollars per spot.
Private Property Permits – If parking your truck on private land like store parking lots, you'll need written authorization from the landlord along with specific permits in some areas.
Special Event Permits – Required if serving at temporary events like festivals, concerts, and sports games. Event organizers generally handle these.
Parking Meter Permits – Some cities require purchasing annual meter permits if operating downtown and using metered parking spaces.
Navigating the web of required licensing can be daunting for new trucks. Some owners hire permit expediters to handle the process. But following proper protocols to operate legally protects your business. Don't open those service windows until all paperwork is secured.
8. Get Business Insurance
Operating a food truck carries considerable risks that make business insurance essential. Without proper coverage, a single accident or lawsuit can devastate your company.
The right insurance protects against:
Liability – Customers getting sick from tainted food or injured on your premises. This provides legal defense and settlement funds.
Property damage – Fire, vandalism, or natural disasters harming your truck or equipment. This pays to repair or replace damaged assets.
Loss of income – Being unable to operate due to an accident, damage, or crisis. Business interruption insurance replaces income until operations resume.
Going uninsured jeopardizes your company. Just some examples:
A customer slipped on a wet floor and sued for their injuries.
An electrical fire destroys your truck and equipment.
Being forced to close for weeks due to a refrigeration system failure.
Without insurance, you must personally cover legal fees and damages. These situations could bankrupt your business.
To get insured, first determine coverage needs and costs by requesting quotes from providers like The Hartford. Compare plans and premiums. Common truck policies include:
Commercial general liability – Covers injury and property damage claims.
Commercial auto – For collision and comprehensive truck coverage.
Workers' compensation – For employee injuries.
Umbrella liability – Extra protection against lawsuits.
Once selected, submit your paperwork and first payment to activate coverage so your truck is protected before opening. Insurance provides peace of mind to focus on serving delicious food, not risk.
9. Create an Office Space
While mobile, operating a food truck still benefits from having a small office space for administrative tasks. An office provides:
A reliable address for your business mailing address and licensing.
A quiet, professional place for phone calls, paperwork, and computer work.
Secure storage for truck keys, menus, supplies, and equipment.
Several affordable options exist for food truck offices:
Home Office
Converting a spare room into a home office costs little. It allows accessible storage and office capabilities at your residence. Monthly costs are just incremental utilities and internet service. However, permits may be required for storage depending on your city. Separating work/life balance can be difficult at home. Expect $100-$300 in startup costs for furniture and equipment.
Coworking Space
Shared workspaces like WeWork offer open desk rentals starting around $300 monthly. This grants a professional office setting for meetings and admin work. Coworking spaces also provide amenities like mail service, conference rooms, kitchens, and networking with other entrepreneurs. It keeps business overhead low without requiring a lease.
Retail Space
If operating a food truck commissary or commercial kitchen, consider adding a small front office. This utilizes available space for minimal added rent. An office at your commissary provides easy access and built-in storage. However, it limits hours accessible to kitchen hours. Expect to pay a few hundred dollars more in rent.
Traditional Office
Leasing dedicated office space provides security, privacy, and flexibility. But monthly rents of $1,000 and multi-year leases add overhead. Traditional office space works better once established. For lean startups, more affordable coworking or retail spaces often suffice.
Evaluate your budget, storage needs, and work habits to select the right office setup for your food truck venture.
10. Source Your Equipment
Launching a food truck requires outfitting your vehicle with high-quality cooking equipment. There are several options to acquire the necessary appliances, tools, and accessories:
Buying New
Purchasing brand-new equipment from dealers ensures optimal condition and warranties. Top dealers include Webstaurant Store and Prestige Food Trucks. Expect to invest $15,000-$25,000 on essentials like:
Commercial range, griddle, and fryer
Refrigerator and freezer
Stainless steel prep tables and sinks
Generator, propane system, ventilation
Point of sale system, cash drawer
Buying Used
Sourcing used equipment saves substantially on startup costs. Check restaurant supply warehouses for quality pre-owned appliances. Also browse eBay, Craigslist, and Facebook Marketplace for sellers liquidating commercial kitchen gear. Look for gently used equipment from failed restaurants or upgraded food trucks. Expect to pay 40-60% less than new.
Renting
Some vendors like Used Vending offer short-term equipment rental programs for new food trucks. This avoids large upfront purchases. Rental periods from 1 month up to a year provide flexibility. Rates range from $200-$500 monthly depending on the appliances and features needed.
Leasing
Leasing spreads equipment costs over a 3-5 year financing period. Monthly payments are more affordable than lump purchases. This preserves capital for other startup and operating expenses. Be sure to understand total spending with fees and early termination penalties.
Purchasing, renting or leasing quality equipment ensures your truck kitchen is fully functional for opening day. Weigh the options to find the most cost-effective route for your new venture.
11. Establish Your Brand Assets
Creating a strong brand is crucial for food truck success. A polished identity attracts customers and builds loyalty. Essential steps include:
Getting a Business Phone Number
A business phone number lends legitimacy versus using a personal cell. Options like RingCentral offer toll-free numbers, call routing, voicemail, and texting starting at $30/month. This provides a professional front for customers to reach you.
Creating a Logo and Brand Assets
A customized logo like those created at Looka provides visual recognition. Consider an illustrative, typographic, or abstract logo reflecting your food niche.
Ensure brand colors, fonts, and styles align across assets like menus, uniforms, signage, and packaging for consistency. This amplifies brand memorability.
Business Cards and Signage
Business cards enable quick sharing of your truck name, menu, phone, social media, and other details. Sturdy outdoor signage displays key information onsite. Order custom-designed cards and signs from Vistaprint.
Hand out cards to customers, at events, and anywhere you park the truck. Prominent signage ensures easy identification among street traffic.
Purchasing a Domain Name
Buy a short, memorable .com domain like YourTruckName.com from registrars like Namecheap. Add your email, phone, location, hours, and social media links for an always-on online presence.
Building a Website
Every food truck needs a website displaying menus, catering options, locations, hours, photos, and social media integrations. Build one yourself with drag-and-drop simplicity using Wix or Squarespace. Or hire a professional web developer on Fiverr for more customization. This digital hub engages customers 24/7.
12. Join Associations and Groups
Joining local food truck associations, attending meetups, and participating in industry Facebook groups are invaluable for gaining insider advice and networking as a new mobile food entrepreneur.
Local Associations
Associations like the Washington State Food Truck Association and New York Food Truck Association provide advocacy, resources, and community for members. Joining grants access to other truck owners plus discounts on permits, insurance, and supplies that enhance your operations and profitability.
Local Meetups
Attending mobile food and small business meetups in your city allows hands-on networking with fellow owners. Sites like Meetup help locate upcoming gatherings like food truck rallies, business expos, and industry conferences nearby. Tap this face-to-face access to troubleshoot challenges and gain actionable insights from experienced vendors.
Facebook Groups
Industry-specific Facebook groups facilitate nonstop Q&As and idea exchanges. Post questions to get direct answers from hundreds of fellow food truckers in real-time. Some popular options include the Food Truck Startups Entrepreneur Advice and Food Trucks & Trailers Owners- Tips & Tricks.
13. How to Market a Food Truck Business
Effective marketing is essential for food trucks to build a loyal customer base and drive growth. With the right strategies, you can elevate your brand awareness and keep the orders flowing in.
Personal Network
Start by engaging your network and existing customers. Incentivize referrals through special deals like free sides for any friend they bring to your truck. Satisfied customers are your best promoters.
Digital Marketing
Search Engine Optimization – Optimize your website and online content to appear higher in local Google search results. Update website copy, reviews, images, and listings to target relevant keywords around your city and cuisine.
Google Ads – Pay to show your food truck ad at the top of Google when users in your area search terms related to "food near me" or your specific cuisine. Geotarget ads to your city or zip codes.
Facebook and Instagram Ads – Create targeted social media ads promoting your truck location, menu items, hours, events, and more. Target by location, interests, behaviors, and other filters.
Email Marketing – Collect customer emails and send regular promotions for loyalty discounts, new menu launches, special events, and more. MailChimp provides simple email campaign automation.
Social Media – Share photos, videos, events, and content on your Facebook, Instagram, Twitter, TikTok, and other profiles. Post consistently to engage followers.
Influencer Marketing – Partner with local bloggers, photographers, and social media personalities to help spread the word about your truck. They can spotlight your cuisine for their engaged audiences.
Traditional Marketing
Print Flyers – Distribute eye-catching flyers with menus, hours, locations, and promotions at local businesses, events, apartment complexes, and tourism centers. Expand visibility offline.
Newspaper Ads – Local paper ads can still reach older demographics less active on social media. But measure results as print circulation declines.
Billboard/Vehicle Wrap – Highly visible signage along busy roads generates a mass impression in your community. Best for established brands.
TV/Radio Ads – Short radio or local cable TV spots broaden reach. Test small campaigns if budgets allow.
Direct Mail – Send postcards or menus to neighborhoods and businesses to build awareness and trials. Retarget customers with follow-up mailings.
With the right mix of digital marketing, word-of-mouth, and select traditional tactics, you can drive brand visibility and customer traffic to grow a thriving food truck enterprise.
14. Focus on the Customer
Providing exceptional customer service is crucial for food trucks to cultivate loyal, enthusiastic fans who fuel word-of-mouth growth.
Some ways to increase customer focus as a food truck owner include:
Checking in on tables to ensure satisfaction.
Handling any issues with apologies and prompt solutions.
Going above and beyond also enhances loyalty.
Surprising repeat customers with free add-ons and personalized service touches.
Rewarding online reviews with discounts and swag.
Sending birthday/holiday messages and thank yous.
The food truck with the best food does not always succeed long-term. The truck with the best overall customer service has the advantage. Always go the extra mile to turn patrons into vocal brand champions who drive growth through referrals.