The ice cream truck market is booming in the United States. In 2022 the market hit $1,480 million, with a projected compound annual growth rate (CAGR) of 9.3%. This makes it a great time for entrepreneurs to get involved with their ice cream truck ideas.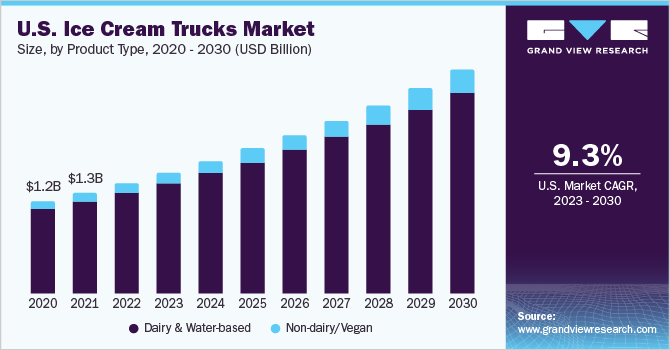 If you've ever dreamed of driving your ice cream truck, you're in the right place. This guide will cover how to start an ice cream business. We'll walk through important steps like obtaining permits and licenses, choosing your vehicle, building your menu, mapping your route, and bringing the magic of ice cream trucks into the 21st century.
1. Conduct Ice Cream Truck Market Research
Market research is essential to a solid ice cream truck business plan. It offers insight into your target market, market saturation, trending ice cream flavors, top marketing methods, and even the top ice cream truck route. Here are some of the things you might learn while performing primary and secondary market research.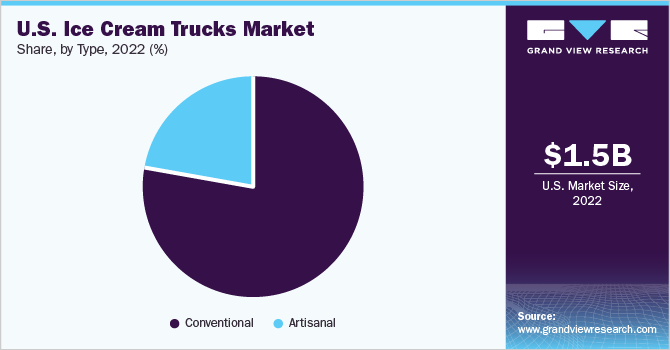 Operators report July as the peak season, but spring and fall events, catering, and diversifying your menu can help make up for slower winter months.
Overhead costs are relatively low compared to other food businesses.
Ongoing expenses include vehicle maintenance, fuel, insurance, permit fees, inventory, and 1-2 part-time employees.
Strong demand supports truck route density in both suburban and urban markets, with trucks covering an average of 30-50 miles per day.
A unique offering, such as organic ice cream, gelato, or specialty toppings and mix-ins can help you stand out from competitors.
Building events catering and social media marketing into your strategy are effective ways to boost revenue streams.
Licensing requirements vary by state, most commonly needing a mobile food vendor permit or business license.
While this sector has relatively low barriers to entry, ensuring you meet all legal requirements is critical.
Some cities place limits on the number of ice cream truck permits available, so securing yours promptly is advised.
The nostalgia and positive feelings ice cream trucks spark make for a fun, profitable, and scalable business opportunity. Capitalizing on summers while expanding your footprint into events, catering, and customized menus can position your ice cream truck for sustainable long-term success.
2. Analyze the Competition
Doing your homework on competitive ice cream trucks and shops in your area is crucial to strategically position your business.
Start by identifying existing operators nearby and researching their offerings. Conduct site visits to local ice cream truck businesses to evaluate factors like:
Menus – What ice cream brands, flavors, toppings, and portion sizes are offered? What are the best-sellers? How often does the menu rotate? Will you use pre-packaged ice cream or ice cream sandwiches?
Pricing – What is the price range for cones, cups, sundaes, milkshakes, etc.? Are there bundled deals or family packages?
Branding – What are their truck's exterior decorations, uniforms, website, and social media presence like? Is there a strong branding theme?
Operations – What are their hours/routes? Do they attend events or offer catering? How quickly do they replenish popular items that sell out?
Also, research their online reputation via review sites like Yelp. This can uncover customer satisfaction levels and insights into what competitive brands excel at or could improve on.
In addition to direct competitors, analyze brick-and-mortar ice cream shops in your intended service areas. How might their pricing, ingredients, or classic flavors influence your offerings? Shops with long lines are clues to consumer demand and popular menu items to potentially emulate.
3. Costs to Start an Ice Cream Truck Business
Starting an ice cream truck requires careful financial planning and budgeting. From the truck itself to licenses and insurance, you'll need adequate capital to cover start-up costs before opening for business. Ongoing expenses must also be projected to ensure profitable operations.
Let's explore the typical costs involved:
Startup Costs
Ice Cream Truck Vehicle – Purchasing most ice cream trucks runs between $20,000 to $40,000.
Wrap & Branding – $3,000 to $6,000 A vibrant, bold truck wrap reflecting your brand helps attract customers.
Equipment & Initial Inventory – $6,000 to $10,000 Necessary equipment includes freezers, coolers, generators, point-of-sale systems, etc.
Licenses & Permits – $500 to $2,000 Mobile food vendor permits, health department licenses, and business licenses.
Insurance – $2,000 to $8,000 Commercial auto insurance for an ice cream truck averages $2,000 to $4,000 annually.
Legal & Professional Fees – $500 to $1,500 You may opt to consult with an attorney and accountant for business formation needs.
Ongoing Costs
Vehicle Fuel & Maintenance – $600 to $900 Factoring mileage from your route and generator runtime.
Inventory – Expect average monthly inventory costs of $1,500 to $3,000. Carrying enough ice cream stock and supplemental items (ice cream cones, cups, and toppings) is crucial.
Employees – $2,500 to $4,000 1 to 2 part-time ice cream truck drivers to operate your truck and assist with events.
Insurance – $150 to $350 Prorated monthly costs of annual insurance premiums.
Other – $500 Miscellaneous supplies, professional services, truck storage fees, and other monthly costs.
Licenses & Permits – $300 to $1,000 Plan for annual renewals of permits and licenses each year.
Legal & Professional Services – $1,500 to $5,000 You may continue consulting with your attorney and accountant throughout the year.
Maintenance & Supplies – $2,000 to $4,000 Annual budgets for miscellaneous supplies, small wares replacement, and preventative maintenance.
In summary, startup costs for an ice cream truck will typically total $35,000 to $75,000. Ongoing monthly expenses can be estimated at $5,000 to $10,000. And annual recurring costs are in the range of $3,000 to $10,000.
4. Form a Legal Business Entity
When starting an ice cream truck, one key legal decision is choosing your business structure. The four primary options each have advantages and drawbacks to weigh.
Sole Proprietorship
A sole proprietorship is the simplest structure, with no formal business registration needed. The owner operates under their name or a DBA.
Pros: Easy to form, no separate tax filing and the owner keeps all profits. This works well initially as you test your ice cream concept.
Cons: Unlimited personal liability if sued, and no options for sharing ownership down the road.
Partnership
A partnership involves two or more co-owners collaborating in the ice cream business. A partnership agreement outlines rights, responsibilities, and profit/loss distribution.
Pros: Allows combining different skills/resources and is reasonably easy to establish.
Cons: Partners have unlimited personal liability, and difficulties with profit-sharing or buyouts can arise if partners' goals diverge over time.
Limited Liability Company (LLC)
LLCs blend elements of partnerships and corporations for liability protection without double taxation. Owners have flexibility in the management structure.
Pros: Personal assets protected from lawsuits, and easier to attract investment. Profits pass through to owners' taxes. Owners can be added seamlessly over time.
Cons: More complex to establish with a registered agent and an operating agreement is required. Need to track payments to yourself for tax purposes.
Corporation
A corporation is a legal entity separate from its owners. Corporate formalities like appointed directors must be followed.
Pros: Owners' assets are fully protected from liability, and easier to raise investment capital.
Cons: Most complex and expensive to set up and maintain. Double taxation of profits and dividends. Inflexible ownership structure.
5. Register Your Business For Taxes
One key task when forming your ice cream truck LLC or corporation is obtaining an Employer Identification Number, or EIN, from the IRS. This unique number identifies your business for tax purposes and is required before hiring employees or opening business bank accounts.
The EIN application process is quick and can be done online via the IRS website.
To apply, you'll need your LLC or corporation documents. On the EIN Assistant page, answer the questions about your business structure and activities. When prompted, provide your mailing address, county/state, and responsible party info. Ensure all information entered matches your formal business registration details.
After applying, your EIN will display on-screen. Print and save this page for your records. Your EIN also will be mailed to you within 2-4 weeks. With your EIN secured, you can open business bank accounts, apply for required licenses, and hire workers or contractors.
Once your ice cream truck LLC is registered, apply for any necessary state sales tax permits. This enables collecting and remitting sales tax on ice cream sales within your state. Many states allow online registration for a minimal fee. You'll receive a state sales tax ID number to display in your truck and use for reporting.
6. Setup Your Accounting
Keeping your financial house in order is crucial for any business, including ice cream trucks. Implementing good accounting practices from the start will save you headaches and support successful growth.
Accounting Software
Begin by getting small business accounting software like QuickBooks. QuickBooks seamlessly connects to your business bank accounts and credit cards, automating income and expense tracking.
It generates invoices, maintains customer records, and produces financial reports vital for decision-making. Quickbooks make basic bookkeeping and taxes far less cumbersome.
Hire an Accountant
While the software does the heavy lifting, partnering with an accountant is highly advised. A qualified accountant provides oversight to ensure you comply with all IRS requirements.
They can assist with setting up payroll, making quarterly estimated tax payments, reconciling bank statements, and preparing your annual Schedule C tax documents. Expect to invest $1,000 – $3,000 for a full year of bookkeeping and tax prep services.
Open a Business Bank Account
Keeping business and personal finances segregated is also crucial. Open a dedicated business checking account to receive all ice cream revenue and pay for truck expenses. Never combine money intended for business costs with personal funds. This makes accounting clean and transparent.
Apply for a Business Credit Card
Apply for a small business credit card in your LLC's name. Business credit cards build your company's credit profile and keep purchases separate. Limits are based on your credit score and length of time in business. Use this card exclusively for ice cream inventory, supplies, marketing, and operations costs.
7. Obtain Licenses and Permits
Before dishing up your first cone, your ice cream truck business must secure all required state and local licenses. Find federal license requirements through the U.S. Small Business Administration. The SBA also offers local search ability for state laws.
Let's explore essential permits and approvals:
Mobile Food Vendor License: Nearly all jurisdictions require a mobile vendor license for operating food trucks like ice cream trucks. Fees are often $100-$500 annually.
Health Department Permit: Your local health department will inspect your truck to issue a health permit. This verifies your truck meets requirements for safe food handling, prep, and storage.
Fire Safety Inspection: Mobile food vendors may need an annual fire safety inspection of their vehicles, roughly $100-$300.
Business License: Most cities require all businesses, even mobile ones, to obtain a business license for a small annual fee.
Parking Permits: If planning to sell ice cream in metered parking areas or parks, specialized vending permits are often mandatory.
It's tedious but vital to research and acquire every license your jurisdiction mandates. Display copies visibly in your truck. Stay organized on renewal dates as well to avoid interruptions. Don't let permitting snafus stop you from sharing the joy of ice cream this season! Reach out with any other licensing questions.
8. Get Business Insurance
Insuring your ice cream truck business is highly recommended to mitigate key risks. The right insurance protects your company's finances and assets in the event of:
A customer choking or getting ill from tainted inventory leading to a lawsuit
A refrigeration failure caused thousands in melted inventory losses
A truck accident resulting in injuries and property damage
Without proper coverage, scenarios like these could force your business to close from the financial strain.
The core business policies to obtain quotes for include:
Commercial General Liability – Protects against liability claims for injuries, property damage, foodborne illness, etc. Limits of $1M are recommended.
Commercial Auto Insurance – Insures your truck for collision, and theft and provides liability coverage. Require $1M minimum.
Umbrella Policy – Additional liability coverage if sued, typically $1M – $5M limits.
Equipment Coverage – Protects freezers, generators, and other equipment from damage/theft.
Expect to provide details on your truck, your LLC's business structure, and driving records during the application process. Total annual premiums typically range from $5,000 – $15,000 based on your coverages, limits, and deductibles.
9. Create an Office Space
Having a dedicated office space can provide helpful infrastructure for managing your ice cream truck operations, even if just part-time. An office allows you to:
Store inventory/supplies securely rather than in your garage or home
Conduct employee training or meetings in a professional environment
Have a kitchen/break area for staff away from the truck
Separate work and personal life by getting out of the house
Top options to consider include:
Home Office
Home Office Converting a spare room into a home office is a cost-effective option at around $2,000-$3,000 to set up. This is feasible when starting with basics like bookkeeping and storage. The downsides are a lack of professional separation and limited space.
Coworking Office
Coworking Space Shared coworking spaces like WeWork provide amenities and community at an affordable monthly rate. For $300-$800 per month, you can have a desk, conference room access, kitchen, events etc. Useful for meeting employees or working outside of your home.
Retail Office
Retail Space Renting a small storefront allows an office, prep kitchen, and limited product storage for $1,500-$4,000 monthly. Great if also sold ice cream directly to customers rather than purely operating a truck. Offers more room than coworking spaces to conduct business.
Commercial Office
Commercial Office Leasing Class B/C office space provides ample room for staff, storage, and activities. However, at $3,000-$10,000 per month, it's a pricier option only viable once established. Best suited for multiple trucks/employees.
10. Source Your Equipment
Outfitting your ice cream truck with high-quality ice cream truck equipment is essential, but where's the best place to source affordable items? From new purchases to rentals, here are the top options in four categories:
Buy New
Buying New Purchasing brand new equipment from a retailer allows customize your ice cream setup. Key equipment like:
Freezers/Refrigeration Units ($2,000-$5,000)
Point of Sale Systems ($1,000-$2,000)
Generators ($800-$1,500)
Audio Systems ($500-$1,000)
While most expensive upfront, buying new gives you modern equipment matched to your needs if finances allow. Try Sentry for new products for your ice cream truck.
Buy Used
To save substantially, purchasing used equipment through sites like Facebook Marketplace and Craigslist is smart. You can often find great deals on gently used:
Ice cream freezers
POS systems
Truck builds
Used ice cream truck
Be sure to inspect used equipment thoroughly before purchasing. Look up fair value prices online for negotiation leverage.
Renting
Some equipment like soft serve ice cream machines or commercial mixers can be rented short-term rather than bought. Rental fees range from $50-$500 monthly depending on the equipment. This preserves capital for other startup needs while testing sales.
Leasing
Leasing essential equipment spreads costs over 3-5 years without huge upfront investment. You pay a monthly fee but avoid maintenance or repair costs. Ideal for acquiring necessary items when cash-strapped initially.
11. Establish Your Brand Assets
Building brand recognition is vital to helping your ice cream truck stand out. Implementing consistent visual assets and marketing foundations will attract more customers as you grow.
Get a Business Phone Number
Getting a Business Phone Number A dedicated business phone helps you project professionalism and separate work from personal life. Services like RingCentral offer toll-free and local numbers with call routing, voicemail, and SMS capabilities for $30/month.
Design a Logo
Creating a Logo & Brand Assets A logo encapsulates your brand identity. Consider an illustrated logo with your truck, ice cream imagery, or evoking childhood nostalgia. Services like Looka make professional logos easy.
Ensure brand colors, fonts, and styles align across your logo, truck wrap, website, and marketing materials. This consistency boosts recognition.
Print Business Cards and Signs
Business Cards & Signage Business cards enable easy sharing of your contact info and stick in customers' minds. Signage is also useful for promotional parking. Order affordable, high-quality cards and banners from Vistaprint.
Hand out cards to build community connections for catering gigs or events. Signage displayed at busy parking spots raises awareness.
Get a Domain Name
Purchasing a Domain Name Secure your business name as a .com domain for branding continuity. Aim for short, catchy names evoking summer fun. Use domain sites like Namecheap for the best pricing and ownership rights.
Point this domain to your website, emails, and social channels. Choose wisely, as rebranding your domain can be costly.
Build a Website
Building a Website A one-page website or landing page is essential for promoting your truck online. This can be DIY'ed via user-friendly site builders like Wix for minimal cost.
Alternatively, hiring a freelancer through Fiverr provides an affordable way to get a custom-designed site if you lack time or website skills. This gives maximum flexibility.
12. Join Associations and Groups
Tapping into local networks and industry groups is invaluable when starting your ice cream truck. These connections provide mentorship, promotion opportunities, and insider tips to avoid common pitfalls.
Local Associations
Local Associations Joining your local chamber of commerce or small business association gives access to seminars, marketing exposure, and networking events. For ice cream trucks, explore groups like:
Their industry insights and vendor partnerships can give you a competitive edge.
Local Meetups
Local Meetups Attend relevant meetups and food truck events via sites like Meetup. Chat with other ice cream entrepreneurs about winning strategies and challenges.
Food truck festivals offer a chance to test your concept and get your brand in front of crowds. Bring plenty of business cards and coupons to build buzz.
Facebook Groups
Facebook Groups Facebook communities let you tap into both hyperlocal and national conversations. Search for groups like:
Members readily share advice on equipment, events, marketing campaigns, and more from their own experiences.
13. How to Market an Ice Cream Truck Business
Effective marketing is imperative for getting the word out about your ice cream truck and attracting more customers. While various strategies exist, focusing on digital platforms and customer referrals can be highly effective when starting.
Personal Network
Leverage your network and existing customer base. Satisfied patrons who rave about your creamy soft serve or over-the-top sundaes on social media offer valuable organic promotion. Consider offering referral rewards like free toppings or buy-one-get-one coupons to incentivize sharing.
For broader outreach, employ targeted digital and traditional marketing:
Digital Marketing
Run Google/Facebook ads promoting your truck, route stops, or catering
Start an Instagram account with fun ice cream photos, stories, and specials
Email promotional coupons to neighborhood listservs to announce your arrival
Partner with local influencers to review signature creations on TikTok
Utilize YouTube for videos capturing your truck build, menu offerings, events
Geofence ads on social media targeting parks or events you'll be located at
Traditional Marketing
Print flyers with menu and truck photos for homes along your route
Distribute merch like t-shirts or frisbees with brand details on them
Sponsor a little league team and offer coupons at their games
Rent billboard space along highways or popular intersections
Advertise on radio stations people listen to during the summer months
While digital efforts typically provide the best return on investment, local community marketing can also effectively increase awareness. Measure response rates across tactics and double down on what resonates most.
14. Focus on the Customer
Delivering exceptional customer service is imperative for ice cream truck success. Each interaction presents an opportunity to create a memorable experience that earns loyalty and referrals.
For example, learn regular customers' names and favorite orders. Greet them enthusiastically and have a friendly conversation. Recognizing repeat patrons makes them feel valued.
Train staff to be courteous and patient with every customer. Make kids feel special by handing treats to them directly with a smile. Give parents time to dig out cash without rushing them.
Go the extra mile with little touches like free sprinkles, chilled towelettes on hot days, or letting kids honk the horn. These simple gestures show you care.
Make it easy to provide feedback by having comment cards on hand or through review sites like Yelp. This enables promptly addressing any issues and improving operations.
Excellent service earns genuine positive reviews, word-of-mouth buzz, and repeat business. Neighbors will happily flag you down when they hear your iconic jingle approaching.
The relationships you build with customers through caring interactions are the cornerstone to growing a thriving ice cream enterprise. Focus on creating lasting smiles and memories with each cone served, and success will follow.