Starting a shop in the ice cream industry is rewarding, especially in today's market. As of 2023, the global ice cream industry hit $101.23 billion. With a compound annual growth rate of 3.7% from 2023 to 2029, the global ice cream market could hit $125.93 by 2029.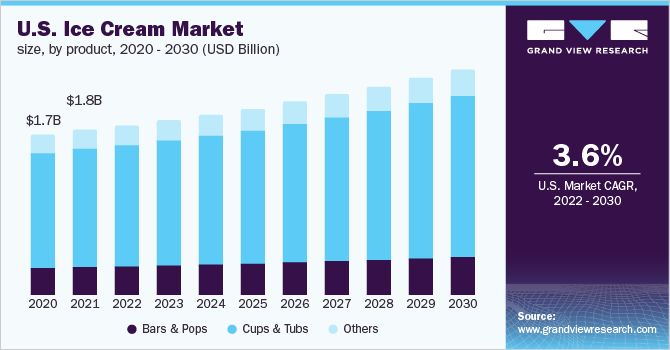 Opening an ice cream shop can enable you to be your boss, make people smile, and scoop up steady profits. This guide will walk through how to open an ice cream shop. Topics include sourcing an ice cream truck and essential equipment, registering an EIN, marketing your ice cream shop, and more.
Here's everything you need to know to sell ice cream successfully.
1. Conduct Ice Cream Shop Market Research
Market research is essential to a successful ice cream shop opening. It offers insight into local ice cream trucks, average costs for ice cream shop equipment, market saturation of other ice cream shops, and more.
Here's a look at some of the details you may learn through market research as you develop a business plan for your own ice cream business:
Trends like the rise of artisanal, locally sourced ice cream have enabled specialty shops to charge premium prices.
Though major brands like Baskin-Robbins control 22% of the market share, small businesses can still thrive by focusing on product differentiation and creating a memorable in-store experience.
Location is also key. Ice cream shops do well in areas with high foot traffic and families, like tourist destinations, downtown shopping districts, and parks or beaches.
The startup costs for an ice cream shop range from $75,000 to $250,000 including rent, equipment, ingredients, and permits according to Forbes.
Differentiating your product offerings and store ambiance gives a competitive advantage. Specializing in locally sourced, organic, or artisanal flavors allows you to stand out.
Having seating and hosting community events also helps build customer loyalty.
The takeaway is that while the ice cream shop industry is mature, there are still plenty of opportunities for new entrants to claim market share. Success comes down to offering crave-worthy, uniquely flavored ice cream in an enjoyable atmosphere at a viable location.
2. Analyze the Competition
Doing thorough competitive research is crucial when entering the ice cream shop market. This gives insight into product offerings, pricing, location strategies, and marketing tactics of existing businesses.
For brick-and-mortar competitor analysis, identify ice cream shops within a 5-10 mile radius of your intended location.
Visit them at peak hours and take notes on customer demographics, staffing, menu options, and unique selling points.
Observe their store layout and design elements. This helps determine what works well versus opportunities to differentiate your shop.
Compiling data on competitor prices for cups, cones, and specialty items also informs appropriate pricing levels.
Review online listings for nearby ice cream shops on platforms like Yelp, Google, and Facebook.
Track their star ratings and customer reviews over time to gauge brand perception.
See what marketing content and offers they post on social media to engage their audience.
Sign up for competitor email lists to analyze their promotions.
Search for any media coverage like local newspaper articles of these businesses to assess their reputation and standing in the community.
Look for any interviews with their owners highlighting their brand story and growth journey.
To evaluate the competition's web presence, enter their brand name into Semrush.
This reveals website traffic metrics, top-performing pages, search engine optimization, and online ads.
Mapping out this competitive intelligence paints a picture of the existing player landscape. It enables making strategic decisions to carve out your niche and highlight your unique value proposition to customers. Ongoing competitor monitoring also keeps you abreast of new product releases.
3. Costs to Start an Ice Cream Shop Business
When starting an ice cream shop, there are various one-time start-up costs to get the business up and running.
Start-up Costs
Retail space: Lease terms typically run 5-10 years for about $3000-$5000 per month in rent depending on location and size.
Store build-out and renovations: Including flooring, lighting, display cabinets, etc. can range from $10,000-$30,000.
Industrial ice cream maker: $5000-$15,000.
Freezers, mixers, and dispensers: $15,000-$30,000.
Small wares: Cups, spoons, and napkins may cost around $2000 upfront.
Initial ingredient stocks: Including dairy, sugars, flavors, and toppings requires a budget of $3000-$5000.
Packaging design and merchandising: Like cups, stickers, and t-shirts could run $1000-$2000.
Shop furnishings: Tables, chairs, stools, and decor elements could add $5000-$8000 to startup costs.
Sound systems, menus, and TVs: Electronics for ambiance may cost around $2000.
Permits, licenses, and insurance: A basic LLC formation will be $500 and any local business permits $100-$500.
Other potential startup costs are professional fees for lawyers and accountants ($2000) and initial inventory or working capital (around $5000).
In total, the typical start-up costs range from $75,000-$250,000 according to Forbes. This covers your brick-and-mortar establishment and everything required for opening day.
Ongoing Costs
Rent and utilities: Utilities like electricity can cost $3000-$8000 per month depending on location and freezer needs.
Ingredient and packaging replenishment: $2000-$5000.
Employee payroll: Including a manager and several part-time staff could run $4000-$12,000 monthly.
Taxes, licenses, and insurance: Services like credit card processing can cost $1000-$3000.
Marketing: Advertising might take $500-$2000 from the monthly budget.
Miscellaneous: Costs like website hosting ($50 per month), accounting software ($70 per month), and music licensing (for a business under 1500 square feet, $240+ annually).
While launching an ice cream business requires considerable capital, the ongoing revenue from selling your frozen treats can deliver a lifetime of sweet returns.
4. Form a Legal Business Entity
When starting an ice cream shop, choosing the right business structure is key. Each legal entity has pros and cons to weigh for your situation.
Sole Proprietorship
A sole proprietorship is the simplest option – you operate as an individual owner. The upside is easy setup with minimal compliance requirements. However, you have unlimited personal liability for debts or lawsuits associated with the business. Any losses directly impact your assets.
Partnership
A general partnership divides ownership between two or more people. This allows the pooling of assets and skills to grow the business. Partnerships are still relatively easy and inexpensive to establish. However, each partner is jointly liable for the actions of the other. If your partner makes poor decisions resulting in legal or financial troubles, your assets are impacted.
Limited Liability Corporation (LLC)
Given the risks of personal liability, forming a limited liability company (LLC) is typically the best option for an ice cream business. An LLC separates your assets from the business, limiting legal exposure. The LLC files taxes as a pass-through entity, avoiding corporate taxation. Setup and compliance requirements are reasonably simple without overly burdensome reporting.
Corporation
Establishing a corporation formally incorporates the business as a legal entity. This provides the strongest protection from personal liability. However, corporations require extensive record-keeping and reporting. The corporate structure also subjects profits to "double taxation" with corporate income and shareholder dividends taxed separately.
5. Register Your Business For Taxes
Once you form your ice cream shop as an LLC, obtaining an Employer Identification Number (EIN) from the IRS is crucial. This establishes your business identity and is required to open business bank accounts, apply for licenses, and hire employees.
An EIN is like a social security number for your LLC. It's a unique 9-digit number that identifies your business for tax and reporting purposes. Applying for an EIN is free and easy to do online.
Simply go to the IRS EIN Assistant and select the option to "View Additional Types, Including Tax-Exempt and Governmental Organizations." Then choose "Limited Liability Company" as the type of entity.
The assistant will walk you through a series of brief questions about your LLC's structure and ownership. Have your LLC formation documents handy to refer to.
Once finished, you can obtain your EIN immediately rather than waiting weeks for mail delivery. Be sure to print out the confirmation page for your records. The whole process usually takes 15 minutes or less.
With your shiny new EIN, you can open a business bank account, apply for business licenses, and hire employees under your LLC's name. It also enables registering for state and local taxes.
Speaking of taxes, you'll need to contact your state revenue department to obtain a sales tax ID number as well. This allows collecting and remitting sales tax on taxable purchases.
The sales tax ID registration process varies by state but is commonly done through an online wizard or short form. You'll plug in your EIN, business address, and ownership information. Registration is also free but processing time can take a couple of weeks.
6. Setup Your Accounting
For any food industry business like an ice cream shop, having meticulous financial records is essential. This requires using accounting software and partnering with an accountant to ensure full compliance and optimize taxes.
Accounting Software
Accounting software like QuickBooks seamlessly handles the grunt work. It automatically categorizes and stores every transaction from integrated bank accounts and credit cards. Running financial reports and reconciling books monthly becomes a breeze. Inventory management also simplifies with item listings and real-time adjustment of stock levels based on sales activity.
Come tax season, QuickBooks compiles the needed IRS reports like profit/loss statements and balance sheets. This provides your accountant-ready access to your complete financial picture.
Hire an Accountant
Speaking of accountants, their expertise in areas like payroll, sales tax, and expense deductions equates to huge savings. Consult with one monthly or quarterly so they can identify every opportunity to reduce your tax obligations.
For example, properly tracking inventory versus ingredient costs allows maximizing write-offs. An accountant also confirms you correctly calculate and remit sales tax to avoid penalties. When annual taxes are due, your CPA handles completing and filing all required business returns.
Open a Business Bank Account
Keeping your personal and business finances in order is key too. Never commingle personal and business transactions in the same bank account. Open a dedicated business checking account linked to your EIN. This provides separation for tax reporting. Plus, a separate account avoids any seizure risk if you ever face frivolous lawsuits.
Apply for a Business Credit Card
Similarly, establishing business credit in your LLC's name secures credit cards with higher limits compared to personal cards. Business credit decisions focus more on your company's financials rather than your score. Maintaining your LLC's credit independently of your credit enables accessing more favorable financing.
7. Obtain Licenses and Permits
After forming your ice cream shop LLC, obtaining the requisite permits and licenses is the next vital step. Federal business license requirements are available through the U.S. Small Business Administration. The SBA also offers a local search tool for state requirements for ice cream shop owners.
At the federal level, ice cream manufacturing is overseen by the FDA. Their regulations cover safe food handling, sanitation, labeling, and quality standards.
At the state and county levels, a food service permit or license is mandatory for commercial kitchens. The health department inspector will check that your equipment, recipes, sanitation procedures, and employees meet requirements.
You'll also need a food handler certification proving your knowledge of safe food prep and hygiene. Requirements vary by jurisdiction – some accept online courses while others mandate an exam.
Ice cream trucks might require a mobile food vendor permit, depending on where you park and sell.
If selling alcohol, apply for applicable liquor licenses as laws differ from county to county. You may also need approvals for sidewalk or external seating depending on your intended cafe setup.
Music licensing is another consideration if playing audio openly. A public performance license through ASCAP or BMI allows broadcasting songs legally. Rates start around $240+ annually.
Finally, check on any signage permits for store signage visible from the road. Limitations on sign square footage or lighting may apply based on local ordinances.
With a scoop of diligence on licensing, your shop's offerings can endure as local favorites for years to come. Consult an attorney to guide navigating permits. Protect your business so you can focus fully on dishing up delicious ice cream.
8. Get Business Insurance
Operating an ice cream shop carries considerable risks that make business insurance essential. The right policies help safeguard your company's finances and assets in the event of unforeseen losses.
Without adequate coverage, a single incident could spell disaster. Imagine a kitchen fire destroys your equipment and inventory. Or an employee accidentally serves dairy to someone with an allergy who then sues your LLC. Even a slip-and-fall injury on your premises could lead to a damaging lawsuit.
The typical policies recommended are general liability, commercial property, workers' compensation, and business interruption insurance. Liability coverage handles injury claims, property insurance replaces damaged goods, workers' comp aids injured employees, and business interruption pays lost income if forced to temporarily close.
Obtaining coverage follows three key steps:
Research plans and get quotes – Use sites like CoverWallet and Thimble to compare policies from top insurers.
Calculate appropriate coverage levels – Consider your equipment value, revenues, and risks like liability exposures.
Finalize a policy with an insurer – Bind coverage immediately once your shop is operational.
Consult insurance brokers to ensure adequate protection specific to ice cream shops. The right plans enable you to focus on customers, not calamities.
With premium safeguards in place, your shop can withstand challenges so your business stays sweet for the long run. Don't wait to secure coverage.
9. Create an Office Space
Having a dedicated office space can optimize managing the demands of an ice cream shop. It allows a quiet spot for tackling administration away from the bustling store. Options range from home offices to coworking spaces based on your budget and needs.
Home Office
A home office in a spare room offers savings on overhead. It provides privacy for calls, storing docs, planning menus, and handling payroll. No commute also means more flexibility. Just be sure to set boundaries on work hours to maintain a work-life balance when working from home. Deduct a portion of rent and utilities for the office on taxes.
Coworking Office
Coworking spaces like WeWork provide amenities of traditional offices at less cost. Gain access to business essentials like meeting rooms, printers, WiFi, and front desk service for around $300-$500 per month. Coworking also enables networking with other entrepreneurs which can lead to collaborations. The social environment can aid productivity for independent workers.
Retail Office
For shop owners with multiple locations, dedicating office space to one retail store may be viable. This allows on-site access to immediately address shop needs. Designate a private backroom or upstairs level as your workspace overlooking the sales floor. The convenience enables close monitoring of operations and sales.
Commercial Office
Leasing traditional office space in a business complex is ideal for multi-location shops needing room for several employees. With conference rooms for meetings, break rooms, supply storage, and parking, these provide full-service offices. Expect monthly costs of around $1000-$1500 based on location and square footage.
10. Source Your Equipment
Opening an ice cream shop requires several commercial-grade appliances and kitchen tools. From ice cream makers to refrigeration units, you have options of buying new or used as well as renting or leasing.
Buy New
Purchasing new equipment from dealers ensures acquiring modern, warrantied appliances in optimal condition. Top brands like Taylor and Carpigiani offer premium ice cream makers, soft serve machines, and blast freezers costing $5000-$15,000 each.
Buy Used
To save, the source used equipment through restaurant supply stores, online marketplaces, or auction sites. Gently used ice cream makers are often available for $2000-$4000 offering value. Check manufacturer refurbished appliances under warranty too. Examine used items carefully or test them before purchasing to ensure good working order.
Renting
Renting equipment is an affordable alternative to buying. Rental companies offer flexible plans from renting commercial ice cream machines for $100-$300 per week to entire start-up kitchen packages. This allows testing concepts without huge upfront equipment costs. Short rental terms also aid pop-ups or seasonal shops.
Leasing
Leasing establishes predictable monthly payments to use equipment like soft serve machines long-term. Leasing builds business credit and may enable upgrading models annually. Expect rates around $200-$500 monthly per item leased.
11. Establish Your Brand Assets
Developing a strong brand identity is crucial for an ice cream shop's success. It enables connecting with customers and standing out from competitors. This requires securing branding assets like a business phone, logo, cards, signage, domain, and website.
Design a Logo
Logos with ice cream illustrations, vibrant colors, or clever fonts creatively convey your concept. Logo makers like Looka help craft professional designs embodying your brand's personality.
Get a Business Phone Number
Pair your visual branding with a business phone number from a provider like RingCentral. This gives a centralized contact point for customers rather than relying on personal mobiles. Get a local number tied to your shop's neighborhood when possible.
Print Business Cards
Business cards enable spreading brand awareness by sharing contact info and social media handles. They also build credibility as customers see you are a legitimate company.
When brainstorming flavors with a vendor or networking at a community event, having cards to exchange makes a professional impression. Sites like Vistaprint allow affordable printing of glossy, customized cards showcasing your logo.
Get a Domain Name
Securing a domain name that matches your business handles is ideal to establish your web presence. Aim for domain extensions like .com address. Sites like Namecheap make registering user-friendly.
Build a Website
Building a customized website on platforms like Wix provides a hub for online branding. Visitors can view flavors, hours, contact forms, and images conveying your vibe. This enables promoting your ice cream shop 24/7. Alternatively, hiring a freelancer through Fiverr or Upwork can construct a site if you lack tech skills.
12. Join Associations and Groups
Joining relevant local organizations and online communities can provide invaluable connections and insights to help your ice cream shop thrive. Surrounding yourself with other passionate business owners leads to collaborations and continued growth.
Local Associations
Seek out associations like the North American Ice Cream Association with local chapters. Becoming a member grants access to events, marketing resources, mentorship programs, and discounted insurance. The community helps you navigate industry challenges.
Local Meetups
Attending local small business meetups facilitates making connections in your community. Sites like Meetup help uncover regular events for mingling with fellow entrepreneurs.
Look for meetups focused on restaurant owners, food businesses, retail management, marketing, or general small business topics. Carrying business cards enables seamless networking with peers who may become collaborators.
Facebook Groups
Social media groups also enable crowd-sourcing knowledge from existing ice cream shops across the country. Search for niche communities on Facebook focused on the frozen dessert industry.
The Ice Cream Business Owners – Tips and Guidance group provides one example with over 11,000 members. Post questions to get feedback or browse conversations on everything from flavor ideas to merchandising tips.
13. How to Market an Ice Cream Shop Business
Implementing ongoing marketing is vital for gaining new ice cream shop customers and keeping existing patrons happy. Leveraging digital and traditional strategies in tandem provides exposure through multiple channels.
Referral Rewards
First, recognize that delighted customers are your best marketers. Providing exceptional service and product quality earns referrals as patrons excitedly tell friends about their experience.
Offering loyalty rewards like buy 10 get 1 free ice cream punch cards incentivizes customers to return and spread the word. Occasional promotions like bringing a friend for a free topping also encourage sharing your shop.
Digital Marketing
Google Ads – geo-targeted campaigns matching local searches
Facebook/Instagram ads – target nearby ice cream lovers
Email marketing – regular promotions to the subscriber list
SEO optimization – ranking for terms like "ice cream near me"
YouTube channel – share new flavor videos
Share photos of new flavors, store decor, and happy customers
Run weekly flavor polls and contests to stoke excitement
Leverage shop hashtags customers can use to be featured
Traditional Marketing
Loyalty punch card mailers to drive repeat business
Local newspaper ads especially in the summer months
Billboard/outdoor ads in high-traffic areas near your shop
Partnering with schools, and offices for catering gigs
Sponsoring local events and offering samples
There are many avenues to promote your ice creamery. Start by testing cost-effective digital options and partnering with community hubs. Sweet success stems from pairing tempting flavors with smart marketing.
14. Focus on the Customer
Providing exceptional customer service is crucial for ice cream shop success. Positive experiences result in repeat business and referrals as patrons excitedly tell friends about your store. Some ways to improve customer focus in your ice cream store include:
Small touches go a long way. Be sure staff greet every customer when they enter and are trained on your flavors to provide samples and suggestions. Taking time to chat builds connections.
Remembering regulars' favorite orders foster relationships. Occasionally upgrading a cone to a sundae for a top customer shows appreciation.
When patrons order, using their names and thanking them sincerely makes a difference. Ensuring customers receive the perfect scoop amount requested reduces issues.
If any problems occur, immediately apologize and do your best to make amends with coupons or free items. Follow up after the visit to win back trust.
Following up via email or sending postcards also delights patrons and keeps your shop top of mind. Seeking feedback through surveys provides insights to improve.
Offer niche products based on customer requests, like ice cream sandwiches, build-your-own sundae bars, or ice cream cakes.
Exceptional service combined with consistently delicious flavors is your recipe for growth. Focus on customer happiness and your dream ice cream shop will become a successful reality.