Loaded tea brings caffeine, supplements, vitamins, and toppings to tea in an infusion of flavors and textures. While the loaded tea business sector is relatively new, the bubble tea business is similar in many ways and will reach a global value of $2.75 billion in 2022. With a compound annual growth rate of 8.9% from 2023 to 2030, now isn't a bad time to get into the tea market.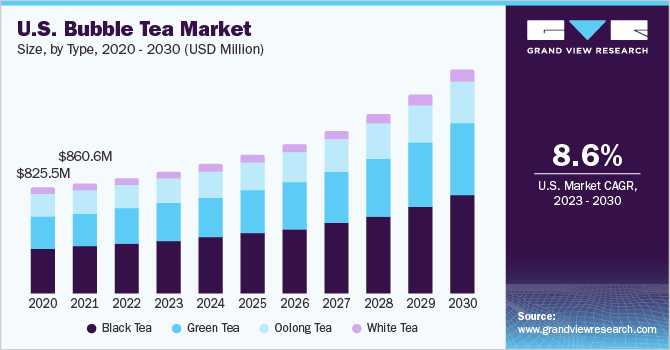 This guide will show you how to start a loaded tea business. From registering your own loaded tea business as an LLC to sourcing equipment in the beverage industry to renting a physical tea shop. Follow along with these business and marketing strategies to learn all you need to know about opening a loaded tea shop.
1. Conduct Loaded Tea Market Research
Market research is essential to loaded tea shops and local businesses. It offers insight into your target market, the many flavors loaded tea offers, the best social media platforms to market through, and more. There are two types of market research, primary and secondary.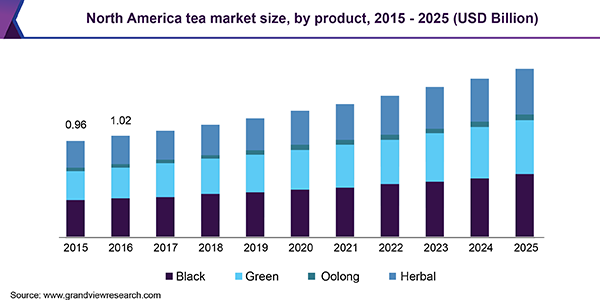 Some of the information you'll learn through market research includes:
Loaded teas are a relatively new product combining tea with functional ingredients like vitamins, minerals, superfoods, probiotics, and more.
North America accounts for the largest share of over 40%, but the Asia Pacific region is the fastest growing.
Several trends are fueling loaded tea's popularity. Health-conscious millennials and Gen Z consumers are seeking out functional drinks over sugary sodas.
The natural energy from tea and added supplements provide an appealing combination.
Despite rapid growth, the loaded tea segment still represents a small portion of the total tea market.
With unique flavor combinations and strategic distribution, new entrants can carve out a niche.
The best opportunities exist in targeting health-conscious demographics like millennials and Gen Z through digital marketing and social media campaigns.
Partnering with fitness influencers and yoga studios provides exposure. Pop-up sampling at farmer's markets and natural grocery stores is also effective.
Distribution through supermarkets, convenience stores, cafes, and other retailers will expand reach.
Overall, the loaded tea market has exceptional growth prospects. There is rising consumer demand for functional teas with added health benefits. Low market saturation remains along with ample possibilities for product differentiation.
2. Analyze the Competition
Thoroughly analyzing the competition is crucial when starting a loaded tea business. This gives valuable insights into product offerings, pricing, branding, distribution, and marketing tactics.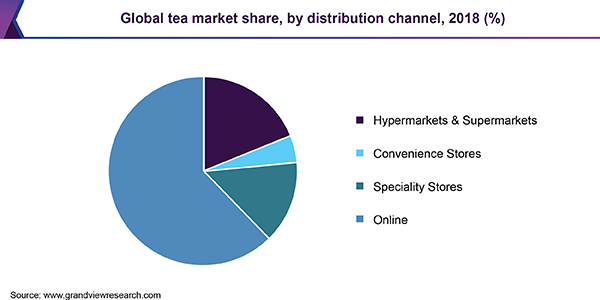 Some ways to find local competitors include:
Look at their search rankings, PPC ads, and social media engagement.
Review their website, ecommerce store, and social media channels.
Compare product selection, brand persona, visual aesthetics, and messaging.
Sign up for their email list to evaluate promotions and customer engagement tactics.
When looking at in-store competitors, visit locations to observe their products, merchandising, signage, and general branding.
Talk to employees about their most and least popular items.
Document pricing of core products.
Assess the overall customer experience in-store and consider opportunities to differentiate.
Conduct online surveys or focus groups to gather customer feedback on major competitors. Ask what they like and dislike to uncover pain points to capitalize on.
Search industry associations and market research firms like IBISWorld for loaded tea industry reports detailing market share data, sales volumes, and growth projections.
By fully evaluating the competitive landscape, you gain crucial insights into product gaps, pricing strategy, and distribution. The competitor analysis process should happen continuously even after launch to identify new threats and shifting market conditions.
3. Costs to Start a Loaded Tea Business
When launching a loaded tea business, there are a variety of start-up and ongoing costs to consider. Properly estimating these expenses in the planning stage helps ensure sufficient capital and effective financial management.
Start-Up Costs
Product Development – $5,000-$15,000 Creating unique loaded tea recipes and flavors will be a primary upfront investment.
Packaging Design – $2,000-$5,000 Having attractive and functional packaging is essential.
Permits & Licensing – $2,000-$5,000 Food manufacturing businesses need to register with the FDA and may require local health department permits.
Production Equipment – $10,000-$30,000 Essential equipment like industrial blenders, bottling lines, and refrigeration.
Office & Retail Space – $2,000-$10,000 Whether manufacturing off-site or opening a storefront, some type of commercial space is needed.
Initial Inventory – $5,000-$10,000 The first production run will be needed to stock shelves and fulfill initial orders.
Marketing Launch – $2,000-$5,000 Paid advertising and promotional materials are needed to announce the brand and attract customers.
Legal & Professional Services – $2,000-$5,000 Lawyers and accountants help ensure the business follows regulations and gets off to the best tax start.
Unexpected Costs – $5,000 extra Misc. expenses, delays, and surprises will likely amount to an additional $5,000.
Expect the total startup costs for a successful business structured around loaded tea to run $35,000 to $90,000.
Ongoing Costs
Cost of Goods Sold – Variable This includes recurring ingredient and packaging expenses per unit produced.
Rent & Utilities – Manufacturing and office/retail space typically cost $2,000-$5,000 per month depending on size, condition, and location.
Staffing – $3,000-$10,000/month To employ a small production and sales team.
Equipment Leasing & Maintenance – $500-$2,000/month Ongoing costs will accrue for leasing production equipment, computers, furniture, service contracts, and repairs.
Business Insurance – General liability and other policies range from $100-$500 monthly. Product liability may be higher.
Selling Costs – Variable This includes transaction fees from online orders, retail commissions, and payment processing. Keep around 5% of revenue.
Marketing – $500-$2,000/month Consistent advertising across digital channels, social media platforms, and print/TV/radio adds up fast.
Other fixed costs like software subscriptions, legal/accounting fees, loan payments, and more will likely total $500-$2,000 monthly.
Plan on $10,000-$20,000 annually for general maintenance, taxes, registrations, and miscellaneous expenses.
Loaded tea businesses require sizable upfront investments for product development, equipment, and launch marketing. Ongoing costs typically range from around $7,000 to $20,000 per month. Careful financial planning and cost control is imperative.
4. Form a Legal Business Entity
When starting a loaded tea business, choosing the right legal structure is an important decision that impacts liability protection, taxes, and ease of operations. The four main options each have advantages and drawbacks to consider.
Sole Proprietorship
A sole proprietorship is the simplest structure with no formal registration needed beyond permits. Owners report business income or losses on their tax returns. This offers ease of setup but no liability protection. Any lawsuit or debt collection comes against your assets. For loaded tea production, the risks of injury or foodborne illness make limited liability crucial.
Partnership
Partnership Forming a general partnership requires registering a "Doing Business As" name but no formal company formation. Partners share ownership and divide profits via the percentages they agree on. Personal assets are at risk similar to a sole proprietorship, but partners are also liable for each other's business decisions and debts. This dynamic can cause conflict and uncertainty.
Limited Liability Company (LLC)
Limited Liability Company (LLC) Forming an LLC provides personal liability protection for the owners while avoiding double taxation. LLC profits and losses pass through to members' returns. The LLC registration process is straightforward and requires less paperwork than a corporation. Operations are flexible with fewer regulations and record-keeping formalities.
Corporation
Establishing a corporation requires the most complex filing process but enables selling stock shares as a fundraising method. Corporations provide limited liability for shareholders but require extensive record keeping, reporting requirements, and formal processes. Corporate profits are taxed at the entity level and via dividends distributed to shareholders.
5. Register Your Business For Taxes
One of the first legal steps when forming an LLC or corporation is obtaining an Employer Identification Number (EIN) from the IRS. This unique ID number is crucial for opening business bank accounts, applying for licenses, and handling payroll if you hire employees.
The EIN application process is quick and can be completed entirely online via the IRS website.
To apply, you will need basic information about your loaded tea business including name, address, and ownership details. The online application takes less than 15 minutes to complete. In the end, you will receive your EIN immediately which you can then use to open business bank accounts.
Registering for state and local sales tax licenses is also essential. Every state has its registration process managed by the Department of Revenue or Taxation. For example, in California, you would register with the California Department of Tax and Fee Administration.
The registration process involves submitting your business legal name, address, ownership details, and business activities. For loaded tea companies, you will need a seller's permit to collect sales tax on transactions. Depending on locations, additional city or county licenses may also be required.
The sales tax registration can generally be completed online after establishing your business entity and EIN. Fees range from none up to a couple hundred dollars depending on the state. Renewals may be required annually.
6. Setup Your Accounting
Proper accounting is crucial for loaded tea startups to keep finances organized, maximize deductions, and avoid IRS issues. Implementing good practices from the outset prevents headaches as your business grows.
Accounting Software
Using small business accounting software like QuickBooks is highly recommended for tracking income, expenses, inventory, and taxes. The automation and integration with bank accounts save tons of time. Quickbooks plans start around $25/month and the basic version works great for most startups.
Hire an Accountant
Hiring an accountant, at minimum for tax preparation, provides expert guidance on recording transactions, claiming deductions, and staying compliant. A full-service accountant charges around $150-$200 per month for services like bookkeeping, payroll, government filings, and financial reporting. At tax time, they save you money by maximizing write-offs.
Open a Business Bank Account
Keeping business and personal finances completely separate is crucial. Open a dedicated business checking account and credit card only used for company expenses. Never come in funds or pay yourself from the business account informally. Run all revenue through your business accounting.
Apply for a Business Credit Card
Apply for a small business credit card using your EIN and company info to establish commercial credit. Issuers like Capital One offer cards with modest credit limits around $1,000-$5,000 to start. Managing business expenses via a dedicated card simplifies accounting and improves visibility into spending.
7. Obtain Licenses and Permits
Starting a loaded tea business involves obtaining licenses and permits at both the federal and state levels before sales. Find federal license information through the U.S. Small Business Association. Use the SBA local search tool for state and city permits.
FDA Food Facility Registration – All facilities manufacturing, processing, packing, or holding food for consumption in the United States must register with the FDA.
State Business License – Most states require some form of registration or licensing when operating any type of business within the state. Fees vary widely but are generally $50-$150+ depending on locations.
Food Manufacturing License – Because loaded teas are consumed, a food manufacturing license is likely needed to produce and bottle beverages. States have individual requirements for safety plans, compliance, and inspections.
Health Inspections – Local health departments will perform periodic inspections for facilities producing food and beverage products.
Trademark Registration – Securing federal trademark protection for your loaded tea brand name, logo, and slogans prevents competitors from copying them.
Liquor License – In some areas, even trace amounts of alcohol from fermented teas may necessitate a liquor license. Prices range from $500 to the thousands for these permits which are subject to extensive regulations.
Obtain all mandatory licenses before opening. Non-compliance results in fines or closure. Consult with local government agencies and attorneys to ensure you have all required approvals secured. This protects the business and shows customers you operate legitimately.
8. Get Business Insurance
Having proper business insurance is crucial for loaded tea companies to mitigate risks that could otherwise devastate the company. Policies cover expenses in scenarios like:
Product liability – If a customer gets sick from a contaminated or spoiled product, the costs of medical bills, settlements, and lawsuits are covered. This protects the business from potentially going bankrupt.
Employee injury – Paying for worker's compensation protects the company if an employee gets injured on the job at the facility. This is mandatory in most states.
Supply chain disruptions – Business interruption insurance provides funding to survive inventory delays or supplier issues.
Without coverage, these examples could wipe out the entire company. Insurance converts possible business-ending catastrophes into manageable expenses.
The typical process to get insured involves:
Determining needed coverage types and desired amounts – product liability, commercial property, workers' comp, interruption, etc.
Getting quotes from multiple providers like Hiscox, The Hartford, and others. Compare pricing.
Selecting a policy and completing the application process including providing company information and history.
Paying ongoing monthly premiums when coverage begins. Expect $100-$500 per month depending on your business.
Resources like CoverWallet make getting quotes and applying easier. Proper insurance reduces risks so you can focus on growth. Don't wait until it's too late.
9. Create an Office Space
Having dedicated office space provides a loaded tea startup workspace for administrative tasks, meetings, and product storage. The optimal option depends on budget, location needs, and work style.
Home Office
A home office works well for solopreneurs and provides maximum convenience. Costs are just utilities and furnishing a spare room or basement. The downside is the lack of a professional atmosphere for meetings. Having inventory at home also takes space from living areas.
Coworking Office
Coworking spaces like WeWork provide an affordable office environment with amenities like meeting rooms, events, and networking. Memberships start around $300/month. The community fosters collaboration but can also create distractions. Noise and traffic limit privacy.
Retail Office
Retail office space can be useful if opening a loaded tea bar/cafe as your startup venue. This allows on-site inventory storage and immediate access for sales. Rent starts around $2,000/month depending on location and size. Ensure plentiful parking and storefront visibility.
Commercial Office
Traditional commercial office space offers a professional atmosphere and privacy for the growing loaded tea team. Expect to pay about $15/square foot in rent plus utilities. Lease terms average 3-5 years. The cost and commitment make this better for established companies.
Virtual Office
Virtual offices are another flexible option starting around $99/month for a business address and mail forwarding. This presents a professional image without requiring physical space. However, no facilities for in-person work.
10. Source Your Equipment
A commercial kitchen and bottling line are the primary equipment needed to produce loaded tea. While buying new provides reliability, significant cost savings can come from buying used, renting, or leasing.
Buy New
Buying new from dealers ensures full warranties and customization for maximum efficiency. Expect to invest $10,000 for blenders, bottlers, boilers, refrigeration, and more. Financing offsets upfront costs. The reliability of new equipment minimizes disruptions.
Buy Used
Buying used professional equipment saves 50% or more than new. Search restaurant auction sites like BidOnEquipment and WebstaurantStore's outlet. Facebook Marketplace and Craigslist also list local commercial listings. Inspect condition and maintenance records closely before purchasing.
Renting
Renting production equipment by the hour or day works for peak seasons or limited-time products. Daily rental for a bottling line costs around $200. Renting a commercial kitchen with all the tools needed starts at $25 per hour. No long-term commitment makes renting ideal for testing products before big equipment buys.
Leasing
Leasing production equipment over 12-48 months helps handle large purchases via affordable monthly payments. Maintenance and upgrades are often included. This avoids tying up cash into owned equipment. However, contracts lock you into set monthly expenditures.
11. Establish Your Brand Assets
Creating professional brand assets helps loaded tea businesses market themselves effectively and build recognition. A cohesive visual identity and online properties drive sales.
Get a Business Phone Number
Getting a memorable business phone number via providers like RingCentral projects legitimacy and convenience for customer inquiries. Expect costs of around $25 per month. Features like call routing, voicemail transcriptions, and analytics assist operations.
Design a Logo
Designing a sleek logo and brand imagery is crucial for customer familiarity and appeal. Services like Looka make logo design easy starting at $20 per concept. Bold, identifiable symbols and fonts that reflect the brand personality resonate best.
Print Business Cards and Signs
Business cards with essential contact info are vital for networking and credibility. Vistaprint offers affordable, high-quality cards with fast turnaround starting at $10 for 500. Keep cards on hand for trade shows, meetings, and advocating your brand.
Signage and displays attract foot traffic to retail locations while conveying professionalism. Vistaprint also provides banners, posters, wall graphics, and more. Branded real estate boosts visibility and sales.
Get a Domain Name
Securing a domain name incorporating your loaded tea business name establishes your online presence. Namecheap offers domain registration starting under $20 annually. Choose short, memorable .com URLs for best availability and search rankings.
Build a Website
Building a functional website quickly gets your brand online. DIY site builders like Wix offer designer templates, e-commerce, and built-in SEO starting at $14 monthly. Or you can hire web developers on marketplaces like Fiverr for custom sites.
12. Join Associations and Groups
Joining relevant local organizations and online communities provides invaluable connections and insights for loaded tea entrepreneurs. Surrounding yourself with industry peers accelerates growth.
Local Associations
Local beverage or food associations offer guidance from experienced business owners in your area. For example, the California Beverage Association provides regulatory updates, networking events, and industry advocacy. Attend association meetings to gain insider tips and collaborate.
Local Meetups
Local business meetups and trade shows enable making contacts and gathering market intel in person. Sites like Meetup list hundreds of relevant networking events in your city. Look for food & beverage meetups along with small business mixers. Exchange insights over coffee or cocktails.
Facebook Groups
Industry-specific Facebook groups connect you with fellow entrepreneurs globally. The Loaded Tea Addicts group has over 7,000 engaged members sharing recipes, troubleshooting production issues, and marketing techniques. Post questions and browse discussions to tap into decades of combined experience.
13. How to Market a Loaded Tea Business
Implementing ongoing marketing is vital for loaded tea businesses to continually attract new customers and grow brand awareness. A strategic combination of digital marketing, word-of-mouth referrals, and select traditional tactics ensures steady expansion.
Personal Network
Leveraging your personal and professional network is the most accessible and effective starting point. Satisfied customers who organically rave about your product to friends are invaluable brand advocates. Offering rewards for referrals and testimonials further incentivizes happy customers to endorse your loaded tea.
Digital Marketing
Digital marketing enables cost-efficient outreach on an enormous scale. Useful tactics include:
Search ads on Google Ads to find relevant tea and health-related keywords. Target local geographic regions.
Facebook and Instagram ads to reach health-conscious demographics. Highly visual ads perform best on social.
Email marketing to inform subscribers about new products, promotions, and company updates. Offer an incentive for signups.
SEO optimization to rank highly in search engines for keywords like "loaded tea [your city]". Produce fresh blog content around your products and brand.
YouTube channel with videos spotlighting your loading process, health benefits, and more.
Traditional Marketing
Traditional marketing also remains effective when targeted thoughtfully:
Direct mail postcards to local households announcing your grand opening or new location. Highly targeted.
Flyers are placed in health food stores, smoothie and juice bars, yoga studios, gyms, etc. Drive visits from aligned businesses.
Local newspaper ads in daily food sections and weekly business spotlights. Good for the grand opening.
Radio ads on local health and wellness stations. Time them around commutes for broad reach.
Billboard ads on busy roads with high traffic counts. Use bold, eye-catching creative.
Sponsoring local events like runs and fitness conferences. Set up a vendor booth to sample products.
Casting a wide net across both digital and traditional channels ensures your loaded tea brand stays top of mind. Mix up your marketing portfolio over time to determine the most effective channels based on campaign performance.
14. Focus on the Customer
Providing exceptional customer service is crucial for loaded tea companies to foster loyal, vocal fans who refer others. Satisfied customers are your best marketers. Some ways to improve customer focus in your business model, include:
Respond promptly to inquiries with thoughtful, personalized responses. If someone emails asking about sugar content in a flavor, research thoroughly and reply same-day.
Empower staff to resolve issues immediately. If a bottle leaks in transit, send a replacement batch overnight with an apology gift. Turn problems into positive memorable moments.
Follow up by email after a sale to ensure satisfaction. Ask for product feedback and testimonials. This shows you care beyond the transaction.
Offer perks like free samples and coupons to spark reorders. Surprise repeat buyers with product add-ons like stickers and steep timers.
Feature customer photos and testimonials prominently on your website, product pages, and social media. This social proof builds trust and familiarity.
Prioritizing customer happiness creates vocal advocates. A simple "We love Company X!" referral from an influencer friend carries immense weight.
Provide channels for easy feedback like surveys and post-delivery emails. Monitor reviews and address concerns promptly. Feedback enables continual improvement.
Generous policies on refunds, exchanges, and returns prevent small hiccups from escalating. Empower service reps to keep each customer satisfied.
By proving your commitment to stellar service at every step, your loaded tea business builds loyalty one delighted customer at a time.