The global massage therapy business market reached $43.6 billion in 2022. With a potential compound annual growth rate (CAGR) of 8.6% from 2022 to 2032, now is a great time to invest.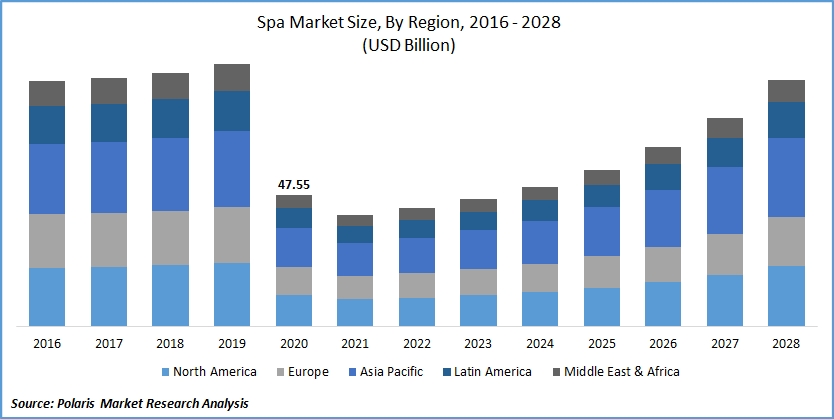 The hands-on nature of massage therapy appeals to those looking for a career that provides personal fulfillment through human connection. And with massage recognized as part of integrative, health approaches, demand should remain strong.
In this guide, we'll discuss how to start a massage business. Topics include market research for your business plan, licenses required for a certified massage therapist, potential business expenses, and more. Here's everything you need to know to start a massage therapy business.
1. Conduct Massage Market Research
Market research is important for starting a successful massage business. Whether part of a spa or a massage therapy clinic, market research helps you gain insight into your target audience, market saturation, and more. Both primary and secondary market research are needed to open your own business.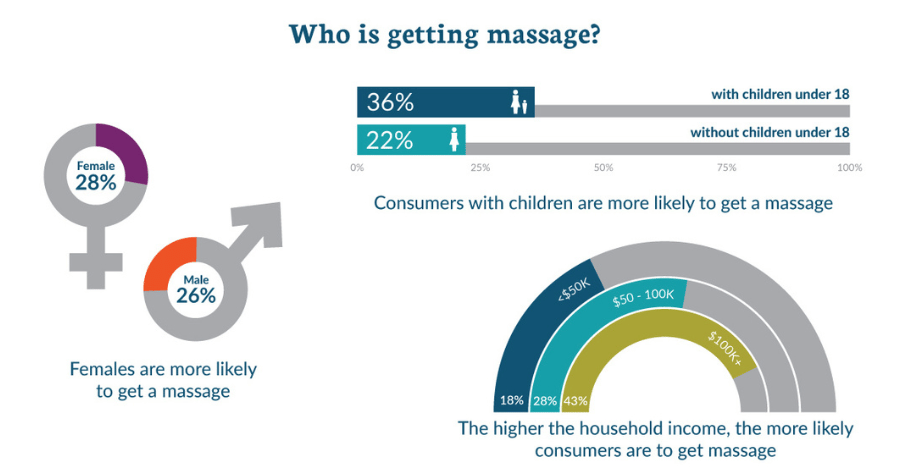 Here are some of the details you'll learn as you start your market research:
Most massage therapists operate as solo practitioners or work at small spas and franchises.
Franchises make up a small but growing segment, generating 9.5% of industry revenue.
Massage Envy and Elements Massage are two of the largest franchised massage concepts.
Spas account for the largest share of establishments at 38.4%. Medical offices and fitness centers also drive demand as they integrate massage into treatment plans.
The Bureau of Labor Statistics projects employment to increase by 21% over the next decade, much faster than average.
Demand is driven by:
The aging population requires therapeutic massage
Rising consumer disposable income
Growing fitness and wellness trends
Increasing integration with traditional medicine
Target demographics present further opportunities:
Adults aged 35-54 make up the primary client base
Women account for 67% of customers
Higher-income households are more likely to use massage
With a large and expanding market, massage therapy offers strong potential as a small business. Developing a brand, targeting key demographics, and leveraging emerging wellness trends can position your massage practice for success.
2. Analyze the Competition
Thoroughly evaluating competitors is crucial when starting a massage therapy practice. This provides intelligence to differentiate your business in a crowded market.
Some ways to find and investigate other massage therapy businesses include:
Visit their websites and social media profiles to assess services, pricing, brand messaging, and reviews.
Note competitive advantages you can emulate or improve upon.
Drive by physical locations more than once, at different times of day and days of the week.
Gauge customer traffic and parking availability to estimate demand.
Search online reviews to see common customer feedback and pain points.
Investigate the therapists themselves via profiles and credentials.
Evaluating the competition online is equally important.
Start by Googling terms related to your services like "massage near me."
See where competitors rank and which listings stand out on the search engine results page.
Search ads can also provide intelligence on what businesses are bidding on keywords.
Monitoring online reviews, social media followings, and engagement metrics like likes and shares provides additional data on competitor positioning.
Combining on-the-ground and digital research paints a detailed picture of competitors. These insights empower you to launch a massage therapy business that truly fills a need in your community.
3. Costs to Start a Massage Business
Starting a massage therapy practice requires an initial investment to cover equipment, licensing, marketing, and other expenses needed to open for business. While costs vary based on your location and scope, expect to spend $2,000 to $5,000 to launch a solo practice.
Start-up Costs
Licensing & Permits – Each state has different licensing requirements for massage therapists. Expect exam, registration, and permitting fees of $200 to $1000.
Massage Equipment – At a minimum, you need a portable massage table ($200 to $1000), sheets/blankets ($150), massage chair ($300 to $600), and massage oils/lotions ($100 to start).
Education & Training – Most states require 500+ hours of training to get licensed. Massage therapy school costs $10,000 to $20,000. Continuing education is also required annually.
Rent – Leasing a basic treatment room starts at around $400/month. More upscale spa spaces average $25 to $35 per square foot. Factor in utility costs, which can add a few hundred dollars monthly.
Insurance – Liability insurance runs around $500/year for solo practitioners. Additional coverages like health insurance and business property insurance are recommended.
Marketing – Branding, a website, print materials, and online ads to launch typically cost $1,000 to $5,000.
Ongoing Costs
Rent & Utilities – For brick-and-mortar locations, base rent plus estimated utility costs of $200 to $500 per month.
Staffing – Hiring massage therapists as employees or independent contractors. The industry average is to pay 50% commission but can range from 40% to 60%.
Insurance – Annual general liability insurance of around $500. Health insurance at ~$300/month per employee.Product Supplies – Oils, lotions, towels, sheets, etc. Budget $50 to $100 monthly.
Continuing Education – Required annual CE hours cost ~$300 per therapist.
Marketing – SEO, social media marketing, retention email campaigns, etc. $200 to $500 monthly.
Software & Tools – Scheduling/payment processing software at ~$50/month. Office equipment/software.
Accounting & Legal – Plan for tax prep, accounting, and legal fees, especially in the first year. Around $500 to $2,000 annually.
With monthly costs ranging from $1,500 to $7,500 depending on size, build out a 12-month operating budget to ensure your massage business remains profitable. Analyze expected revenues based on session pricing and capacity to right-size your investment.
4. Form a Legal Business Entity
When starting a massage therapy practice, one key legal decision is choosing your business structure. The four main options each have advantages and disadvantages to weigh.
Sole Proprietorship
A sole proprietorship is the simplest and most common structure for massage therapists. You operate as an individual owner, reporting business income/expenses on your tax return.
Pros: Easy and inexpensive to set up. You retain complete control over operations and have no corporate formalities.
Cons: You are personally liable for all business debts and obligations. Income is subject to full self-employment taxes. Harder to raise investment capital for growth.
Partnership
A partnership involves two or more co-owners sharing management and liability. You file a partnership tax return but income/losses flow through to partners.
Pros: Allows pooling resources/talents with other therapists. Still relatively easy to establish.
Cons: Each partner is personally liable for all debts (including malpractice). Profits are split among partners. Potential for disputes between partners.
Limited Liability Company (LLC)
An LLC protects your assets and allows pass-through taxation like a partnership. It limits legal liability and separates your business and personal finances.
Pros: Liability protection for your assets. Flexible management options. Easier to raise investment capital. Gaining tax benefits.
Cons: More complex to establish with state filing fees of $50 to $500. Requirements like an operating agreement. Self-employment taxes still apply.
Corporation
Establishing your massage business as a C corporation or S corporation creates a separate legal entity owned by shareholders.
Pros: Liability protection for owners. Raising capital through the sale of stock shares. Potential tax advantages.
Cons: Most expensive and complex to set up and maintain. Double taxation of profits unless structured as an S corp. Extensive recordkeeping.
5. Register Your Business For Taxes
An Employer Identification Number (EIN) is a unique 9-digit number that identifies your business for tax purposes. The IRS requires all businesses, including sole proprietors, to obtain an EIN even if they do not have employees.
Applying for an EIN is free and can be done online via the IRS website in just minutes.
To complete the application, you will need to provide basic information including your name, address, social security number, and the legal name/structure of your massage business.
The online application tool walks you through a short interview process to collect the necessary details. The only cost is the time it takes to fill out the form.
At the end, you will be provided your unique 9-digit EIN immediately. This number should be included on all tax filings, bank account applications, business license paperwork, and other situations where the IRS requires identification of your business.
In addition to obtaining a federal EIN, most states require massage therapy businesses to register for sales tax collection. The sales tax permit allows you to collect and remit sales tax on services provided.
The sales tax registration process can typically be completed online via your state government's website. Like the EIN application, it simply involves providing details on your business activities.
6. Setup Your Accounting
Proper accounting is crucial for massage therapy businesses to track finances, maximize deductions, and avoid IRS issues. Implementing key financial practices from the start provides huge benefits.
Accounting Software
Using accounting software like QuickBooks streamlines bookkeeping. QuickBooks seamlessly connects to your business bank accounts and credit cards to automatically import and categorize transactions. This automation saves hours of manual data entry and reconciliation each month.
Hire an Accountant
While accounting software handles much of the grunt work, partnering with an accountant optimizes your tax situation. A qualified accountant provides services like:
Setting up QuickBooks with best practices for your business type
Providing ongoing bookkeeping and reconciliation
Identifying additional deductions based on your operations
Preparing and filing quarterly/annual tax returns
Representing you in case of an IRS audit
Expect to invest around $200 to $500 monthly for an accountant on retainer. Their expertise saves you multiples of that long-term in tax savings and peace of mind.
Open a Business Bank Account
Maintaining completely separate finances for your business is another fundamental practice. Do not come to any personal and business accounts, credit cards, or tax filings.
Open a dedicated business checking account to keep all deposits, pay all expenses, and track inflows/outflows separately from personal finances. This avoids red flags with the IRS and simplifies record keeping.
Apply for a Business Credit Card
Obtaining a business credit card is also advised over using personal credit cards. Business cards do not impact your credit score and offer higher limits. Limits are based on your business revenue rather than personal income.
Providers like Capital One offer simple online applications for business credit cards. You will need to provide your EIN, business address, estimated revenues, and other basic business details.
7. Obtain Licenses and Permits
Before welcoming your first client, massage therapy businesses must acquire all required licenses and permits, including through the national certification board. Obtain federal license details for your standard or mobile massage practice through the U.S. Small Business Administration. The SBA also offers a local search tool for state regulations.
Generally, the core licensing needed includes:
State Massage Therapy License: Nearly every state requires massage therapists to obtain licensure by demonstrating coby completed training hours and passing an exam.
City/County Business License: Most local municipalities require a general business license for commercial operations in their jurisdiction. These are annual licenses costing around $50 on average.
Special Massage Therapy Establishment Permit: Some states add further regulations requiring massage businesses to acquire a special permit or certificate.
Board Certification: Earning voluntary certification from the National Certification Board for Therapeutic Massage & Bodywork (NCBTMB) demonstrates advanced expertise.
In addition to these baseline licenses required to legally operate, massage businesses need insurance, a sales tax ID for collecting sales tax, and potentially need to comply with zoning regulations if serving as home-based business diligence.
8. Get Business Insurance
Obtaining adequate business insurance is strongly advised when starting a massage therapy practice. The right policies protect your company's financial health if the unexpected occurs.
Operating without coverage exposes your business to massive risk. Just a few examples:
A client sues for injury/harm suffered during a session. Without liability insurance, you could owe enormous damages.
An electrical fire sparked by a candle spreads through your office. Repair costs and lost business income could bankrupt you if uninsured.
Key equipment like your massage table is stolen. Replacing these vital assets out-of-pocket may be impossible without insurance.
The consequences of being uninsured or underinsured can ruin your finances. However, securing proper coverage safeguards your business.
At a minimum, invest in general liability insurance. This covers legal costs and payouts if you are sued for property damage, bodily injury, or other liabilities stemming from your services. Policies start at around $500 annually.
Strongly consider business personal property coverage as well. This ensures your physical business assets like equipment, furniture, and inventory against losses from theft, fire, vandalism, and natural disasters. Expect costs of around $600 per year.
Optional policies like professional malpractice insurance provide further protection against allegations of negligence or errors injuring clients. Workers' compensation also covers medical bills and lost wages for employees injured on the job. An insurance broker helps identify must-have coverages specific to massage therapy businesses in your state. They will shop quotes from leading insurers like The Hartford and Travelers to find you the best rates.
The typical process to get insured involves:
Researching types of business insurance needed in your industry and location.
Reaching out to an independent insurance agent or broker for advice and quotes.
Providing details about your business operations and risk exposures.
Selecting optimal coverages and carrier(s) based on premium costs.
Completing applications and paying policy premiums.
Ensuring coverage renews annually.
With strong insurance partners protecting your massage therapy business, you can confidently focus on growing your company and serving clients. Don't let a single accident bankrupt your entrepreneurial aspirations.
9. Create an Office Space
Having a professional office space lends credibility and provides convenience for massage therapy practitioners. It creates an inviting environment for clients while giving you a centralized base for business operations.
Home Office
Working from home minimizes costs and commute times. Convert a spare bedroom into a soothing treatment space for $2,000 to $5,000. Make sure your homeowner's insurance covers business use. Downsides include a lack of professional separation and potential zoning issues.
Coworking Space
Coworking spaces like WeWork provide amenities like WiFi, meeting rooms, kitchens, and networking. Gain credibility with a prestigious address. Hot desk memberships start at around $300 monthly. Limitations include lack of privacy and restrictions on furniture.
Retail Office
Leasing a suite in a retail center positions your practice alongside complementary businesses like spas, salons, chiropractors, or fitness studios. Signage raises visibility. Retail spaces average $20-$30 per square foot. Ensure ample parking and accessibility for clients.
Commercial Office
Professional office buildings offer more traditional private suites with reception areas for staff and clients. Premium building locations and amenities come at a price – expect to pay $25-$40 per square foot. A great option for established practices.
10. Source Your Equipment
A massage practice requires quality equipment to deliver an exceptional client experience. From massage tables to hot towel cabinets, sourcing these vital supplies at the best value enables you to control startup costs.
Buying New
Massage warehouse retailers like Spa and Equipment, Massage Warehouse, and Bon Vital provide one-stop online shopping for new equipment. Benefits include warranties, financing, and bundled packages. The downsides are higher prices and shipping costs.
Buying Used
Gently used equipment costs a fraction of new while still having ample life. Shop specialty platforms like Craigslist and Facebook Marketplace. Join massage therapist buy/sell groups to access deals.
Renting
Renting equipment avoids major up-front purchases. National rental companies rent massage tables, chairs, linens, and more with flexible terms. Delivery and pick-up reduce hassle.
Leasing
Leasing gets you brand-new equipment via predictable monthly payments. Lower minimum commitments than renting. Tax write-offs as a business expense.
11. Establish Your Brand Assets
Creating a strong brand identity is crucial for massage therapy businesses to stand out and attract loyal clients in a crowded marketplace. Investing in professional branding assets brings credibility and recognition.
Getting a Business Phone Number
A business phone number lends legitimacy over relying solely on a personal mobile phone. Cloud-based systems like RingCentral make obtaining a dedicated business line simple and affordable. Plans start at $30/month for unlimited calling, SMS, voicemail, and other features.
Creating a Logo and Brand Assets
A polished logo is the cornerstone of your brand image. Consider an abstract mark or modern wordmark style that conveys massage and wellness.
Design services like Looka create custom logos for as low as $20. Their AI generators provide multiple design mockups for feedback and revisions.
Creating Business Cards and Signage
Custom business cards establish professionalism when meeting prospective clients and networking. Order 250 to 500 cards for around $20 from Vistaprint.
Interior and exterior signage also boosts visibility for storefront locations. Vistaprint offers attractive, durable signs with a quick turnaround.
Purchasing a Domain Name
Secure a domain name that matches your business name and brand. Extensions like .com or .net are the most authoritative. Use hyphens for multi-word names.
Domain providers like Namecheap offer domains for $9/year. Look for bulk discounts when registering multiple domains.
Building a Website
Every business needs a website to be found online. DIY builders like Wix make it simple to create a custom site with their drag-and-drop editors and templates. Plans start at $14/month.
For a completely custom site, hire a freelance web developer from marketplaces like Fiverr. Expect to invest $500 to $5,000 or more depending on complexity.
12. Join Associations and Groups
Joining local massage therapy associations and online communities provides invaluable connections when starting a massage practice. Surrounding yourself with fellow therapists like those in the American Massage Therapy Association leads to collaborations, referrals, and continuing education.
Local Associations
Seek out associations like the American Massage Therapy Association (AMTA) and Associated Bodywork & Massage Professionals (ABMP). Most states have chapters you can join for member benefits like insurance, conferences, and career development.
For example, the California Massage Therapy Council offers voluntary certification, continuing education, and discounted services for members. Annual dues average $100 to $300.
Local Meetups
Attend regional massage and wellness meetups to network face-to-face with like-minded professionals. Sites like Meetup make finding upcoming events simple.
Look for practitioner mixers, chamber of commerce meetings, trade shows, classes, and conferences. Bring business cards and be proactive in introducing yourself to build relationships.
Facebook Groups
Facebook communities create connections nationwide right from your phone. Join established groups like Massage Professionals Support Group and Massage Entrepreneurs to access thousands of peers.
13. How to Market a Massage Business
Implementing an effective marketing strategy is essential for massage therapists to continually attract new clients and grow their practice. A multifaceted approach spanning digital and traditional channels maximizes exposure.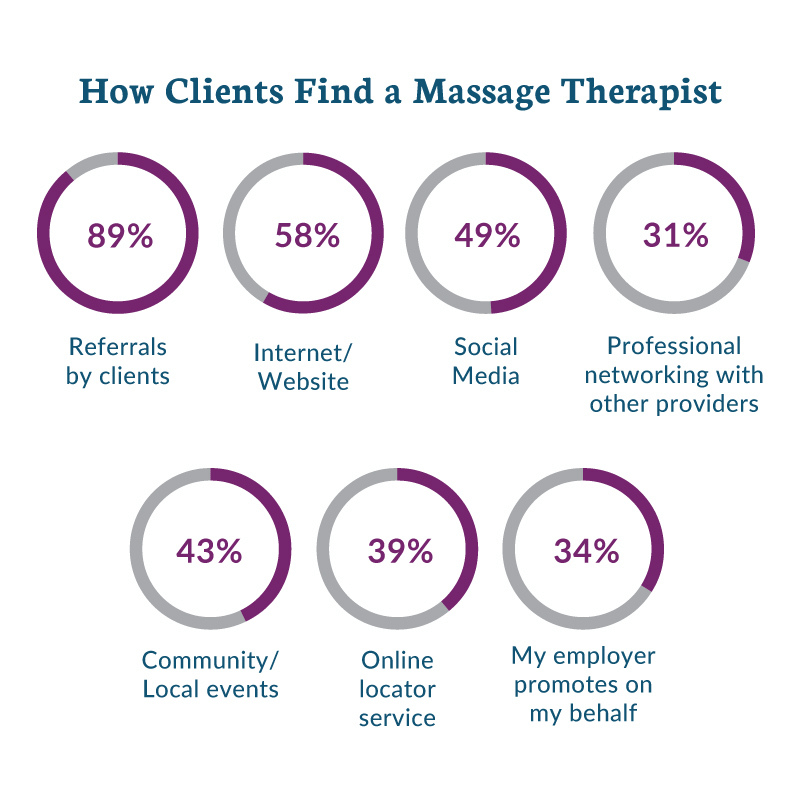 Personal Network
First and foremost, leverage your personal and professional network. Satisfied clients who rave about their massage experiences to friends and family become your best promoters.
Offer incentives like discount coupons to existing clients for referrals. Simple actions like asking happy customers to leave online reviews also expand your word-of-mouth reach. Many massage therapists begin growing a loyal customer base this way.
Digital Marketing
Run Google Ads campaigns focused on service keywords like "massage near me" and target close metro areas. Can drive instant website traffic.
Facebook and Instagram ads help reach local demographics like wellness-minded adults aged 30-60. Retarget past customers.
Claim and optimize free business listings on Google, Facebook, Bing, and other directories. Improves local SEO.
Start a YouTube channel demonstrating massage techniques, health benefits, and client testimonials. Boosts brand awareness.
Write educational blogs about massage and share them on social media. Aim for 2-3 per month to populate your site.
Send monthly e-newsletters with health tips, promotions, and links to new website content. Keep past customers engaged.
Traditional Marketing
Design professional flyers and distribute them at health food stores, chiropractors, salons, gyms, etc. Gets the word out locally.
Run specials like 20% off for new clients in community newspapers and circulars to incentivize trials.
Partner with complementary wellness providers to offer package deals. Cross-promote each others' services.
Sponsor local events like races or health fairs by providing post-event massages. Highly visible community goodwill.
Mail intro letters and coupons to households near your massage location. Target by demographics.
Implementing the right blend of digital and traditional tactics ensures your massage business captures market share quickly and cost-efficiently.
14. Focus on the Customer
Providing an exceptional customer service experience is crucial for massage therapy practices to retain clients and earn referrals. In a field centered around healing touch and care, client satisfaction hinges on quality interactions. Some ways to improve customer focus as a standard or mobile massage business include:
Ensuring seamless booking and timely follow-ups. Respond promptly to inquiries, provide appointment reminders, and make rescheduling easy when life interferes.
Greet each client warmly and do a brief consultation to understand therapeutic goals, pressure preferences, problem areas, and health history. This personalization enhances the treatment.
During the massage, check in about comfort levels. Adjust your technique based on feedback to deliver the right degree of relaxation or deep tissue work.
Close each session by reviewing techniques used, progress made, and suggestions for self-care like stretching or hydration. Book follow-up appointments and encourage reaching out with any questions.
Emailing satisfaction surveys and thank you notes after appointments shows you value the client relationship. Solicit testimonials to help attract more customers.
Exceeding expectations leads to satisfied repeat customers, glowing online reviews, and word-of-mouth referrals. A single poor experience can permanently lose a client. Make customer service a priority.