The healthcare industry in the United States is massive, with expenditures projected to reach $6.2 trillion by 2028 according to CMS.gov. With this growth comes opportunity, especially in the medical billing sector. As more Americans gain insurance coverage, the number of medical claims needing processing increases.
This creates a lucrative opening for entrepreneurially-minded individuals to launch their own medical billing companies. While launching a new venture is no simple feat, the potential rewards make it an appealing path to pursue. Arm yourself with the right information and strategies, and you'll be well on your way to seizing a piece of this promising industry.
In this comprehensive guide, we'll walk you through how to start a medical billing business from the ground up.
1. Conduct Medical Billing Market Research
To build a successful medical billing business, you must perform market research. Primary research is medical billing industry research you conduct yourself. Secondary research is medical billing service research conducted by a third party. Both are essential.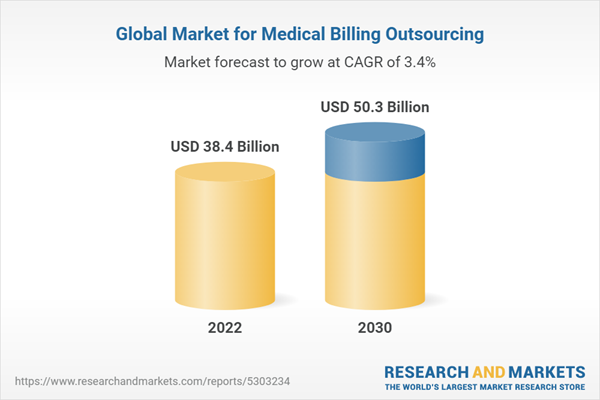 Here's a look at some of the medical billing services information you'll glean through market research.
Steady business lets billers build up valuable experience and relationships. They can service multiple clients while avoiding the overhead costs of hiring staff and managing billing in-house. Profit margins for billing services average around 10-20%.
To capitalize on this demand, an independent billing service needs the proper foundations:
Expertise in medical billing protocols and insurance procedures
Relationships with providers to secure business
Robust medical billing software
Dedicated staff for billing tasks
Strong accounts receivable processes
With these elements in place, a motivated entrepreneur can thrive. The healthcare industry's continued expansion assures consistent need. An aging population with more complex care translates to more claims to process. And bursting data storage costs encourage providers to outsource this non-core function.
By offering exemplary service and leveraging technology to maximize efficiency, a lean billing operation can readily handle 50 to 100 claims per biller daily. With billing fees averaging $5 to 10 per claim, monthly revenue potential per biller lands around $7,500 to $15,000.
2. Analyze the Competition
To succeed, medical billing entrepreneurs must understand their competition. This involves assessing both local brick-and-mortar billers and larger national outsourcing firms.
Some other ways to get to know your competitors in medical coding include:
For local competitors, search online directories and drive around town to identify nearby billing companies. Note their locations, office sizes, staffing levels, and any apparent specialties.
Evaluate competitors' online presence. Search engines display local options prominently.
Review competitors' search rankings, which pages rank highest, and their strategies to appear prominently.
Scrutinize online reviews. Positive feedback implies good experiences. Complaints reveal shortcomings to avoid.
Benchmark competitors' review volume and ratings on sites like Google, Facebook, and Yelp.
For larger national billers, search "medical billing companies" to assess their web visibility.
Use tools like SEMrush and SpyFu to analyze competitors' search optimization and paid advertising strategies.
Social media also provides intel. Follow competitors and see what content resonates with their audiences.
Identify areas your content can better educate and attract ideal prospects.
By thoroughly evaluating competitors online and off, medical billing entrepreneurs gain advantageous insights. You can tailor services to differentiate, optimize web visibility, hone online reputation, and sharpen marketing messaging.
3. Costs to Start a Medical Billing Business
Starting a medical billing company requires careful financial planning and cost analysis. Between initial investments and ongoing expenses, entrepreneurs must budget realistically. Here we outline expected costs to help guide your planning.
Start-Up Costs
Registering your business legally comes first. Expect state filing and licensing fees of $50-$150.
Budget $750-$1500 for assistance incorporating properly and establishing necessary tax accounts.
Average monthly office rent starts around $1000 for a modest 600-800 sq ft space. With utilities, expect monthly costs of $1200-$1500.
Buying office furniture and equipment will likely run $3000-$5000.
A robust medical billing software platform is essential, with top solutions averaging $2000-$5000 for purchase or subscription.
Additional hardware like computers, printers, and phones will cost around $3000 to outfit your team.
Hiring staff is another major startup investment. Budget $60,000-$100,000 for first-year personnel costs, including payroll taxes and benefits.
Work with a lawyer to establish compliant contracts and procedures, budgeting $1000-$2000 initially.
Accounting help will run $200-$500 monthly.
Marketing/advertising costs to attract new clients will likely range from $2000-$5000 as you launch.
All said, expect between $75,000 to $125,000 in startup costs to open properly. This covers the key foundational elements to begin billing operations.
Ongoing Costs
Once up and running, medical billing incurs recurring monthly and annual costs:
Rent and office expenses – $1200-$1500
Software and equipment – $500-$1000
Staffing – $5000-$15,000
Accounting services – $200-$500
Legal/compliance – $500-$1000 annually
Insurance – $1000-$2000 annually
Marketing/advertising – $1000-$3000 monthly
While revenue fluctuates, target a minimum monthly profitability of $10,000 to comfortably cover these recurring expenses. Track labor, claims processing, and collections diligently to ensure adequate margins.
4. Form a Legal Business Entity
When starting a medical billing company, a key decision is choosing your business structure. The four main options each have pros and cons to weigh.
Sole Proprietorship
A sole proprietorship is the simplest structure. You operate as an individual with personal liability for the business.
Pros: Easy and inexpensive to set up. You control all decisions and keep all profits. Minimal paperwork.
Cons: You are personally responsible for all debts and liabilities. Income is taxed as personal. Harder to raise investment capital. Perceived credibility may suffer.
Partnership
In a partnership, two or more people share ownership and responsibility. A formal partnership agreement outlines rights and responsibilities.
Pros: Easy to establish. Shared capital and management. Profits pass through to partners.
Cons: Unlimited personal liability for each partner. Disagreements can dissolve the partnership. Profits must be shared.
Limited Liability Company (LLC)
An LLC combines aspects of partnerships and corporations. Owners have limited liability protection but pass-through tax treatment.
Pros: Liability protection for owners. Retain full control and keep profits. A separate entity from personal finances. Credibility of formal company. Easy to add members.
Cons: More complex to establish with state filing requirements. Requires operating agreement. Self-employment taxes still apply.
Corporation
A corporation is a separate legal entity from its owners. Shareholders have limited liability but face corporate taxes.
Pros: Strong liability protection. Can sell stock and raise capital. Perpetual existence beyond original owners. The prestige of a corporation may attract clients.
Cons: Most expensive and complex to create with extensive filing requirements. Double taxation of profits and dividends. Closely regulated by state. Extensive record-keeping required.
5. Register Your Business For Taxes
To operate legally, every medical billing company needs an Employer Identification Number (EIN). Also known as a Federal Tax ID Number, the EIN uniquely identifies your business for tax and reporting purposes.
An EIN is required to open business bank accounts, apply for licenses, hire employees, and file tax returns. It establishes your entity separate from your social security number.
Applying for an EIN is quick, free, and can be done online via IRS.gov. Simply navigate to the EIN Assistant and follow these steps:
Select view Additional Types, then select Healthcare and Social Assistance
Choose a Limited Liability Company for the business structure
When asked, check the box to indicate you want the EIN for banking purposes
Provide basic information about your LLC and its owners/members
Specify if you already have an EIN (select no if this is your first application)
Carefully review the information entered, then hit Submit
That's it! The IRS will instantly provide your new EIN. Be sure to print/record this number for safekeeping. You will need it frequently.
With your federal EIN established, contact your state revenue or taxation department to acquire any required state or local IDs for remitting sales tax. Small fees of around $10-$50 may apply.
6. Setup Your Accounting
With regular client invoicing and payments, sound accounting is crucial for medical billers. Proper bookkeeping, taxes, and financial management establish credibility and prevent expensive errors.
Open a Business Bank Account
Start by separating business and personal finances. Open dedicated business checking/savings accounts to keep funds distinct. Never commingle money to simplify accounting and avoid red flags with the IRS.
Accounting Software
Acquire small business accounting software like QuickBooks to automate recording income and expenses. Connect bank/credit card accounts so transactions import automatically. This streamlines categorizing transactions and speeds up processes like reconciling accounts and creating invoices.
Hire an Accountant
Consider hiring an accountant to handle taxes, payroll, monthly/annual financial statements, and other reporting requirements. Expect to invest around $200-$500 monthly for this outside expertise. Come tax time, they'll ensure all deductions and credits are captured to minimize your tax liability.
A qualified accountant also proves invaluable if you ever get audited. Their expertise and documentation can substantiate all business activities to resolve any IRS concerns quickly. Paying an accountant $1000-$2000 annually for tax prep and audit defense provides tremendous peace of mind.
Apply for Business Credit Card
Apply for a business credit card too, keeping spending separate from personal cards. Business cards weigh factors like company revenue, not just your credit score, so aim for at least a $10,000 limit. Use it for all company purchases to simplify expense tracking.
7. Obtain Licenses and Permits
When launching a new medical billing company, proper licensing is mandatory. Federal licenses can be found through the U.S. Small Business Administration. The SBA also offers a local search tool to find state regulations.
Research federal, state, county, and city requirements relevant to your location and business model. While certain general business licenses are standard, specialized needs may also apply.
For example, many states and municipalities require a Regulatory Business License for companies providing professional services like medical billing. These verify your company's legitimacy and authorize you to provide services locally. Fees are generally around $50-$100 annually.
Your city or county may also mandate a Business Occupancy Permit tied to the physical office space. This confirms the premises meet zoning, safety, and building codes for commercial use. Expect a $100-$300 application fee, with periodic inspections and renewals.
If hiring employees, don't forget Unemployment Insurance and Workers Compensation. Unemployment Insurance provides temporary pay if staff are laid off and costs around 3% of gross wages. Workers Comp covers injuries on the job with premiums based on risk exposure.
Healthcare billing operations should also consider Professional Liability Insurance. This protects against financial harm from any errors or negligence in billing services. Premiums vary based on revenue and claims history but expect $1,000 annually.
8. Get Business Insurance
Business insurance is strongly recommended to protect medical billing companies from unexpected catastrophes. The right policies can safeguard your company's assets and financial well-being should disaster strike.
Without adequate coverage, just one incident could severely harm or destroy your business:
A burglary could wipe out expensive equipment and sensitive patient records. Without insurance, replacing these could exceed $50,000 and endanger your operations.
An electrical fire could force you to close for repairs for weeks or longer. Lost billing revenue plus reconstruction costs could total over $100,000 if uninsured.
Getting sued for a billing error could mean a settlement or judgment of $500,000 or more if you lack liability coverage. This could bankrupt your company.
The right insurance helps defend against scenarios like these. Common recommended policies include:
Property insurance covers office space, equipment, and inventory from damage, theft, or natural disasters. Expect $1000-$5000 annually depending on assets insured and coverage levels.
Liability insurance protects against third-party claims of bodily injury or property damage. Usually $1000-$3000 annually.
Business interruption insurance replacing income lost due to disaster-related closures. About $1000-$5000 based on revenue.
Cyber insurance covers data breaches, hacking incidents, and electronic theft. Approx. $1200-$5000 per year based on revenue and risk factors.
To get covered, first estimate your policy needs and desired levels of protection. Then reach out to providers for quotes. Share your business details and asset information to compare options. locking in policies after choosing providers and coverages that suit your risk tolerance and budget.
9. Create an Office Space
An office provides medical billing companies workspace plus credibility with healthcare clients. The right facilities accommodate your budget and operations.
Home Offices
Converting spare space at home into a basic office costs little and allows maximum flexibility. Expect around $1000-$2000 to furnish and equip an area for 1-2 workers. Meetings with clients can happen remotely.
However, home offices lack prestige and keep work/personal life blended. Distractions may impede productivity. Zoning restrictions could also apply. Still, it's a cost-effective starting point before expanding.
Coworking Spaces
Shared coworking spaces like WeWork provide amenities, networking, and flexibility at an affordable price. Hot desk rentals start around $300-$500 monthly. Private offices run $600-$1200 monthly.
Coworking suits mobile billing teams and solo entrepreneurs. The dynamic community facilitates connections while the varied settings accommodate client meetings. The only caveat is potential noise and distractions.
Commercial Office
Leasing dedicated conventional office space conveys professionalism and credibility. Expect monthly rents of $1,000-$2,000 for a small suite accommodating 3-5 employees. This segregates work and life and customizes the environment.
The main downsides are cost and multi-year leases. While not usually essential initially, traditional offices best suit established companies.
10. Source Your Equipment
Launching a medical billing company requires purchasing or leasing office essentials. With the right tools, your staff can process claims efficiently and effectively.
Buying New
Major retailers like Office Depot, Staples, and Costco sell new computers, phones, printers, and basic office furniture at reasonable prices. Figure around $1,500 per employee for adequate equipment.
For more specialized items like billing software and data servers, work with vendors familiar with your industry's unique needs. Expect to invest $3,000-$10,000 for a robust system.
Buying Used
Gently used equipment costs a fraction of new while still getting the job done. Search local listings on Craigslist and Facebook Marketplace for discounted desks, chairs, computers, etc. Budget $500-$1000 per employee.
eBay and other online marketplaces also offer inventory at all price points. Look for reputable corporate sellers liquidating office equipment in bulk.
Renting
Consider renting or leasing more expensive specialized equipment like servers, phone systems, and high-volume printers. Benefits include getting ideal items without huge upfront costs.
Expect lease payments of around $100-$300 monthly for top hardware suited for medical billing. Avoid dated equipment that could hinder productivity.
Leasing
Leasing full office spaces also furnishes necessary amenities like meeting rooms, internet, and basic utilities. Coworking spaces provide flexible short-term leases with all the perks.
With creative sourcing, medical billing startups can secure professional tools affordably. Seek bargains on plentiful used items, and lease expensive but vital systems not needing ownership. Combine cost-conscious options with a few key purchases to outfit your office well.
11. Establish Your Brand Assets
Distinct branding elevates medical billing companies, fostering recognition and trust with healthcare providers. Strategically developing your brand identity conveys professionalism and credibility.
Get a Business Phone Number
Start with a unique memorable business phone number from providers like RingCentral. Choose an easy-to-say vanity number featuring your company name to stick in clients' minds. Expect costs around $30-$50 monthly.
Design a Logo
Next, create a sleek logo that reflects your mission. Modern, minimalist designs often suit healthcare companies well. Or implement visual elements that symbolize medical billing, like files, charts, or transactions. Logo makers like Looka offer affordable high-quality customized concepts affordably.
Print Business Cards
Print professional business cards displaying this logo and hand them out liberally. Vistaprint provides 500 basic cards for under $50. Use cards to introduce yourself to prospective clients and build familiarity.
Get Signage
Design bold exterior signage showcasing the logo as well. Drive-by signage builds awareness while interior banners and plaques add legitimacy in meetings. Expect $100-$500 for quality signs with installation.
Buy a Domain Name
Buy a domain name containing your business name or keywords like "medical billing" to boost findability. Good options still exist, just ensure extensions like .com are available. Expect around $12-$15 annually. Use domain tools at Namecheap to lock one down.
Build a Website
Creating a full website swiftly follows. Use DIY builders like Wix for a 5-page informational site with lead forms for under $100 annually. Or hire professional developers on Fiverr for $500-$1500 to craft a more robust custom site. This establishes your brand and offerings online.
Consistent branding across assets spotlights your business professionally. It sets you apart from solo billing contractors using their domains or numbers. Investing in your brand visibly conveys your services merit a premium.
12. Join Associations and Groups
Joining relevant organizations and communities facilitates networking and continuous learning for medical billing companies. Surround yourself with peers and experts to gain insights and establish your business.
Local Associations
Identify associations like the local American Academy of Professional Coders chapter that convene periodically. Attending meetings offers low-pressure networking and chances to discuss industry trends. Annual dues of around $50-$150 provide ongoing educational opportunities.
Regional billing conferences also connect hundreds of leaders while sharing best practices. Expect $200-$500 conference fees but invaluable face time with influencers.
Local Meetups
Meetup makes finding regional professional gatherings simple. Search for medical billing topics in your city to find free and low-cost events. Casual monthly meetings over coffee are ideal for getting to know other local billers. Trade secrets and partnering opportunities often emerge.
Facebook Groups
For online networking, industry-specific Facebook groups prove extremely popular. Medical Billing Professionals Group and Medical Billing & Coding Services each have over 50,000 members to interact with.
13. How to Market a Medical Billing Business
Strategic marketing is imperative for medical billers to continually attract new healthcare clients. A multifaceted outreach approach keeps your brand top of mind.
Expand Your Network
Tap into your personal and professional network. Reach out individually to associations, past employers/clients, college alumni groups, etc. to spread the word. Offer discounts for referrals to incentivize sharing.
Satisfied clients are also primed for referrals if asked. Offer a 10% credit on their next month's billing if they connect you to a provider that becomes a customer. This costs little but fuels growth.
Digital Marketing
For wider digital outreach, consider:
Google Ads targeting local doctors and clinics – Advertise directly to prospective accounts as they search. Expect to budget $300-$600 monthly to capture solid traffic.
Facebook/Instagram promotions – Run special offers and helpful billing content to engage both providers and their patients. Invest $100-$500 monthly for sponsored visibility.
Educational YouTube videos – Create a channel sharing compliance tips, technology overviews, etc. Useful videos organically attract views and leads over time.
Industry blogs/forums – Write guest posts for sites like RCMBlogs.com to display expertise. Comment on discussions and answer questions to forge connections.
Email newsletter campaign – Send regular billing insights and company updates to build familiarity and trust with prospects. Low cost to implement using providers like MailChimp.
Traditional Marketing
For offline tactics:
Direct mailers – Send postcards and flyers to promote new services and offers. Expect a 2-4% response rate if targeting is thorough.
Print/radio ads – Place ads in regional healthcare publications and on local radio. Focus on driving calls/traffic to the website for more details.
Networking events – Set up a table or booth at local conferences and trade shows. Collect business cards and qualifying leads for follow-up.
Billboards – Consider an attention-grabbing billboard on a main commute route to raise awareness.
A diversified approach expands your reach and positions services attractively across channels. Allot at least 10-20% of revenue to marketing activities for consistent growth.
14. Focus on the Customer
Providing exemplary customer service is imperative for medical billers to retain and grow accounts. Given the commoditized nature of claims processing, serious attention to supporting clients creates crucial differentiation.
Some ways for medical billing businesses to enhance customer focus include:
Set clear policies for prompt issue resolution, rapid on-demand support, and regular status updates.
Check-in routinely to discuss challenges and areas for billing optimization.
A hands-on, partner-focused approach demonstrates your shared stake in their financial success. Clients will appreciate your attentiveness and dependability.
Invest in readily available channels like chat, a support line, and a ticketing system.
Hire team members adept at explaining complex billing details understandably.
Customer service excellence also improves client retention. While chasing new accounts has costs, keeping existing providers happy is both lucrative and efficient long term.
Make patient, caring support central to your brand. The ROI from deservedly earning a reputation for going the extra mile will be massive. Exceptional service often sparks organic referrals.