Residential rental property businesses are growing with a potential compound annual growth rate (CAGR) of 9.8%. This could lead the market to reach $37.25 billion by 2029. This makes it a great time to get involved in the residential rental property business market.
This comprehensive guide will help you learn how to start a residential rental property business. It will cover topics like opening a business bank account, networking with a real estate investor club, the cost of owning real estate management companies, and more. Here's everything you need to know about being a rental property business owner.
1. Conduct Residential Rental Property Market Research
Market research is essential to your rental property business plan. It offers insight into sourcing business materials, your target market, real estate business trends, and ways to attract a new property manager.
Some of the information you might learn through market research as a property management company include:
Millennials now represent the largest generational group of renters.
This tech-savvy cohort values location flexibility and often postpones home buying.
With over 72 million Millennials and a propensity to rent, this demographic tailwind will further expand the renter pool.
While renting was once viewed as a temporary stepping stone, renting is now a long-term lifestyle choice for many.
Redfin found that 59% of renters do not ever intend on owning a home.
This permanent-renter segment will rely on rental housing for the foreseeable future.
From a geographic perspective, popular urban centers on the coasts present strong rental markets but also carry high buy-in costs.
Investing in up-and-coming secondary cities can provide stellar rental demand without astronomical property prices.
Limited housing inventory also makes renting a necessity for many.
Freddie Mac found the national housing supply stands at just 3.6 months of inventory versus the normal benchmark of 6 months.
With demand outpacing housing starts, rentals nicely fill this supply-demand gap.
While single-family rentals are gaining a share, small multi-family properties with 2-4 units represent an appealing entry point for novice investors.
Small multi-family complexes come with built-in economies of scale while still allowing for hands-on management.
For investors, rental income also offers tax advantages like depreciation deductions not found with other assets. Overall, the data paints a promising picture for the rental property sector moving forward. Aligning operations to capture renter demand can yield major rewards.
2. Analyze the Competition
Understanding the competitive landscape is critical for launching a successful rental property venture. Whether competing for tenants or pursuing properties to acquire, analyzing competitors operating in your local market can reveal key insights.
Some ways to learn more about competitive analysis include:
Note property conditions, amenities advertised, and apparent occupancies.
Comparing your potential property against in-area rentals can inform investment decisions and pricing models.
Local permitting offices provide public data on pending and recently approved residential projects.
Look also at the online presence of competing rental companies and independent landlords.
Superior digital exposure and SEO can help your vacancies surface faster in online searches.
Review sites like Yelp and Google Business Profiles give insight into past customer experiences and can reveal pain points to avoid.
Attending meetings provides boots-on-the-ground intelligence.
Analyze market demographics and economics.
Will future housing demand support more competition? How are local employment and wages trending?
Regularly reevaluating the competitive landscape informs everything from acquisition decisions to rent pricing models to digital marketing tactics. Adjusting your rental property strategy based on market competitors and conditions can help maximize occupancy and rental income.
3. Costs to Start a Residential Rental Property Business
When starting a rental property venture, significant upfront capital is required to acquire and prepare your initial rental assets.
Start-up Costs
Plan for a down payment of at least 20% of the purchase price if financed through a mortgage. Budget $50,000-100,000+ depending on property type and location.
Closing costs including appraisal, inspection, origination fees, and other transactional costs typically range from 2% to 5% of the property price. Factor several thousand in closing costs per purchase.
Initial repairs and upgrades to make the property rent-ready can cost $10,000 or more per unit.
Outfitting the property with furnishings, equipment, and supplies will run around $2,000-5,000 per rental unit. Providing amenities like smart home tech boosts competitiveness.
Marketing and advertising campaigns to promote new vacancies usually require $500-1,500 upfront per property.
Incorporation filing fees, licenses, and other administrative expenses can cost up to $2,000. Proper insurance policies also represent key start-up costs.
A sufficient capital reserve helps cover unexpected vacancies and repairs between tenant turnovers. Set aside 5% to 10% of gross annual rental income.
Ongoing Costs
Ongoing costs assume proper budgeting and financial management. Property taxes, HOA fees, regular maintenance, and recurring capital investments range from 20-40% of collected rents.
Property management fees of around 8-12% of monthly rents can provide great value if securing quality tenants. Budget funds for continual property enhancement and marketing.
Following proactive cost containment measures keeps expenses predictable. Performing preventative maintenance, negotiating vendor pricing, and researching cost efficiencies help maximize rental profits over the long term.
Conservative financial planning and maintaining adequate cash reserves help manage the wide range of start-up and ongoing costs for rental properties. Proper funding ensures your assets remain occupied and income-producing.
4. Form a Legal Business Entity
When starting a rental property business, one of the first legal steps is choosing your corporate structure. Each entity type has pros and cons to weigh for a rental housing operation.
Sole Proprietorship
A sole proprietorship provides the simplest and least expensive option to establish. There is no formal business registration required—you and the business are one entity. However, as a sole proprietor, you face unlimited personal liability for debts and legal actions against the business. This exposes rental assets and personal assets to risk.
Partnership
Forming a general partnership splits ownership between two or more people. This helps raise capital to grow your rental portfolio faster. However, similar to a sole proprietorship, each partner assumes unlimited personal liability. The actions of one partner legally bind the others.
Given the risks involved with property management, bare-bones sole proprietorships and partnerships typically do not sufficiently protect rental investors. More advanced entity structures contain liability.
Corporation
Establishing a corporation shields personal assets and confines shareholder liability to the amount invested. A corporation can more easily attract investment capital by issuing company shares. However, extensive corporate recordkeeping and formalities are legally required. Double taxation of profits also reduces returns.
Limited Liability Corporation (LLC)
For most real estate investors, forming a limited liability company (LLC) offers the best protection with the fewest drawbacks. An LLC limits legal liability and separates your rental properties and personal finances. Unlike corporations, LLC income and losses flow through to your taxes avoiding double taxation.
LLCs remain flexible as your rental business evolves. Members can be added or removed without needing to dissolve the LLC. Overall, the liability and tax advantages make LLCs ideal for holding rental real estate.
5. Register Your Business For Taxes
One key legal task when forming your rental property company is obtaining an Employer Identification Number (EIN) from the IRS. An EIN serves as your business's social security number for tax purposes.
Acquiring an EIN is required to open business bank accounts, apply for rental licenses, hire employees in the future, and file taxes for your rental income and expenses.
The process of getting an EIN takes just minutes online. Simply navigate to IRS and search for "Apply for an EIN". This brings up the EIN Assistant page. Answer a series of short questions about your LLC entity and ownership structure.
On the final page, your EIN will be provided instantly. Be sure to print or save the confirmation page for your records. The online EIN application is completely free.
If preferred, you can also apply for an EIN via fax, mail, or phone but the online method is easiest. Your new EIN should arrive in your mailbox in the ensuing weeks if applying offline.
With an EIN established, contact your state revenue or taxation department to understand sales tax obligations. While residential rent payments are generally exempt, income from other property services may require collecting and remitting sales tax.
Register for the necessary sales tax permits and certificates to comply. The sales tax registration process is also free of charge. Failing to adhere to sales tax rules can lead to penalties down the road so address this upfront when starting.
6. Setup Your Accounting
Proper accounting is crucial for rental property investors to maximize tax savings and avoid costly IRS issues. Implementing the right financial systems and partnerships lays a strong foundation.
Open a Business Bank Account and Credit Card
Begin by establishing dedicated business banking and credit accounts. Keeping finances separate from personal funds simplifies recordkeeping and reporting. Apply for a federal EIN to open business accounts easily.
Accounting Software
Leverage bookkeeping software like QuickBooks to organize income and expenses. The software seamlessly syncs with bank/credit card accounts to import and categorize transactions. This automation saves tons of time while ensuring accuracy.
QuickBooks also handles tasks like generating rental invoices, tracking receivables, producing financial statements, and calculating depreciation automatically. The expanded feature set available with QuickBooks makes it a top choice for rental investors.
Hire an Accountant
While software provides efficiency, partnering with an accountant optimizes taxation. A qualified accountant offers invaluable expertise like suggesting ideal corporate structures, maximizing write-offs, and ensuring full compliance.
Accountants handle key items like compiling year-end financials, filing business tax returns, and reviewing records for deductions you may miss as a rental owner. Expect fees of $1,000-$3,000 annually for these comprehensive services.
7. Obtain Licenses and Permits
Before renting out any property, obtaining proper licensing helps ensure full legal compliance. Learn about federal license requirements through the U.S. Small Business Administration. Check out state regulations with the SBA's local search tool.
At the federal level, the Fair Housing Act prohibits discrimination based on race, color, religion, and other protected classes when renting housing. New landlords must educate themselves on Fair Housing Act requirements to avoid allegations of discriminatory leasing practices.
The EPA also mandates that rental properties constructed before 1978 comply with Lead-Based Paint disclosure rules. Ensure your leases contain the EPA-required disclosure form and that you provide the pamphlet Protect Your Family from Lead in Your Home to tenants. Violating disclosure rules risks fines of up to $32,500 per violation.
Registration as an investment property may be required with the SEC if accepting investments from non-accredited investors under Regulation D filing exemptions. This allows properly soliciting funding while avoiding burdensome state-by-state securities registration.
At the state and local levels, a rental dwelling license is typically needed to legally lease properties, whether single-family homes or multi-unit buildings. Licenses verify safety standards are met. Fees range from $50 to $500+ depending on location.
Municipal short-term rental licenses are often required for furnishing nightly or weekly accommodation like Airbnb's. These regulations differ from city to city.
Landlord business licenses may also be mandated locally. Unlike rental dwelling licenses for properties themselves, these certify the owner's leasing business as compliant. Renewals are annual.
8. Get Business Insurance
Operating residential rental properties carries significant risks that make business insurance an absolute necessity. The right policies help shield your assets and investments from financial ruin.
Without coverage, lawsuits from tenants over injuries or discrimination could bankrupt your rental company. If an electrical fire devastated your property, repairs could run into the hundreds of thousands without insurance funds. Vandalism and appliance damage also add up fast.
Specific policies like property insurance, liability insurance, and landlord policies help mitigate risks:
Property insurance covers rebuilding costs if a fire, storm, or disaster damages your rental. This prevents massive out-of-pocket repair bills and lost rents that could sink your company.
Liability insurance handles legal expenses and claims if a tenant is injured on your property and sues. Even frivolous suits cost tens of thousands to defend without the right policy.
Landlord insurance bundles property damage coverage with liability protection tailored to rental owners. This specialized product provides peace of mind.
Work with an insurance broker to secure adequate coverage for your rental assets and business needs. Outline your properties, liabilities, and risks with an agent to create a customized plan. Expect to invest 1-3% of your property value in premiums.
The application itself takes less than an hour. Have specific details on your properties like location, age, and rebuilding cost along with your LLC paperwork ready to finish promptly. With coverage bound, managing your rentals becomes far less worrisome.
9. Create an Office Space
Having a professional office space lends your rental property venture legitimacy when meeting with clients and tenants. It also provides an organized, quiet workspace for handling administrative tasks.
Home Office
A home office offers the most convenient and affordable option to start. Converting a spare bedroom into a basic office with a desk, computer, and filing cabinets costs little. Home offices work well for solo investors, but lack space as your staff grows. Expect to invest under $1,000 to create a functional home workspace.
Coworking Office
Coworking spaces like WeWork provide stellar amenities and networking at an affordable monthly rate. Open desk memberships start at around $300 per month. Private offices run $600-$1,000 monthly. Coworking spaces also scale up seamlessly as your company expands.
The collaborative community and built-in infrastructure of coworking spaces create a productive work environment for your team. However, lack of privacy and tenant traffic may require a private office upgrade.
Commercial Office
Leasing a small commercial office suite gives the most professional atmosphere when meeting clients and tenants. While pricier than coworking with rents of $1,000-$2,000 monthly, commercial offices bring privacy and customization. This option makes sense once established.
Retail Office
For a retail presence, kiosks in high-traffic areas like malls can provide rental listing exposure for $1,000-$1,500 monthly. Full storefronts cost substantially more but enable walk-in leasing services. Weigh the branding benefits versus costs.
10. Source Your Equipment
A residential rental operation requires various equipment and supplies for unit upkeep and administration. Strategic sourcing helps properly outfit properties cost-effectively.
Buy New
When buying new, home improvements stores like Home Depot and Lowes offer appliances, tools, landscaping materials, and maintenance supplies at reasonable prices with delivery options. Warehouse clubs also provide discounted bulk buys on useful rental items.
For furnishings, Ikea, Target, and Walmart provide affordable new furniture buys to stage units temporarily or equip furnished rentals. Shop clearance sales and open-box deals for best pricing.
Buy Used
Buying quality used furnishings and equipment from local listings on Facebook Marketplace, Craigslist, and OfferUp helps secure major savings, with prices often 50-80% below retail. Vet items carefully before purchasing.
Habitat for Humanity ReStores specializes in used building materials, flooring, cabinets, lighting, and appliances donated by contractors. Re Stores offers rental investors steep discounts for home improvement projects.
Rental
Leveraging the sharing economy also defrays rental equipment costs substantially. Sites like NeighborGoods and Rentalic facilitate equipment rentals from nearby tools like pressure washers to moving vans.
Traditional rental equipment companies like United Rentals offer dumpsters, moving trucks, carpet cleaners, and other appliances for daily to monthly rentals. Useful for short-term projects.
Leasing
Leasing office equipment like copiers and phone systems from vendors like Office Depot eliminates large upfront investments while bundling service/support.
11. Establish Your Brand Assets
Crafting a distinctive brand identity helps rental property ventures stand out in competitive markets and build recognition. Several key steps create professional branding right out of the gate.
Get a Business Phone Line
Begin by acquiring a unique business phone line. Services like RingCentral offer toll-free and local numbers with call routing, voicemail, and messaging built-in. This provides a professional first impression when engaging with prospects.
Design a Logo
Design an eye-catching logo that encapsulates your brand personality. Given the visual nature of real estate, consider an abstract mark or property icon that evokes trust. Looka's logo maker helps create polished designs affordably.
With a logo finalized, create branded templates for items like property signage, management agreements, and marketing materials to maintain a consistent visual identity.
Print Business Cards
Vistaprint can cost-effectively print branded essentials like yard signs, banners, business cards, and brochures with quick turnarounds. Distribute cards to grow awareness.
Design a Website
A branded website also helps cement your professional image online. Use services like Wix to craft an attractive rental site yourself or hire a designer on Fiverr for custom site development.
Buy a Domain Name
When purchasing a domain name, aim for your business name or a memorable phrase like MySunnyRentals.com. Short, catchy domains build engagement. Use Namecheap which offers domains from $9 annually.
12. Join Associations and Groups
Joining key real estate groups and associations provides invaluable connections and insights for new rental investors. Surrounding yourself with other experienced landlords jumpstart your knowledge.
Local Associations
At the local level, landlord associations like the Oakland County Residential Property Association allow networking with area rental owners and managers. These organizations offer training programs, mentoring, discounts, and legislative advocacy.
Local Meetups
Attending local real estate meetups and tradeshows fosters connections within your city's rental ecosystem. Services like Meetup make finding relevant events simple. For example, the Chicago Creative Investors Group meets monthly to discuss strategies and opportunities.
Industry conferences like the National Apartment Association's Apartmentalize and NMHC OPTECH enable networking with thousands of multifamily operators nationwide. Conferences deliver education and best practice sharing.
Facebook Groups
Active Facebook groups like Property Investors focus on property management best practices within niche sectors. The group Property Management Discussion discusses access to funding.
Surrounding yourself with fellow residential rental investors provides the knowledge, insights, and access to experts that shorten your learning curve significantly. Make networking a priority.
13. How to Market a Residential Rental Property Business
Implementing an ongoing marketing strategy is essential for residential rental property owners to consistently attract qualified tenants. A multi-pronged approach utilizing digital and traditional tactics expands your reach.
Tap Into Your Personal Network
To start, leverage your existing spheres of influence. Satisfied tenants can become superb brand advocates through referrals. Consider offering $100-200 referral bonuses to motivate sharing. A landlord's network of friends, family, and colleagues provides additional lead sources.
Digital Marketing
For digital marketing, expertly optimized Google and Facebook ads target local renters actively searching. Detailed targeting like income, household size, and geography ensures ad relevance. Expect to invest $300-$500 monthly in paid ads.
Launching a Google My Business profile helps surface your brand in local property searches. Fill out your address, description, photos, and amenities completely so you stand out.
Creating social media business pages on Facebook and Instagram enables engaging followers through listing previews, neighborhood highlights, and rental promotions. Blog content boosts organic search visibility.
YouTube videos that showcase your vacant units, team, and leasing process humanize your brand when discovered by prospects. Embed video walkthroughs on your website as well.
Email marketing to your prospect subscriber list keeps your brand top of mind during their rental search. Offer value like neighborhood guides and moving tips through emails.
Traditional Marketing
For traditional marketing, eye-catching lawn and street corner signs with rental hotline numbers capture drive-by visibility. Big bold "For Rent" messages planted throughout your area attract attention.
Geotargeted direct mail postcards to households moving into your metro area according to USPS data get your brand in front of relocating renters proactively.
Classified rental listings in local newspapers and magazines garner qualified leads by targeting regional home seekers directly through precise neighborhood distribution.
Partnering with corporate relocation services positions your units as go-to options for transfers. Offer these partners finder's fees for referrals.
Billboards placed along commuter routes with memorable creative and a strong call-to-action imprint brand awareness on daily commuters.
14. Focus on the Customer
Providing exceptional customer service is crucial for residential rental companies to retain tenants, earn referrals, and build a stellar reputation. Treating all tenants with care fosters loyalty.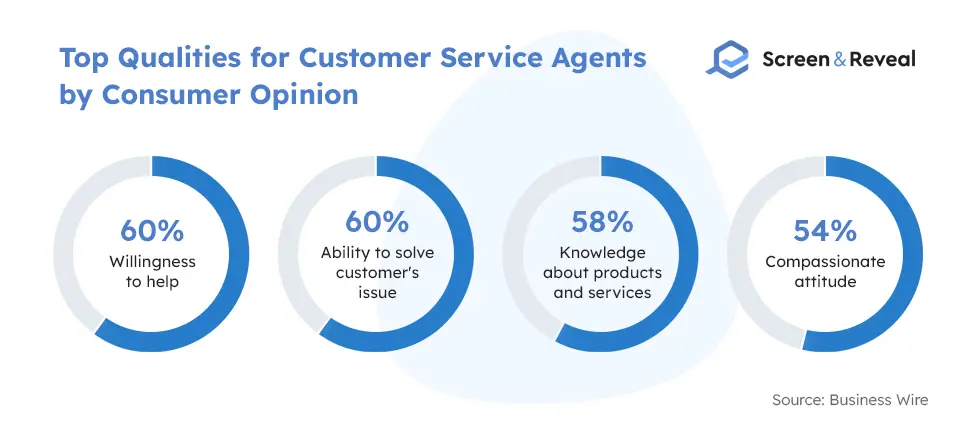 Responding quickly to maintenance requests and issues demonstrates you value your tenants' comfort in the home you provide.
Send a preferred contractor within 24 hours to fix concerns promptly.
Follow up to ensure satisfaction.
When giving property tours, ask thoughtful questions to understand prospect needs.
Then tailor your tour to highlight the unit features and amenities that align with their wants.
Take time to answer all questions.
Celebrate tenant milestones like birthdays and anniversaries with small gifts to show you care.
Handwritten notes also build rapport.
Implement anonymous tenant satisfaction surveys biannually to identify areas for improvement.
Implement feedback to elevate the resident experience.
Empower your maintenance team to make judgment calls on the spot to resolve tenant issues whenever possible.
Avoid delays waiting for owner approvals.
Providing white glove service leads to tenant renewals, word-of-mouth referrals, and stellar online reviews that drive growth.
New prospects have confidence in selecting a landlord with an unbeatable service track record.
By putting tenant needs first and making your units feel like home, you foster loyalty that powers referrals and retention. A tenant-centric approach drives rental property success.