The luxury car rental market is growing rapidly. With a compound annual growth rate (CAGR) of 7.5% from 2022 to 2029, the industry could reach $65.42 billion by 2029. This is up from $29.95 billion in 2021. If you're thinking about how to start a luxury car rental business, now's the time to get involved.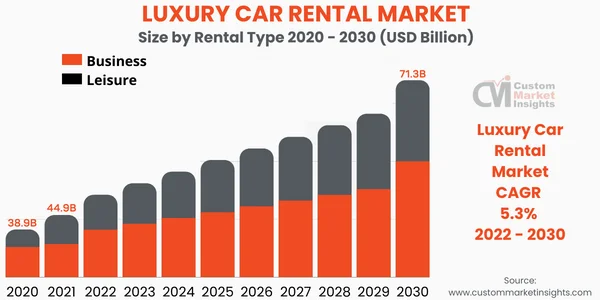 The key to tapping into this accelerating market is understanding the nuances of the luxury car rental business. From acquiring an elite fleet to marketing to high-net-worth clients, this guide will walk through the A to Z of starting a luxury car rental service. Topics covered include sourcing luxury cars, market research, competitive research, and more.
1. Conduct Luxury Car Rental Market Research
Market research is an essential part of making a car rental business profitable. To grow an exotic car rental business, you need details on the global car rental market, competitive exotic car rental companies, and other important details of a car rental business plan.
Several key factors are propelling industry growth:
Rising disposable incomes and living standards, especially among millennials and Gen Z travelers who prioritize experiences over material possessions.
Increasing interest in road trips, staycations, and driving experiences rather than air travel during the pandemic.
Growth in special occasions like weddings, birthdays, graduations, bachelor/bachelorette parties, and anniversary celebrations.
Corporations utilize luxury rentals to chauffeur VIP clients and C-suite executives.
Enthusiasts rent sports cars and vintage vehicles for events like rallies, hill climbs, driving tours, and track days.
Continued expansion of the sharing economy and on-demand services, enabling easier access to luxury vehicles through rental apps and platforms.
Luxury carmakers like BMW, Mercedes-Benz, and Porsche diversifying into premium rentals to expose more consumers to their brands.
Overall, the outlook for luxury rental firms is bright. Earning market share requires differentiating on service and selection, not just expensive pricing. Investing in technology and digital platforms is key, as today's clients expect seamless mobile booking and on-demand concierge pick-up.
2. Analyze the Competition
A thorough competitive analysis is crucial when entering the luxury rental sector. Begin by identifying established rental agencies and emerging startups in your geographic target market. Analyze their fleet sizes, car types, rental pricing, and packages. Examine their locations – are they concentrated around airports, hotels, and city centers?
For brick-and-mortar agencies, mystery shop their rental process. Assess the customer service, facility condition, vehicle presentation, and any unique offerings. Some ways to gather information on competitor businesses in the car rental industry include:
Review sites like Yelp to see real customer feedback. Identify their marketing strategies on channels like social media.
Evaluating the digital competition is equally important. Audit competitor websites using tools like SEO Site Checkup and MozBar to compare their SEO strength.
Analyze their organic search visibility for keywords like "luxury car rental Los Angeles" using SEMrush.
Review their pay-per-click approach with SpyFu. Check their backlink profile and domain authority with Ahrefs.
Examine their site UX, mobile responsiveness, booking flows, and tools like chatbots.
Identify gaps where your startup could gain an edge.
Set up news alerts and Google Alerts for competitors by name.
Follow them on social media and sign up for their email newsletters.
Track their organic ranking shifts and new backlinks using rank trackers.
Stay on top of their latest offerings and partnerships for opportunities to pull ahead.
Ongoing competitive monitoring is key. The luxury rental market evolves fast, diligent competitive intelligence will keep your startup ready to react.
3. Costs to Start a Luxury Car Rental Business
Starting a high-end rental company requires a significant upfront investment to acquire an elite fleet and establish operations. Total start-up costs often range from $500,000 to over $2 million.
Start-up Costs
Fleet Purchase – The largest startup cost is procuring an inventory of luxury and exotic vehicles. Plan to invest at least $300,000 to $1 million in your initial fleet.
Facility – Depending on your location, leasing a small lot or rental office space can cost $4,000-$10,000 per month.
Insurance – For a fleet of 8-10 luxury vehicles, annual commercial auto insurance will likely fall between $150,000-$200,000.
Staff – A small team to handle rentals, maintenance, and administration will cost around $60,000-$150,000 in annual salaries.
Operating Costs – Day-to-day costs like lease payments, office supplies, software subscriptions, advertising, and utilities will run around $8,000-$12,000 per month.
Licensing & Legal – Attorney fees to incorporate and finalize contracts may cost $5,000-$10,000 initially.
Marketing – Initial advertising across print, digital, and social platforms can require $10,000-$20,000 to build awareness. Prioritize channels frequented by luxury travelers.
Ongoing Costs
Ongoing monthly expenses tend to range from $30,000-$65,000 including:
Fleet leasing – $15,000-$25,000
Facility lease – $4,000-$10,000
Staff payroll – $5,000-$15,000
Insurance premiums – $2,500-$5,000
Loan/debt repayments – $1,500-$4,000
Utilities – $500-$1,500
Software subscriptions – $200-$500
Advertising spend – $1,000-$3,000
Significant annual costs include:
Fleet maintenance – $10,000 per vehicle
Insurance renewals – $150,000-$200,000
Marketing campaigns – $20,000-$40,000
Accounting/legal fees – $5,000+
Starting a thriving rental company requires significant capital and diligent financial planning. But by offering exemplary service and a stand-out selection of vehicles, luxury rental startups can shift the market gears in their favor.
4. Form a Legal Business Entity
When establishing a high-end rental company, the legal structure you choose is critical. It impacts everything from liability to taxes. Weighing the advantages and disadvantages of each for this capital-intensive industry is key:
Sole Proprietorship
A sole proprietorship is the simplest option – you alone own the business. However, for luxury rentals, unlimited personal liability poses a massive risk. If a customer is injured in one of your supercars, your assets can be seized in a lawsuit. The structure also limits growth – you alone own the company. Overall, sole proprietorships are ill-suited for this industry despite the ease of setup.
Partnership
Forming a partnership enables multiple owners to launch the business together and combine resources. But similar to sole proprietors, each partner assumes unlimited personal liability for debts and legal claims. Disagreements between partners can also breed instability. The fluid ownership structure of partnerships is not optimal for acquisition-heavy rental businesses.
Limited Liability Company (LLC)
A more advantageous path is forming a limited liability company (LLC). This separates your assets from the business for protection. An LLC limits legal liability and tax burdens while allowing more flexibility in ownership over corporations. It facilitates bringing on investors and keeps personal assets shielded if the company faces debts or lawsuits – critical in the luxury rental sector.
Corporation
Establishing a corporation does limit owner liability similar to an LLC. However, corporations face double taxation – once at the corporate level, and again on personal income. There is also less flexibility in ownership and capitalization compared to LLCs. However large rental agencies that plan to go public may benefit from the corporate structure.
5. Register Your Business For Taxes
Forming a legal business entity is an important first step when launching your rental company. But you also need to obtain an Employer Identification Number (EIN) from the IRS before opening doors. This unique 9-digit number identifies your business for federal tax purposes – akin to a social security number for an individual.
Acquiring an EIN is vital for luxury rental startups to open business bank accounts, apply for licenses, hire employees, and pay taxes appropriately. Thankfully obtaining one is quick and free through the IRS website.
Simply navigate to IRS and select the "Apply Online Now" button to begin the short application. You'll need to provide basic information about your ownership structure, address, and specific rental business activities.
The online application takes around 15 minutes in total. You receive your EIN immediately upon completion of the form. Just be sure to print/save the confirmation page for your records.
With your EIN established, remember to register for applicable state taxes for your rental business. Most states require specific sales tax permits and licenses related to car rentals. Search "[State Name] car rental tax info" to find details on registering with your state's revenue or taxation division. This enables you to legally collect and remit local taxes on rentals.
Also, contact your city or county clerk's office to see if additional business licenses are required locally. Overall, plan to invest 1-2 hours (plus nominal registration fees) across federal, state, and local agencies to get your new luxury rental fully compliant and approved to operate.
Having distinct tax IDs and licenses establishes important credibility with customers, vendors, and partners. But most importantly, it keeps your personal and business finances completely separate for legal protections and simplified IRS reporting. Don't put your exotic car dreams in neutral – shift them into drive by securing your EIN today.
6. Setup Your Accounting
With high capital investments in vehicles and facilities, meticulous financial tracking is crucial for luxury rental startups. Having air-tight accounting can mean the difference between profitability and crippling audit penalties. That's why enlisting professional accounting support early on is strongly advised.
Accounting Software
Begin by implementing small business accounting software like QuickBooks to automate expense/revenue tracking. The software connects to bank/credit card accounts to import and categorize transactions, saving hours of manual entry time. It generates financial statements, simplifies invoicing, and manages payroll – essentials for managing a growing rental company.
Hire an Accountant
While software lays the foundation, partnering with an accountant takes oversight to the next level. They can handle essential tasks that software can't like:
Bookkeeping – Recording income/expenses, accounts receivable/payable, bank reconciliations, inventory.
Payroll – Calculating wages and withholdings for employees, and paying payroll taxes.
Financial statements – Generating monthly Profit and loss (P&L) and Balance Sheet reports.
Tax prep – Filing quarterly estimated taxes, and annual business returns.
Expect to invest around $150-$300 per month for basic bookkeeping, $800-$2,000 for annual tax prep, and $100+ hourly for advisory services. A CPA experienced in the rental industry is ideal.
Open a Business Bank Account
Separating all rental transactions into dedicated business accounts creates clearer financial visibility. Don't combine company funds and expenses. Open a distinct checking account and acquire a business credit card solely for rental operations.
Apply for a Business Credit Card
Business cards don't use your personal credit – card issuers base approval on your company's financials. Higher limits accommodate larger purchases like fleet additions.
With the tax and liability risks in luxury rentals, accurate accounting is mandatory, not optional. Don't let the finances stall your entrepreneurial engine – have systems in place to stay on the road to profitability.
7. Obtain Licenses and Permits
Before welcoming your first exotic car renters, ensure your startup has secured all required federal, state, and local licensing. Federal tax requirements are available to view through the U.S. Small Business Administration. The SBA also offers local license regulations through their local search tool.
Renting vehicles across state lines requires a Department of Transportation operating authority number for Interstate Commerce Commission (ICC) compliance. The application costs $300 and takes 2-3 weeks to process. Display your MC or FF DOT number on all rental agreements.
Most cities and counties mandate a general business license to commercially operate within their jurisdiction. Fees are typically under $100 annually. Applications require submitting details on your rental activities and facility location.
If providing pickup/drop-off at local airports, acquire the necessary permits for each location. Applications are submitted to the airport authority and require proof of insurance, fleet details, and background checks for drivers. Costs range from $500 to over $1000.
Ensure all fleet vehicles are properly registered and titled locally. This generally must be done under the business name rather than personal. Expect registration fees from $250-$500 per luxury vehicle, often recurring annually.
Many states require passing annual vehicle inspections before registration, verifying tire tread, lights, emissions, and functional components. Inspections cost around $50 per car, though repairs could add expense if issues arise.
As covered earlier, you must acquire a unique state sales tax permit or certificate of authority to legally collect and remit taxes on rentals in your region. Some cities also mandate obtaining a local sales tax ID.
8. Get Business Insurance
Given the high value of your luxury fleet and the risks renters face on the road, making business insurance a top priority is crucial. The right policies can save your company from financial ruin if something goes wrong.
Without coverage, just a few incidents could total your exotic cars or drown your startup in lawsuits:
A renter crashes a $250,000 Rolls Royce and sustains severe injuries. Without sufficient liability insurance, you must cover their exorbitant medical bills.
A renter has their $100,000 watch and other valuables stolen from a vehicle. You lack supplemental coverage against theft claims and must pay out of pocket.
A raging wildfire destroys your multimillion-dollar fleet parked in a rented storage facility. No commercial property insurance means absorbing the full loss.
By securing robust business policies, your rental company stays protected if disaster strikes. Key options to consider include:
Commercial auto insurance – Covers damage to vehicles and legal liabilities stemming from accidents.
Commercial property – Protects your brick-and-mortar location and assets like your fleet from events like fires, storms, and theft.
General liability – Handles legal costs and payouts if third parties are injured on your premises.
Umbrella – Provides additional liability coverage above your primary policies, ideal for high-risk industries like luxury rentals.
The process of acquiring business insurance involves contacting providers, supplying details on your company/fleet, selecting desired policies and coverage limits, and paying monthly/annual premiums. Use resources like CoverWallet to easily compare quotes side-by-side.
Protect your fledgling enterprise for smooth roads ahead. Don't risk the legal and financial pitfalls of going without coverage.
9. Create an Office Space
An office space serves as a vital hub for your budding luxury rental company – somewhere to meet clients, store documents and manage the fleet. While a large commercial setup may not suit a small startup, several affordable options exist:
Home Office
A home office offers the most convenience and lowest costs. Expect around $100-$500 to dedicate a spare room or basement to your business needs. However, conducting meetings and conferences from home risks seeming less professional. Storage space is also likely limited.
Coworking Office
Coworking spaces like WeWork provide stylish, amenity-filled offices for $300-$800 per month. Networking with other entrepreneurs in a collaborative environment also occurs. However, vehicle storage would still require an external garage rental.
Retail Office
If operating regionally, securing retail space near tourist corridors enables walk-in rentals and test drives. While lease rates range from $3,000-$8,000 monthly, the high visibility for your exotic fleet may drive significant new bookings. Branding the space is also easier than virtual-only competitors.
Corporate Office
For larger teams, leasing Class A office space in a business district provides room for future growth at $25-$50 per square foot. The professional setting also boosts credibility with luxury travelers. However, costs scaling above $10,000 monthly can strain startup budgets.
10. Source Your Equipment
Acquiring an elite fleet of vehicles is the primary equipment needed for a luxury rental startup. There are several avenues to procure top-tier makes like Lamborghini, Ferrari, Mercedes and Porsche:
Buying New
Purchasing or leasing brand-new vehicles directly from dealerships gives you the latest models with full warranties. However, costs are highest, $200,000 for most supercars and classics. Financing deals may help offset initial capital needs.
Buying Used
Shopping sites like AutoTempest enable custom searches for desired makes and models within certain mile and year ranges. Expect to invest $50,000-$150,000 in exotic pre-owned vehicles in good condition. Private sellers on Craigslist and Facebook Marketplace also offer deals.
Renting
Some exotic car companies offer short-term rental of individual vehicles for events rather than indefinite leases. This allows you to test cars before buying and enter the market with lower startup costs. Drawbacks include limited availability and daily rental fees of around $1,000.
Leasing
Many major dealers now offer flexible leasing programs for their complete portfolios. While monthly payments are steep, usually $3,000-$10,000 per vehicle, you get to exchange cars regularly and avoid down payments. Leasing involves less financial risk overall and makes upgrading your fleet easier.
11. Establish Your Brand Assets
Developing a distinctive brand identity is crucial for standing out in the upscale rental market. Implementing the following elements projects professionalism and cultivates lasting customer recognition:
Get a Business Phone Number
Acquire a dedicated business phone number and voicemail using a provider like RingCentral. Choose an easy-to-remember vanity number if available in your region. This presents a polished first impression when clients call to inquire or book.
Design a Logo
Design a sleek logo that conveys luxury appeal using a service like Looka. A stylized wordmark or modern emblem with metallic accents suits high-end brands. Develop complementary assets like color palettes, custom fonts, photographic filters, and watermarks to unify your visual identity across platforms.
Business Cards and Signage
Business cards establish credibility during client meetings and networking. Order custom cards showcasing your logo, phone number, website, and address from Vistaprint. High-end finishing like foil stamping helps them stand out. Signage is also useful for building awareness – place exterior lighted signs at your facility and rental kiosks.
Purchasing a Domain
Secure a short, memorable .com domain for your website and email addresses using a registrar like Namecheap. Incorporate your brand name and keywords like "luxury" and "exotic." Make it easy to spell and remember.
Building a Website
Hire a web designer on Fiverr to build a modern, responsive website highlighting your fleet and booking system. Or use a DIY builder like Wix if costs are a concern. Showcase testimonials, exotic destinations, and special packages.
12. Join Associations and Groups
Joining relevant local organizations and online communities can help fledgling rental entrepreneurs gain insider knowledge and valuable connections within the industry. Consider getting involved in:
Local Associations
Most regions have associations dedicated to the automotive or rental/leasing sectors. For example, the American Car Rental Association provides networking, training, and advocacy for rental firms in the United States.
Local Meetups
Sites like Meetup list frequent local meetups for entrepreneurs, small business owners, and specific industries. Search for relevant groups using keywords like "car rental", "luxury travel" or your metro area.
Mixers, conferences, and convention afterparties are prime spots to exchange insights with others running rental businesses. Bring ample business cards and be ready to network.
Facebook Groups
Facebook hosts various niche communities and forums where luxury rental owners congregate, like the Luxury Cars group.
Join relevant groups to tap into the collective knowledge of your peers nationwide. Learn best practices for acquisition, marketing, operations, and more. Other members often provide feedback and advice when you post questions or polls.
13. How to Market a Luxury Car Rental Business
Marketing is indispensable for scaling a niche rental startup in an increasingly competitive market. While referrals from satisfied customers provide the most valuable leads, implementing ongoing campaigns across digital and traditional channels will drive sustained growth:
Tap Into Personal Market
Leveraging your personal and professional networks is the most affordable starting point. Offer discounts or perks for referrals. Then wow each renter so they eagerly recommend you to friends planning weddings, corporate events, or exotic getaways.
Digital Marketing
Beyond referrals, consider these digital marketing initiatives:
Launch Google and Facebook ads targeting local demographics who seek luxury experiences. Focus on relevant keywords like "exotic car rental Los Angeles."
Start an Instagram account showcasing your fleet and clients enjoying unforgettable drives along coastal roads or red-carpet events.
Share video testimonials from delighted customers on YouTube and Facebook.
Produce blog content highlighting elite models ideal for weddings, proms, and corporate events. Optimizing for local SEO.
Email VIP customers and past renters with special packages and offers for upcoming peak seasons and holidays.
Run retargeting ads on social media and Google following website visits and quote requests.
Partner with complementary brands like luxury hotels, yacht clubs, and private jet terminals on co-marketing campaigns.
Traditional Marketing
Traditional approaches like the following also still warrant consideration:
Mail professional brochures to luxury properties, event venues, HR departments, and affluent neighborhoods.
Take out local radio or podcast sponsorships focused on nightlife, travel, and high-end living in your metro.
Arrange for the fleet to be displayed at regional auto shows, charity events, business expos, and golf tournaments.
Place print ads in upscale magazines and luxury lifestyle publications distributed in your target area.
Blending referral incentives with strategic digital and traditional marketing establishes diverse customer acquisition channels to sustain growth. Experiment to determine which initiatives yield the highest ROI long-term.
14. Focus on the Customer
Focusing on the customer is critical in a service-oriented business. A car rental franchise needs to put the customer first when possible. Some ways to show your customers your car rental company cares include:
Customer referral rewards
Thank you cards
Follow-up calls
Fast response time
Replies to positive and negative feedback
Exclusive offers
A high-quality business plan should include customer service strategies. From reading online reviews and engaging in search engine optimization to thorough market research and giving back to your customers. Stay on top of customer focus to stay ahead of the competition.