The global taxi market is growing considerably. In 2021, the market reached $215.35 billion and is projected to reach 464.26 billion by 2030. This means the market could continue to expand at a compound annual growth rate (CAGR) of 9.29% from 2021 to 2030.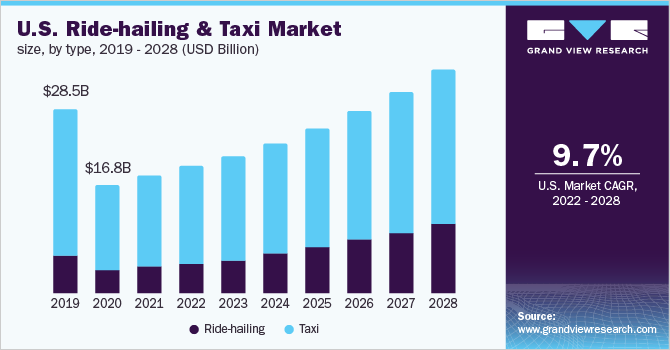 As urban populations grow and citizens seek affordable, convenient transportation, starting a taxi service can be a profitable business venture. Taxi companies rely on name recognition and quality service to earn repeat customers. With low startup costs compared to other transportation businesses, the taxi industry remains accessible for aspiring business owners.
This guide will explain how to start a taxi business. Topics include market research, competitive analysis, registering an EIN, obtaining business insurance, and creating an official business entity. Here's everything you need to know about starting a taxi business.
1. Conduct Taxi Market Research
Market research is an important part of starting your own taxi business. Research provides insight into the best taxi booking app, how to price your taxi cab business and other details for your business model.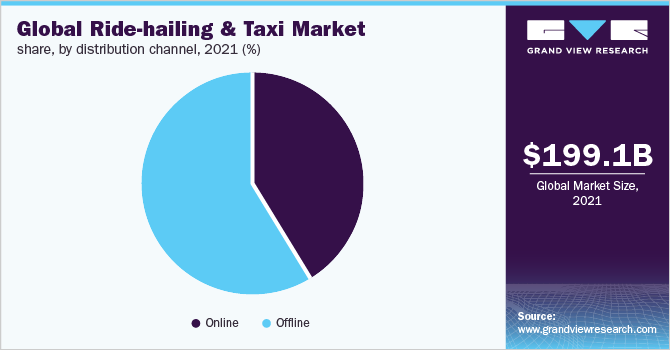 Some of the market research you'll learn about your private taxi company includes:
The taxi industry consists primarily of three segments: yellow cabs, private sedans, and app-based ride-hailing.
App-based services like Uber make up the remaining 28%.
New York City alone sees over 500,000 daily taxi rides.
The taxi customer base includes both business and leisure travelers looking for quick and easy rides around town.
Business travelers are especially lucrative, spending an average of $550 per month on taxis.
Airports also provide steady taxi revenue, with 70% of airport traffic traditionally using cabs for ground transportation.
While app-based services now dominate airport pickups, taxis are regaining market share by implementing their own apps and electronic booking.
The taxi industry is a fragmented market with 97% of companies operating ten vehicles or less.
Ongoing expenses average $150 per day for insurance, gas, maintenance, and licensing.
To be successful, new taxi companies must focus on customer service and speed.
Reliability, safety, and cleanliness are top priorities for riders.
Creative promotions like loyalty programs and referral bonuses also help attract repeat business in competitive markets.
In summary, the growing demand for flexible urban transportation and low barriers to entry create an appealing opportunity for entrepreneurial taxi startups. Niche markets by geography and customer segment provide options to secure market share against app-based and legacy competitors.
2. Analyze the Competition
Understanding the competitive landscape is crucial when launching a new taxi company. Conduct an in-depth analysis of established operators and app-based services in your target market.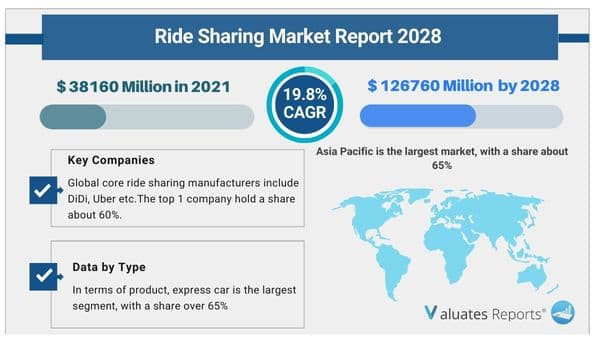 Some ways to investigate competitors as a taxi cab service include:
For traditional taxi competitors, identify the major brands and fleet sizes.
Visit cab stands and airports to observe how many taxis each company has operating.
Research their customer reviews and ratings online to evaluate service quality.
Gauge price points by getting sample fare quotes. Analyze their marketing messages and brand personalities as well.
App competitors like Uber and Lyft, sign up as a driver to understand their technology and economics.
Check customer feedback on app stores to assess satisfaction.
Search media coverage about market share and growth projections.
Monitor driver forums to learn about reputation and risk areas.
Online review sites like Yelp provide visibility into customer sentiment across competitors.
Search engines reveal the SEO strength of each brand based on web page rankings.
Social media listening can uncover real-time conversations and perceptions.
Size up potential advantages your startup may have over incumbents. Look for gaps in service quality, technology, or customer experience to exploit.
Seek niche segments or territories competitors are overlooking.
Analyzing competitors gives insights that will shape your business and marketing plan.
Use SWOT analysis to identify market threats to defend against and opportunities to pursue.
Competitor intelligence informs pricing, service offerings, vehicle types, and geo-targeting.
Ongoing monitoring lets you keep ahead of industry changes after launch.
Vigilant competitive research ensures your taxi startup is strategically positioned. Target underserved customer needs, emphasize your differentiators and mitigate competitor threats. Entering the ring prepared gives your business the fighting chance it needs to win.
3. Costs to Start a Taxi Business
Starting a taxi company involves both initial investments and ongoing expenses. Carefully projecting costs is crucial for securing financing and operating successfully.
Start-Up Costs
For an individual cab, plan on $25,000-$35,000 for a new minivan or crossover SUV.
With a small fleet of 5 cabs, costs can range from $125,000-$175,000.
Next is licensing and insurance, which varies by state and city regulations. Liability insurance runs $9,000-$15,000 per vehicle annually.
Administrative fees also add up with new taxi companies. Business licenses and permits average $500-$1,000 depending on location.
Accounting software like QuickBooks is around $200 for setup. A commercial phone system for dispatching can be $1,000.
Outfitting cabs with meters, signage, radio equipment, and GPS costs approximately $3,000 per vehicle.
A basic website for customer bookings would be around $1,500.
Other startup costs may include an office lease at $1,000-$1,500 monthly.
Total start-up costs for a single taxi generally run $20,000-$25,000. For a small 5-cab fleet, expect around $60,000 in startup costs. Expenses scale higher with larger fleets exceeding 50 vehicles.
Ongoing Costs
Once up and running, taxi companies face a variety of recurring monthly and annual expenses.
Fuel averages $300-$400 per cab monthly. Maintenance and repairs run approximately $200 per vehicle each month.
Cab replacement occurs every 3-5 years, incurring another $25k-$35k investment per new vehicle.
Insurance remains a major necessity, costing $750-$1,250 per cab monthly.
License renewals typically happen annually at around $300 per taxi.
Personnel is another primary expense. Dispatchers average $15/hour, costing $2,000-$3,000 monthly. Drivers may be employees or independent contractors.
Those choosing hourly wages cost around $3,000 per driver based on $15/hour.
Office rentals, utilities, phone, and Wi-Fi amount to roughly $2,500 per month.
Accounting and legal services are about $500 monthly.
Marketing budgets range from $300-$500 monthly for digital ads and promotions.
Miscellaneous expenses like payroll fees, supplies, fees, and taxes add up to around $1,000 each month.
For a single taxi, average monthly costs are approximately $5,000 including insurance, licensing, personnel, fuel, repairs, office expenses, advertising, and more.
Annual costs can reach $60,000-$70,000.
With a 5 cab fleet, monthly expenses scale to around $25,000 covering the above costs times 5 vehicles.
Overall annual costs for a 5-taxi operation average $300,000-$350,000.
Carefully estimating both start-up and ongoing costs ensures taxi businesses remain lean and profitable. Update projections as fleet size, staffing, and scope evolve. Financial diligence is fundamental to running a successful transportation company.
4. Form a Legal Business Entity
When starting a taxi company, one of the first legal decisions is choosing a business structure. The four main options each have advantages and drawbacks to consider.
Sole Proprietorship
A sole proprietorship is the simplest as it's essentially you as an individual operating the business. However, it offers no liability protection as you're personally responsible for all debts and lawsuits. This high risk makes sole proprietorships inadvisable for taxi businesses exposed to accidents and injuries.
Partnership
Partnerships allow two or more owners to share control and liability. A general partnership still exposes all partners fully while a limited partnership protects silent partners. Overall, partnerships can get complicated with profit/loss allocations and disagreements between partners.
Corporation
A corporation provides limited liability for shareholders but requires formal management and reporting. The tax structure is less advantageous for small businesses as income is taxed at both the corporate and shareholder level. Overall, the formality and regulatory requirements make corporations unrealistic for most taxi startups.
Limited Liability Company (LLC)
An LLC (Limited Liability Company) combines pass-through taxation with liability protection for members. Profits and losses pass directly to each owner's returns. An LLC shields personal assets from business liabilities and debts. Ownership can be easily transferred with fewer formalities than a corporation.
5. Register Your Business For Taxes
One of the first legal steps when starting a taxi company is obtaining an Employer Identification Number or EIN from the IRS. This unique number identifies your business for tax purposes similar to how your Social Security number identifies you as an individual.
An EIN is required to open a business bank account, apply for licenses, hire employees, and file taxes for your company. Sole proprietors can use their SSN but should still get an EIN to keep personal and business finances separate.
The good news is applying for an EIN is a quick and free process that you can complete online via the IRS website in just minutes.
Simply provide your personal identifying information, business name, address, and taxation details. Choose the type of legal business entity you formed. Specify if you plan to hire employees or operate multiple businesses under the EIN.
Once submitted, your EIN will be provided immediately. This number should be included on all applications, tax documents, and other financial records for your taxi business.
In addition to your federal EIN, you'll also need to register with your state taxation department for sales tax collection. The application process is similar to the EIN and can also be completed online in most states.
Sales tax registration enables you to legally collect and remit sales tax on taxi services provided in your state. It may also require filing regular sales tax returns. Check your state taxation department website for specifics.
Obtaining an EIN and sales tax registration are simple processes that add legitimacy and compliance to your taxi business. With your official tax numbers established, you can confidently move forward with vendors, licensing, hiring, and daily operations.
6. Setup Your Accounting
Proper accounting is crucial for taxi companies to track finances, comply with taxes, and prove legitimacy if audited. Investing in accounting software, working with an accountant, and separating business and personal finances will set up your company for success.
Accounting Software
Begin by getting small business accounting software like QuickBooks to manage all financial transactions. Quickbooks integrates with bank accounts to automatically import income, expenses, invoices, and payments. It generates reports for profit/loss statements, balance sheets, payroll, and taxes. Quickbooks makes accounting a breeze with automation while giving you control over the numbers.
Hire an Accountant
Consider hiring an accountant to handle bookkeeping, payroll, quarterly taxes, and year-end filings. They can provide consulting on maximizing deductions and setting up ideal accounting workflows specific to taxi businesses. Expect to invest around $200-$500 monthly for full bookkeeping services.
At a minimum, engage an accountant annually to prepare your business tax returns. Rates average $500-$1,500 to file your Schedule C, payroll returns, and other tax documents. Their expertise saves money in the long run by ensuring full compliance and avoiding tax penalties.
Open a Business Bank Account
Be sure to separate all business finances into dedicated accounts. Obtain an Employer ID Number (EIN) from the IRS to open a business bank account. Fund it exclusively with taxi company income and pay for all expenses from there.
Apply for a Business Credit Card
Also, apply for a small business credit card using your EIN. Business cards don't rely on personal credit scores and have higher limits to handle larger purchases. Make all taxi-related purchases on this card exclusively.
7. Obtain Licenses and Permits
Before operating any taxis, your new company must get approved for all relevant licenses and permits. Obtain federal license information through the U.S. Small Business Administration. The SBA also offers a local search tool for state requirements.
One of the first steps is obtaining a vehicle-for-hire license from your state regulator or local taxi commission. This business license proves you are registered and approved to transport passengers for a fare. Requirements and fees vary but expect to submit your business plan, insurance, vehicle info, background checks, and more.
Vehicle permits or medallions specifically authorize each cab to operate. Major cities like NYC and Chicago have a limited number available for purchase or lease. Expect to pay tens if not hundreds of thousands per medallion. Less restrictive cities still require annual permits per taxi typically costing a few hundred dollars each.
Your local municipal office can provide a general business license to operate within city limits. Fees range from $25 to the hundreds. Some cities may require additional permits related to ground transportation providers.
Commercial auto insurance is mandatory, with minimum liability limits of $100k property damage and $300k bodily injury per incident. Higher 100/300 limits or supplemental policies should be considered given taxi accident risks. Expect $150+ monthly per vehicle.
The FAA requires aircraft radio licenses for two-way dispatch equipment in taxis. The application involves proving you have appropriate frequencies allocated. The license costs around $150 and must be renewed every 10 years.
Taxi drivers themselves will need commercial driver's licenses (CDL) in most states. Options include a full CDL, taxi limited license, or standard license with a for-hire endorsement. Renewals happen every 4-8 years.
Any independent contractors you use must carry adequate rideshare insurance on their vehicles with state minimum liability coverage. Avoid legal exposure by confirming their active coverage.
8. Get Business Insurance
Operating a taxi business without proper insurance opens you to massive risks that could bankrupt your company. Accidents, lawsuits, property damage, and employee claims could all destroy an uninsured business.
For example, a major car crash by one of your drivers that injures passengers could result in hundreds of thousands in medical bills and legal claims without protection. Or an electrical fire that destroys your garage and vehicles would cost tens of thousands to recover from uninsured. Even a minor slip-and-fall by a passenger in your office could lead to legal action.
The good news is obtaining business insurance coverage can shield your company from these threats. Start with a commercial auto policy that covers liability, collision, uninsured motorists, and passenger medical. General liability insurance protects against third-party claims of injury, property damage, and more.
You may also want commercial property coverage for your office, dispatch equipment, and other assets and business interruption insurance to replace lost income if forced to close. Workers' comp is required if you have employees. An umbrella policy provides additional liability coverage above your base limits.
Expect to budget $150-$400 per vehicle monthly for a full commercial taxi insurance plan. However, this small ongoing expense can save you from utter financial devastation if the worst happens down the road.
9. Create an Office Space
Having a dedicated office provides legitimacy and gives taxi businesses a central base for dispatching, meetings, and administrative work. The right office setup supports daily operations and customer service.
Home Office
A basic home office is the most affordable option starting around $200 for a desk and supplies. It works for sole owners doing sales and promotion from home. However, home offices lack space for dispatchers and have less professionalism for meetings.
Coworking Office
Coworking spaces like WeWork provide amenities like WiFi, conference rooms, and front desk staff for $300-$500 monthly. The flexible terms and networking can benefit small taxi startups. However, coworking lacks parking for taxis and has noise that could disrupt dispatch calls.
Retail Office
Retail office spaces in shopping plazas start around $1,000 monthly. The street visibility and walk-in traffic aid marketing efforts. Retail offices also give easy access to taxis and customers. The downsides are costs, business hour restrictions, and longer leases.
Commercial Office
Classic commercial office spaces offer the most room with dedicated buildings and ample parking. Expect $1,500-$2,500 monthly for spaces accommodating dispatch stations, taxis, meetings, and parking. However, commercial spaces require long leases and offer few amenities.
10. Source Your Equipment
From cars to meters, new taxi companies need to acquire essential equipment to get up and running. Smart sourcing saves money while meeting operational needs.
Buying New
For the latest models with full warranties, purchase vehicles, and gear directly from manufacturers and authorized dealers. Expect to pay MSRP or slightly below for sedans like the Toyota Camry, minivans, and light SUVs ideal for taxi use. Meters, signage, radio equipment, and other accessories are also available now.
Buying Used
Save over 50% by buying quality used vehicles with 50k-75k miles from dealers, auctions, or private sellers. Facebook Marketplace, and Craigslist list reliable used taxi models like retired Crown Victorias, Camrys, and Odyssey vans discounted to $5k-$15k. Scour taxi auctions and dealers for used meters, radios, and other gear.
Renting
Renting vehicles lets you test models before purchasing a whole fleet. Rental costs range from $300-$500 weekly for common taxi vehicles. Short-term rentals of dispatch equipment, meters, and two-way radios are also available from specialty providers for a few hundred a month.
Leasing
Multi-year leases allow you to operate new vehicle models for a fixed monthly fee averaging $300-$600 over 2-4 years. Maintenance and roadside assistance are often included. Leasing provides reliability without large upfront purchases. Refurbished meters and hardware can also be leased affordably.
11. Establish Your Brand Assets
Creating a strong brand identity is crucial for taxi companies to stand out from the competition and build recognition. Investing in branding builds customer trust and boosts marketing efforts.
Get a Business Phone Number
Acquire an official business phone number through a service like RingCentral to enable professional communications. Choose a local area code and a dedicated line to convey legitimacy versus using a personal cell. Expect to budget $25-$50 monthly for a hosted business phone with call routing and voicemail services.
Design a Logo
Design a sleek logo and brand identity that instantly identifies your taxis and marketing materials. Consider iconic symbols and color palettes that connect to your location. A bold, minimalist logo works for taxi brands versus overly complicated images. Use a service like Looka to develop concepts digitally for $20-$50 per design.
Print Business Cards
Business cards featuring your logo, phone number, and dispatch info make introductions and referrals seamless. Hand these out at local events and hospitality businesses to aid marketing. Vistaprint offers affordable printing of 500 basic cards for $20.
Buy a Domain Name
Secure a domain name that matches your taxi brand for a professional online presence. Short .com addresses from Namecheap convey expertise. Expect to budget $10-$15 annually for domain registration.
Design a Website
Build a one-page website detailing your services, booking options, and phone number. Use a drag-and-drop site builder like Wix for easy DIY creation or hire a freelancer on Fiverr for $200 to design the site. This digital home solidifies your legitimacy.
12. Join Associations and Groups
Joining local business groups and online communities provides invaluable connections when starting a taxi company. Take advantage of these networking opportunities for insider advice and customer referrals.
Local Associations
Research associations like the Taxicab, and Limousine & Paratransit Association offer national conferences, regulatory advocacy, and fleet insurance programs. On the local level, chambers of commerce and transportation associations facilitate networking events and lobbying efforts.
Local Meetups
Keep up with trends and expand your network by attending regional taxi and ground transportation meetups. Use sites like Meetup to find regular gatherings of fellow business owners, drivers, and vendors.
Facebook Groups
Dozens of Facebook groups connect taxi owners globally. Search for established communities like Global Taxi Driver Group and join relevant local groups like NYC Taxi Cab Enthusiasts & Owners to tap collective insights.
13. How to Market a Taxi Business
Implementing ongoing marketing is essential for gaining new taxi customers and growing your company. Leverage digital campaigns, real-world promotion, and customer referrals to build your brand.
Personal Networking
Start by tapping your inner circle for referrals to friends, family, and colleagues. Offer free or discounted rides to first-time customers sent your way. Satisfied passengers will organically spread the word about your service if treated well.
Digital Marketing
Digital campaigns provide affordable access to local customers. Consider:
Google Ads geo-targeting local keywords like "taxi near me" and your city name. Expect to budget $100-$300 monthly. Track phone call conversions.
Facebook and Instagram ads focused on area residents. Target based on location, demographics, and interests. Budget $50-$100 monthly per platform.
Search engine optimization to rank highly for "taxi/cab + your city" searches. Research tactics or hire an SEO consultant.
Email collection via your website to send promotions and build loyalty. Offer discounts for email signups. Send regular updates and coupons to subscribers.
Getting customer reviews on Google, Facebook, and Yelp highlighting your service quality and professionalism.
Traditional Marketing
Traditional approaches also aid visibility:
Vehicle signage and wraps are seen throughout your region while in service. Gets name recognition.
Business cards and flyers at hotels, restaurants, and airports to catch potential riders. Focus on concierges.
Airport carousel ads drive business from travelers. Costs range from $100-$300 per month based on impressions.
Radio spots on local stations for brand awareness. Expect to budget $500+ monthly depending on frequency.
Chamber of Commerce networking for corporate accounts. Cater to business travelers.
Direct mail postcards to households announcing new services or promotions like discounted first rides.
Mix digital, print, networking, and other tactics to attract customers. Track response rates and refine strategies over time. Marketing done properly delivers continual growth.
14. Focus on the Customer
Providing excellent customer service is crucial for taxi companies to earn repeat business and referrals. Given the competition, focusing on rider satisfaction and great experiences builds loyalty.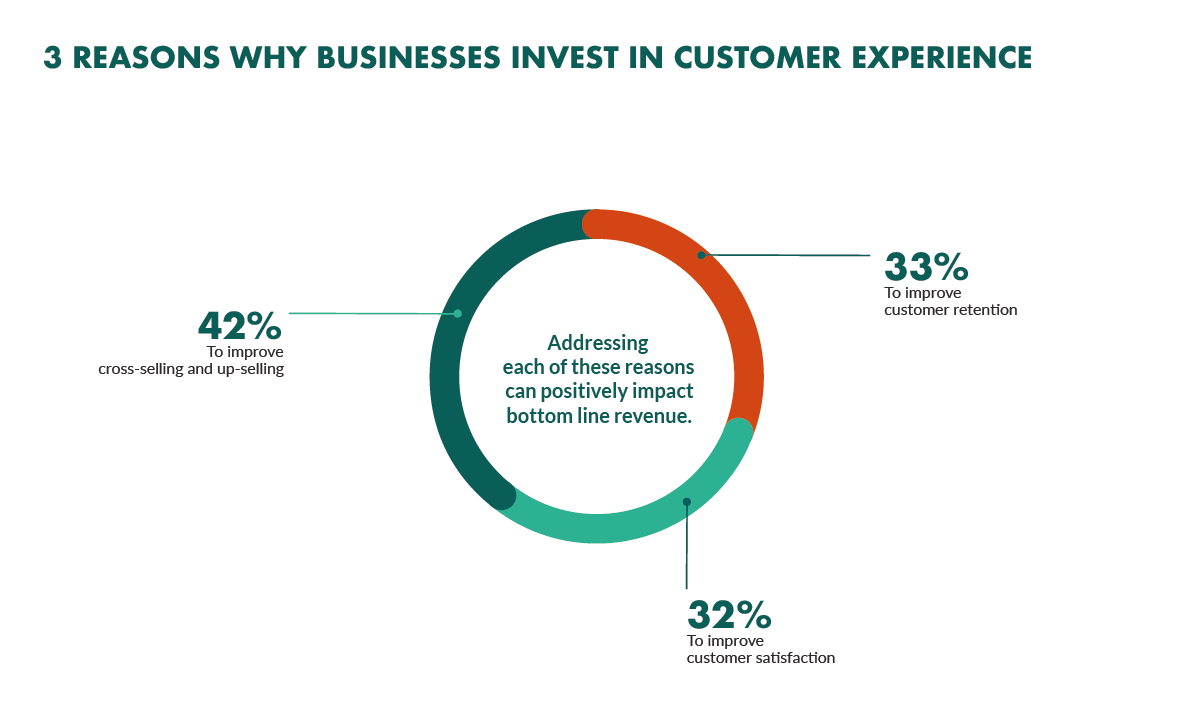 Some ways to increase customer focus as a profitable taxi business include:
For example, ensure vehicles are clean and comfortable. Greet passengers warmly and politely confirm their destination.
Avoid phone calls or conversations with other drivers during the ride. Ask if the temperature or radio station needs adjusting.
Thank riders as they exit and offer to assist with bags or other cargo.
Follow up via email with first-time customers to see if their rides met expectations.
Send the occasional coupon to frequent patrons to show appreciation.
Train staff and drivers on ideal service standards.
Empower them to address complaints and remedy issues.
Monitoring online reviews lets you identify and improve upon friction points.
Satisfied customers become vocal champions for your brand. They will specifically request your company over competitors for future rides.
With commoditized offerings like rides, customer service stands out. Small gestures like bottles of water, mints, and charging cables surprise and delight. When riders feel genuinely cared for, you earn their loyalty for the long haul.