The wholesale retail market is booming, with rapid growth on the horizon. According to Globe Newswire, the projected compound annual growth rate (CAGR) is 6.5%. This means it could reach more than $99 trillion by 2027.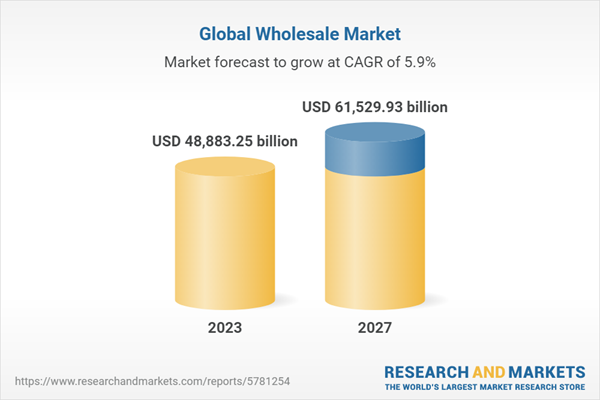 The good news is that with proper planning and execution, small wholesale businesses can carve out a niche and build thriving enterprises. This guide will explore how to start a wholesale business. Topics include the basics of starting a wholesale company from initial planning to day-to-day operations and provide key considerations for wholesale entrepreneurs.
1. Conduct Wholesale Market Research
Market research is essential for designing a successful business model for your own wholesale business. Dealing with manufacturers and retailers means knowing the ins and outs of the wholesaler-distributor business. Your research offers insights into your target market, market saturation, potential reliable suppliers, and more.
Some details you'll learn as you get started with your wholesaler market research include:
The wholesale industry encapsulates several diverse product categories.
The largest is nondurable goods wholesaling, comprising 28% of revenue. This includes food, beverages, paper, chemicals, and petroleum.
Durable goods follow at 25% market share, consisting of machinery, metals, furniture, and electronics.
Other major segments are motor vehicles, pharmaceuticals, apparel, and building materials.
Geographically, California boasts the most wholesale businesses at over 77,000 firms. Texas, Florida, New York, and Illinois round out the top five.
The past five years witnessed steady sales growth around 5% annually. And the next five years should see comparable expansion nearing 4% yearly. This displays the sector's health and appeal.
Amid rising consumer spending, wholesale provides immense opportunity for entrepreneurs.
By securing exclusive distribution rights or leveraging buying power, small operations can compete.
Focusing on value-added services like marketing, logistics, and financing also differentiates wholesale startups.
Furthermore, e-commerce and digital channels enable nimble distribution directly to businesses or consumers.
In summary, the U.S. wholesale market exhibits vast potential, low barriers to entry, geographic diversity, projected growth, and advantages for agile small players. For entrepreneurs who understand their customers, now is an ideal time to launch a wholesale venture.
2. Analyze the Competition
Understanding the competitive landscape is crucial when launching a wholesale venture. Knowing what other business owners want to sell, who they partner with, the prices they charge, and other details helps you plan your wholesale business model.
There are several ways new entrants can research and benchmark rival firms:
For brick-and-mortar wholesalers, begin by identifying local competitors. Visit their locations to analyze product selection, pricing, promotions, store layout, customer service, and general branding.
Study their product catalog, site search, payment options, shipping rates, and mobile optimization. Sign up for newsletters to learn positioning.
Analyze rivals' social media follower counts on social media. Monitor their post engagement and content strategies. Search for their digital ads on Google and Facebook to understand targeting.
Study competitors' wholesaler trade show presence and booth marketing. Attend events if possible. Review their exhibitor listings.
Research competitors' key employees on LinkedIn to assess their experience. Search press releases for news of acquisitions, expansions, and partnerships.
Uncover wholesale rivals' supply chain relationships and brand partnerships via news monitoring. Identify their core target segments. Discover their positioning.
This 360-degree view exposes competitor advantages to leverage and weaknesses to capitalize on. New wholesalers can then position their offering and go-to-market strategy based on gaps in the marketplace.
3. Costs to Start a Wholesale Business
Developing a successful wholesale business means you'll encounter startup and ongoing costs. Investing in your wholesale distributor business ensures it will continue to grow and thrive. Let's break down some of the costs you encounter.
Start-up Costs
Starting a wholesale company requires a significant upfront investment. From licenses and permits to inventory, store buildouts, and working capital, entrepreneurs must budget accordingly.
Licensing and Permits – Wholesalers typically need a state seller's permit or resale certificate ($50-$100). A business license costs around $50 annually.
Store Location – Leasing warehouse space averages $6.50 per square foot. For a 2,000 sq ft starter location, that equates to ~$13,000 per month or $156,000 annually.
Store Buildout and Layout – For a bare warehouse, buildout costs including lighting, flooring, offices, bathrooms, and more generally run $25-$50 per square foot.
Starting Inventory – Inventory needs vary greatly by product. For example, a specialty food wholesaler may invest $20,000 to $50,000 upfront in initial inventory purchases.
Equipment – Material handling equipment like forklifts ($25,000+), shelving ($10,000+), and delivery vehicles ($30,000+ used) often represent major startup costs.
Employees – Many wholesalers need warehouse staff for picking/packing. At $15 per hour, 3 full-time employees equals ~$93,000 per year.
Professional Services – A lawyer can charge $200+ per hour for help setting up an LLC or corporation.
Insurance – General liability insurance for wholesalers may cost $1,000 to $5,000 annually.
Ongoing Costs
Warehouse Rent/Mortgage – As detailed earlier, expect to budget $13,000 per month for a leased 2,000 sq ft space.
Inventory – Maintaining sufficient product inventory requires ongoing replenishment purchasing. Budget at least $10,000 per month once sales volumes stabilize.
Employees – With 3 full-time warehouse staffers at $15 per hour plus a sales manager at $5,000 per month, payroll is ~$14,000 monthly.
Operating Expenses – Electricity, gas, water, and other utility bills often total more than $1,000 monthly.
In summary, launching and sustaining a wholesale business demands substantial capital investment. From licensing to inventory to employees, required startup costs easily exceed $250,000. First-year operating expenses can surpass $500,000.
4. Form a Legal Business Entity
When starting a wholesale business, properly structuring your legal entity is critical. The four main options each have pros and cons to weigh:
Sole Proprietorship
Simple and inexpensive, this entails no formal business registration. However, the owner is personally liable for all debts and legal actions. Income is also taxed at the owner's rate. While easy initially, this structure has risks and limits growth for wholesalers.
Partnership
Like sole proprietorships, partnerships don't require formal registration but pass liability to all owners. A simple partnership agreement outlines profit/loss distribution. This enables shared startup costs and risks between partners with complementary skills. However, disagreements can dissolve partnerships abruptly. Expansion is also limited.
Limited Liability Company (LLC)
For wholesale entrepreneurs, forming an LLC provides the best liability protection while remaining fairly simple and affordable. LLC registration protects personal assets if the business is sued. Losses pass through to owners' returns. Operations are outlined in an operating agreement for any number of owners. An LLC can also elect S corp status later if desired.
Corporation
Establishing a C corporation or S corporation creates a separate legal entity that can issue stock. Owners (shareholders) are shielded from liability. C corps face double taxation on profits. S corps avoid this but have ownership restrictions. Incorporating brings more paperwork, formalities, and costs but better credibility for larger wholesale ventures. However, an LLC often works just as well initially.
5. Register Your Business For Taxes
One key legal step for any new wholesale business is obtaining an Employer Identification Number (EIN) from the IRS. This unique identifier is like a Social Security Number for your company.
An EIN is required to open business bank accounts, apply for licenses, hire employees, and file taxes. Any interaction between your wholesale venture and the government will require an EIN.
The good news is applying for an EIN is free and fast directly through the IRS website. Simply follow these steps:
Go to IRS.gov and search for "Apply for an EIN Online".
Review the eligibility requirements and gather any documents needed.
Complete the online EIN Assistant, providing information about your LLC or corporation, owners, and business activity. This only takes 5-10 minutes.
At the end, your EIN will be provided immediately to print or save for your records.
The entire online process takes less than 15 minutes and your EIN will arrive in your inbox. Make sure to keep this secure as you would any tax document.
Another key identifier you'll need is a state seller's permit or sales tax ID number. This allows you to collect and remit state sales taxes on wholesale transactions. Every state has slightly different requirements, fees, and applications.
For example, in California, you would register for a Seller's Permit with the California Department of Tax and Fee Administration (CDTFA). The cost is $40 and this permit also functions as your sales tax ID. [3]
Handle these administrative steps early when establishing your wholesale LLC. Having an EIN and sales tax ID lays the groundwork for all business licensing, hiring, sales collections, and tax filings ahead. Don't let the government paperwork intimidate you – the process is straightforward. Your company's legal compliance starts here.
6. Setup Your Accounting
Proper accounting is crucial for wholesale companies to track finances, maximize deductions, and avoid IRS issues. With large inventories, multiple suppliers, various sales channels, and overhead costs, wholesalers must stay organized.
Accounting Software
Getting accounting software like QuickBooks provides an invaluable foundation. QuickBooks seamlessly integrates with bank and credit card accounts to automatically import and categorize transactions. It handles invoicing, inventory management, reporting, and more. This automation saves wholesale businesses hours while improving accuracy.
Hire an Accountant
Hiring an accountant takes the burden off busy owners for vital services like:
Bookkeeping – Recording income and expenses in QuickBooks weekly or monthly.
Payroll – Processing payroll including tax withholding and filings.
Expense Deductions – Identifying all eligible write-offs to minimize tax liability.
Reconciliation – Comparing bank/CC statements to bookkeeping monthly and investigating any discrepancies.
Sales Tax – Filing and paying monthly or quarterly sales taxes appropriately.
Year-End Taxes – Preparing annual income and sales tax filings to comply with IRS and state agencies.
Expect to budget $100-$150 per month for an accountant's oversight. Year-end tax preparation services often cost $500-$1,500 depending on wholesale business complexity.
Open a Business Bank Account
Maintaining completely separate finances for your wholesale LLC is also key for accounting clarity and proper tax filing. Never co-mingle personal and business transactions. Open a dedicated business checking account and apply for a business credit card.
Apply for a Business Credit Card
Business credit cards allow you to keep expenses separate for easier categorization. Limits are based on your LLC's financials, not personal score. Have your EIN, address, and income documents ready when applying.
7. Obtain Licenses and Permits
Before opening their doors, wholesale companies must research and obtain all required state and federal business licenses and permits. A wholesale license is a must when selling wholesale. Whether per unit or in bulk, small businesses that sell wholesale must have the right licensure.
The U.S. Small Business Administration offers insight into federal requirements. The SBA also has a local search tool for city requirements.
Common registrations needed include:
Business License – Most states require an annual business or occupational license to legally transact as an LLC. Fees are generally $50+ per year. This authorization varies by location but allows essential operations.
Seller's Permit – A seller's permit or resale certificate enables wholesalers to purchase inventory without paying sales tax upfront by certifying intent to resell. Check the state Department of Revenue for specifics.
Food Handlers Permit – Wholesalers distributing perishable grocery items often need state or county permits to ensure proper handling protocols. This applies even when not preparing food onsite.
FDA Food Facility Registration – Any facility manufacturing, processing, packing, or holding food for consumption requires FDA registration, typically renewed biennially. This applies to wholesalers along the supply chain.
Liquor License – Alcohol wholesalers must adhere to state and sometimes local liquor license regulations stipulating age verification, storage conditions, shipping rules, etc. Requirements vary significantly.
DOT Trucking Permits – For wholesalers operating their fleets, DOT trucking credentials like IFTA and UCR registration are mandatory for crossing state lines. Research based on vehicle types.
Organic Certification – Wholesalers exclusively distributing certified organic goods may choose voluntary certification through agencies like CCOF demonstrating compliance from farm to delivery.
These examples illustrate the wide range of permits and licenses possibly required for wholesale operations based on locations, products, production workflows, and logistics. Thoroughly investigating state and federal agency mandates before opening eliminates blind spots.
8. Get Business Insurance
Adequate insurance is vital for wholesale businesses to mitigate risks that could otherwise devastate the company. Policies shield against liability claims, property damage, inventory loss, and other hazards.
Without proper coverage, scenarios like these could financially ruin your wholesaling venture:
A forklift driver knocks over and destroys a shelf full of expensive electronics. Repair and inventory replacement cost tens of thousands without insurance.
A delivery truck gets in an accident causing injuries. Without commercial auto insurance, the wholesaler pays massive medical bills.
An employee gets injured onsite and sues for negligence. Without workers' comp, the business foots the lawsuit.
Safeguard against these threats by following this process:
Catalog inventory value and potential risks to estimate adequate coverage levels.
Research insurers like The Hartford that offer tailored wholesale plans.
Obtain quotes for general liability, commercial property, workers' comp, commercial auto, etc.
Compare premiums, exclusions, deductibles, and insurer reputations.
Purchase well-rated policies that cover likely exposures and fit your budget.
Review policies annually and adjust as needed for business changes.
Don't put your livelihood at risk by scrimping on insurance. Wholesale companies face real hazards daily. The right policies provide peace of mind and financial stability when the unexpected strikes.
9. Create an Office Space
While primarily operating from a warehouse, securing office space provides key benefits for wholesale companies like meeting clients, managing inventory/orders, and housing sensitive documents securely. Weigh several options based on needs and budget:
Home Office
Working from a spare room or basement in your residence minimizes costs. With focus and separation from household activity, a basic home office can suffice temporarily for calls, computer tasks, and filing. However, meeting clients at home appears unprofessional long-term.
Coworking Space
Shared offices like WeWork provide flexible, affordable workspaces with facilities like WiFi, printing, conference rooms, and more all included. [1] Coworking suits wholesalers wanting to meet suppliers or buyers in a professional office setting without the overhead of commercial space. Expect to budget $200-$500 monthly.
Retail Office
For wholesalers with a storefront, utilizing a back office provides convenience without added lease costs. Store office space allows for managing orders, inventory, marketing, payroll, and meetings onsite. However, the frequent retail foot traffic can be distracting for focused work.
Commercial Office
Leasing dedicated office suites in business parks or buildings conveys prestige and credibility but carries higher costs. Expect leases of $20-$40 per square foot monthly plus expenditures on office furniture, supplies, utilities, etc. Commercial space provides the most professional setting for meetings.
10. Source Your Equipment
Launching a wholesale business requires acquiring the right equipment and materials cost-effectively. From shelving and forklifts to delivery trucks and starting inventory, examine these sourcing strategies:
Buy New
Purchasing brand-new warehouse racks, pallet jacks, lifts, vehicles, and other gear from dealers ensures flawless condition and warranty coverage. However, costs are highest. Look to reputable brands like Cisco-Eagle for quality assurance.
Buy Used
Gently used equipment and materials offer major savings over new with minimal compromise on utility. Search local classifieds on Craigslist and Facebook Marketplace for deals on shelving, furniture, supplies, and commercial vehicles in your area. Also, browse eBay and specialty sites like the American Galvanizers Association.
Rent
Equipment rental through companies like United Rentals allows flexibility to obtain warehouse essentials like forklifts, pallet jacks, and container loaders on a short or long-term basis without huge upfront capital. Renting select costly gear can minimize initial outlays.
Lease
Leasing equipment through dealers spreads payments over time rather than one lump sum, easing cash flow. Leasing also often includes maintenance packages. This works well for essentials like delivery fleet vehicles that see heavy usage daily.
11. Establish Your Brand Assets
Crafting a strong brand presence is invaluable for wholesale companies striving to be remembered and preferred among customers. Distinct branding sets businesses apart while conveying professionalism.
Getting a Business Phone Number
A dedicated business phone line backed by a respected provider like RingCentral projects legitimacy. Choose local area code numbers with appropriate extensions for sales, support, etc. This gives wholesale customers, vendors, and partners a professional way to reach you anytime.
Creating a Logo and Brand Assets
A polished logo designed through Looka establishes instant visual recognition. For wholesalers, bold sans-serif wordmarks and simple geometric icon logos convey industry leadership and trust. Complimentary letterhead, ads, website, and packaging maintain cohesion. This consistency boosts memorability.
Business Cards and Signage
Essential for networking, custom cards ordered from Vistaprint make impressing prospects easy. Include vital info like address, phone, email, and social media. Investing in exterior warehouse signage, vehicle decals, and convention booth displays strengthens the brand.
Purchasing a Domain Name
Secure an on-brand domain name from Namecheap reflecting your company name or keyword-rich offering descriptions. Opt for a .com over alternatives and make it short and simple to spell. Use domain privacy protection. Then link email addresses for professionalism.
Building a Website
Every wholesaler needs an informative website. Utilize Wix'sdrag-and-drop editor to quickly build yours packed with images, catalogs, services, and eCommerce functionality if desired. Or hire a web developer on Fiverr for added complexity like supply chain integrations.
12. Join Associations and Groups
Joining relevant local groups and associations delivers invaluable connections and insights for wholesale entrepreneurs. Surround yourself with this built-in support network.
Local Associations
Joining regionally-based wholesale trade groups like the Greater Houston Retailers Wholesale Association provides access to veteran industry players, discounts, referrals, and insider wisdom. Annual dues usually apply but deliver dividends through partnership opportunities.
Local Meetups
Attending local small business meetups via Meetup offers low-pressure networking with like-minded entrepreneurs. Trade shows are also prime spots to encounter suppliers, buyers, and possible collaborators. These events lead to relationships that boost the business.
Facebook Groups
Facebook hosts numerous niche communities around wholesaling. Join targeted Groups like Deal a licious wholesale Group and Wholesaler and Seller Group to tap into thousands of global members, advice articles, and discussions on overcoming shared hurdles.
13. How to Market a Wholesale Business
Implementing ongoing marketing is imperative for wholesale companies to consistently attract new customers and partners. A multifaceted approach delivers results.
Personal Network
Leverage your personal and professional network as brand ambassadors. Satisfied clients who are respected in their industries make ideal referrers. Offer incentives like discounts or publicity in exchange for introductions, testimonials, and word-of-mouth promotion.
Beyond this community, employ both digital and traditional techniques:
Digital Marketing
Launch Google Ads campaigns to find relevant buyer keywords like "wholesale goods"
Run targeted Facebook and Instagram ads to build awareness
Start a YouTube channel creating value-add industry tutorial videos
Write and distribute educational content via a blog, email newsletter, and social posts
Pursue earned media publicity through press releases and contributing articles
Traditional Marketing
Print full-color brochures, postcards, and flyers for conventions, client meetings, and prospecting
Consider radio ad campaigns on local stations popular with your target buyers
Explore out-of-home options like billboards and transit ads near key buyer locations
Sponsor local events aligned with your industry to gain goodwill and exposure
While digital channels often provide the most measurable ROI through detailed analytics, don't rule out traditional mediums completely. A strategic blend maximizes your reach and reinforces the brand across touchpoints.
14. Focus on the Customer
Providing exceptional customer service is a make-or-break for wholesale companies striving to earn trust and loyalty from buyers. Satisfied customers become your best promoters. Some ways to increase focus with customers as a wholesale supplier include:
Take extra care assisting first-time buyers in navigating your inventory selection and ordering processes.
Offer recommendations and share your expertise to educate them.
Set clear expectations for fulfillment and delivery timelines and then over-deliver.
Follow up post-sale to ensure complete satisfaction and ask for feedback on improving their experience.
For established accounts, learn individual preferences and pain points.
Cater to their needs with customized solutions.
Surprise and delight them with value-adds like branded merchandise, early access to new inventory, or exclusive deals.
Make it easy for buyers to contact your support team with questions or concerns and resolve any issues swiftly. Be generous with refunds, replacements, and returns as needed.
This high-touch service helps wholesale customers feel valued as partners, not just transactions. They come to trust your operation and appreciate the level of care shown.
In turn, satisfied accounts evangelize your business to peers as a go-to wholesaler. Word-of-mouth referrals are often your most effective customer acquisition channel.
The wholesale industry is built on relationships and reputation. Competing purely on price or product often erodes margins. Provide the very best service experience instead. This loyalty compounds over time into steady, profitable growth.