The global custom show market could reach a whopping $1.2 billion by 2032, according to Global News Wire. The custom shoe industry hit $703 million in 2022 and is estimated to rise at a compound annual growth rate of 5.8% from 2022 to 2032. This marks a lucrative time to get involved and own your own business.
This comprehensive guide will walk you through how to start a custom shoe business. We'll cover how to source materials, register an EIN, form an entity, build your brand, market your products, and scale up your operations once orders start rolling in.
1. Conduct Custom Shoe Market Research
Market research helps develop a realistic custom shoe business plan. It provides insight into market saturation, popular designs, successful business models, current price points, and other important details of the custom shoe-making business industry.
Some details you'll learn through market research include:
Mass customization is now possible thanks to digital printing, 3D scanning, and advanced manufacturing techniques.
The rising popularity of casual and athletic shoes has led more consumers to care about fit and function.
Custom shoes can provide proper arch support, accommodate orthotics, and meet the specific needs of each customer's feet.
Niche communities like sneakerheads, athletes, and fashionistas are willing to pay a premium for one-of-a-kind shoes.
Limited edition and collector's items produced in small batches have cult followings.
The main target markets for custom shoes include:
Sneakerheads: Die-hard sneaker collectors obsessed with limited edition kicks. Willing to pay high prices for exclusivity and clout.
Athletes: Seek optimal performance and injury prevention from footwear customized for their sport and biomechanics.
Medical: People with foot conditions like plantar fasciitis or bunions who need orthopedic support.
Work and Safety: Workers who stand all day need custom inserts and features like metatarsal protection.
Fashion: Creative designers and influencers want to make unique statements with their footwear.
Big & Tall: Underserved categories that require larger or smaller than normal shoe sizes.
Kids: Their growing feet demand a perfect fit. Customization allows self-expression.
Several distribution models work for custom shoemakers:
DTC online sales through proprietary e-commerce sites. Allows global reach and full control of brand experience.
Pop-up shops and customization studios in trendy locations. Create buzz and allow customers to design in person.
Wholesale to independent boutiques, sneaker stores, and clothing retailers. Benefits from existing customer traffic.
Strategic collaborations with athletes, musicians, fashion houses, and other brands expand marketing.
Competitive advantages for new entrants include proprietary technologies, differentiated branding, strong social media and influencer marketing, and excellent customer service throughout the design process. Standing out from established players is critical.
2. Analyze the Competition
Competitive analysis tells you about local custom shoe businesses. Details help you plan your business model, and develop custom shoe painting business standards, price points, marketing methods, and more.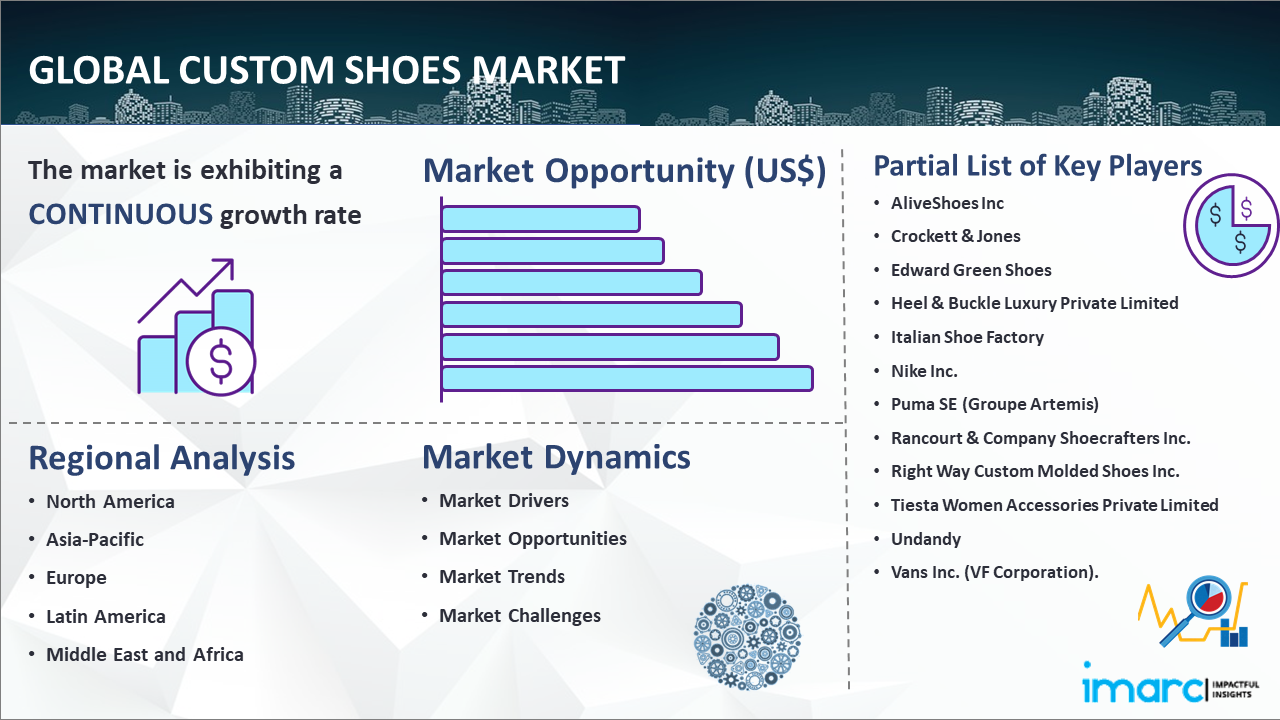 Here are some ways to learn about your local and online competitors:
Look for brands playing in the same custom shoe space.
Review their products, pricing, customer experience, and brand messaging closely.
Evaluate the online presence of competitors.
Assess SEO elements like metadata, keywords, and backlinks using tools like SEMrush.
Quantify their web traffic, engagement levels, reach, and sales conversion rates using analytics tools like Google Analytics and Facebook Insights.
Visit their stores as a secret shopper.
Evaluate presentation, service, quality, and ambiance.
Look for weaknesses you can improve upon and strengths you may leverage in your own space.
Tools like DataWeave and MobileSmith allow you to compile data on competitors all in one dashboard.
You can also set up Google News Alerts so you never miss their latest promotions, new products, or activities across the web.
Keep a finger on the pulse of competitors' moves and stay agile as you build your custom shoe business. With strategic awareness and quick execution, you can carve out your niche even in a crowded space.
3. Costs to Start a Custom Shoe Business
Starting a custom shoe brand involves significant upfront investment and ongoing expenses. Carefully estimating costs is crucial for securing adequate funding and budgeting properly. Here is a detailed breakdown of typical start-up and operational costs:
Start-Up Costs
Research & Planning – $5,000-$10,000 Conducting market research, competitor analysis, sourcing materials/manufacturers, consulting, and developing the business plan.
Incorporation Fees – $500-$2,000
The legal fees for incorporating as an LLC or corporation. Also includes licenses and permits.
Website Development – $5,000-$15,000 Hiring a designer and developer to create the e-commerce site and integrated customization platform.
Product Development – $15,000-$30,000 Shoe prototypes, 3D digital modeling, finalizing designs and testing production.
Equipment – $30,000-$150,000 Purchasing key equipment like 3D scanners and printers, cutting die machines, lasting and stitching machines, etc. Leasing is also an option.
Retail Space Rental – $5,000-$15,000
First and last month's rent for leasing a storefront retail space if going brick-and-mortar.
Store Build-out/Renovation – $30,000-$100,000 Construction costs for modifying retail space to your custom needs.
Starting Inventory – $50,000-$250,000 Producing the first production run of shoes once manufacturing is set up.
Marketing Activities – $15,000-$30,000
Initial brand marketing including things like photo shoots, branding assets, events, etc.
Ongoing Costs
Commercial Rent – $24,000-$144,000 annually
Mortgage Payments – $12,000-$24,000 annually if the building is purchased as an office/production facility.
Salaries – $150,000-$300,000 annually for staff including designers, production team, sales associates, etc.
Raw Materials – $500,000-$1,500,000 annually for leather, textiles, laces, glue, eyelets, packaging, etc. Fluctuates based on production volumes.
Shoe Manufacturing – $250,000-$750,000 annually for outsourced costs for producing shoes unless all production is in-house.
Utilities – $24,000-$48,000 annually for electricity, gas, water, waste, etc. Varies by location.
Marketing Expenses- $50,000-$250,000 annually
Paid ads, trade shows, PR, photoshoot production, and influencer programs.
Amazon Web Services – $12,000-$24,000 annually for cloud hosting fees for e-commerce infrastructure.
Website Maintenance – $10,000-$20,000 annually for ongoing developer costs for site optimization and maintenance.
Costs quickly add up across operations including manufacturing, inventory, staffing, sales, and marketing. Careful financial planning and access to investment capital are essential for covering the considerable expenses of getting up and running.
4. Form a Legal Business Entity
Choosing the right legal structure is a key decision when forming a custom shoe business. The four main options each have pros and cons to weigh.
Sole Proprietorship
A sole proprietorship is the simplest and most common structure for new businesses. You operate as an individual owner reporting income on your tax return.
Pros: Easy and inexpensive to set up. Complete control of decisions. Minimal paperwork. All profits flow directly to you.
Cons: Unlimited personal liability for debts and lawsuits. Hard to raise investment capital. Limited life of the business.
For a small custom shoe operation just starting, a sole proprietorship provides flexibility as you test ideas and grow. But the risks of unlimited liability make other structures better as you expand.
Partnership
A partnership involves two or more co-owners sharing control and profits. You file a partnership tax return but profits/losses flow through to partners.
Pros: Easy to establish with a partnership agreement. Shared financial risks among partners. Can combine complementary skills.
Cons: Joint and several liability for each partner. Potential for disputes between partners. Harder to dissolve or change ownership.
Partnerships can help a custom shoe business quickly scale production and grow the brand through combined resources. However, conflicting visions and unlimited liability make an LLC a safer bet.
Limited Liability Company (LLC)
LLCs mix the limited liability of a corporation with the tax flexibility of a partnership. Members own the company but have limited personal liability.
Pros: Liability protection for owners. Retain profits. Separate entity from members. Relatively easy to set up and operate.
Cons: Self-employment taxes on income. Need to treat members impartially. More recordkeeping.
For small growing custom shoe brands, an LLC provides the best of all worlds. You get liability protection and flexibility while operating fairly informally. Ownership can be easily adjusted. Overall an excellent choice.
Corporation
A corporation is a legal entity owned by shareholders. Requires significant formal compliance and corporate governance.
Pros: Limited liability for owners. Ability to raise capital through the sale of stock. Perpetual existence. Prestige of "Inc." status.
Cons: Most complex and expensive to create and maintain. Double taxation of profits. Extensive recordkeeping and reporting.
While some large custom shoe companies are corporations, most small businesses would find this structure unnecessary. Stick to an LLC while scaling then re-evaluate if seeking outside investors.
5. Register Your Business For Taxes
One of the first key legal steps for any new business is obtaining an Employer Identification Number (EIN) from the IRS. An EIN acts like a social security number for your business for tax and banking purposes.
Getting an EIN is free and easy via the IRS website. Simply navigate and click the blue "Apply Online Now" button. This takes you to a simple web-based application.
You'll need to provide basic information about your company including name, address, and ownership details. The online form takes just minutes to complete. At the end, you'll be issued your unique 9-digit EIN immediately.
An EIN is crucial for opening a business bank account, applying for licenses, hiring employees, and filing taxes properly. It establishes your company as a recognized legal entity. An EIN also helps separate your personal and business finances for liability protection.
In addition to your federal EIN, make sure to contact your state revenue or taxation department to register for sales tax collection. This allows you to legally charge and remit sales tax on shoes and other products sold in your state.
The sales tax registration process varies by state but typically involves submitting a simple application and paying a low fee. Some states even allow online or phone-based registration. You'll receive a sales tax ID number to use on invoices and collect/pay taxes on a monthly or quarterly basis.
Proper sales tax compliance keeps your custom shoe business operating legally as you scale up. Failure to collect and remit owed taxes can lead to penalties and interest charges. With a federal EIN and state sales tax ID, you ensure smooth business taxation right from the start.
6. Setup Your Accounting
From the moment you make your first sale, establishing solid accounting practices is essential for any custom shoe business. Accurate bookkeeping and financial reporting form the foundation for success.
Accounting Software
Investing in a cloud-based accounting platform like QuickBooks is highly recommended right off the bat. QuickBooks seamlessly syncs with your business bank accounts and credit cards, allowing you to categorize transactions and generate financial statements with no manual data entry.
Hire an Accountant
Hiring a qualified accountant or bookkeeper provides oversight to ensure your finances stay compliant and optimized. They can handle tasks like payroll, monthly reconciliation, sales tax filings, and details you don't have time for while designing shoes and running operations.
Come tax season, your accountant will be invaluable for completing your return and getting maximum deductions. Expect to invest around $200 to $500 per month for basic accounting support.
Open a Business Bank Account and Credit Card
For optimal accountability, maintain your business finances independently from personal finances. Open dedicated checking/savings accounts and apply for a business credit card solely for company expenses.
7. Obtain Licenses and Permits
Starting a custom shoe business? Your shoe store requires specific licensure and permits depending on where you live and how you sell/ship. Federal license requirements are listed on the U.S. Small Business Administration website. Use the SBA local search tool to find state and city permit regulations.
There are no major license requirements at the federal level to customize shoes and sell them domestically. Your local government might have permit requirements for the products you use if paints, glue, or other chemicals are used.
The custom shoe market requires a general business license from your city or county. This gives you official permission to operate. The cost is usually under $100 annually.
Selling footwear requires a seller's permit in most states. This allows you to buy shoes wholesale without paying sales tax upfront. Instead, you collect sales tax when you resell to customers.
If you're importing shoe products to customize, you'll need to apply for an import license. This is required by U.S. Customs. Without one your imported goods may be seized at the border.
8. Get Business Insurance
Operating any business comes with inherent risks that can lead to substantial losses if not properly insured. Purchasing adequate business insurance coverage is highly recommended when launching a custom shoe brand.
The right insurance policies help safeguard your company's physical assets and protect against liability claims. Potential disasters like fires, floods, or lawsuits could devastate your finances without insurance to cover the damage.
Some examples of costly scenarios that could occur without sufficient coverage:
A faulty 3D printer catches fire and destroys your production facility and all equipment. Repair and replacement expenses could total over $500,000.
A worker gets injured using a stitching machine due to a lack of training. Without workers' compensation insurance, their medical bills and lost wages are your responsibility.
A child chokes on a shoelace and the parents sue your company for negligence. Legal fees and settlement payouts quickly add up without liability protection.
The good news is getting properly insured is straightforward. Start by speaking with an insurance broker who specializes in business policies. They will assess your operations and recommend tailored coverage options.
Typical policies are general liability, commercial property, product liability, workers' compensation, and cyber insurance for e-commerce activities. Expect to budget approximately 1% to 5% of revenue towards annual premiums.
9. Create an Office Space
Having a dedicated office provides a vital workspace for key administrative, design, and production tasks when launching a custom shoe brand.
Home Office
A home office offers an affordable starting point, allowing you to convert a spare room into a basic work area for 1 to 2 people. With setup costs around $2,000 to $5,000, it's ideal for bootstrapping entrepreneurs. However, you risk distractions and a lack of separation between work and personal life.
Coworking Office
Coworking spaces like WeWork provide convenient shared offices on flexible terms. For approx. $300 to $800 per month you can secure a semi-private office near other startups. The community vibe and amenities like Wi-Fi, printers, conference rooms, and coffee bars create a productive environment without major overheads.
Retail Office
If opening a retail space, consider a combined showroom and back office. Customers can design shoes upfront while you handle production behind the scenes. Renting 1000 square feet of retail space averages $1500 to $4000 per month depending on location.
Hiring contractors to build out sleek interiors and storage space adds $30,000 or more in upfront costs. But you gain incredible visibility and seamless integration of retail with office activities.
Commercial Office
Leasing dedicated commercial office space provides room for major expansion while projecting a professional image. Expect monthly rents of $2,000-$10,000 for 2000+ sq ft of Class A space in a business complex.
With private parking, security, meeting rooms, and your lobby, these larger facilities cater to established companies. The premium rates are only feasible once you're selling a high volume of custom shoes.
10. Source Your Equipment
Launching a custom shoe brand requires specialized equipment for digital design, 3D printing, cutting, stitching, and finishing footwear. Here are some options for acquiring the necessary machinery and materials:
Buying New
Purchasing brand-new equipment from manufacturers ensures optimal performance, reliability, and tech support. Key brands include OptiTex and Kongsberg for 3D design software, printers, and cutters. Expect investments of $30,000 to $250,000 to fully outfit production.
Buying Used
Savings can be found buying used equipment through sites like eBay, Craigslist, and Facebook Marketplace. Search for deals on 3D scanners, lasting machines, adhesive sprayers, and more. Inspect condition closely and factor in potential repair costs.
Renting
A flexible option is the short-term rental of major machinery like 3D printers. Sites like Hubs allow you to compare rental rates. Useful for sporadic jobs without high monthly production. The downside is limited access to equipment.
Leasing
Leasing production equipment allows you to pay over time while using the latest technology. 3 to 5-year leases that cover maintenance are common for major tools like die cutters. Buyout terms provide eventual ownership.
11. Establish Your Brand Assets
Developing a strong brand identity is crucial for making your custom shoe company recognizable and memorable. Follow these key steps to create professional assets that express your vision.
Getting a Business Phone Number
A dedicated business phone number lends legitimacy and provides easy customer access. Services like RingCentral offer toll-free and local numbers with call routing, voicemail, and analytics. Expect costs around $25 to $50 per month.
Creating a Logo and Brand Assets
Your logo is the face of your brand. Consider typography, color palette, and icons that represent your style and story. Looka uses AI to generate affordable, custom logo options to choose from.
With your logo finalized, create complementary assets like stationery, packaging, signage, and digital elements tied together by consistent branding. This strengthens brand recognition as you scale.
Creating Business Cards and Signage
Business cards enable networking and help build brand awareness. Include essential info like contacts, logo, tagline, and social media links. Vistaprint offers 500 basic cards for around $20.
Interior and exterior signage is also useful if opening a physical retail space, conveying your brand personality to walk-in customers.
Purchasing a Domain Name
Secure a domain name that matches your brand for branding continuity. Aim for a .com address with your company name. Use domain search tools to find available options and buy via registrars like Namecheap for around $15 per year.
Building a Website
Every business needs a website to share products, and brand stories and accept online orders. You can easily DIY a site through user-friendly platforms like Wix. Or hire a freelance web developer on Fiverr if you require advanced e-commerce functionality.
12. Join Associations and Groups
Joining relevant local organizations and online communities provides invaluable connections and insights as you build your custom shoe brand.
Local Associations
Industry associations like the Two Ten Footwear Foundation offer networking, mentoring, training programs, and access to resources specifically for shoe professionals. Most major metro areas have chapters. Annual dues start around $500 but provide direct access to seasoned industry veterans.
Local Meetups
Attending local small business meetups allows you to regularly engage with other entrepreneurs in your community. Great for bouncing ideas, finding partners, and learning from peers. Use sites like Meetup to find free groups and events centered around startups, manufacturing, fashion, and more.
Facebook Groups
Social media provides online communities to glean insights anytime. Shoe design groups like Custom Shoes share inspiration, trends, and feedback. And local groups like Los Angeles SneakerHeads connect you with fellow footwear pros in your region.
13. How to Market a Custom Shoe Business
Implementing an effective marketing strategy is crucial for getting the word out about your amazing custom kicks and attracting an ever-growing customer base.
Target Your Network
Start with your network. Tap friends, family, colleagues, and existing contacts who may be interested in your shoes or can refer others. Satisfied customers will become your best advocates if you deliver an incredible product and experience. Offer referral rewards like discounts on future orders to incentivize sharing and reviews.
Digital Marketing
Search ads on Google, Bing, and YouTube to get discovered by nearby shoppers searching for custom shoes. Target keywords like "custom sneakers [city]" and "design your shoes."
Facebook and Instagram ads allow perfectly targeted promotion to your ideal demographics obsessed with shoes. Share new launches, specials, and brand content.
Start a YouTube channel documenting your design process and customer unboxings. Build a subscriber base of superfans.
Email marketing nurtures leads, retains customers, and promotes launches. Use email automation workflows. Offer an email sign-up incentive.
Guest blog posts on reputable footwear sites boost credibility and SEO. Aim for links back to your website.
Optimizing your website for search engines with schema markup and metadata improves visibility and conversions.
Traditional Marketing
Attend local events and trade shows related to shoes, fashion, art, maker spaces, pop culture, etc. to introduce your brand.
Partner with boutiques, sneaker shops, and clothing retailers to carry your shoes on consignment, reaching their customer base.
Maintain a presence at high-foot-traffic venues through partnerships, pop-ups, and sponsorships. Think sports stadiums, malls, festivals.
Print bold, eye-catching flyers and posters to display on community boards at sneaker conventions, colleges, music stores, skate parks, etc.
Run contests and giveaways to quickly build social media followers which you can retarget through paid ads.
The most effective marketing mix blends digital visibility with real-world activations that get people excited about your shoes. Measure results and double down on what delivers sales. With some hustle and savvy promotion, your custom kicks can kick their competition to the curb.
14. Focus on the Customer
Providing an incredible customer experience is crucial for any brand selling shoes. Satisfied customers become loyal brand advocates that organically attract new business to your shoe company.
Some ways to increase customer focus within your online marketing strategy and brick-and-mortar sales include:
Answering questions promptly and knowledgeably by phone, email, chat, and social media. Customers will have plenty of brick-and-mortar, sizing, design options, production timelines, and more.
Explaining your customization platform and design workflow thoroughly so customers feel guided through each step. Send progress updates during production.
Resolving issues quickly and fairly, like remakes for sizing misses or fixes for defects. Go above and beyond to make it right.
Following up after purchase to get feedback and hear about their experience wearing your creation. Request reviews.
Offering perks like free expedited shipping, discounts for referrals, and VIP access to new launches to surprise and delight.
Empowering staff to handle requests independently and make smart judgment calls when needed.
With customer service that exceeds expectations at every step, your brand earns loyalty, referrals, and word-of-mouth buzz. Deliver the perfect custom shoe to keep customers coming back for more.