The U.S. childcare market is growing steadily, making it a lucrative time to get involved. As of 2022, the industry reached $60.44 billion and is estimated to reach $91.2 billion by 2032. If it remains on track, the industry is projected to expand at a compound annual growth rate of 4.20% from 2022 to 2032.
This guide will explain how to start a daycare business. Topics covered include market research, sourcing materials, common business expenses, licensure for health and human services, competitive analysis, and more. Read on for everything you need to know about becoming a business owner in the childcare business industry.
1. Conduct Daycare Market Research
Market research is essential in early childhood education and family services. It provides insight into local daycare centers, potential personal and business expenses, target market, market saturation, and more.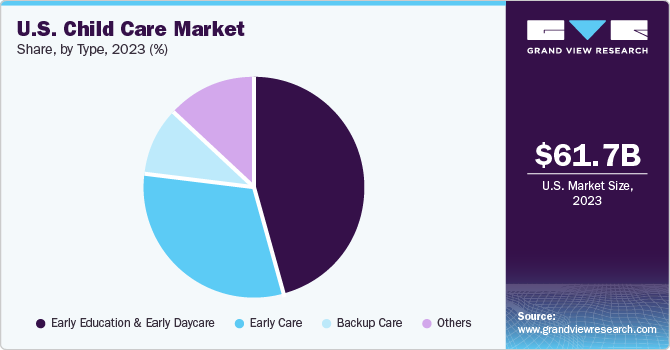 Several key factors make daycare an attractive business opportunity:
Increased workforce participation of women with young children is driving demand. Mothers need childcare to work outside the home.
Rising wages increase household spending power on services like daycare.
Real median household income rose over $67,000 in 2020, up almost 13% versus 2010. Families can now afford more care.
Benefits like dependent care FSAs increase childcare affordability.
Government programs subsidize care for low-income families.
Federal funds like Head Start provide over $10 billion to subsidize early childcare and education for kids in poverty. States also offer subsidies.
More awareness of the importance of early childhood development and education is causing parents to spend more on high-quality childcare programs that go beyond just babysitting.
While the market is ripe with opportunity, competition is moderate. New owners must find ways to differentiate. Some successful techniques include:
Offering specialty programs like language immersion or Montessori curriculum. This caters to parents' increased educational expectations.
Providing overnight or weekend care to accommodate parents who work irregular schedules.
Focusing on tech-based care such as apps to track kids' activities and webcam access for parents.
Basing tuition on a sliding income scale to improve access for lower-income families.
With proper business planning, daycares can thrive. The essentials are a convenient location, compliant licensed facilities, competitive tuition rates, and recruiting top-notch teachers and support staff. Daycare also requires rigorous safety standards, enrichment activity planning, and marketing to parents.
2. Analyze the Competition
Thoroughly analyzing competitors is crucial when starting a daycare business. Assess existing childcare options in your geographic area to inform your own facility and program offerings.
For brick-and-mortar daycares, identify all nearby centers and in-home providers. Drive by locations and evaluate:
Size and capacity
Condition and safety of facilities
Tuition rates
Programs offered (infant care, after-school, etc.)
Operating hours
Teacher-to-child ratios
Observe parent drop-off and pick-up. Are centers busy with long wait lists? Or do they have ample vacancies? Ask parents in person or via online reviews about the pros and cons compared to other area daycares.
Evaluate the online presence of competitor daycares through their website and social media. Analyze:
Professionalism of web design
Program details and curriculum info
Convenience factors like online payment systems
Parent reviews and testimonials
Engagement on social platforms
Search online parent forums and community Facebook groups to anonymously gather candid feedback. Parents will share insights on the real advantages and drawbacks of each provider.
Also, research the competitive landscape by checking sites like NerdWallet and Care.com that include daycare reviews and cost of care data. Look for gaps in care offerings, facilities, or programs in your area.
Synthesize your competitive findings to shape your own daycare's offerings. Find ways to differentiate with specialized curriculums, innovative technology applications, unique programs, or more flexible hours. Deliver higher quality than competitors by investing in top-notch teachers and facilities. Competitive analysis provides the insights to strategically launch and market your daycare for success.
3. Costs to Start a Daycare Business
Start-up Costs
Launching a daycare involves significant upfront investment. From licensing and permits to leasing and renovating facilities, owners should be prepared for the following start-up costs:
Registration, licensing, and permits – State childcare licensing runs $50-$500. Some cities require separate business permits at around $100 annually.
Zoning approval may be needed for a home-based daycare at around $250.
Facilities – Leasing an existing commercial space for a daycare averages $15-$30 per square foot monthly. For a 1000-square-foot facility, that equates to $15,000-$30,000 in annual rent.
Buying and renovating a space is more costly at $100-$200 per square foot. Minor renovations like paint, floors, and bathrooms can run $15,000-$30,000.
Liability insurance – Childcare centers require substantial liability coverage. Average annual premiums are $1200 for home-based and $7000 for commercial daycares.
Furnishings and equipment – Outfitting a childcare space costs approximately $5000-$10,000 including cribs, play structures, tables, toys, etc.
Outdoor playground equipment can add $5000-$20,000 depending on size.
Supplies – Several hundred dollars of consumable supplies like art materials, cleaning products, and office items will be needed initially.
Marketing – Print ads, online ads, and signage to announce a new daycare's opening average of $2000-$5000.
Working capital – New small businesses should have 6 months of operating capital as a buffer. For a 10-child daycare, that's $60,000 at $1000 tuition per child monthly.
Ongoing Costs
Rent and utilities – For a 1000 square foot space, expect $1500-$3000 for rent and $1000 for electricity, heating, internet, and other utilities.
Labor – With a 1:4 teacher-to-child ratio, a 10-child center requires 3 teachers at $12-$15 per hour for a monthly labor expense of $6000-$9000.
The director's salary averages $40,000 annually or $3333 monthly.
Insurance – General liability coverage runs $100 monthly after the first annual payment. Worker's compensation costs about $500 monthly.
Supplies – Art supplies, cleaning, and office items average $500 monthly for a 10-child facility.
Food – Providing breakfast, lunch, and snacks costs about $5 per enrolled child daily, or $1500 for a 10-child center.
Marketing – Ongoing social media, web, and occasional print ads average $300 monthly.
Annual fixed costs may include:
Licensing renewal – Yearly licensing costs $50-$500 depending on the state.
Payroll taxes – After salaries, payroll taxes, and benefits are about 15% of the total annual payroll.
Bookkeeping – Hourly bookkeeping rates of $30-$60 equate to $3600-$7200 annually.
While launching a daycare requires significant capital, the ongoing costs are manageable with steady enrollment and proper budgeting. Securing financing and controlling costs will be key to succeeding in this high-demand business.
4. Form a Legal Business Entity
When establishing a daycare business, one key legal decision is choosing your business structure. The four main entities include:
Sole Proprietorship
A sole proprietorship is the simplest option – you operate the daycare as an individual with personal liability. This offers ease of setup since it requires minimal registration paperwork. However, the owner assumes all the risks. With children involved, a proprietorship leaves your assets dangerously exposed.
Partnership
Forming a general partnership splits ownership between two or more individuals. You distribute profits and management duties. While easier than incorporating, partnerships also come with unlimited personal liability for each co-owner. One partner's negligence could leave you liable for large damages. The inherent risks of childcare again make partnerships an unstable choice.
Limited Liability Company (LLC)
Instead, a wise option is forming an LLC or limited liability company. The LLC structure limits your liability and protects personal assets if sued. Only the LLC's assets are vulnerable. This vital liability shield is crucial when accidents can occur, even with top safety protocols. LLCs allow more flexibility in ownership and management than corporations.
Corporation
You could incorporate it as a standard C-corporation or S-corporation. This creates the most formal business entity but involves extensive legal paperwork and formalities. Corporations limit liability for shareholders but require strict governance including board meetings and recorded minutes. The formality can become burdensome for a small daycare. Corporations also incur higher setup costs and require extensive tax paperwork.
5. Register Your Business For Taxes
Before opening doors, every daycare must obtain an Employer Identification Number or EIN from the IRS. Think of your EIN as the Social Security Number for your business. This unique 9-digit number identifies your company for tax and reporting purposes.
Retrieving your EIN is quick and free through the IRS online application. Simply provide your business name, address, and ownership details. You'll immediately receive your EIN.
Some key reasons daycares need an EIN:
Employing staff – Any business with employees must have an EIN to report payroll taxes. This includes daycares, even if you start as a sole employee.
Opening business bank accounts – Banks require an EIN to open business accounts in your company name.
Filing business tax returns – Your daycare must file taxes using your EIN. It functions like a Social Security Number for the business.
Applying for licenses and permits – Local and state license applications ask for your EIN.
Don't wait – apply for your free EIN as soon as you establish your daycare company name and structure.
You'll also need to register with your state revenue department to collect and remit sales tax. Many states include this when you apply for your state business license or LLC registration. If not, look up the sales tax agency for your state and follow their registration process. This may require a small fee of around $10-$50. Keep your sales tax ID handy for collecting tax on goods sold or filing periodic tax returns for your daycare business.
6. Setup Your Accounting
Meticulous bookkeeping and accounting are crucial for daycare businesses. Carefully tracking expenses like food, materials, payroll, and rent ensures you accurately set profitable tuition rates. Recording sales provides income visibility to manage cash flow.
Accounting Software
Start by using small business accounting software like QuickBooks to automate tracking income and expenses. Quickbooks seamlessly syncs with bank and credit card accounts to log transactions. It generates pre-configured reports on profitability, accounts payable, and receivable. QuickBooks even supports invoicing and payroll.
Hire an Accountant
Engage an accountant for additional support. A bookkeeper can handle data entry into QuickBooks and reconcile accounts monthly. Come tax season, your accountant will prepare and file business tax returns. Expect fees of around $100 monthly for bookkeeping and $500 for annual tax prep. Accountants can also advise on maximizing tax deductions for daycare expenses like supplies, utilities, and salaries.
Open a Business Bank Account
Avoid headaches by completely separating daycare finances from your finances. Open dedicated checking/savings accounts and apply for a business credit card in your company name. Personal and business commingling can cause tax trouble and make untangling finances difficult if you sell the daycare.
Apply for a Business Credit Card
With a business credit card, you earn rewards on purchases without impacting your credit score. Business card limits are based on time in business and company revenue. Aim for at least $5000 to start. Have employees use your business card for approved expenditures.
7. Obtain Licenses and Permits
Before welcoming your first student, ensure your daycare secures all required state and local licenses to legally and safely operate. Find federal license requirements through the U.S. Small Business Administration. The SBA also offers a local search tool for state and city resources.
Every state mandates daycares obtain a childcare license demonstrating you meet health, safety, and programming standards. For example, common requirements include:
Background checks for staff
Minimum facility square footage per child
Documented staff training
Adhering to teacher-to-child ratio limits
Following age-appropriate curriculum
Maintaining immunization records
Licensing involves submitting detailed applications, passing inspections, paying fees up to several hundred dollars, and renewing annually. Ensure your new builds or renovations comply before finalizing plans.
Your city or county may also mandate additional business licenses for operating a daycare. These require submitting basic company information and paying a small licensing fee, often $50-$100 annually.
Zoning permits or exemptions may be necessary if running a home-based daycare depending on local ordinances. Some residential areas prohibit businesses. Others limit signage, staffing, and the number of children. Zoning approval helps avoid disruptive complaints and citations.
Every staff member must also undergo criminal background checks and clearance, which you must register and pay for. Many states prohibit hiring anyone with a record of violent or sexual crimes. This critical step protects the vulnerable children in your care.
8. Get Business Insurance
Operating a daycare without adequate insurance is incredibly risky. The safety of young children can never be guaranteed. Accidents and emergencies can arise despite the best precautions. Having proper coverage protects your business from financial ruin when the unexpected happens.
Consider these uninsured scenarios:
A child falls on the playground, suffering a traumatic head injury that requires hospitalization and ongoing care. Without injury liability insurance, you pay all the costs out of pocket.
An electrical fire destroys your facility and equipment. No property insurance means you must fully rebuild using personal savings.
You are sued for negligent supervision. Without liability insurance, any damages awarded may cost you your home or bankruptcy.
The right insurance covers damages, legal claims, and disasters so your business can recover. Policies to strongly consider include:
General liability – Protects against 3rd party bodily injury, property damage, and negligence claims.
Child accident coverage – Specific policy covering injuries on premises.
Property – Reimburses for damage/theft of facility and equipment.
Workers compensation – Pays for employee injuries, and missed work.
Umbrella – Extra liability coverage for high claims.
To get insured, first determine necessary policies and desired coverage levels based on your operations and state laws. Then request quotes from multiple providers. Insure with a carrier offering optimal coverage at the best rate. Expect costs from $500 to $5000+ annually. Don't wait to insure – protect your daycare starting day one.
9. Create an Office Space
While daycares operate primarily in a dedicated childcare facility, having a small administrative office space can also be useful. An office provides:
A quiet place for planning lessons and events beyond regular operating hours when children are present. This supports curriculum development without distraction.
Storage for sensitive documents like contracts and medical/enrollment records, keeping them secure and private.
A professional meeting space when interviewing parents, teachers, and vendors. This leaves the main facility free for child activities.
An adult environment for completing computer work like managing enrollment, emailing parents, and running payroll. This avoids interrupting classrooms.
Consider these potential office setups:
Home Office
A home office in a spare bedroom or basement is the most convenient and affordable option at about $100-$200 in setup costs. However, having parents and vendors visit a private residence may seem less professional.
Coworking Office
Coworking spaces like WeWork provide open desk rentals starting at around $300 monthly. Many offer private meeting rooms to reserve as needed. This provides a flexible semi-professional environment without a long-term lease. However, shared spaces can be noisy and distracting.
Private Office
A stand-alone private office such as a rented medical or attorney office space offers quiet and privacy but lacks the collaboration benefits of a coworking environment. Expect costs of $600+/month. A retail shop with back-office space can also work but lacks childcare ambiance.
Commercial office
Renting full-time traditional office space is overkill for most daycare administrative needs. However, some childcare opts to purchase office condos attached to their facility for maximum convenience while building equity.
10. Source Your Equipment
A daycare requires a wide variety of equipment including furnishings, toys, safety gear, and learning tools. Stocking your facility can be done through buying new, buying used, renting, or leasing options.
Buy New
Purchasing new ensures you acquire clean, high-quality items that comply with safety standards. Shop specialty stores like Lakeshore Learning or Kaplan for durable kids' furniture, cribs, playground sets, educational toys, and art supplies specifically designed for daycares. Expect to invest $5,000-$10,000 outfitting each classroom.
Buy Used
Buying used saves substantially on costs. Search Facebook Marketplace, Craigslist, and OfferUp for local deals on gently used toys, playsets, cribs, and child-size tables and chairs. Thoroughly clean and inspect any used furniture for safety. Only buy equipment that meets state licensing standards to avoid issues.
Renting
Renting equipment periodically accommodates fluctuating enrollment without major upfront investment. Consider renting extra cribs, specialty learning tools like classroom iPads, and large seasonal items like water slides for summer camp. Children's party rental companies offer such items for short-term use.
Leasing
Leasing daily-use gear like cribs spreads costs over time. However, quality isn't guaranteed with items constantly cycled among businesses. Leasing works best for specialized medical equipment for children with extra needs.
11. Establish Your Brand Assets
Developing a strong brand identity helps your daycare stand out in the childcare market. A polished logo, website, signage, and marketing materials project professionalism and quality. This attracts prospective families seeking top-notch care.
Get a Business Phone Number
Start with an official business phone line using a service like RingCentral. Toll-free numbers make you accessible nationwide. Features like voicemail, call forwarding and texting centralize communications.
Design a Logo
Next, create a sleek logo that reflects your daycare's vibe. A company like Looka makes professional logos using your vision and budget. Options include abstract icons evoking childhood wonder, whimsical script fonts for a playful feel, and images of happy kids learning for an educational look. Your logo adorns all marketing collateral – make it distinctly yours!
Print Business Cards
Business cards and signage imprint your brand locally. Order quality card stock printed with your logo, tagline, address, phone, and website from Vistaprint. Distribute to parents and at community networking events. Post bold outdoor signs to improve the visibility of your daycare for commuting parents.
Get a Domain Name
Don't forget to purchase your custom domain name like YourDaycareName through a registrar like Namecheap. Choose an easy-to-remember URL containing your daycare's name and region.
Design a Website
Building an informational website using DIY sites like Wix lets you update content instantly. Or hire a freelancer from Fiverr for a fully custom responsive site integrating enrollment forms and payment processing. Your website showcases programs, photos, and testimonials for prospective families.
12. Join Associations and Groups
Joining local childcare associations, networking events, and online communities provides invaluable connections when starting a daycare. Don't go it alone – tap into others' knowledge.
Local Associations
Seek out early childhood education associations in your city or county. For example, the National Association for Family Childcare offers workshops on curriculum, resources on licensing, and advocacy for affordable childcare. Joining opens access to programs, conferences, and expertise from fellow local providers.
Local Meetups
Attend monthly or quarterly meetups hosted by associations to learn best practices and find job candidates. Rubbing shoulders with seasoned owners gives behind-the-scenes insights into thriving daycares. Use sites like Meetup to find relevant local networking events. Don't be shy – introduce yourself to potential mentors.
Facebook Groups
Search Facebook for private groups like Daycare Owners and Daycare Directors, Owners, and Administrators Support Group where providers share ideas, post job openings, and give product recommendations. Connect with owners across your state who have likely navigated the same regulatory environment and startup challenges. The online community supplements your local support system.
13. How to Market a Daycare Business
Marketing is crucial for attracting new families and filling your daycare's open spots. With thoughtful promotion, your enrollment will steadily grow.
Personal Network
Start with your network. Ask satisfied parents to endorse your daycare on social media. Offer a 10% discount for student referrals. Word-of-mouth is the best advertising. Get friends and family to hand out business cards and flyers for your new childcare business.
Digital Marketing
Use digital tactics like:
Google Ads – Targeted local ads based on parent search terms
Facebook Ads – Geo-targeted promos aimed at area parents
Email drip campaign – Automated emails guiding parents through enrollment
Monthly e-newsletter – Send curriculum updates and upcoming events
Blogging about child development – Share your expertise
YouTube how-to videos – Like music time singalongs
Traditional Marketing
Traditional options include:
Prominent roadside signage and banners
Flyers at pediatric offices, grocery stores, rec centers
Direct mail postcards to households with young kids
Ad in local parent magazine or newspaper
Sponsoring a Little League team and distributing coupons
Radio ads on local family-oriented stations
A billboard along major commuter roads (costly)
While digital marketing provides the best return on investment, local impressions with flyers, signs, and sponsorships help, too. Mix online and real-world tactics to cover all the angles in promoting your own business throughout the community.
14. Focus on the Customer
Providing top-notch customer service with your team of child care providers is crucial to retaining families and earning referrals. When you exceed your parents' expectations, your reputation spreads.
Some ways to improve customer focus for your child care center include:
Respond promptly to all inquiries with thoughtful guidance that shows you truly care about each child. Greet parents by name during drop-off and pick-up.
Give daily verbal updates on their child's activities and lessons.
Send weekly email newsletters recapping fun events.
Share photos documenting their child's projects and friendships. T
ag parents frequently on social media showcasing activities.
Make yourself available to immediately discuss any concerns.
Be flexible with scheduling changes when feasible.
Accommodate special food needs or learning accommodations.
Anticipate needs like extended hours during holidays or inclement weather.
Offer parenting classes and open houses.
Provide family-friendly community events to get to know parents beyond brief daily interactions.
When a family does choose to leave, conduct an exit interview to learn why and improve.
Providing an amazing customer experience helps turn parents into enthusiastic evangelists who refer friends. This organic word-of-mouth is the most valuable marketing. With genuine customer care and going the extra mile to show you cherish each child, your daycare will fill fast solely via happy parent referrals.