The lead generation market is making a mark on the world with a 2021 evaluation of $1,900.34 million. The compound annual growth rate (CAGR) is projected at 11.91% from 2021 to 2027. This means the market could reach $3,733.52 million by 2027.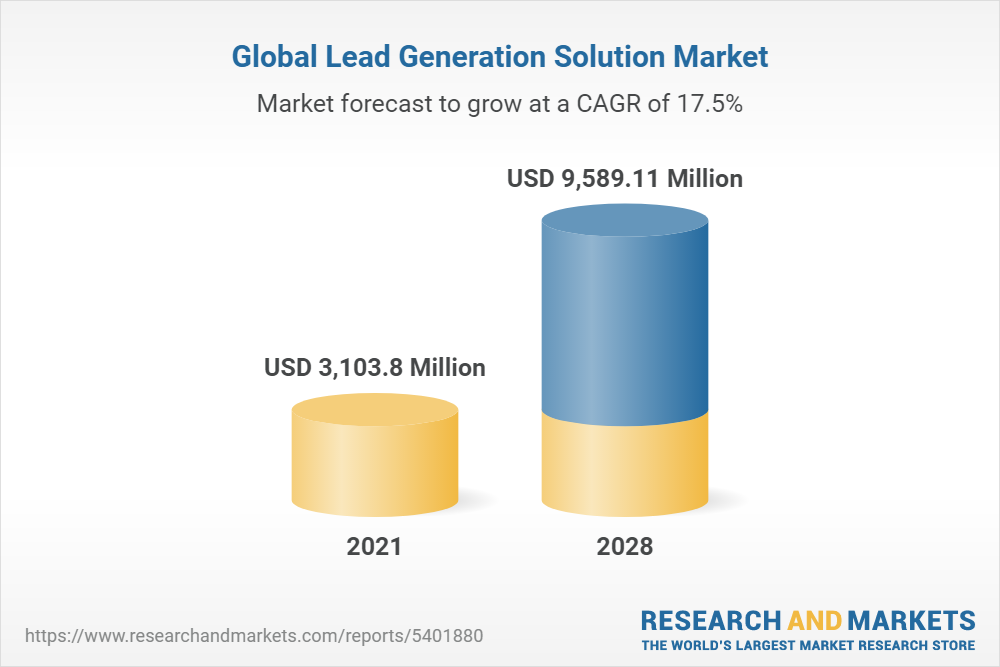 This comprehensive guide will walk you through how to start a lead generation business. You'll learn about market research, competitive analysis, registering an EIN, obtaining business insurance, and more. If you want to tap into the expansive lead gen market, you've come to the right place.
1. Conduct Lead Generation Market Research
Market research is an important part of building a lead-generation business. Market research offers valuable insight into your target market, market saturation, lead generation strategies, trends in competitive lead generation efforts, customer relationships management systems, and more.
Several factors make owning a lead generation company a lucrative opportunity right now:
More reliance on inbound strategies. Companies want to nurture and convert visitors versus cold calling. This requires a steady flow of interested leads.
Customer relationship management systems are top of the list.
Demand for specialization. Few companies can effectively run lead gen across multiple channels, niches, and technologies. Outsourcing to specialists is attractive.
Sales team expansion. With the rise of inside sales teams, businesses need more leads to meet growth targets.
Digital transformation. Companies new to digital need help generating online leads across social, SEO, paid ads, and more.
Compliance needs. Regulations like TCPA require legal lead-gathering processes. Specialists can navigate this better.
Data-driven marketing. Sophisticated lead scoring and nurturing depend on quality data that specialists can provide.
The rise of account-based marketing. Targeting high-value accounts requires in-depth data and segmentation.
Several lead generation business models are profitable right now:
Offering managed lead gen services to clients across various channels and campaigns. This model provides leads as a service.
Specializing in a niche like healthcare, finance, or real estate and becoming experts in related compliance, data practices, and sales cycles.
Focusing on specific high-ROI activities like email outreach, social media ads, event lead capture, or website conversion optimization.
Building and monetizing assets like email lists, landing pages, and premium online content to generate leads.
Providing technology and tools to automate and scale client lead gen efforts. This includes marketing automation, CRM, email tools, and more.
The time is right to capitalize on the demand. With the proper planning, execution, and marketing, new lead-generation businesses can capture market share, build recurring revenue streams through monthly retainers, and grow quickly. The key is specializing in high-ROI lead gen channels, technologies, and verticals.
2. Analyze the Competition
Understanding the competitive landscape is crucial for any new business, and lead generation is no exception. When assessing your competition, look at both offline and online players in your niche and region who offer similar services and compete for the same clients and leads.
For offline competitors like other local lead generation agencies, research their clientele, longevity, niche specialties, lead gen methods, and pricing. See if they have a strong regional presence and long-standing client relationships. This provides insight into what it will take to compete in your geographic area.
When evaluating online competitors, dive into:
Their website and lead gen content assets like blogs, guides, and tools. Analyze their SEO and traffic to gauge their reach and authority.
Social media presence. Look at follower counts, engagement levels, ad spending, and targeting. This shows their marketing prowess.
Advertising footprints such as PPC/retargeting campaigns, sponsorships, and partnerships. See which lead gen traffic sources and networks they value.
Client case studies and testimonials. Determine the types of clients and the results they showcase.
Online reviews and reputation. Multiple negative reviews can reveal weaknesses to capitalize on.
Email lists and lead magnets. Sign up and experience their lead capture and nurturing firsthand.
Monitoring competitors across these areas over time gives key insights into their lead gen positioning, blind spots, weaknesses, and more. With this intel, you can carve out your niche, highlight your differential strengths, and craft counter-positioning to stand apart. The analysis should inform your services, specialties, pricing, marketing, and areas you choose to "out-compete" rivals.
3. Costs to Start a Lead Generation Business
Getting a new lead generation business off the ground will require both upfront investments as well as ongoing operating expenses. Based on industry research and prior small business cost modeling, below is a comprehensive look at the likely costs involved:
Start-up Costs
Business registration fees – $50 to $150 depending on your state and business structure. Don't forget to factor in costs for drafting formation documents if using a lawyer.
Website building – $2,500 to $5,000+ for an optimized lead gen site with content, graphics, contact forms, and more. Ongoing hosting will run $25 to $100 monthly.
Initial software – $300 to $500 per month depending on needs. Includes CRM, email marketing, chatbot, and project management tools.
Office equipment – $2,000 to $5,000 for computers, phones, printers, furnishings and supplies.
Initial staffing – Consider 1-2 initial hires for sales, marketing, and operations at ~$4,000 per month salary plus ~$1,000 for benefits and employment taxes.
Working capital – Have at least 2-3 months of operating expenses banked as a buffer. For staff, software, office space, etc. this could mean $15,000+ on hand.
Professional services – $2,000+ for formation, consulting, branding, and legal review of contracts.
Lead gen tools – $100 to $300 monthly for initially paid ads, list acquisition, and lead magnet hosting.
Ongoing Costs
Staffing – This will expand over time. Industry averages are $55k salary and $15k benefits/taxes per inside sales rep and $65k and $18k per marketing pro.
Office space – Typical commercial lease of $1,000 to $1,500 monthly plus utilities. Could be more depending on location and size.
Software subscriptions – Will grow as you scale. Plan on $300 to $1000+ monthly for your core tech stack.
Marketing budgets – $2,500 monthly for things like ads, content promotion, events, and sponsorships to generate leads.
Professional services – Legal, accounting, consulting, etc. around $5000 annually.
General overhead – Utilities, repairs, insurance, minor equipment. Budget around $750 monthly.
Lead generation costs – Ongoing investments in paid channels, list building, etc. Size is based on your model but often 10-20% of revenue.
These projections indicate an estimated $55k – $85k in start-up costs based on key assumptions, followed by recurring monthly expenses between $12k – $25k. Actual costs will vary based on your location, team size, product mix, and more. But this provides a realistic benchmark for planning purposes.
4. Form a Legal Business Entity
When starting a lead generation business, one of the first key decisions is choosing your legal structure. The four main options each have advantages and drawbacks:
Sole Proprietorship
A sole proprietorship is the simplest and most common for solopreneurs. You operate under your name and income flows directly to you. This means no corporate setup costs, but also unlimited personal liability if sued. For lead gen businesses facing compliance issues or errors impacting clients, this liability is dangerous.
Partnership
Partnerships allow multiple owners to share control and liability. A general partnership is cheap and easy to establish with pass-through income, but partners are not protected from each other's actions. A limited partnership offers more protection for "limited" partners but requires a formal agreement. Partnership disputes can disrupt the business.
Limited Liability Company (LLC)
A limited liability company (LLC) provides personal liability protection like a corporation without double taxation of income. For lead gen businesses, the liability shield is critical considering the frequent lawsuits and compliance actions in the industry. LLCs allow pass-through taxation, flexible distribution of profits, and less recordkeeping than corporations. Most lead-gen companies are structured as LLCs.
Corporation
A corporation shields owners from liability and allows for easier expansion through the sale of company stock. However, lead-gen businesses won't typically benefit from stocks and the double taxation of dividends. Documentation and recordkeeping requirements are also more cumbersome. Still, C-corps offer the strongest protection when sued over a botched lead gen campaign.
5. Register Your Business For Taxes
One of the key legal steps for any new business is obtaining an Employer Identification Number (EIN) from the IRS. This unique identifier is critical for opening business bank accounts, applying for licenses, hiring employees, and more.
Unlike a Social Security Number, an EIN is specifically for tax purposes and identifies your business as a distinct legal entity. This is required for lead gen companies to legally operate, collect revenue, and pay taxes.
The good news is applying for an EIN is a fast and free process that can be completed entirely online via the IRS website. Here are the step-by-step instructions:
Navigate to the EIN Assistant and review the requirements to ensure you have the right documentation ready.
Select the appropriate applicant type for your business structure. For most lead gen companies, you'll choose Limited Liability Company (LLC).
Provide basic information about your LLC such as name and address.
When asked about the responsible party, enter your name, SSN, and position.
Select your main reason for applying. For lead gen businesses, choosing "Started a new business" is appropriate.
Specify whether you want the IRS to mail your EIN confirmation or have it viewable immediately.
Carefully review all entries to ensure accuracy before submitting.
Once approved, your EIN will be provided on the spot. Keep this in a safe place as you'll need it frequently for business purposes. Don't forget to also complete state-level registration and apply for any required sales tax IDs. With your EIN in hand, you can start ticking off key legal and financial milestones in launching your lead generation business.
6. Setup Your Accounting
With fluctuating monthly revenue and frequent client invoices, rigorous accounting is crucial for lead-generation companies. Missing key financial data can result in painful IRS penalties and audits down the road. That's why upfront investments in accounting software and professionals pay major dividends.
Open a Business Bank Account
Begin by separating personal and business finances. Open a dedicated business bank account that will house all revenue and pay all expenses. This segmentation makes reconciliation and reporting much easier come tax time.
Accounting Software
Next look into small business accounting solutions like QuickBooks to centralize tracking of invoices, expenses, payments, and more. The automation and integration with bank/credit card accounts saves tons of manual data entry and improves accuracy. Plans start around $30/month.
Hire an Accountant
While the software does the heavy lifting, partnering with an accountant takes stress off your plate. A qualified bookkeeper can handle tasks like monthly close, fixed asset tracking, and payroll. Expect to invest around $300 to $500 monthly for these services.
Come tax season, your accountant will be invaluable. From managing quarterly estimated payments to producing financial statements and your annual tax return, they save you time and potential IRS issues. Year-end preparation typically costs between $1000 – $3000 depending on your needs.
Apply for a Business Credit Card
A key accounting consideration is establishing business credit in your company name. While personal cards work initially, specialized business credit cards offer higher limits and keep expenses separate. Limits are based on your company's revenue, time in business, and credit score.
7. Obtain Licenses and Permits
Before taking on clients or generating leads, new lead gen companies must have proper licensing and permissions in place. Find federal license information through the U.S. Small Business Administration. The SBA also offers a local search tool for state and city requirements.
City/local business licenses – Most cities and counties require all businesses operating in their jurisdiction to be registered and licensed. Fees are generally under $100 annually. This allows you to legally operate, proves you comply with zoning regulations, and provides the city visibility for potential audits or legal issues.
Fictitious business name filing – If your company name doesn't contain the full legal name of the owner(s), you must file a "Doing Business As" in your state to register your chosen business name. This prevents brand confusion and protects your name. Costs range from $10 to $50.
Data security compliance – Depending on where leads are sourced and how data is managed, your business may need compliance with regulations like HIPAA or GDPR to legally handle sensitive information. Failure can mean heavy fines.
Professional certifications – Some lead gen niches like mortgage, insurance, and legal require certain professional licenses to operate. Research rules for your focus area.
Phone/text regulations – Telemarketing and text message laws limit outreach methods. Get familiar with TCPA and other rules to avoid illegal calling or texting. Fines per violation can be over $15k.
Seller's permit – If selling taxable goods or services directly to consumers, most states require a seller's permit or sales tax license to collect and remit sales tax. Some states have no minimum sales requirement.
Subscription billing – If charging recurring fees on credit cards, you may need authorization and PCI compliance to protect cardholder data. This ensures continuity billing adheres to card network rules.
8. Get Business Insurance
Protecting your new lead generation business with adequate insurance is crucial. Without proper coverage, a single incident could destroy everything you've built. At a minimum, consider these three policies:
General liability insurance covers legal costs and judgments if you're sued over property damage, personal injury, or errors like sending leads to the wrong client. Without it, you could go bankrupt from one mistake.
Professional liability insurance (errors & omissions) shields your business if clients allege negligence, misrepresentation, or inadequate service related to a lead gen campaign. Lawsuits are common in lead gen.
Cyber liability insurance is critical for managing hacks, data breaches, and digital privacy incidents. Leaving client data vulnerable could quickly lead to major lawsuits.
Going without insurance leaves you catastrophically exposed. Imagine these scenarios:
A hack exposes thousands of leads' private data, resulting in massive government fines.
Botched lead harvesting accidentally spams phone numbers on the National Do Not Call Registry, incurring TCPA penalties.
Faulty lead segmentation sends the wrong prospects to a client who then sues for major damages.
Getting insured is straightforward. Determine your coverage needs and get quotes from multiple providers like Progressive. Then, follow these steps:
Choose a policy and provider that fits your budget and requirements.
Complete the online application providing details about your business.
Get approved and issue payment to activate coverage.
Obtain documentation of active insurance for your records.
With strong policies in place from the start, you gain peace of mind knowing your lead gen business is protected from the many legal and digital risks. Don't wait to get insured.
9. Create an Office Space
While many aspects of lead gen can be handled remotely, having a professional office space provides credibility, collaboration, and separation from home life. The right office setup also allows for client meetings, prospect calls, training sessions, and team gatherings. Here are some potential options to consider:
Home Office
A home office works initially or for solopreneurs, saving commute time and costs. Dedicate a private room only for work, furnish professionally, and use virtual meeting tools to appear legit to prospects. Lack of collaboration and no client visits limit growth. The cost is just furnishing/utilities – likely under $150 monthly.
Coworking Office
Coworking spaces like WeWork provide open desk rentals for around $300 monthly plus dedicated private offices for $600. You get a collaborative community and space for client meetings, without major leases. Scaling teams flexibly is easy but noise can disrupt calls.
Retail Office
Retail office spaces are worth considering if you want walk-in lead opportunities. High foot traffic allows lead collection on-site via your website/offers. Rental costs vary based on location and market but expect $2000 monthly. Requires significant marketing to drive prospects in and isn't scalable long-term.
Commercial Office
A commercial office space with a 2 to 5-year lease offers the most control and room to expand your company. Expect $1000 to $3000 monthly for 3-5 offices, plus buildout costs. Allows brand customization and security but requires more capital. Best for established agencies.
10. Source Your Equipment
Launching a lead generation venture doesn't require major upfront equipment purchases if you leverage the right channels. Here are some options to cost-effectively secure the tech and gear you need:
Buying New
For the latest equipment, retailers like BestBuy and Amazon supply laptops, phones, printers, furnishings, and more. Shop end-of-year sales for deals up to 50% off. Expect at least $1500 to $2000 for a basic hardware setup buying new.
Buying Used
Great for saving costs, marketplaces like Craigslist, Facebook Marketplace, and eBay frequently list discounted office equipment from shuttered businesses. Vet sellers thoroughly inspect items, but you can save 50% or more by buying quality used gear.
Renting
With no upfront cost, renting hardware through vendors like Dell Technologies Finance flexibly meets your needs with routine upgrades. However, monthly fees from $100-$300+ per system add up over time. Use for essentials you can't buy affordably.
Leasing
More contractual commitment than renting but offers new equipment with baked-in maintenance/insurance. Typically 2 to 4-year terms at $200-$500 monthly with a buyout option. Helps manage tech turnover demands.
11. Establish Your Brand Assets
Developing a strong brand identity is crucial for lead generation companies to stand out and be remembered. By investing in branding early on and ensuring high-quality leads, you build awareness, recognition, and trust with your audience.
Get a Business Phone Number
Begin by securing a professional business phone system. Services like RingCentral provide toll-free numbers, call routing, IVR menus, and voicemail transcriptions starting at $30/month. This elevates your image when prospects call while enabling remote work.
Design a Logo
Create a memorable logo and visual identity. Options like Looka make logo design easy with AI-generated concepts from $20. Opt for simple yet distinctive designs that convey your brand.
Print Business Cards
Complement your logo with templates for emails, ads, proposals, and more. Consistent branding builds familiarity. You can even design marketing materials like flyers and brochures on Vistaprint starting at $10.
Don't forget professional business cards, a must for networking and sales meetings. Include names, titles, phone numbers, emails, taglines, and your new logo.
Get a Domain Name
Securing a domain name for your website and emails gives you control over your brand online. Use .com when available and make it easy to remember. Just $12/year with Namecheap.
Design a Website
Building a lead-gen website quickly is possible even without coding skills using sites like Wix. Expect $12 to $40 monthly. For a truly custom site, you can hire web developers on Fiverr with rates starting around $500.
12. Join Associations and Groups
Joining relevant local groups and associations is a smart move when starting a lead gen company. Surrounding yourself with like-minded professionals provides camaraderie, ideas, and potential partnerships.
Local Associations
Seek out local lead generation associations to connect with. For example, your city may have chapters of the American Association of Inside Sales Professionals (AA-ISP). Memberships start at around $100 annually for access to events and resources.
Local Meetups
Attending local startup/entrepreneur meetups is also invaluable. Try Meetup to find free events covering small business topics from networking to marketing and growth hacking. Swapping stories with fellow founders keeps you motivated while learning new approaches.
Facebook Groups
Don't underestimate LinkedIn Groups locally and Facebook Groups more broadly:
Join conversations to showcase expertise, seek feedback on challenges, and forge connections. With the right local and online networking, you gain insider advice while expanding your lead gen sphere of influence.
13. How to Market a Lead Generation Business
Implementing an effective marketing strategy is essential for lead-gen companies to attract prospects and drive growth. While your services and expertise are key, foundational marketing establishes visibility and trust in your brand.
Personal Networking
Leverage your inner circle first through word-of-mouth referrals. Satisfied clients who endorse you to their network are powerful. Consider offering $100 referral bonuses to incentivize introductions to your lead generation agency.
Digital Marketing
As you expand marketing for lead generation services, focus on targeted digital tactics with measurable ROI:
Search ads through Google Ads reach those already seeking your services. Target keywords related to lead generation, sales readiness, etc. Low costs per click but adds up.
Facebook and Instagram ads allow precise targeting by job role, company, and interests. Create lookalike audiences from your ideal clients. Expect to invest $500+ monthly for results.
Retargeting ads follow site visitors across the web to nurture engagement. Keep your brand top of mind until they convert. The cost per impression is low at around $0.50.
Start a YouTube channel sharing lead gen tips, tutorials, and client testimonials. Rank for valuable search terms and build authority.
Guest posts on lead gen blogs and industry sites like Business2Community to display expertise. Focus on backlinks and brand exposure.
Launch your blog sharing insider lead gen tactics. Promote posts on social media and LinkedIn.
Traditional Marketing
Traditional tactics still warrant consideration when marketing sales-qualified leads:
Billboards on major highways spread brand visibility, with monthly fees around $750-$1500 depending on size and location.
Local radio ads can resonate but are tested carefully to justify spend based on conversions. Expect at least $500 for production and $200+ per spot.
Print mailers enable personalized outreach and connections, though less effective for mass awareness. Target key accounts and roles.
Network at local chamber and industry events to connect directly with potential clients. Prioritize the ones your audience already attends.
Lead generation campaigns are a business-to-business endeavor, providing networking opportunities for businesses in a variety of industries.
A blended approach allows you to meet prospects however they research and discover new services. Dedicate 80% or more of your budget to data-driven digital while supplementing with traditional methods. Let results dictate future investments for the highest ROI path to growth.
14. Focus on the Customer
Providing exceptional customer service is crucial for lead generation companies to retain clients, earn referrals, and fuel growth. Increase customer focus through qualified leads and by catering to your target audience. Some ways to improve customer focus include:
By proactively updating customers on campaign performance, responding quickly to inquiries, and admitting mistakes, you demonstrate respect for the relationship.
Exceed expectations with perks like custom analytics dashboards to showcase ROI, or complimentary lead list scrubs before deployment. Little frills surprise and delight.
When issues inevitably occur, own the problem and present solutions, not excuses. Clients will judge you not on errors, but on how you make it right.
A quick credit or service upgrade can turn frustration into appreciation.
Most importantly, gather feedback regularly through surveys, calls, and meetings.
Use insights to continuously refine and improve. This feedback loop enables you to deliver maximum value.
With other lead gen options, clients have short patience. But companies who feel genuinely cared for through engagement, transparency, and accountability become advocates.
In lead generation, service is the ultimate differentiator and growth driver. Make it a habit to wow each client and all potential customers, and your reputation will spread.