The global stock market is growing in leaps and bounds, hitting $14.22 billion in 2023. With a projected compound annual growth rate (CAGR) of 2.89%, now's a great time to get involved in the socks business industry.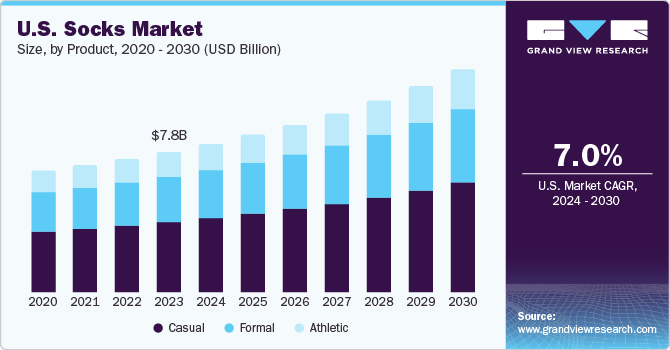 Have you ever thought about stepping into the sock game yourself? It's an enticing prospect. The barriers to entry are relatively low, and everyone needs socks. But like any business, launching a successful sock brand takes careful planning and execution.
This article will walk you through the step-by-step process of how to start a sock business. From idea to launch, you'll learn insider tips on sourcing high-quality materials, marketing, building a brand, finding an office space, and more. Follow our guidance, and you'll be ready to bring your creative sock designs to life.
1. Conduct Sock Market Research
Market research comes in two forms, primary and secondary. Primary research is first-person research you perform yourself. Secondary is research performed by a third party. Market research offers insight into how to sell socks online, trends in the sock business industry, top social media platforms to sell through, and more.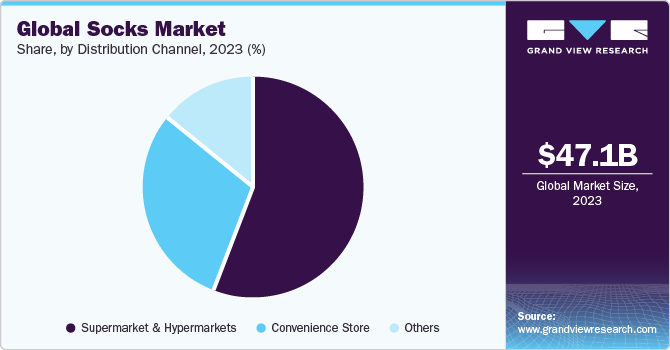 In the US specifically, the stock market was estimated at $7.16 billion in 2018.
The average annual expenditure on socks per consumer household was $96 in 2018 according to Packaged Facts.
With 118.57 million households in the US as of 2021, the total addressable market just for US consumers is over $11 billion annually.
Socks have shifted from a basic necessity to a fashion accessory in recent years.
Fun prints, bold colors and patterns, licensed characters, and specialty materials like bamboo and compression fabric have expanded the market.
Athletic and performance socks are also seeing increased demand. As a startup sock brand, you can target any of these growing segments.
E-commerce presents a huge opportunity for a DTC sock brand. The online sock market is projected to grow at a CAGR of over 8% from 2022 to 2028 according to Fact.
MR. Retail e-commerce sales of apparel and accessories, including socks, totaled $121.47 billion in 2021.
Social media and influencer marketing provide effective channels to build brand awareness and convert fashion-forward online shoppers.
If you want to get socks into traditional brick-and-mortar retailers, specialty and department stores offer solid placement opportunities.
Popular retailers that carry socks include Target, Walmart, Kohl's, Nordstrom, DSW, and Journeys.
Independent boutiques may also be receptive to a unique sock brand, especially if you can tell a compelling brand story.Starting an e-commerce sock brand can be done for an initial investment of $10,000-$30,000 including inventory, website, marketing assets, legal fees, and working capital according to some estimates.
For a startup with retail ambitions, $50,000-$100,000 is recommended to cover larger minimum order quantities and trade show costs.
The sock market provides a wealth of opportunities for new brands able to deliver exciting designs and connect with customers. Let creativity and smart business decisions be your guide, and you can be the next successful socks business owner.
2. Analyze the Competition
Thorough competitive analysis is crucial when launching a new sock brand. First, identify your direct competitors by searching for other sock companies selling similar styles, materials, and price points.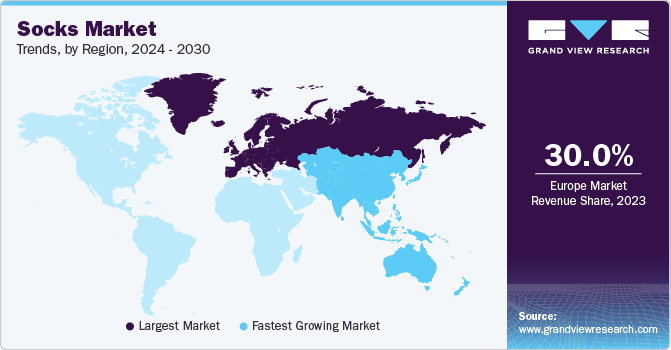 Analyze their websites and social media presence for things like:
Product selection – Do they offer crew, no-show, dress, or athletic socks? What fabrics and features? How wide is the product line?
Pricing – Check pricing across their line. Compare similar sock styles. Are they competing on price or positioning as premium?
Brand messaging – What need or emotion are they appealing to? What makes their brand unique?
Website design – Is the site optimized for UX and conversions? What can you learn from their layout, content, and calls to action?
Marketing channels – Do they rely on social ads, influencers, content marketing? Which platforms are working best?
Ratings and reviews – See what customers say about quality, fit, and style. Look for common complaints.
Some other ways to check out competition in the socks market include:
Retailers visit brick-and-mortar stores carrying the brands to evaluate in-store branding, packaging, merchandising, and pricing.
Search for sock brands on e-commerce marketplaces like Amazon to see top sellers and analyze demand. Sort by Best Selling to see top socks.
Check reviews and determine why customers purchase those over others.
Google Trends and keyword tools like SEMrush can reveal search volume and demand for sock styles, features, brands, and related keywords.
Use this data to inform your designs and marketing.
Social listening with tools like Mention can uncover conversations and sentiments around competitor brands.
Track this over time to follow their growth and marketing campaigns.
Analyzing competitors gives valuable intel to differentiate your positioning and messaging. It also helps set competitive pricing and uncover the in-demand styles and features to incorporate into your sock designs.
3. Costs to Start a Sock Business
When starting a sock business, there are a variety of one-time start-up costs to consider.
Start-Up Costs
Product Design – $2,000-$5,000 Creating fashionable, functional sock designs is crucial. Costs include hiring a designer and/or purchasing design software.
Product Sampling – $1,000-$3,000
Having test socks professionally knitted allows you to perfect the fit and quality before full production.
Website – $3,000-$8,000 A custom-branded e-commerce site to showcase products and accept online orders is a must.
Branding Assets – $1,000-$2,500 Professional logo design, branded labels, hang tags, packaging, and marketing materials help establish a consistent brand image.
Product Photography – $500-$2,000 Showcasing sock designs on models through lifestyle photography drives sales.
Inventory – $10,000-$30,000 The initial order of sock inventory can range from 1,000 to 5,000 dozen pairs for an e-commerce startup.
Sock Manufacturing Equipment – $5,000-$15,000 (optional) Knitting machines or looms allow manufacturing socks in-house vs. outsourcing production.
Retail Displays – $2,500-$5,000 (for retail sales) Acrylic sock display walls and floor spinners help merchandise socks in-store.
Legal/Registration Fees – $1,000-$2,000
Costs include trademark registration, establishing a business entity, and any required permits/licenses.
Working Capital – $5,000-$20,000 Additional funds needed to cover operating expenses like marketing until sales revenue kicks in.
Total Estimated Start-Up Costs: $30,000-$100,000.
Ongoing Costs
Rent – $1,000-$4,000 for office/retail space
Utilities – $300-$800
Insurance – $100-$300
Office Supplies – $100-$500
Packaging supplies – $50-$500
Product replenishment – $5,000+
Payroll expenses – $2,000-$10,000+ (employees' wages, taxes, benefits)
Selling fees – 10-15% of sales for marketplaces
Chargeback fees – $20-$40 per chargeback
Marketing expenses – $500-$5,000+
Accounting services – $200-$500
Major annual costs:
Inventory replenishment – $50,000+
Website hosting/maintenance – $500-$2,000
Trade shows – $3,000-$10,000
Product liability insurance – $1,000-$5,000
Starting inventory, payroll, marketing, and product replenishment represent the highest ongoing costs. Carefully forecast demand and manage cash flow to account for these.
4. Form a Legal Business Entity
When starting a sock business, one of the first key decisions is choosing the right legal structure. The four main options each have pros and cons to weigh.
Sole Proprietorship
A sole proprietorship is the simplest and most common structure for new entrepreneurs. You can operate under your name with minimal setup costs. However, you have unlimited personal liability for debts and legal issues arising from the business. This makes a sole proprietorship a risky choice for a sock company.
Partnership
Forming a general partnership with a co-founder shares responsibility and resources. But like a sole proprietorship, partners have unlimited personal liability. Disputes between partners can also cause issues. The lack of protection makes a general partnership ill-advised.
Limited Liability Company (LLC)
An LLC (limited liability company) provides personal liability protection while allowing pass-through taxation like a partnership. Members' assets are shielded from company debts and lawsuits. LLCs have more credibility with retailers and consumers than sole proprietors. Startup costs are low and the management structure is flexible, The LLC is suitable whether starting the sock business solo or with partners.
Corporation
Establishing a corporation creates a separate legal entity from the owners. It offers the highest level of protection but also more complex regulations. Startup and operational costs are high. The corporate structure better suits an established sock manufacturer, while an LLC provides ample protection for a startup sock brand.
5. Register Your Business For Taxes
An EIN, short for Employer Identification Number, is a unique 9-digit number used to identify a business for tax purposes. The IRS issues EINs, and they are required when forming a legal business entity like an LLC or corporation.
An EIN is crucial for your sock business because it allows you to open business bank accounts, apply for business licenses and permits, file tax returns, hire employees, and more. Without an EIN, you won't be able to properly operate or get your sock business off the ground.
The good news is applying for an EIN from the IRS is free and easy to do online. Simply follow these steps:
Go to IRS.gov and search "Apply for an EIN Online". Click the link to access the EIN Assistant.
Select the type of legal entity you formed for your sock business.
When prompted, provide basic information on your business name, address, and ownership structure.
Submit your application and the EIN will be issued immediately.
The whole process only takes about 10-15 minutes. The EIN Assistant walks you through each question and handles direct communication with the IRS to get your EIN assigned right away.
In addition to your federal EIN, don't forget to register for state and local tax IDs. Check requirements for sales tax permits, payroll taxes, and other licenses for operating your sock business in your state and municipality. LegalZoom and your Secretary of State website have resources to guide you through local registration.
With your shiny new EIN, you can take the necessary steps to make your sock business fully legal and ready for success. The EIN also enables you to stay tax-compliant as your company grows.
6. Setup Your Accounting
As a sock entrepreneur, properly managing your finances and taxes may not seem exciting, but it's critically important. Solid accounting and bookkeeping practices help ensure your sock business remains legally compliant and fiscally healthy.
Open a Business Bank Account
Arguably the most vital step is separating your business and personal finances. Open a dedicated business checking account to keep all sock company money flows separate from your funds. Never co-mingle money to avoid headaches come tax time.
Accounting Software
Cloud accounting software like QuickBooks streamlines managing your social business's finances. QuickBooks automates tasks like invoicing, tracking income/expenses, generating financial statements, and more. It seamlessly syncs with your business bank and credit card accounts for easy data import. This gives you real-time visibility into your financials.
Hire an Accountant
While QuickBooks handles much of the day-to-day accounting needs for your sock company, partnering with an accountant is still recommended. A bookkeeper can handle tasks like accounts receivable/payable, payroll, monthly close, and expense categorization in QuickBooks for maximum accuracy.
Apply for a Business Credit Card
Opening a dedicated business credit card is also advised. Business cards don't use your credit, so sock company spending won't impact your credit score. The card provides transparency into where company dollars are spent. Just be sure to pay it off in full each month.
7. Obtain Licenses and Permits
After forming your legal business entity, acquiring the necessary licenses and permits should be a high priority before selling your first sock. Find federal business requirements through the U.S. Small Business Administration. The SBA also offers a local search tool for state requirements.
At the federal level, the FTC requires sock companies to follow strict labeling requirements under the Textile and Wool Acts. All materials used must be disclosed, along with the company name, country of origin, care instructions, and other details. Familiarize yourself with these Acts to ensure your sock packaging and tags meet expectations.
Additionally, if your sock business imports materials or finished goods, you will need an Importer of Record (IOR) registration number from U.S. Customs and Border Protection. This allows your company to legally handle importing sock products and materials.
Registering for an IOR takes just a few minutes on the CBP website. You'll need your business's EIN and corporate documents. Once approved, the IOR number can be used for all your company's imports and must be provided to your international suppliers.
At the state level, a sales tax permit will be required to legally collect and remit sales tax on sock orders to your state department of revenue. Sales tax rates vary by state so proper registration for your business location is a must.
States also require filing a DBA ("Doing Business As") for your sock company's trade name if it differs from your legal business name. The DBA registers your sock brand's name and allows you to open business bank accounts and accept payments using that name.
Many states have wholesale licensing requirements for companies selling products to retailers. A wholesaler license may be needed if you plan to distribute your sock lines through boutiques, gift shops, or department stores.
Locally, your city or town may also mandate obtaining a business license to legally operate. Common local licenses include a home occupation permit if based out of your residence, a health department permit if preparing food, and a resale certificate for collecting local sales tax.
Inspect zoning regulations as well to confirm your sock business meets the requirements to open in the planned location and neighborhood. Commercial zones have different ordinances than residential areas in most cities.
8. Get Business Insurance
Operating a sock business without adequate insurance opens the door to substantial financial risk. The right insurance policies help safeguard your company's assets and protect against liability in the event of unforeseen incidents.
For example, imagine a fire destroys your office and all sock inventory. Or a factory error ruins 50,000 pairs of socks, forcing refunds to major retailers. Or worse, a customer trips wearing your socks and sues for significant damages.
Without insurance, these scenarios could instantly put you out of business. The costs to rebuild and cover legal liabilities would be crushing blows most bootstrapped startups can't overcome.
The good news is getting properly insured is straightforward. Follow these steps:
Determine your risks – Consider potential sources of property damage, inventory loss, customer disputes, and other exposures specific to your sock business.
Research policy options – Common recommendations include general liability, business property, errors and omissions, and product liability insurance. But speak with providers to choose what's right for your sock company.
Get quotes – Reach out to providers like Hiscox, The Hartford, and Fabricant and Sons for quotes. Compare premiums, coverage, and policy terms.
Purchase a policy – Select a provider that offers comprehensive coverage at a reasonable rate. Pay premiums on time to keep your policy active.
Review annually – Re-evaluate your insurance needs as your sock business evolves. Expand policies as risks change.
Don't cut corners with inadequate or non-existent business insurance. The peace of mind afforded by the right policies is well worth the investment for your growing sock brand.
9. Create an Office Space
Having a dedicated office provides a professional home base for your growing sock company. An office allows meeting with suppliers, designing socks, handling logistics and inventory, meeting employees, and running the business day-to-day.
Home Office
Operating initially from a home office is a cost-effective option. Dedicate a room as your design studio and office space. Expect costs of $100-$300 for basic office furniture and equipment. The main downsides are a lack of separation from home life and the inability to meet in person with business partners or team members.
Coworking Office
As your startup scales, a coworking space like WeWork offers an affordable office alternative. Open floorplans and shared amenities keep costs low at around $300-$800 per month. You gain access to conference rooms for meetings and networking opportunities, and the flexibility to ramp up or down as needed. However, privacy is limited and space is typically restricted.
Retail Office
If selling socks at brick-and-mortar retail, a small office attached to your store provides convenience. Paying $1,000-$2,500 in rent isn't ideal but onsite access enables handling daily operations right where the business happens. Just ensure enough space for inventory storage.
Commercial Office
Leasing a commercial office space provides the most professional setup as your revenues grow. Expect $1,000-$4,000+ in monthly rent depending on size, location, and class of building. Access to meeting rooms, parking, and customizing the space to your needs are benefits. Costs are higher but project legitimacy for customers and business partners.
10. Source Your Equipment
Whether buying new or used, renting, or leasing, as a new sock entrepreneur you have options when acquiring the necessary equipment and materials for production and operations.
Buy New
Buying new knitting and sewing machines, inventory shelving, office furniture, and other items from retailers ensures everything is in top condition. Sock knitting machines like those from SK280 Knitting Machine start around $2,000-$3,000 new. Expect to pay MSRP or higher for specialty equipment from authorized dealers.
Buy Used
Purchasing lightly used equipment can significantly reduce startup costs. Check auction and classifieds sites like eBay, Craigslist, and Facebook Marketplace for deals on previously owned tools and equipment. For example, you may find sock knitting machines for 50% less than retail. Inspect anything carefully before purchasing.
Renting
Renting equipment as needed provides flexibility without big upfront costs. Online marketplaces like Rentequip.com allow searching inventory availability and reserving rental equipment or tools for the duration required. This works well for intermittent needs like additional shelving during peak seasons. Just confirm rental delivery/pickup options.
Leasing
Leasing equipment through an authorized dealer spreads payments over time rather than one large lump sum. While more expensive long-term, this preserves capital for other startup costs. Be sure to negotiate fair monthly rates and account for equipment ownership transferring to you over the lease term in the contract terms.
11. Establish Your Brand Assets
Crafting a compelling brand identity is crucial for making your sock company stand out in the market and connect with customers. Investing in core brand assets brings your vision to life and fosters brand recognition.
Get a Business Phone Number
Acquire a professional business phone number with advanced features through providers like RingCentral. Toll-free and local numbers convey legitimacy and give customers reliable support access.
Design a Logo
A logo epitomizes your brand. Consider an icon representing your socks, an abstract mark, or an illustrative logo. Companies like Looka make professional design simple and budget-friendly. Ensure your logo appears across branding materials for consistency.
Print Business Cards and Signage
Business cards enable networking and sales opportunities. Vistaprint offers affordable, custom-printed cards showcasing your logo, contact info, tagline, and brand colors. Have cards on hand for trade shows, store visits, and client meetings.
Signage and branded displays draw attention at trade shows and your retail store, if applicable. Again, showcase your logo and tagline prominently. Vistaprint has a range of banners, posters, and displays for purchase.
Get a Domain Name
Secure a domain name that matches your sock brand for credibility. Aim for your first choice or variations like .company and .shop if taken. Namecheap makes registering domains fast and inexpensive.
Design a Website
Building a custom website establishes your digital presence. Consider an online store to sell direct or informational sites. With DIY website builders like Wix, you can create a polished, responsive site without coding expertise. Or hire a skilled web developer on freelance platforms like Fiverr for added functionality.
12. Join Associations and Groups
Joining relevant local organizations and online communities provides invaluable connections when starting a sock business. Surround yourself with like-minded entrepreneurs and industry experts for support.
Local Associations
Seek out a local chapter of a national association like the American Apparel and Footwear Association (AAFA). The AAFA has dozens of city councils across the US focused on clothing and footwear manufacturing. Attend member events to gain insights from experienced professionals.
Local Meetups
Attend relevant meetups and trade shows to network, learn best practices, and showcase your sock designs. Platforms like Meetup make finding local events simple. Search terms like "fashion industry" and "apparel manufacturing" to find upcoming opportunities.
Facebook Groups
Online communities provide support and advice at scale through Facebook groups like the Gloves, Socks & Underwear Makers and Sock Knitting Addicts. Use Facebook Groups to find support, connect with other sock business owners, and engage with the global socks market.
13. How to Market a Sock Business
Implementing an effective marketing strategy is essential for getting your unique sock designs in front of customers and driving sales. While marketing requires an investment, with the right approach you can build meaningful connections and see a valuable return.
Personal Networking
Start by tapping into your personal and professional networks. Offer discounts for referrals and endorsements. Satisfied customers validating your brand carries significant influence. Install referral programs to incentivize sharing.
Digital Marketing
Digital marketing opens up targeted, cost-efficient channels to connect with sock-lovers worldwide. Useful tactics include:
Google Ads – Drive traffic to your site and sock products by displaying ads on the Google search network and partner sites using relevant keywords.
Facebook/Instagram Ads – Create social media ads to reach niche demographics interested in socks, fashion, crafting, and more. Leverage precise interest and lookalike targeting options.
Email Marketing – Send promotional and informational emails to website subscribers announcing new sock arrivals, specials, styling tips, and brand updates. Mailchimp makes creating and managing email campaigns simple.
Influencer Marketing – Send free socks to prominent social media influencers in hopes of earning a review, stylist post, or brand shoutout to their loyal followers. Micro-influencers in the craft space are ideal.
Blogging – Publishing blogs about sock trends, care tips, holiday gift guides, and 'behind-the-seams' company updates boosts site traffic and authority. Promote new blog posts on social media.
Traditional Marketing
Traditional marketing still offers value for sock brands through:
Trade Shows – Exhibit your latest sock lines at industry shows to get in front of wholesale buyers, retailers, manufacturers, and media contacts.
Local Events – Sponsor events or offer socks as raffle prizes to get community visibility. Ideas include fun runs, craft fairs, and school fundraisers.
Print Ads – Consider print ads in craft magazines and apparel trade publications read by potential wholesale accounts, sock knitters, and others in your target market.
Direct Mail – Send postcards, catalogs, or special promotional mailers to website customers and prospective accounts announcing new products. Include discount codes.
A strategic mix of digital and traditional marketing gives well-rounded exposure. Track metrics to see what resonates most with your audience and double down on what works.
14. Focus on the Customer
Providing exceptional customer service needs to be a top priority, especially in the early days of your sock business. How you support customers directly impacts your brand reputation and sales growth. Some ways to improve customer focus in your online business and sock shop include:
Make sure your website has clear sizing charts, product descriptions, shipping info, and ways to contact support. Respond quickly and knowledgeably to pre-sale questions to build trust.
When customers receive their orders, follow up to ensure satisfaction and fix any issues immediately. Handling problems with care earns loyalty and referrals.
For example, if a customer reports a hole developing after a few wears, offer to replace the socks or refund their order, even if beyond the return period.
Going above and beyond creates positive word-of-mouth marketing.
The customer may then enthusiastically tell friends and family about the amazing service from your sock company.
Enthusiastic referrals make future sales much easier by having built-in credibility.
Online reviews also give you a chance to showcase great service.
Follow up with happy buyers asking them to leave a review of their experience purchasing your socks. This provides social proof when other buyers are researching your brand.
Striving to over-deliver on service demonstrates your commitment to quality craftsmanship and customer happiness. The value of referrals and organic reach generated makes the extra effort well worth it.