The box truck industry is booming, with box trucks projected to grow at a compound annual growth rate (CAGR) of 7.1% from 2023 to 2030. This growth represents a huge opportunity for aspiring business owners looking to capitalize on the need to transport goods across the country.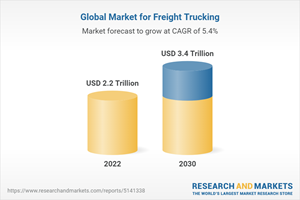 With lower startup costs than a semi-truck, box trucks allow entrepreneurs to be their boss without the big price tag. In this guide, we'll discuss how to start a box truck business. We'll cover topics like market research, competitor analysis, obtaining licenses and insurance, registering your EIN, and more.
1. Conduct Box Truck Industry Market Research
While figuring out how to start a box truck business, market research is critical. There are two types of market research, primary and secondary. Primary research uses first-person data, gathered by yourself. Secondary research uses third-party data collected from government and marketing websites.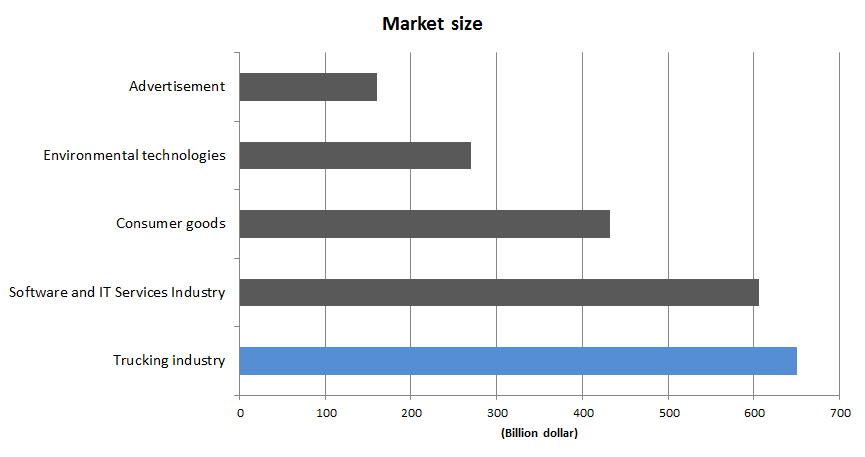 The box trucking industry is experiencing rapid growth, fueled by increasing consumer spending and the boom in e-commerce.
Several factors are driving this growth, including:
E-commerce and online shopping have exploded, with US e-commerce sales hitting $1 trillion in 2022 according to Digital Commerce 360. This results in huge demand for small parcels and LTL shipments that box trucks are ideal for.
Supply chains are regionalizing, resulting in more short-haul freight that is cost-effective to transport via box trucks rather than semis. McKinsey estimates that 30% to 50% of cross-border long-haul traffic could shift to intra-regional freight shortly.
Inventory management is changing, with more emphasis on regional nodes and distribution rather than massive central warehouses. This again favors regional hauling via box trucks.
Labor shortages and high turnover among long-haul truckers have shippers looking for smaller, regional carriers to ensure reliability. Box trucking businesses are filling this need.
Some of the main challenges in the box truck business industry include:
Finding and retaining drivers
Managing maintenance
Securing lucrative contracts
Dealing with fuel price fluctuations
Maintaining commercial driver's license standards
The verdict is clear, few industries offer as much potential right now as box trucking. For those ready to put in the work, the open road to profitability awaits.
2. Analyze the Competition
Thoroughly analyzing the competition is crucial when starting a box truck company. Competitive analysis provides insight into trends, service options, price standards, and more. It also tells you how many box truck businesses are in your market.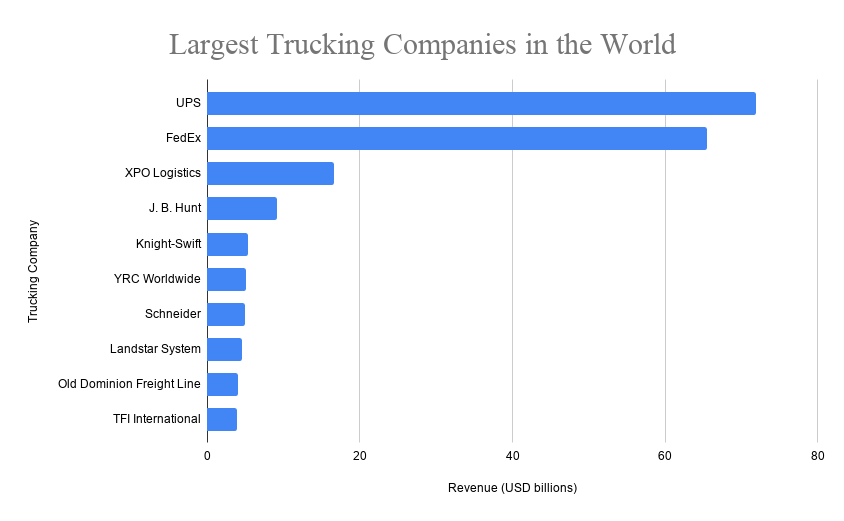 Here are some tips to assess competitors in your local market:
Identify direct competitors by searching industry databases like Manta and Buzzfile for "truck transportation" or "general freight trucking" in your state and city. Make a list of all companies offering similar services.
Evaluate their online presence by visiting their website and social media pages. Gather info on services offered, years in business, fleet size, clients, pricing, and marketing message. Google them to find customer reviews.
Search their DOT number through the U.S. Department of Transportation to access safety data, inspection reports, insurance info, and operating authority. This can reveal a lot about their track record and professionalism.
Drive by their office/truckyard. Observe the number of vehicles, condition, logo visibility, signage, parking, and security. This can suggest their business volume and financial resources.
Network with clients already using box trucking providers. Ask about reliability, rates, damage claims, and overall satisfaction. This can unearth pain points to exploit.
Call anonymously posing as a potential customer to inquire about pricing and services. This can uncover opportunities to undercut on price or exceed on service.
Search industry forums like The Trucker to find insider discussions about reputable regional carriers. You can learn what drivers and others are saying about competitors.
Analyzing this data will arm you with valuable intel. You'll identify service gaps, undercut pricing models, establish trust, and craft marketing that highlights your competitive advantage.
3. Costs to Start a Box Truck Business
As you learn how to start a box truck business you'll need to spend a little money. You'll encounter startup and ongoing costs as your company progresses. All your costs should be outlined in your box truck business plan.
Start-Up Costs
Some of the major startup costs you'll encounter as you get your box truck services going include:
Purchasing or Leasing Trucks – $50,000-$75,000 per new box truck.
Vehicle Wraps – $2,000-$6,000 depending on graphics and coverage area.
DOT Registration – $300
Business Licensing – $500-$1,000
Insurance – $150-$350 per vehicle monthly
Office Space – $1,000-$2,000 monthly
Office Supplies – $1,000-$2,500
Software – $100-$500 monthly per program.
Accountant – $500-$1,500
Legal fees $250-$500 to review contracts and other documents
Marketing – $4,000-$6,000 to effectively promote your new business
Ongoing Costs
Ongoing costs you'll come across as your business grows include:
Truck Payments – $500-$1,500 per month per vehicle.
Fuel – Budget several thousand dollars each month for fuel based on expected mileage and MPG.
Maintenance – $150-$300 per truck monthly for maintenance costs.
Insurance – $1,000-$2,000 for monthly insurance costs.
Salaries – $40,000-$60,000 annually per full-time employee.
Facility – $1,000-$2,000 monthly rent. If you purchased property, factor in mortgage payments.
Utilities – $500-$1,500 per month depending on your needs.
Software Subscriptions – $100-$500 monthly for software.
Licensing Renewals – $100-$500 per renewal.
Taxes – The amount will vary based on revenue and other factors. An accountant can advise on tax liabilities.
Maintenance & Inspections – $100 per vehicle. Budget for scheduled preventative repairs as well.
Marketing – Ongoing marketing like search ads, printed materials, and sponsorships may cost a few thousand dollars annually.
Factoring in all potential start-up and recurring monthly/annual costs will position your new box truck business for financial stability and success.
4. Form a Legal Business Entity
It's important to choose the right box truck business entity type for your box truck business. There are four main types to consider, including sole proprietorships, partnerships, limited liability companies (LLCs), and corporations.
Sole Proprietorship
A sole proprietorship is the simplest business structure. You own the business assets and are entitled to all profits. However, you also have unlimited personal liability for any debts or legal issues. For box truck companies, this poses major risks considering the exposure to accidents, violations, and other liabilities.
Partnership
Forming a general partnership shares ownership and liability across two or more partners. Partners split profits as well as assuming joint responsibility for debts and lawsuits. Partnerships allow you to combine resources and skills with other owners. However, disagreements can disrupt operations. And if one partner faces financial or legal troubles, the entire company is impacted.
Limited Liability Company (LLC)
For most box trucking startups, forming an LLC offers the best of both worlds. As the name suggests, LLCs limit owners' liability and protect personal assets if the business faces lawsuits or bankruptcy. Profits pass through to owners avoiding double taxation. LLCs also provide flexibility to raise investment capital and add new members seamlessly.
Corporation
Establishing a corporation creates a separate legal entity from the owners. Shareholders have limited liability for business debts and issues. Corporations can more easily raise capital through the sale of stock. And they can continue operating even if individual shareholders depart. However, the formal structure involves more paperwork and regulations. Double taxation of profits and dividends also takes a financial toll.
5. Register Your Business For Taxes
Obtaining an EIN for your box truck business is necessary to file taxes, open a business checking account, pay employees, and more.
An EIN is a unique 9-digit number assigned by the Internal Revenue Service to businesses for tax filing and reporting purposes. Some key facts about EINs:
Used to identify your business on federal tax documents
Required even if you don't have employees
Free to obtain from the IRS
While sole proprietors can use their social security number, an EIN is required for partnerships, corporations, and LLCs. Specifically for the trucking industry, an EIN is mandatory for:
Applying for operating authority with the Federal Motor Carrier Safety Administration
Titling and registering vehicles
Obtaining heavy highway use tax forms
Applying for fuel tax exemptions
The IRS makes it simple to get your EIN instantly online. Follow these steps:
Go to the IRS EIN Assistant.
Answer a few short questions about your business structure and activities.
Provide basic information about your trucking company.
Select your reason for applying as "Started a new business."
Specify "Trucking" for the type of business.
Enter your info like name and SSN.
Submit the form to instantly receive your EIN.
In addition to your federal EIN, contact your state revenue or taxation department to register for any required state tax IDs, sales tax permits, or business licenses specific to trucking companies. Failing to meet state requirements could result in penalties down the road.
6. Setup Your Accounting
From staying tax-compliant to managing cash flow, accounting is a make-or-break business need. Improper financial tracking leads to legal issues plus missed opportunities to control costs and maximize profits.
Accounting Software
Investing in a quality accounting system tailored for trucks lets you automate and simplify accounting tasks. Accounting software streamlines invoicing, expenses, and reporting. Platforms like QuickBooks seamlessly integrate with a business bank account to import and categorize transactions.
Partner with an Accountant
While technology provides efficiency, it takes an accountant's expertise to ensure you remain compliant. A qualified accountant provides services like:
Bookkeeping – Recording income and expenses, processing payroll, reconciling accounts
Cash flow analysis – Forecasting profitability month-to-month
Tax planning – Strategies to minimize your tax liability
Trucking tax credit identification – Capturing applicable tax credits like per diem rates
Audit support – Ensuring your books can withstand an IRS audit
Expect to invest $200-$500 monthly for comprehensive accounting support. Come tax season, your accountant can prepare and file returns starting around $500.
Separate Business and Personal Finances
Never mix business and personal finances. Have a dedicated credit card and business checking account for your trucking company. Deposit all revenues into your business accounts and pay vendors from these accounts. This clean separation simplifies accounting and protects your finances.
7. Obtain Licenses and Permits
You'll need to obtain federal and state licenses and permits before hauling your first load. Check with the U.S. Small Business Administration for federal requirements. You'll need to use the SBA's online local search tool to find state requirements. You'll also require a commercial driver's license for all box truck drivers.
The most important license for interstate trucking operations is the Motor Carrier Operating Authority from the Federal Motor Carrier Safety Administration (FMCSA). This permits you to transport cargo across state lines as a commercial trucking business.
There are multiple Operating Authority options:
Motor Carrier (MC) – For trucking companies transporting their freight.
Broker Authority – To arrange freight transport between shippers and carriers.
Freight Forwarder Authority – For coordinating freight logistics without actually moving it.
New entrants must pass a safety audit and proof of insurance requirements. Expect the FMCSA licensing process to take several weeks.
Along with MC Authority, you must register under the Unified Carrier Registration (UCR) system which replaces individual state operating permits. This requires all interstate carriers to pay an annual UCR fee based on their fleet size. For a single truck, fees are around $59. The UCR consolidates compliance under one umbrella.
The International Registration Plan (IRP) facilitates registration and fuel tax reporting across multiple states. Complete IRP paperwork to obtain prorated vehicle registration in every state you'll operate rather than registering individually.
Common intrastate licenses include:
Motor Carrier Permit – For in-state trucking operations.
Heavy Highway Vehicle Use Tax – For registered vehicles over 55,000 pounds.
Fuel Tax Licenses – Reporting and compliance for fuel taxes.
Cargo Insurance – States may dictate minimum liability coverage.
Business Licenses – Govern general business activities within the state.
Allow one to three months to secure the required credentials before accepting loads.
8. Get Business Insurance
Operating a fleet of box trucks involves substantial financial risks from accidents, natural disasters, lawsuits, and other hazards. Carrying adequate insurance is crucial to hedge against catastrophic events that could otherwise sink your business.
Business insurance policies pay expenses related to:
Property damage and cargo loss – This covers damage to your trucks, facilities, and customers' goods.
Liability claims – Handles injuries, damage, and lawsuits from truck accidents you cause.
Revenue disruptions – Reimburses income lost due to covered incidents.
Employee injuries – Workers compensation for job-related injuries.
Consider these scenarios:
Your truck driver caused an accident injuring 4 people and totaling 2 other vehicles. Without proper liability insurance, you pay enormous legal and medical bills.
A fire destroys your office and 3 trucks in your lot. Lacking coverage, you absorb the full replacement costs.
A customer sues for damaged cargo. With no liability policy, legal fees and any judgment come straight from your pocket.
Key steps to arrange business insurance:
Inventory assets and risks needing coverage.
Obtain quotes from multiple commercial carriers like The Hartford and Progressive.
Select a policy with sufficient liability, property, and other protection.
Add endorsements like motor truck cargo, hired/non-owned auto, and pollution liability.
Pay premiums monthly or annually.
Secure comprehensive insurance tailored for box trucking to safeguard your company's financial future.
9. Create an Office Space
An office serves as a centralized base for critical administrative work and can bolster your professional image. As you evaluate options, factor in needs like meeting customers, parking trucks, and growth flexibility.
A dedicated office space provides:
An address for business correspondence and licensing
A place to meet clients and sign contracts
Secure storage for files and equipment
Parking for trucks not in use
Room for staff to handle schedules, invoices, and other administrative tasks
Home Office
A spare room or finished basement can offer budget office space. This allows close oversight and convenience for sole owners. Expect costs of a few hundred dollars for a desk, computer, phone, and supplies. You can use your home office as a tax deduction of up to $1,500 annually.
Coworking Space
Shared offices like WeWork provide flexible, scalable office rentals. Coworking spaces offer amenities like meeting rooms, kitchens, and networking events. However, truck parking may not be available. Expect to pay $200 to $500 monthly for an individual desk or private office.
Retail Office
If you primarily interact with walk-in customers, a small storefront could double as office and retail space. Signage and store access provide visibility. However retail locations command higher rents and may lack warehouse capabilities. Budget $1,500 to $3,000 monthly for a modest retail shop.
Commercial Office
Conventional office buildings offer the most room to grow. Expect monthly rents of $1,000 to $5,000 based on location and size. Dedicated lots allow truck parking. Custom buildouts can support multiple employees. But costs are higher, with longer leases commonly required.
10. Source Your Equipment
Sourcing your vehicles, lifts, wrapping, and other gear from the right vendor curbs costs while meeting your hauling needs. Here are some sourcing options for box truck business owners.
Buying New
Purchasing brand new box trucks from dealers provides the latest features and reliability while customizing to your requirements. Expect to invest $50k to $75k per new box truck depending on size, powertrain, and options. Try MACK for new models.
Buying Used
For startups on tight budgets, used trucks offer major savings over brand-new rigs. Check listings on SOARR and Commercial Truck Trader where dealers list hundreds of affordable used box trucks starting around $15,000. Private sellers also list trucks on Craigslist, Facebook Marketplace, and eBay Motors.
Leasing
Leasing sidesteps major upfront capital to acquire your fleet. Box truck leasing through vendors like Penske and Ryder involves $0 to $5,000 down and $500 to $1,500 monthly payments per vehicle. Just beware of restrictions on mileage and mods.
Renting
Renting trucks by the day or week provides maximum flexibility if your hauling needs vary. Listings on CTEK and GoShare connect you to owners with extra trucks to rent out. Just build in costs of $100 to $250 daily.
11. Establish Your Brand Assets
Establishing your brand makes your mark on the box truck business industry. Branding sets you apart from competitors and tells your customers who you are and what you do.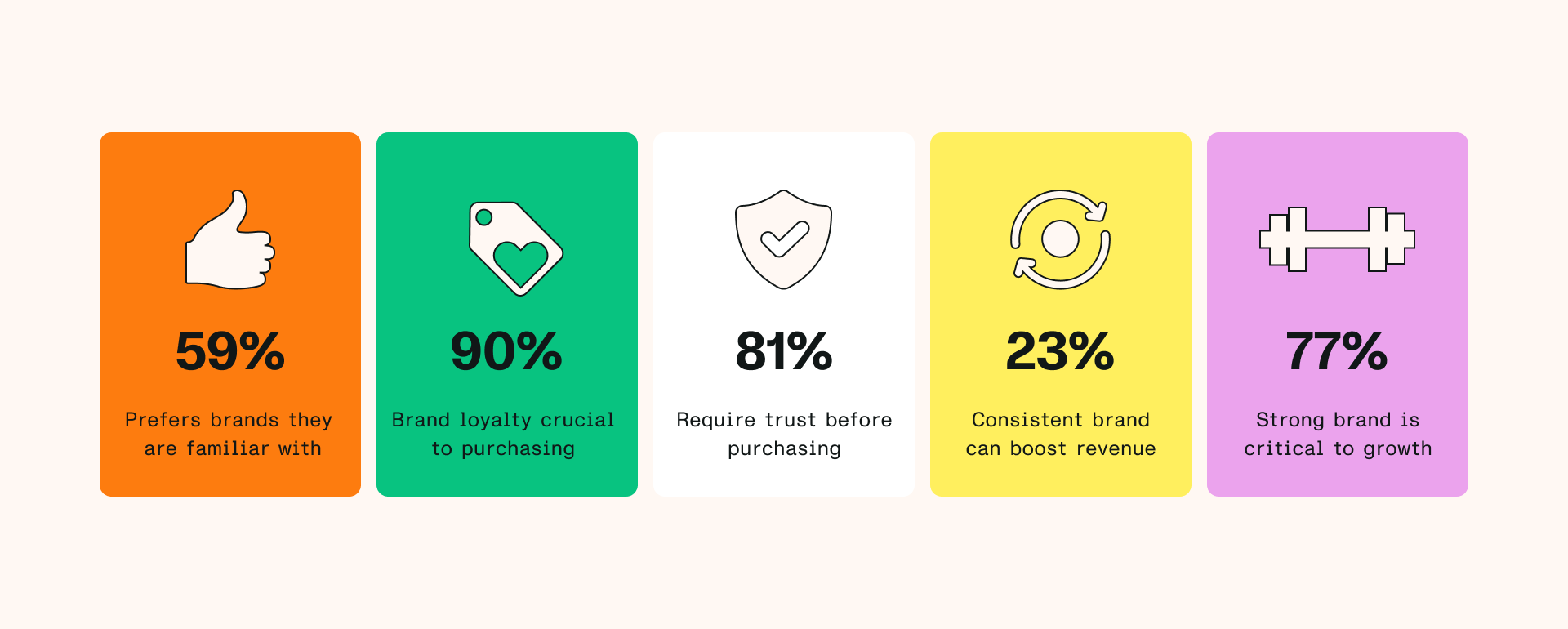 Here are some common branding methods as you learn how to start a box truck business.
Get a Business Phone Line
Calls from prospective clients need a professional place to land. Services like RingCentral provide toll-free and local numbers with customizable greetings and routing to your cell. Expect around $30/month per number. Branded voicemail greetings answer calls 24/7.
Create a Distinct Logo
A logo crystallizes your brand in customers' minds. Consider concepts that connect to trucking and convey reliability and quality service. Graphics sites like Looka offer affordable logo design starting around $20. Scalable vector files allow use on any material. Repeat your logo across all assets for instant recognition.
Design Business Cards and Signage
Business cards put your brand directly into clients' hands. Include your logo, phone, email, and tagline. Cards from Vistaprint start around $10 for 500. Office signage and truck graphics extend your brand. High-visibility materials and messaging build awareness.
Buy Your Domain Name
Secure the perfect .com domain reflecting your company. Sites like Namecheap offer domains for $9/year. Opt for an easy-to-remember, simple name. Register similar versions to guard against competitors. Use it across email, social, and other digital assets.
Build an Informative Website
A modern website educates visitors on services and markets your brand 24/7. Use DIY site builders like Wix if the budget is tight. For $100 to 500, find web designers on Fiverr to craft a custom responsive site optimized for conversions. Update content regularly to engage visitors.
12. Join Associations and Groups
Connecting with other local truckers and transportation groups is useful. Tap into established communities for guidance, networking, and access to new leads.
Join Relevant Associations
Industry associations like the Owner-Operator Independent Drivers Association and state trucking associations like the American Trucking Association offer benefits like education, advocacy, and networking. Annual dues provide access to resources and community.
Attend Local Meetups
Look for meetups in your area through sites like Meetup. Events like "NYC Truckers" and "Atlanta Trucking Professionals" facilitate meeting fellow truckers to exchange insights and experiences over coffee or dinner. Bring business cards and be ready to make connections.
Plug into Facebook Groups
Facebook hosts groups for almost every profession including truckers. Join targeted communities like Box Trucks – Owner Operators – Drivers – Loads-Business Help and Box Truck Business | Learn Everything About the Box Truck Business to discuss issues and opportunities. Groups build camaraderie and share job leads.
13. How to Market a Box Truck Business
Marketing is a game changer for any successful box truck business. There are many ways to market yourself to highlight box truck services.

Here are a few ways to start a box truck marketing campaign:
Start with Your Network
Leverage your personal and professional connections as an initial customer base and source of referrals. Satisfied customers can become powerful brand advocates. Offer incentives like discounts for referrals that turn into business. A single enthusiastic customer can drive exponential growth through word-of-mouth marketing.
Digital Marketing Strategies
Online and social media marketing enables targeted, cost-effective promotion:
Search engine ads target local searches for terms like "box trucking" and "household moving".
Facebook ads allow hyper-specific demographic and geographic targeting.
Post engaging content on Instagram highlighting your truck fleet and crews.
Start a YouTube channel documenting operations to humanize your brand.
Leverage retargeting ads across platforms to reconnect with site visitors.
Write blog posts on topics like "How to Pack for a Move" to attract website traffic.
Claim and update free business listings on sites like Google My Business.
Traditional Approaches
Don't overlook conventional mediums:
Distribute flyers and brochures at trade shows, Chambers of Commerce, and other networking events.
Mail promotional postcards to households and businesses in your service area.
Place eye-catching graphics and messaging on your box trucks.
Sponsor local charities and events to raise community awareness.
Advertise on radio stations popular with blue-collar and trade workers.
Today's buyers blend online and offline channels during their journeys. Meet them through targeted digital ads paired with community networking and brand visibility on the streets.
14. Focus on the Customer
Customer service can make or break your reputation. In an industry reliant on word-of-mouth marketing, ensuring complete client satisfaction with every job paves the road to growth.
Make it easy for customers to contact you with questions or concerns before, during, and after their job.
Be transparent about your capabilities, pricing, insurance, licensing, and commitments.
Consistently deliver on promises with friendly, responsive service at competitive rates.
With countless hauling options, boxing trucking companies rely on great experiences to retain and attract customers. Turning satisfied clients into vocal advocates through remarkable service allows you to stand out.