The dog boarding industry has seen explosive growth in recent years. According to a report by Research and Markets, the U.S. dog boarding and grooming industry is projected to reach $28 billion in 2028. It is projected to grow at a compound annual growth rate (CAGR) of 6.5%.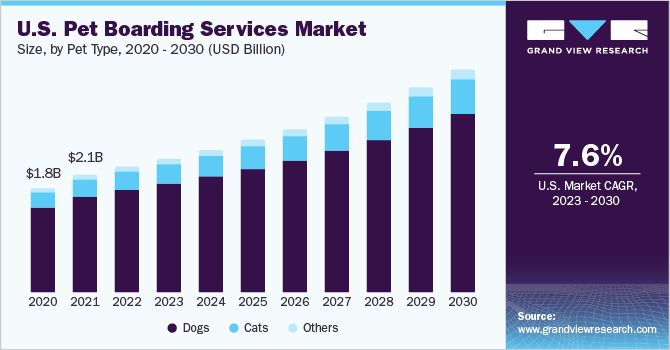 Busy work schedules and frequent travel make a dog boarding facility invaluable. For pet owners, this presents an exciting business opportunity. Starting a pet boarding business allows you to turn your passion for canines into a profitable venture.
Through this guide, we'll explain how to start a dog boarding business. We'll cover topics including market research, competitive analysis, dog daycare business service formations, registering your EIN, and more.
1. Conduct Dog Boarding Market Research
Market research is important to any dog boarding facility. It offers insight into the pet care industry, opening doors to additional income sources like grooming services and pet treats. It also provides details on market saturation, preferred office spaces, and more.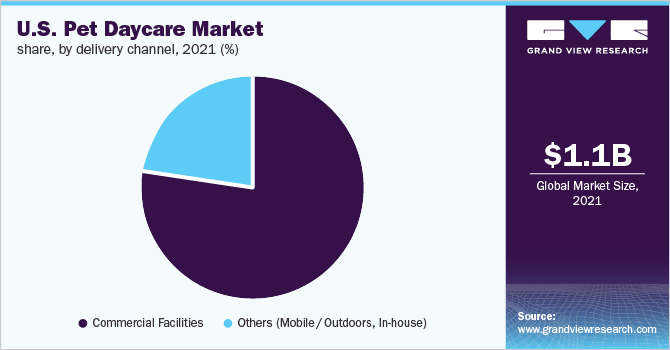 Some of the information gleaned through market research includes:
Target consumer: Millennials now make up the largest pet-owning demographic, with 72% of millennials owning dogs.
Target geography: As young professionals flock to cities, apartment and condo living is becoming more prevalent.
Overhead costs: Overhead costs are low, with labor representing the largest expense.
Potential income: Individual facilities have total annual revenues ranging from the high five figures into the millions depending on capacity and location.
Factors impacting the market: A major wave of small business formations post-COVID also benefits new boarding entrants. Many new pet owners adopted dogs during the pandemic.
Competitors: Competition is moderate, with limited barriers to entry. But brand trust built over time reinforces client loyalty.
The outlook for boarding is exceedingly positive. Owners are willing to pay premium rates for trusted pet care, providing healthy profit margins.
2. Analyze the Competition
To succeed in the dog boarding space, you must understand your competitive landscape. This involves assessing both local brick-and-mortar rivals as well as evaluating your online presence.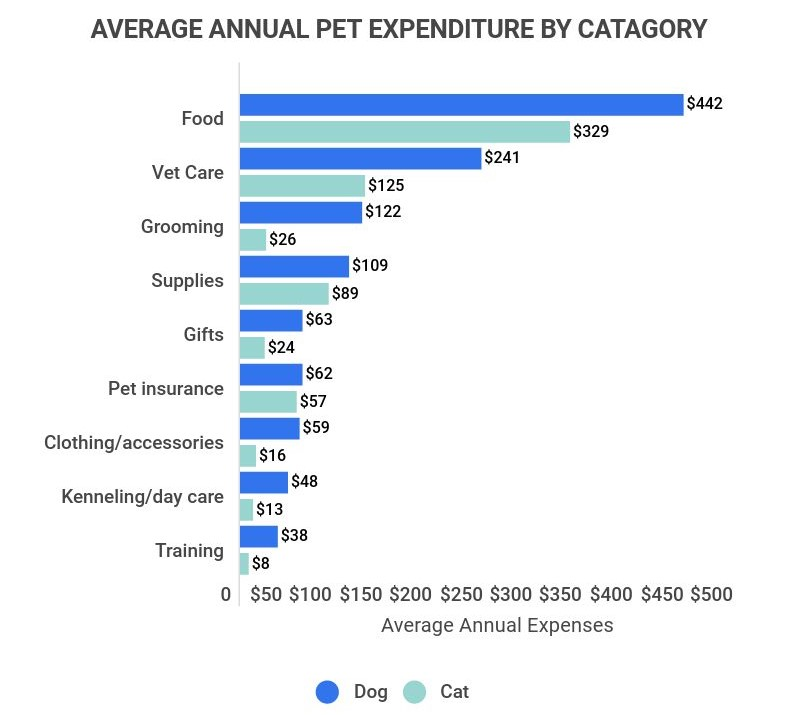 Some ways to check in on dog daycare competitors include:
Find local businesses: Drive around your intended territory to identify current operators. Note their location, building size, condition, amenities like outdoor play areas, and apparent service quality.
Read online reviews: Online review platforms like Yelp, Google Business, and Facebook are equally important.
Search online: Search engines represent another competitive front. Audit your website and listings on directories like Yelp. Then search for relevant keywords like "dog boarding near me" and see where rivals rank.
Check social media: Social media is also vital for visibility and engagement. Search for competitors on Facebook and Instagram and evaluate their follower count and customer interactions.
By thoroughly analyzing competitors new boarding businesses can identify service gaps. This competitive intelligence helps form your pet boarding strategy and marketing.
3. Costs to Start a Dog Boarding Business
Starting a dog boarding business requires careful financial planning and cost analysis. The initial investment to open your doors can vary substantially based on the scale of your operation and the services offered.
Start-up Costs
Startup costs are the early costs you encounter as you start your dog daycare and pet boarding business. Some startup costs include:
Facility – $200-$500 per square foot.
Property – $100,000 for a minimum one-acre commercial plot.
Kennels & Equipment – $5000 – $7500 to outfit kennels with cages and crates, plumbing, heating/cooling, laundry, and commercial kitchen equipment.
Outdoor space – $20,000 or more for fencing, landscaping, and play equipment.
Insurance – $1000 to $4000 annually depending on location and coverage.
Licensing – $150-$350 annually depending on capacity.
Marketing – $2000-$5000 for website development, brand collateral, and advertising to promote openings.
Pet sitting insurance – $200-$500 annually.
Pet supplies – $500-$1000 for stocking up on food, treats, and spare leashes.
Marketing – $1000 initially for a website, online ads, and business cards to build clientele.
Try to keep $15,000 to $30,000 in working capital on hand.
Ongoing Costs
Ongoing costs include a variety of expenses encountered throughout the life of your business, including:
Labor – $15-$25 per hour, with additional payroll taxes and benefits.
Rent – $2,000 per month for small suites up to $7,500 per month for larger buildings.
Mortgage – $4000-$20,000 monthly depending on financing.
Utilities – Electric, gas, water, and waste removal will run a few thousand dollars monthly.
Food & supplies – $1000 per month depending on onboarding volumes.
Marketing – $500-$1000 monthly is ideal once established.
Insurance – $100-$400 monthly depending on coverage.
By planning diligently for these startup and ongoing costs, new dog boarding businesses can launch on strong financial footing. Adjust budgets based on location, capacity, services, and business model.
4. Form a Legal Business Entity
When starting a dog boarding company, one key decision is choosing your business structure. The right legal entity balances liability protection, taxes, and ease of management suitable for your goals.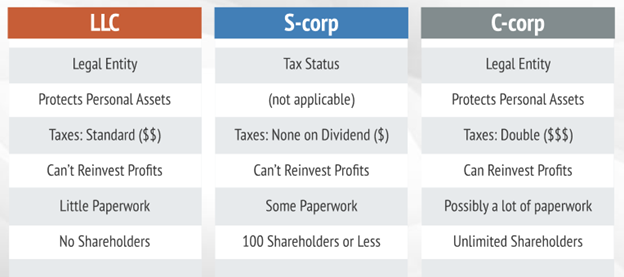 We'll compare the pros and cons of each for this industry:
Sole Proprietorship
Simple and inexpensive, this entails operating as an individual owner. However, it exposes your assets to any business lawsuits or debts. Retaining all profits also means paying self-employment taxes on your earnings. As a dog boarding sole proprietor, you alone bear the risks and workload as you scale.
Partnership
Forming a general partnership shares responsibility between two or more co-owners, splitting profits and management duties. But each partner is also personally liable for all business obligations. Disagreements can also dissolve partnerships if co-owners' visions diverge. Overall, the cons outweigh the benefits for boarding businesses.
Limited Liability Company (LLC)
For most boarding entrepreneurs, forming an LLC provides the best balance. It limits your liability and protects your assets if the business is sued. An LLC also allows easier expansion, bringing on employees or co-owners via membership units.
Corporation
Structuring as a corporation creates a separate legal entity from owners to shield personal assets. Corporate taxes are filed separately from individual returns. Ownership is easily transferable through shares of stock.
5. Register Your Business For Taxes
Before accepting paying customers, dog boarding businesses must obtain legal registrations like an EIN from the IRS and a sales tax permit for their state.
An EIN, short for Employer Identification Number, functions like a social security number for your business. It uniquely identifies your company for all official tax purposes and other transactions.
Any company with employees or filing business tax returns must register an EIN. For dog boarders, you'll need it to pay taxes on company earnings, hire staff, open business bank accounts, and more.
Thankfully obtaining an EIN is quick and free direct through the IRS website. You simply provide basic information about your LLC or corporation, ownership, and operations. The online application takes less than 15 minutes in most cases.
Your EIN arrives immediately upon completing the process. Just ensure all details match your formal business registration. With EIN in hand, notify your bank to link it with your business accounts.
At the state level, you must also register for any required sales tax permits and business operating licenses applicable to dog boarding in your region. These are administered by state revenue departments, not the IRS.
6. Setup Your Accounting
As a dog boarding entrepreneur, meticulous bookkeeping and accounting right from the start is essential. With multiple income streams from boarding, training, and ancillary services, tracking your finances can become complex quickly.
Accounting Software
Using small business accounting software like QuickBooks is highly recommended. The software seamlessly syncs with your business bank and credit card accounts to automatically log income and expenses. This eliminates manual data entry and the errors that come with it.
Hire an Accountant
Partnering with an accountant or bookkeeper provides additional benefits. They can handle tasks like payroll, monthly reconciliations, inventory management, budgeting, and compliance.
Expect to invest around $200-$500 monthly for basic bookkeeping assistance, depending on transaction volume. Come tax season, accountants may charge $1,000 or more to prepare and file returns, advise on deductions, and answer any IRS questions.
Open a Business Bank Account and Credit Card
Never combine personal and business funds. Have a dedicated business checking account and credit card solely for company purposes. Business credit cards have higher limits than consumer cards and earn rewards on purchases like marketing, utilities, and supplies.
7. Obtain Licenses and Permits
Before welcoming your first furry boarders, it's crucial to ensure your new dog boarding venture meets all federal, state, and local licensing regulations. Check the U.S. Small Business Administration website for federal requirements. Use the SBA search tool to find local requirements.
Nearly all jurisdictions require commercial kennel licenses for facility-based dog boarding and daycares. Fees vary by location but average $150 to $350 annually.
Most cities and towns mandate a general business license to legally operate any commercial venture. These validate zoning allowing boarding facilities in the zone. Home pet sitters may also need one depending on local codes.
Apply with the clerk's office and pay a modest annual fee, typically $50 to $100. The business license certifies you meet all requirements and can operate within municipal boundaries.
Charging sales tax on services requires a seller's permit or retail license issued by your state revenue department. This tracks taxable transactions and gross revenue for compliance.
Many states have simplified online registration for just $50 to $100 one-time or annually. Display the permit publicly as it affirms tax collection authority.
8. Get Business Insurance
Operating a dog boarding business without proper insurance exposes owners to substantial financial risk. The right coverage helps hedge against potential lawsuits, property damage, injuries, and other costly scenarios.
For example, a dog could escape a faulty kennel and get hit by a car. The owner could sue for extensive veterinary bills. Or an employee could get bit breaking up a dog fight, suing for medical and lost wage reimbursement. Even mundane risks like fire, theft, or vandalism could destroy expensive kennels and force temporary closure.
Securing coverage is straightforward. Identify plans from providers like PetPartners, Embrace, or others. Get quotes for $1 million liability limits, plus property/casualty. Share details on operations, capacity, and building features. Purchase required plans.
Expect annual premiums of $1000 to $5000 for robust protection in general liability and professional liability insurance. While not legally mandated, insurance is a wise investment that lets you focus on your business, not risks. Consult attorneys and brokers to customize affordable policies that fully shield your assets.
9. Create an Office Space
Operating your dog boarding company from a dedicated office provides space to handle administrative tasks and consult with clients. Let's explore some options:
Home Office
A home office offers the ultimate convenience and lowest costs. Spare bedrooms readily convert into functional workspaces for minimal investment, perhaps $100 to $500 to furnish. However, home offices lack a professional appearance for meetings. Working from home also makes separating work and personal life challenging.
Coworking Office
Coworking spaces like WeWork provide stylish, amenity-filled environments to focus. Open layouts encourage networking with other entrepreneurs. Expect to pay around $200 to $500 monthly for flex memberships allowing access to lounges, private offices, conference rooms, events, and more.
Retail Office
For facility-based boarders, on-site retail office space integrates perfectly. Customers can comfortably meet at your facility to tour the kennels and discuss services. Build or convert space into a front-facing reception and offices. Costs vary based on size and finishes but allocate around $2,000 to $5,000 for a basic buildout.
Commercial Office
Commercial office spaces offer sophisticated standalone environments in business districts. Expect higher monthly rents of $1000 or greater, but surrounding amenities like restaurants and networking events can bolster business. Visibility and ambiance impress clients.
10. Source Your Equipment
Launching a dog boarding venture requires outfitting your facility with specialized kennels, fencing, play spaces, and supplies. New business owners have several equipment procurement options:
Purchasing Brand New
For the highest quality and customization, purchase new materials from reputable manufacturers like Mason and Midwest. Expect to pay premium prices – commercial-grade kennels cost $2000 each. Brand new ensures ideal condition and warranties. Shop online directly or through pet retail chains.
Buying Used
Gently used kennels, playpens, and accessories offer major savings on new ones. ones Search local listings on Craigslist or Facebook Marketplace for sellers liquidating excess equipment. Expect to pay 25% to 75% less than new prices. Inspect carefully for damage before purchasing.
Leasing
Rather than buying equipment, leasing spreads costs over time. Kennel manufacturers offer leasing for as little as $50 monthly over 5 years. Payments are deductible expenses. Convenient for upgrading later.
Renting
Short-term equipment rental suits pop-up boarding facilities or overflow capacity. Online peer-to-peer rental networks like DogVacay allow borrowing kennels, playpens, leashes, and more from local owners. Prices start around $25 daily.
11. Establish Your Brand Assets
When launching a dog boarding company, it's crucial to invest in professional brand assets that cultivate trust and recognition.
Get a Business Phone Number
RingCentral provides toll-free local business phone numbers starting at $30 monthly. Choose a number that's easy to remember and communicate widely.
Create a Logo
Looka's AI logo maker helps create unique designs in minutes for $20. Opt for a simple, memorable logo incorporating your name, a dog silhouette, bones, paw prints, etc.
Print Business Cards
With logo files, order inexpensive Vistaprint business cards to share when networking with pet owners. Keep cards at vet offices, pet stores, and community boards too. Sturdy yard signs also advertise your services to neighborhood traffic.
Get a Domain Name
Buy your custom domain from Namecheap for under $20 annually. Choose a domain containing your business name and keywords like "dogboarding" and your city.
Build a Website
Building a website establishes an online presence where potential clients learn about your services. Wix's drag-and-drop website builder makes DIY sites easy for $10-$30 monthly. Or hire web developers on Fiverr starting around $500.
12. Join Associations and Groups
Joining relevant local organizations and online communities can provide invaluable connections and insights for new dog boarding entrepreneurs.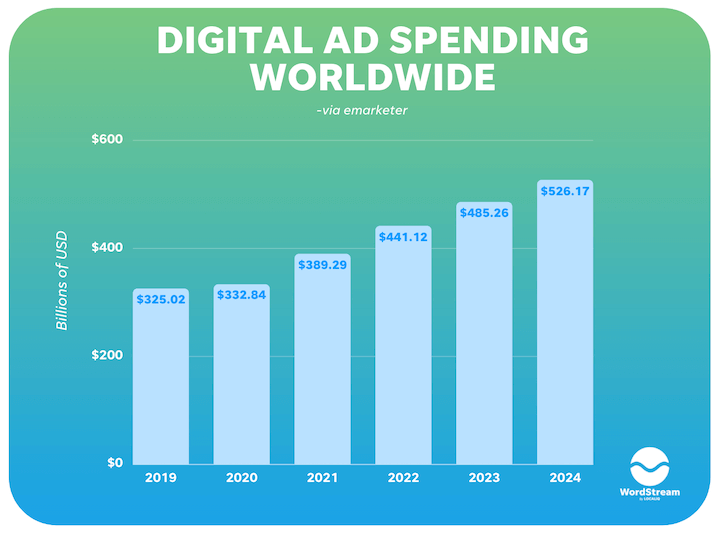 Local Associations
Associations like breed-specific groups, kennel clubs, and pet business alliances offer both networking and education. Attend association conferences, seminars, and social events to meet fellow industry players.
For example, join regional bodies like the International Boarding and Pet Services Association to tap into an established professional network.
Local Meetups
Meetup's platform also coordinates pet-focused meetups, trade shows, and local networks. Browse upcoming events near you to connect face-to-face with pet lovers and businesses. These provide opportunities to promote your services.
Facebook Groups
Peer networking continues online through Facebook Groups. Thousands of members share experiences and advice in niche communities like Homestyle Dog Boarding Business Owners and Managing and Marketing Dog Daycare & Boarding Businesses.
13. How to Market a Dog Boarding Business
Implementing an ongoing marketing strategy is essential for gaining visibility and attracting new dog boarding clients. While referrals from satisfied pet owners are invaluable, you must actively promote your services as well.
Digital Marketing
Digital channels present cost-effective ways to connect with local pet owners at scale. here are some ways to market your pet boarding business digitally.
Run Google Ads campaigns focused on keywords like "dog boarding near me" to appear in searches
Create Facebook ads targeted to dog owners in your city to build awareness
Start a YouTube channel showing off your facility, team, and boarding services
Write blog posts about dog care and share them on social media to demonstrate expertise
Send emails reminding past customers to book for upcoming trips or holidays
Partner with dog trainer or groomer influencers to co-create content
Leverage SEO to rank higher in local business listings and searches
Traditional Marketing
Traditional tactics also remain relevant. There are many tangible ways to advertise your dog kennel business, including:
Design professional mailers to send to households with yard signs for pets
Advertise in regional pet magazines and veterinarian office newsletters
Sponsor a local dog sports team and have a booth at their events
Distribute flyers and business cards to all neighborhood vet clinics
Run radio spots on local pet-focused talk shows or segments
Rent a billboard along a busy highway near pet-friendly attractions
Don't rule out traditional channels like direct mail and radio depending on your target customer demographic.
14. Focus on the Customer
Providing exemplary customer service is mission-critical for any dog boarding company aiming to earn clients' trust and loyalty. Some ways to focus on pet owners include:
Go above: Get to know their unique needs, behaviors, and preferences. Send pet parents photos and updates of their happy pups playing and relaxing.
Be transparent: If accidents happen, apologize sincerely and reimburse generously. This transforms frustrations into appreciation for your integrity.
Request reviews: Reviews emphasizing thoughtful staff and care to reinforce your reputation. New clients choose you knowing their pets will be pampered.
Be straightforward: Make it easy to book, modify, or cancel services as needed. Field questions promptly and knowledgeably.
The care and connection you nurture earn loyalty no marketing can replicate. Focusing intensely on delighting each pet parent wins you a devoted customer base that fuels stability and growth for your business.