The drone industry is soaring to new heights. Recent projections show the global drone market will reach $43 billion by 2024. With drones being adopted for commercial use across dozens of industries – from agriculture to logistics to filmmaking and more – the opportunities for new drone startups seem endless.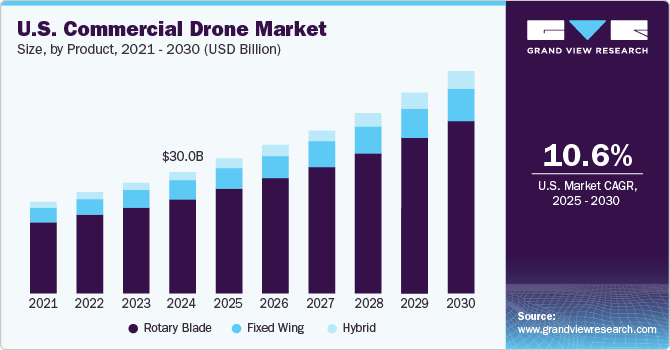 But how does an entrepreneur capitalize on this high-flying industry? Where do you even begin to start a drone business? What are the first steps you need to take to get off the ground?
This comprehensive guide will walk aspiring drone-preneurs through how to start a drone business. You'll learn the essentials of market research, sourcing equipment, obtaining an EIN, the costs involved, marketing your services, and tips for marketing and customer outreach.
1. Conduct Drone Market Research
Market research is an important aspect of the unmanned aerial vehicles market. It offers insight into trending services like real estate photography, common costs, market saturation, and more. Market research is a great help for new drone business ideas.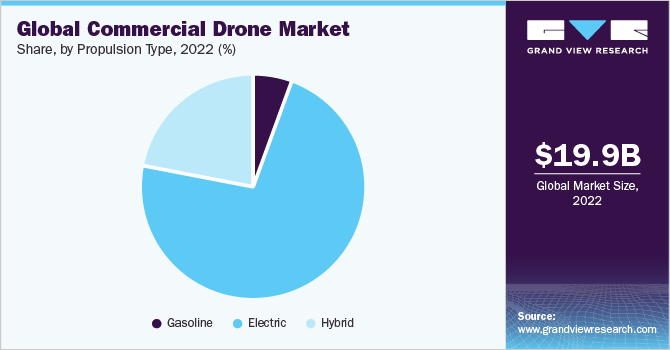 Here are some of the details you might learn through market research to become a commercial drone pilot:
The largest current and near-term opportunity is in drone services.
Commercial operators can offer services like aerial photography/videography, inspection, mapping, surveying, delivery, and agriculture services.
Photography/videography services present a massive opportunity as drones enable stunning aerial views for marketing, events, real estate, and more.
The construction and insurance industries are increasingly using drones for efficient property inspection and claims processing.
Drones also enable rapid, low-cost aerial mapping and 3D modeling ideal for surveying, mining, and urban planning.
Agriculture represents a major vertical, with sprayers, data collection, and analytics optimizing crop health and yields.
Infrastructure inspection like utility lines, wind turbines, and solar farms is another key use case.
Drones even have the potential for medical supply delivery in remote areas.
Major companies like Amazon and DHL are investing billions into autonomous delivery drones, with widespread operations expected by the mid-2020s.
Air taxi startups are similarly designing passenger-carrying drones for intra-city transportation.
Drone hardware sales additionally offer opportunities.
Consumer drone demand is surging, while commercial operators need specialized industrial drones.
Modular drone platforms enable custom configurations for different use cases.
Component markets like motors, batteries, sensors, and software present related opportunities.
Drone startups have an open runway thanks to the convergence of enabling technologies, decreasing costs, and growing market demand. Entrepreneurs who can effectively serve client needs with specialized drone-enabled services are poised to reap the benefits of this bourgeoning new market. The skies are the limit!
2. Analyze the Competition
Understanding the competitive landscape is crucial for any new drone business. A few key steps can help you assess competitors as you start your own drone business.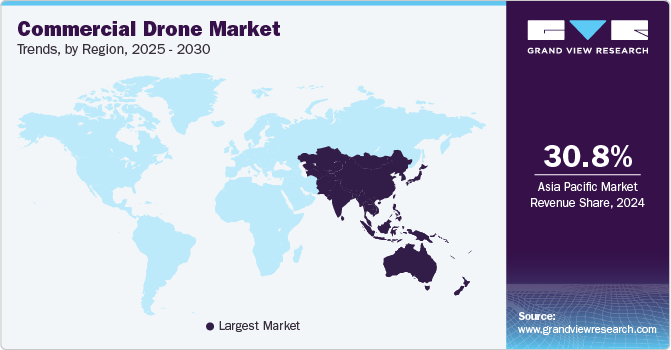 Some ways to analyze the competition include:
Identify direct competitors providing similar drone services in your local area.
Evaluate their service offerings, pricing, customer base, and online presence.
Expanding the search, look for indirect competitors that provide aerial services through other means.
For photography/videography, this could include manned aircraft charter services and helicopter tour companies.
In infrastructure inspection, alternate options like tower climbers or ground-based cameras may compete for contracts.
Research the equipment and techniques competitors use.
Analyze the online presence and digital marketing strategy of top competitors.
Don't just look at current competitors. Monitor drone industry news for startups on the horizon that could become competitors.
Identify companies raising significant capital or regulatory shifts that may draw new entrants.
Analyzing the competitive landscape enables strategic positioning and service offerings. Tracking competitors over time provides an important barometer as the market evolves. With the agility and hunger of a startup, new drone businesses can find their niche despite competition.
3. Costs to Start a Drone Business
Launching a drone startup involves both initial investments and ongoing expenses. Here is a detailed breakdown of typical costs involved in a successful business in the drone services market:
Start-Up Costs
Drone Equipment – $2,000-$5,000: Commercial-grade drones with features like extended flight time, swappable payloads, and weatherproofing range from $2,000 for entry-level models up to $5,000 for high-end industrial UAVs.
Control Station – $1,000-$2,000: A tablet or controller to monitor drones in flight runs $1,000-$2,000 for enterprise models designed for photogrammetry, operations management, and geospatial applications. Ruggedized options provide bright displays ideal for outdoor use.
Software – $50-$250/month: Management platforms that coordinate missions, fleets, data, and billing range from $50/month for entry-level plans to $250/month for full enterprise functionalities. Free open-source options are available initially.
Pilot Certification – $150-$400: Gaining an FAA Remote Pilot Certificate costs $150 to take the certification exam. Preparatory courses and materials can cost up to $400 additional.
Business Incorporation & Licensing – $200-$1,000: Registering a drone business as an LLC costs roughly $200. Business licenses vary but expect $100-$500 in initial permit and zoning fees. Liability insurance will cost $1,000 or more annually.
Professional Services – $1,000-$5,000: Lawyers can provide guidance on contracts and waivers for $200/hour. Hiring marketing help to develop brand assets and digital marketing strategies will run $1,000-$5,000 or more.
Other – $500-$2,000: Additional start-up costs may include a computer, website hosting, business cards, drone cases, accessories, and more. Budget $500-$2,000.
Ongoing Costs
Drone Maintenance & Repairs – $500/year: Routine maintenance like motor and propeller replacements may cost $150/drone annually. Budget extra for unplanned repairs – crashed drones can easily run $500+ in parts and labor.
Drone Insurance – $750-$1,500/year: Policies covering damage to drones themselves range from $750 for limited basic coverage to $1,500+ for full commercial drone insurance including liability protections.
Facilities – $2,000-$12,000/year: A small industrial space for gear storage, maintenance, and charging runs approximately $1,000-$1,500/month. Alternately, co-working spaces offer flex memberships starting around $200/month.
Staffing – $50,000-$90,000/year: As the business grows, experienced drone pilots can command $25/hour or more. A full-time lead pilot/operations manager at $50,000/year provides continuity.
Software Subscriptions – $600-$3,000/year: SaaS services generally charge monthly or annual subscriptions averaging $50-$250/month per drone depending on feature sets.
Marketing & Advertising – $2,000-$10,000/year: Paid digital ads, printed brochures, trade show booths, and other promotions to attract new business will cost at least a few thousand per year.
Other – $1,000-$5,000/year: Additional recurring expenses include web hosting, insurance, professional services, accessories/spare parts, training, and travel.
By planning for both initial and ongoing costs, new startups can stake their claim in this rapidly expanding industry.
4. Form a Legal Business Entity
When starting a drone business, one of the first key decisions is choosing the right legal structure. The four main options each have pros and cons to weigh for a drone venture.
Sole Proprietorship
A sole proprietorship is the simplest and most common set-up for new businesses. There is little paperwork – you can just start operating under your name taxed only at the personal level. However, the owner has unlimited liability for debts and obligations of the business.
Partnership
Forming a general partnership spreads liability across partners and enables the pooling of resources. However, each partner is jointly responsible for the actions of the other partners – a crashing drone flown by one pilot could still create liability trouble for others. Income is taxed personally for each partner. Partnerships can also run into problems if a partner wants to leave the venture.
Limited Liability Corporation (LLC)
A Limited Liability Corporation (LLC) provides liability protection without the increased complexity of a corporation. LLC owners have limited personal liability for business debts and lawsuits that arise. Only their investment in the company is at risk.
An LLC limits exposure from drone accidents, ideal for riskier operations like infrastructure inspection or medical deliveries. LLCs also allow pass-through taxation to avoid corporate taxes. Owners have flexibility in structuring the management and distribution of profits. For these reasons, an LLC is likely the best choice for a single owner or small partnership running a drone startup.
Corporation
A corporation, or C-corp, creates a separate legal entity from the owners. This shields personal assets from corporate liabilities. Corporations can more easily raise investment capital by issuing stock. However, corporate profits are taxed at both the corporate and personal level.
The corporate structure is better suited for larger or more complex drone businesses. Equity incentives can attract top talent while selling shares raises funds for growth. But early-stage startups generally don't benefit from forming a corporation right away.
5. Register Your Business For Taxes
One key task when forming a business entity is obtaining an Employer Identification Number (EIN) from the IRS. An EIN acts like a Social Security Number for your business for tax purposes.
Acquiring an EIN is necessary for several reasons:
Opens a business bank account
Applies for business licenses and permits
Hires employees and pays payroll taxes
Files tax returns for partnerships, corporations, or LLCs
The good news is applying for an EIN is quick and free through the IRS website. Follow these steps:
First, gather the information needed for the application, including the name, address, and ownership details of your drone business.
Next, go to IRS.gov EIN Assistant and begin the online application. Answer a few questions about your business structure.
Select "View Your EIN" at the end to immediately receive your EIN. The whole process only takes a few minutes.
With your new EIN in hand, call your bank to provide the number and establish a business bank account.
You'll also need to register for state and local sales tax requirements. This enables collecting and remitting sales tax on drone services. Look up sales tax rules for your specific state and municipality. Many states allow online registration for a minimal fee.
Filing for an EIN kickstarts critical compliance processes for your new drone venture. With unique business identification numbers for tax and banking purposes established, you can focus on developing your services and attracting clients.
6. Setup Your Accounting
Proper accounting is crucial for any new drone business to succeed. Implementing good financial processes from the start prevents issues and positions the business for future growth.
Accounting Software
After structuring your drone company, sign up for small business accounting software like QuickBooks. Cloud-based programs like QuickBooks automate tasks like invoicing, expense tracking, payroll, and reporting by connecting to your business bank accounts and credit cards. This streamlines bookkeeping and provides real-time financial insights.
Hire an Accountant
While software handles much of the grunt work, it's advisable to work with an accountant, at least initially, to establish solid accounting foundations. Accountants can advise on structuring your drone business for optimal tax treatment and help with fiscal year-end filings. Expect fees of $1,000 or more annually for general small business accounting services.
Open a Business Bank Account
Proper accounting starts with separating all drone business finances into dedicated business accounts and credit cards. Never co-mingle personal and business funds. Doing so creates accounting headaches and opens the door to potentially negative IRS implications.
Apply for a Business Credit Card
Applying for a small business credit card provides credit to cover larger purchases specific to your drone startup. Banks determine credit limits based on business revenue and your credit score.
7. Obtain Licenses and Permits
Before taking flight, every new drone startup must obtain the required licenses and permits. Find federal requirements through the U.S. Small Business Administration. The SBA also has a local search tool for state requirements.
The FAA Remote Pilot Certificate is essential for commercial drone operations. Pilots must pass an aeronautical knowledge exam at an FAA testing center costing $150. An exam preparatory course can provide the training needed to pass. The certificate demonstrates you have the aviation skills and knowledge to fly drones professionally.
Fixed-site drone businesses additionally need local land use permits and zoning approval. Contact your city or town's zoning board to learn about the requirements for operating a drone startup from a commercial property. There may be prohibitions on storage or launching drones from certain areas. Seek proper permitting to avoid bylaw infractions.
While the FAA controls the airspace, takeoff, and landing rights require local permissions. Public parks and other recreational areas typically prohibit drone use without authorization. You'll need approval for operations at privately owned sites like construction companies, farms, and industrial facilities.
Providing drone services in coastal regions involves obtaining Bureau of Ocean Energy Management (BOEM) authorization for takeoffs from beaches that border federal waters. BOEM permits ensure the safe integration of drone and low-altitude aviation with marine wildlife areas and offshore energy projects.
Some cities have additional municipal drone regulations that require registration. For example, Los Angeles requires registration of all commercial drones weighing over 0.55 pounds flown within city limits and submission of flight plans. Stay current on local drone ordinances.
The FAA also has a Low Altitude Authorization and Notification Capability (LAANC) system to request approval to operate in controlled airspace areas near airports. This allows drones to safely transit or collect data in populated zones.
8. Get Business Insurance
Operating a drone business carries significant risks that make insurance coverage essential. Without proper drone liability insurance, a single mishap could land your entire startup in legal and financial turmoil.
For example, an out-of-control drone could damage a commercial building, injure bystanders, or cause a car accident. Lawsuits stemming from such incidents could potentially bankrupt the company.
A drone crash also could destroy thousands of dollars worth of equipment. Lost drone payloads like thermal imaging cameras may cost tens of thousands to replace. Lacking coverage, these losses would come straight out of your pocket.
Insurance shields against the costs of liability damages, legal defenses, and asset replacement. Policies like General Liability Insurance cover third-party bodily injury and property damage claims up to $1 million or more. Hull Insurance protects the drones themselves against damage or theft. Work with an insurance broker to secure appropriate coverage for your drone operations.
The application process will require providing details about your drones, pilots, services, flight areas, and more. Request quotes from providers like State Farm to compare plans and pricing.
Expect to pay at least $1,000 or more annually for a commercial drone insurance policy. While not cheap, coverage provides essential protection so you can operate your startup without fear of financial ruin from a single adverse incident.
9. Create an Office Space
Having a professional office space lends legitimacy and provides a home base for your drone business. The right facilities enable smoother operations in several ways:
Storing, maintaining, and charging drone fleet securely
Meeting clients and viewing demonstration flights
Processing aerial data and completing reporting
Managing staff and pilots
Consider these options for a drone-related business space:
Home Office
A home office works for barebones operations, providing desk space and storage for minimal investment. However, meeting clients at your residence may seem unprofessional. Homeowners insurance likely prohibits operating commercial drones from your property. And space is limited for fleet expansion.
Coworking Office
Coworking spaces like WeWork offer affordable flexible offices, meeting rooms, and amenities. Memberships start around $300/month for 24/7 building access. Dedicated private offices cost more but enable secure storage of drones and equipment. Coworking provides professional meeting facilities without the cost of traditional office space.
Retail Office
A storefront is ideal if also operating a drone retail/repair shop. Street visibility and walk-in traffic drive sales. Expect $2,000-$4,000 monthly rent in commercial zones. Use the main floor for customer areas, and convert the basement or backrooms into drone workspace. A retail space also provides operating areas for local demonstration flights and classes.
Commercial Office
For larger teams and fleets, a dedicated commercial building provides room to grow. Expect leases averaging $3,000-$6,000 monthly for stand-alone structures, mini-warehouses, or light industrial units optimized for drones. Buildout costs could tally $50,000 for fences, charging stations, workshop buildouts, and security systems.
10. Source Your Equipment
Operating a drone business requires having the right aircraft, payloads, and accessories. For new entrepreneurs on a budget, here are tips for sourcing affordable drone gear through various channels:
Buying New
Purchasing brand new consumer and commercial drones is easiest directly from manufacturers like DJI, and Autel. Base models like the DJI Mavic Mini start around $400, while high-end industrial UAVs cost $5,000
New drones come with warranties and ensure you get a maximum working lifespan. However, opt for base packages without unnecessary features to save money as a startup.
Buying Used
Used drones offer major discounts, often 50% or more off retail pricing. Vetted marketplaces like DroneTrader specialize in used drones from hobbyists and commercial operators. Facebook Marketplace and Craigslist also frequently list drones for sale locally.
When buying used, inspect drones carefully for damage and test fly to ensure proper functioning. Have a checklist for evaluating battery life, control ranges, camera issues, etc. Know that used drones come without any warranty.
Renting
Renting drones periodically can be more cost-effective if you only require them for certain projects. Photography, mapping, and inspection drones rent for $150-$300 per day. Make sure to purchase damage protection.
Many rental houses also offer cameras, sensors, controllers, and accessories a la carte. This flexibility helps new startups test gear before purchasing.
Leasing
Leasing drones through providers like Insitu provides long-term access to advanced equipment via annual payments. Leasing costs more than buying used outright but enables getting pricy drones without huge upfront capital.
Leasing also includes maintenance, repairs, and easy upgrades to new models. This convenience helps startups focus on serving clients versus equipment headaches.
11. Establish Your Brand Assets
Developing a strong brand identity helps drone startups stand out in a crowded market. Essential steps like securing a business phone line, logo design, website, and more establish credibility and recognition.
Getting a Business Phone Number
A dedicated business phone line lends legitimacy versus using a personal cell. Services like RingCentral provide toll-free and local numbers with call routing, voicemail transcriptions, analytics, and more for $30-$50 monthly. This professionalism makes the right first impression when prospects call.
Creating a Logo and Brand Assets
A polished logo enables the building of memorable visual branding. Drone startups should consider an abstract mark, letter mark, or illustrative logo to capture the high-tech aviation niche.
Resources like Looka provide affordable DIY logo design or custom creation services starting around $20.
Business Cards and Signage
Business cards convey professionalism when meeting prospective clients and networking at trade events. Online printers like Vistaprint offer basic cards affordably.
Interior and exterior signage with the logo also adds credibility, especially if operating from a storefront. Illuminated displays and large format banners and prints help attract walk-in business.
Purchasing a Domain Name
Secure a domain name that matches your drone's startup name for branding and discoverability. Aim for .com availability and short memorizable wording. Use dashes to combine multiple keywords.
Domain registrars like Namecheap handle purchasing domains for around $15 annually.
Building a Website
An informational website on your domain builds visibility online. Use website builders like Wix to launch affordably, or hire web developers on Fiverr to fully customize the site.
Blogs, project galleries, and online bookings help attract and convert website visitors into paying drone clients.
12. Join Associations and Groups
Joining relevant organizations and online communities provides invaluable connections in the local drone industry. Surrounding yourself with fellow enthusiasts and professionals accelerates success.
Local Associations
Groups like the San Francisco Bay Area Drone User Group and Atlanta Area Drone Enthusiasts organize meetings, flight events, training seminars, and more. Interacting in person helps form mentorships, partnerships, and referral networks.
Trade associations like Women and Drones also offer networking, skills development, and advocacy for underrepresented demographics. Membership fees are well worth the expanded personal connections.
Local Meetups
Resources like Meetup list gatherings like drone camps, fly-ins, and hackathons happening in your city. These enable chatting with fellow pilots about equipment, services, and local flight regulations.
Attending startup mixers and small business fairs also gets your drone services in front of fellow entrepreneurs. Bring plenty of business cards and be ready to pitch your offerings.
Facebook Groups
Nationwide communities like Drone Community and DJI Drone Owners (all versions) provide advice and inspiration. Share your own experiences and lessons learned.
13. How to Market a Drone Business
Implementing an effective marketing strategy is crucial for drone startups to gain visibility and attract new business. A mix of digital marketing, traditional promotion, and word-of-mouth referrals can help build a solid client base. Some ways to market your drone flying courses include:
Personal Networking
First and foremost, leverage your network and existing contacts who may need drone services. Offer discounts or free trial flights to inspire referrals from early customers who are impressed with your work. Satisfied clients sharing firsthand reviews often spark exponential growth through word of mouth.
Digital Marketing Tactics
Run Google and Facebook ads targeting local keywords like "drone footage" and "drone mapping service" to reach nearby prospects actively searching.
Start a YouTube channel documenting your projects to showcase drone capabilities. Optimize with local cities and services in titles, descriptions, and tags.
Guest posts on drone blogs like DroneDJ and Commercial UAV News to tap into industry audiences.
Foster reviews on Google, Facebook, and industry directories like AirWork to build trust and social proof.
Post project videos and images consistently on social channels like Instagram and TikTok to boost visibility.
Send emails and e-newsletters with company updates, new service offerings, and limited-time deals.
Traditional Marketing Ideas
Design brochures, postcards, and flyers to distribute at networking events, trade shows, and local businesses.
Take out ads in industry trade magazines and local city magazines relevant to your services.
Sponsor booths and banners at conferences and conventions frequented by your target customers.
Run radio spot ads on local stations describing your offerings and current promotions.
Place billboards or large-format outdoor ads along major highways near your service region.
Implementing even a few inexpensive tactics gets your drone services in front of potential new clients. Test different options and double down on what drives the most conversions and growth. Consistent marketing coupled with top-notch aerial services ensures your startup ascends to new heights.
14. Focus on the Customer
Providing exceptional customer service is crucial for drone startups to keep clients happy and gain referrals. With myriad operators competing in the aerial services market, experience and support make all the difference.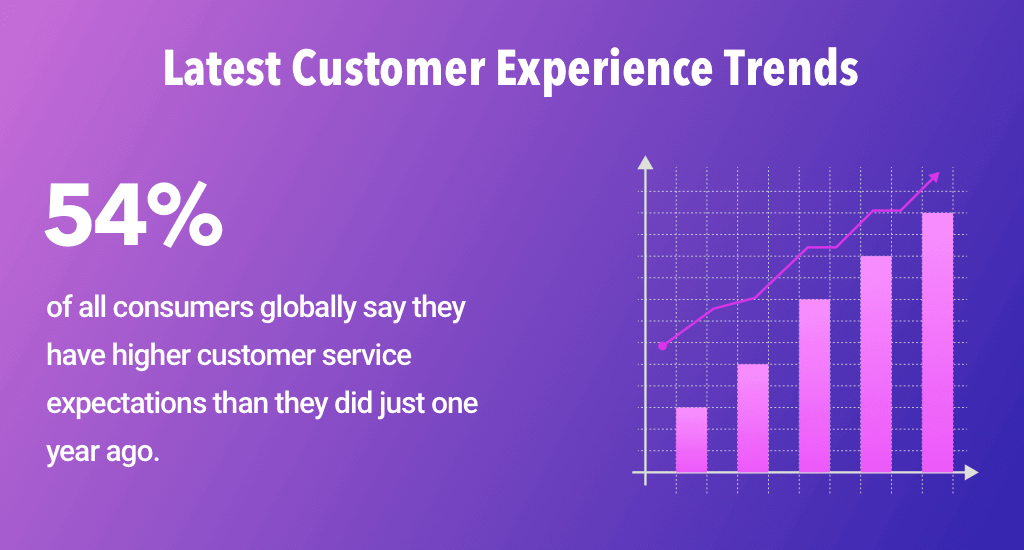 Improve customer service by trying the following:
For example, be available to answer questions and provide flight demonstrations to prospects trying to evaluate different drone mapping companies for an upcoming construction project.
Take time to understand their surveying needs and explain how your high-precision UAVs can deliver the 3D site models they require.
Make the flight booking and preparation process smooth and seamless for clients.
Be responsive over the phone and email leading up to the shoot.
Arrive early, greet them professionally, and ensure you capture all requested aerial data efficiently.
After the flight, follow up promptly with project deliverables like edited video and aerial maps.
Check-in to ensure clients are satisfied with the results and happy to be a reference.
Ask for testimonials and reviews you can share online to build social proof.
By providing exemplary customer service throughout each client engagement, drone startups demonstrate their reliability and care. Outshining competitors leads to repeat business, positive word of mouth, and more five-star reviews.