The greeting card industry continues to climb slowly. As of 2022, the global market reached $19.25 billion in earnings with a projected compound annual growth rate (CAGR) of 0.9% from 2023 to 2030. For those interested in opening their own greeting card business, now is the time.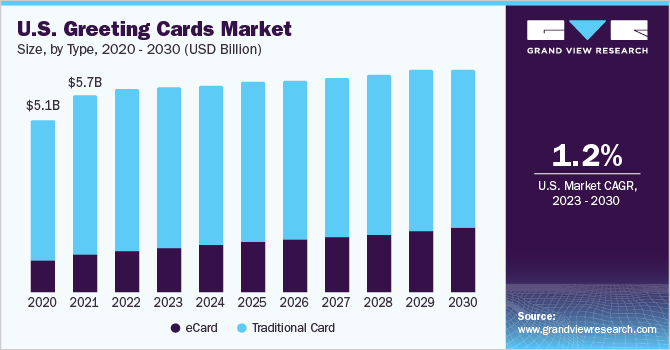 This comprehensive guide will walk you through how to start a greeting card business. Whether you want to start a greeting card empire or just design cards as a side hustle, this article has the information and advice you need to turn your passion into a profitable business. So grab a cup of coffee and let's get started!
1. Conduct Greeting Card Market Research
Market research is essential to starting a handmade greeting card business. Selling greeting cards means knowing about other companies selling greeting cards, who your target market is, how many cards are selling for, and trends in products and services.
Some things you'll learn through market research include:
The largest segment of the greeting card market is seasonal cards for holidays like Christmas, Valentine's Day, and Mother's Day.
While competition is fierce for major holidays, there are opportunities for more niche occasions like graduations, weddings, anniversaries, and birthdays.
Focusing on a particular demographic or occasion can help new greeting card businesses differentiate themselves.
In terms of distribution channels, around 62% of greeting cards are purchased in retail stores like grocery stores, department stores, and specialty card shops.
Building an online greeting card business can help reach customers beyond a geographic area.
Social trends also favor the greeting card industry. Consumers today are very focused on relationships and expressing themselves.
Greeting cards are a way to do this creatively and thoughtfully.
With the popularity of crafting, many consumers enjoy selecting and personalizing the perfect card for loved ones. This is an advantage smaller greeting card companies have over mass retailers.
Greeting cards remain popular for their ability to convey sincerity, thoughtfulness, and personal connection. They are often saved and displayed as keepsakes.
To be successful in the greeting card market, new entrants should focus on:
Standing out with truly original and artistic designs
Targeting a niche demographic or occasion
Offering customization options
Building a robust online presence and distribution
Using print-on-demand technology to contain costs
Partnering with complementary businesses like gift shops, florists, and stationers
With careful positioning and execution, aspiring greeting card entrepreneurs can find plenty of opportunities left in this multibillion-dollar industry. Creativity and passion are often greater competitive advantages than size.
2. Analyze the Competition
To succeed in the greeting card business, you need to carefully analyze your competition, both online and in brick-and-mortar stores. Competitive analysis offers ideas on where to find small business funding, how to price products, and which greeting card company is the biggest competition.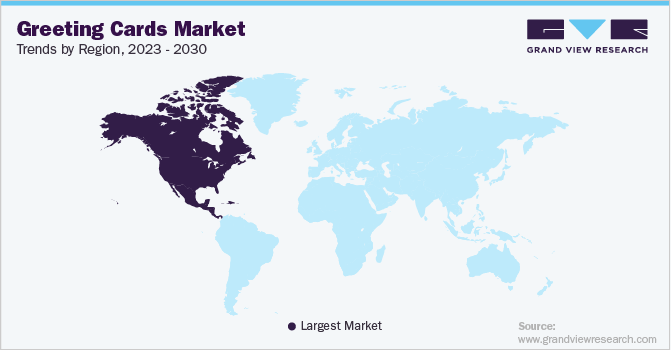 For physical stores, identify greeting card shops and other retailers selling cards within a 25-mile radius.
Visit the stores as a customer and take notes on product selection, pricing, displays, store ambiance, and customer service.
Look at how they merchandise cards and what niches or occasions they focus on. This will help you identify unmet needs in your local market.
Research top greeting card brands like Hallmark and American Greetings online.
Study their websites and social media presence. What are their brand personalities and how do they resonate with customers?
Subscribe to their email lists to analyze promotions and new product launches. Look for gaps where a new brand could capture share.
Search online marketplaces like Etsy to find independent card designers. Assess what makes their designs unique and appealing to customers.
Look for common themes and trends in successful independent brands that inspire customer loyalty.
Use Google Trends, Google Keyword Planner, and social media analytics to assess consumer demand around key greeting card topics and themes.
Identify rising trends and untapped audiences. The tools can also show monthly/seasonal search volume patterns.
By thoroughly analyzing both local and national competitors across key dimensions, greeting card entrepreneurs gain invaluable insights into how to differentiate, set competitive pricing, design impactful merchandising, and identify their target audience. Competition research is crucial to strategy.
3. Costs to Start a Greeting Card Business
Starting a greeting card business involves both initial investments and ongoing expenses. Carefully estimating these costs is crucial when assessing the viability of a greeting card venture.
Start-Up Costs
Business formation legal fees – $800-$1,000. Costs to formally establish your business as an LLC or corporation.
Business license & permits – $50-$500 depending on location. Required to legally operate.
Website design & development – $3,000-$5,000 for a custom-branded site with e-commerce capabilities.
Inventory – $2,000-$5,000 for the initial run of card designs and packaging. The cost will depend on the quantities ordered.
Equipment – $1,000-$5,000 for computer, design software (e.g. Adobe Creative Suite $600 annually), card printing equipment, and office supplies.
Marketing collateral – $500-$1,500 for business cards, branded packaging, and promotional materials.
Accounting software – $10-$50 per month for bookkeeping software like QuickBooks.
Initial marketing & advertising – $500-$2,000 to promote a new business launch and offerings.
Retail store space & build-out – $2,000-$10,000 for first and last month's rent plus security deposit. Another $5,000-$25,000 for furniture, displays, counters, register, and decor.
Staffing – $2,500+ per employee for the first-month payroll until sales commence.
Total initial start-up costs for a lean online-only operation could be under $10,000. For those wanting retail space or manufacturing capabilities, start-up costs can easily exceed $50,000.
Ongoing Costs
Cost of goods – Expect 50% or more of sales revenue to go toward replenishing card inventory and packaging.
Website hosting – $100-$300 annually for site maintenance.
Staffing – Employee payroll including base pay, taxes, and benefits will likely be one of the largest ongoing costs. Plan $25,000+ annually for a single full-time employee.
Software subscriptions – $50-$100 monthly for critical programs like email services, security, and design programs.
Marketing – 10-20% of revenue should be reinvested into marketing, advertising, and search engine optimization.
Merchant processing fees – 1-5% of transaction amounts for credit card processing.
Shipping & fulfillment – Expect to spend 20-40% of online sales on packaging materials and shipping costs.
Office rent & utilities – Typically $1,000-$4,000 monthly depending on location and space needs.
Business insurance – $500-$2,000 annually. Recommended for liability and property coverage.
Accounting services – $100-$500 monthly if outsourcing to a bookkeeping firm.
Ongoing costs commonly amount to thousands per month for small operations and tens of thousands for larger companies with employees and retail space.
4. Form a Legal Business Entity
When starting a successful greeting card business, one of the first legal decisions is choosing a business structure. The four main options each have advantages and disadvantages to weigh.
Sole Proprietorship
This is the simplest and most common structure for new small businesses. You and the business are legally considered one entity.
Pros: Easy and inexpensive to set up. You retain complete control and get all profits. Minimal legal requirements.
Cons: No liability protection – you are personally responsible for all debts and liabilities. Difficult to raise investment capital. Limited growth potential.
Partnership
Two or more co-owners share control and profits. Common arrangements include general partnerships where partners manage together and limited partnerships with silent partners providing capital.
Pros: Easy to establish with part of the ownership agreement. Shared financial burden among partners. Can combine complementary skills.
Cons: Joint and several liability – each partner is personally responsible for liabilities of the entire business. Partnership dynamics introduce the potential for conflict. Requires shared decision-making.
Limited Liability Company (LLC)
LLCs mix the limited liability of a corporation with the tax structure of a partnership or sole proprietorship.
Pros: Personal assets protected from business debts and liabilities. Flexible management options. Easy to add new members/investors. No double taxation.
Cons: More complex to establish with articles of organization and operating agreement. Requires consistent record keeping and member/manager duties.
Corporation
Corporations are distinct legal entities from their owners. Ownership is through stock shares.
Pros: Limited liability for shareholders. Additional credibility with customers. Easier to raise investment capital. Perpetual existence.
Cons: Most complex and expensive to set up and maintain. Double taxation on profits. Extensive record-keeping keeping required.
5. Register Your Business For Taxes
One key legal task when forming a business entity like an LLC or corporation is obtaining an Employer Identification Number (EIN) from the IRS.
An EIN is essentially the Social Security Number for your business. It uniquely identifies your company and is required to open business bank accounts, apply for licenses, hire employees, and file taxes.
Unlike a Social Security Number, an EIN can be obtained quickly and easily online. The IRS even provides a convenient EIN Assistant to guide you through the process.
To obtain an EIN, you'll need identifying information about your business such as name, address, and ownership structure. The online application only takes about 10-15 minutes to complete. At the end, you'll be provided your official EIN immediately.
In addition to a federal EIN, most states require sales tax registration if selling taxable goods. Sales tax rates and rules vary widely across states.
Common requirements include:
Obtaining a state seller's permit
Collecting and remitting sales tax on taxable transactions
Filing regular sales and use tax returns (often monthly or quarterly)
Use resources like SBA.gov and your state government's website to look up specific sales tax obligations in the states where you plan to sell greeting cards. Factor these costs and administrative needs into your business plan.
6. Setup Your Accounting
Proper accounting is crucial for any business, especially a new greeting card venture. Setting up robust systems from the start will ensure you stay compliant, understand your finances, and optimize taxes.
Accounting Software
Investing in small business accounting software like QuickBooks is highly recommended. QuickBooks seamlessly integrates with your business bank accounts and credit cards, automatically importing and categorizing transactions to streamline bookkeeping.
It generates financial statements, sales reports, profit/loss summaries, and the tax-ready reports you need for fiscal year filings. QuickBooks plans start at $20/month and can be deducted as a business expense.
Professional Accountant
While software provides the essential infrastructure, most businesses benefit from an accountant's expertise in reviewing their books monthly or quarterly. This provides an independent perspective to identify potential issues early.
A CPA can advise on maximizing tax deductions and credits available to your business. Come tax time, your accountant will already be familiar with your finances to handle required filings and tax payments on your behalf. Expect to invest $200-$500 monthly for these professional services.
Open a Business Bank Account
Never co-mingle personal and business finances. Open dedicated checking/savings accounts and credit cards solely for your company. This makes bookkeeping and reporting much simpler. Business income and expenses should never run through personal accounts.
Apply for Business Credit Cards
Applying for business credit cards helps establish your business credit profile which will benefit you when seeking loans or additional credit lines. Issuers evaluate business creditworthiness based on time in business, income, credit score, and personal guarantee by owners.
7. Obtain Licenses and Permits
Before selling your first greeting card, it is crucial to ensure your business has obtained all required federal, state, and local licenses and permits. Operating without proper registrations can lead to steep fines or even force you to shut down.
Business License: Nearly all municipalities require a general business license to operate there, even home-based businesses. Fees are usually under $100 annually.
Seller's Permit: If selling products in person, online, or wholesale, your state will require a seller's permit or retail sales license. This authorizes collecting and remitting sales tax on purchases.
Fictitious Name Filing: If using a business name different than your legal name, register it with your county clerk. Known as a fictitious business name, DBA (doing business as), or trade name.
Trademark Registration: Registering your business name, logo, and other brand elements with the U.S. Patent and Trademark Office provides legal protection from infringement.
Sales Tax Exemption Certificate: If planning to sell wholesale to retailers, obtain a resale certificate from your state tax authority. This allows you to sell products tax-free to resellers who will collect sales tax on their retail sales.
Health Permits: If producing food products like greeting cards with baked goods, health department permits for your commercial kitchen are required, even for home-based preparation.
Always check federal, state, county, and city requirements to ensure your greeting card business complies with all licenses and permits. Seeing these registrations through prevents unnecessary legal risks and penalties down the road.
8. Get Business Insurance
Business insurance protects your company's financial health in the event of unforeseen losses. While not legally required, it can mean the difference between survival and bankruptcy after an incident.
Consider these scenarios:
A fire destroys your retail store or warehouse inventory. Without property insurance, you'd personally incur the full replacement costs.
A customer trips and falls in your store, sustaining injuries requiring hospitalization. Lacking liability insurance, you'd pay their medical bills and any lawsuit damages.
Your van delivering greeting cards is totaled in an accident. Commercial auto insurance could replace the vehicle. Otherwise, you take the loss.
Safeguard against catastrophic scenarios like these with business insurance tailored to your risks. Commonly recommended policies include:
General liability – covers injury and property damage claims
Property – insures business locations and inventory
Commercial auto – protects company vehicles
Business owner's policy (BOP) – packages property/liability
Workers' comp – covers employee injuries
The process to get insured involves:
Inventory your risks and assets to determine needed coverage.
Researching reputable providers like Progressive and getting quotes.
Selecting a policy with ideal coverage and premium cost.
Completing the insurer's application and providing requested details on your business.
Paying premiums monthly or annually to maintain active policies.
Don't let a single incident bankrupt your greeting card venture. Business insurance provides essential risk management.
9. Create an Office Space
An office provides a professional workspace for critical business tasks like designing cards, managing inventory, shipping orders, and holding meetings. The right space facilitates efficiency and credibility with clients.
Home Office
Many solopreneurs launch card businesses from a spare bedroom or basement turned office. This allows for maximizing profits by avoiding rent overhead. You can deduct a portion of household expenses like utilities, internet, etc. Home offices work for bootstrapped entrepreneurs or small operations. Lacking separate creative space can be challenging.
Coworking Space
Joining an affordable coworking space like WeWork provides amenities like conference rooms, printing, community events, and networking. The creative energy and flexibility to scale up or down are ideal for a dynamic venture. However, distractions can impede deep creative work. Expect to invest $200-$500 monthly for a dedicated desk.
Retail Shop
For higher customer traffic and selling cards in person, leasing a small store or kiosk may be advantageous. Having a physical presence where people can discover products often increases sales. However, the overhead of commercial space and staffing retail operations is significant.
Commercial Office
When your team grows large enough, moving into dedicated commercial office space brings privacy plus room for inventory storage, shipping operations, photography studios, etc. While most expensive, the right office becomes a productive hub. Expect $1,000-$4,000 monthly for a few hundred square feet.
Analyze your workflow, budget, and priorities to select optimal office space. Combine options like a home design studio plus a commercial fulfillment office to find the right balance for your greeting card business.
10. Source Your Equipment
Greeting card ventures require cardstock, printing equipment, packaging materials, office supplies, and more. Smart entrepreneurs utilize a mix of new purchases, used deals, and rental equipment to secure necessary supplies on a startup budget.
Buying New
Shop basic printers, laminators, paper cutters, envelopes, stamps, and office items new from big box chains like Staples or Office Depot. Take advantage of coupons and rewards programs to save. Order specialty cardstock, foil, and design elements from paper suppliers like Neenah Paper.
Buying Used
Search eBay, Craigslist, Facebook Marketplace, and Nextdoor for steeply discounted used equipment like commercial printers, scanners, and electronics. Read seller reviews and test items upon pickup. Expect 50-75% savings versus new.
Renting
Rent higher-budget equipment like wide-format printers, die-cutting machines, and photography lighting from specialty rental houses to limit upfront investments. Payment plans are often available for longer rentals. Useful for large seasonal orders.
Leasing
Multi-year leases through equipment companies get entrepreneurs premium equipment while spreading costs over time. Especially useful for costly machinery like foil stamping presses. Provides routine maintenance too.
Combining channels allows greeting card startups to secure essential tools while minimizing initial outlays. Buy used goods for the long term, rent for temporary needs, and lease expensive equipment.
11. Establish Your Brand Assets
Developing a strong brand identity is crucial for greeting card companies to stand out in a crowded market. Strategically creating core brand assets establishes recognition and trust with customers.
Getting a Business Phone Number
A professional business phone number lends legitimacy, allowing customers to easily contact you. Use a reliable virtual phone service like RingCentral to get a local or toll-free number with call routing, voicemail, conferencing, and texting features starting at just $20/month.
Creating a Logo and Brand Assets
A polished logo encapsulates your brand personality and helps customers remember you. Given greeting cards are visual products, your logo should be an artistic representation of your style. Services like Looka make professional logos easy, with options like abstract marks, lettermarks, and more starting at just $20.
Pair your logo with complementary brand assets like patterns, fonts, colors, and graphic elements to cement brand recognition. Apply these to your website, packaging, promotions, and cards.
Business Cards and Signage
Business cards put your brand in customers' hands and get your name circulating. At networking events, trade shows, and sales meetings, cards enable easy sharing of your contact info and website. Services like Vistaprint offer affordable custom cards showcasing your logo and stylish design.
Store signage and window graphics also provide valuable brand exposure. Vistaprint's fast turnaround and bulk order discounts make professional signs and banners cost-effective.
Purchasing a Domain Name
Your domain name is part of your identity. Pick a name that's memorable, short, easy to spell, and includes your best keywords. Use .com if available or alternatives like .cards or .store. Check name availability at registrars like Namecheap, where domains start at around $15 annually.
Building a Website
An engaging website on your custom domain allows customers to learn about your brand story and shop 24/7. While DIY site builders like Wix make website creation accessible, hiring web designers on freelance marketplaces like Fiverr means handing creative freedom to experts.
12. Join Associations and Groups
Joining industry groups and associations accelerates success for greeting card entrepreneurs by providing invaluable connections and insights. Surround yourself with like-minded peers.
Local Associations
Look for local chapters of associations like the Greeting Card Association and the National Stationery Show. Attend their networking events to connect with other card designers, manufacturers, and retailers in your region.
Memberships starting around $100-$500 annually also provide access to industry blogs, webinars, discounts on supplies, and more. Trade shows let you showcase your cards and get product feedback.
Local Meetups
Attend small business meetups in your city through sites like Meetup. Groups focused on design, retail, marketing, and e-commerce provide targeted networking and growth opportunities.
Connect in person regularly to exchange business strategies and connections with fellow entrepreneurs. Meetups directly related to the greeting card niche are most valuable long-term.
Facebook Groups
Join Facebook groups like Card Making Only and Handmade Card Making Ideas/discussion to crowd-source advice 24/7 from thousands of card designers globally. Share your work and get feedback. Learn proven strategies that scale.
Surrounding yourself with industry peers helps greeting card businesses continuously sharpen skills, expand connections, and accelerate growth. Seek out local associations, meetups, and online groups.
13. How to Market a Greeting Card Business
Marketing is crucial for any business to acquire new customers and increase sales. Greeting card companies have many digital and traditional marketing channels to choose from when promoting their brand.
Start with Your Network
Leverage your existing contacts and past customers to spread the word. Satisfied buyers who had a great experience are often happy to provide referrals to friends and on social media. Consider thank you cards with referral codes or discounts to incentivize shares. Word-of-mouth is still powerful.
Digital Marketing Ideas
Google Ads – Drive traffic to your site through targeted search and display ads. Focus on keywords related to greeting cards and gifts.
Facebook/Instagram Ads – Run ads promoting your designs and driving to your online shop. Target by demographics and interests like holidays, stationery, and events.
Email Marketing – Collect emails to build an audience to promote new designs and sales to. Services like MailChimp help automate drip campaigns.
Social Media – Share your cards on platforms like Instagram and Pinterest using relevant hashtags and tagging greeting card accounts.
SEO – Optimize website content for search engines through keywords, meta descriptions, alt text, and backlinks to surface higher in results.
YouTube – Upload processes tutorials, product reveals, and business vlogs to establish expertise and personality.
Traditional Marketing Ideas
Direct Mail – Send postcards and catalogs showcasing card designs to prospects purchased from mailing list providers. Include promo codes.
Flyers – Distribute flyers highlighting seasonal designs and promotions at local shops, fairs, cafes, libraries, and community boards.
Newspaper Ads – Local newspaper ads can promote an online shop or physical store, especially leading up to big holidays for gifts.
Radio Ads – Short radio spots on local stations share your brand story and current card offers. Time around holidays for gifting.
Billboards – Attention-grabbing outdoor billboards along busy roads showcase seasonal or everyday cards to commuters.
A strategic mix of digital and traditional tactics tailors marketing to greeting cards. Focus on affordable options with measurable results.
14. Focus on the Customer
Providing exceptional customer service is crucial for greeting card companies to nurture loyalty, gain referrals, and grow their reputation. How you treat customers directly impacts your success.
Some ways to increase focus as you create greeting cards include:
Respond quickly to inquiries with thoughtful guidance to answer questions. Offer handwritten thank-you notes when customers provide feedback or share your cards on social media.
Ship orders the same day whenever possible, and include small gifts like stickers, tea samples, or discount codes. Follow up after purchases to ensure satisfaction.
When mistakes happen, sincerely apologize and make it right immediately. Send a free replacement card overnight or refund their money. Turn problems into opportunities to impress.
Share new card releases and promotions with subscribers to show you value long-term relationships, not just sales. Seek genuine feedback on designs and use suggestions to improve.
Experiences like these demonstrate you care and gain happy, loyal evangelists. Satisfied customers enthusiastically recommend you to all their friends seeking cards for birthdays, holidays, and life events.
Exceptional service earns 5-star online reviews driving organic traffic and sales. Referrals from past customers become your most powerful marketing channel.
Greeting card shoppers have many options, so you must provide stellar experiences. Thoughtful customer service wins lifelong brand advocates who fuel growth.