For entrepreneurs hoping to get into the online t shirt business, now is the time. The global market is on an upward trajectory with a compound annual growth rate (CAGR) of 3.85% from 2023 to 2028.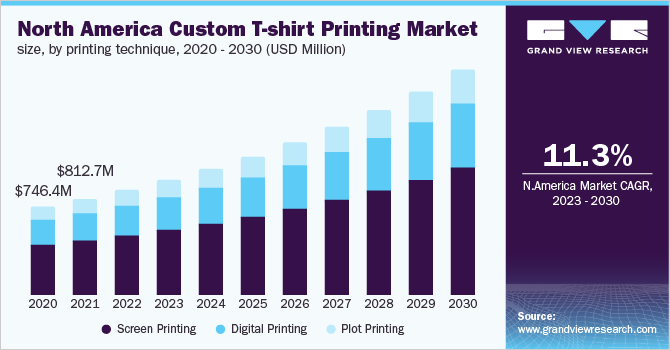 This guide will walk you through how to start a t shirt printing business. We'll cover topics like sourcing equipment, obtaining a business license, marketing, and long-term growth strategies. Whether you're looking to run a lean, online-only shop or open up a storefront, this comprehensive article has the information you need to turn your passion for t-shirts into a thriving business.
1. Conduct T-Shirt Printing Market Research
Market research is essential for businesses hoping to sell t shirts online or in store. Research offers insight into local competition, your target market, inspiration for your own t shirt designs, trends in the t-shirt printing business industry, and more.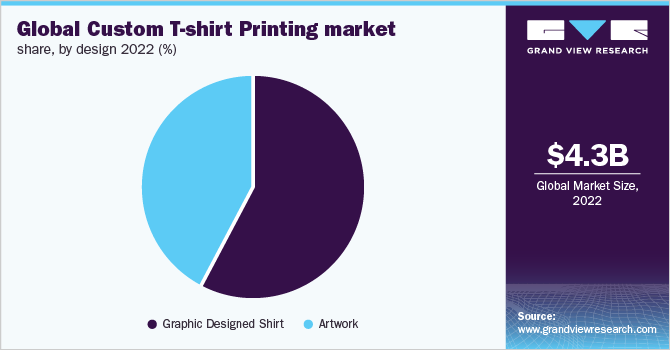 Some details you'll learn through market research for an online t shirt store include:
Increased demand for customized and personalized apparel. Consumers want shirts tailored to their interests, hobbies, and styles. This has created opportunities for on-demand printing services.
Growth of e-commerce. Online t-shirt sales are growing rapidly as more people shop online. Print-on-demand drop shipping models have emerged to meet this demand.
The popularity of printed t-shirts as marketing giveaways. Businesses use custom shirts for branding at conferences, company events, and as merchandise. The promotional products industry is worth $23.3 billion.
Fashion trends favoring casual and comfortable clothing. T-shirts align with more relaxed dress codes and versatile outfitting.
The industry has low barriers to entry with minimal startup costs. Basic equipment like heat presses and screen printing machines can be purchased for less than $5,000. With print-on-demand, shirts are only printed after receiving an order, eliminating inventory costs.
Most t-shirt printers are small local businesses serving a community. However national online printers have emerged, leveraging e-commerce and social media for wider reach. Industry leaders like CustomInk, Printful, and Printify have disrupted the market.
Key opportunities in this industry include:
Focusing on a niche market or demographic. For example, printing shirts for local schools and events.
Utilizing digital printing and print-on-demand to provide customized one-off shirts.
Selling merchandise for music groups, YouTubers, and online influencers.
Offering fast turnaround times for rush orders and emergency prints.
Building an engaged social media audience for your brand.
Expanding printing onto other product types like hats, mugs, and bags.
With the right strategy, t-shirt printing can be a lucrative business. Low startup costs make it accessible for new entrepreneurs. However, building a recognizable brand and leveraging technology for scalability is key to long-term success in this competitive market.
2. Analyze the Competition
Understanding your competitors is crucial when entering the t-shirt printing industry. Start by identifying local printers in your area to gauge pricing, products, and services. Search online directories and drive around town looking for shops. Analyze their website and social media presence as well.
Some ways to check out local competitors selling t-shirts online include:
Research larger competitors beyond your geographic region.
Check online t-shirt printers like CustomInk, Printful, and T-Shirt Elephant to see what they offer.
Evaluate their prices, turnaround times, order sizes, and printing capabilities. This will help you position your services.
Look at the marketing approach of top companies. How are they attracting customers and driving sales?
Pay attention to the imaging and messaging used on their website, emails, and social platforms.
You can get creative inspiration from their content while ensuring you differentiate your brand.
Search for online reviews of major competitors to find potential weaknesses to capitalize on.
Look for recurring complaints about quality, customer service, or production delays.
Use reviews to refine your operations and identify your competitive advantage.
Set up Google Alerts for key competitors to monitor news coverage, new product launches, and growth strategies.
Analyzing competitors provides key insights as you establish your t-shirt printing business. Keep an eye on leaders in the space but don't become overly focused on what they are doing. Concentrate on your strengths and serve the specific needs of your local community.
3. Costs to Start a T-Shirt Printing Business
Starting a custom t shirts printing business does require an initial investment. However, with careful planning and cost management, entrepreneurs can launch with a reasonable budget. Let's break down the budget for a high quality t shirts business model.
Start-up Costs
Equipment – $5,000-$15,000 Purchasing equipment is often the biggest upfront cost. At a minimum, you'll need a printer or heat press ($2,500-$5,000) and a high-quality graphic design computer ($1,000-$2,000).
Other helpful equipment includes a conveyor dryer ($3,000), an exposure unit ($500-$1,000), and finishing tools like folders and cutters ($500). Shop used equipment to save costs.
Licensing & Registration – $500-$1,500 Register your business name and apply for necessary licenses and permits based on your state and municipality.
Costs vary but plan for $500-$1,500 in legal/filing fees. Reseller and sales tax licenses are required for most printing businesses.
Shop or Office Set-Up – $2,000-$5,000 A retail space for customer walk-ins has higher costs for lease, utilities, and renovations.
An e-commerce-focused shop can operate from a small warehouse or rented space. Budget $2,000-$5,000 for your initial physical workspace and basic utilities/services.
Starting Inventory – $1,000-$2,000 Stock blank t-shirts, inks, transfer paper, and other printing materials. Inventory needs depend on your order volume but allocate around $1,000-$2,000 upfront. Only purchase what you need to fulfill initial orders.
Marketing – $500-$1,500 Website development, business cards, flyers, and online ads to launch your brand. Set aside $500-$1,500 for these start-up marketing essentials.
Additional Staff – $0-$5,000 For low order volumes, the owner can handle the printing. Hiring 1-2 part-time workers for $15/hour would cost $1,200-$5,000 for training and first-month payroll.
Ongoing Costs
Once up and running, be prepared for the following ongoing operational expenses:
Cost of Goods Sold – Budget for shirt and supply costs per order.
Rent – Monthly retail space or warehouse costs.
Utilities – Electricity, gas, water, trash, etc.
Marketing – Paid ads, trade show fees, promotional products.
Insurance – General liability and business property insurance.
Payroll – Full/part-time staff wages and labor burden.
Loan Repayment – Monthly principal and interest payments.
Software/Services – Design programs, shipping, accounting fees.
Carefully track variable costs like shirt quantities and design labor hours per order. Maintain tight control of fixed costs each month as well. Establish financial systems to manage cash flow, accounts receivable, and profitability.
4. Form a Legal Business Entity
When starting a t-shirt printing business, one of the first legal decisions is choosing your business structure. The four main options each have advantages and disadvantages to consider:
Sole Proprietorship
A sole proprietorship is owned and operated by one person. It's the simplest structure with minimal legal requirements. However, the owner is personally liable for all business debts and liabilities. This substantial financial risk makes a sole proprietorship an unsafe choice for a t-shirt printing business that deals with equipment leases, inventory, and design liabilities.
Partnership
A partnership splits ownership between 2 or more people. The partners jointly manage and share profits. However, each partner is also personally liable for the actions of the other partners and the partnership's debts. Forming a general partnership with unlimited liability is also a risky choice for a t-shirt printing business.
Limited Liability Company (LLC)
An LLC combines aspects of a partnership with the liability protections of a corporation. Member owners aren't personally responsible for business liabilities and debts. The flexible management structure works well for small t-shirt printing businesses with 1-2 co-owners.
Startups can also easily transition from an LLC to a corporation later if seeking investors or expanding nationally. Forming an LLC is the best initial choice for t-shirt printers.
Corporation
A corporation is a distinct legal entity owned by shareholders. "C-corps" provide limited liability but have more complex regulations. Significant legal paperwork is required for incorporation and ongoing compliance. The corporate structure is better suited to large-scale t-shirt printing companies. For small startups, forming a corporation comes with unnecessary burdens.
5. Register Your Business For Taxes
An Employer Identification Number (EIN) is a unique tax ID number the IRS issues to business entities operating in the United States. An EIN is required for any t-shirt printing business being established as an LLC, partnership, or corporation.
Here are the key reasons a t-shirt printing startup needs an EIN:
Open a business bank account. Banks require an EIN to open an account in your business name.
Hire employees. You'll need to report payroll taxes using your EIN.
Apply for business licenses and permits. An EIN is commonly required on applications.
File business tax returns. You report your t-shirt printing income and expenses to the IRS using your EIN.
Applying for an EIN is free and can be done online via the IRS website. The process only takes a few minutes:
Go to IRS EIN Assistant
Select your business structure and enter info like name and address.
Review your application details and hit submit.
Your EIN will be instantly displayed on the screen.
In addition to your federal EIN, contact your state revenue or taxation department to register for sales tax collection. You may need to complete sales tax permit applications using your new EIN.
Handling EIN and sales tax registration upfront ensures your t-shirt printing business meets all tax compliance obligations right from the start.
6. Setup Your Accounting
Proper accounting practices are crucial for t-shirt printing businesses. Without organized records and financial systems, you risk facing audits, penalties, and cash flow issues that could jeopardize your company. Here are some tips on optimizing your accounting:
Accounting Software
Use accounting software like QuickBooks to automate tracking income and expenses. Connect your business bank and credit card accounts so transactions seamlessly sync. Generate financial statements with a few clicks. The software provides convenience but cannot replace an accountant's expertise.
Hire an Accountant
Consider hiring an accountant for bookkeeping and reporting. Expect to pay $150-$300 per month for basic services like reconciling accounts, preparing statements, and sales tax filings. Their monthly fees are well worth it for peace of mind that your finances are organized.
Open a Business Bank Account
Always keep business and personal finances completely separate. Open a dedicated business checking account and credit card solely for company use. Never co-mingle funds or use business accounts for personal purchases. This makes bookkeeping clean and clear.
Apply for a Business Credit Card
Apply for a small business credit card using your LLC or corporate information. Issuers consider factors like your personal credit score, time in business, and estimated revenue when approving credit limits. Use the credit card only for printing supplies, equipment purchases, and other business expenses. Avoid excessive personal or non-essential spending.
7. Obtain Licenses and Permits
Before opening your t-shirt printing shop, it is crucial to ensure you have obtained all required business licenses and permits. Find federal license information through the U.S. Small Business Administration. The SBA also offers a local search tool for state and city requirements.
Nearly all municipalities require a general business license to commercially operate within city limits. Fees are typically based on your location and number of employees. A business license demonstrates you have permission to provide printing services in compliance with zoning and other regulations.
A seller's permit or resale certificate allows you to purchase wholesale t-shirts and supplies from vendors tax-free, then charge sales tax when you resell items to customers. Wholesalers must see this permit when making tax-exempt purchases. Different states have varying paperwork and rules around seller's permits.
If you will be using a business name different from your legal name, register for a DBA ("doing business as") via your county clerk's office. This registers the fictitious name with the state. Publish the DBA registration in local newspapers.
Contact your local zoning department to see if any permits or inspections are needed for signage, electrical wiring, ventilation systems, plumbing, or construction done on your retail or warehouse space. Fire departments also inspect for code compliance.
If your shop discharges industrial wastewater or chemicals, you may need a wastewater permit. This regulates what can be flushed down drains or sewage systems during the printing process. Environmental protection agencies oversee compliance.
8. Get Business Insurance
Purchasing adequate business insurance is highly recommended to protect your t-shirt printing company from unexpected risks that could lead to lawsuits or bankruptcy. Being underinsured exposes your assets and livelihood to potential catastrophe.
Consider how uninsured scenarios like an electrical fire, damaged customer order, or serious employee injury could entirely sink your business finances. Other risks include professional liability if a printed design infringes IP rights or equipment breakdowns from power surges. The right insurance reduces the financial impact if a worst-case incident occurs.
Common policies to obtain quotes for include:
General liability – Covers 3rd party bodily injury and property damage claims.
Commercial property – Protects business assets like equipment, merchandise, and furnishings.
Business interruption – Reimburses income lost due to disasters halting operations.
Workers compensation – Mandatory for employees. Pays for job-related injuries.
Commercial auto – For vehicles used for deliveries.
Follow these steps to get insured:
Document your risks and current assets.
Research brokers and get multiple quotes.
Compare coverage options and pricing.
Select policies that fit your budget and needs.
Pay premiums and provide proof of insurance where required.
Regularly review at renewal to update coverage.
Protecting your t-shirt shop upfront is far less stressful than dealing with an uninsured loss later. Consult insurance professionals to navigate the process.
9. Create an Office Space
Having a designated office space can provide efficiency and professionalism for your t-shirt printing company. It gives you and any employees a centralized hub for handling orders, communicating with clients, and managing the business end without disruptions.
Home Office
Working from a spare room or basement in your residence helps minimize overhead. With minimal startup costs, it works well for solo entrepreneurs just getting started. However, growth is limited without a proper commercial location.
Coworking Space
Shared offices like WeWork offer convenient amenities and networking with other entrepreneurs for around $300-$500 per month. More flexible than a long-term lease if you expect to expand soon.
Retail Shop
For printers focused on walk-in traffic, a storefront allows customers to browse designs, ask questions, and place orders onsite. High-visibility locations can boost sales but cost more in rent. Retail space ranges from $1,000-$5,000 monthly.
Commercial Office
Conventional office spaces provide room for multiple employees and equipment without customers visiting. Expect monthly rents of $2,000-$7,000 based on size, condition, and location. Lease terms typically run 3-5 years.
10. Source Your Equipment
A t-shirt printer's essential equipment includes screen printing machines, heat presses, exposure units, and drying systems. You'll also need blank apparel plus printing inks and transfer paper. Here are tips on acquiring everything you need:
Buying New
Purchasing brand-new equipment from a retailer ensures reliability and warranty support. New printers and heat presses start around $2,000-$5,000 each. Quality blank tees are $2-$5 and inks cost $20+. Buying new gives peace of mind but is pricier.
Buying Used
Gently used equipment can be purchased at 50-75% discounts versus new. Check Craigslist, Facebook Marketplace, eBay, and industry forums like T-Shirt Forums. Meet local sellers to inspect condition and function. Expect some wear from used gear but cost savings are substantial if still operational.
Renting
Some specialty equipment like conveyor dryers could be rented instead of purchased. Online rental marketplaces like ShareGrid allow you to rent from other local printers. Short-term rental works for occasional large orders requiring additional capacity.
Leasing
Multi-year equipment leases through financing companies allow spreading payments over time rather than a large one-time purchase. This preserves capital but results in higher long-term costs from interest. Leasing comps like Lessor allow deferring down payments as well.
11. Establish Your Brand Assets
Developing a strong brand identity is crucial for standing out in the crowded t-shirt printing industry. Consistent and professional branding makes your company memorable and promotes customer trust.
Getting a Business Phone Number
A unique local phone number lends legitimacy versus just using a personal cell. Services like RingCentral provide call routing, voicemail, and even SMS texting from your business line. This is useful when contacting suppliers, fielding customer inquiries, or interviewing employees.
Creating a Logo and Brand Assets
A logo symbolizes your brand and should convey your printing style and specialty. Consider an illustrative, typographic, or abstract design. Vector files allow logo scaling. Use the logo on your website, packaging, social profiles, and promotional items. Services like Looka provide fast logo creation starting at $20.
Business Cards and Signage
Professionally designed business cards build credibility when meeting clients in person. Order 250-500 cards from Vistaprint to start. An exterior sign, decals, and stickers raise the visibility of operating a retail shop.
Purchasing a Domain Name
Secure a domain like "YourPrintShop.com" that's short and easy to remember. Use keywords relevant to your locale and services. Purchase for $10-$15 annually from registrars like Namecheap.
Building a Website
Every business needs a website to be found online. Use website builders like Wix for easy DIY creation. Or hire a freelancer through Fiverr starting around $150 to custom design it. Include an online order form, gallery, services overview, and branding elements.
12. Join Associations and Groups
Joining local organizations and online communities provides invaluable connections when launching a t-shirt printing startup. Surrounding yourself with fellow entrepreneurs accelerates learning and growth.
Local Associations
Look for associations like the Specialty Graphics Imaging Association and Printing Industries Alliance that offer events, training, and peer support. Memberships start at around $300 annually. Tapping into established groups gives you insider industry knowledge.
Local Meetups
Attend relevant meetups like "Screen Printing Network Events" on Meetup to connect face-to-face with other printers, suppliers, and clients. Share experiences and business challenges in an open community. Consider hosting your meetup or speaking at one.
Facebook Groups
Facebook communities like the T-Shirt Printing Business PH provide crowdsourced advice on equipment, techniques, and growth strategies. The conversations are global versus local but it's free to follow.
Also, check for startup-specific groups like T-Shirt Business – Starting Your T-Shirt Business From Home" to connect with printers in your area. Participate regularly by asking questions, sharing tips, and offering advice.
13. How to Market a T-Shirt Printing Business
Implementing an effective marketing strategy is essential for attracting clients and growing your t-shirt printing company. A multi-channel approach combining digital and traditional tactics provides maximum exposure.
Personal Networking
Leveraging your network and encouraging referrals from satisfied customers are the most valuable ways to build your customer base when first starting. Offer referral rewards like 10% off their next order to incentivize sharing your business. Word-of-mouth is your best growth engine early on.
Digital Marketing
For digital marketing:
Run Google/Facebook ads targeting local demographics and interests relevant to your services. Can drive immediate sales.
Create social media business pages on Instagram and TikTok to showcase designs. Use relevant hashtags and paid boosting.
Start a YouTube channel demonstrating your printing process, equipment used, tips, and tricks. Builds expertise.
Write blog posts with SEO-optimized titles like "How to Start Your Own T-Shirt Business." Provides organic search traffic.
Send email newsletters with promotions, new product announcements, and company updates. Nurture leads.
Traditional Marketing
For traditional marketing:
Design eye-catching flyers and distribute them throughout your community on bulletin boards, local shops, and downtown. Offline exposure.
Take out ads in local newspapers and magazines relevant to your target demographics. Small business sections are affordable options.
Sponsor events like concerts or festivals with booth presence and t-shirt giveaways. Highly visible.
Run radio spots on local stations describing your services and current promotions. Broad reach at low cost.
Rent outdoor billboards on busier roads to capture drive-by impressions. Most expensive traditional option.
A strategic mix of digital and traditional tactics ensures your printing business gains visibility both online and in the local community.
14. Focus on the Customer
Providing exceptional customer service is crucial for any t-shirt printing company to retain clients, generate referrals, and build a reputation in the community. How you treat customers directly impacts your success.
Always be responsive to inquiries by phone, email, or online chat. Quickly answer questions and resolve concerns. Set clear expectations for production timelines and communicate during the order process.
Go above and beyond to accommodate rush orders or custom requests whenever feasible. Customers will remember how you came through in a pinch. Send an occasional follow-up email to ensure their printed shirts meet expectations.
Pay close attention to feedback. If issues are raised regarding print quality, sizing, materials, or anything else, sincerely apologize and offer to redo or refund the order. Turn complaints into opportunities to improve.
Follow up with happy customers asking if they would be willing to provide a review or testimonial for your website or social media. Satisfied people can become powerful brand advocates with referrals.
Treat every interaction as an opportunity to gain a lifelong customer through caring service. Consistently exceed expectations rather than simply meeting them. Your reputation will spread as customers have a great experience working with you.