The hair extension industry is booming. The market reached $4.06 billion in 2022 and is projected to reach $7.9 billion by 2030, according to Fortune Business Insights. More people are turning to clip-ins, tapes, and sew-ins to avoid drastic permanent hair changes.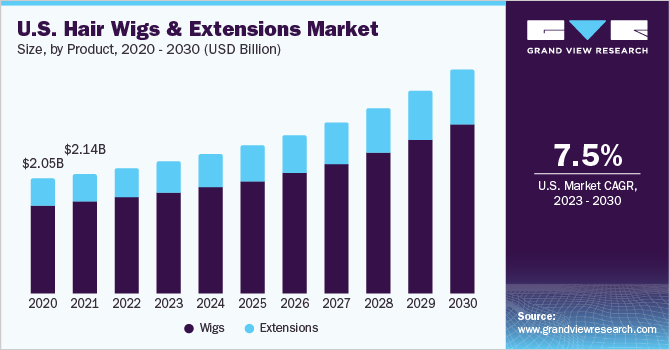 This comprehensive guide will walk you through how to start a hair extension business. From researching your market and developing a business plan to obtaining a business license and location, establishing supplier relationships, hiring staff, marketing your salon, and managing day-to-day operations.
1. Conduct Hair Extension Market Research
Market research is integral to building a successful hair extensions business. There are two types of market research, primary and secondary. The primary is research you conduct yourself. Secondary is research conducted by a third party.
Market research is important for insight into the hair salon, hair extension, and wig business market. It tells you about potential customers, your local target market, the best places to buy hair extensions, and even the top social media accounts for marketing.
As you develop a business model for your hair extension company, here are some details to recognize:
Increasing demand for fashionable hairstyles and the flexibility to change styles quickly and easily.
The rise of celebrity culture and social media influences people's beauty ideals and desire to emulate celebrity hairstyles.
More focus on overall appearance and spending on beauty services.
Advances in extension technology, like hand-tied wefts, tape-ins, and clip-ins that look and feel natural.
Growing consumer budgets for non-essential beauty services and willingness to pay premium prices for high-quality extensions.
The best opportunities in the hair extension industry include:
Brick-and-mortar salon businesses that sell and install extensions.
Specialist extension stylists who offer services independent of the salon.
Freelance extension application is in demand for events like weddings.
Selling branded hair extension products through wholesale and e-commerce channels.
Offering custom extension design services for television, film, theater productions, and cosplay events.
To capitalize on this growing industry, extension salon owners must focus on:
Stylist education and training
Competitive Pricing
Diverse extension options
Strong customer service
Consistent marketing
Overall, the hair extension market provides exciting entrepreneurial opportunities for those passionate about the beauty industry.
2. Analyze the Competition
Thoroughly analyzing your competition is crucial when starting a hair extension business. This helps you identify how opponents are storing hair extensions, where to buy the best quality hair extensions, whether competitors are using fake or natural hair, and more.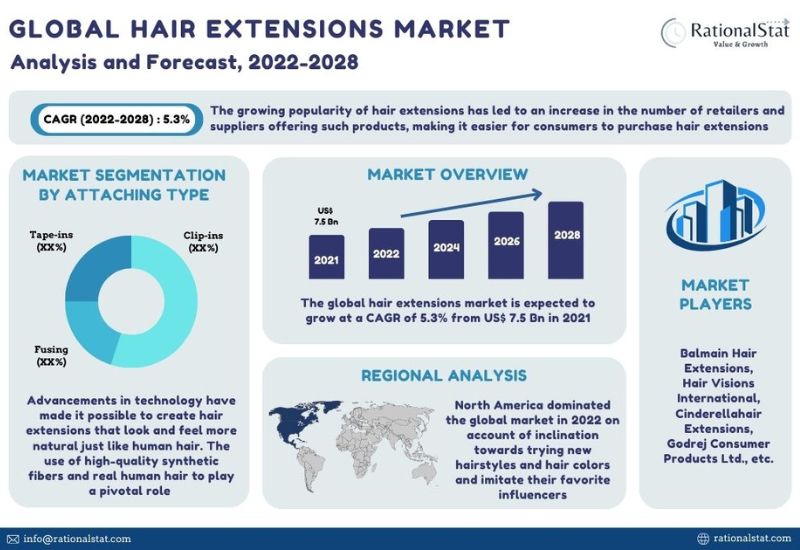 Some ways to check out the local human hair extension businesses include:
Research existing salons in your geographic area.
Drive around town and take notes on locations, signage, customer volume, and marketing.
Search online directories and review sites to see services offered, pricing, ratings, and reviews.
Visit competitor salons as a secret shopper and evaluate customer service, quality of extensions, and the overall experience.
Search relevant keywords related to your location and service offerings to see what salons rank highly in local search results.
Study their websites closely – how optimized are they for SEO? Do they facilitate easy online booking?
Compare their social media followings and online reviews.
Sign up for email lists to analyze promotions and offers.
Examine their overall branding and digital marketing strategy.
By comprehensively analyzing both in-person and online competitors, you gain an accurate picture of strengths, weaknesses, and competitive gaps. You can then refine your business plan and competitive positioning to stand apart. Continuously monitoring competitors even after opening will help you stay ahead.
3. Costs to Start a Hair Extension Business
When starting a hair extension business, carefully estimating costs is essential for securing financing and setting up an effective budget.
Start-up Costs
Start-up costs are the expenses encountered as you start a new business in the hair industry. For a successful hair extension business, you'll need to spend money on:
Business licensing – $50-$500 depending on location
Liability insurance – $500-$2000 annually
Hair styling equipment like salon chairs ($300-$1000 each), shampoo basins ($200-$500 each), dryer chairs ($200-$600 each), carts, mirrors, etc. Equipping stations for 2-4 stylists could cost $4000-$10,000.
Hair extension inventory – Budget $2000-$5000 minimum for initial extension stock including tapes, keratin bonds, clip-ins, ponytails, and other styles. Factor in a variety of textures and colors.
Salon lease deposit – Typically 1-2 months rent; $2000-$5000 for a small shop.
Salon buildout/renovations like flooring, lighting, and plumbing – $5000-$25,000+ depending on space.
POS system for appointment booking and retail sales – $50-$150/month
Website design and development – $1500-$5000 for pro site.
Marketing materials – $500-$2000 for signage, business cards, flyers.
Grand opening event – $500-$2000 for refreshments, entertainment, giveaways.
Professional services like bookkeeping, and payroll admin – $200-$500 monthly.
Initial product/supply inventory – $1000-$2000 for backbar, salon retail.
Ongoing Costs
Ongoing costs include any expenses encountered throughout the life of your hair business. Some common expenses when you operate your own business include:
Rent – $1500-$4000 for small leased space. More for purchased property including mortgage payments, property tax, etc.
Staffing – Hairstylists may be booth renters or employees. Booth rent averages $400-$1000 per station. Employing 2-5 assistants at $15-$20/hour would be $5000-$10,000 monthly.
Insurance – $150-$600 depending on policy
Utilities – $300-$800
Office Supplies/hair products – $500-$1500
Extension inventory restocking – $500-$2000 to replace sold product
Marketing expenses like social media advertising or SEO – $300-$1500+
Credit card processing fees – ~2-4% of revenue
Accounting fees – $200-$500
Shop maintenance – $500 miscellaneous repairs/upkeep
Annual expenses:
Liability insurance renewal
Licensure renewals – $50-$500
Continuing education – $100-$500 per stylist
POS system – $600-$1800
Accounting software – $300-$1500
Overall, total start-up costs for a small hair extension salon can range from $20,000 to $100,000 based on inventory, location, renovations, and equipment needs. Ongoing monthly expenses will typically cost between $10,000 to $25,000. Carefully estimating expenses and creating a detailed budget is key to success.
4. Form a Legal Business Entity
When starting a hair extension business, one key legal decision is choosing your business structure. The right entity can limit liability and provide tax advantages. Here are the main options:
Sole Proprietorship
A sole proprietorship is the simplest structure. You operate as an individual with pass-through taxation. However, you have unlimited personal liability for debts or lawsuits against the business. This poses risks for a salon as customers could file injury claims related to extension applications.
Partnership
A general partnership lets multiple hair stylists jointly run an extension salon and share profits. Like sole proprietors, partners have unlimited personal liability. Partnerships can also cause issues if a partner wants to exit the business. Overall, sole proprietorships and partnerships provide little liability protection.
Limited Liability Company (LLC)
A better option is forming an LLC (limited liability company). LLCs shield your assets from business liabilities, so extension clients cannot easily sue you personally. LLC profits pass through to members' taxes, avoiding double taxation. LLCs allow flexible management and ownership structures suitable for a small salon with multiple stylists. Startup costs are low.
S-Corporation
S-corporations also provide liability protection and pass-through taxes. But S-corps have stricter ownership rules requiring shareholders to be U.S. citizens. The formal structure involves more paperwork than an LLC. Overall, an S-corp offers minimal benefits over an LLC for a hair extension business.
C-Corporation
C-corporations let you sell stock and have unlimited fundraising potential. However, C-corps come with double taxation where profits are taxed at the corporate level and shareholder level. More record-keeping and formalities are required. For a small hair extension salon, double taxation and startup costs make a C-corp disadvantageous.
5. Register Your Business For Taxes
An EIN, or Employer Identification Number, is crucial for hair extension businesses to obtain. This unique ID number is used for key purposes:
Opening a business bank account
Registering your LLC or corporation
Filing taxes
Hiring employees
Essentially it serves as your business's social security number for interacting with state/federal agencies.
The good news is applying for an EIN is quick and free through the IRS website. Simply go to the EIN Assistant page and select "View Additional Types, Including Tax-Exempt and Governmental Organizations." Choose "Sole Proprietorship/Individual" or "Partnership" for a simple extension salon.
Follow the steps to enter your personal information, business name and address, reason for applying, and ownership details. Submitting online takes just minutes. You'll receive an EIN immediately in the form of a 9-digit number.
Registration for state sales tax collection, often called a Seller's Permit, is also crucial for hair salons selling retail products. Check your state's website for the proper forms and low registration fees, usually around $10 to $50.
6. Setup Your Accounting
Maintaining accurate financial records is critical for hair extension salon owners. Here are some ways to maintain finances when selling hair extensions as part of your hair business.
Accounting Software
With sales transactions and inventory purchases daily, using accounting software like QuickBooks streamlines tracking income and expenses. QuickBooks connects to your business bank accounts and credit cards, automatically importing and categorizing transactions.
Hire an Accountant
A bookkeeper can handle accounts receivable/payable, bank reconciliations, and produce financial statements for only $300-$500 monthly. Come tax season, an accountant will know industry specifics to maximize hair extension salon write-offs and deductions. They ensure proper sales tax collection and remittance as well.
Open a Business Bank Account
Open a business bank account to keep all personal and professional spending separate. When you own your own hair extension business, you don't want the IRS to assume any personal spending is happening with company money. It also helps you stay organized come tax season.
Apply for a Business Credit Card
A business credit card is also advised over personal cards. Business cards require your company's information and do factor in your credit score. Higher limits cater to your operating expenses. Charge all inventory purchases, advertising, software subscriptions, and other costs to this card.
7. Obtain Licenses and Permits
Opening a hair extension salon legally requires obtaining specific licenses and permits. Check with the U.S. Small Business Administration for federal requirements. The SBA also has a local search tool for state and city permit requirements.
At the state level, a cosmetology facility license allows you to operate a beauty salon. States mandate facilities meet certain health codes, provide licensed services, and safely store chemicals. Application fees are typically $50 to $500 depending on location.
A local business license or occupational tax certificate is mandated to legally operate in the jurisdiction. City or county clerks issue fees starting around $30. Some cities have additional industry-specific licenses for salons that regulate sanitation and bonding.
You may also need a fire inspection and health department inspection to get occupancy approval. Any signage for your salon requires a permit as well.
If hiring employees right away, be sure to register for a Federal Employer Identification Number to handle payroll taxes, unemployment insurance, and workers comp.
8. Get Business Insurance
Carrying proper insurance is crucial to protect your hair extension investment from unpredictable events. The right policies can save your company from financial ruin if you encounter mishaps.
Some common scenarios where a lack of insurance could devastate an extension salon:
A stylist improperly secures a client's extensions, causing hair loss and scalp irritation. The client sues for injury and emotional damages totaling $50,000. Without liability insurance, you'd pay these hefty expenses out of pocket.
A plumbing leak overnight floods your salon and ruins $10,000 worth of inventory and equipment. No coverage means eating these replacement costs.
A burglar smashes your front window and steals $5,000 of product. Insurance helps recoup theft losses.
To avoid such disasters, partner with an insurance broker to purchase recommended policies:
General liability insurance covers 3rd party injury and property damage claims. Up to $2 million in coverage is recommended.
Property insurance replaces stolen, damaged inventory and equipment. Get detailed replacement cost coverage.
Commercial auto insurance protects company vehicles.
Workers comp insurance covers employee injuries. Most states mandate this coverage.
For comprehensive protection, expect to budget $1,000 to $5,000 annually depending on your policies, limits, deductibles, and provider. Insurance gives peace of mind that accidents and unforeseen events won't dismantle your salon.
9. Create an Office Space
While your salon will be the main hub, securing office space can benefit your hair extension operation in key ways:
A private area for bookkeeping, QuickBooks entries, and other admin work. Salon noise and distractions make this challenging.
Storage room for excess inventory and supplies, removing clutter from the salon floor.
Meeting space for consultations, hiring interviews, and other appointments. This maintains a professional image.
Here are ideal options to consider:
Home Office
A home office allows you to work from the convenience of home. Expect costs of $100 to $500 to set up a basic desk and supplies in a spare bedroom or basement. While affordable, the home environment poses productivity and separation challenges.
Coworking Office
Coworking spaces like WeWork provide an affordable, professional office environment starting around $300/month. Open work areas, private offices, meeting rooms, and networking events are included. However, coming and going can reduce time at your salon.
Retail Office
If opening a retail salon, secure space with a back office/breakroom. This allows for storage and meetings without a separate lease. However, space within salons is often limited. Expect to pay 10% to 30% more in rent.
Commercial Office
Leasing a private commercial office space offers the most professional setting for meetings and solo work. A basic one-room setup rents for approximately $600 to $1500 monthly. The expense may not make sense for new extension salons.
10. Source Your Equipment
A hair extension salon needs quality styling tools and stations to deliver exceptional service. Not to mention several styles of hair extensions and application products.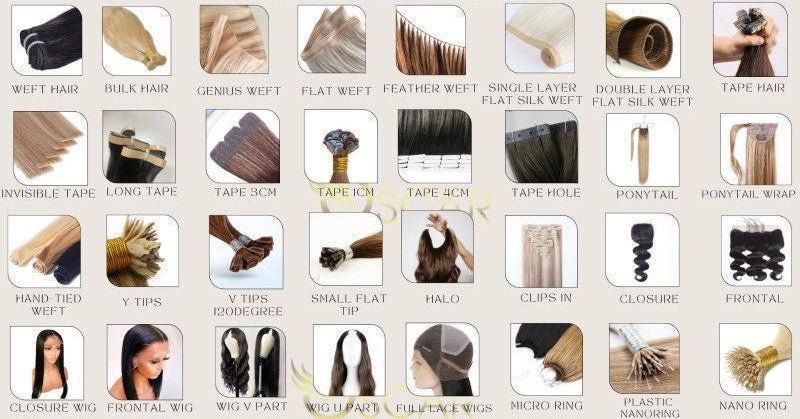 From dryers to shampoo chairs, here are the top ways to acquire the necessary equipment:
Buy New
Buying brand new gives you modern tools in pristine condition. Look to beauty suppliers like Sally Beauty, CosmoProf, and Beauty Systems Group for professional discounts of up to 30% off retail. Online specialty shops like Bangn Beauty also sell salon essentials. Expect to invest $4000-$10,000 in outfitting stations for 2 to 4 stylists.
Buy Used
Gently used equipment through resale saves substantially on costs. Facebook Marketplace and Craigslist frequently list salon chairs, carts, and dryers from stylists upgrading their tools. Expect 50% to 75% off original prices. eBay and OfferUp also connect you to sellers. Inspect secondhand items carefully before purchasing.
Rent
Renting equipment avoids major upfront costs while testing different options long-term. Check local classifieds or national rental marketplaces for short-term rentals around $100 to $200 monthly per piece. This helps limit spending as you build your clientele. Just confirm policies for damages.
Lease
Leasing through your beauty distributor bundles equipment costs into monthly payments over 3 to 5 years. Zero-down leases start around $150 monthly per styling station. You own the equipment after the term.
11. Establish Your Brand Assets
Creating a strong brand identity is crucial for hair extension salons to stand out. A polished brand conveys quality services and helps attract loyal clients.
Get a Business Phone Line
Start with securing a professional business phone number through a provider like RingCentral. Choose a local area code and dedicated line with call routing features to ensure no missed appointment calls. Expect to invest $25 to $50 monthly.
Design a Logo
Designing a logo and brand assets builds recognition. A creative, meaningful logo like an abstract hair graphic or stylized name reinforces your style and specialty. Use a logo maker like Looka to explore affordable options starting at $20.
Ensure brand colors, fonts, and graphic elements align across assets like business cards, email signatures, and signage. This consistency cements your identity.
Print Business Cards
Business cards from Vistaprint make in-person networking easy. Custom cards with your logo, tagline, and contact info cost roughly $20 for 500. Share these during outreach to gain new extension clients. Signage also announces your presence.
Buy a Domain Name
Buy your custom domain name through a registrar like Namecheap for maximum brand potential. A domain like "LuxeLocksExtensions.com" resonates. Expect annual registration fees of around $15. Choose a domain relating to your name or services.
Build a Website
Building a website establishes an online presence and hub for bookings. Using a user-friendly website builder like Wix, you can create a professional site yourself. Select a template, add hair images, service menus, and online booking, and publish for approximately $20 monthly.
Design a Website
Alternatively, hire a freelancer on Fiverr to custom-design a site for around $500. They handle technical aspects while you provide content. This yields a more strategic, optimized website.
12. Join Associations and Groups
Joining relevant associations and online groups can provide invaluable connections and growth for hair extension salons. Surrounding yourself with others in your industry yields mentorship, referrals, and inside knowledge you won't find elsewhere.
Local Associations
Search for a local beauty or cosmetology association to join, such as the American Association of Cosmetology Salons or the Professional Beauty Association. Memberships start around $50 annually for access to training, discounts, and networking mixers to meet stylists in your area.
Local Meetups
Regularly attending local trade shows and meetups is also advised. Use Meetup to find fellow beauty professionals in your region. Swap business strategies in person at low or no-cost events. Exchanging cards and social followers drives future referrals.
Facebook Group
Facebook groups connect you with stylish communities, both locally and beyond. Join industry-specific groups like Hair Extension Business Secrets – Marketing & Technique Support Group and Hair Extension Business Owners to access thousands of global peers. Get feedback, share experiences, and more at your fingertips.
13. How to Market a Hair Extension Business
Marketing is crucial for any new hair extension salon to create awareness, attract clients, and grow revenue. With the right promotion, you can establish your salon as a top destination for extensions in your area.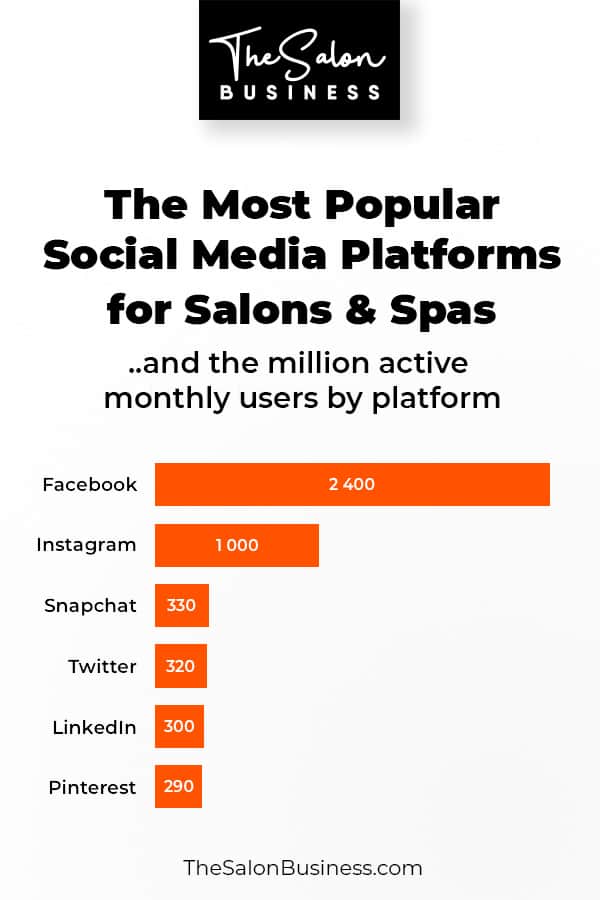 Start by tapping your network. Reach out to friends, family, and colleagues and ask them to try your services and provide referrals. Offer 10% off or other perks for word-of-mouth marketing. Satisfied clients are powerful brand advocates.
Digital Marketing
For digital marketing, focus on strategies like:
Google/Facebook Ads targeted locally to drive website traffic and bookings
Search Engine Optimization to rank higher in local salon searches
Customer review generation and management on Google, Facebook, Yelp
Email marketing with promotions to build your client list
Instagram feed showcasing extension styles, specials, before/afters
TikTok videos on extension techniques, behind-the-scenes, transitions
YouTube tutorials on extension care, styling tips, and client testimonials
Traditional Marketing
Traditional tactics like direct mail, radio, print ads in local magazines, and billboards can also work but may provide a lower return on investment. Consider:
Grand opening flyers mailed to households in a 10-mile radius
Local radio spot ads on popular stations
Ad in city magazine beauty section
Eye-catching roadside billboard near your location
While digital marketing tends to be more affordable and measurable, explore your options. Geo-targeted Facebook Ads to nearby followers of hair pages generate conversions under $5 per booking. Match tactics to your goals and continuously test new approaches.
14. Focus on the Customer
Providing exceptional customer service is crucial for hair extension salons to gain loyal, happy clients who refer others. How you treat clients directly impacts your reputation and bottom line. Some ways to enhance customer service when you sell hair extensions include:
For example, carefully listening to desired outcomes during consultations and delivering that experience leaves clients satisfied.
Sending follow-ups after appointments asking how the extensions are wearing ensures excellent long-term results.
Resolving any issues quickly, like adjusting an application that didn't take properly or replacing damaged extensions, preserves your reputation.
Going above and beyond also delights clients.
Throwing in free deep conditioning treatments or hair products for regulars shows you value their business.
Remembering personal details and preferences tailors the experience.
Consistently delivering 5-star service earns rave recommendations across Google, Facebook, Instagram, and more.
The referral business and return visits generated by stellar customer service provide crucial recurring revenue. This steady stream of clients is any salon's dream. So never neglect the care you provide customers. Your attention and personal touches create a memorable experience that fosters loyalty and growth.