The home staging industry is on the up and up with a compound annual growth rate (CAGR) of 4.2% estimated between now and 2025. This could bring the market to an evaluation of $13.5 billion by 2025, making it a good time to get involved.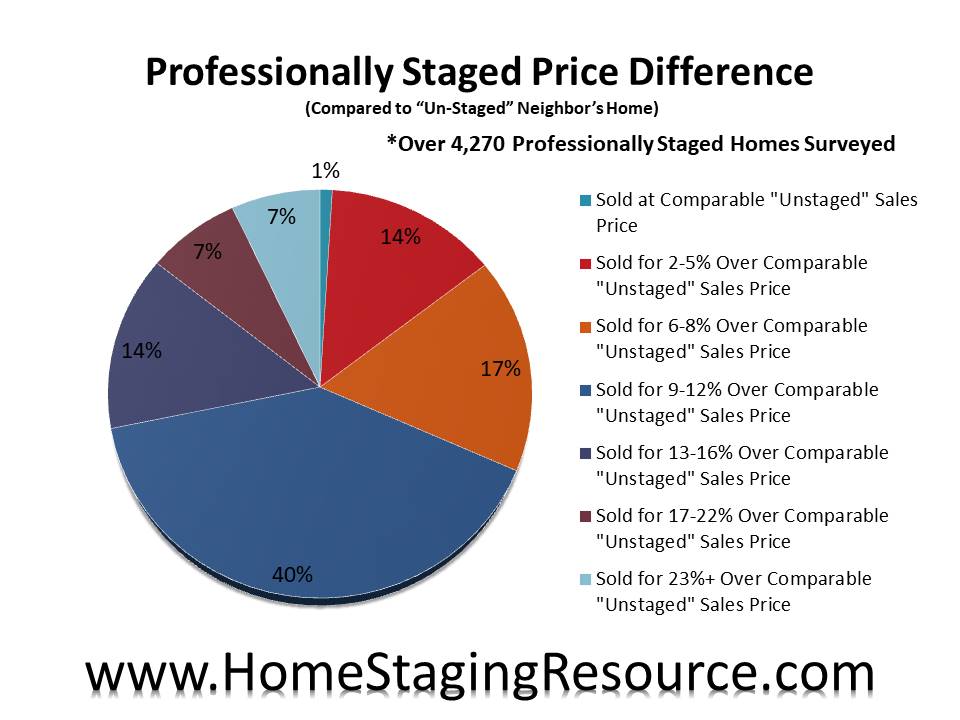 With the real estate market remaining strong, demand for home staging services to help properties sell faster and for more money continues to rise. This presents a compelling opportunity for entrepreneurs interested in starting a home staging business and capturing a share of this expanding market.
From establishing relationships with real estate agents to acquiring furniture and decor inventory, launching a successful home staging company requires careful planning and execution. This guide will walk you through how to start a home staging business. Topics include marketing, registering an EIN, designing a website, sourcing equipment, and more.
1. Conduct Home Staging Market Research
Market research is an important part of beginning a successful home staging business. Research offers insight into your target market, local market saturation, trends in home staging company services, and more.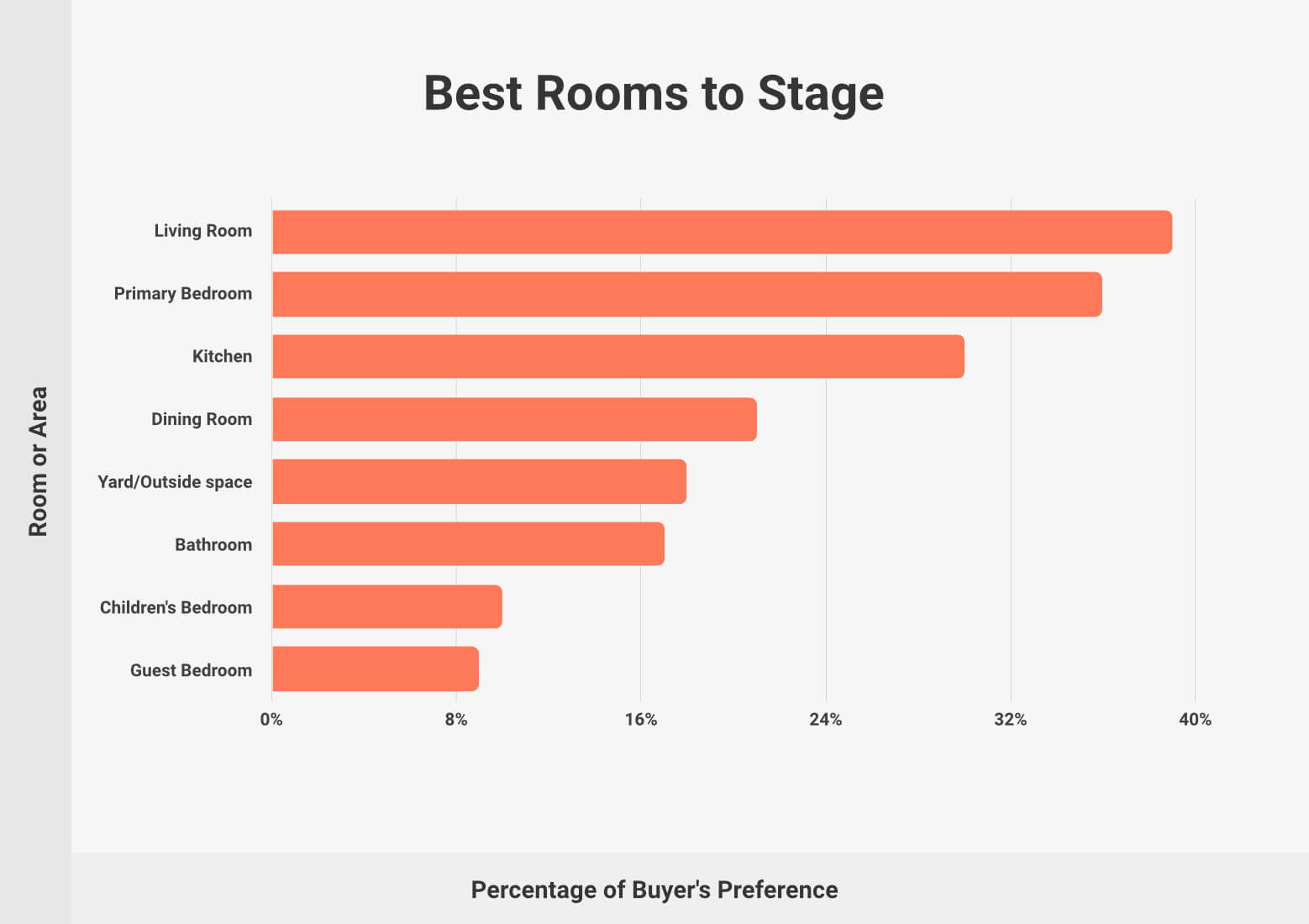 Some details you'll learn through market research in the real estate industry include:
Several factors have driven the rise in demand for home staging services.
Research from the National Association of Realtors shows that staged homes sell faster and for more money – typically 1-3% above non-staged homes.
With the US housing market remaining strong, homeowners are increasingly turning to stagers to help maximize sale prices.
The target customers for home staging services are residential real estate sellers.
Real estate agents are also an important source of referrals and often recommend stagers to their seller clients.
From a geographic perspective, California accounts for the largest share of the US staging market at 16%, followed by Texas, New York, and Florida.
Major metro areas like Los Angeles, New York City, and Chicago are prime staging markets.
Suburban areas in high-income regions also present opportunities.
The home staging industry is highly fragmented, with over 10,000 home staging businesses operating nationwide.
Most companies are small independents, creating ample room for new entrants.
Key competitive factors include reputation, service quality, real estate connections, and access to furniture/decor inventory.
Overall, the outlook for home staging remains positive. Continued home price appreciation and low housing inventory should sustain demand. As more home sellers recognize staging as an investment rather than an expense, market penetration can increase.
2. Analyze the Competition
When starting a home staging business, it's critical to research your competitors, both local brick-and-mortar firms and larger national players.
Some ways to better analyze competitors in the home staging projects sector include:
To analyze local small business owners and competitors, search online directories like YellowPages and Yelp.
Make a list of businesses operating in your area.
Visit their websites and social media pages to gather intel on services offered, pricing, portfolio, years in business, and client testimonials.
Drive by competitors' offices. Note their signage and marketing. See if you can find any press mentions or awards.
Ask real estate agents who they refer clients to most and why.
Nationally, the top home staging chains are Staged Homes and Home Staging Resource.
Research their service models, inventory resources, and technology platforms.
Monitoring online reviews for local and national competitors can provide useful feedback on service pros and cons.
You can use sites like ReviewTrackers to track competitors' reviews over time.
Analyzing both current online presence and potential areas for improvement is also key.
Search on Google for local stagers' names, company names, and relevant keywords.
Look for opportunities to improve page optimization, content, visuals, and integration with platforms like social media and aggregators like Zillow.
By thoroughly evaluating the competitive landscape, you can make informed decisions about how to position your staging services for success.
3. Costs to Start a Home Staging Business
Starting a home staging business requires significant upfront investment to get up and running. There are also ongoing expenses to consider as you start your own home staging business.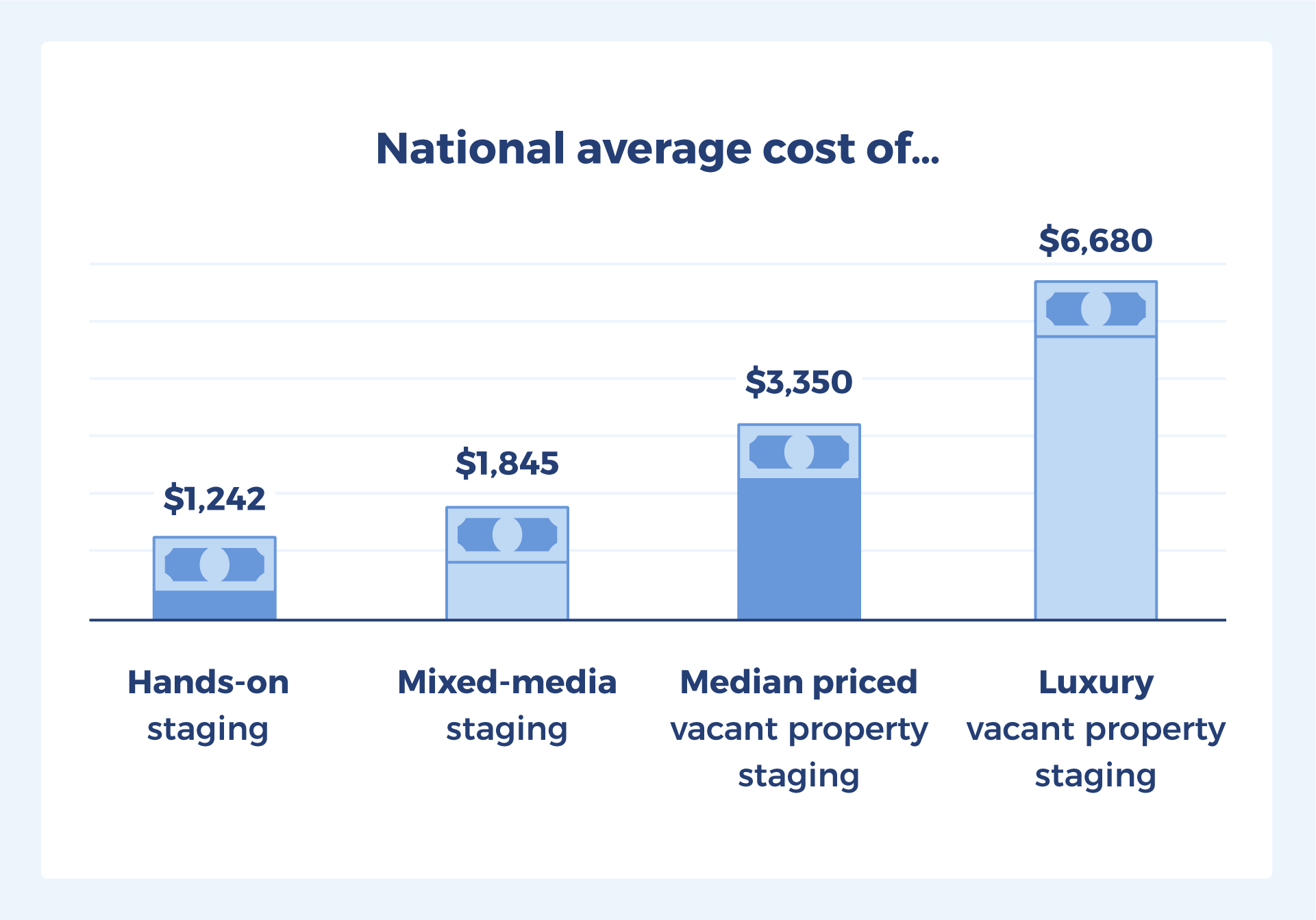 Start-up Costs
Incorporation fees to establish a legal business entity like an LLC run $50-$500 depending on the state.
Basic office equipment like a computer, software, phone, printer, and supplies will likely cost around $3,000 to $5,000.
A company website built by professional designers averages $5,000-$15,000.
Initial inventory of furniture, decor, lighting, artwork, and accessories is one of the biggest start-up investments, averaging $20,000-$50,000 to outfit multiple model home spaces.
A cargo van for transporting inventory and supplies runs $25,000-$35,000 new. Used vans lower costs.
Home staging training and certification courses range from $500 for online self-study to $3,000+ for multi-day hands-on workshops.
Marketing and advertising to promote a new staging business can easily cost $5,000-$10,000 for items like website SEO, print materials, and online ads.
Optional costs like commercial liability insurance, hiring an accountant, and securing warehouse space for inventory will increase initial outlays.
Most experts recommend having a start-up operating budget of at least $75,000 when launching a home staging business, potentially more in higher-cost areas.
Ongoing Costs
Rent and utilities for office and storage space often run $2,000-$5,000 per month depending on location and size.
Insurance policies including general liability, commercial auto, workers comp, etc. cost $1,500-$5,000 annually.
Vehicle costs like gas, maintenance, and parking add up to around $5,000 per year.
Inventory maintenance and replacement averages $10,000-$15,000 annually as items wear out or go missing.
Marketing expenses can run $500-$1,500+ per month for website hosting, SEO, advertising, networking events, etc.
Accounting and legal support may cost $5,000+ annually for small businesses.
Salaries for any employees like stagers, assistants, and warehouse staff contribute significant overhead.
Miscellaneous ongoing supplies, technology, training, and other small business expenses can reach $5,000-$10,000 per year.
Budgeting approximately $10,000-$15,000 per month for total overhead is reasonable when operating an established home staging business. Keeping costs lean initially allows room for expansion. With thorough planning and control of expenses, a home staging venture can generate solid profits.
4. Form a Legal Business Entity
When starting a home staging business, choosing the right legal structure is key. The four main options each have pros and cons to weigh:
Sole Proprietorship
A sole proprietorship is the simplest as you operate under your name without forming a separate entity. However, you assume unlimited personal liability for debts and legal claims, which poses risks given home staging activities like transporting heavy furniture, working inside clients' homes, etc. Sole proprietor income is also taxed at the owner's rate.
Partnership
Forming a general partnership allows multiple owners to share operational and financial responsibilities. But each partner is also personally liable for the actions of the other partners and the partnership itself. Income passes through to partners to include on personal tax returns. Partnership disputes can also lead to legal challenges.
Corporation
A corporation provides limited liability protection as shareholders are not typically responsible for corporate debts and liabilities. Corporations can raise investment capital by issuing stock. However, corporations require substantial recordkeeping and face double taxation on profits. The formality makes them better suited for large enterprises.
Limited Liability Company (LLC)
For most home staging businesses, a limited liability company (LLC) offers the best of both worlds. LLCs limit owners' liability while allowing pass-through taxation like a partnership or sole proprietorship. LLCs are relatively easy to establish and operate but provide credibility with clients. Ownership is flexible, enabling you to bring on investors or employees.
5. Register Your Business For Taxes
One of the key legal steps for starting a home staging business is obtaining an Employer Identification Number (EIN) from the IRS. An EIN acts like a social security number for your business entity and is required for opening business bank accounts, paying employees, filing taxes, and more.
The good news is applying for an EIN is quick and easy through the IRS website. The online EIN assistant will guide you through the short application process. You'll need to provide basic information about your LLC such as name and address. The only document required is an SSN or ITIN for the principal owner.
Once submitted, you'll instantly receive your EIN at no cost. The whole process usually takes under 10 minutes. Make sure to keep your EIN documentation secure as you would any sensitive identifying information.
Registering for state and local sales tax requirements is also crucial. As a home staging service provider, you may need to collect and remit sales tax in the states where you operate. Requirements vary, so consult your state's Department of Revenue website for specifics.
The sales tax registration process is similar to the EIN application–you'll submit basic business information and details on your operations. Fees are generally minimal. Once registered, you'll receive a Sales Tax ID Number and can integrate simple sales tax collection into your staging invoices and payments.
6. Setup Your Accounting
Careful accounting is crucial for home staging businesses to track revenues and expenses, maintain compliance, and make smart financial decisions. Some ways to enhance accounting in your home staging business include:
Accounting Software
QuickBooks seamlessly syncs with bank accounts to import transactions and receipts. It generates invoices, processes payments, and tracks payables/receivables. Features like automated categorization of purchases can save loads of time on data entry. Robust reporting provides insights on profitability, sales trends, budget variances, and more.
Hire an Accountant
While programs like Quickbooks simplify accounting, most home staging business owners still benefit from partnering with an accountant. Services an accountant provides may include:
Bookkeeping – recording income and expenses, reconciling accounts, processing payroll
Tax compliance – sales tax filings, quarterly estimated payments, annual tax return prep
Auditing – reviewing records to identify any errors or issues
Advisory – analyzing financial reports to recommend tax or cost-saving strategies
Accountants charge around $100-$200 per hour, with many small businesses needing 5-10 hours of monthly services. Come tax time, preparation fees often run $1,000+. But this expert guidance prevents stressful tax situations down the road.
Open a Business Bank Account
Keeping business and personal finances completely separate is also key. Have a dedicated business checking account and credit card solely for staging company purposes. Never co-mingle funds.
Apply for a Business Credit Card
Applying for a small business credit card provides helpful tracking of expenses. Issuers will review your credit along with business factors like revenues to determine credit limits. Carrying a small balance and making payments builds a business credit history.
7. Obtain Licenses and Permits
Before welcoming your first home staging clients, it's crucial to ensure your business has secured all required federal, state, and local licenses and permits. Find federal license information through the U.S. Small Business Administration. The SBA also offers a local search tool for state and city requirements.
Nearly all municipalities require any business operating within their jurisdiction to obtain a general business license, which runs $50-$100 annually. This verifies your staging company is registered and authorized to provide services locally. The application process is straightforward – provide your business name, address, and ownership details.
If you plan to purchase wholesale inventory like furniture and decor items for staging use, a state seller's permit is likely required. This allows you to make tax-free purchases intended for resale to avoid double taxation. Seller permits are obtained through your state revenue department.
Since stagers haul inventory and stage items between storage, homes, and warehouses, a transport permit proves you have the authority to transport goods commercially. Road restrictions, safety protocols, and insurance requirements come into play. Expect to pay $100-$500 depending on your state.
Long-term storage units often house excess inventory until needed for staging. Be sure to inform the storage facility that you are using the unit commercially, which may require a permit for compliance. Fees vary by municipality.
Double-check additional needs like fire safety permits for any warehouse space or liability insurance mandates. Also, research zoning regulations on running home-based businesses from a residential property if applicable.
8. Get Business Insurance
Given the physical nature of home staging activities, having proper business insurance coverage is strongly recommended to protect against potential liabilities. Without adequate policies, a single incident could spell financial disaster for your staging company.
For example, an employee could damage a client's home while moving furniture and your business would be responsible for expensive repairs. Or a staged home could be burglarized and you'd need to replace stolen inventory and valuables. Another risk is a warehouse worker being injured on the job, opening you up to medical and legal claims.
The good news is getting insured is fairly straightforward. Start by checking requirements – some municipalities mandate minimum business liability coverage. Next, research policy options – general liability, commercial property, commercial auto, workers' comp, etc. An insurance broker can assess your specific risks and recommend cost-effective packages.
Once you've selected coverages, you'll fill out applications providing details on your business operations, assets, employees, and clients. Coverage can often be bound same-day. Expect to budget approximately $1,000-$5,000 annually depending on your needs.
9. Create an Office Space
Having a professional office space lends credibility and provides a centralized hub for home staging operations. An office allows meeting with clients, coordinating with employees, storing supplies, and handling administrative tasks. While a staging business can be run virtually, a physical office has benefits.
Home Office
A spare room converted to a home office offers convenience and low overhead. With some basic furniture and supplies, you can create a functional workspace for $1,000-$2,000. However, conducting business from home risks distractions and prohibits employee meetings.
Coworking Office
Coworking spaces like WeWork provide amenities-rich, flexible offices for $300-$800 per month. You gain a business address, meeting rooms, WiFi, printing, and community networking without major upfront costs. But space is limited.
Retail Office
Short-term retail space enables displaying inventory in a small store or showroom for clients to browse. Expect monthly rent of $1,000-$5,000 depending on location and size. Hefty build-out and staffing costs make this option pricey.
Commercial Office
For established staging firms, leasing dedicated commercial office space is ideal for conducting daily operations. While 12-month leases and extensive build-outs run $5,000-$15,000+ monthly, the space is truly customized to your needs.
10. Source Your Equipment
A sizable upfront investment in furniture, decor, and equipment is required when launching a home staging business. Savvy sourcing can help contain costs. The four main options are buying new, buying used, renting, and leasing.
Buy New
New furniture and accessories can be purchased through home decor retailers like IKEA, Crate & Barrel, and Pottery Barn. Inventory is abundant and trends aligned but prices are highest. Watch for sales and clearance. Big box stores like Target and Walmart offer lower-cost furnishings.
Buy Used
Gently used inventory often provides the most value. Scour local thrift stores and consignment shops for unique vintage finds perfect for staging. Estate sales and auctions feature home goods priced to sell. Facebook Marketplace, Craigslist, OfferUp, and Nextdoor connect with sellers clearing out quality used furnishings locally.
Rent
Renting inventory as needed using sites like Fully allows flexibility versus upfront purchasing. However, rental fees add up over multiple stagings. Delivery/pickup logistics must also be coordinated.
Lease
Leasing furniture and accessories from companies like Stage Right and Staging Studio enables access to broad professional inventory without acquisition costs. But monthly leasing fees still apply. Offering a leasing option to clients can be a value-add.
11. Establish Your Brand Assets
Developing a strong brand identity helps home staging businesses stand out and attract clients in a crowded marketplace. Your brand encompasses your logo, messaging, visual style, and overall image. Investing in core brand assets gets your staging business noticed and remembered.
Get a Business Phone Number
Start by purchasing a dedicated business phone line through providers like RingCentral. This gives your company a professional presence when fielding calls from prospective clients.
Design a Logo
Create a custom logo and complementary brand assets with services like Looka that are designed for free when you sign up. Your logo should reflect your staging aesthetic – creative, elegant, and contemporary. Brand colors, fonts, and graphic elements will carry across your website, marketing materials, proposals, and more.
Print Business Cards
Business cards from Vistaprint are a must when meeting realtors, attending open houses, networking at events, etc. Always have cards on hand to introduce your staging services. Office signage and vehicle lettering from Vistaprint build visibility.
Buy a Domain Name
Secure a domain name that aligns with your brand for your staging website. Use keywords like "home" and your location while checking availability at registrars like Namecheap.
Design a Website
You can easily build DIY sites through user-friendly website builders like Wix or hire web developers on marketplaces like Fiverr for custom designs. Your site is a vital digital showcase and lead-generation tool.
12. Join Associations and Groups
Joining local home staging associations, attending industry meetups, and connecting with Facebook communities are all smart ways for new stagers to build their knowledge, skills, and professional network.
Local Associations
Seek out organizations like the Staging and Redesign Foundation that offer training programs and networking locally. Memberships start around $100/year. Trade groups like the International Association of Home Staging Professionals (IAHSP) provide benefits like certification courses and business listings for members.
Local Meetups
Attend relevant meetup groups found through sites like Meetup to connect in person with fellow stagers and real estate pros. Look for events on topics like home sales, interior design, DIY projects, and more. Bring business cards and be ready to share your services.
Facebook Groups
Facebook hosts several large home staging-focused groups that provide value through discussions, advice, job postings, and marketing tips:
Leverage the experience within these communities by searching past threads for insights before posting questions. Share your tips and successes as well.
13. How to Market a Home Staging Business
Implementing ongoing marketing is essential for home staging businesses to continually attract new clients and grow revenue. While referral marketing should be your top priority, integrating diverse tactics expands your reach and visibility.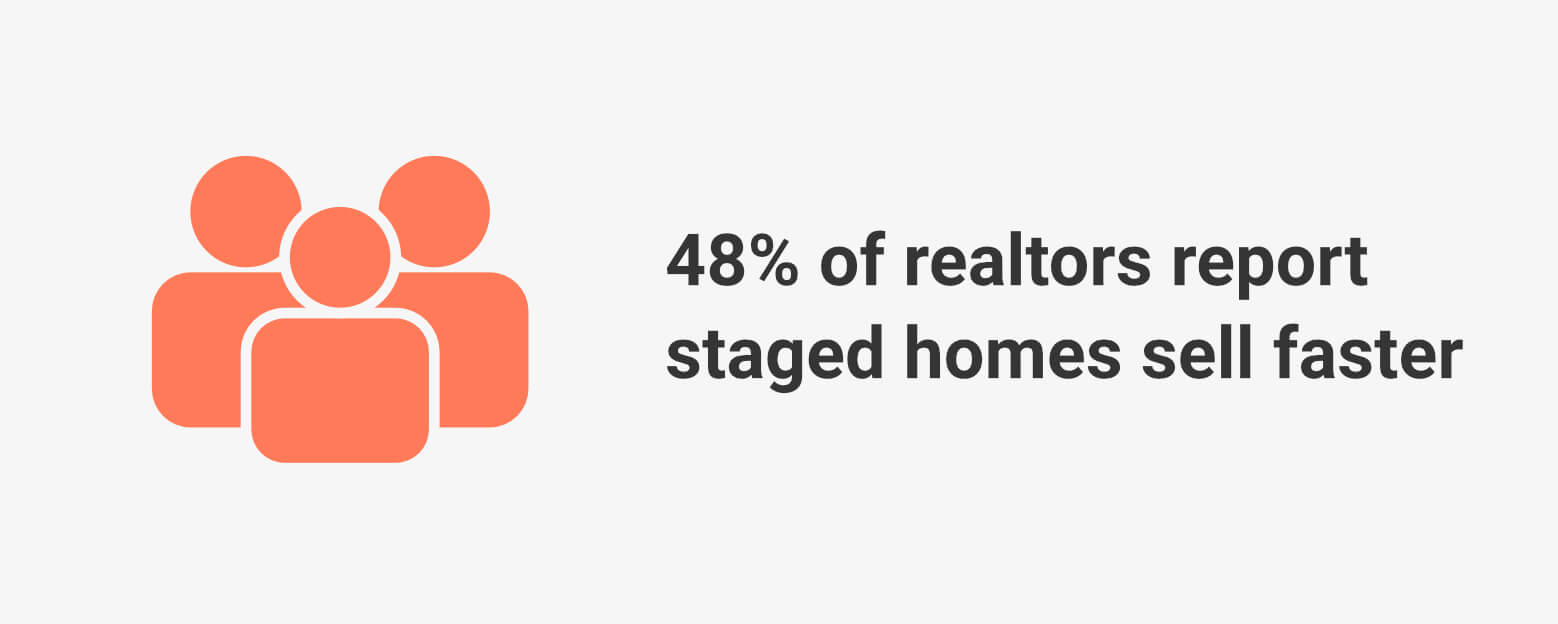 Personal Networking
Leveraging your network and getting customer referrals will drive the most conversions since happy clients validate your services to their connections. Offer referral rewards, highlight testimonials, and ask satisfied customers to review your business online to help spur shares and endorsements.
Digital Marketing
Digital marketing opens up lead generation opportunities:
Run Google Ads campaigns optimized for searches like "home stager near me" to get found locally.
Sponsor social media posts to targeted homeowners and real estate agents on Facebook and Instagram.
Start a YouTube channel creating home staging tips videos to build authority.
Guest posts on interior design blogs to gain backlinks and exposure to design lovers.
Send email newsletters with staging tips and company updates to nurture leads.
Create an affiliate program rewarding referrals from relevant blogs and influencers.
Traditional Marketing
More traditional tactics also help cover marketing bases:
Print full-color flyers and mail marketing pieces to distribute locally.
Advertise in real estate publications and local home & garden magazines.
Sponsor booths at home shows and workshops to make in-person connections.
Run radio spots on local stations describing your services.
Participate in open houses to hand out business cards and meet potential clients.
Host networking events at your staged model home to showcase your talents.
Partner with moving companies, painters, and landscapers for cross-promotions.
Casting a wide net across digital platforms and traditional channels ensures your marketing reaches both online and offline audiences. Track ROI to double down on what works best long-term. Through multi-channel outreach, home staging pros can keep new business flowing in.
14. Focus on the Customer
Providing exceptional customer service is crucial for home stagers to keep clients happy and gain referrals for future business. Given most new clients come from word of mouth, ensuring each homeowner has a stellar experience is a priority.
This starts with open communication throughout the staging process.
Set clear expectations upfront and keep homeowners updated on timelines and deliveries.
Listen to their goals and vision for the space.
Offer decor and layout recommendations tailored specifically to the home and target buyers.
Execute stagings with care and professionalism.
Treat each home respectfully, avoiding any damage or disruption.
Work diligently to transform spaces on schedule. Follow up after staging to get feedback and make any adjustments needed.
Exceeding expectations and delivering peace of mind builds lasting relationships with sellers.
Satisfied clients then eagerly refer family, friends, and real estate agents.
Online reviews also boost credibility and rankings for prospects.
By providing personalized, thoughtful service at each step, home stagers reinforce their attentiveness and skill. This builds a loyal client base that organically markets the business through word-of-mouth referrals. The referral engine from great customer service becomes a top driver of growth and sustainability.