The global pet grooming industry reached $5.38 billion in 2021. With a potential compound annual growth rate (CAGR) of 7.09% from 2022 to 2030, now is a great time to get involved.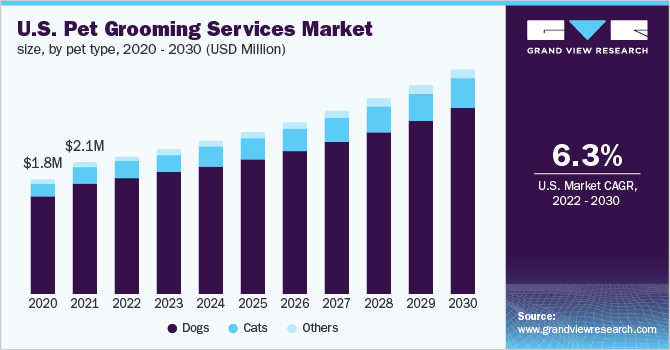 Opening your own pet grooming business allows you to tap into this lucrative market while doing work you love. This article will cover everything you need to know how to start a pet grooming business. Topics include sourcing grooming equipment, startup costs for a new dog grooming business, registering an EIN for your own business, and more. Here's everything you need to know to start a mobile grooming business.
1. Conduct Pet Grooming Market Research
Market research is important for a dog groomer. If you want to own your own dog grooming business, you need to know your target market, local market saturation, trends in dog grooming services, and how many other dog grooming businesses are in your area.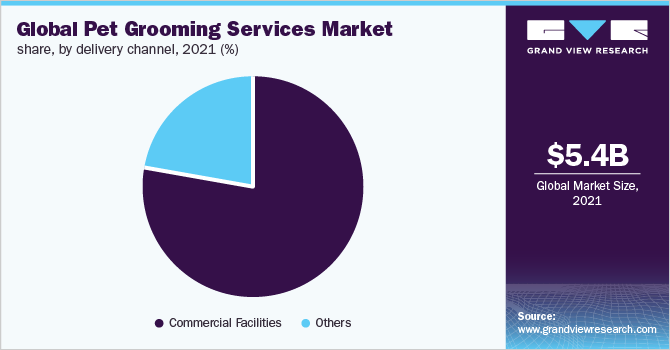 Some of the information you'll learn through your mobile dog grooming business includes:
When analyzing the opportunity within the pet grooming space, it's important to look at both existing competition and areas primed for new grooming businesses.
The industry is still highly fragmented, with over 15,000 individually owned pet salons and grooming businesses across the country. This signals ample room in many local markets for new entrants.
One key opportunity area is providing mobile pet grooming services.
Targeting busy urban areas where parking is limited lets mobile groomers offer a differentiated service.
Suburban areas with high household incomes also present ideal conditions. With more families owning pets, there is a steady demand for grooming.
Marketing to neighborhoods with median incomes above $75k can yield a loyal client base.
Finally, areas popular with retirees should not be overlooked when selecting a location. Retirees often have the free time and desire to dote on their pets.
A shop near neighborhoods with large retiree populations benefits from word-of-mouth marketing and repeat business.
The pet grooming industry outlook remains positive. With proper planning, research, and dedication, new entrepreneurs can capitalize on this growing 7 billion dollar market.
2. Analyze the Competition
Thoroughly researching the competition is crucial when starting a pet grooming business. This gives key insights into your local market, helping position your new business for success.
Some ways to scope out the competition as you start a dog grooming business include:
For brick-and-mortar grooming shops, identify competitors within a 10-15 mile radius.
Visit their locations to evaluate offerings, pricing, and customer experience.
Take notes on cleanliness, quality of tools and products, and interactions with staff.
Consider proximity to complementary businesses like veterinarian offices or pet stores. This establishes direct rivals to study further.
Evaluate the online presence and digital marketing of competitors.
Search for their business on Google, Yelp, and Facebook to analyze reviews and ratings.
Study their website content, service menu, and pricing structure. Signing up for email lists also provides perspective into promotions and special offers.
Utilizing tools like Google Trends and Alexa gives data on website traffic and search popularity.
Monitoring competitors' social media activity also provides key insights. Look at engagement levels on posts and stories.
The goal is to identify gaps, opportunities, and differentiators to apply for your new grooming business. Research often reveals unmet customer needs to target or areas where competitors fall short.
3. Costs to Start a Pet Grooming Business
Starting a pet grooming business requires careful financial planning and budgeting. Between initial investments in equipment and facilities to ongoing expenses like payroll and supplies, costs add up quickly. Understanding these costs is key for new entrepreneurs.
Start-Up Costs
The upfront investment for a pet grooming business varies based on factors like location and size. However, most new owners can expect to spend:
Facility or Mobile Van Purchase ($15,000-$100,000+) Whether buying or leasing, securing an appropriate physical location is a top start-up expense. Expect higher costs for plumbing work, electrical, ventilation, and other facility needs. Mobile grooming vans range from $50k-75k+.
Equipment and Tools ($5,000-$10,000) Quality grooming requires the right equipment like clippers, tables, dryers, and more. Purchasing sturdy commercial-grade tools is recommended.
Licensing and Permits ($100-$500+) Grooming businesses need a business license, resale license, zoning permits, and more. Costs vary by location.
Initial Product Inventory ($1,000-$3,000) Stock shampoos, brushes, grooming sprays, ear cleaners and other essentials. Buy in bulk for savings.
Insurance ($1,000-$5,000 per year) General liability insurance is non-negotiable. Package policies with business property, workers comp, etc. for full coverage.
Professional Consultation ($500-$2,000) Hiring an accountant, lawyer, or business consultant for start-up advice is smart.
Marketing Initiatives ($1,000-$5,000) Website development, branding, printed promotional materials and more require an upfront marketing investment.
With additional costs like hiring staff, first month's rent, and office necessities, total start-up costs often reach $30,000-$60,000+ for pet grooming businesses. Thorough planning and accurate estimates help secure needed funding.
Ongoing Costs
Once up and running, pet groomers face regular expenses including:
Rent ($2,000-$5,000 per month) For brick-and-mortar locations, ongoing rent or mortgage payments are substantial.
Staff Payroll ($3,000-$12,000+ monthly) Quality groomers deserve fair compensation. Payroll is a top recurring cost.
Insurance ($100-$300 monthly) Pay premiums for business insurance policies each month to maintain coverage.
Supplies and Products ($500-$2,000 monthly) Shampoos, tools, towels, specialty styling products, and more require continual restocking.
Utilities ($300-$800 monthly) Water, electricity, and waste bills add up with pet grooming demands.
Advertising ($500-$2,000 monthly) Consistent digital or print advertising is key, requiring an ongoing budget.
Credit Card Processing Fees (1-3% of revenue) Payment processing costs deduct a percentage per transaction.
Annual expenses like license renewals, equipment replacement, and shop maintenance are also anticipated costs. Budgeting appropriately helps pet grooming businesses turn steady profits while covering recurring monthly and yearly expenses. Keeping costs controlled without sacrificing quality allows for long-term success.
4. Form a Legal Business Entity
When starting a pet grooming business, one key decision is choosing the right legal structure. The four main options each have pros and cons to weigh for this industry.
Sole Proprietorship
A sole proprietorship is the simplest structure with no formal registration needed beyond standard business licenses. The owner operates and makes all decisions for the business while taking on unlimited personal liability. This allows pet groomers to get up and running quickly with minimal paperwork.
Partnership
Forming a general partnership enables two or more co-owners to share responsibility for the pet grooming business. Partners jointly manage operations and split profits evenly. This allows playing to each partner's strengths. However, each is also personally liable for the actions of the other, including debts and legal issues.
Limited Liability Company (LLC)
LLCs are a highly popular choice for pet grooming businesses seeking liability protection with fewer formalities than a corporation. LLCs limit the financial liability of owners to their investment in the business only. The LLC structure also provides flexibility for pass-through taxation. Pet grooming LLCs can start with just one owner and add partners later on without disrupting operations.
Corporation
Establishing a pet grooming business as a corporation creates complete separation between the company and owners. This protects personal assets from any debts or legal issues the business faces. Corporations can also sell stock and have access to greater financing options. However, incorporating requires major legal paperwork, extensive record keeping, and double taxation on profits.
5. Register Your Business For Taxes
One of the crucial legal steps for pet grooming businesses is obtaining an Employer Identification Number, or EIN. This unique ID number helps identify your business to tax authorities and vendors. An EIN is required to open business bank accounts, apply for licenses, and hire employees.
The good news is applying for an EIN with the IRS is fast and free through their online application. You can obtain your EIN in just a few minutes by following these steps:
First, navigate to the IRS EIN Assistant and review the requirements. You'll need identifying information for the business owner as well as details on your LLC or corporation structure if you have formed one.
Next, begin the online questionnaire that determines eligibility. Answer each question with details on your pet grooming business structure.
Then, provide key information like the legal name and address of your business along with details on its activities. You'll also list the owner's information such as name, SSN, and contact details.
After submitting this information, you will instantly receive your EIN in the online system. This ID number will also be provided in a PDF that you can download and print for your records.
With your new EIN, don't forget to also register for any state and local licenses needed for collecting sales tax. Every state has slightly different requirements and associated fees to operate legally.
6. Setup Your Accounting
Proper accounting is crucial for pet grooming businesses right from the start. Implementing good financial processes and software helps owners track expenses, accept payments, and prepare taxes accurately.
Accounting Software
After forming a legal business structure, securing accounting software should be a top priority. Programs like QuickBooks allow pet groomers to categorize every business expense, generate invoices, accept payments, and automate record keeping. The software links to business bank accounts and credit cards to log transactions and simplify taxes.
Hire an Accountant
While accounting software does much of the heavy lifting, working with an accountant or CPA is still recommended. Accountants provide helpful services like:
Monthly bookkeeping to ensure all income and expenses are properly entered and reconciled in your system. This gives owners an accurate picture of profitability.
Sales tax guidance to comply with state and local requirements as a pet grooming service provider. Navigating these nuances prevents tax misfilings.
Payroll management to properly process employee wages including tax withholdings. This avoids IRS penalties.
Annual financial statement preparation detailing business performance. Lenders often require this when applying for financing.
Tax preparation and filing including quarterly estimated payments and yearly returns to stay compliant. This saves on potential IRS fees.
Expect to invest at least $800-$2,000 for year-end support and tax help. Additional monthly services like bookkeeping range from $200-$800 depending on workload.
Open a Business Bank Account
For new pet grooming businesses, using a separate business bank account is also key. This segregates personal and business finances for easier tracking and accounting. Similarly, applying for a dedicated business credit card simplifies categorizing transactions. Business cards often offer higher limits since they rely on the company's, not the individual's, financials for approval.
7. Obtain Licenses and Permits
Starting a pet grooming business comes with legal and regulatory requirements that owners must meet. Federal license requirements are available through the U.S. Small Business Administration. The SBA also provides a local search tool for state requirements.
At minimum, pet groomers need a general business license which gives formal permission to operate within the city or county. Fees typically range from $50-$100 annually. Applying requires the submission of key details on business activities, ownership structure, and location.
States also require a sales tax permit for collecting and remitting taxes on services. While fees are generally affordable, failure to collect state sales tax can lead to thousands in government penalties. Seek guidance to determine if you need to charge sales tax in your specific location.
If hiring employees, businesses must also formally register with state and federal agencies for taxes and insurance requirements related to staffing. State unemployment insurance and workers' compensation policies ensure proper coverage is in place.
Some municipalities and counties also implement pet facility permits above the standard business license. These verify groomers meet codes for proper ventilation, cleaning protocols, and animal handling practices. Renewing before expiration keeps facilities compliant.
Individual staff members may also need pet care licenses indicating they have passed background checks and training standards. Some states require these for all staff while others only mandate for business owners. Check regulations to ensure any legally required employee licenses or certifications are in place.
The legal requirements for pet businesses safeguard animals and the public. But the numerous federal, state, and local agencies overseeing them make staying fully compliant complex. Investing in professional legal guidance can help groomers navigate required licenses, permits, and regulations.
8. Get Business Insurance
Operating a pet grooming business comes with inherent risks that make insurance coverage essential. Without policies to protect against potential liabilities, owners face scenarios that could sink their company including:
A hyperactive dog injures itself trying to leap off the grooming table leading to a lawsuit from the owner over the injury.
An elderly client slips on a wet floor in the grooming area, breaking their hip and filing a premises liability claim.
A fire sparked by faulty wiring causes severe smoke damage, destroying your facility and equipment.
Business insurance helps cover all of these costly liabilities that could otherwise drain financial reserves or bankrupt a grooming company. At a minimum, pet groomers need general liability insurance covering third-party property damage and bodily injury on their premises or caused by the business. Typical policies run $500-$1,500 annually depending on location, size, and claim history.
It's also smart to invest in added protection like:
Professional liability covers negligence claims if a pet is injured during grooming services.
Property insurance to replace stolen or damaged equipment, inventory, and facilities.
Business interruption coverage if disasters or accidents force closure.
Workers compensation for managing employee injuries.
The first step is to inventory all business assets and possible risk scenarios. Next, research insurance brokers that specialize in pet industry businesses. They can evaluate needs and shop policies from leading providers like PetFirst. Comparing quotes between brokers ensures the best rates.
9. Create an Office Space
While pet grooming is primarily an on-location service, securing office space can provide benefits for managing administrative tasks and housing inventory. The right option depends on budget, location needs, and work style.
Home Office
A home office allows pet grooming owners to handle paperwork, make calls, and research from home. With business management software, many administrative tasks can be performed remotely. Home offices offer easy access and low overhead without rent or a commute. However, the space is typically limited.
Coworking Office
Coworking spaces like WeWork provide an office environment with more amenities. Typically located in popular business districts, coworking spaces lease shared access to lounges, private call booths, conference rooms, and offices. With hourly to monthly rates from $300, they offer flexibility without major upfront costs.
Retail Office
For groomers operating a brick-and-mortar shop, an on-site back office space can be efficient. This keeps all business activity at one location. Having an area for customer consultations, product storage, and computer work can be helpful. However, it limits the ability to separate office tasks from grooming noise and smells.
Commercial Office
Leasing dedicated commercial office space provides room for staff and complete control of the environment. While expensive with rents averaging $1,000+, private offices allow custom build-outs to suit the business. For rapidly expanding pet franchises and multi-location groomers, the costs can justify the benefits and convenience.
10. Source Your Equipment
A key step in starting a pet grooming business is procuring the necessary equipment like clippers, tubs, tables, dryers, and more. New entrepreneurs have several options to acquire the essential gear at various price points.
Buy New
Purchasing brand-new commercial-grade equipment from pet retailers ensures optimal quality and performance. Leading suppliers like PetEdge offer broad inventories catered to groomers. While most expensive with prices from $2,000-$5,000 to outfit a shop, new tools come with warranties and last for years with proper care.
Buy Used
Buying used equipment through sites like Craigslist, Facebook Marketplace, eBay, and Letgo can significantly reduce costs. Search for sellers liquidating quality tools due to retirement or a shop closure. Thoroughly test and inspect any used equipment first. Well-maintained clippers, tables, and dryers can deliver solid value at 50-75% savings off retail pricing.
Renting
Renting equipment through a business gives affordable short-term access to tools. Rentals allow testing different brands and configurations when equipping a new shop. However, frequent fees make renting less cost-effective long-term than buying. Use sparingly for hard-to-source specialty items.
Leasing
Leasing through equipment financing companies is another option that provides access to commercial tools without huge upfront cash outlays. Programs require monthly payments plus interest but allow groomers to acquire the necessary gear to operate. Credit checks to qualify can be extensive. Compare terms across lenders carefully.
11. Establish Your Brand Assets
Creating a strong brand is crucial for pet grooming businesses to stand out and build recognition in a crowded market. Though quality services are most important, branding elements like logos, websites, and marketing materials help share that identity with potential customers.
Get a Business Phone Number
One of the first steps is securing a professional business phone number to list on all materials. Services like RingCentral provide toll-free and local numbers with call routing and voicemail features to ensure no client calls are missed.
Design a Logo
Next, establish a logo that encapsulates your pet grooming brand. Given the visual nature of the industry, choose an iconic and recognizable logo style that conveys your personality and expertise. Working with professional designers either locally or through sites like Looka produces polished results.
Print Business Cards
Cards featuring the logo alongside vital contact and service details make memorable first impressions. Printed marketing materials like flyers, brochures, and signage are also useful for promoting the brand, especially on-location and at community events. Reliable printing providers like Vistaprint allow customizing branded assets affordably.
Buy a Domain Name
Given most consumers' digital habits, establishing an online presence is also a must. Start by purchasing a domain name that matches your pet grooming brand for branding continuity. Opt for .com when available and use keywords like "pet" and "grooming" for optimal SEO. Domain sites like Namecheap facilitate fast and affordable domain purchases.
Design a Website
Next, build a branded website to share services, products, pricing, and online booking. Utilizing DIY website builders like Wix helps owners create a professional site without coding expertise. For more custom designs, specialized web developers can be hired cost-effectively via services like Fiverr.
12. Join Associations and Groups
Joining local professional associations, attending meetups, and participating in online groups provides invaluable ways for new pet groomers to network, learn, and grow their business.
Local Associations
Seeking out local pet grooming associations lets entrepreneurs connect with others running similar businesses in their city or county. For instance, the Pet Alliance of Greater Orlando provides support for area groomers including education, career help, and networking events. Checking sites like PawShake Pro help find groups specific to your region. Associations share everything from technical guidance to marketing tips to build skills.
Local Meetups
Attending pet industry trade shows and meetups is also excellent for hands-on education and relationship building. Sites like Meetup list gatherings like breed-specific meetups and regional pet pro events. These enable chatting with product vendors, distributors, and other service providers who can help groomers stock their samples and save costs. Swapping business cards opens future mentorship opportunities.
Facebook Groups
Online groups provide 24/7 idea sharing and troubleshooting. Large petpro communities exist on Facebook like Professional Pet Groomers and The Everyday Pet Groomer which have tens of thousands of international members. Locally focused Facebook Groups also offer targeted recommendations from nearby peers.
13. How to Market a Pet Grooming Business
Marketing is imperative for pet groomers to build a robust client base and drive continual growth. While referral marketing through happy customers is most valuable long-term, utilizing diverse digital and traditional strategies expands awareness and trials.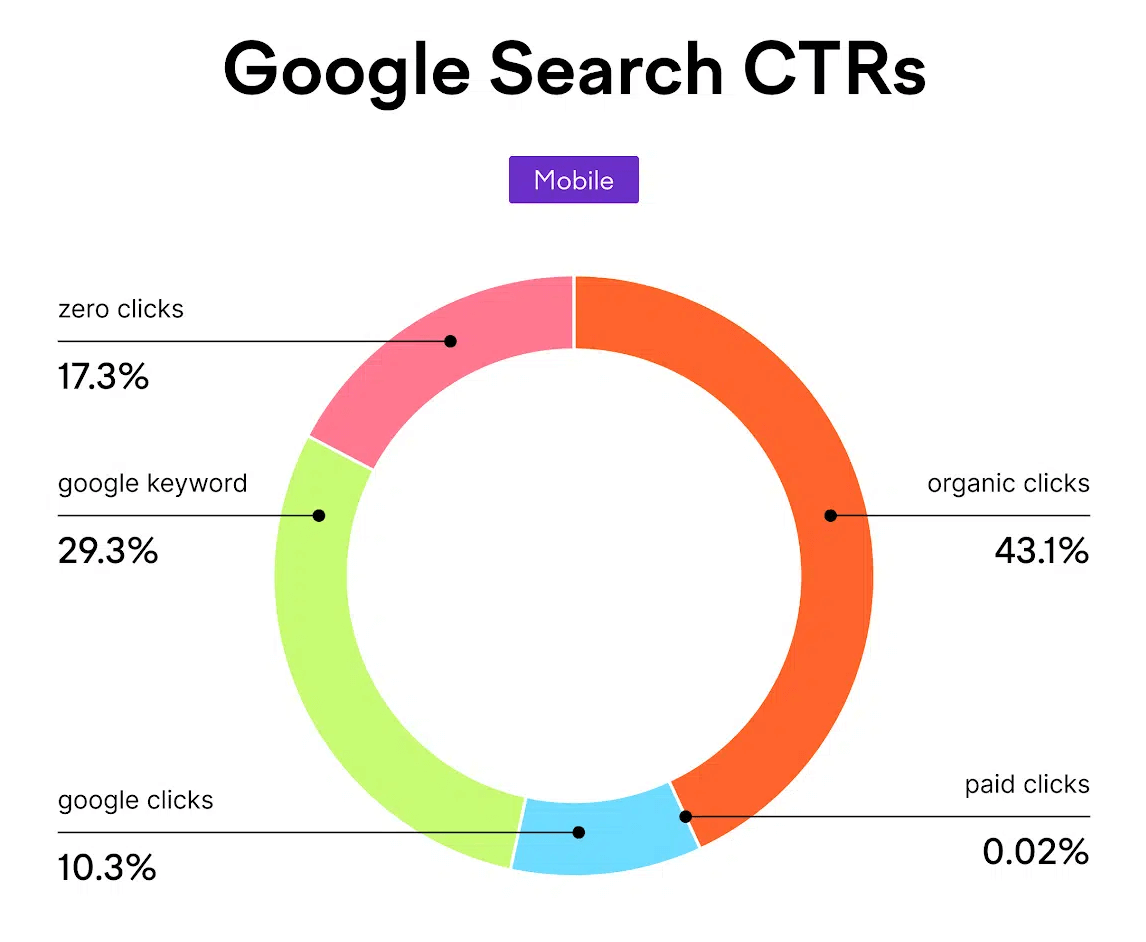 Personal Networking
Referrals from satisfied pet owners provide the most powerful marketing channel. Ensuring every client's experience exceeds expectations motivates them to tell friends and neighbors about your services. Offering referral rewards like discounts for sending new customers also incentivizes sharing and word-of-mouth promotion.
Digital Marketing
Digital approaches are extremely effective for targeted, measurable promotion:
Search Engine Marketing campaigns through Google Ads target nearby pet owners looking for groomers.
Social Media Ads on Facebook and Instagram reach pet lovers in your area.
Create video tutorials on pet grooming for YouTube and share on social channels.
Start a blog sharing pet care tips and promote it on social media and your website.
Claim and optimize free business listings on sites like Yelp, Google My Business, and Angie's List.
Send email newsletters with service updates, seasonal tips, and promotions.
Traditional Marketing
Traditional marketing also supplements digital efforts:
Advertise in local pet magazines and newsletters.
Distribute flyers and coupons to nearby vets, pet stores, and dog parks.
Sponsor a local rescue organization event to showcase services.
Run radio spot ads on local pet-focused programs.
Host free pet grooming classes at the shop to build community.
The most effective marketers blend digital and traditional channels to maximize reach and frequency across multiple touchpoints. Testing various options determines the best avenues for reaching area pet owners and converting them into loyal clients.
14. Focus on the Customer
Providing incredible customer service is imperative for pet grooming success. With so many options, pet owners choose where to go based on trust and how well they are treated. Delivering compassionate, thoughtful service earns loyalty and referrals.
Some ways to increase customer focus as dog groomers include:
Start by ensuring every client interaction is positive.
Greet all pets and owners by name, listen attentively to their needs, and speak warmly.
Taking the time to bond and reassure nervous pets makes a big impression.
Following through on promises also matters.
If you guarantee a service completion time, meet it. When issues arise, communicate promptly and offer generous solutions. These actions build lasting trust.
Pay attention to key moments as well.
Following up after big services like first grooms or elderly pet visits shows you care beyond the transaction.
Sending birthday cards or including treats demonstrates going the extra mile.
By providing this level of customer service, pet groomers create emotional connections with clients who view them as true partners in care. These pet owners become vocal brand advocates referring everyone they know. Their reviews and testimonials help attract more of the ideal customers.