The global self-defense products industry is growing at a projected compound annual growth rate (CAGR) of 5.4% from 2022 to 2030. For newcomers, now is a great time to get involved and start your own self-defense business.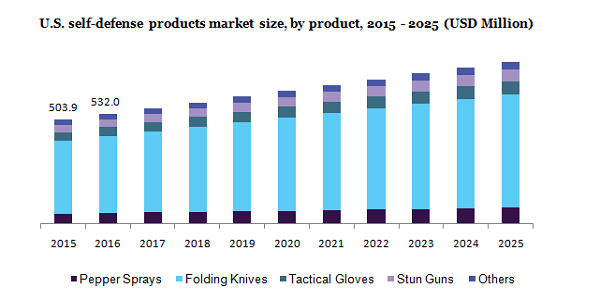 This visual shows the growth in pepper spray sales alone over the last decade in the U.S. With increased media coverage and social awareness around assault prevention, more individuals, college students, women, seniors, and professionals are looking for reliable, legal self-defense products.
This guide offers important insight into how to start a self-defense products business. Topics include market research, competitive analysis, registering an EIN, obtaining business insurance, marketing, and more.
1. Conduct Self Defense Products Market Research
Market research is important for learning about your target market, market saturation, and trends in products and services. Market research comes in two forms, primary and secondary. The first is research you conduct yourself, the second is research conducted by a third party.
Some details you'll glean through market research in your self defense keychain and accessories business include:
Pepper spray is the most popular self-defense product.
While women are the primary target market, men are increasing purchases as well.
College students are also a key demographic.
Seniors represent another growth opportunity as they seek personal safety tools allowing independent living.
Self-defense education is an area with huge potential.
Classes on situational awareness, de-escalation techniques, escape methods and use of tools can command premium prices while building credibility.
While pepper spray and stun guns dominate now, innovation is exploding. "DNA tagging" sprays, high-decibel personal alarms, tactical pens, and wearable technologies offer chances to differentiate.
Partnerships with self-defense instructors and women's groups can provide distribution and branding opportunities.
In summary, rising crime, personal safety fears, and product innovation make self-defense products an attractive growth market. Focusing on high-demand products while expanding into niche sectors and leveraging marketing partnerships allows seizing this multi-billion dollar opportunity.
2. Analyze the Competition
Understanding the competitive landscape is crucial when starting a self-defense products business. Competitive analysis enhances marketing strategies for a successful business by comparing against industry standards in your area.
Some ways to get to know the competition in the self defense keychain business industry include:
For brick-and-mortar, identify stores selling similar products in your geographic area.
Visit them to analyze product selection, pricing, store layout, branding, and staff knowledge.
Evaluate strengths and weaknesses compared to your planned offerings.
Analyze product categories, brands, pricing, product detail pages, imagery, reviews, and ease of checkout.
Use Alexa data to understand their web traffic and search visibility.
Check Trustpilot for third-party reviews.
Evaluate their social media presence on Facebook and Instagram.
Check engagement levels and follower counts. Notice what content resonates best through likes and shares.
Search Google for relevant keywords like "pepper spray" and "self-defense classes" to find more competitors.
Study their SEO and online marketing tactics using SimilarWeb.
This competitive analysis lets you identify market gaps, opportunities, and benchmarks for your own business. Maintain an eye on competitors by setting alerts for their websites and social accounts. Stay on top of product, pricing, and promotion trends.
3. Costs to Start a Self Defense Products Business
When starting a self-defense products business, careful financial planning and cost budgeting are essential. Some of the expenses you'll encounter selling self defense keychains and other products include:
Start-Up Costs
Business Plan Development – $1000-2000 to properly research and create a comprehensive business plan.
Business Entity Formation – $100-800 depending on whether you choose a sole proprietorship, LLC, or corporation. The cost covers state filing fees.
Permits & Licenses – Variable by location. Expect $100-500 for local business licenses, sales permits, and security product licenses.
Insurance – $1000-5000 to cover business liability, property damage, product liability and other risks.
Inventory – Variable but plan on $10,000-50,000+ for initial product purchases including pepper spray, stun guns, alarms, etc.
Packaging Materials – $1000-5000 for bags, boxes, and labels to prepare products for sale.
Point of Sale System – $500-2000 for a POS system like Square or Shopify to handle checkout.
Display Fixtures – $2000-5000 for display cases, shelves, and security devices.
Training Materials – $500-1500 for books, videos, and programs if offering classes.
Marketing – $2000-5000 to cover brand creation, website, and initial promotions.
Working Capital Reserve – $5000-10,000 emergency fund for any unforeseen expenses.
Ongoing Costs
Rent – Variable but plan on $1500-4000 monthly for retail space, more for a large warehouse.
Staffing – Employees will likely cost $3000-$8000 per month, more with commission incentives.
Inventory – Plan to reinvest 10-25% of monthly sales into new inventory purchases.
Insurance – $150-300 monthly for necessary business coverage.
Accounting – $200-500 monthly for a bookkeeper, $3000-5000 annually for accountant fees.
Legal – $150-300 per month for a lawyer on retainer.
Advertising – $500-2000 monthly for digital ads, print, and promotional products.
Utilities – $300-800 per month depending on electricity, water, and waste fees.
Security – $100-300 monthly for alarm monitoring, and video surveillance.
Merchant Processing Fees – 1-3% of revenue from credit card payments.
Website Hosting/IT – $100-300 monthly for tech management and support.
Association Fees – $500-2000 annually to join industry trade groups.
Taxes – Variable but plan for 10-25% of profits set aside for quarterly estimated payments.
Unexpected Expenses – Set aside 5-10% of profits monthly as an emergency fund.
In summary, with detailed planning and cost control, a self-defense products business can be launched for an estimated $50,000 – $100,000 in start-up costs, followed by approximately $10,000 – $20,000 in ongoing monthly expenses. Be sure to project costs conservatively and account for contingencies.
4. Form a Legal Business Entity
When starting a self-defense products business, choosing the right legal structure is key. There are four business entities best suited for personal protection businesses. Let's take a closer look at the entities that might work for your defense keychain small business.
Sole Proprietorship
Simple and inexpensive to set up, with no formal business registration required in most states. However, the owner is personally liable for all debts and legal actions against the business. Any lawsuits related to product defects or injury could put personal assets at risk.
Partnership
Allows multiple owners to share resources and expertise. Partnerships do not limit personal liability though – each partner can be held responsible for the actions of the other partners. Disagreements between partners can also jeopardize the business.
Limited Liability Company (LLC)
Provides personal liability protection like a corporation but with less complexity. Only owner assets invested in the LLC are at risk. Start-up costs are lower and there are fewer ongoing filing requirements. An LLC also allows for "pass-through" taxation where profits are only taxed at the personal income tax level. This is ideal for a self-defense products company that will likely have just a few owners initially.
Corporation
A more complex legal entity requires formal registration and extensive filing. Corporations protect personal assets and allow for easier expansion of ownership. However, there is double taxation on corporate profits. For a smaller self-defense products company just starting, an LLC provides liability protection with less paperwork.
5. Register Your Business For Taxes
One key legal step when forming your self-defense products business is obtaining an Employer Identification Number, or EIN. This unique number identifies your business for tax purposes similar to how your Social Security number identifies you as an individual.
An EIN is required if you have any employees, operate as a corporation or partnership, or file any business tax returns. Self-defense products businesses with just a single owner can apply online through the IRS website. Follow these steps:
Have your personal identifying information ready like your Social Security number, birth date, and mailing address.
Determine your business legal structure. You'll enter this when applying.
Visit the EIN online application page and select "View Additional Types, Including Tax-Exempt and Governmental Organizations."
Choose "Sole Proprietor" as the type of legal structure.
Enter your information, business details, and reason for the EIN to complete the short application.
Print the confirmation page which will display your new EIN.
The entire process can be completed online in just a few minutes. The EIN is issued immediately and at no cost to you.
You'll also need sales tax licensing and permits. Requirements vary by state – some states have no sales tax while others like California require a seller's permit. Check with your state revenue department to determine necessary registrations.
6. Setup Your Accounting
Proper accounting is crucial when starting a self-defense products business. With inventory tracking, sales revenues, and expenses like rent and payroll, managing your finances can become complex quickly.
Accounting Software
Using accounting software like QuickBooks allows you to automate tasks like invoicing, payment collection, and expense categorization by syncing with bank accounts and credit cards. However, it's still advisable to have an accountant review your books periodically.
Hire an Accountant
An accountant provides financial oversight to ensure accuracy. They can perform bookkeeping duties like transaction data entry and account reconciliation. This frees you to focus on sales and operations. An accountant also provides indispensable guidance on maximizing tax deductions and structuring your company finances in a tax-efficient manner.
Open a Business Bank Account
Keeping personal and business finances completely separate is also critical. Open a dedicated business checking account and obtain a business credit card. Never commingle personal and company funds. This makes accounting clean and avoids the potential for IRS issues.
Speak to your bank about getting approved for a business credit card. Provide your EIN, company financial statements, personal SSN, and income details as part of the application. Credit limits on business cards are based more on company revenue than your credit score.
7. Obtain Licenses and Permits
When starting a self-defense products company, acquiring all necessary licenses and permits is crucial. Find federal license information through the U.S. Small Business Administration. The SBA also offers a local search tool for state and city requirements.
If selling pepper spray, stun guns, or other restricted products, you will likely need a Federal Firearms License from the Bureau of Alcohol, Tobacco, Firearms and Explosives. This allows you to obtain restricted inventory from authorized suppliers. The ATF reviews your application, business plan, and background check. Licensing costs $200 initially and $90 annually after that.
States regulate stun guns and sprays as well. For example, California requires a Dangerous Weapons Permit from the Department of Justice to sell pepper spray. New York requires a Self-Defense Spray Device Dealer License. Check your state laws.
If operating a storefront, you'll need a local business license. For example, Seattle charges $55 annually. Portland is $100 yearly. These allow legal business activities in the city.
If hiring instructors, you may need vocational school licensing. California requires a Permit to Operate for teaching occupational skills. Research rules for your region on trade school credentials.
Any e-commerce business also needs a reseller's permit. This allows the collection of sales tax on purchases. Rates vary – Texas charges $39 per year while California is $100 annually.
Check with your Secretary of State, City Hall, local police department, and other agencies to identify all required approvals. Bringing your self-defense products business into full legal compliance protects you and lets customers know you operate legitimately. Don't risk fines or shutdowns – do your due diligence before opening.
8. Get Business Insurance
Purchasing adequate business insurance is highly advisable when starting a self-defense products company. Insurance protects your company assets and mitigates risks that could lead to financial ruin or bankruptcy.
General liability insurance covers legal costs if a customer is injured using your product and sues your business. Product liability insurance provides additional protection in case of defects. Property insurance replaces stolen inventory or covers damage to your retail space or warehouse.
Scenarios where lack of insurance could devastate your business include:
A customer is unintentionally harmed by pepper spray and sued for medical damages. Without liability coverage, you must pay all legal expenses and any settlement awarded yourself. This could easily exceed $100,000.
Electrical fire destroys your warehouse full of inventory. No insurance means absorbing the full replacement cost. Inventory loss alone could be $500,000 or more.
You are robbed and thousands of products are stolen. Without theft insurance, you have no recourse for lost merchandise.
To get insured, first determine your risks and necessary coverage types. Property, product liability, and general liability are common starters. Next, request quotes from multiple providers like The Hartford and State Farm to compare rates. Inquire about any discounts for safety features like sprinklers or security systems.
With proper insurance, accidents and unforeseen events do not need to financially sink your company. Protect your hard work by insuring your self-defense products business.
9. Create an Office Space
Having dedicated office space provides legitimacy and efficiency for a self-defense products company. An office allows meetings with suppliers, interviewing staff, product prototyping, and other business activities in a professional setting. Options to consider include:
Home Office
Working from home saves substantially on rent, with costs limited to dedicating space for an office. However, conducting meetings or filming training videos can appear unprofessional in a residential location. Lack of separation between work and home life can also be challenging. Expect costs of $100-200 for basic furniture and equipment.
Coworking Space
Shared office spaces like WeWork provide an instant professional environment for around $300-500 per month. They supply furnishings, utilities, and amenities in exchange for a membership fee. Coworking spaces allow meeting clients without bringing them to your home. The open layout also enables networking and collaborating with other entrepreneurs.
Retail Office
If operating a self-defense products store, using part of the space for an office could be efficient. Customers visually associate you with an established location. Dedicate a private area for desks, filing cabinets, and storage to maintain professional separation from the sales floor. Minimal additional buildout costs would be required.
Commercial Office
Leasing dedicated office space in a commercial building provides control over layout and decor. Customers appreciate meeting at a formal business location. However, costs are much higher, with rental rates starting around $1000-$2000 monthly. Buildout and utility expenses also add to the overall investment.
10. Source Your Equipment
Launching a self-defense products company requires acquiring the necessary equipment and materials for your inventory and operations. Here are the top options for obtaining what you need:
Buy New
Retailers like Amazon and Webstaurant sell brand-new self-defense products ready for resale. Options range from pepper spray to stun batons to personal alarms. Order small quantities at first for product testing. Be sure suppliers comply with any licensing needed to deal with restricted items in your region.
Buy Used
Used equipment saves substantially on costs. Check Craigslist and Facebook Marketplace for retailers going out of business. Their old display fixtures, safes, lights, and even existing inventory could give you an instant startup boost at a fraction of new prices.
Rent
Consider renting certain equipment to conserve capital. Construction tools like drills and saws for any buildout can be rented from Home Depot for reasonable daily rates. U-Haul rents vans and trucks for product transport. Subscriptions like Carly offer brand-new car inventory for flexible monthly payments as needed.
Lease
Leasing certain assets like vehicles, machinery, and computers spreads costs over time. $0 down leases with low monthly payments preserve working capital. Leasing office space itself is also an option, avoiding a major upfront purchase. Weigh the cash flow benefits of leasing versus buying outright.
11. Establish Your Brand Assets
Creating a strong brand is crucial for any new business to stand out and connect with customers. For a self-defense products company, thoughtful branding conveys quality, trust, and expertise.
Getting a Business Phone Number
Acquire a dedicated business phone number to project professionalism. Services like RingCentral provide toll-free and local numbers with call routing, voicemail, and other features. List the number prominently on your website and ads. Customers feel more confident calling a legitimate business vs. a personal cell.
Creating a Logo and Brand Assets
A logo visually represents your brand. Consider an icon-based mark for a bold, recognizable image. Or opt for a symbolic logo incorporating your business name. Work with a designer on Looka to develop concepts that encapsulate your brand identity.
Ensure brand consistency with letterhead, packaging, and catalogs using the same logo, colors, and fonts. This helps customers associate all touchpoints with your company.
Business Cards and Signage
Business cards put your brand directly in customers' hands. Include your logo, tagline, phone, website, and other details. Expect to exchange cards at trade shows, sales calls, and networking events. Order cards professionally printed from Vistaprint.
Signage like banners and decals increases awareness. Prominently display your brand at your store, trade booth, or company vehicle.
Purchasing a Domain Name
Secure a domain name that matches your business name for branding continuity. Add your primary keyword like "selfdefenseproducts" for SEO. Use .com over alternatives. Buy for a minimum of 2-3 years from sites like Namecheap for around $15 per year.
Building a Website
Every business needs a website to engage prospects 24/7. Use DIY software like Wix for easy drag-and-drop building. Or hire a freelancer on Fiverr for a more custom site. Prominently showcase your brand throughout.
12. Join Associations and Groups
Joining relevant local organizations and online communities can provide invaluable connections and insights for a self-defense products entrepreneur.
Local Associations
Seek out associations for networking and education. For example, the California Self-Defense Industry Association offers training programs and advocacy. The American Self Defense Association is a great place to bring sellers together. Check for regional groups to join.
Attend association trade shows to connect with fellow business owners, demonstrate products, learn best practices, and identify new opportunities. Membership fees are generally reasonable for the benefits gained.
Local Meetups
Attending local meetup events creates chances to interact directly with potential customers. Self-defense-focused meetups may offer hands-on demos, safety tips talks, and general community building. Use sites like Meetup to find nearby gatherings to participate in.
Facebook Groups
Facebook groups unite people with shared interests and businesses. Search for and join self-defense, personal security, and women-focused groups. Provide value by answering member questions without overt self-promotion. Share links to helpful blogs or videos you create.
Examples include Self Defense Group and Self Defense for Only Women. Interact regularly to build relationships.
13. How to Market a Self-Defense Products Business
Marketing is essential for any new business to attract customers and generate sales. For a self-defense products company, a multifaceted approach combining digital and traditional strategies is recommended.
Personal Networking
Recognize that your personal and professional network is your most valuable marketing asset starting. Satisfied customers who endorse your brand to friends and contacts via word-of-mouth referrals can become your best promoters. Consider offering referral rewards like discounts to incentivize happy customers to help spread the word.
Digital Marketing
Run Google Ads linking to your site using keywords like "pepper spray" and "self-defense classes" to attract local searchers.
Create a Facebook Business Page to promote new products. Use targeted Facebook ads to reach self-defense interest groups.
Start a YouTube channel creating tutorial videos on using products or basic self-defense techniques to build authority.
Write a blog sharing safety tips and product recommendations for organic search visibility.
Email promotional newsletters and send SMS text alerts on new inventory arrivals.
Create an Instagram account showcasing aesthetically pleasing product photos and demos.
Sponsor relevant online events, podcasts, or webcasts aligned with your audience.
Traditional Marketing
Print brochures, posters, and flyers to distribute at local colleges, fairs, and conventions.
Take out ads in neighborhood newspapers and magazines.
Explore billboard placement on high-traffic routes if the budget allows.
Partner with radio stations for sponsor mentions and ticket giveaways.
Host an open house, workshops, or classes at your retail location.
While digital channels often provide the best return on investment, local community visibility remains important. Combining digital promotion and targeted real-world outreach gives a new self-defense products venture the best chance for marketing success.
14. Focus on the Customer
Providing exceptional customer service needs to be a top priority when starting a self-defense products company. How you treat customers has an immense impact on your reputation and potential for referrals. Some ways to improve customer focus include:
Take extra time to properly educate buyers on product use.
Recommend appropriate pepper spray canister sizes and stun gun voltage based on their needs.
Follow up to ensure they are fully satisfied with their purchase.
Happy customers who master their new safety tools will confidently recommend you to friends and family seeking similar products.
Make returns and exchanges hassle-free even if not required. The goodwill from easy refunds generates positive word-of-mouth and repeat purchases.
Empower staff to resolve complaints quickly.
Apologize for any mistakes and correct the issue promptly. Diffuse tense exchanges patiently – never argue with customers.
Pay meticulous attention to safety during training classes.
Carefully supervise spray and stun gun practice.
Check that students are comfortable with techniques before completion.
Your diligence gives students the confidence to suggest your classes to coworkers, peers, and others interested in self-defense.
Stellar service earns loyal brand advocates who become force multipliers for referrals. Investing in customer satisfaction, especially with safety-related products, pays dividends as your pleased supporters spread positive reviews both locally and online.