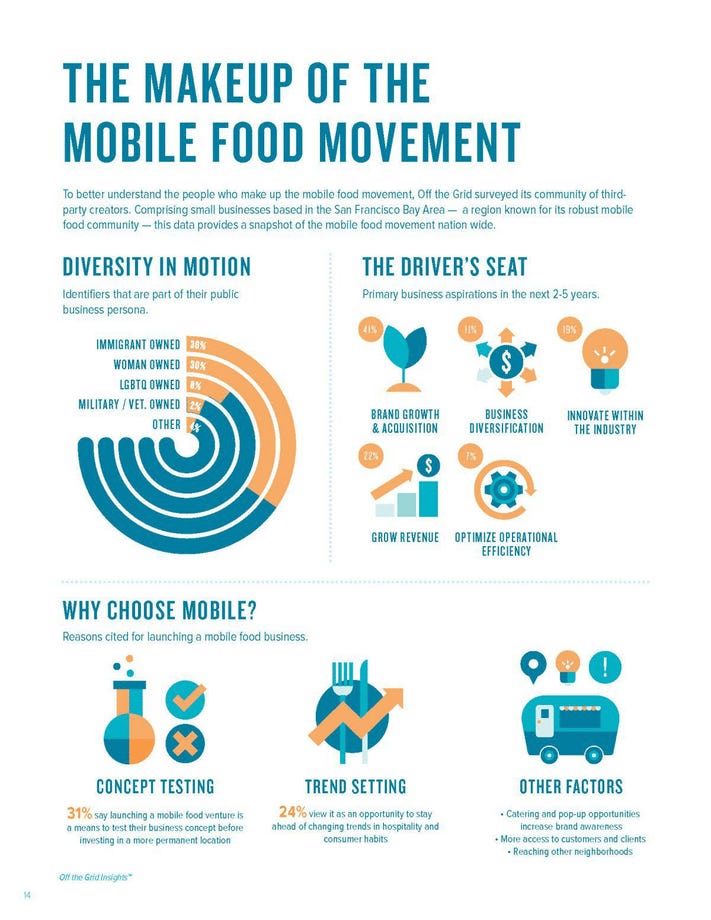 Coffee carts (or a coffee truck) are a great way to get your foot in the door of the coffee shop industry without making a big commitment. A mobile coffee business provides opportunities to sell your products in a variety of public spaces, such as:
Universities
Foot truck lots
Business parks
Farmer's markets
Tourist attractions
You can also opt to take your cart through the catering route and market it for:
Special events
Business conferences
Concert halls
Statista indicates the coffee industry is projected to grow in the next few years. In fact, it predicts an annual rise of 6.3% between 2022 and 2025. That's a lot of room for up-and-coming coffee cart entrepreneurs. 
Starting a cart and starting a shop are two different things. Here, we'll talk about the nuances of the coffee cart business plan, how to get insured, get permits to park, and more.
1. Conduct Coffee Cart Market Research
Research is crucial before starting any new business. It helps you pinpoint your target market and what customers want to see on your cart. It also determines where you stand in the hierarchy of caffeine industry leaders.
Some factors to consider during your research include:
Leaders in the local industry (both coffee and mobile carts)
Areas of busy foot traffic in the city
Weak points in current coffee cart business models you could improve
Favorite community hot spots for coffee
Customer-preferred beverages (including seasonal)
There are two ways to access this information—primary and secondary research.
Primary Research: First-person experience and information gathering. This is where you, or a member of your business, interview customers and check out the local competition.
Secondary Research: Information is readily available, as research was conducted by others. Online reviews, statistics from government agencies, and other collected data fall into this category.
Mobile coffee carts are a unique business venture. They're different than a traditional coffee shop. Like food trucks, they require special permits to park in certain cities and states. Finding these hot spots is a big part of your initial research. You may also need to consult with the local health department about food safety.
Choosing the Right Coffee Roast for Your Cart
Another area of market research specific to the coffee industry is flavors and roasts. Coffee beans take on different flavors based on the roast of the bean. You can order beans or roast your own. Either way, options for roast level include:
Light: Light coffee has the highest level of caffeine and the least body. They're mild because the beans aren't as burnt. This makes them a little more acidic.
Medium: The medium roast beans take things up a notch from a light roast but aren't as strong in flavor as the dark. They tend to have a slightly smoky taste.
Dark: This type of roasted beans has the least amount of acidity and caffeine. What they lack in caffeine, they make up for in depth of flavor. This is where all those lovely deep chocolate notes come from.
You can also brew flavored coffee, where the taste is infused into the beans. Popular options include caramel, hazelnut, and french vanilla.
2. Analyze the Competition
Your competition is all local as a coffee cart business. The tricky thing is navigating both the mobile and stationary players on the coffee map in your city. This means other carts and coffee shops. Consumers are just as likely to frequent a cafe as a coffee truck if it's convenient and affordable.
Scoping out the competition takes a keen eye for detail. Sometimes it's the little things about a business that makes the biggest impact on customers. Things like lid type, topping availability, and even non-dairy options go a long way.
There are many stand-alone coffee carts in the United States, but there are a few chains worth noting, including:
Blank Street: These up-and-comers started in 2020 with a battery-powered 5 by 10 ft space. Now, the team owns 27 businesses, including two taco carts and a cafe in the U.K.
Fleets Coffee: Fleet started in Ontario, Canada, and has since expanded into the U.S. It's one of the top brands of mobile coffee in North America. They plan on opening more than 5,000 carts over the next decade.
As you scour the local coffee shops and carts, look at their cost structures, online reviews, and product offerings.
3. Understand the Costs of Starting a Coffee Cart Business
Starting a mobile coffee business takes time and money. There are initial and ongoing costs to consider. Initial costs are what you pay upfront to get going. Ongoing costs continue throughout the life of your business.
Here are some of the areas to focus your attention on as you tally your startup total.
What Does It Cost to Open a Mobile Coffee Cart?
Any new business requires a dedicated business plan with an overview of expenses. These costs include things like:
Insurance
Cart purchase or rental
Legal fees
Business license
Parking/business permits
Local health department approval
Equipment
Products
Additional merchandise (cups, lids, straws, etc.)
Training
Employee wages
POS system
A mobile coffee stand or espresso cart only costs about $16,000. A larger coffee truck business costs somewhere around $20,000 to $65,000 to open.
Business Equipment/Materials for a Coffee Cart Business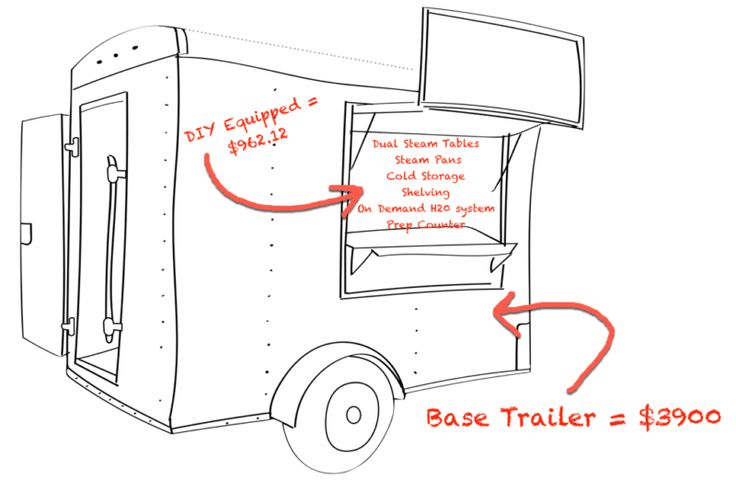 Before your mobile coffee shop starts brewing coffee, you need the machinery to make the brew. Working with a cart limits your options. In a coffee business, you could have a wide assortment of drip coffee, espresso drinks, tea kettles, and more. On a cart, you need to balance necessity and counter space.
Depending on your business model, you may also choose to rent coffee equipment. Companies like Spresco have 12-month rental contracts with flexible options for exchanges.
Some of the equipment in most coffee cart/coffee truck business plans include:
Espresso Machine: Espresso drinks like lattes, macchiatos, and cappuccinos are popular across America. These machines cost anywhere between $1,499 to $21,825. For a mobile cart, you'll likely be looking at the lower end of this range.
Automatic Commercial Drip Coffee Maker Machines: Along with your espresso, drip coffee is a secondary choice for a plain and simple cup of Joe. These are less costly, coming in at roughly $270 to $4,500. If you want to skip the drip coffee, opt for making Americanos with your espresso maker instead.
Coffee Grinder: It doesn't make a lot of sense to carry a large industrial grinder on a coffee cart. That doesn't mean you don't need one. You can grind your beans at your home office and bring the ground coffee to the cart. A commercial grinder will start at $600. To save space, you can also look for a coffee grinder/maker combination.
Ice Machine: During those hectic summer months, customers will be craving iced coffee. An ice machine is a must-have. These run anywhere from $250 to $5,000.
Cups: Coffee cups are a necessity for a coffee cart business. These are purchased in bulk cases. For 1000 cups, you could pay a range between $28 and $80, depending on your sizes, branding, and other preferences.
Wholesale Coffee Beans: Beans are a must-have for freshly ground coffee. The price varies by place of origin and order weight. It also fluctuates based on the roast. If you plan to roast your own beans, buy them green. Try Black Ink Coffee for wholesale bean prices.
Apart from the obvious supplies, you'll also need to have a POS system to ring in sales. Mobile devices like Square are a great alternative to large registers.
You can buy new coffee cart equipment from suppliers like the WebstaurantStore. Buy used from abm Food Equipment or CraigsList.
Cost of Renting or Leasing a Location
The great thing about a mobile coffee business is there's no need to rent a physical shop. This saves a lot of money when you think about paying by the square foot. Instead, you'll need to consider the cart or truck where you plan to sell your brew.
There are many places to buy a coffee cart. Ferla Bikes sells signature carts for under $5,000. Buy mini carts, grande carts, or customized models. Cart-King is another place to search for your mobile business. They sell carts, bikes, kiosks, and stands.
If you're not sure about committing to a particular cart just yet, you can also rent. The Food Truck Group is one of many businesses renting carts for mobile businesses. Rental prices depend on the size and include appliances for your rental.
Business Formation for a Mobile Coffee Cart Business
Starting any business means registering with The Small Business Administration. Between the initial name registration and obtaining a business license, you'll spend somewhere between $300 and $800 to legalize your cart.
For a food truck being driven on city roads, remember the vehicle must also be registered and licensed.
Business Insurance on Your Coffee Truck
The next level of legalizing your cart is insurance. A mobile coffee cart doesn't need the same kind of protection as a shop or restaurant, but your coffee truck and business should still be insured. General liability insurance is a common insurance product for this purpose. Commercial auto insurance may also be required for a coffee truck business
Utilities
Small mobile businesses like coffee carts don't require traditional utilities. Power, water, gas, and heat are necessary for a full-sized cafe, but most mobile carts aren't directly connected to an energy source.
This doesn't leave you scot-free. Your water and energy come from somewhere, usually your home (luckily, you can write this off during tax season). Small mobile coffee carts are sometimes battery-powered. This requires an inverter charger, an inverter, and of course, a battery.
Alternatively, you can buy a generator or plugin using extension cords. With the latter option, you'll pay a rental fee for your lot and power supply at the market or event space you're parked in.
What Are the Ongoing Costs of Mobile Coffee Cart Business?
Ongoing coffee cart costs include anything requiring replenishment throughout the sales year. This includes a variety of materials and administrative supplies, such as:
Coffee beans
Dairy and non-dairy creamers
Tea
Receipt paper rolls
Cups
Lids
Sleeves
Straws
Toppings and syrups
Sweeteners
Snacks
Napkins
Business cards
Gas (if operating a coffee truck business)
Ongoing costs also include things like rental fees, loan payments (if any), bank fees, and continued payments for use of debit and credit machines.
These costs fluctuate based on usage and rates from suppliers.
4. Form a Legal Business Entity
Every business in the U.S. needs to be legally registered as some form of business entity (even a coffee truck). There are a few options to choose from including, Limited Liability Corporation (LLC), Sole Proprietorship, Partnership, and Corporation. For a mobile coffee cart, an LLC is likely your best option.
Here we'll talk a bit about each.
Limited Liability Corporation (LLC)
Forming an LLC is a great choice for a small business because of the legal protection it offers. If your business gets in trouble, an LLC keeps your personal and business assets separate. Your business can go bankrupt without any of your personal finances being impacted.
Sole Proprietorship
Sole proprietor entities are owned by one person (the only exception is married couples, who can own jointly). The benefit of a sole proprietorship is you retain decision-making rights over your entire business. The downside is your personal assets are a target if the business has financial trouble.
If you spill coffee on a customer at your coffee truck and they sue, your personal assets could be used to pay for legal and medical costs.
Partnership
Partnerships split a business up among two or more owners. This is a good choice for family businesses. It gives decision-making rights to all parties, but it also leaves all parties vulnerable.
A mobile coffee truck will still have better protection with an LLC to keep family assets safe during business troubles.
Corporation
Corporations are an extremely safe business model. They include multiple owners and split decision-making power. They also keep personal and business assets separate. The cons to corporations are the high costs and complicated setup process.
For a large company, this is a good choice. For a small mobile coffee cart, it's a bit much.
5. Register Your Business for Taxes
Another legality in business development in the United States is registering for an EIN. An EIN is an employee ID number (federal tax ID). Without this number, you can't file taxes for your company.
Mobile coffee carts can register for an EIN through the U.S. Small Business Administration. The process is straightforward and offers a variety of benefits, including the ability to:
File for tax breaks in the coffee industry
Open a business bank account
Pay employees
Set modified tax settings for non-U.S. workers
Ensure your EIN is properly registered before you begin selling from the cart. You should also check your state taxes for the sale of goods through the U.S. government before pricing products.
6. Setup Your Accounting for Success
Even the smallest businesses need help managing finances, especially come tax season. There are different types of tax services out there for American businesses. Here's a rundown of the major options in this category.
Accounting Software
Software like Quickbooks offers accessible accounting tools in one easy-to-use program. There are different packages depending on business size and needs. Accounting software helps manage day-to-day finances with features such as:
Customer invoicing
Finance reports
Inventory support
Vendor payments
Spending accountability
Choose between monthly or annual plans based on budget and business success.
Find an Accountant
Accountants are essential for businesses of all sizes. Even if you choose to rely on accounting software for the majority of financial planning. End-of-year business taxes are complex. An accountant will ensure you dot all your i's and cross all your t's before filing federal taxes.
Get a Business Bank Account
Another big step in business finance management is opening a business bank account. This keeps personal and business finances separate.
A Small Business Tax Workshop from the IRS offers several pointers for new mobile coffee cart owners. They recommend business bank accounts to keep finances organized and legal.
Apply for a Business Credit Card
Mobile coffee carts are always moving from place to place. A business credit card covers unexpected expenses, maintaining independence from your personal spending.
Business cards also offer incentives to business owners, such as:
Impressive spending limits
0% APR for an introductory period
Protection on purchases
Travel mile rewards
Cash back rewards
As you use your business card, be sure to read the fine print. Business credit accounts, while separate, can impact your personal credit score.
7. Obtain Business Licenses and Permits
Food carts need a little extra in the way of permits and licenses. Along with the usual food service license obtained through the U.S. Small Business Administration, you may require special parking permits.
Mobile food vendor permits are issued by your state and sometimes the city. In New York City, for example, you apply for this permit through the NYC government. It costs $50 for new applications and renewals and lasts 2 years.
The SBA offers extra help for small U.S. businesses. Mobile coffee cart owners can apply for help locally by inputting their state and zip code.
8. Get Business Insurance
Business insurance is important for protecting you and your cart from vandalism, theft, and liability. Without a shop or cafe to protect, your insurance coverage is directed at your business as a whole.
General liability insurance and commercial auto insurance are the most common policies for mobile food vendors. General liability costs anywhere between $300 to $1,500 a year, depending on individual needs.
This insurance product covers claims against your business for injury or damage caused by your products. If hot coffee spills on a customer, general liability protects you from financial repercussions.
Commercial auto insurance runs $1,500 to $2,000 per year for $1 million in coverage. This is a must-have for food trucks or motorized carts.
This insurance product protects you against paying for medical, legal, or mechanical services relating to accidents caused by your commercial vehicle. It also protects your vehicle in cases of theft, vandalism, or fire.
9. Create an Office Space
A coffee cart has no extra space for administrative duties the way a coffee shop does. An office is a necessity to create your mobile coffee business plan, sort out scheduling, contact vendors, and more. There are a few options for an office away from your cart, including the following.
Home Office
This is a popular choice for mobile coffee cart vendors because you don't need an additional property lease. Work from an available space at home and save money. As a bonus, there are also tax incentives to collect. You can learn more about savings at tax time through the IRS.
Things you can deduct for your home office include:
Internet
Electricity
Heat
Gas and travel
Deductions max out at $1,500. You can calculate either by $5 per square foot of office space or by individual business expense deductions.
CoWorking Office
CoWorking offices are a neat modern invention. Think of it like a timeshare but for business. WeWork is a particularly successful coworking office model. They provide a variety of membership options for private, semi-private, and group office settings.
Instead of renting a space of your own, you pay a membership fee to use a WeWork office. This is great for mobile coffee business owners who want an out-of-home office without the hassle of a lease.
Commercial Building Office
Commercial building offices don't make sense for mobile coffee cart owners. While these offices have some great benefits, they also come with a big commitment and price tag. In fact, you could wind up spending up to $23 per square foot for a commercial office.
10. Source Your Equipment
Coffee cart equipment needs vary from cart to cart. Some mobile coffee carts specialize in drip or espresso, others offer both. No matter what style of equipment you need, there are a variety of ways to obtain them and stay on budget.
Buy New
New coffee equipment is attractive. It's shiny, clean, and comes with an enticing warranty. Buying new is a great way to guarantee maximum longevity from your equipment. The price tag reflects these advantages.
If you have the budget for new equipment, check out restaurant and cafe suppliers like Voltage and Webstaurant Store.
Buy Used
Buying used saves money and offers new life to previously used products. In a way, it's recycling at a cost. Many used machines look and act like new ones. A great place to grab these machines is Coffee Machine Depot USA.
You can also scope out local Craigslist ads. Remember to check the free section. You never know when you'll find a hidden gem.
11. Establish Your Brand
Your company brand is your calling card. It's what sets you apart from competitor coffee businesses in your area. Everything from customer engagement to your physical logo makes your brand what it is.
You can establish your mobile coffee cart brand in the real world and online. Here are a few ways to get the ball rolling.
Get a Business Phone Number
This is a personal preference for a mobile coffee cart. You won't have a landline on the cart, but you could opt to set up a second line on your mobile phone for business only.
Having a business line keeps your personal and professional life separate. You don't want coffee vendors calling you at your child's piano recital.
Some of the top options for a business line include Google Voice and AT&T. Obtaining a business number doesn't have to break the bank. You can start with packages as low as $10 per month.
Create a Logo & Brand Assets
Another way to establish your brand is by creating a logo. Successful logos stand out. They're memorable and unique. It sounds daunting, but you can create your own logo with the help of AI. Looka is a great tool for this. It asks about your logo preferences and offers options based on the styles you like.
Once your logo is designed, you can print branded menus, create social media templates, and even brand your coffee lids.
Create Business Cards and Signage
A stack of business cards on your coffee cart is an excellent way to spread the word about your brand. Customers can grab a card and pass it on. You can also add loyalty benefits to your cards (tenth cup free, etc.).
Vistaprint is a good place to start the business card design process. Like Looka, Vistaprint lets you design cards based on your personal preferences. No muss, no fuss, and very affordable. One hundred matte business cards start at $18.00.
Purchase a Domain Name
Your business might be on the road, but your brand recognition grows fastest online. This is why a website and personal domain name are important for mobile coffee cart businesses. Namecheap.com offers affordable domain names to appeal to your target customers. A .com address starts at just $5.98 per year.
Build a Website
Building a website is a big deal for a mobile business. Why? Because your website tells customers where to find you. Unless your cart has a fixed location, websites and social media connect you to consumers.
For a mobile business, your website should include things like:
A current menu
Hours of operation
Daily cart location (and updates)
Modern consumers look for websites with easy mobile access and simple navigation. You might want to consider adding online order options for customers in a rush.
Professional websites don't have to be expensive. You can create a beautiful and functional layout using crowdsourcing sites like Fiverr, or build your own on Wix.
12. Join Associations and Groups
Navigating the mobile coffee scene as a new business owner is daunting. However, there's support to be had from local associations and online groups. Get connected in the following ways.
Local Associations
The Specialty Coffee Association is a good place to start building relationships with industry leaders. You can also seek local associations by talking to other mobile businesses in your area.
You may not want to connect specifically with competitors. Fortunately, mobile cart restaurants are becoming popular across North America. Hot dog stands, ice cream carts, noodle vendors, and french fry wagons are becoming easier to find in big and small cities.
Local Meetups
Meetup is a good resource for locating local groups and events in your area. Mobile coffee businesses are a small niche group. Meetup lets you create a free account to find trade shows and other marketing opportunities in your city.
Facebook Groups
Facebook is a highly underrated resource for small businesses. Not only can you market yourself through social media, but you can also connect to mobile coffee business groups.
Some of the top Facebook groups for mobile cart vendors include:
Use these groups to talk to other people in the industry. You can swap recipes and menu staples and even access cool new coffee equipment information.
13. Focus on Marketing
Coffee is a saturated business. This calls for unique and relevant marketing of your brand. There are many mediums to use as you tackle this task. From the logo on your cart to your social media game.
Here are some of the top methods to try as you explore advertizing your mobile coffee cart.
Ask Friends, Family, and Coworkers
Word-of-mouth marketing isn't dead. Your family and friends are your first line of attack as you enter the mobile coffee cart industry. As they spread the word about your cart, more customers will arrive and do the same in turn.
Your friends and family can help by:
Sharing your business on social media
Leaving reviews of your business online
Handing out business cards to coworkers and neighbors
Telling people they know about your coffee cart
Don't be afraid to ask your loved ones to support you in your new business endeavor.
Digital Marketing Ideas
Digital marketing is a huge undertaking. There are so many online avenues to explore, including:
Email newsletters
Facebook and Google ads
Blogs and vlogs
Social media content
Starting a TikTok or YouTube channel
Use your digital presence to interact and engage with your customers. While digital ads cost money, there's a lot to be said for commenting and sharing social media content. It costs nothing to reply to a customer online, like customer content, and share customer experiences through your website and social media.
Traditional Marketing Ideas
Traditional marketing is memorable because it's a tangible source of advertising. It creates something customers can look at, touch, and see during everyday life. Some examples of traditional ads include:
Direct mail
Billboards
Newspapers
Traditional marketing is beneficial because it can't land in a junk filter or be accidentally deleted from a mailbox. Customers are guaranteed to see it, if even only for a moment.
14. Focus on the Customer
Your customers are your bread and butter. It only makes sense to connect with your community and its consumers. Knowing what your customer wants and paying them back for their business keeps them coming back for more.
Some ways to focus on your mobile coffee cart customers are:
Loyalty rewards
Exclusive offers and discounts
Online polls for new product ideas
Referral programs
Ongoing customer engagement
You can also focus more on customer happiness by keeping product quality high, producing consistent blends of coffee, and training your staff to deliver top-tier customer service.
We hope this guide gives you some insight into getting started with your own coffee cart business. Good luck, and get brewing!