In 2022, the photography business market earned more than $12.9 billion. It has remained steady over the last 5 years. Future projections estimate a compound annual growth rate (CAGR) of more than 6% between 2023 and 2028. For those interested in photography, now is a great time to get into the industry.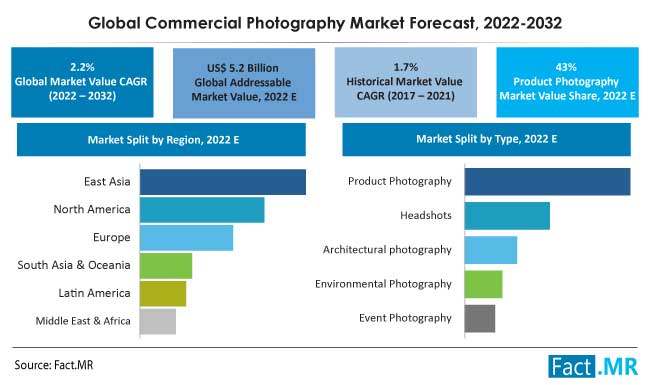 The rise of social media and influencer culture has made photography a vital part of marketing. This creates ample opportunities for aspiring photographers to turn passions into thriving businesses.
The question is, how to start a photography business. Newcomers need gear, clients, and ample service offerings to remain competitive. Throughout this guide, we'll walk you through the process of launching a successful photography business. From market research to customer focus, here's what you need to know.
1. Conduct Photography Market Research
Market research is crucial when learning how to start a photography business. Owning your own photography business means putting your investment on the line. Market research gives you the resources and information to get ahead in a competitive industry.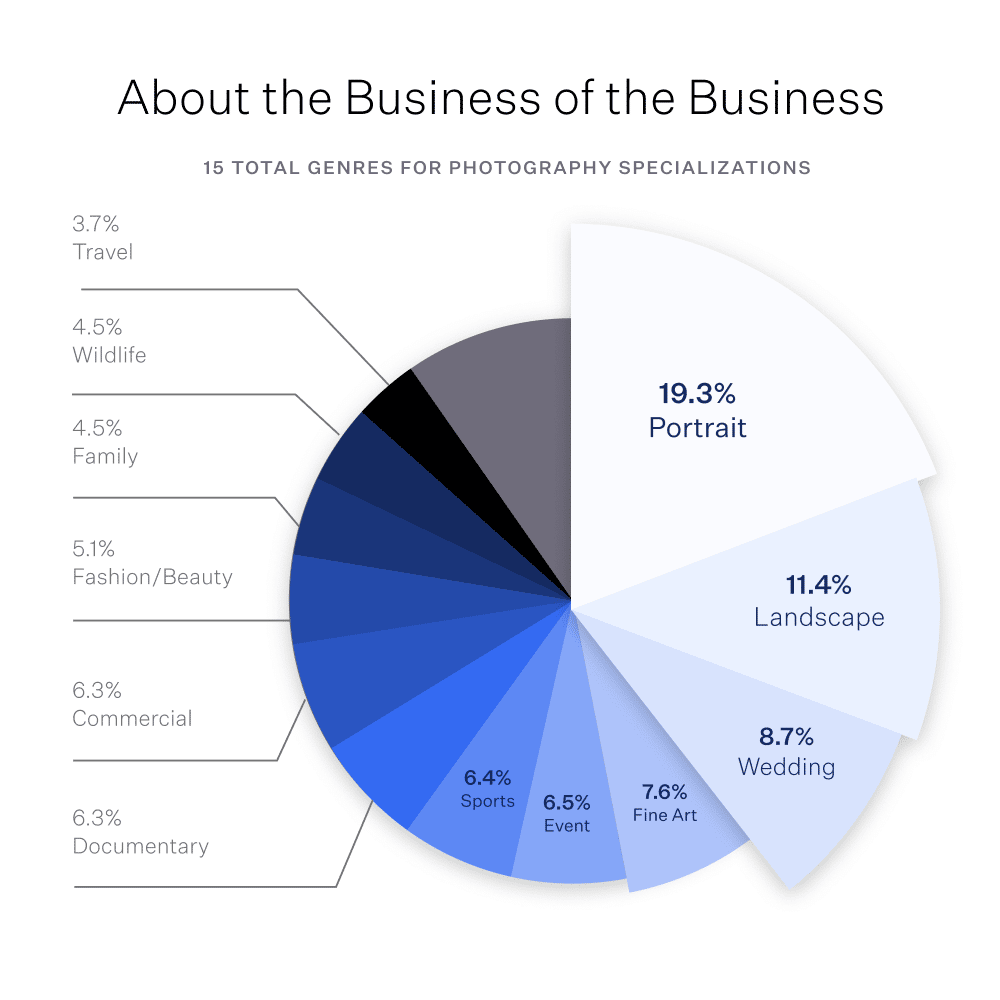 There are two types of market research, primary and secondary. Primary research is any first-person research you perform yourself. Secondary research is third-party research you find and use to better understand your business.
One thing you'll come to learn through market research is the ever-changing trends in your industry. Professional photographers face constant change. Here are some trends to keep an eye on.
Social Media
The rise of social media and influencer marketing has increased the demand for high-quality photography for brands and individuals. There are over 55 million Instagram business profiles and over 1 billion active monthly users. Photography is essential for social media marketing.
Events
Smartphones and digital cameras have made photography accessible to consumers. But many still hire professionals for portraiture, events, real estate listings, and commercial shoots that require high-end photography equipment and skills.
Budgets
Corporate budgets for marketing photography have increased as visuals become more important across media channels. 65% of the population are visual learners. Photography engages and converts customers.
Photographers who build technical expertise along with creative vision and business savvy are poised to tap into this sizable opportunity across industries.
2. Analyze the Competition
Understanding the competitive landscape is crucial for launching a successful photography business. When learning how to start a photography business, analyzing competitors helps you develop your own business plan.
Here are some tips to analyze your competition both locally and online.
Research photographers working in your area on Google Maps and Yelp. Note their specialties, pricing, and customer reviews. This gives insight into in-demand services and satisfaction rates.
Search industry sites to find professionals offering services similar to yours. Compile a list of direct competitors and see what makes them unique.
Study competitors' websites and online portfolios. Assess the quality of photos, clarity of pricing, types of packages, and overall brand image.
Evaluate social media presence across platforms like Instagram, Facebook, and Tiktok. Check follower counts, engagement levels, post frequency, and hashtag strategy.
Search reviews on Google, Facebook, and Yelp to uncover common complaints, such as slow delivery of final images. This presents opportunities to better meet customers' needs.
Run competitors through tools like SimilarWeb to assess their web traffic sources, volumes, and growth over time. This benchmarks your market viability.
Regularly re-evaluate competitors to understand customer preferences, prevailing rates, service gaps, and areas for change.
3. Costs to Start a Photography Business
Starting a photography business requires careful financial planning and budgeting. There are startup and ongoing costs.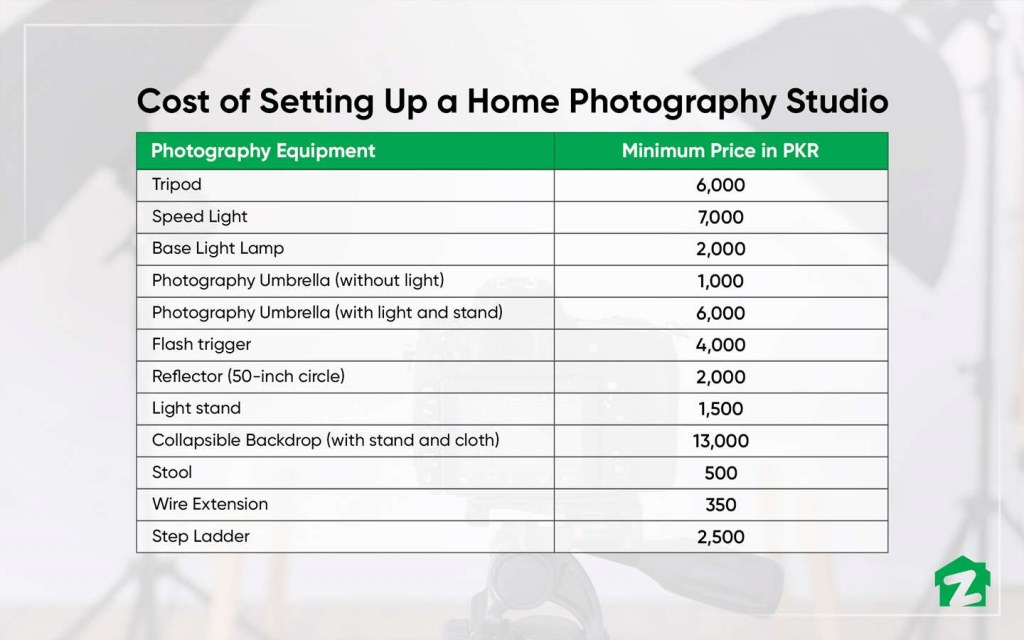 Here, we'll break down each to see where the money goes.
Start-up Costs
Startup costs are the initial expenses you come across when registering a business. It includes physical and digital costs, such as:
Camera gear $2,000-$5,000: For a starter DSLR kit with a few lenses and flashes.
Computer and editing software $1,000-$2,500: For a laptop and programs like Adobe Lightroom and Photoshop.
Website $50-$150/year
Domain name $50-$250/year
Branding $200-$500: For a logo design
Business cards $50-$300
Insurance $400-$1,200/year: For general liability and equipment coverage. Product liability may also be recommended.
Permits $25-$150: For a local business license
Sales tax permit: $25-$100: If selling products.
Incorporation fees $100-$800: or forming an LLC or other business structure.
Total start-up costs often range from $5,000-$25,000 depending on your photography business model and specialty. Plan for more if leasing commercial studio space.
Ongoing Cost
Professional photographers encounter ongoing costs throughout the life of their photography business. Some ongoing costs you'll come across include:
Rent $200-$2,000: For a home studio or more for commercial space.
Utilities $150-$500: Covering electricity, internet, phone, etc.
Insurance $30-$100/month
Loan payments: Variable costs if financing startup expenses.
Salaries $2,500-$5,000: If hiring any employees like assistants or bookkeepers.
Photo editing software subscriptions $10-$50/month: For Adobe CC, email services, and cloud storage.
Equipment maintenance $50-$200/month: For cleaning, repairs, and replacements.
Marketing – $100-$500/month: For advertising, professional development, and content creation.
Yearly expenses also factor in taxes and legal/accounting fees of $300-$1,000. Equipment amortization and professional associations like the PPA run $200-$500/year.
4. Form a Legal Business Entity
Learning how to start a photography business requires you to form a proper business entity. There are four main entities to choose from, sole proprietorship, partnership, limited liability company (LLC), and corporation.
Sole Proprietorship
A sole proprietorship is the simplest entity as it's just you operating under your own photography business. Low start-up costs and paperwork make this appealing for new photographers. However, you're personally liable for all business debts and obligations.
Partnership
Forming a general partnership with a fellow photographer shares skills, expenses, and risks. But like sole proprietors, each partner assumes full liability for the actions of the other in a business context.
LLC
A limited liability company (LLC) offers personal liability protection while allowing pass-through income tax status. This is usually the best choice for photographers. Costs are low, just requiring filing articles of organization and an operating agreement.
LLCs accommodate any number of members and allow flexibility in structuring ownership and management. They can elect to be taxed as sole proprietors, partnerships, or corporations as the business grows. Formal dividends or salaries to members are optional.
Corporation
Corporations offer the strongest personal liability protection but require extensive recordkeeping and reporting. The corporate structure is better suited to companies planning to raise investment capital or eventually go public.
Forming an LLC provides the right balance of liability protection, tax flexibility, and reasonable costs for professional photographers. Be sure to stay legally compliant with licensing, permits, contracts, and insurance levels appropriate for your LLC's services.
5. Register Your Photography Business For Taxes
One of the key legal steps for establishing a photography business is obtaining an Employer Identification Number (EIN) through the IRS. This unique 9-digit number identifies your photography business for tax purposes and is required to open business bank accounts, apply for licenses and permits, hire employees, and file tax returns.
Applying for an EIN is quick, free, and can be done entirely online via the IRS website. Here's a step-by-step overview:
Navigate to the EIN Assistant and select "View Additional Types, Including Tax-Exempt and Governmental Organizations" to start the application.
Select "Sole Proprietorship" or "View Additional Types" for other entity structures like LLCs and corporations.
Enter your personal information, business name, address, and details about your ownership structure and operations.
When prompted, indicate you want the EIN for banking and tax purposes.
Specify whether you need the EIN immediately or can wait up to 2 weeks for processing. Pay the $50 expedited fee if you need it faster.
Provide a contact name and phone number in case any issues come up.
Review all entries to ensure accuracy before submitting.
Once submitted, you will receive your EIN immediately if paying the expedited fee. Otherwise, allow up to 2 weeks for delivery via postal mail. Make sure to keep this letter in your records.
You'll also need to register with your state to obtain sales tax numbers and business licenses. Costs vary by state but are typically minimal. With your EIN and state tax ID set up, you can confidently operate your photography business knowing you are legally compliant.
6. Setup Your Accounting
Maintaining organized accounts is critical for any photography business. Meticulous record-keeping and reporting keeps you compliant and ensures you capture all eligible deductions at tax time.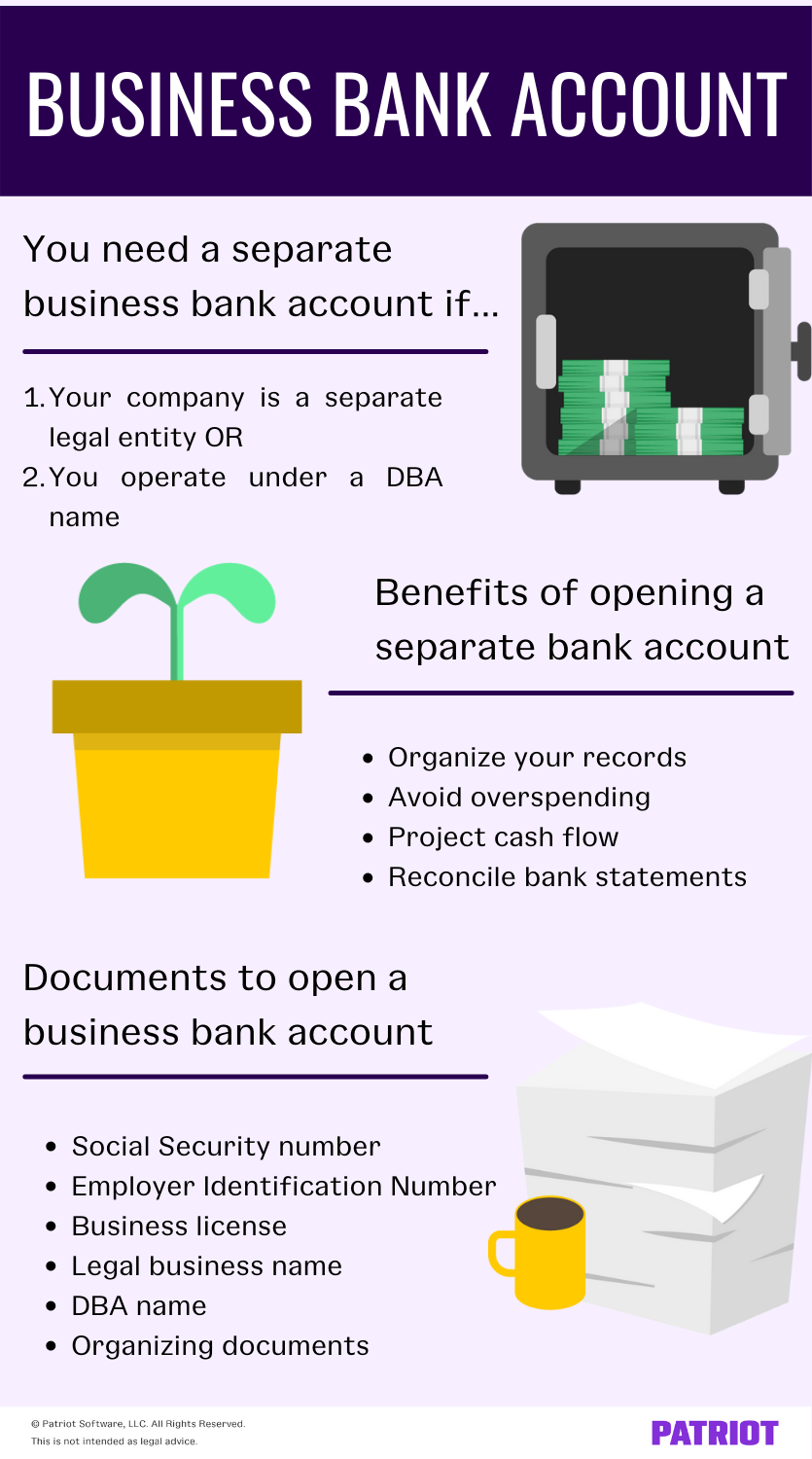 Here are a few ways to implement accounting as a professional photographer.
Get Accounting Software
An easy first step is using accounting software like QuickBooks to automatically track income, expenses, invoices, and taxes. Link it to business bank accounts and credit cards for easy, accurate data imports. QuickBooks make it simple to separate personal and business transactions, a must for clean books.
Hire an Accountant
Consider hiring an accountant to set up systems and provide ongoing services like payroll, quarterly taxes, and financial statements. Expect fees of $300-$1,000 for annual tax preparation or $100-$250 per month for full bookkeeping. This professional guidance prevents headaches if you ever get audited.
Open a Business Bank Account
Be sure to open a dedicated business bank account to keep personal and business finances separate. This makes accounting cleaner and tracking income/expenses simpler. Explore business checking accounts that offer perks like free transfers or monthly fee waivers.
Apply for Business Credit Card
Applying for a small business credit card establishes revolving credit under your photography business's name. Issuers determine limits based on time in business and estimated revenues. Use your card exclusively for photography expenses to simplify categorizing transactions.
Making the upfront effort to manage finances helps photography entrepreneurs operate smoothly and profitably. Keep immaculate records, leverage software, work with professionals, and implement best practices from the start. Handling the numbers properly lets you focus on taking incredible pictures.
7. Obtain Licenses and Permits
Photography businesses must be legally compliant with all required licensing and permits. Skipping this step can lead to hefty fines, penalties, or even being shut down. As a professional photographer, there are no required licenses at the federal level.
Check the U.S. Small Business Administration for federal license guidelines. The SBA also offers a search tool for local permits.
Here are a few potential licenses and permits to acquire:
Business license – Most states require this to legally operate. Fees are typically $50-$100.
Sales tax license- If selling any physical products, you need to collect and remit state sales tax. The process varies but is done through your state revenue department.
Commercial photography permit – For professional shoots on public property, usually issued by parks or municipalities.
Drone license – Required by the FAA to legally operate drones for commercial use.
Film permits – Often needed for elaborate shoots like weddings or commercial projects.
Double-check if your locality has additional requirements beyond the state level. San Francisco for example mandates a police photography permit. Stay up to date as regulations evolve.
8. Get Business Insurance
Operating a photography business without proper insurance leaves you vulnerable to major financial risk. Here are three scenarios to highlight the dangers of going uninsured:
A camera or lens gets damaged on a shoot and your client expects to be compensated for lack of images. This equipment loss could cost thousands without coverage.
You get injured on a client's property and end up hospitalized and unable to work for months. Uncovered medical bills could destroy your photography business.
A disgruntled client sues for disappointing wedding photos. Without liability insurance, legal fees alone could force you to close up shop.
The good news is getting insured is straightforward. Follow these steps:
Determine your coverage needs: General liability, professional liability, equipment, and errors & omissions are common options.
Get quotes from providers: Outline your business activities, assets, and clients.
Pick a plan that fits your budget and risk exposure: Expect costs of $30-$150 per month depending on the level of coverage.
Complete the application and pay your first premium to activate the policy.
Having proper insurance gives peace of mind. Professional photographers protect themselves, their equipment and their employees with business insurance.
9. Create an Office Space
A professional office space lends credibility to your wedding photography business. It also provides room to meet clients, store gear, and handle administrative tasks. The ideal setup depends on your business model and budget. Here are a few options for a photography business office.
Home Office
A home office is a lean startup option. It allows you to deduct a portion of household expenses like rent and utilities up to $1,500 a year. Costs are minimal but space is limited. This is best for solo photographers doing mainly on-location shoots.
Coworking Spaces
Coworking spaces like WeWork offer desk rentals starting around $300/month. Coworking spaces provide amenities like meeting rooms, printing, and community networking. Great for collaborating with other creatives and hosting small client meetings.
Storefront Office
Storefront retail suites double as mini-studios for product shoots and walk-in client meetings. This is great for portrait photography. Rent starts at around $1,500/month. The added visibility can boost brand awareness.
Commercial Office
Leasing commercial office space provides the most room. A large office helps keep multiple employees, dedicated studios, storage, and conferences in the same space. Expect rents of $2,000/month. This is best for established agencies managing large volumes of studio shoots.
10. Source Your Equipment
Aspiring photographers have several options when acquiring their most vital tools, cameras, lenses, lighting, and accessories.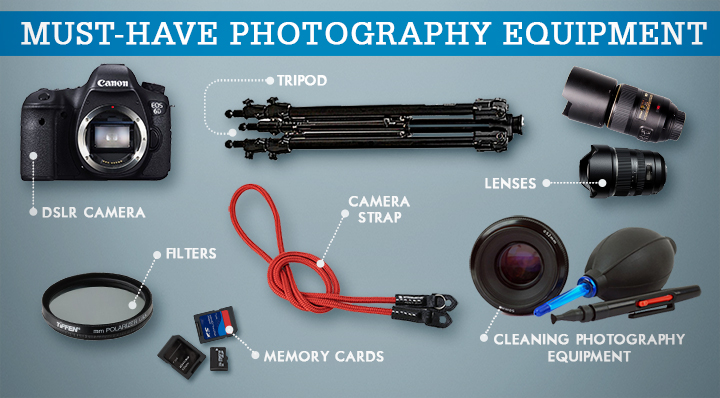 Buying New
Buying new from brands like Canon, Nikon, and Sony ensures the latest technologies and warranty coverage. Shop sites like B&H Photo for deals. Expect to spend $2,000-$5,000 for a quality starter DSLR or mirrorless kit.
Buying Used
Buying used saves substantially. This lets you stretch your startup budget. Scout eBay, Facebook Marketplace, and Craigslist for postings. MPB vets and rates preowned gear. Consider the cost of sensor cleanings and repairs.
Leasing
Leasing spreads payments out over 12-36 months while using the latest models. At the end of the lease, you can purchase the used gear for fair market value.
11. Establish Your Brand Assets
Crafting a strong brand identity is crucial to stand out against other photography services. There are many ways to brand yourself when you start a photography business. Here are some options to draw in potential clients:
Get a Business Phone Number
Acquiring a professional business phone number via services like RingCentral adds legitimacy. It also provides a singular point of contact for customers. Features like call forwarding, voicemail, and messaging integrate your mobile and office lines.
Create a Logo
An eye-catching logo encapsulates your visual style. Consider bold, minimalist, retro, or abstract designs. Looka makes it easy to design and customize options to align with your brand. Looka uses advanced AI to craft logos based on your personal preferences.
When you design your logo, think about your photography business services. For example, if you focus on wedding photography, you may want something in your logo to express this.
Print Business Cards and Signs
Business cards from Vistaprint enable networking and lead sharing wherever you go. Include vital details like your logo, phone number, website, and social media links. Cards lend credibility when you connect with prospective clients and partners.
Think beyond cards to signage, vehicle wraps, apparel, and other collateral to consistently represent your brand. These visual touches build awareness and recognition.
Register a Website Domain Name
Register your business name as a domain for your website. Namecheap offers affordable registration starting at around $10/year.
Design a Website
Build a portfolio website via user-friendly DIY platforms like Wix or hire a web developer on Fiverr for a more custom design. This online hub displays your abilities and style to attract clients.
12. Join Associations and Groups
Joining relevant organizations is a smart way to gain support when you start a photography business. New photography entrepreneurs stand to expand their network and get insider tips.
Local Associations
Seeking out local photography associations connects you with peers in your region. Groups like the Bay Area Professional Photography Association offer workshops, mentoring, job boards, and more. Attend mixers to meet potential partners and clients.
Meetups
Industry trade shows like Awards for Photographers in the World enables hands-on education and community building. You can even exhibit your work. Use sites like Meetup to find conferences and networking events near you.
Facebook Groups
Join location-based Facebook Groups like Pro Photographers and The Photography Group. Share work, get feedback, and collaborate on shoots. These online communities are full of inspiration and opportunities for experimenting.
13. How to Market a Photography Business
Strategic marketing is essential for photography businesses to attract clients and expand. First and foremost, tap into your network and nurture referrals from satisfied customers. Offer clients discounts or prints for making introductions to potential new business.
Word-of-mouth is valuable, but there are many forms of marketing to embrace, including:
Digital Marketing
Digital marketing is important when you start a photography business. Whether you focus on portrait photography, infant photography, or even food photography. A lot of business in the photography industry happens online. Some of the ways to share your business digitally are:
Google Ads: Target local searches for related services. Track conversions.
Facebook/Instagram Ads: Highlight your style and work through creative image-driven ads.
YouTube Channel: Give behind-the-scenes looks at shoots and share tutorials.
SEO Blogging: Create informational content highlighting your expertise.
Social media – Post consistently and engage followers. Run contests and campaigns.
Traditional Marketing
Digital marketing is necessary in this modern age, but that doesn't discount traditional ads. Traditional marketing is essential to wedding photographers because it offers a tangible sample of your work clients can hold in their hands.
Some traditional marketing to try as your photography business grows includes:
Pricing mailers: Send promotional postcards showcasing your competitive rates.
Flyers: Distribute locally at relevant businesses like wedding dress shops.
Billboards: Place in high-traffic areas to increase local awareness about your brand.
Radio ads: Generic:15 or:30 second local business promos.
Newspaper ads: Effective for grand openings or holiday promotions.
With a robust online presence established, time-tested traditional tactics further amplify your marketing aims. Market strategically, measure results, and stay nimble to fuel sustainable growth.
14. Focus on the Customer
Providing exceptional customer service is crucial for photography business owners. Satisfied clients eagerly refer others if their experience is consistently positive. Focusing on prompt communication, transparent operations, and going the extra mile separates an average business from one that clients rave about.
Current and potential clients all want to feel important to the businesses they frequent. There are many ways to improve customer focus as a photography business, including:
Exclusive offers like coupons, discount codes, and free service offerings
Online polls for new photography services
Social media contests
Special gift with large photography orders (free framed photo, 50% off prints, etc.)
Referral rewards
Online engagement by responding to comments and sharing customer content
Many photography business owners go into wedding photography. This is an extremely lucrative field. It can also be a high-stress day for everyone involved. Going the extra mile on a client's wedding day is even more important for repeat service.
Wrapping Up
Here, we've discussed how to start a photography business, including marketing, customer engagement, EIN registration, and more. As you move forward with your photography business, continue to ask questions and focus on customer needs to get ahead.